Get connected with our daily update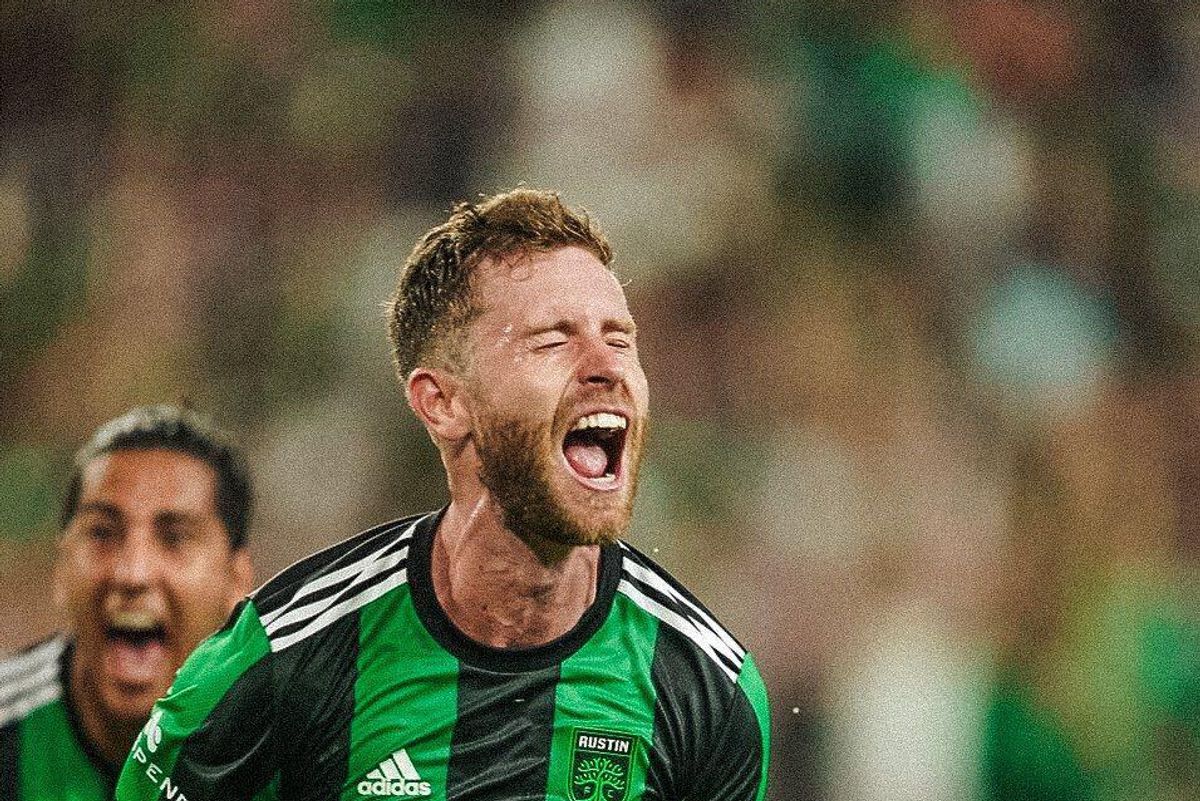 Patience has been key for thousands of Austin FC fans, as they've watched their club dominate its first two home matches but come out with goose eggs.
For their third match at home, Austin FC knew it was time to score as they took on the Portland Timbers, and they exceeded expectations with a 4-1 win over the Portland Timbers.
---
With bated breath, 20,000+ Austin FC fans rose to their feet as the club scored not once, but four times to secure their first home win with their largest margin of victory to date.
When Jon Gallagher broke the ice with the club's first-ever home goal, gallons of beer droplets sailed in the air. Drumbeats from La Murga, for one second, came to a halt. The stadium lights turned a deep Verde, and Austin FC took their first win at home with a 4-1 victory over the Portland Timbers.
Four Austin FC players— first Gallagher, then Diego Fagundez, and finally Captain Alex Ring and Hector Jimenez— finally got the chance to scratch that scoring itch.
Gallagher said he didn't even watch his goal-scoring shot as it rolled into the net; he already knew, as he always does, that it was going in. Instead, he drew his head back in a signature Gallagher roar and let out weeks worth of pent-up energy.
"I was screaming so loud, I couldn't even hear," Gallagher said. "And it was just letting out all this frustration and a big sigh of relief."
Every Austin FC player wanted a piece of that first-goal pie. Fagundez, who had already made history as the club's first goal-scorer, followed Gallagher just seven minutes later with a goal of his own.
When asked which player has more bragging rights, Gallagher just shrugged, a small grin on his face.
Ironically, the same foot that scored the goal also took Gallagher out in the second half, and he was seen on crutches as the match wore on. Gallagher said he was finally able to take in the importance of the moment as he watched the final two goals of the match from the bench.
I was just sitting there trying to take it all in, big smile on my face," Gallagher said. "(I thought) wow, I really struck gold getting myself here."
Despite a poorly-defended Portland goal to end the first half, Austin FC dominated the stat board from start to finish. The club held 69.3% possession and had eight shots on goal to the Timbers' one. It was arguably many players' best match of the season, including Daniel Pereira, who was put back in the starting XI for the first time since his injury on May 23.
From Fagundez's ball-handling skills, to Ring's leadership, to Cecilio Dominguez's showmanship, the club operated like a well-oiled machine. Head coach Josh Wolff said it was great to see the camaraderie that has been growing for months culminate in a smooth victory on the field.
"That's what we want to see, those relationships to fit on field as well as off the field, because then you're fighting for your family," Wolff said. "That's when we know we're moving in the right direction because these guys killed themselves for each other tonight."
Here's a timeline of what happened at the most important match in stadium history:
80' Austin lands biggest lead of the season
Feelin' it now in ATX 🤠

Hector Jimenez adds a fourth and @AustinFC are cruising. #ATXvPORpic.twitter.com/ohAoGv9iRW

— Major League Soccer (@MLS) July 2, 2021
Every Austin player is making a point to score tonight. As fans cheered "alright, alright, alright, alright, Austin FC" at a deafening roar, Jared Stroud sent an expertly-placed pass back to right back Hector Jimenez, who put his name on the board with a goal of his own.
With their biggest lead to date, Austin is making their home scoring debut unforgettable.
76' Austin makes it 3! 
Let's goooooo! pic.twitter.com/pmMhTJZdRL

— Austin FC (@AustinFC) July 2, 2021
Austin FC is full of firsts today: in the 77th minute of play, Captain Alex Ring brought a well-placed header into goal to make it 3-1 Austin for the first time since their breakout Colorado Rapids match in April. This is Ring's first goal with the club.
A sea of jumping Verde have never stopped their chants in the stands and get louder with every goal scored.
At the half: Austin dominates the stat board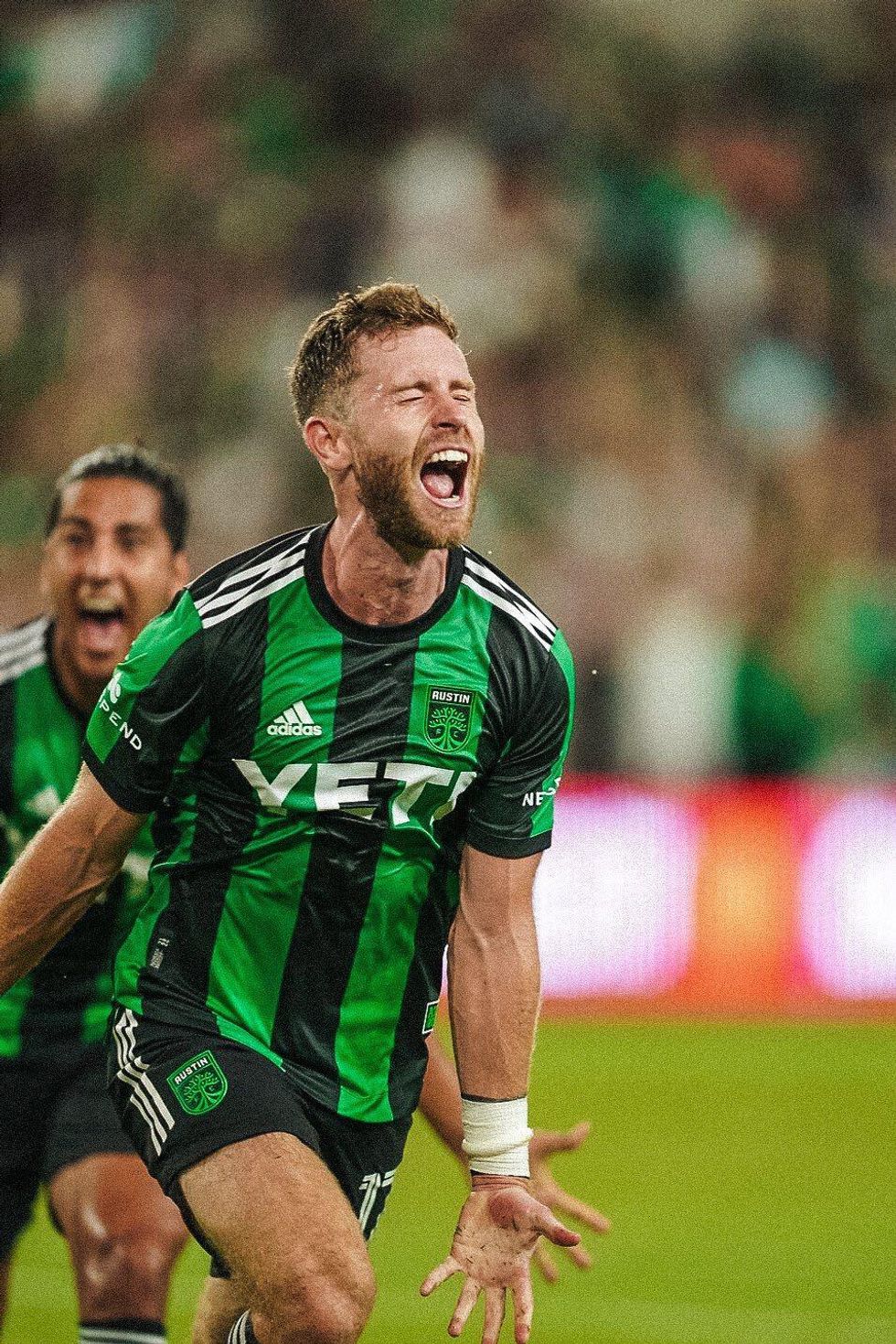 Jon Gallagher is the first person to score at Q2 Stadium. (Austin FC/Twitter)

Two history-making goals aside, Austin FC is dominating the stat board, holding 66% possession and tallying four shots on goal to the Timbers' one. The floodgates have been opened, and fans are louder than ever. Still, overconfidence and a lack of focus led to a last-second Portland goal to end the half.
The Timbers technically have the momentum as the second-half whistle blows, but Austin, backed by historic goals and a scoring high, still has that 2-1 upper hand.
Historically (excepting that fateful Kansas City match,) Austin FC has produced even better second halves. Expect injections of energy from subs including Kekuta Manneh or Jared Stroud.
45+' Portland makes a last-minute first half goal
This build out of the back though. #RCTIDpic.twitter.com/JhZhxEEEc4

— Portland Timbers (@TimbersFC) July 2, 2021
Just before the end of the first half, Portland's Jeremy Ebobisse capitalized on Austin FC's newfound confidence and drove one in to score. Austin failed to properly guard Ebobisse in the box, and the club is looking to refocus and keep the lead into the second half.
33' The dam has been broken. 2-0 Austin FC!
You thought we'd stop at one?@DiegolFagundez doubles our lead at @Q2Stadium! pic.twitter.com/hGTnBgDCRv

— Austin FC (@AustinFC) July 2, 2021
Looks like Gallagher won't be the only one to bring the stands to their feet tonight.
Less than 10 minutes after Gallagher made history with that first home goal, Diego Fagundez, who is already in the books as the club's first scorer, caught a ball pushing past the Timbers defense and brought one in himself.
Fagundez has doubled the lead, and Austin is dominating over their West Coast foes.
26' John Gallagher breaks the ice! 1-0 Austin FC
🔋 FIRST @AUSTINFC GOAL AT @Q2STADIUM!!! 🔋 pic.twitter.com/E1l68205gi

— Major League Soccer (@MLS) July 2, 2021
For the 14% of poll takers who chose Jon Gallagher as the club's first home scorer, you were right! Austin FC has threatened goal all night, as they did Sunday, and the club finally saw payoff in the 26th minute of play as the winger sank it into the bottom left corner.
Tomas Pochettino and Gallagher played back-and-forth down the right flank as they got past the Timbers defense, with Pochettino tallying the stadium's first assist.
8:40 p.m.- Kickoff begins with a bang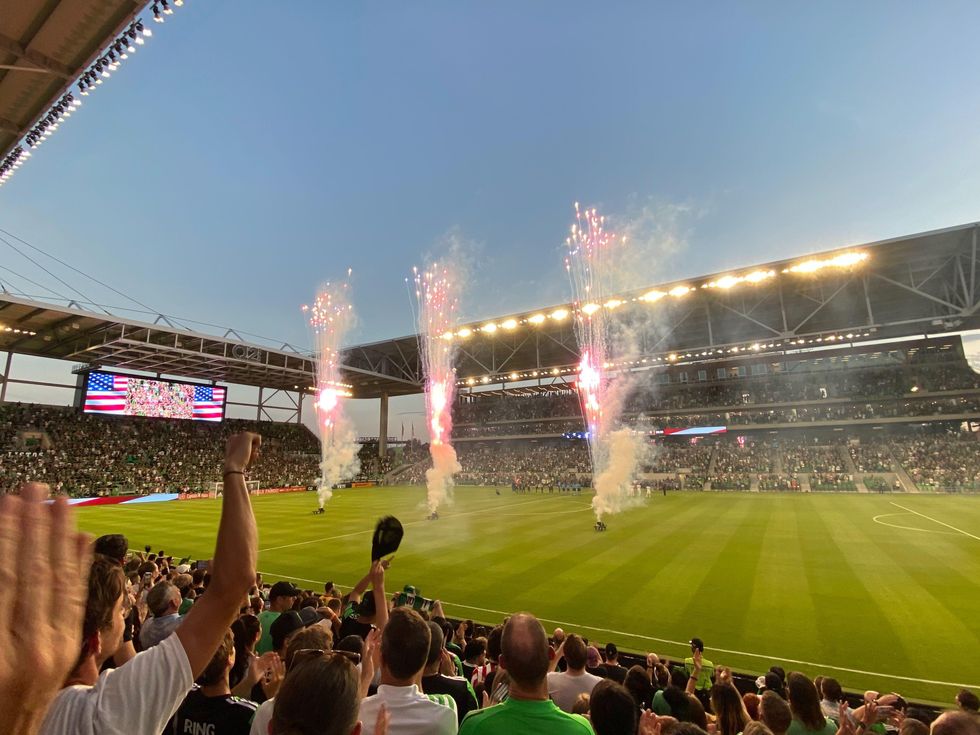 (Austonia)
Austin FC started the show with a bang: during the National Anthem, red, white and blue fireworks worthy of a pre-July 4 match were set off in the sky. Just after, the crowd erupted into a "Stuv" chant as keeper Brad Stuver entered the pitch.
After kickoff proved just as eventful. Just three minutes in, DP Cecilio Dominguez was granted a free kick that was deflected by the Timbers defense.
8:30 p.m.- USWNT beats Mexico in sendoff
FINAL | A little rain wasn't going to ruin our night! Starting off the #SendOffSeries with a W!

🇺🇸 4-0 🇲🇽 | #SendOffSeries x @Visapic.twitter.com/ZvtjTa5055

— U.S. Soccer WNT (@USWNT) July 2, 2021
As the lights dimmed to a deep green before kickoff at Q2 Stadium, the U.S. Women's National Team match was played from the press box and watch parties around town.
The USWNT defeated Mexico 4-0 in the rain to begin their Send Off Series, which are the last set of matches before the Olympic Trials.
Next up, the USWNT will play Mexico once again on Tuesday, July 5 before prepping for the 2021 Tokyo Olympics.
7:45 p.m.- Austin FC starting lineup released
Taking the pitch tonight at @Q2Stadium. Still love getting to say that. #AustinFC x @YETICoolerspic.twitter.com/Rx2csF2yaT

— Austin FC (@AustinFC) July 2, 2021
Austin FC is on the mend, and no new injuries were suffered at the hands of Columbus Crew on Sunday. Head coach Josh Wolff has made one notable change to the starting lineup: Daniel Pereira, the No. 1 pick in the MLS SuperDraft, is in for Jared Stroud.
It's unclear where Pereira will fit into the lineup. Will the club employ a 4-3-3 as per usual and put midfielder Pereira up top, or will they go for a different method as they attempt to score?
Hector Jimenez is back in for Nick Lima, who pulled his hamstring two matches ago against Minnesota United.
As always, Captain Alex Ring is dead center and star keeper Brad Stuver is holding it down in the back.
7:20 p.m. a panel of experts weigh in
Who will sink that first goal in?

A panel of experts (members of @LaMurgaATX ) weigh in: pic.twitter.com/WZJQtSOmHM

— Austonia (@austonianews) July 2, 2021
The question everyone's been asking is burning in the minds of members of Austin FC fan groups, including La Murga de Austin instrumentalists Wiley Koepp, Brittany Koepp and Brian Hensley.
The well-versed experts said top contenders were Diego Fagundez, a fan favorite who scored Austin's first goal, and Cecilio Dominguez, the top-bill striker and Designated Player.
Regardless, the Koepp and Hensley trio agree that tonight is the night for that first home goal.
Who do you think will sink that first goal at Q2?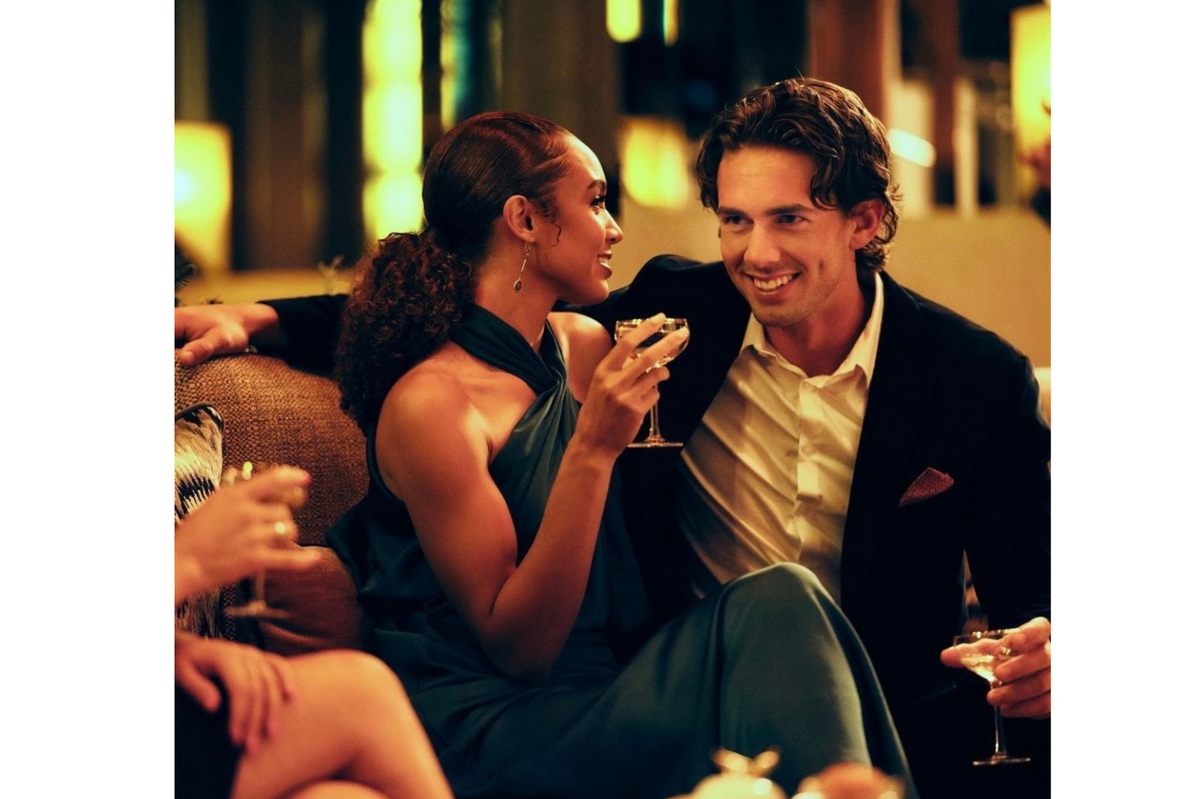 Austin is filled with new restaurants and bars opening or expansions of well-loved local chains. Whether you're looking for a new place to grab a drink or are curious about which diner holds the crown as the best in Texas, this is the latest on the capital city's dining and drinking scene.
Room 725 Champagne & Caviar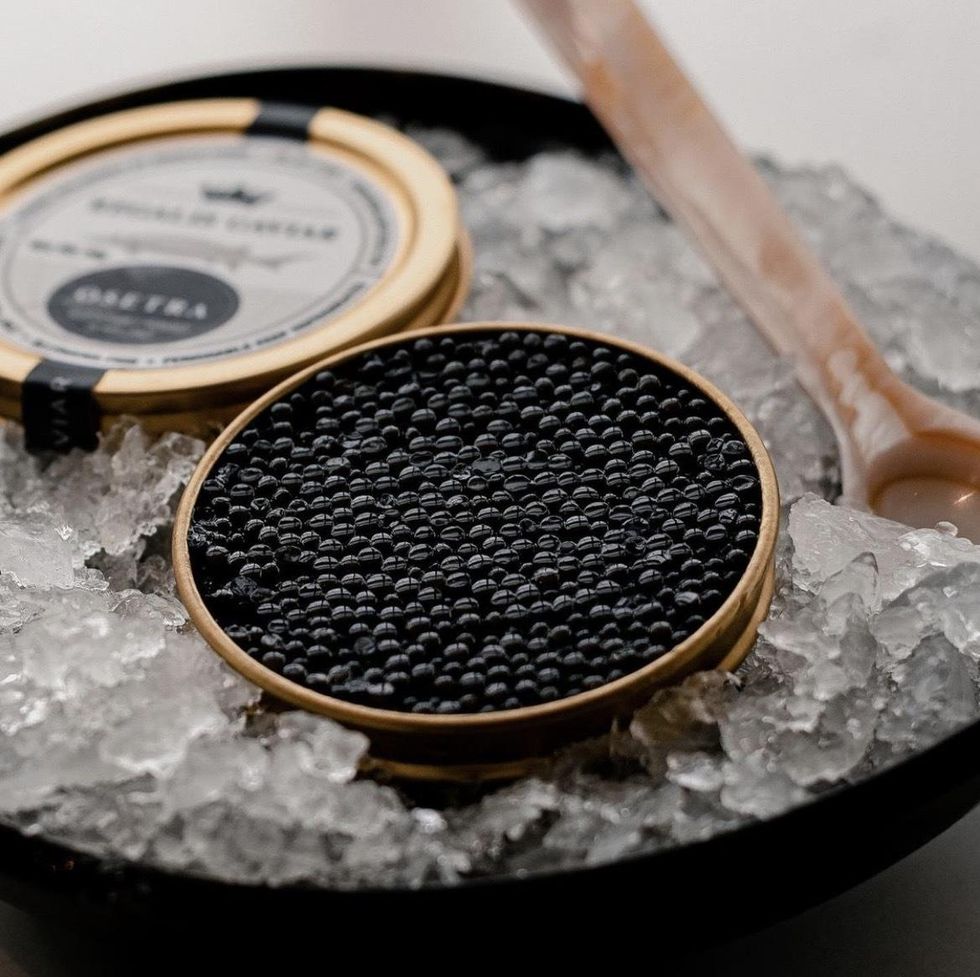 Friday kicked off this semi-private lounge at Fairmont Austin. Promising a selection of Osetra caviar, exquisite champagne, live music and pre-embargo cigars, this space is primed for a luxurious evening. Reservations are required and it's open Fridays and Saturdays from 6-11 p.m.
Kelly's Irish Pub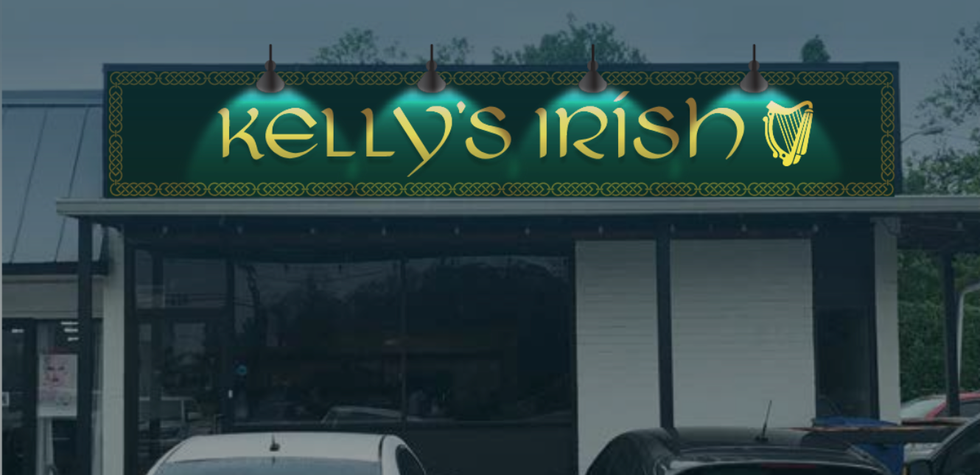 The Dawson neighborhood in South Austin is welcoming a new Irish pub. Located at 519 West Oltorf Street, it'll be at the former site of tapas bar Winebelly. Eater Austin reports that Kelly's is set to open in three phases starting in November and ending around St. Patrick's Day.
Jo's Coffee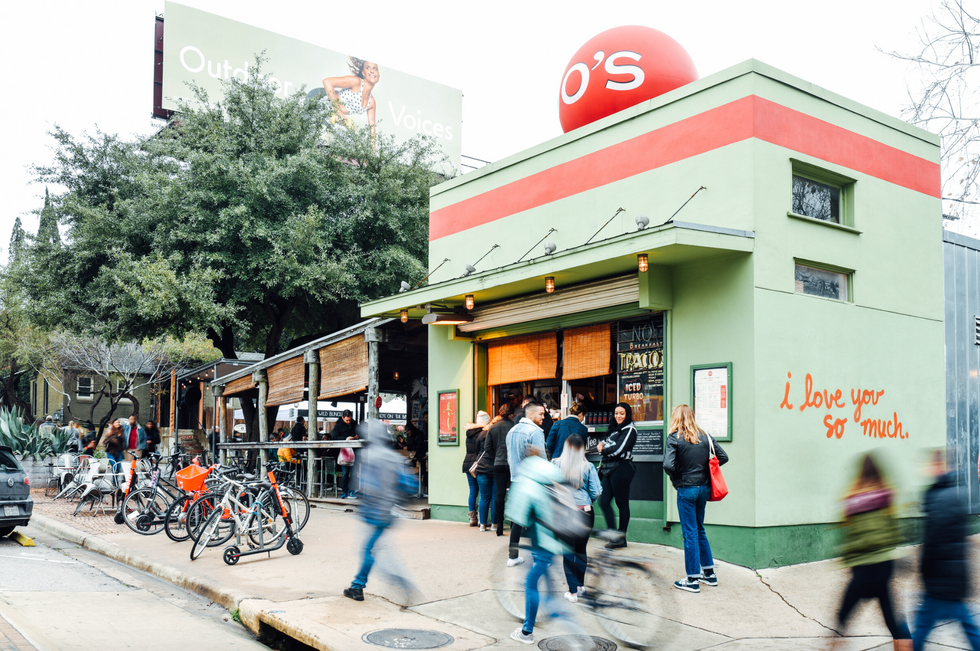 Jo's is starting renovations on a building at 5532 Menchaca Road next month, according to a filing with the Texas Department of Licensing and Regulation. The work is set to finalize at the end of the year, indicating that 2023 could bring yet another spot to grab breakfast tacos and turbos.
Electric Shuffle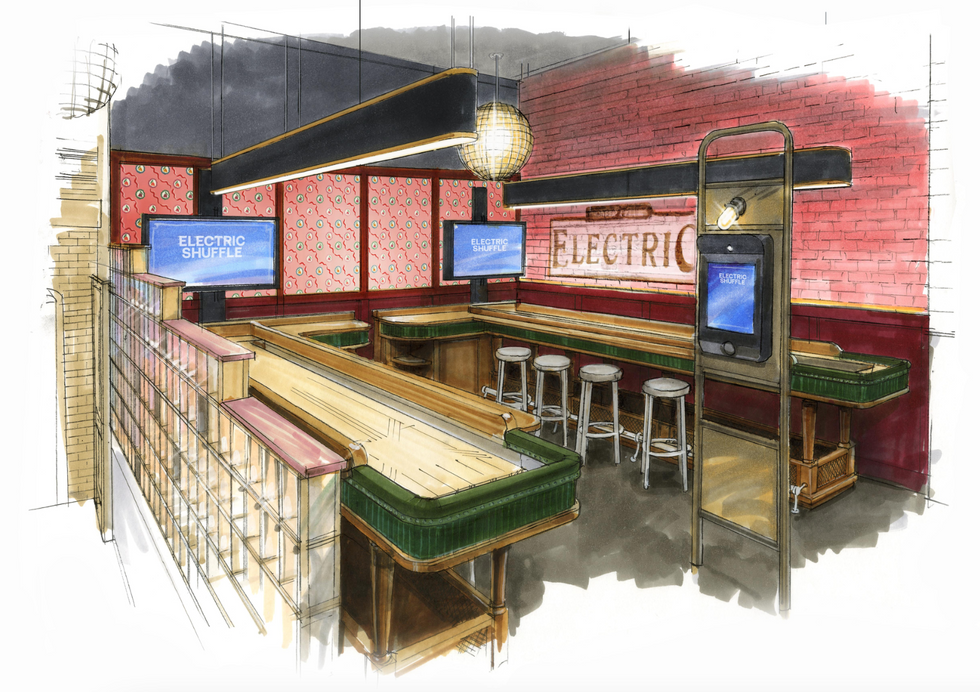 Flaunting boozy brunches, craft cocktails and high-tech shuffleboard, Electric Shuffle is set to open in October. The London-founded bar already has a Texas site in Dallas' Deep Ellum, and CEO Gene Ball expressed excitement for the new Austin location. "The city is a hub for innovation and hospitality with a deep love of good vibes and great music while being home to some of the coolest and weirdest concepts in the world," Ball said. "We cannot wait for Electric Shuffle to be a part of this community and culture while adding our own little piece of uniqueness to the city"
Phoebe's Diner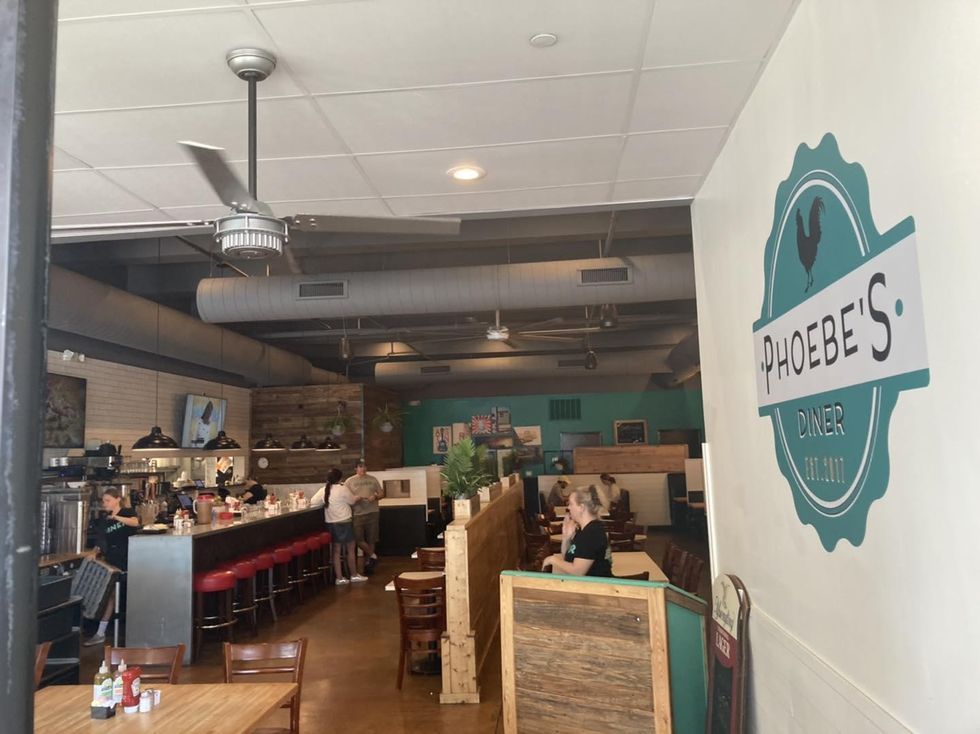 The best diner in the state is a 1950s-inspired restaurant with locations on Oltorf Street and W 11th Street, according to Lovefood.com. "Everything's beautifully prepared, from the fried chicken and grits to the tastiest biscuits in sausage gravy," the food website wrote in their list. If you're in North Austin, you'll soon be closer to a Phoebe's site with the restaurant expected to open a location on Burnet Rd.
Russian Bistro Nazdorovye Inc.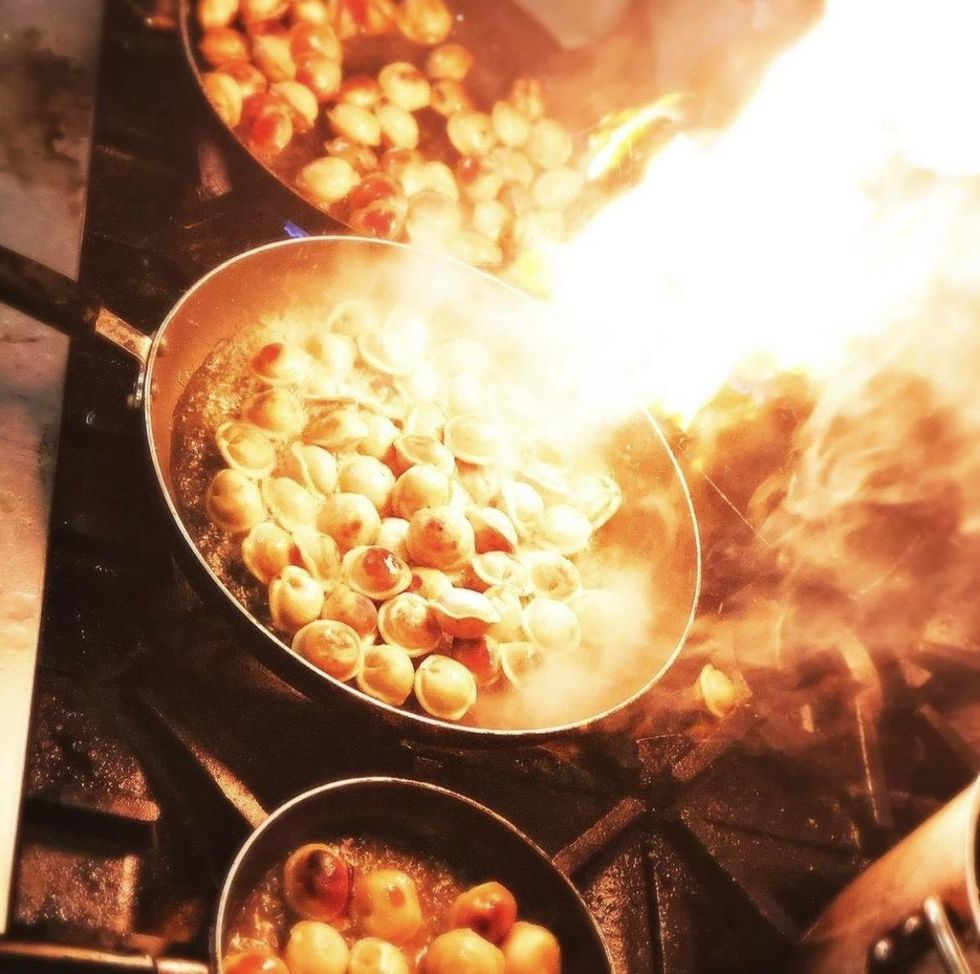 The company behind Eastern European restaurant the House, which closed earlier this summer, appears to have a new project in the works in North Loop. Russian Bistro Nazdorovye Inc is listed as the owner on a permit for an address at 5201 Airport Boulevard, where the now-closed Sala & Betty was located. The House closed in early June after operating on East Fifth since 2012.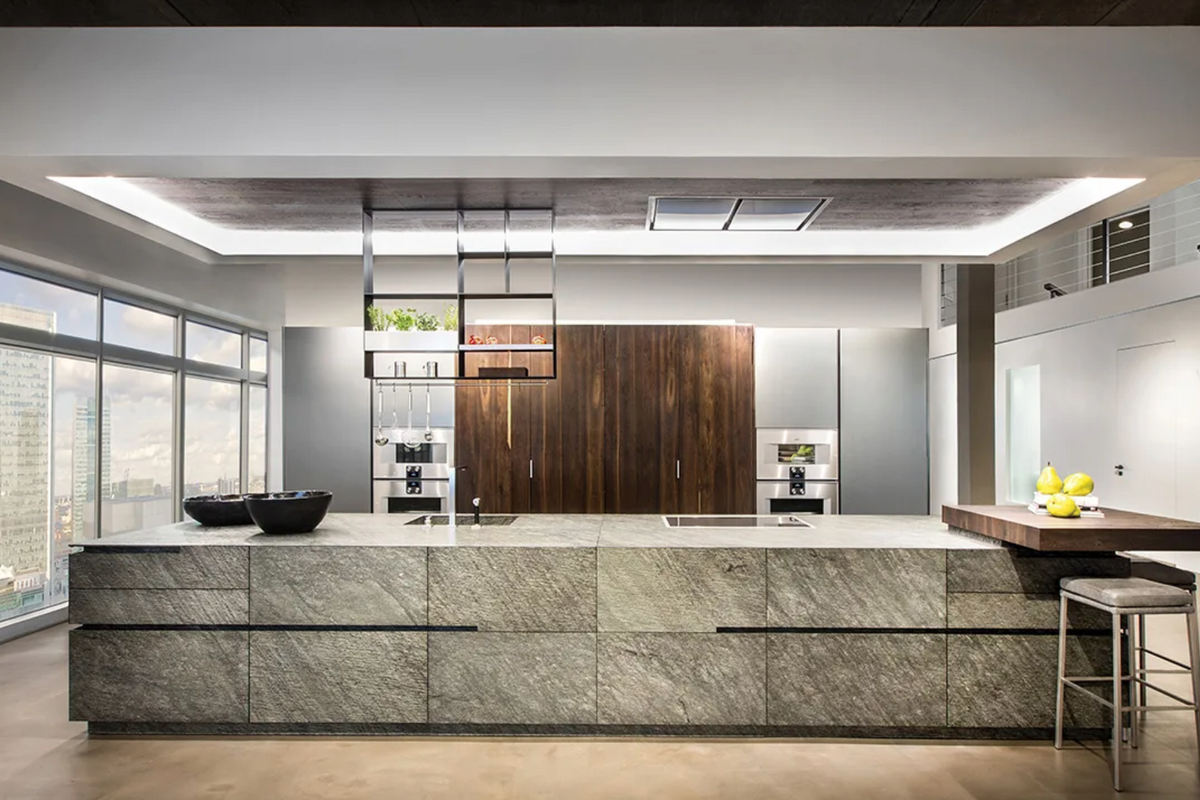 You've found your dream home. Now it's time to design your space.
Let eggersmann make your dreams come true. Not only are their products custom-crafted to last a lifetime, but their team of professional designers, installers, and care specialists are there to assist you from the ideation to the implementation of your gorgeous and highly functional space.
A family-owned business, eggersmann offers modern design solutions for every room in your home and they've had a hand in the design of many of the most beautiful homes in Texas, including right here in ATX.
A downtown condo. A house on the lake. South Austin style. All are perfect for eggersmann's design solutions.
If you're not sure where to begin, eggersmann has plenty of inspiration to get you started.
Kitchens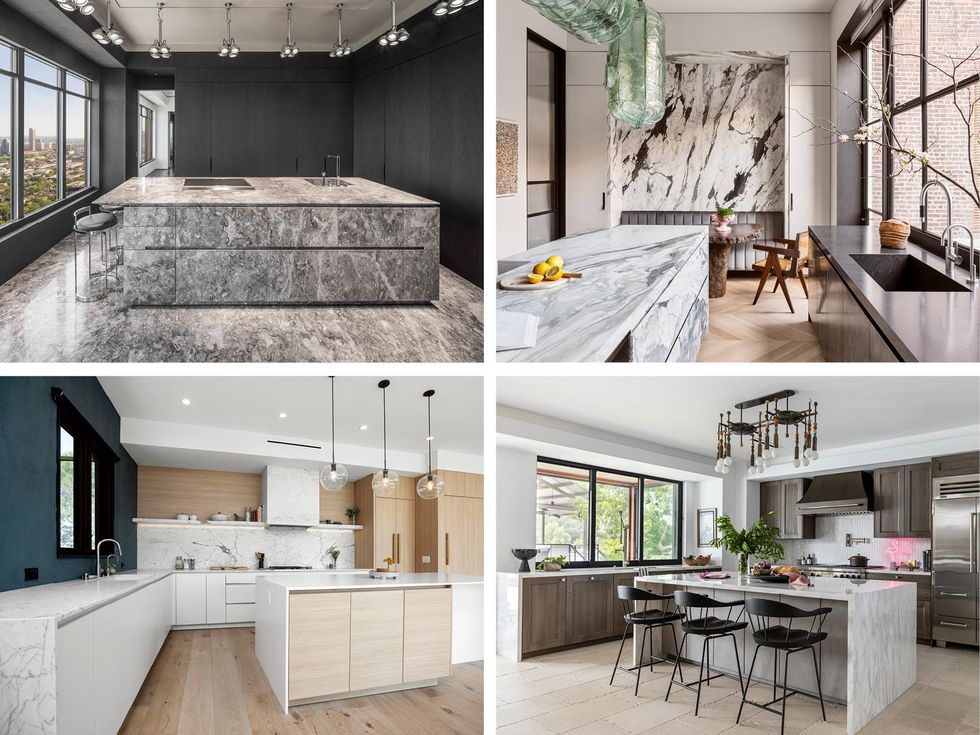 Kitchens are living spaces that invite us to indulge our senses; places that help us bond and are the heart of the modern home.
Eggersmann's modern German kitchens and home living solutions are distinguished not only by unique stone cabinet fronts and exotic veneers, but also technological feats in cabinetry composition and ergonomics like handleless cabinets and motion sliding countertops.
Their ideas spring from over 100 years of experience. Ever since Wilhelm Eggersmann founded this company in 1908, the now global team insists only the best will do and that every kitchen should be as individual as its owner.
Closets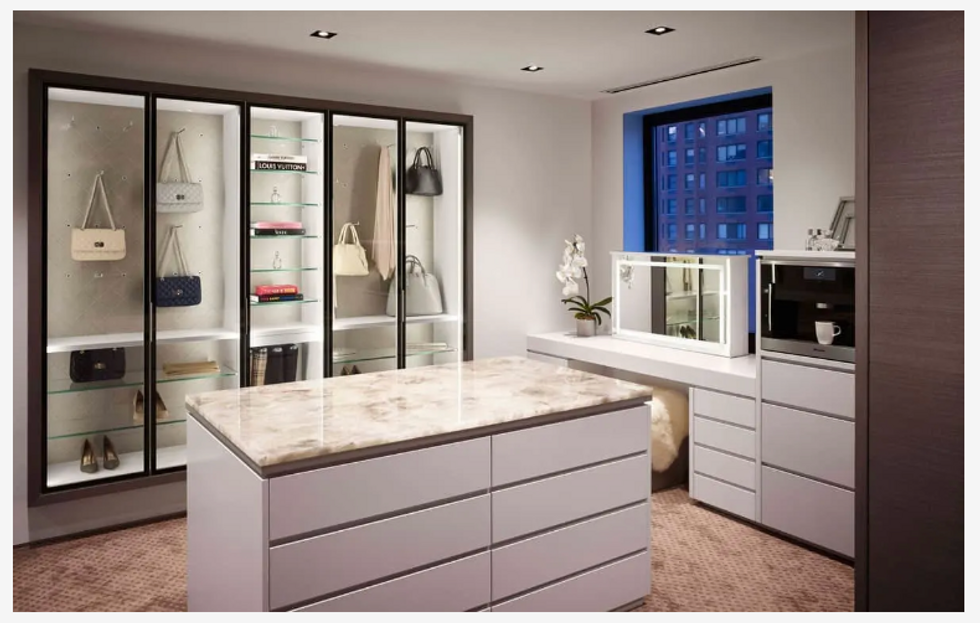 eggersmann usa
Beyond the closet, eggersmann brings soul to your wardrobe.
Tailor made in every aspect, personalize your space to make dressing and attire a special occasion. With innovative design solutions like hidden safes, watch-winders, and other accessory storage that will make the organizationally-obsessed squeal with delight, eggersmann's team of designers can help you to create a closet you'll want to spend all day in.
Living Areas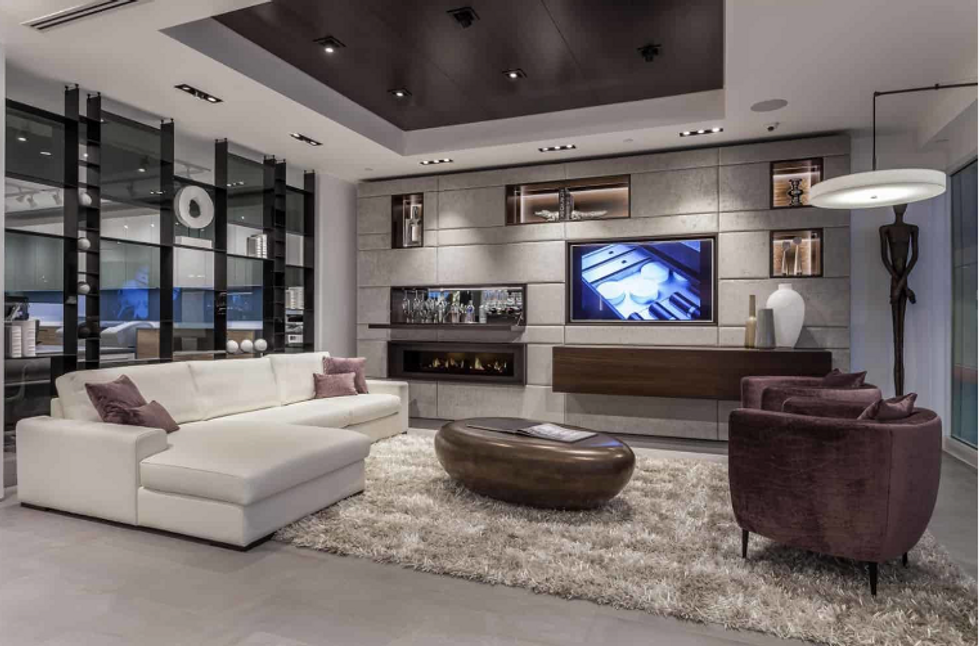 eggersmann usa
Create modern, beautiful spaces that motivate you to play and socialize. Host the next grand celebration or relax and relieve the tensions of your day. Eggersmann's entertainment solutions focus on how you live and how you entertain.

Need a TV for a family movie night but prefer something besides a black screen when you're entertaining? Eggersmann's remote-controlled lifting technology allows you to do just that. What about design solutions that keep a bustling household organized? Eggersmann makes it all possible.

Working with eggersmann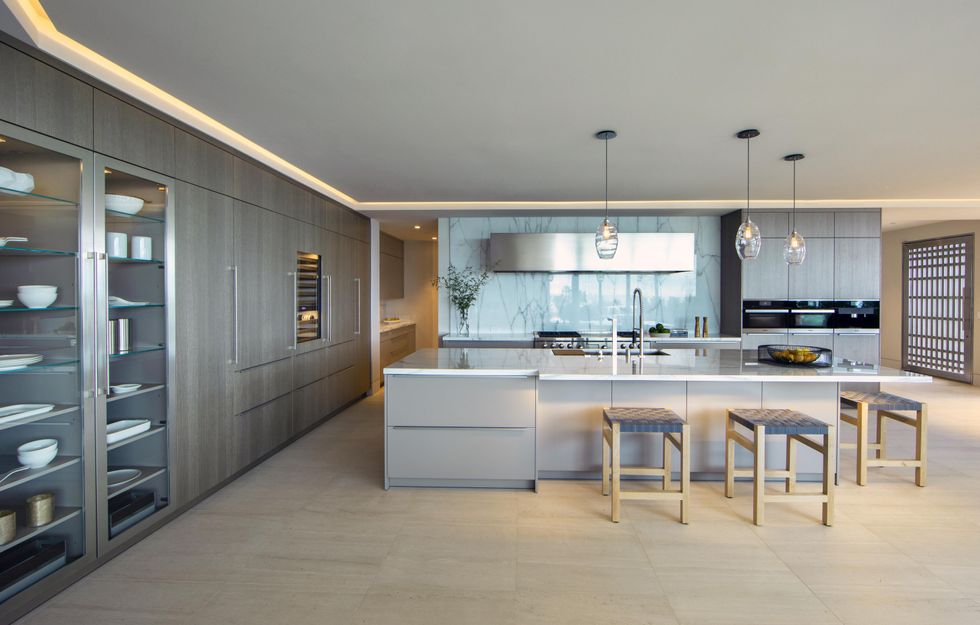 eggersmann usa
To learn more about the exceptional luxury cabinetry, exotic durable finishes, and innovative solutions, you may visit one of 6 eggersmann showrooms in the US, one of its retail locations in Canada, Mexico, or the US including Hawaii, or call to make an appointment with the satellite design service here in Austin where a knowledgeable representative will meet you at your home, office, or location of your choice.
The eggersmann team works directly with homeowners to bring their dream spaces into reality or with your interior designer, architect, or builder. They also have extensive experience working with high-rise/multi-unit developers or condo owners.
Find the
nearest eggersmann location
.