Austonia AM
100% Austin news, info, and entertainment, straight to your inbox at 6 a.m. every morning.
In five minutes, you're fully informed and ready to start another great day in our city.
Get connected with our daily update
Jersey number: 6
Hometown: London, England
Position: Midfielder
Age: 19
Former club: Columbus Crew SC
---
Background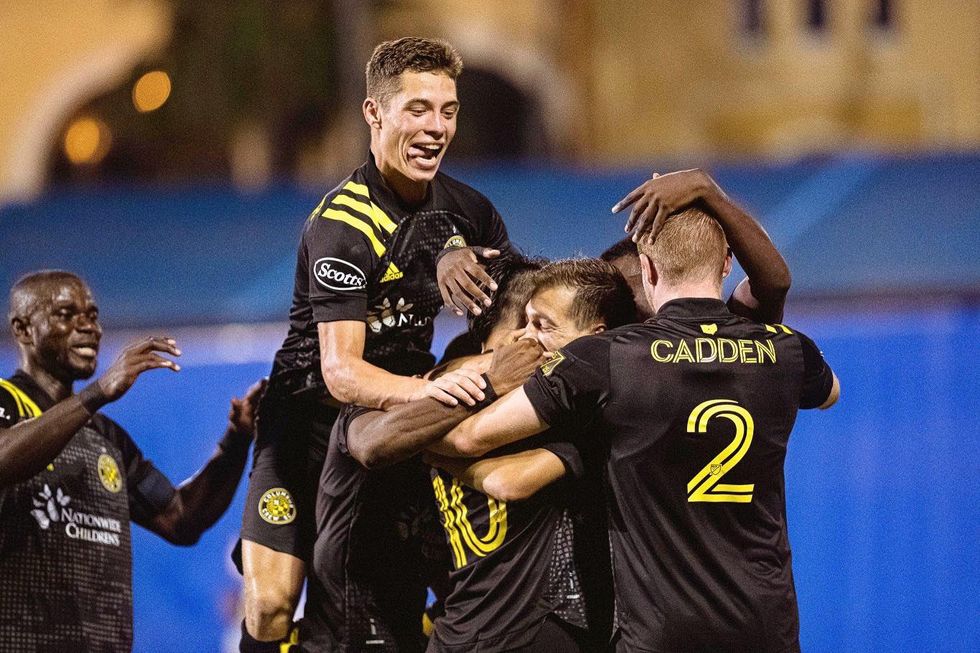 (Sebastian Berhalter/Twitter)
Sebastian Berhalter's life isn't like most 19 year olds.
As the youngest player on the Austin FC team, Berhalter has already clutched the MLS Cup trophy before. He's met Christiano Ronaldo and had his first professional start at 18. His name might seem familiar, too—that's because his father is none other than former Columbus Crew SC head coach and current USMNT Head Coach Gregg Berhalter.
With the Berhalter family name to uphold, Berhalter signed with Columbus Crew SC as a Homegrown Player in 2020 after spending six seasons with Columbus Crew SC's Academy from 2014-2019. With nine appearances and four starts on the team last year, the young Berhalter helped the Crew all the way to the MLS Cup Championship.
Berhalter said it was hard to leave the MLS Cup Champions but that he was looking forward to gaining experience while he's on loan with Austin FC.
"It was certainly a tough decision, leaving the best team in the league," Berhalter said. "Me and my dad and everyone at Columbus saw it as a good opportunity to go here and get minutes and be part of a great culture and a great coaching staff."
With Austin FC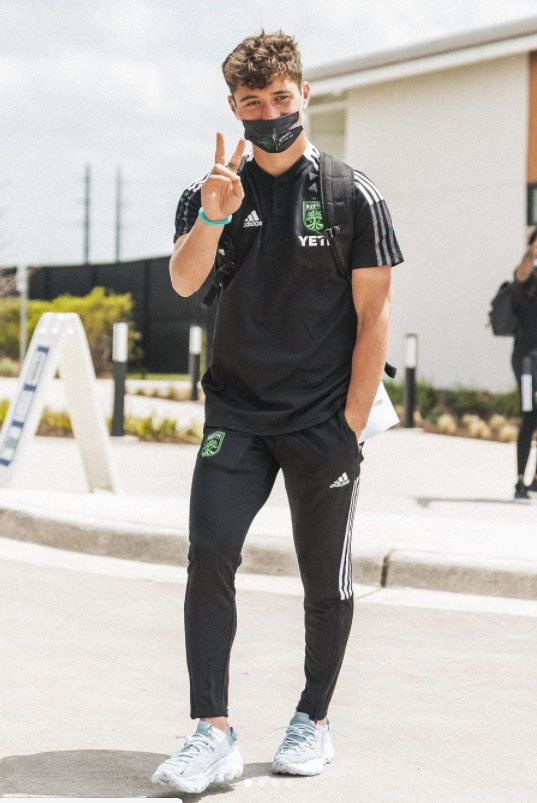 (Austin FC/Instagram)
Austin FC acquired Berhalter on loan from Columbus Crew SC with the option to trade for his rights at the end of the season.
As the team's youngest player, he likely won't crack the starting lineup. However, Berhalter will get the opportunity to play behind defensive midfielder Alex Ring, who is widely regarded as one of the top five in his position in the MLS.
Austin FC Sporting Director Claudio Reyna said the club was excited to strengthen the team's depth with Berhalter.

"Sebastian is a young and talented midfielder who will add depth to our growing roster," Reyna said. "We are excited to have him join the Club and look forward to his continued professional development with Austin FC."

Berhalter also has a history with Austin FC Head Coach Josh Wolff. Wolff, who saw Berhalter grow up in Germany and has ties to him with the Columbus Crew, said that Berhalter plays beyond his years because of the high level of play he's always been exposed to.
"He's a young player, but he doesn't look like a young player," Wolff said. "He's going to play minutes for us, and his development is continuing, and that's also our responsibility is to continue to make him better."
Berhalter said he remembers playing with Wolff and Wolff's sons, Tyler and Owen, in Germany while both fathers played in the German Bundesliga. The two families also lived just two miles apart in Columbus, deepening their bond.
Just like their fathers before them, Owen and Berhalter now grace the same field on a professional level. While Berhalter is officially signed, 16-year-old Owen has been repping Austin FC during preseason.
"It's pretty surreal," Berhalter said. "(From) just kicking the ball in my basement and now be able to share the field with him is really cool. And with my dad and Josh, it's great to be able to work with Josh since I've known him for so long."
Off the pitch
"Now I know how my parents felt all those years."@USMNT Head Coach Gregg Berhalter on watching his son Sebastian Berhalter earn his first MLS start for @ColumbusCrewSC. pic.twitter.com/wGwjoKcEE5

— Major League Soccer (@MLS) July 17, 2020
Just as Gregg Berhalter left Columbus Crew to coach the men's national team, his son stepped up to the club for his professional debut.
Gregg still got a chance to see him play for his first-ever MLS start against the New York Red Bulls in 2020 and said he was proud of his son's dedication to the family's favorite sport.
"Now I know how my parents felt all these years," Berhalter said. "We're proud of him. It shows that he's worked hard for many years and all that hard work and dedication has paid off."
Berhalter is a legacy on both sides—his mother, Rosalind Santana, was a soccer player for the Tar Heels herself.
Although he grew up in Columbus, Berhalter was born in London and lived in Germany as a child.
Ingredients:
1 1/2 oz of hibiscus-infused Tito's Handmade Vodka
2 oz sparkling water
1 oz fresh lime juice
3/4 oz simple syrup
1 tsp allspice dram
Directions: Add infused Tito's Handmade Vodka, lime juice, and simple syrup to a shaker with ice. Shake and strain into a glass over fresh ice. Top with sparkling water, and garnish with a lime slice. Enjoy!
A week after Texas added two congressional seats and California lost one, state officials reported a population decline in 2020 for the first time in the Golden State's history.
California fell by over 182,000 people from January 2020 to January 2021, dropping almost 0.5% to cap out at around 39.5 million people. It is still the nation's most populous state.
For over thirty years, California has seen more people leave than move in from other states, state officials said, with 6.1 million people moving out and 4.9 million coming in last year. Immigration and births kept California growing, but the state saw a shrink in international migration in 2020 due to COVID and the White House's hold on visas.
Of the steady flow of ex-Californians moving to other states, more are moving to Texas than any other state. Many are relocating to Austin, which has been labeled a "little California" by billionaire resident Elon Musk and continues to grow astronomically.
Meanwhile, California cities including Los Angeles, San Diego, San Jose and San Francisco saw a population decline.
With immigration and state migration on the decline, the Golden State was also hit with a spike in deaths- 51,000 people died from COVID in 2020, and all but seven of the state's counties saw death rates higher than the three-year average.
Still, the California Department of Finance said a "slightly positive annual growth" can be expected next year as the state recovers from COVID deaths and political repercussions.