Get connected with our daily update
#WolffIn or #WolffOut?
Just halfway through the first season, Head Coach Josh Wolff is enduring the heat from disgruntled Austin FC fans after weeks of lackluster results.
---
In 17 weeks, the MLS expansion team has fallen to the bottom of the Western Conference, tallied just 13 goals—the lowest in the league—and has been shut out of all but two matches in their own home fortress.
Wolff has become the unfortunate face of the blame as pressure mounts, stating a clear "we need to score" mantra with increasingly frustrated undertones.
Bali, Austin FC fan and champion of the #WolffOut movement on Twitter, has been skeptical of the first-time head coach since before it was warranted; as the weeks go by, he's seen responses shift from calling him "crazy" to asking to wave a "Wolff Out" banner with him at the next home match.
"To me, he wasn't the guy since the beginning," Bali said.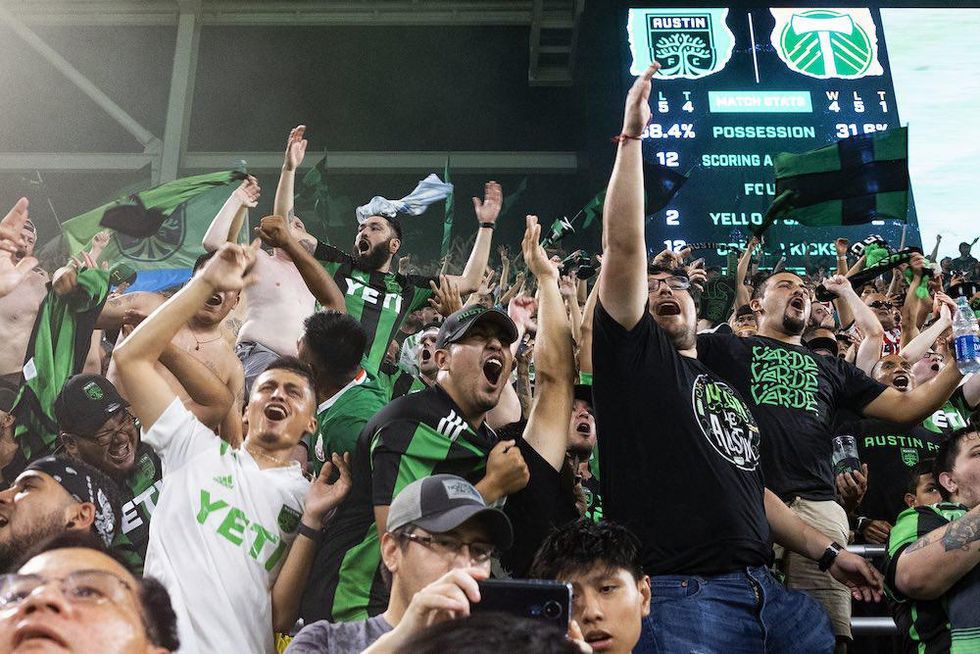 Bali, pictured center, has been skeptical of Wolff since the beginning. (Bali/Twitter)
It wasn't until the FC Dallas match—which saw Austin's triple threat, Designated Players Tomas Pochettino, Cecilio Dominguez and Sebastian Driussi, out of the starting lineup in a 2-0 rivalry loss—that Bali said others began to catch on. "That kind of woke everyone up," Bali said.
The FC Dallas loss was the "nail in the coffin" for some of the seven busloads of fans that traveled to the rivalry match, and the feeling didn't get much sweeter as Austin fell 1-0 in a tumultuous road loss to Real Salt Lake.
Some who stay on the "Wolff In" side say that the lack of success was expected for an expansion team, drawing references to the 2002 Houston Texans and other MLS expansion teams—just four of which have been granted playoff berth in their first season in the past decade.
"I hope people can find peace and just enjoy the fact that we have a team, that we are out there with other great U.S. and international cities like Los Angeles & Monterrey, Mexico," fan Brandon Farmahini said. "I hope they can be happy just knowing that we have a common rallying point in our community that allows people of all different shapes and colors to come together in order to not only create a dynamic and addicting experience in the stands but also to make positive improvements to the city itself."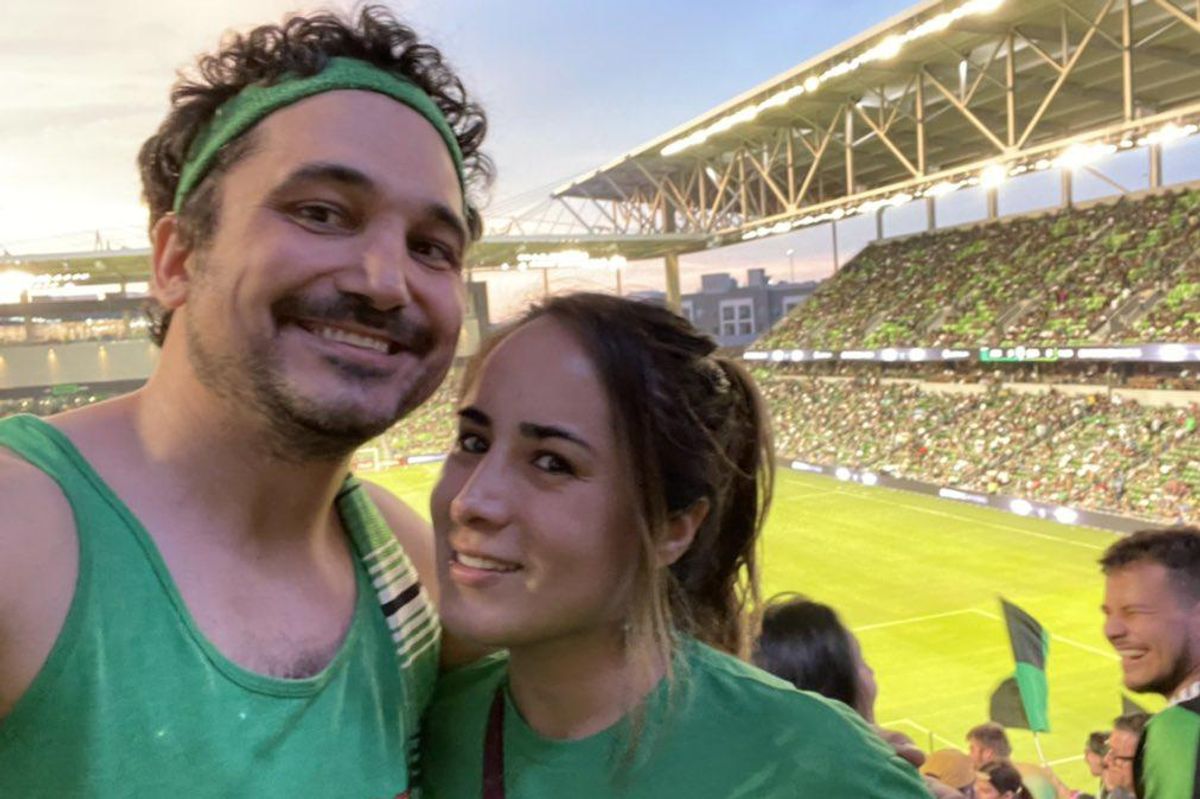 (Brandon Farmahini)
Others are more blunt with their disapproval of Wolff's "play from the back" strategy and often-cautious substitution decisions.
"You know that game that babies play with putting the shapes through the correct holes?" Austin FC fan Zachary Ullman said. "He keeps trying to put the square shape through the triangle hole week after week after week."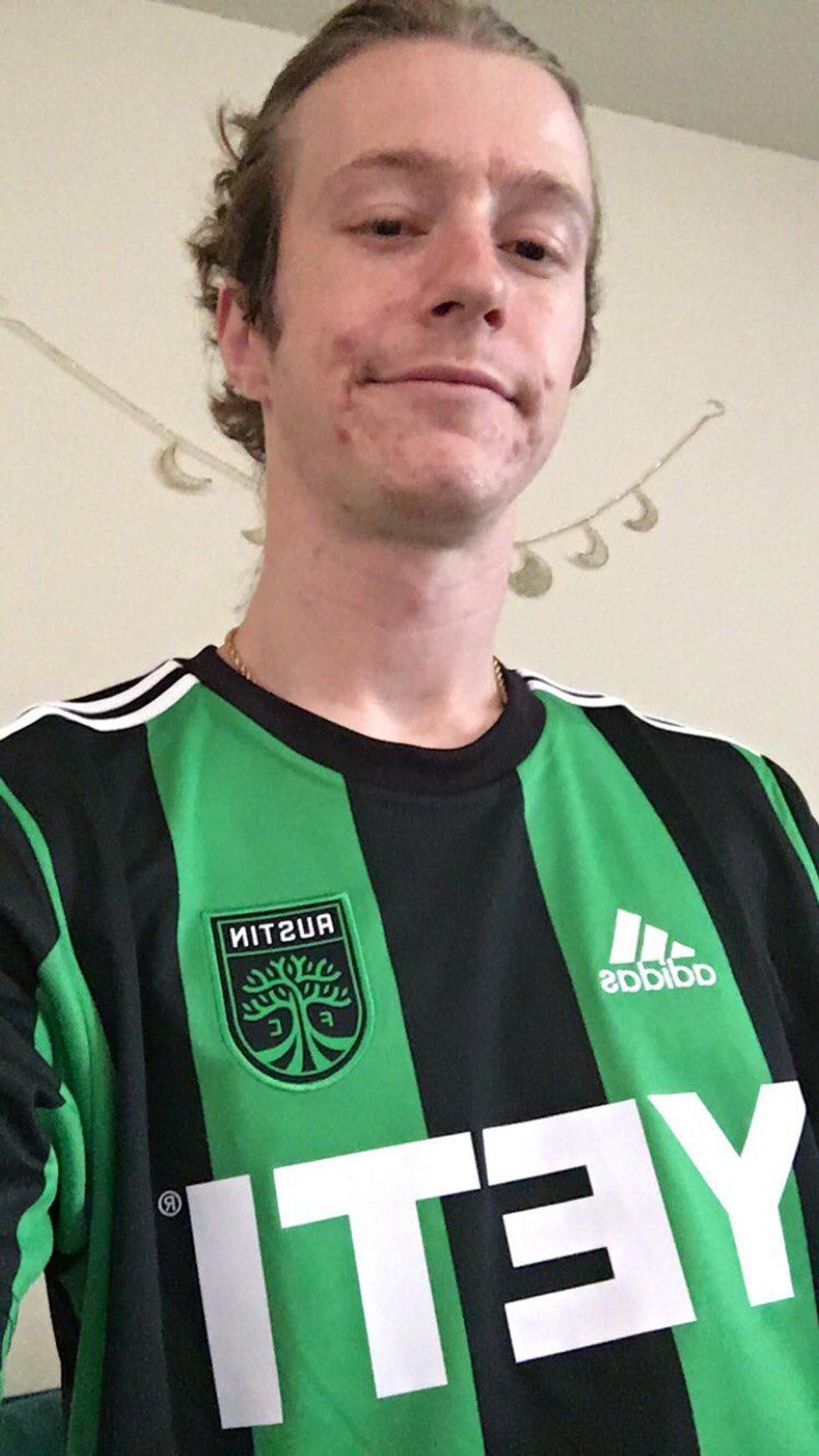 (Zachary Pullman)
Wolff has been a stickler for his strategy all season. Since Day 1, Wolff, a former protegee of U.S. Men's National Team head coach Greg Berhalter, has stuck to possession-heavy gameplay, constructing a complex style that falls heavily into positional play.
But it doesn't seem like the players are buying into the brand, Austin FC fan Michael Bartlemay said.
"My primary concern right now is that it doesn't really feel like the team is getting better," Bartlemay said. "My question is, is do the players buy into what Josh Wolff is selling? My biggest fear right now is not that Josh Wolff is astute tactically, it's not about patience or judgment, it's about, 'are the players getting what he's selling?' Because if not, it's not going to work."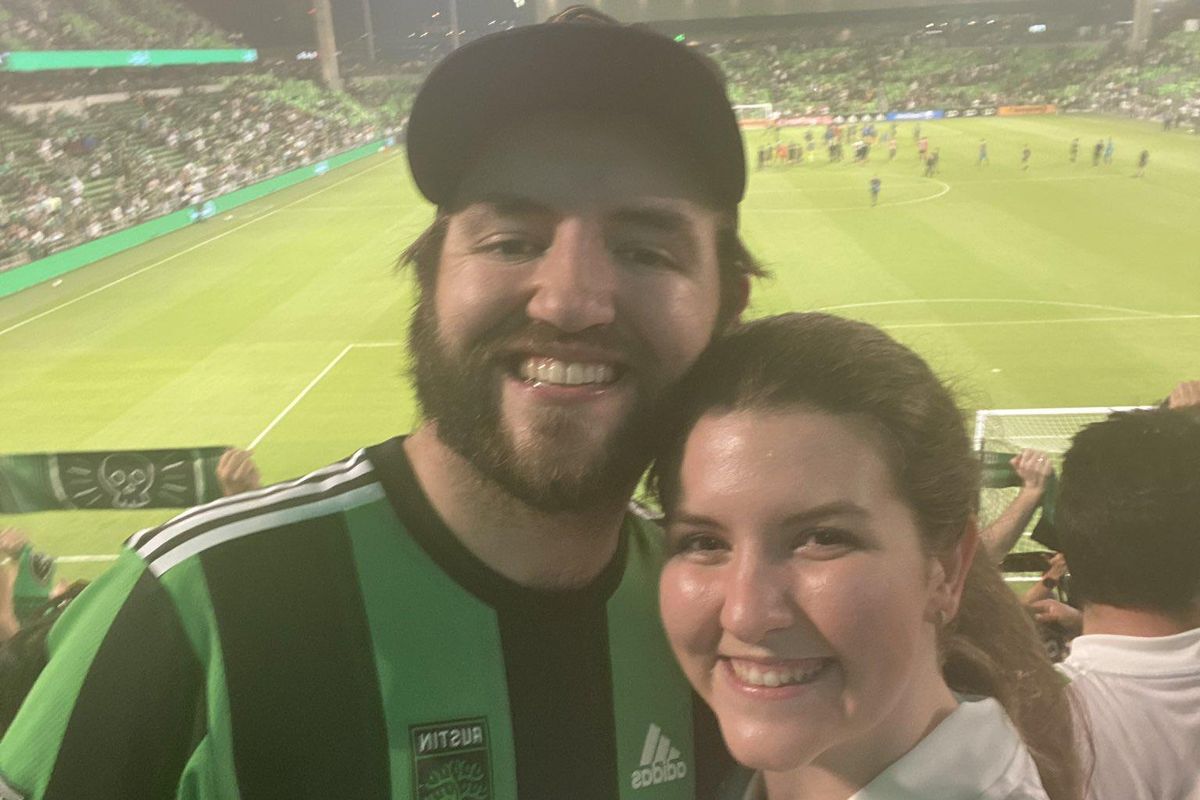 (Michael Bartlemay)
Austin FC fan Barrett Dietz, who said he is "awfully close" to converting to the "Wolff Out" movement, said Wolff will need to switch to his players' strengths to stay on board.
"Wolff needs to bend his tactics to the players in the squad, plain and simple," Dietz said. "At halfway through the season, our offense is still painfully inadequate and that's on Wolff."
It doesn't help that the team doesn't have a striker. Well before the signing and arrival of Driussi, the team hoped to alleviate that with the signing of 22-year-old striker Moussa Djitte in late June. Over a month later, Djitte finally turned up in Austin but still has no concrete date set for his debut with the team.
While fans understand what lacking a striker can do to a team, some wonder what error in leadership kept Djitte, who hasn't played since May, out for so long in the first place. Others wonder if Djitte alone can settle their ever-mounting scoring woes.
Wolff's cautious gameplay has even led some fans to believe the worst of all: he simply doesn't care about losing as much as they do.

"His lineup selection vs. Dallas really put me over the edge," Austin FC fan Chris Welhausen said. "He completely ignored the fans' desire to win that game... I still can't think of another coach in the world who would (bench star players) on a rivalry game. Something else that really frustrates me about him is he has yet to take clear responsibility or apologize to the fans, which again makes me think he views this as his team, not our club."
Some worry that a lack of success on the pitch may lead to lack of interest in the team, especially for new soccer fans.
Bali takes that fear seriously, and he's prepared to take action.
"If I have to be in there with the Wolff sign all by myself, I'll do it," Bali said. "Because I'm taking this into my own hands. I clearly see that this will not change."
While Bali would've ousted Wolff two weeks ago, others are giving Wolff until the end of the season before their support goes sour. But the most positive of the bunch hope to see Wolff's slow-burn tactics turn successful. Austin fan Mike Carr said fan's should wait three years before they carry the anti-Wolff pitchfork themselves.
"Good coaches do not get stupid overnight," Carr said. Wolff has proven a good tactician. Austin FC is following the same experience path as the USMNT; it takes players longer to grasp more complex schemes. We don't want style that wins yesterday's skill level."
Still, Bali said things could turn toxic quick if Wolff and the team's scoring woes continue.
"It's going to get to a point where it's going to be toxic," Bali said. "'Wolff In' and 'Wolff Out.'"
Austin's average rent jumped by 26% from January 2021-to 2022, with the highest increase in the state of Texas, according to a Zumper National Rent report.
The city had the 7th highest jump in rent prices among the 101 U.S. cities studied. With a median price of $1,550 for a 1-bedroom rental, Austin jumped up three spots from a year prior coming in 26th on the list—the highest of all Texas cities studied.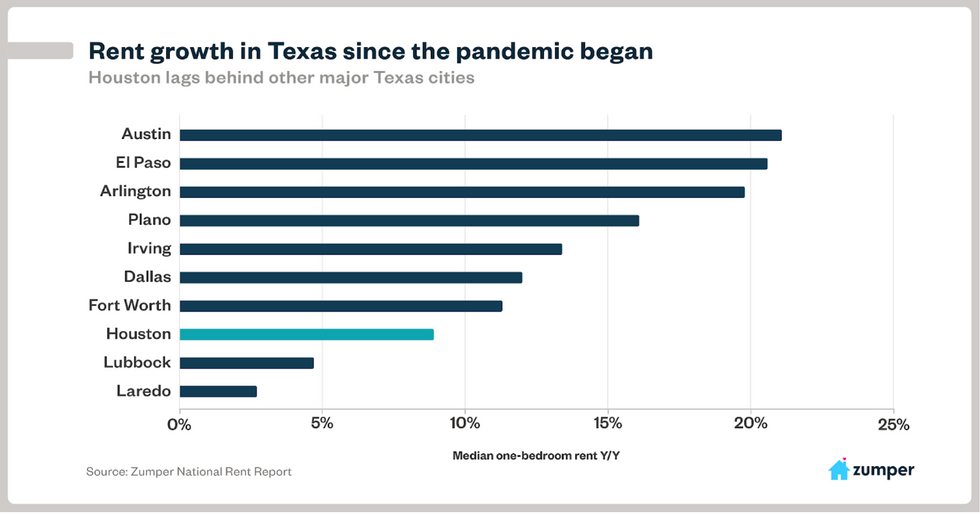 Austin's median one-bedroom rent increased more than any other Texas city from January 2020-21. (Zumper)
Chart-toppers like New York City still have more than double the average Austin rent ($3,260). But for many traditional high-dollar areas, that gap is narrowing: rent in San Francisco, the Silicon Valley giant with the second-highest rental prices on the list, rose by 6.3% year-over-year, while all nine California cities with higher rent that Austin saw a change of 15% or less.
As companies and priced-out migrants reportedly flee to less-expensive markets, new growth hotspots in states like Florida and Arizona skyrocketed, including Miami (25.8%), Orlando (27.6%) Tampa (26.2%), Scottsdale, AZ (27.6%) and Gilbert (20.9%). Cities dubbed as mini Silicon Valleys, including Austin, grew as well: Boston's 1-bedroom rent leaped by 26.5% to third on the list, while Boise, Idaho rose by 24.3% and Las Vegas leaped up nine slots with a 27.5% increase in two-bedroom rent.
No longer a cheap city in the historical cheap state of Texas, Austin rent remains far from New York standards but is still nearly triple cities like Wichita, Kansas, which finished out the list with an average rent of $660. Increases in rent have come hand-in-hand with an influx of newcomers—Austin is one of America's top 20 "boomtowns", according to frequent vistor and billionaire Elon Musk and a December 2021 New York Times report.
And while a pandemic rent surge has been seen nationwide, some have noticed that more traditionally affordable cities like Austin have seen increases much more quickly. University of Texas associate economics professor Peter Bergman found that more than half of low-income Austin residents worry about getting evicted in the next year as rent increases coincide with inflation and income losses for many.
2. While we're incredibly excited about the partnership and we've all pushed incredibly hard to make it happen, what's happening to low-income renters is extremely bleak. First, inflation: in the prior year or so, rental prices have gone up more steeply in more affordable cities. pic.twitter.com/QyZEPotL73
— Peter Bergman (@peterbergman_) December 23, 2021
Fueled by new tech HQs, a nationwide pandemic surge in rent and a booming job market, Austin rent will likely continue to rise, especially as satellite cities like Cedar Park, Kyle and Buda continue to grow alongside the city.
Airbnb has revealed how many gatherings its "Under-25 Anti-Party System" has blocked since its implementation in the summer of 2020.
The system, which prevents guests under the age of 25 from booking entire home listings if they have fewer than three positive reviews, blocked more than 48,000 "potentially disruptive" parties statewide. More than 4,100 potential parties were blocked in Austin in 2021.
The following celebrations saw the most cancellations in Austin:
Fourth of July: More than 1,700
Halloween: More than 1,000
New Year's Eve: More than 1,400
The anti-party system was implemented first in Canada after a house party ended with three people dead. It was then brought to the States a little over six months later. Airbnb said the initiative has resulted in a "meaningful drop" in destructive bookings.
From summer 2020 to summer 2021, the capital city fell relatively low on the list nationwide with 3,800 blocked. Los Angeles topped the list for most parties blocked at 15,000, with Atlanta and Chicago following closely behind at 12,000 and 10,000 blocked bookings, respectively. Blocked bookings in Dallas nearly doubled Austin's at 7,000.
Additionally, Charlotte and Las Vegas beat out Austin with 5,100 and 4,500 blocked bookings.
For those under the age of 25, never fear, you are able to book on Airbnb as long as you have a good Airbnb history or if you're making a single room or long-term rental reservation.