Get connected with our daily update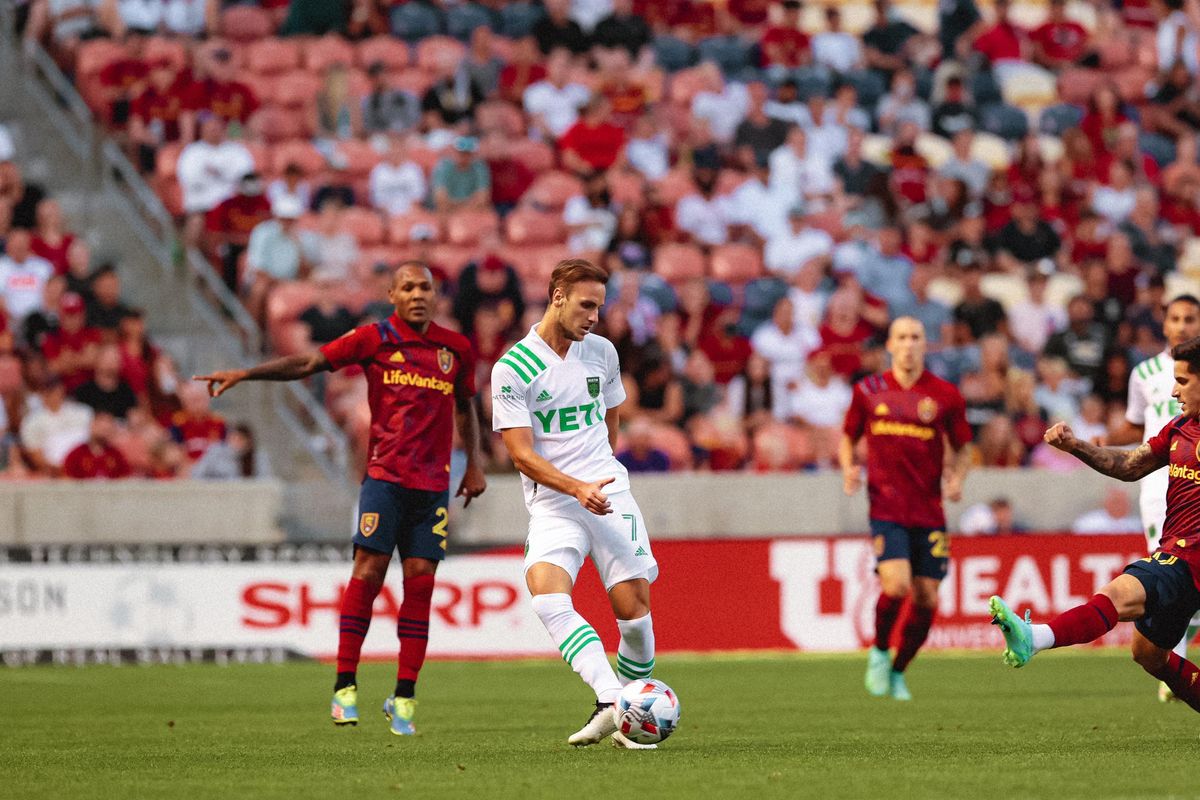 As Austin FC worked past the halfway mark for their inaugural season, the club suffered their 11th shutout of the season despite a new "dream team" starting lineup—including Designated Players Tomas Pochettino, Cecilio Dominguez and Sebastian Driussi—as they fell 1-0 tp Real Salt Lake on the road on Saturday.
---
A controversial red card and two injuries, including an apparent ankle injury for Driussi, marred an offensively-minded start for the club.
With Driussi leading attacks and Dominguez, Pochettino and Diego Fagundez not far behind, the team entered the Salt Lake pitch with their most offensive lineup to date. An early cross from Pochettino got the ball rolling near goal as Austin led with 57% possession, and Fagundez nearly got one in of his own after his shot was blocked by the post.
Shortly after a Pochettino header that went just awry, Salt Lake's Bobby Wood got one in for the home team as his strategically-placed header bounced past Austin keeper Brad Stuver in the 31st minute.
A red card for Austin FC defender Julio Cascante left the team with 10 players for the rest of the match, and an injury for fellow defender Zan Kolmanic further set the team behind the home club.
Head coach Josh Wolff called out match referees after the match and said the red card call was a "laughable" mistake.
"There wasn't one," Wolff said. "I tried to talk to the official afterwards, and all you always hear is that he's got to go look at it up top. But you know, it's there's a few real questionable things happening out there, and I know we're the expansion team...It was laughable."
Captain Alex Ring had some criticism himself for the ruling, especially with technology including the video assistant referee (VAR) and commended the team's performance with 10 men left on the field.
"The league tries to silence the players by fining us and I don't give a shit about that right now," Ring said. "I think it needs to be said because we have VAR for a reason. I think we put a hell of a fight...we work so hard and then in the end we we don't come away with a winning result, it's tough."
Despite another highlight-worthy performance from Stuver, the club would be unable to recover from their deficit for the remainder of the match.
After a week of criticism for his cautious lineup decisions in their 2-0 FC Dallas loss, Wolff may be under fire once again from frustrated fans after the team's most recent shutout.
Wolff said he understood fans' displeasure with the team's performance.
"That's criticism that is certainly warranted," Wolff said. "We're not scoring goals, we're not winning games. We're aware of what this game is about, and the need to get results."
The team is now back at the bottom of the West after scoring the fewest goals in the season and have been shut out for two-thirds of their performances this season.
Austin FC will have the chance to redeem the loss with a comeback home win as they take on the similarly troubled Vancouver Whitecaps at 8 p.m. Wednesday at Q2 Stadium.
31' Real Salt Lake scores
Bobby Wood to the far post! @realsaltlake take the lead! #RSLvATXpic.twitter.com/rYgT8n5hBf

— Major League Soccer (@MLS) August 15, 2021
Real Salt Lake's Bobby Wood does what Austin FC couldn't as he gets his hands (rather, his head) on a header of his own. The strategic header bounces off the ground before making it past Stuver and into Austin FC's goal.
The goal breaks a scoring streak for Salt Lake as Austin FC attempts to end a short scoreless bout of their own.
27' Fagundez blocked by the post
Oh man, @DiegolFagundez! 😅 pic.twitter.com/0RWw16Ivpm

— Austin FC (@AustinFC) August 15, 2021
Though not a Designated Player, Austin's Diego Fagundez does not want to be forgotten as a key scoring threat. With three goals on the season, Fagundez has forever cemented his name in Austin FC history and looked to do it once more as his shot just ricocheted off the bottom left goalpost.
Pochettino tried to save the play after Jimenez sent him a cross, but his close-range header couldn't quite get in goal.
19' Stuver stays on-brand
Just @brad_stuver doing Brad Stuver things. 👏 pic.twitter.com/Z8SUoQw2DE

— Austin FC (@AustinFC) August 15, 2021
Brad Stuver's goalkeeping performances are like Groundhog Day. The All-Star contender consistently keeps scoring threats at bay in goal, and today is no different. Stuver blocks a close-range shot from Real Salt Lake's No. 1 scorer, Toni Datkovic, after the home team's Aaron Herrera places a well-positioned cross. Stuver's highlight reel continues.
Austin keeps their confidence in the box
Austin FC has no trouble making it near goal, but things tend to get tricky once they make their way into the box. With more hands on deck, Austin is finally holding their own in front of goal.
In the fourth minute of play, a cross from Pochettino became the team's first good look of the game, and teammates Hector Jimenez, Dominguez and others have chipped in as well. The club is staying on-brand as they hold 56% over Real Salt Lake, and Driussi is proving his worth as a formidable attacking option as the team continues to threaten goal.
Wolff stacks starting lineup
Back on the pitch and feeling good. 🙌#AustinFC x @YETICoolerspic.twitter.com/OfzZFDCm7g

— Austin FC (@AustinFC) August 15, 2021
Anti-Wolff sentiment and general frustration has grown in the Austin FC Twitterverse in recent weeks after the team's admittedly "cautious" approach that led to a 2-0 loss to FC Dallas next week.
Wolff has flipped the switch this week, however, with Sebastian Driussi likely up front in his first start with the team. He'll be flanked by Cecilio Dominguez and Diego Fagundez on either side.
The midfield has been stacked as well: Pochettino, who scored two goals in the team's last home match, will take the pitch once again, while Daniel Pereira will start for the second week in a row and stronghold Alex Ring will remain the team's center of gravity in the middle.
Austin FC's defense remains unaltered, and stronghold Brad Stuver will work for another shutout in goal.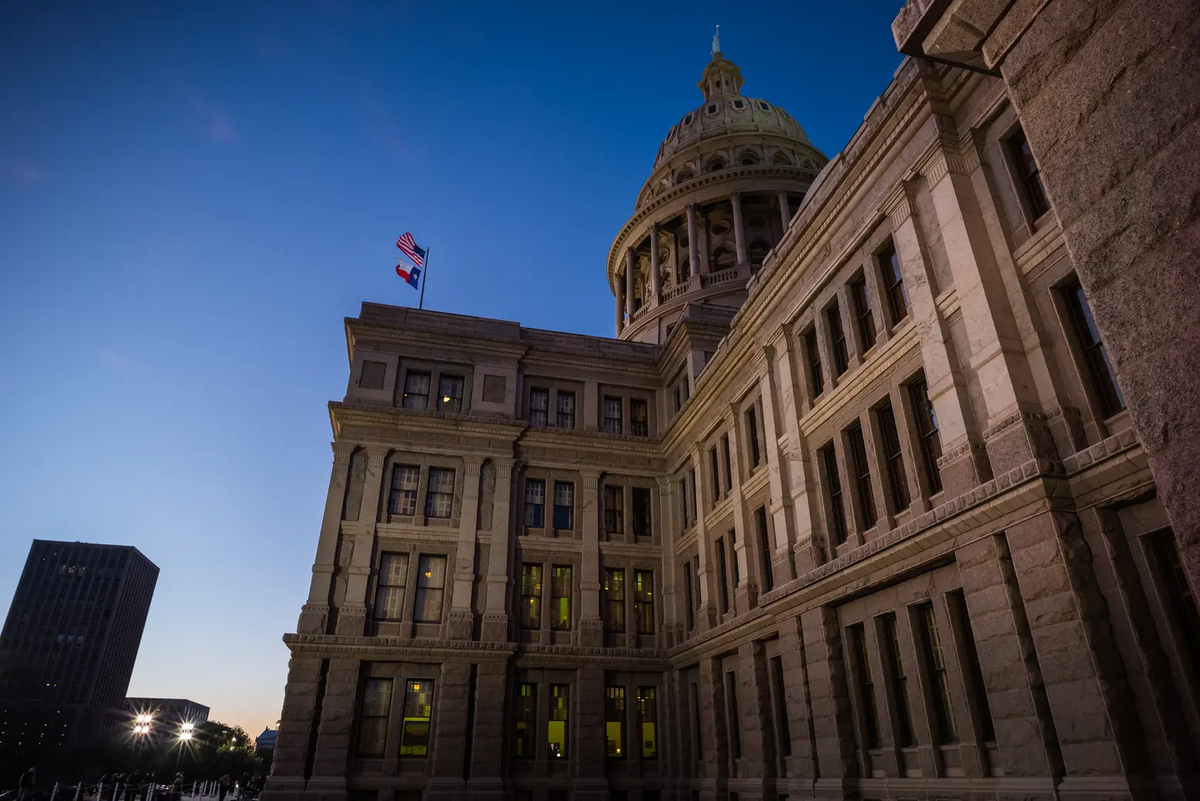 The Texas Senate Democratic Caucus is urging Gov. Greg Abbott to call an emergency special legislative session to consider a variety of gun restrictions and safety measures in the wake of a mass school shooting in Uvalde that left 19 children and two adults dead this week.
In a letter released Saturday morning, all 13 Senate Democrats demanded lawmakers pass legislation that raises the minimum age to purchase a firearm from 18 to 21 years old. The Uvalde gunman was 18 and had purchased two AR-style rifles which he used in the attack.
The caucus is also calling for universal background checks for all firearm sales, "red flag" laws that allow a judge to temporarily remove firearms from people who are considered an imminent threat to themselves or others, a "cooling off period" for the purchase of a firearm and regulations on high capacity magazines for citizens.
"Texas has suffered more mass shootings over the past decade than any other state. In Sutherland Springs, 26 people died. At Santa Fe High School outside Houston, 10 people died. In El Paso, 23 people died at a Walmart. Seven people died in Midland-Odessa," the letter reads. "After each of these mass killings, you have held press conferences and roundtables promising things would change. After the slaughter of 19 children and two teachers in Uvalde, those broken promises have never rung more hollow. The time to take real action is now."
Such laws are unlikely to gain traction in the Republican-controlled Legislature, which has a track record of favoring legislation that loosens gun restrictions. Only the governor has the power to call lawmakers back into a special session for emergency work.
Asked about a special session at a Friday press conference in Uvalde, Abbott said "all options are on the table" adding that he believed laws would ultimately be passed to address this week's horrors. However, he suggested laws would be more tailored toward addressing mental health, rather than gun control.
"You can expect robust discussion and my hope is laws are passed, that I will sign, addressing health care in this state," he said, "That status quo is unacceptable. This crime is unacceptable. We're not going to be here and do nothing about it."
He resisted the idea of increasing the age to purchase a firearm, saying that since Texas became a state, 18-year-olds have been able to buy a gun.
He also dismissed universal background checks saying existing background check policies did not prevent the Santa Fe and Sutherland Springs shootings, which both happened while he has been in office.
"If everyone wants to seize upon a particular strategy and say that's the golden strategy right there, look at what happened in the Santa Fe shooting," he said. "A background check had no relevance because the shooter took the gun from his parents…Anyone who suggests we should focus on background checks as opposed to mental health, I suggest is mistaken."
Since the massacre at Robb Elementary School, the governor's comments about potential solutions have centered around increasing mental health services, rather than restricting access to firearms.
This story has been edited for length.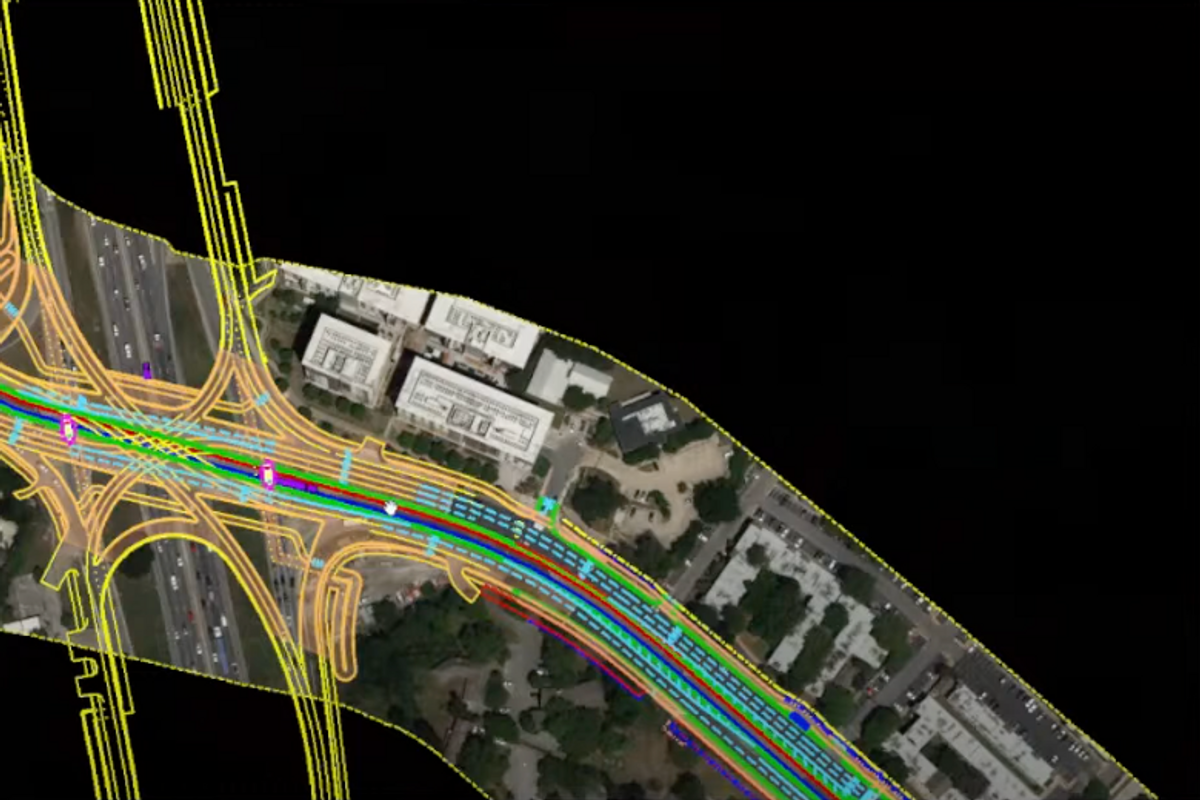 Designs for stations along Project Connect's Blue Line were presented this week, giving a detailed look at what part of the rail system extending from downtown to the airport could look like.
The planned stations that have gotten the latest focus include Waterfront, Travis Heights and Lakeshore stations past Lady Bird Lake.
At the Waterfront station, the preliminary design aims to prevent visual obstructions and save on costs. This is accomplished by a transit guideway that will lower from the bridge to a level station.
Heading onto East Riverside Drive, the light rail faces a curve requiring a slow down to about 10 miles per hour.
The Travis Heights station could involve relocating a pedestrian crosswalk zone at Alameda Drive to Blunn Creek. Since light rails can't effectively operate on a steep grade, this allows the transit guideway to avoid that.
From there, the rail will extend to the Norwood Park area, and though it will reach along the right-of-way zone, the park will be able to remain open.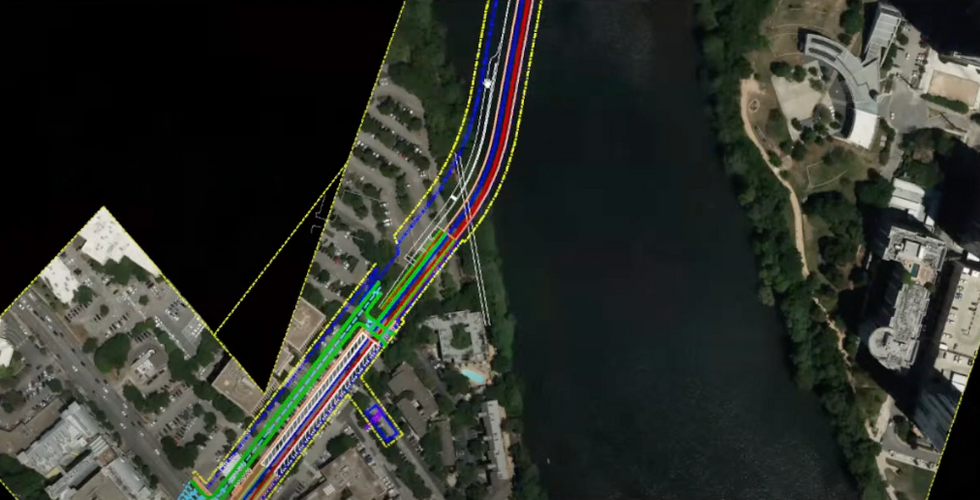 A view of the Blue Line by Lady Bird Lake. (Project Connect)
The line involves some coordination with the Texas Department of Transportation. That's because the department is working on an intersection that will have to be built before the phasing of the section of the Blue Line involving an I-35 crossing.
When it comes to the safety of cyclists and walkers, design ideas include a pedestrian hybrid beacon by East Bouldin Creek that would provide a protected signal to cross. And for the intersection TxDOT is carrying out, Project Connect is working with them on pedestrian access across the intersection. It could involve shared use paths along the street and crossings beneath it.
This summer, the public can expect 30% of design and cost estimates to be released. Though the project was $7.1 billion when voters approved it in November 2020, the latest estimates factoring in inflation and supply chain constraints show it could ultimately be upwards of $10 billion.