Get connected with our daily update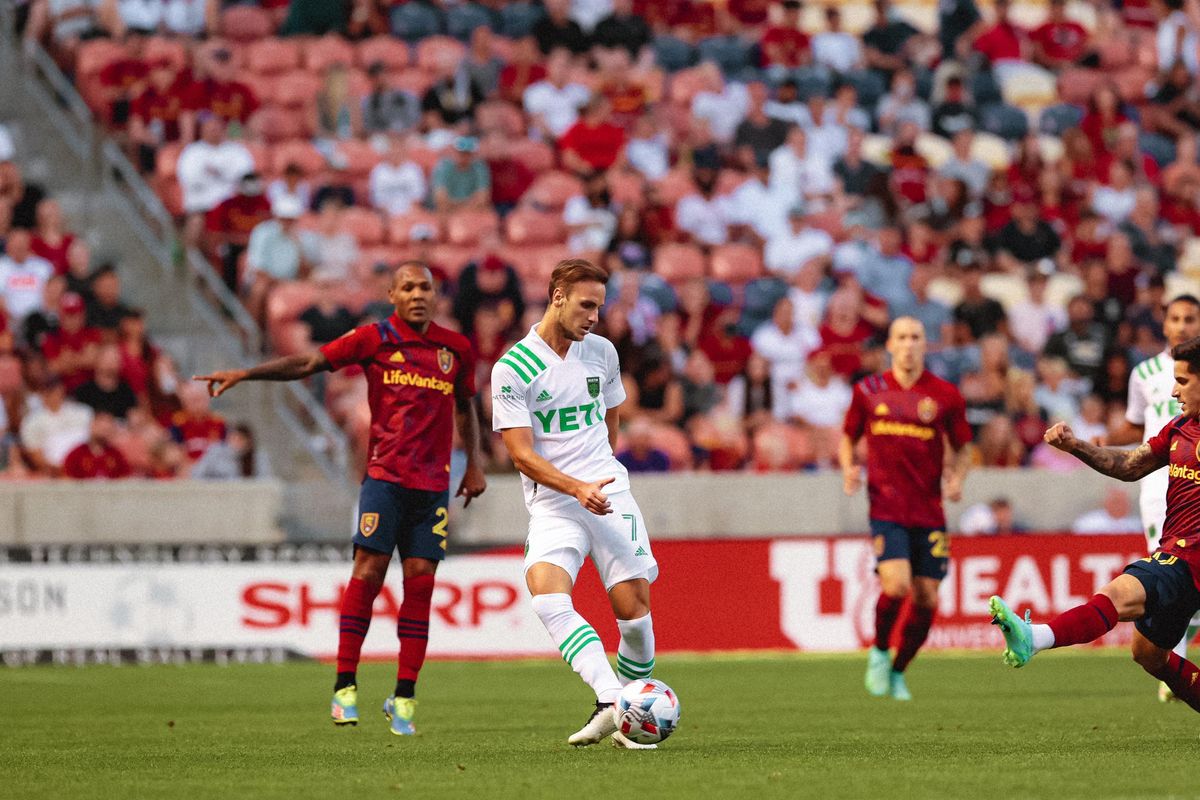 As Austin FC worked past the halfway mark for their inaugural season, the club suffered their 11th shutout of the season despite a new "dream team" starting lineup—including Designated Players Tomas Pochettino, Cecilio Dominguez and Sebastian Driussi—as they fell 1-0 tp Real Salt Lake on the road on Saturday.
---
A controversial red card and two injuries, including an apparent ankle injury for Driussi, marred an offensively-minded start for the club.
With Driussi leading attacks and Dominguez, Pochettino and Diego Fagundez not far behind, the team entered the Salt Lake pitch with their most offensive lineup to date. An early cross from Pochettino got the ball rolling near goal as Austin led with 57% possession, and Fagundez nearly got one in of his own after his shot was blocked by the post.
Shortly after a Pochettino header that went just awry, Salt Lake's Bobby Wood got one in for the home team as his strategically-placed header bounced past Austin keeper Brad Stuver in the 31st minute.
A red card for Austin FC defender Julio Cascante left the team with 10 players for the rest of the match, and an injury for fellow defender Zan Kolmanic further set the team behind the home club.
Head coach Josh Wolff called out match referees after the match and said the red card call was a "laughable" mistake.
"There wasn't one," Wolff said. "I tried to talk to the official afterwards, and all you always hear is that he's got to go look at it up top. But you know, it's there's a few real questionable things happening out there, and I know we're the expansion team...It was laughable."
Captain Alex Ring had some criticism himself for the ruling, especially with technology including the video assistant referee (VAR) and commended the team's performance with 10 men left on the field.
"The league tries to silence the players by fining us and I don't give a shit about that right now," Ring said. "I think it needs to be said because we have VAR for a reason. I think we put a hell of a fight...we work so hard and then in the end we we don't come away with a winning result, it's tough."
Despite another highlight-worthy performance from Stuver, the club would be unable to recover from their deficit for the remainder of the match.
After a week of criticism for his cautious lineup decisions in their 2-0 FC Dallas loss, Wolff may be under fire once again from frustrated fans after the team's most recent shutout.
Wolff said he understood fans' displeasure with the team's performance.
"That's criticism that is certainly warranted," Wolff said. "We're not scoring goals, we're not winning games. We're aware of what this game is about, and the need to get results."
The team is now back at the bottom of the West after scoring the fewest goals in the season and have been shut out for two-thirds of their performances this season.
Austin FC will have the chance to redeem the loss with a comeback home win as they take on the similarly troubled Vancouver Whitecaps at 8 p.m. Wednesday at Q2 Stadium.
31' Real Salt Lake scores
Bobby Wood to the far post! @realsaltlake take the lead! #RSLvATXpic.twitter.com/rYgT8n5hBf

— Major League Soccer (@MLS) August 15, 2021
Real Salt Lake's Bobby Wood does what Austin FC couldn't as he gets his hands (rather, his head) on a header of his own. The strategic header bounces off the ground before making it past Stuver and into Austin FC's goal.
The goal breaks a scoring streak for Salt Lake as Austin FC attempts to end a short scoreless bout of their own.
27' Fagundez blocked by the post
Oh man, @DiegolFagundez! 😅 pic.twitter.com/0RWw16Ivpm

— Austin FC (@AustinFC) August 15, 2021
Though not a Designated Player, Austin's Diego Fagundez does not want to be forgotten as a key scoring threat. With three goals on the season, Fagundez has forever cemented his name in Austin FC history and looked to do it once more as his shot just ricocheted off the bottom left goalpost.
Pochettino tried to save the play after Jimenez sent him a cross, but his close-range header couldn't quite get in goal.
19' Stuver stays on-brand
Just @brad_stuver doing Brad Stuver things. 👏 pic.twitter.com/Z8SUoQw2DE

— Austin FC (@AustinFC) August 15, 2021
Brad Stuver's goalkeeping performances are like Groundhog Day. The All-Star contender consistently keeps scoring threats at bay in goal, and today is no different. Stuver blocks a close-range shot from Real Salt Lake's No. 1 scorer, Toni Datkovic, after the home team's Aaron Herrera places a well-positioned cross. Stuver's highlight reel continues.
Austin keeps their confidence in the box
Austin FC has no trouble making it near goal, but things tend to get tricky once they make their way into the box. With more hands on deck, Austin is finally holding their own in front of goal.
In the fourth minute of play, a cross from Pochettino became the team's first good look of the game, and teammates Hector Jimenez, Dominguez and others have chipped in as well. The club is staying on-brand as they hold 56% over Real Salt Lake, and Driussi is proving his worth as a formidable attacking option as the team continues to threaten goal.
Wolff stacks starting lineup
Back on the pitch and feeling good. 🙌#AustinFC x @YETICoolerspic.twitter.com/OfzZFDCm7g

— Austin FC (@AustinFC) August 15, 2021
Anti-Wolff sentiment and general frustration has grown in the Austin FC Twitterverse in recent weeks after the team's admittedly "cautious" approach that led to a 2-0 loss to FC Dallas next week.
Wolff has flipped the switch this week, however, with Sebastian Driussi likely up front in his first start with the team. He'll be flanked by Cecilio Dominguez and Diego Fagundez on either side.
The midfield has been stacked as well: Pochettino, who scored two goals in the team's last home match, will take the pitch once again, while Daniel Pereira will start for the second week in a row and stronghold Alex Ring will remain the team's center of gravity in the middle.
Austin FC's defense remains unaltered, and stronghold Brad Stuver will work for another shutout in goal.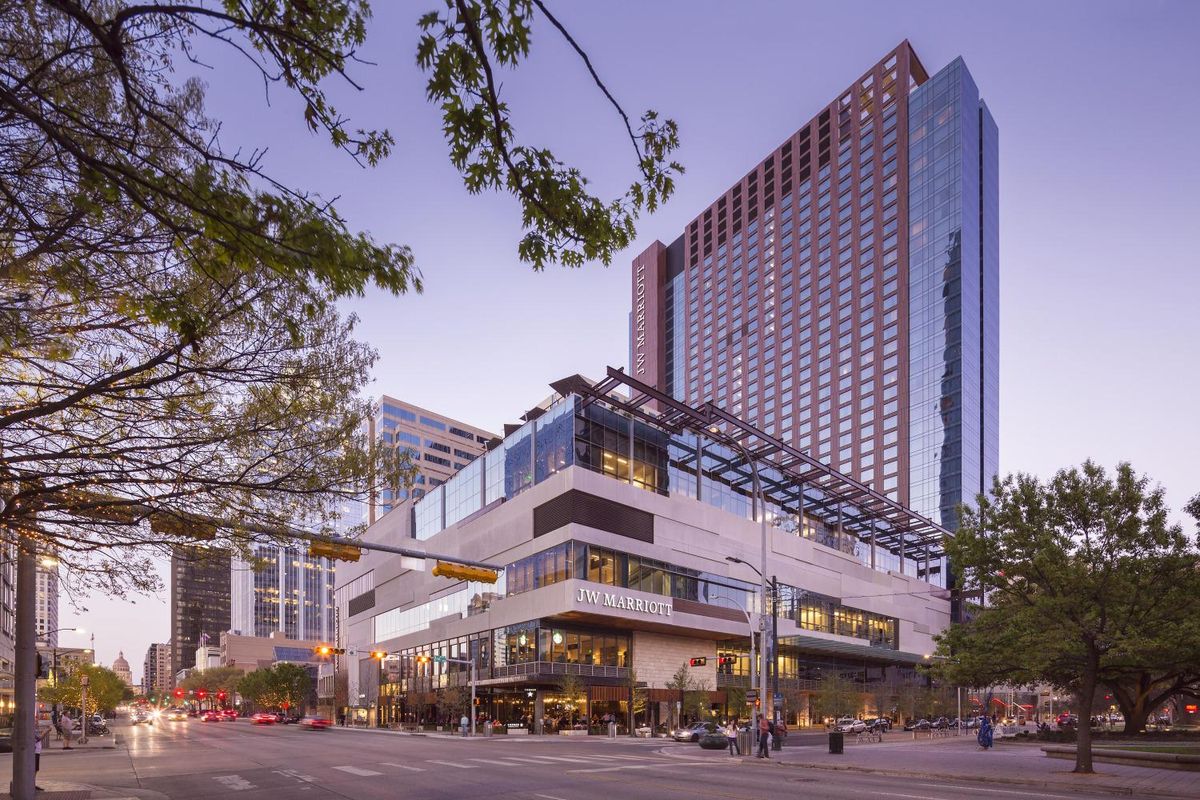 Chi Lee, the director of architecture firm HKS's new Austin office, describes this point in our city's life as puberty.
"Our voices are changing and we have freckles everywhere," Lee said. "You know, starting to look like an adult but still acting like a kid kind of thing."
But as Austin matures and faces all the pressures of its increased popularity—competing for company relocations and expansions all while managing rising rents and affordability woes—Lee thinks we should look outside when planning an approach to Austin's growth.
"A big mistake we could make is if we don't embrace what other cities, nationally, regionally, internationally have done to improve upon the experience of all the folks who live there."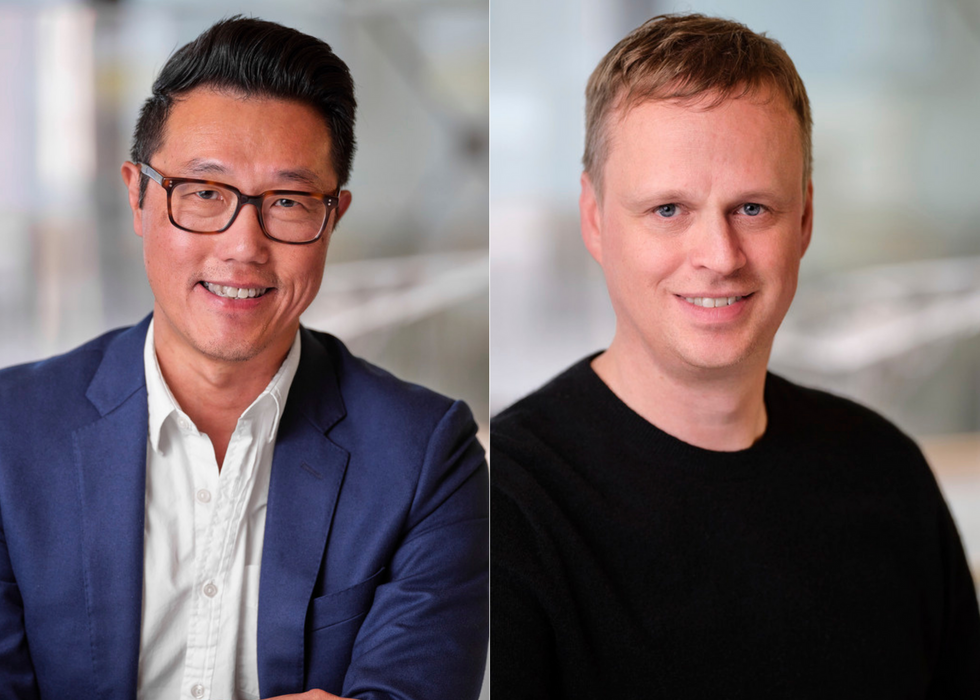 Chi Lee and Brad Wilkins (HKS)
Lee and HKS studio design leader Brad Wilkins keep this in mind as the firm, which has carried out projects in Austin since the 80s, further cements its presence here.
HKS is making ambitious strides in Austin: the firm has more than 50 projects in design or under construction in the Austin market, including Domain 9, the Dell Children's Medical Center expansion and projects in the Rainey Street District including one that may end up being the tallest tower in Texas.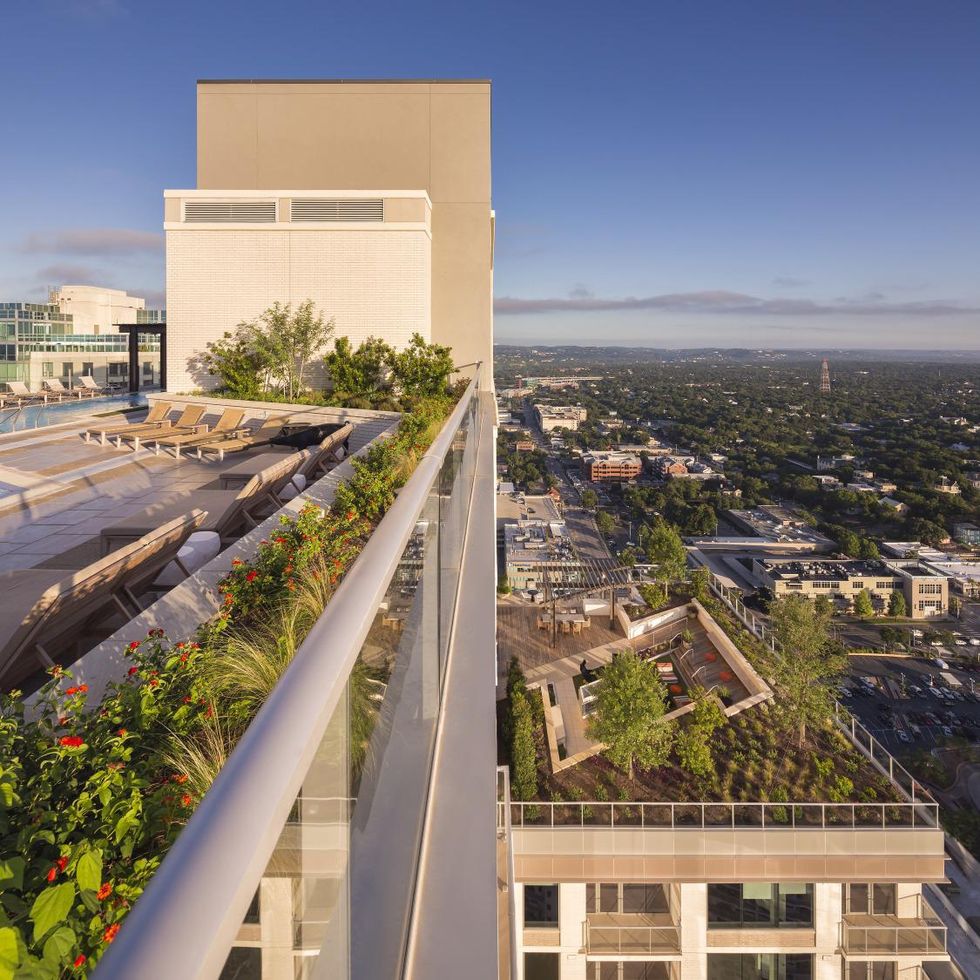 The Bowie, a 36-story apartment tower HKS designed in Austin's Central Business District. (HKS)
"We've been able to do things during the pandemic, and since then, which are really pushing the boundaries of what Austin would typically do. And frankly, what would be done anywhere in the world," Wilkins said. "Things like having outdoor space on every level of an office tower and creating the spaces not just to be like outdoor spaces, but to be spaces that people can actually enjoy."
As these projects span all over the city, Lee and Wilkins are observant of how action on certain quality of life factors could be key to preventing problems as Austin draws in a larger population.
For Wilkins, that's informed by his international work. He's lived in about half a dozen places in Europe and Asia, starting his career out in Chicago. He's carried out big projects and was one of the designers of the first LEED platinum building just outside of Hong Kong.
"One thing that we're always needing to be very careful about is looking at things that were not done great," Wilkins said. "There are mistakes in public transportation in those cities that I worked in overseas, there are mistakes in public housing."
It's partly why the pair see Project Connect—the $7.1 billion transit system expansion voters approved in November 2020 that includes light rail lines, a downtown subway and an expanded bus system—as a boon to the city's future.
Lee said he's excited that HKS is working on a couple of projects that are along the future lines and sees it as a massive opportunity for the city.
"We need to get out of our cars if we can. We just don't have the type of transportation infrastructure in place that needs to be in place," Lee said. "A lot of major metropolitan and urban cities have subway systems and light rail systems and things like that, where we don't."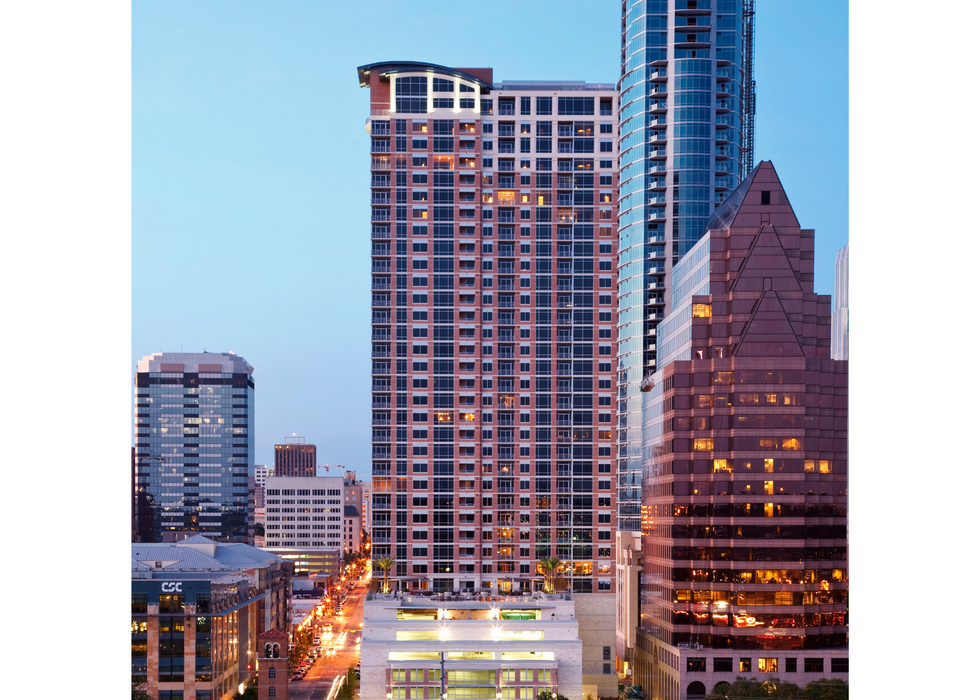 The Ashton (HKS)
Still, someday Austin will. The plan is trudging ahead with moves on anti-displacement initiatives and collecting input on design proposals for key lines. So even while HKS prepares for changes to the city from the ground up, Lee and Wilkins aim to maintain the city's personality.
"I'm always more about the local place, not the international place, even though I do bring with me international experience," Wilkins said. "Chi and I are only interested in doing Austin, we're interested in making Austin special, keeping Austin culture."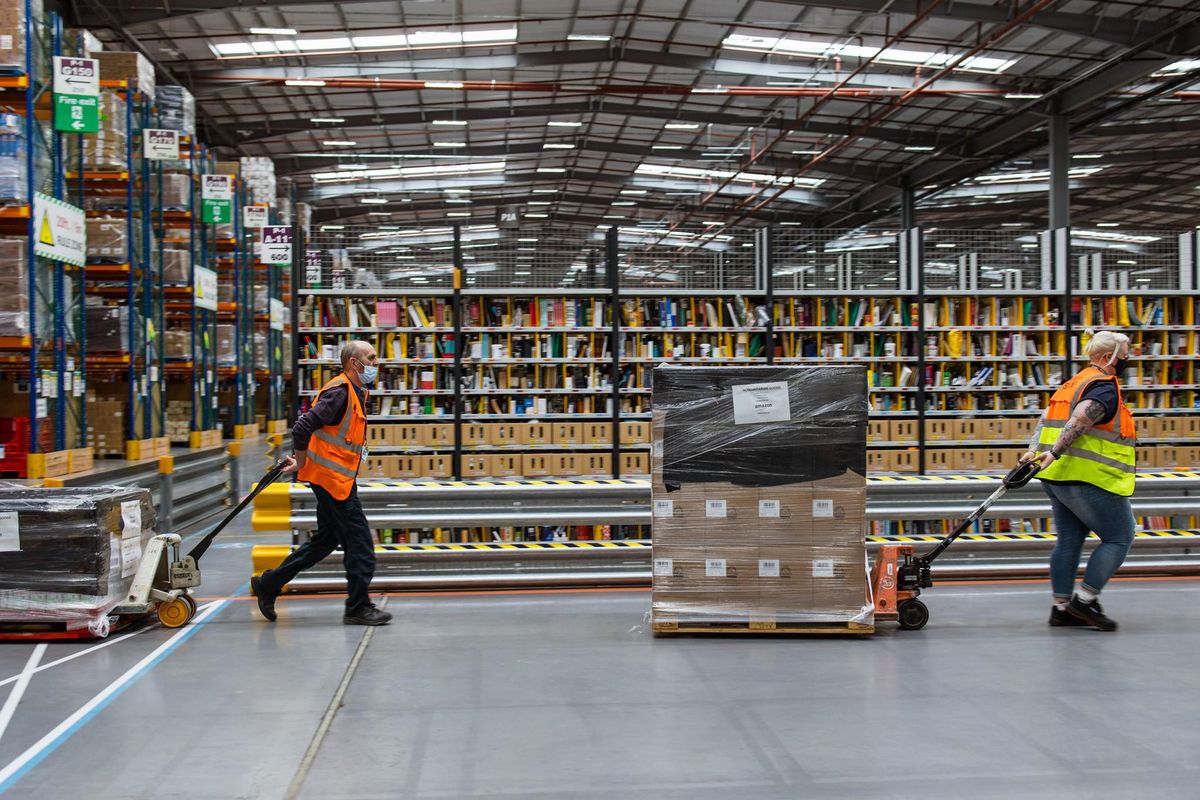 Plans for an Amazon warehouse in Round Rock—a $250 million project slated to be a large distribution center—are on hold.
This comes just after the tech giant had its worst financial quarter in seven years.
The details:
Late last year, it announced an expansion at the Domain adding 2,000 more corporate and tech jobs.
Amazon still owns the site in Round Rock. Plans for it are unclear.
Early this week, the Wall Street Journal reported that Amazon is aiming to scrap warehouse space as it faces a slowdown in its e-commerce operations.
Part of that effort involves exploring the possibility of ending or renegotiating leases with outside warehouse owners. Another aspect is a plan to sublease warehouse space.
"It allows us to relieve the financial obligations associated with an existing building that no longer meets our needs," an Amazon spokeswoman told the Wall Street Journal. "Subleasing is something many established corporations do to help manage their real estate portfolio."