Austonia AM
100% Austin news, info, and entertainment, straight to your inbox at 6 a.m. every morning.
In five minutes, you're fully informed and ready to start another great day in our city.
Get connected with our daily update
(Cecilio Dominguez/Instagram)
Jersey Number: 10
Hometown: Asunción, Paraguay
Position: Forward
Age: 26
Former club: Club Guarani
---
Background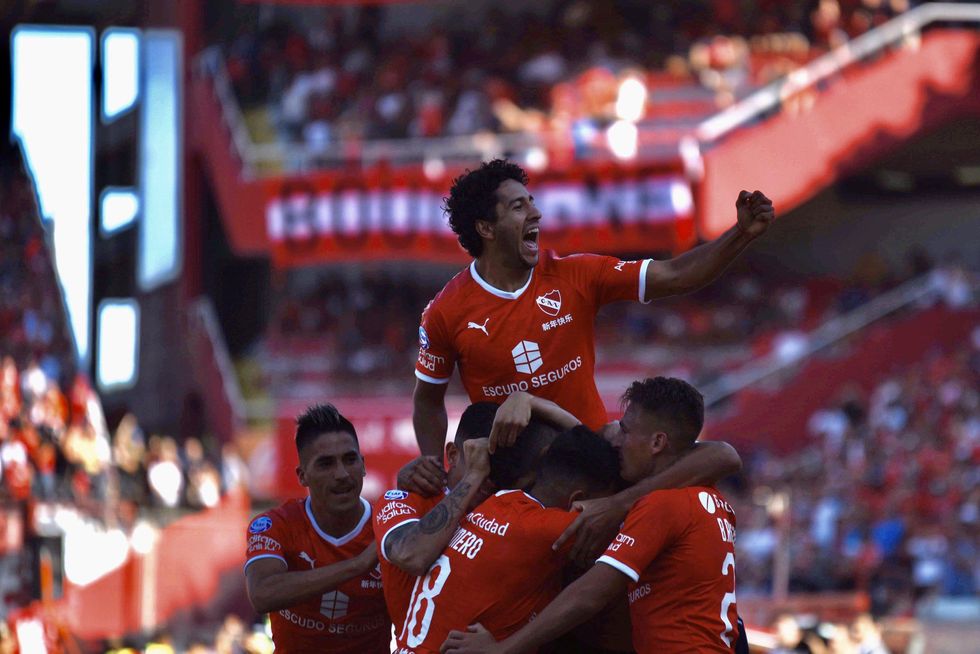 (Cecilio Dominguez/Twitter)
On Aug. 24, 2020, forward Cecilio Dominguez became Austin FC's first-ever Designated Player.
The Paraguayan footballer came to the club after being loaned to Club Guarani, a team in Paraguay's Primera Division that also held Austin FC players Rodney Redes and Jhohan Romana on their roster, in 2020. With Guarani, Dominguez helped the team to the finals of the Copa Libertadores, South America's highest level of futbol competition, where he scored the deciding goal in the tournament opener.
Before Guarani, Dominguez was teammate Tomas Pochettino's rival at Club Atletico Independiente in Argentina. He was the club's record signing and proved his worth in his two seasons with the club, scoring eight goals in 29 league and 13 cup appearances.
Dominguez now has experience in four professional leagues, including Liga MX. Dominguez transferred to Club America in the league in 2017, where he racked up 21 goals in 74 appearances to be crowned 2018's Liga MX Apertura Champion.
Before Liga MX, Dominguez tallied up more titles in his home country's Primera Division with Cerro Porteño. Just as in 2020, Dominguez brought his team to the finals in the 2014 Copa Libertadores and was the joint-top scorer in both the 2016 Copa Sudamericana and the Torneo Clausura 2016.
Dominguez has also represented Paraguay 17 times internationally and has played for his home country's Under-17 and Under-20 club.
Dominguez has scored 73 goals in his career and has appeared in 288 matches. He's likely to only rack up more minutes as Designated Player for Austin's first professional team.
With Austin FC
The Legend Grows. Introducing our first Designated Player signing, Cecilio Domínguez.#LISTOS | @10_dominguez94 pic.twitter.com/iparZVGdpj

— Austin FC (@AustinFC) August 24, 2020
Austin FC's second--ever signee was also one of its most distinguished to date. Dominguez joined the team in the summer of 2020 as the club's first Designated Player, and he's set to be the team's playmaker.
A talented attacking midfielder and left winger, Dominguez's decorated career has continued with the club. Dominguez scored twice in the team's La Copita preseason scrimmage against FC Dallas, and he's clearly an important piece to the team's attacking game.
The spotlight's certainly on Dominguez heading into the season, and Dominguez is pretty much locked in as the team's No. 10. Austin FC Head Coach Josh Wolff said that Cecilio is full of surprises and always ready for more.
"We're learning more about Cecilio every day," Wolff said. "What's great about Cecilio is he's taken in our information and tried to apply it in the ways that we've talked about, but he's also given his own interpretation and character."
Designated Players are one of three members of each roster that can be signed above the league's salary cap. While it's a lot of pressure to be one of the highest-paid members of the club, Dominguez said he considers himself just another player on the roster.
While he doesn't regard himself as any different than his teammates, he does recognize the pressure put on him as the team's offensive leader.
"It's a huge responsibility," Dominguez said. "I want to be the best version of myself and hopefully take this club to where it can be above and beyond."
Off the pitch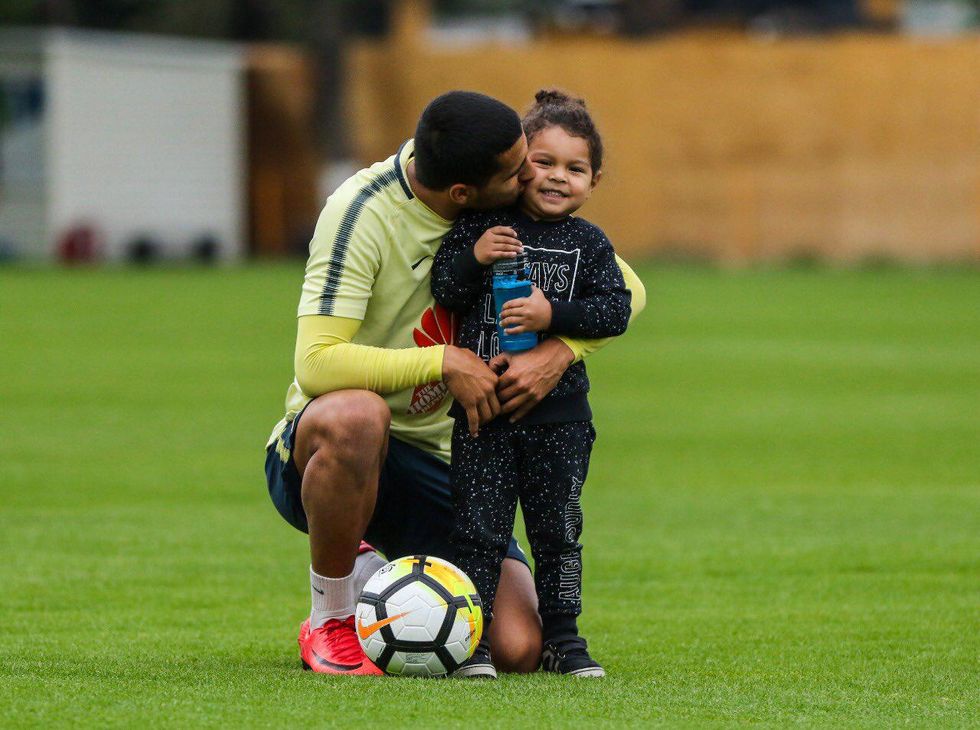 (Cecilio Dominguez/Twitter)
It's clear in countless photos and clips that Dominguez plays with passion, and his charisma has translated to this new team, Wolff said.
"He brings real character and quality to the group," Wolff said. "He's got a lively personality and he's super charismatic, but when he plays, he competes."
It's also obvious that Dominguez loves his son, Thiago, who can be seen spending time with his father on Dominguez's social media accounts.
Back at Club Guarani, Dominguez played alongside current teammates Jhohan Romana and Rodney Redes. In the journey from Paraguay to Austin, Dominguez told Marca.com he's bonded with his fellow forward.
"We are good friends. We understand each other a lot, we talk a lot," Dominguez said. "I think the whole Austin thing has made us closer, we talk both on and off the field."
For eight months, Dominguez and many others didn't play due to the pandemic. Dominguez said it was hard to be without his "passion" but that he is now even more excited to hit the pitch once again with Austin FC.
"Playing soccer, it's our passion, and to not have played it for a while, it's somewhat complicated," Dominguez said. "It's a privilege to be honest to play for Austin, and it'll be a historic day to finally play."
A week after Texas added two congressional seats and California lost one, state officials reported a population decline in 2020 for the first time in the Golden State's history.
California fell by over 182,000 people from January 2020 to January 2021, dropping almost 0.5% to cap out at around 39.5 million people. It is still the nation's most populous state.
For over thirty years, California has seen more people leave than move in from other states, state officials said, with 6.1 million people moving out and 4.9 million coming in last year. Immigration and births kept California growing, but the state saw a shrink in international migration in 2020 due to COVID and the White House's hold on visas.
Of the steady flow of ex-Californians moving to other states, more are moving to Texas than any other state. Many are relocating to Austin, which has been labeled a "little California" by billionaire resident Elon Musk and continues to grow astronomically.
Meanwhile, California cities including Los Angeles, San Diego, San Jose and San Francisco saw a population decline.
With immigration and state migration on the decline, the Golden State was also hit with a spike in deaths- 51,000 people died from COVID in 2020, and all but seven of the state's counties saw death rates higher than the three-year average.
Still, the California Department of Finance said a "slightly positive annual growth" can be expected next year as the state recovers from COVID deaths and political repercussions.


Ingredients:
1 1/2 oz of hibiscus-infused Tito's Handmade Vodka
2 oz sparkling water
1 oz fresh lime juice
3/4 oz simple syrup
1 tsp allspice dram
Directions: Add infused Tito's Handmade Vodka, lime juice, and simple syrup to a shaker with ice. Shake and strain into a glass over fresh ice. Top with sparkling water, and garnish with a lime slice. Enjoy!
The sun is out, and thousands of Austin FC fans will be as well as Austin FC goes to Kansas to play Sporting Kansas City at 6:30 p.m. on Sunday.
There's plenty of pub partners to choose from, but here's a few watch parties to help you get in on the action.