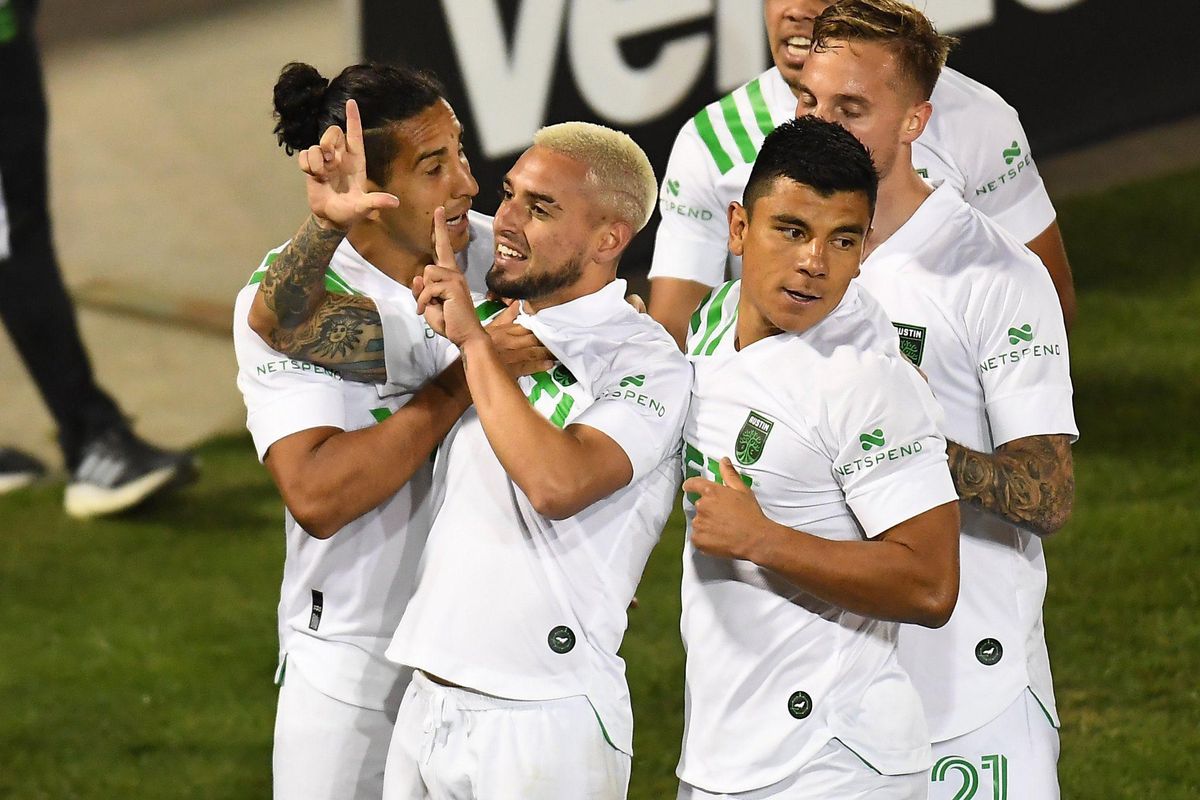 Jersey Number: 14

Hometown: Leominster, Massachusetts
Position: Midfield
Age: 26
Former club: New England Revolution
---
Background
A decade in our colors. Thanks for all the memories, @DiegolFagundez!#NERevspic.twitter.com/R3o2nH1Va8

— New England Revolution (@NERevolution) January 5, 2021
Back before Austin FC had even hit the pitch, midfielder Diego Fagundez played foot golf with members of Los Verdes, an Austin FC fan club. Fagundez told them once he made his first goal, he'd throw up the LV in their honor.
Three months later, Fagundez proved true to his word when he made not only his first goal with the program but also the first goal in club history.
"Did I think I was going to be the first person to score a goal for this club and for the city? No, but was given the chance to do that," Fagundez said. "I care about this team as much as (the fans) do, and hopefully I can give a lot more than just one goal."
Before ATXFC, Fagundez had already made MLS history at the New England Revolution. At 26, he's already had 265 MLS appearances and been in the league for 10 years. He's the youngest player to reach 200 appearances and the first homegrown player to log 10,000 minutes in the league.

Fagundez's meteoric rise started young—at 15, he couldn't drive himself to practices when he signed with the Revolution as one of the youngest players in league history. Fagundez was entering his sophomore year of high school when he made his first professional appearance as a sub against Chivas USA. His presence was immediately felt, and 20 minutes into his career he had already made his first-ever professional goal.
Just like the Austin FC goal, Fagundez said he was ready to make a name for himself when he first ran onto a professional pitch. "In my head that day, I said to myself, make sure you do something that people will recognize your name," Fagundez said. "I come to a new team, and I want to do the same thing. I want people to know who I am and what I what I'm capable of."
In October 2018, 23-year-old Fagundez once again hit a career milestone as he reached 50 career goals at an age when many make their professional debut.
A native to Uruguay, Fagundez has made four international appearances with the U-20 Uruguay National Team, where he helped his home country qualify for the U-20 FIFA World Cup in the 2015 Campeonato Sudamericano.
Rumors swirled in 2020 that Fagundez was getting offers from Liga MX clubs at the same time that he was given a not-so-great offer by the Revolution. Instead of leaving the MLS, Fagundez took a chance with the fledgling Austin FC program. The rest is, quite literally, history.
With Austin FC
While at the lake, Fagundez told his father that he was interested in a new program—Austin FC. Three days later, he got the call, and everything but his hair—so far—went Verde.
"Right away, I was very happy," Fagundez said. "My energy is here, I'm 100% committed, And I want to make the city, all the fans, all my teammates and myself all happy."
Now sporting a blonde buzzcut instead of the maroon mohawk of his teenage years, Fagundez has had to prove he's not "washed up" at only 26 years old, and Austin FC provided the perfect opportunity.
He's proven it well—though he hasn't secured a permanent starting spot over Designated Player Tomas Pochettino, he still got his chance to shine when Pochettino was benched due to an MLS request. Just like a decade ago, Fagundez made his presence known when he scored the club's first goal.
Head Coach Josh Wolff said the man of the hour's goal was well-deserved.
"I've always enjoyed watching him play," Wolff said. "Physically, I was really impressed with what he was able to do. I was happy for him."
More than making history, Fagundez is looking to help the team hold up a trophy at the end of the season.
"Goals are nice, but at the end of the day, what matters is trophies and winning games," Fagundez said. "I came here because I want to win games and I want to show the people that I still am capable of playing. Ten years are amazing, let's make it 20."
Off the pitch
"For me, my dogs are like kids--they're family"

Meet Diego Fagundez's pack in Episode 2 of our Pro Pets series! #ProPetsNBC#WellnessCORE (@wellnesspetfood) pic.twitter.com/wqRT3mCSIF

— NBC Sports Boston (@NBCSBoston) August 15, 2019
With his natural soccer IQ, it's no surprise that Fagundez comes from a futbol family.
Fagundez was born in Montevideo, Uruguay to Washington Fagundez, a former professional footballer, and Alicia Pepe, who played club soccer herself.
When Fagundez was too young to drive himself to practice, his father would often nap in the car during training, but eventually, Revs staff invited him in. From then on, Washington was a staple at his son's practices, greeting Fagundez' teammates and coaches as he made his daily walk up the stands to watch his son follow in his footsteps.
Now Fagundez has a family of his own. He's a father to two children, Maria and Liam. Fagundez also has a pack of four dogs, who he calls "part of his family," and due to his passion for eggs, he's got a coop full of chickens as well.
Fagundez has sported many hair cuts and colors throughout his career. When asked if he would ever dye it Verde, the man of many colors said he isn't a big fan of the look. Still, he might just take the step to become Los Verdes' No. 1 player. "You never know," he said. "It might go green someday."
Austonia FC