Get connected with our daily update
Jersey Number: 20

Hometown: Chester, New Jersey
Position: Right winger
Age: 24
Former club: New York Red Bulls
---
Background
NEWS: We've signed Jared Stroud to an MLS contract

Welcome, @JollyJ_Tweets

📰➡️ https://t.co/BbleRdjP3E#RedRunsDeep | #RBNY pic.twitter.com/GbiiJC5ERG

— New York Red Bulls (@NewYorkRedBulls) January 7, 2020
Back before Jared Stroud helped Austin FC to two of the team's four goals, the 24-year-old right winger was quickly rising up the ranks at the New York Red Bulls.
After graduating from Colgate University, men's soccer standout, where he was named to the All-Patriot League twice, Stroud was drafted to USL side New York Red Bulls II in 2018, where he scoring seven goals and added 11 assists. A year later, Stroud was the team leader with 15 goals and nine assists in his 34 appearances, granting him a berth in the first-division New York Red Bulls.
In his first season with the MLS, Stroud added two assists to the club in 20 appearances. It wasn't an ideal debut, however, and the onset of the pandemic kept stands quiet for his inaugural professional season.
Still, Stroud helped take the team to the playoffs in 2020. When Stroud was chosen as Austin FC's second pick in the MLS Expansion Draft, he felt ready to play outside of New York for the first time and bring his best to Austin.
"I thought I played well and started in the majority of games for a playoff team which gave me confidence for this year to kind of work on that and get better," Stroud said. "For me, I have my personal goals in terms of numbers, but right now, it's just about approaching every game in the best way possible."
With Austin FC
An eight-game road schedule to open the season means @JollyJ_Tweets and the team are focused on taking it one game-at-a-time. pic.twitter.com/mzrQLm2nau

— Austin FC (@AustinFC) May 7, 2021
The former Colgate all-time assist leader is back to doing what he knows best. Stroud helped solidify Austin FC's first-ever win streak after sending a perfectly-placed cross to Diego Fagundez to land his first assist with the club. The goal mirrored a week prior when Fagundez capitalized off a deflected shot by Stroud and brought in Austin FC's first-ever goal.
In just three weeks, Stroud has found his groove with five shots and an assists, and he's already had more shots on goal (2) than he ever did with the Red Bulls. He may be the man of the moment, but Stroud wasn't expected to start at right wing at the beginning of the season.
Stroud helped change the tempo of the game vs. LAFC when the club fell into a rut in the second half, coming in for Rodney Redes in the 59th minute and injecting more energy into their gameplay. He was rewarded with a starting spot the next week vs. LAFC, which head coach Josh Wolff said was well-deserved.
"He's tireless and unapologetically he competes with his teammates and with the opponent, which is great because that becomes infectious." Wolff said. "And he's somebody that's there every day... he helped get us going right directions."
Stroud has at least temporarily replaced fellow right winger Redes in the starting lineup, but that's not due to anything Redes has done. Wolff has stated that it's a great feeling when there's too many starting options for a club instead of too few, and even though Stroud is competing with Redes, he said the two are great friends on and off the pitch.
"We're all super good friends," Stroud said. "Between all the wingers, we want to see each other grow and get better... and that's an important part of the team is just to have that competitive spirit and to have guys fighting for positions."
Now with two wins on the record, Stroud said the energy's been much livelier on and off the pitch, and they hope to keep that running as they face Sporting Kansas City this weekend.
"I think everything's better when you're winning," Stroud said. "Everyone's happier, there's a better vibe around the club. Getting the monkey off our back in Colorado, the plane ride home was super fun. That's why we want to go out there and get results every week for everyone."
Off the pitch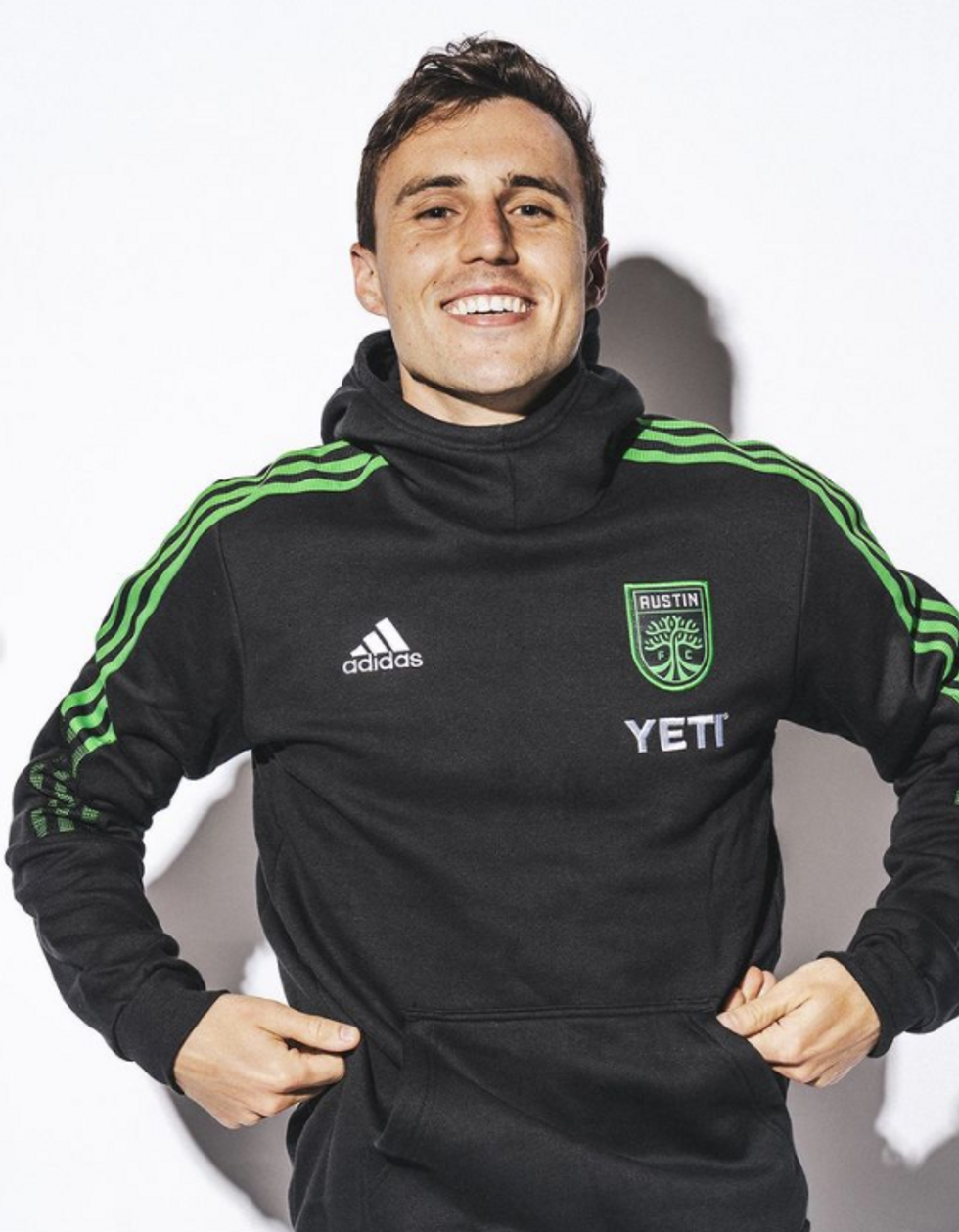 (Jared Stroud/Instagram)
Stroud's family hadn't seen him play since before the pandemic began in 2020, but the two got a big dosage of that Austin soccer spirit when they traveled to watch him play in Minnesota. They were immediately welcomed and invited to watch the match with Austin FC fans Los Verdes, something that Stroud said was a great experience for their first match back.
"It was really nice to have them fly out and be vaccinated and see them again, and knowing they were up there was nice," Stroud said. "They they enjoyed the fans (and) they had a blast.
Stroud is a man of the fans himself. Just as Diego Fagundez held up the "LV" in honor of Los Verdes after his first goal and Alex Ring led a fan chant after the Colorado Rapids victory, Stroud honored the fans with a photo after the match. He said the fans are his main motivator and he's happy to have them around after a year of silence in the pandemic.
"They're, they're the livelihood of the club, they're the energy of the club, (and) we play for them," Stroud said. "I swear they were louder than the Colorado fans, (and) It was great to interact with them and see them at every game. It means it means the world to us, and we see them in the crowd."
Stroud also has a brother, Peter Stroud, who is following in his footsteps and made the All-ACC Men's Soccer Third Team as a freshman midfielder at Duke.
Austonia FC
Heading to Q2 Stadium? Four months ago, it would've been tough to do so without dropping a pretty penny, but by mid-September, season ticket holders were clamoring to sell their seats for as little as a $10 beer.
While Austin FC continues to sell-out crowds—their most recent match was at capacity despite their record and scheduling conflict with a Texas Longhorns game—demand has dipped as new factors continue to pull down prices.
Austin FC's rocky season has been met with unbridled fan support, but it's also lost that honeymoon-phase traction as they fell to the bottom of the standings, faced a third COVID surge and were met with school, work and good ol' Texas football.
On Sept. 15, Austin FC fan Tanis Olvedo was willing to strike a deal: two beers for a ticket.
Although he later sold at cost to another season ticket holder, many fans have seen the value of their season tickets take a serious dip. By Wednesday, Sept. 15, tickets that were once no lower than $36 had dropped to as little as $14.
Austin Anthem member Phil Stanch used his accounting skills to map out the dip in his ticket sales prices.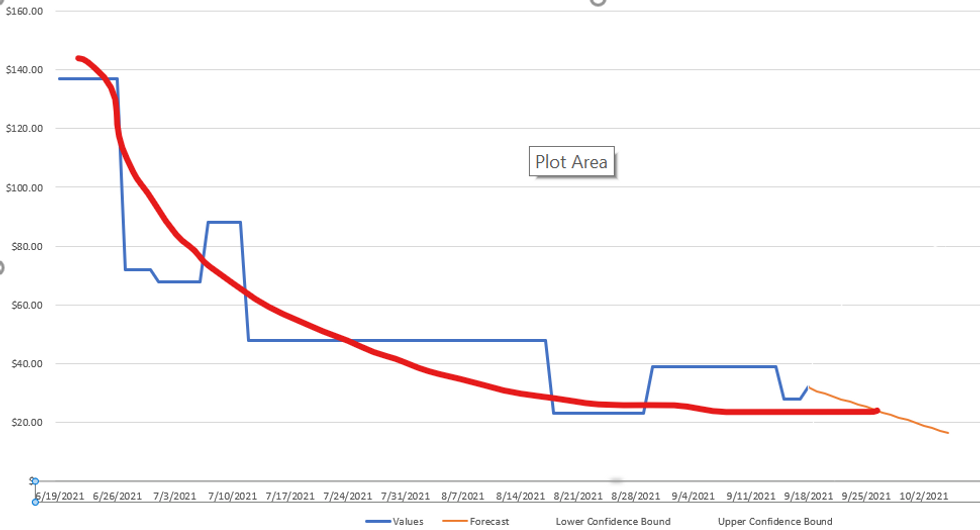 Phil Stanch found that the predicted value of his season tickets (in orange) will continue to trend downward. (Phil Stanch)
Here are the main reasons why fans say Austin FC's ticket prices have taken a tumble:
COVID
Austin FC's first home game on June 19 seemed like perfect timing—by June 16, 51% of Travis County residents were fully vaccinated. Mid-May saw Austin lift its risk-based guidelines to Stage 2 for the first time since the pandemic's onset just in time for the brand-new Q2 Stadium to open at 100% capacity.
But with the third surge sending Austin back into Stage 5 and hospitalizations skyrocketing in late summer, some diehard fans reluctantly began opting for the couch over a 20,738-capacity stadium.
That safety-consciousness comes tenfold for parents of young children who are still ineligible to get vaccinated, at-risk fans and the older population.
School starting and unvaccinated kids. That's why we haven't gone in a while. We are season ticket holders, so we have just given ours away to friends and coworkers that can go.

— jae (@jae98342926) September 23, 2021
Austin has stuck to capacity and hasn't added any masking or testing requirements, garnering some criticism from fans.
I stopped going because of the COVID surge. I tried to sell my tickets a couple of times and they didn't move. Then I decided to eat them to make space. Not happy the club didn't create a mask or vaccination requirement.

— Ruben Cavazos (@rcavazos) September 24, 2021
School
Just as the surge reached its peak in mid-August, schools across Austin once again opened in-person, leaving many families unable to go to late-night games on weeknights. Ten of the club's 17 home games have been on Wednesdays, Thursdays or Sundays—days that have quickly transformed into "school nights."
With 9-5ers unable to justify 8:30 p.m. weeknight games and kids tucked in bed by 10, fewer fans have been able to make their way to the games.
And with school comes another conflict of interest- tried-and-true Texas football is fully underway, and though Sept. 18 saw a sold-out crowd, a few Verde seats were left empty as the two teams played at home at the same time for the first time.
A combo of a number of things:
- Wednesday or Sunday games that end around 10pm are not appealing to people with jobs or kids.
- Being in last place hurts, no matter how passionate people are about the team. Nothing on the line.
- This is still Texas, and it's football season.

— Tom H (@hallockitup) September 23, 2021
Results
While COVID and fall responsibilities have played a factor, Austin FC is also dealing with the unfortunate reality of being a last-place team.
Season ticket holder Doug Mayo was one of the 4% of season ticket holders who didn't renew his deal with the team. Once confident that he would easily sell the coveted tickets for their original price, the team's record plummeted alongside his own ticket prices. Mayo said that the team's 5-4-16 record caused their honeymoon phase to end prematurely.
"The newness wore off fast," Mayo said. "Nobody wants to go to a sporting event when it's 99% certain the team they support will lose."
For Mayo, it'll take a better record and more passionate play on the field to get him back in the 20,000-member season ticket waitlist.
"Mainly (I want) them to start acting more like a professional team," Mayo said. "We were so excited to have something to look forward to throughout COVID and it's just been a disappointment."
I've been a big supporter in general, I went to 4 games in the first half of the season, but no amount of "fan camaraderie" makes me want to spend $30-40 to see a team that plays without heart. And that's bc the last game I saw we actually won (albeit Houston was down a man).

— Brown and in Austin (@DisraelTV) September 23, 2021
Still other reasons abound: some fans say it's those $10 beers themselves that cause prices to dip, while others say tickets were overpriced in the first place. Although Austin FC says 96% of season ticket holders decided to renew for 2022, many did so with a grain of salt, including longtime fan Shawn Collins.
"I have tickets in 110 (the Lexus Club) and even when the demand was crazy high I couldn't get face for my tickets because they were so high to begin with," Collins said. "When I got them I figured I'd make back what I paid on games I couldn't attend."
Austin FC's dip in ticket sales may be more of an MLS problem than a unique issue: gameday employee and University of Texas sports business student Ben Patterson said that prices shot up due to pre-season excitement and are now at more normal levels.
"The initial hype of finally having a pro sports team is likely what drove up season ticket prices at the start of the year," Patterson said. "Now that excitement has cooled off, ticket prices have dropped in value steeply."
But while five straight losses are enough to drive at least some fans away, plenty are committed to staying Verde through thick and thin.
It might not be easy being green, but thousands of fans are now enjoying the benefits of $20 tickets as they continue to pack Q2.
In May, Circuit of the Americas chairman Bobby Epstein looked back on 10 years of Formula 1's U.S. Grand Prix at COTA confident that the race would be here to stay in Texas. But sources tell Austonia that securing another contract may be in jeopardy.
Some insiders worry that COTA's 2021 Grand Prix race might be its last.
The multi-day fest from Oct. 22-24 will include a 56-lap race over the 3.3-mile track, food and musical performances from two acts, including Billy Joel at COTA's 1,500-acre facility in Southeast Austin. But after this year, the U.S.' first F1-specific track could lose its headline event.
The facility's inability to secure a contract thus far comes down to the Texas Legislature, a new threat in Miami, and, most importantly, money.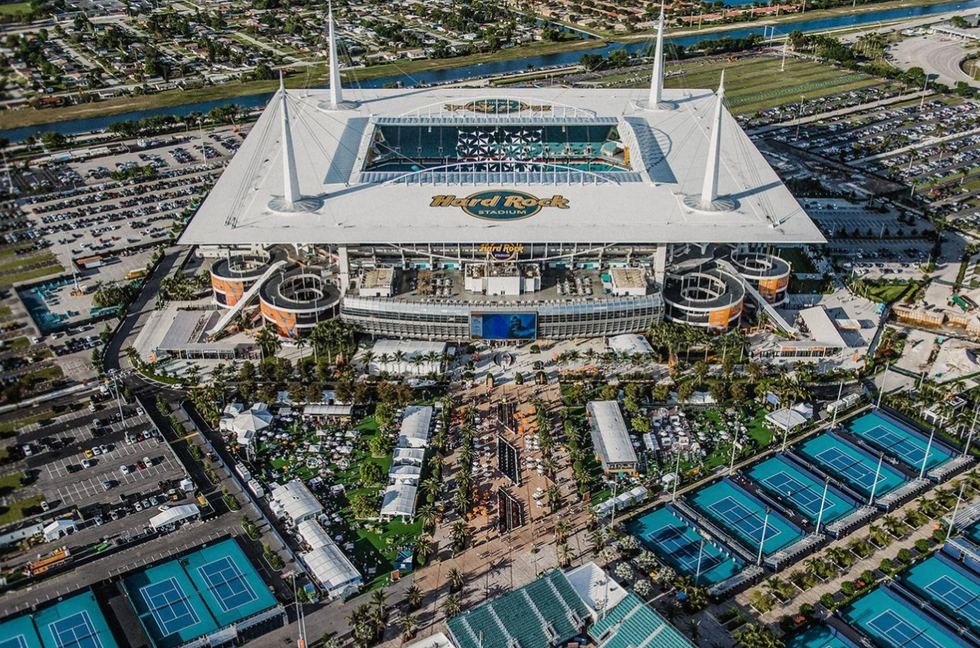 The first F 1 race will take place in Miami next year. (Hard Rock Stadium)
Every year, Formula 1 receives roughly $25 million from Texas' Major Events Reimbursement Program, a taxpayer-funded initiative that helps bring big sporting events like 2017's Houston Super Bowl to the state. A 2019 report by the Reimbursements Program on that year's race said the "data is inconclusive" on if the event has a positive or negative economic impact on the state with the resources given. In 2018, the Austin-American Statesman reported that COTA had brought back a total of $75.7 million between 2015 and 2017 for hosting the U.S. Grand Prix.
Legal issues have also barred Epstein and Co. from securing another 10-year contract earlier: in 2018, the company lost its yearly $25 million bid after failing to submit a human trafficking prevention plan as part of its yearly application.
That same year, F1 managing director of commercial operations Sean Bratches told the Associated Press that the organization hopes to stay at COTA "for many years to come."
However, in May, the racing league announced that it had secured a 10-year contract to hold the Miami Grand Prix as American interest in the sport soared following the three-season "Drive to Survive" documentary, which gives behind-the-scenes looks at drivers and races of the Formula One World Championship.
Epstein is optimistic about the new U.S. location and told Autoweek in May that "more races in our time zones are good for the sport."
"I think we're getting double the impact this way," Epstein said. "Miami should sell out huge the first year and maybe the second year and then after that, I think we'd be spitting audience if we were around the same time on the calendar. So the spread is fantastic."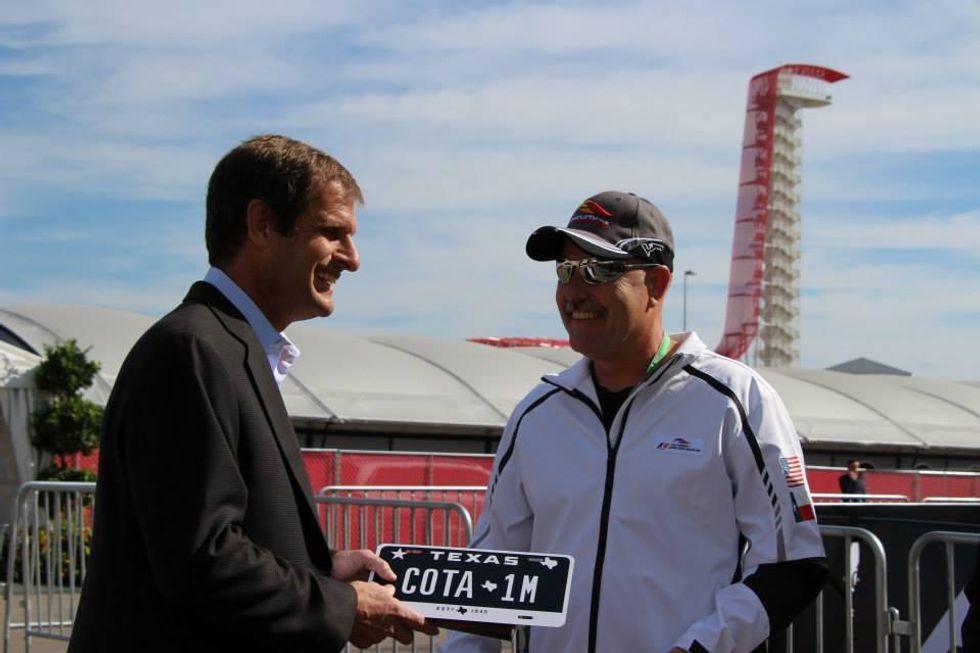 Bobby Epstein recognizes the 1 millionth customer of COTA in 2013. (COTA/Facebook)
The new F1 venture may impact COTA's contract, however: in an opinion piece for the Fort Worth Star-Telegram, writer Mac Engel said Texas is unlikely to fork over taxpayer money if the facility is no longer the only F1 track in the U.S.
According to Engel, the Major Events Reimbursements Program agrees to provide funding only "if Austin holds the only F1 race in the country."
Epstein hasn't addressed such claims; by contrast, he feels as though there's room for a third race in the U.S. as ticket sales rebound after COVID.
"In the first week, we sold pretty much all the tickets we put up for sale and we plan to break the 2019 attendance record," Epstein told Autoweek. "Texas was the first place to lift COVID-19 restrictions (in the U.S.) and put on sporting events, and we're full. We're at 100% capacity.
Despite ventures to diversify revenue at COTA—Epstein's USL soccer team Austin Bold has seen its own share of troubles, and the facility plans to develop into a multi-faceted entertainment arena complete with music venues, a waterpark, condominiums and an 11-story hotel—a loss of its primary event could be devastating for the $300 million complex.
F1 has rarely lasted more than a decade at venues in the U.S. over the last century; let's hope Austin breaks that curse.
COTA's media relations team did not immediately get back to Austonia for comment.