Get connected with our daily update
Jersey Number: 20

Hometown: Chester, New Jersey
Position: Right winger
Age: 24
Former club: New York Red Bulls
---
Background
NEWS: We've signed Jared Stroud to an MLS contract

Welcome, @JollyJ_Tweets

📰➡️ https://t.co/BbleRdjP3E#RedRunsDeep | #RBNY pic.twitter.com/GbiiJC5ERG

— New York Red Bulls (@NewYorkRedBulls) January 7, 2020
Back before Jared Stroud helped Austin FC to two of the team's four goals, the 24-year-old right winger was quickly rising up the ranks at the New York Red Bulls.
After graduating from Colgate University, men's soccer standout, where he was named to the All-Patriot League twice, Stroud was drafted to USL side New York Red Bulls II in 2018, where he scoring seven goals and added 11 assists. A year later, Stroud was the team leader with 15 goals and nine assists in his 34 appearances, granting him a berth in the first-division New York Red Bulls.
In his first season with the MLS, Stroud added two assists to the club in 20 appearances. It wasn't an ideal debut, however, and the onset of the pandemic kept stands quiet for his inaugural professional season.
Still, Stroud helped take the team to the playoffs in 2020. When Stroud was chosen as Austin FC's second pick in the MLS Expansion Draft, he felt ready to play outside of New York for the first time and bring his best to Austin.
"I thought I played well and started in the majority of games for a playoff team which gave me confidence for this year to kind of work on that and get better," Stroud said. "For me, I have my personal goals in terms of numbers, but right now, it's just about approaching every game in the best way possible."
With Austin FC
An eight-game road schedule to open the season means @JollyJ_Tweets and the team are focused on taking it one game-at-a-time. pic.twitter.com/mzrQLm2nau

— Austin FC (@AustinFC) May 7, 2021
The former Colgate all-time assist leader is back to doing what he knows best. Stroud helped solidify Austin FC's first-ever win streak after sending a perfectly-placed cross to Diego Fagundez to land his first assist with the club. The goal mirrored a week prior when Fagundez capitalized off a deflected shot by Stroud and brought in Austin FC's first-ever goal.
In just three weeks, Stroud has found his groove with five shots and an assists, and he's already had more shots on goal (2) than he ever did with the Red Bulls. He may be the man of the moment, but Stroud wasn't expected to start at right wing at the beginning of the season.
Stroud helped change the tempo of the game vs. LAFC when the club fell into a rut in the second half, coming in for Rodney Redes in the 59th minute and injecting more energy into their gameplay. He was rewarded with a starting spot the next week vs. LAFC, which head coach Josh Wolff said was well-deserved.
"He's tireless and unapologetically he competes with his teammates and with the opponent, which is great because that becomes infectious." Wolff said. "And he's somebody that's there every day... he helped get us going right directions."
Stroud has at least temporarily replaced fellow right winger Redes in the starting lineup, but that's not due to anything Redes has done. Wolff has stated that it's a great feeling when there's too many starting options for a club instead of too few, and even though Stroud is competing with Redes, he said the two are great friends on and off the pitch.
"We're all super good friends," Stroud said. "Between all the wingers, we want to see each other grow and get better... and that's an important part of the team is just to have that competitive spirit and to have guys fighting for positions."
Now with two wins on the record, Stroud said the energy's been much livelier on and off the pitch, and they hope to keep that running as they face Sporting Kansas City this weekend.
"I think everything's better when you're winning," Stroud said. "Everyone's happier, there's a better vibe around the club. Getting the monkey off our back in Colorado, the plane ride home was super fun. That's why we want to go out there and get results every week for everyone."
Off the pitch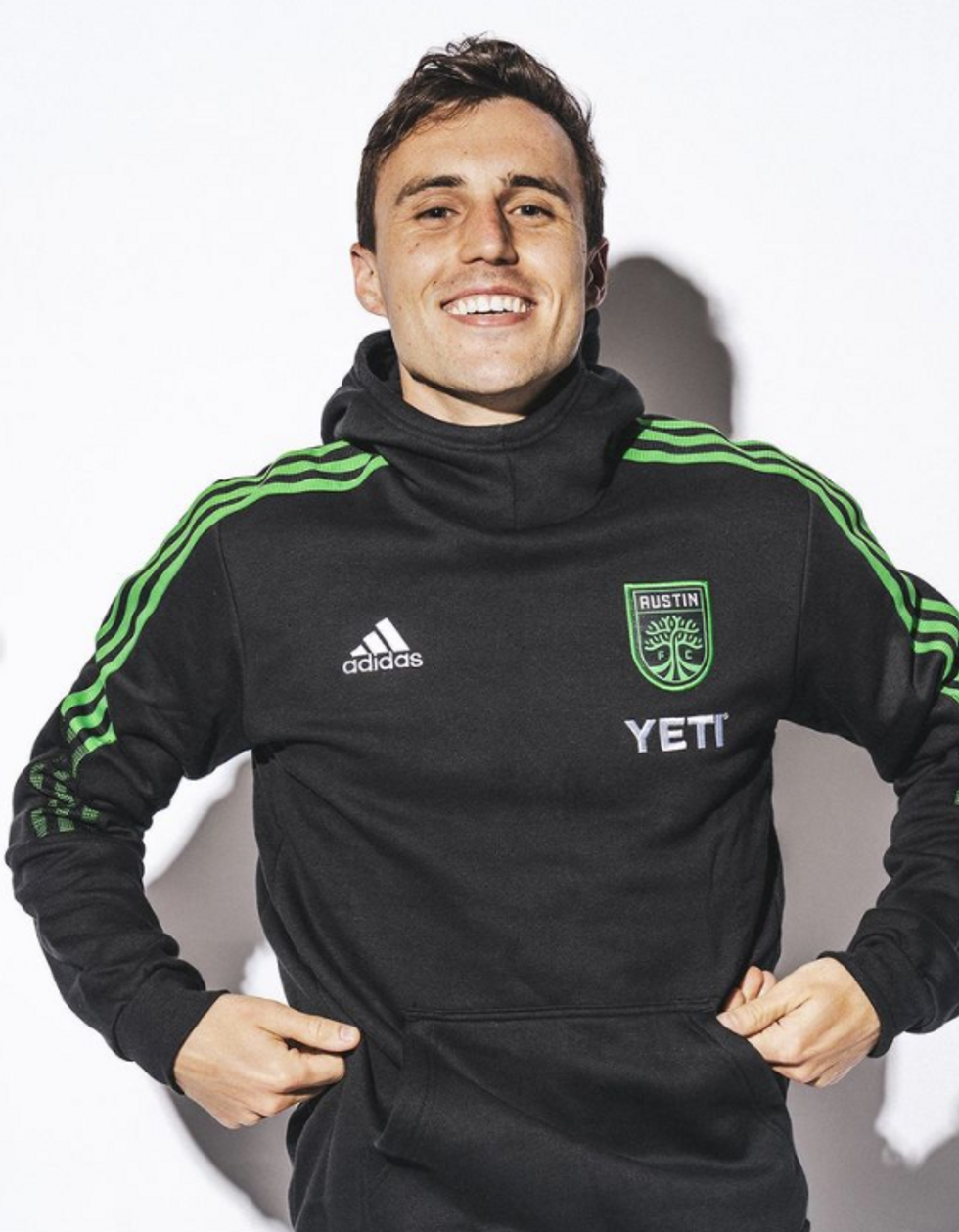 (Jared Stroud/Instagram)
Stroud's family hadn't seen him play since before the pandemic began in 2020, but the two got a big dosage of that Austin soccer spirit when they traveled to watch him play in Minnesota. They were immediately welcomed and invited to watch the match with Austin FC fans Los Verdes, something that Stroud said was a great experience for their first match back.
"It was really nice to have them fly out and be vaccinated and see them again, and knowing they were up there was nice," Stroud said. "They they enjoyed the fans (and) they had a blast.
Stroud is a man of the fans himself. Just as Diego Fagundez held up the "LV" in honor of Los Verdes after his first goal and Alex Ring led a fan chant after the Colorado Rapids victory, Stroud honored the fans with a photo after the match. He said the fans are his main motivator and he's happy to have them around after a year of silence in the pandemic.
"They're, they're the livelihood of the club, they're the energy of the club, (and) we play for them," Stroud said. "I swear they were louder than the Colorado fans, (and) It was great to interact with them and see them at every game. It means it means the world to us, and we see them in the crowd."
Stroud also has a brother, Peter Stroud, who is following in his footsteps and made the All-ACC Men's Soccer Third Team as a freshman midfielder at Duke.
Austonia FC
Republic Square Park has turned into a Ford-themed fiesta for its Built to Connect pop-up experience, complete with test drives, off-roading and an inside look at the Tesla-rivaling electric vehicles that the motor vehicle company is planning to integrate over the next decade.
The outdoor driving event is free, open to the public and will stay in the park from now until Oct. 24, offering rides on Bronco Mountain, a 0-40 mph zip in the 2022 all-electric Ford F-150 Lightning and a chance to win an original Ford Bronco.
The event kicked off with a panel of speakers, including Austin Director of Transportation Rob Spillar, Ford General Manager Darren Palmer and engineering specialists discussing Ford's goals to make it so that 50% of the vehicles on the road are electric by 2030.
As an eco-conscious city, Spillar said that around 4,000 vehicles, or 22% of the Texas electric vehicle market, as well as over 15,000 plugins lie in Austin, meaning driving electric just got accessible.
"Austin, as you know, is a fast-growing modern city that is committed to protecting the long term health and viability of our communities and strategies that reduce greenhouse gases, mitigate the effects of climate change and improve the drone quality of life here in Central Texas for all of our residents," Spillar said.
And Ford's electric vehicles are putting up some steep competition for newly-Austin-based company Tesla. The new electric Mustang Mach-E and F-150 Lighting offer amenities that used to be exclusive to Musk's brand, such as the BlueCruise self-driving network. The cars also boast a 300-mile range on a single charge, assisted reverse technology and access to the biggest charging network outside of the home.
Plus, Ford's got affordability on its side. The F-150 Lightning starts at $39,974 and the Mustang Mach-E starts at $42,895, while the cheapest Tesla model, the Model 3, starts at $41,990 and averages 262 miles on a single charge.
Speaking of price, the numbers on the electric vehicles may look like a little more than you'd like to pay for your transport, but Palmer promises it will pay off. In addition to a $7,500 tax credit you can earn for your sustainability, you'll never have to buy a pricey tank of gas again.
"Personally, I have not found one customer ever, who would go back to gas so that says something," Palmer said. "I realized, at $51,000, that car outruns every childhood hero car I ever had."
Texas buyers: take note. The Ford Lightning can power your house for three to 10 days, just in case the statewide power grid fails. You can take it glamping with you, so you don't have to leave the comfort of modern life behind, and in a pinch, Palmer said he's even seen a wedding party powered by the truck.
Ford is investing $30 billion into the U.S. market to meet demand by 2025 and the new electric truck already has over 150,000 reservations.
"I think they're going to take off much faster than you expect—they're going to be extremely, extremely popular next year," Palmer said. "With the incentives that are available today, this is starting to become more mainstream and viable for more and more families. We couldn't have done that before, we didn't have the technology, or the technology at that price."
The event is ongoing through next weekend from 12-9 p.m. Monday-Friday and 9 a.m.- 8 p.m. Saturday and Sunday.
The Austin Police Department is searching for a man who is believed to be behind a series of robberies that is "sexual in nature and is escalating."
Three robbery cases that took place in North Austin within a 30-day period are being investigated by police, who report the victims all had similar descriptions for suspects in the case. The suspect is described as a 20-25-year-old Spanish-speaking Hispanic man, approximately 5'3, thin build, recently shaved with black hair. Police say he is known to typically wear athletic clothing and used a knife on each of the victims.
Here's a breakdown of the cases:
1. At 7:56 a.m. on Sept. 22 at the 1600 block of Rutland Drive, a woman was walking alone and returning from her child's school when a suspect walking by inappropriately touched her. The suspect then grabbed her by the arm, threatened her with a knife and demanded "her property."
2. At 8:10 a.m. on Oct. 11 at 1700 block of Colony Creek Drive, a woman was walking to her child's school when a man approached her with a knife and then demanded her personal items. The suspect then said he would return the items in return for sex.
3. At 11:03 a.m. on Oct. 13 at the 9300 block of Northgate Boulevard, a woman was with her child in the laundry room of an apartment complex when a man walked in performing a sexual act. The suspect demanded personal items from the victim, threatening to hurt the victim and take her child.
Police cautioned the public to walk without earbuds, stay alert and report suspicious activity to the police.