Get connected with our daily update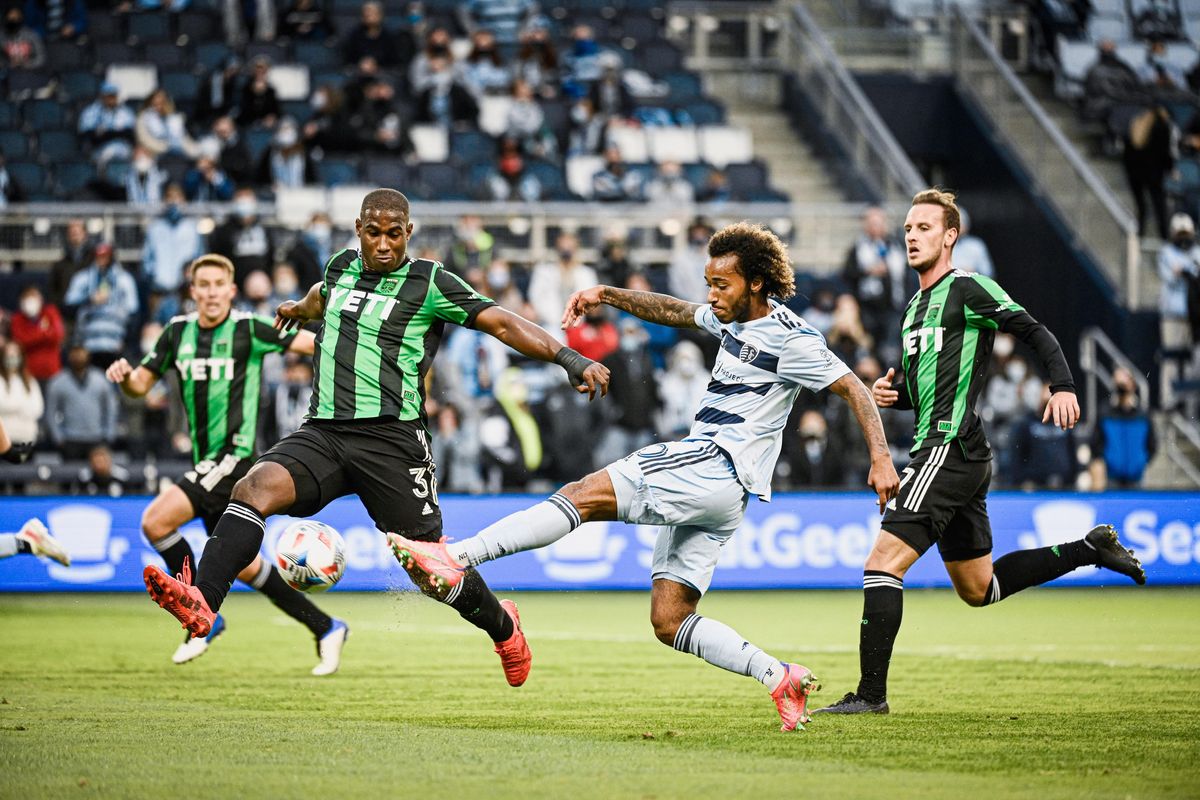 After a brutal seven-game road stretch against some of the toughest teams in the MLS, Austin FC was in need of some good news. Luckily, they got it: the underdog club forced No. 1 Seattle Sounders to their first scoreless draw of the season and is coming in fresh off of their first weekend break so far.
---
At the beginning of the season, being relentless, having intensity and keeping a high tempo were all key factors in Austin FC's identity, according to head coach Josh Wolff. That willingness to fight was curbed at times by exhaustion and injuries, but Wolff said they've taken their week off to hit the "reset" button.
"We've been kind of using this international break to take stock of where we're at, and think back to some of the principles that we kind of started out with," he said.
Now, Austin FC is seeing another good omen as they head into their first-ever rematch. The club is slated to play Sporting Kansas City, the former stomping grounds of defender Matt Besler and head coach Josh Wolff, once again on Saturday. One of the top teams in the league, Kansas City beat Austin FC 2-1 in early May after a catastrophic second half for the Verde and Black. This time around, however, they'll be without key goalscorer Alan Pulido—and Austin could just get the upper hand.
Here's what to expect as Austin plays its first rematch in club history against Kansas City this Saturday:
What to expect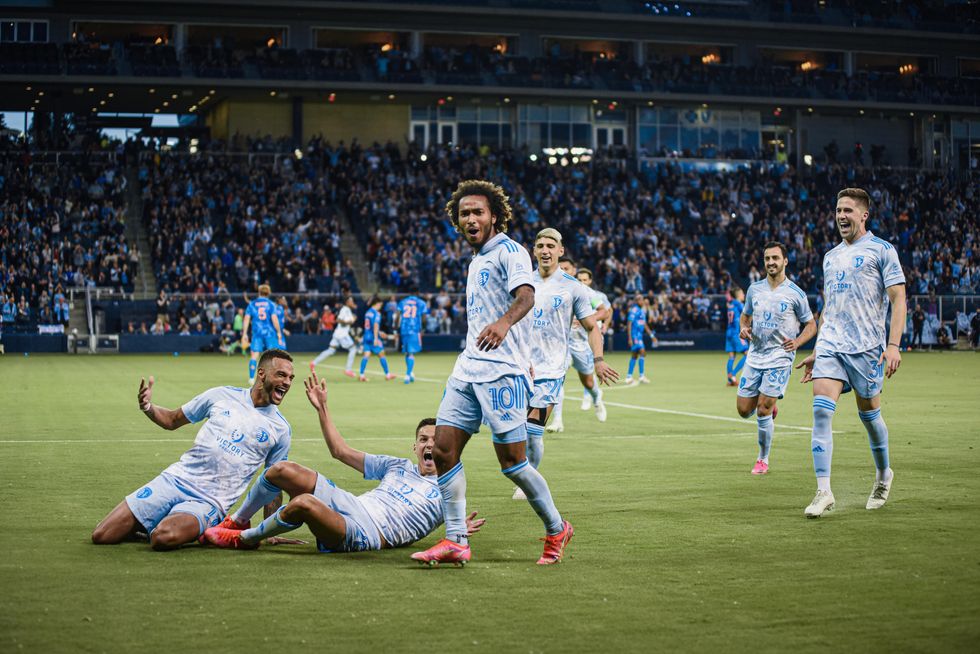 Sporting KC's Gianluca Busio is a 19-year-old force in the club's midfield. (Sporting Kansas City/Twitter)
Strictly on paper, Kansas City is set to win Saturday's match. KC is currently 2nd in the Western Conference compared to Austin FC's 11th, and while standings don't matter much in the league, it is telling of how each club has performed so far this season.
In eight matches, Kansas has lost just one and is coming off of a 5-2-1 record. The club has scored 15 goals, the most in the league, and KC's Dániel Sallói has the second most expected goals in MLS with 3.68.
Austin has lucked out, however, with the absence of their opponent's star forward Alan Pulido as he plays for the Mexican National Team this weekend. Pulido has accounted for one-third of Kansas City's 15 goals, and his absence will be felt at the crown of the club's offensive system. They also might see a more tired Gadi Kinda, who was called up to play for Israel's national team on Wednesday, June 9.
With Pulido gone, Kansas has lost a key cog in their machine, but they're still packing star power. The club scored three goals in 14 minutes against the Houston Dynamo on Sunday, May 30, in part thanks to a stunning free kick by 19-year-old Gianluca Busio. Busio, who has scored two goals this season, is now getting attention from high-profile European teams in Italy's Serie A.
Austin FC is coming off of a victory of sorts as well. The club may have been 'scoreless in Seattle,' but a scoreless draw against the No.1 team in the league is a victory of sorts in itself. Austin FC seemed to gain their bearings after a rough few weeks on the road, and they should be even more prepared and well-rested after a weekend at home.
The club scored against Kansas in just seven minutes last match, and they could do the same again if they manage to complete their chances up front.
Wolff said that the club held their own against Kansas City last time, and he doesn't expect much to change in KC's gameplay as they continue to press high and attempt to drive in goals.
"They're a well-oiled machine, they don't deviate from that too much," Wolff said. "We've got to go in there with a real clear picture, of what it's going to look like and how we have to match the intensity."
Projected starting lineup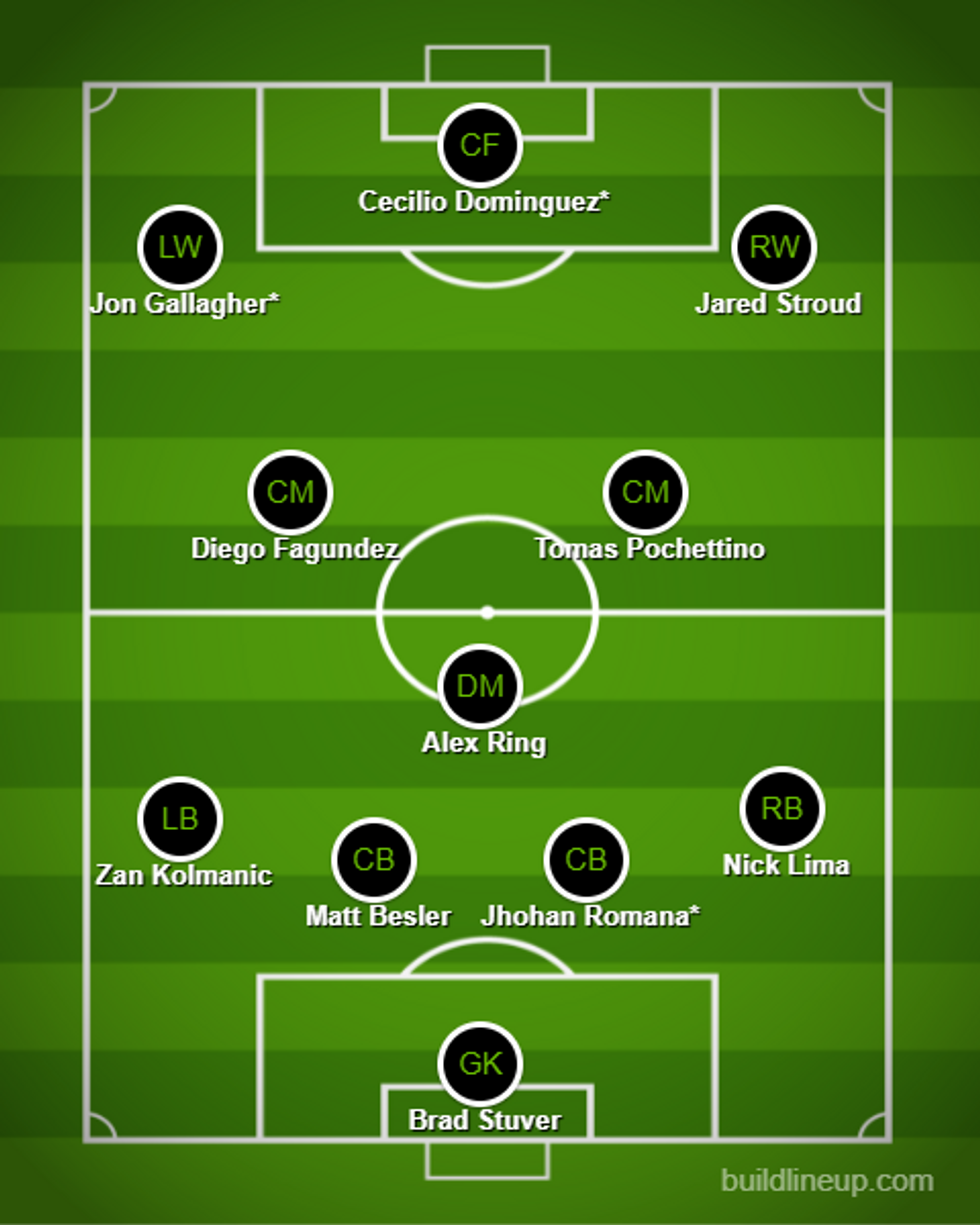 For the first time this season, Austin FC could be facing a new lineup as they go into the weekend's match. Wolff hinted that a 4-4-2 or 4-3-1 lineup could soon be on the table instead of the 4-3-3 formation they've been touting this season. Still, I went with a safer bet and predicted that the 4-3-3 will stay for one more game.
Cecilio Dominguez had one of his best performances of the season against Seattle after being switched from left wing to striker, and it wouldn't be a surprise to see him at the top of the lineup again this week. Jon Gallagher did his part in left wing and could be there again, although Danny Hoesen or Kekuta Manneh could also get some playing time in the new open position. Meanwhile, Jared Stroud has been consistent on right wing and is likely to stay there as he continues to create opportunities.
Jhohan Romana was reported to be practicing fully with the club this week after missing the Seattle match due to a leg injury. If recovered, he'll go back into center back over Julio Cascante.
Brad Stuver, one of just two players to have started every match this season, is near-guaranteed to be back in goal after making several "Saves of the Week" already this season.
Wolff said Stuver has exceeded his expectations as he secures his spot over Andrew Tarbell, who he was competing with for the starting position in preseason.
"His performance has been fantastic," Wolff said. "He's taken it and run with it...I think that's probably stood out the most, he's made some very good saves kept us in some games."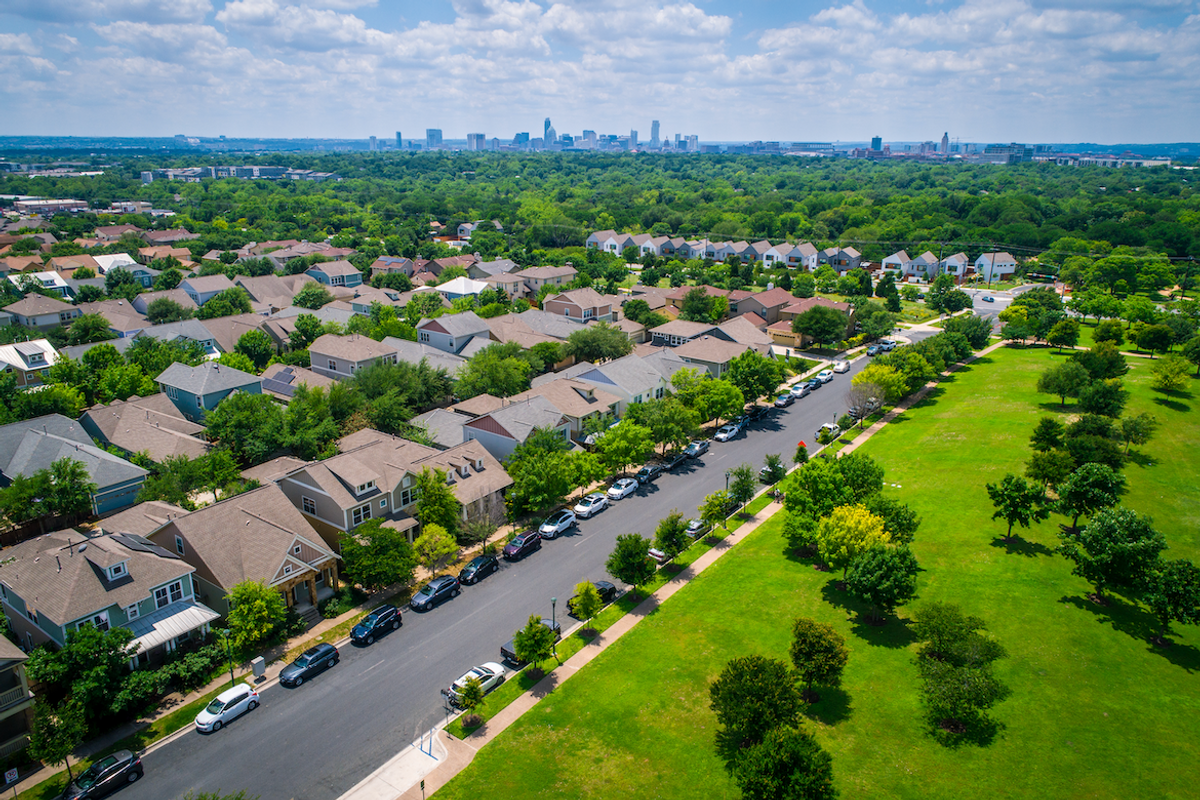 Add drastically higher development fees onto your list of things that make buying a house in Austin so expensive.
A Texas A&M University Real Estate Research Center study found that Austin's per-unit fees on new development were 187% higher than Dallas, Houston, Fort Worth and San Antonio. The suburbs aren't much cheaper as per-unit development fees in Austin are still 127% higher.
According to ABoR CEO Emily Chenevert, high development fees charged by the city are cause for concern around solving the city's ongoing housing crisis.
"This report confirms what those in the real estate community have known for a long time," Chenevert said. "Development fees are drastically higher in Austin than most other cities in Central Texas and major metro areas in Texas. This is a huge barrier to building homes and a significant concern considering we are in a housing supply crisis across the region."
A closer look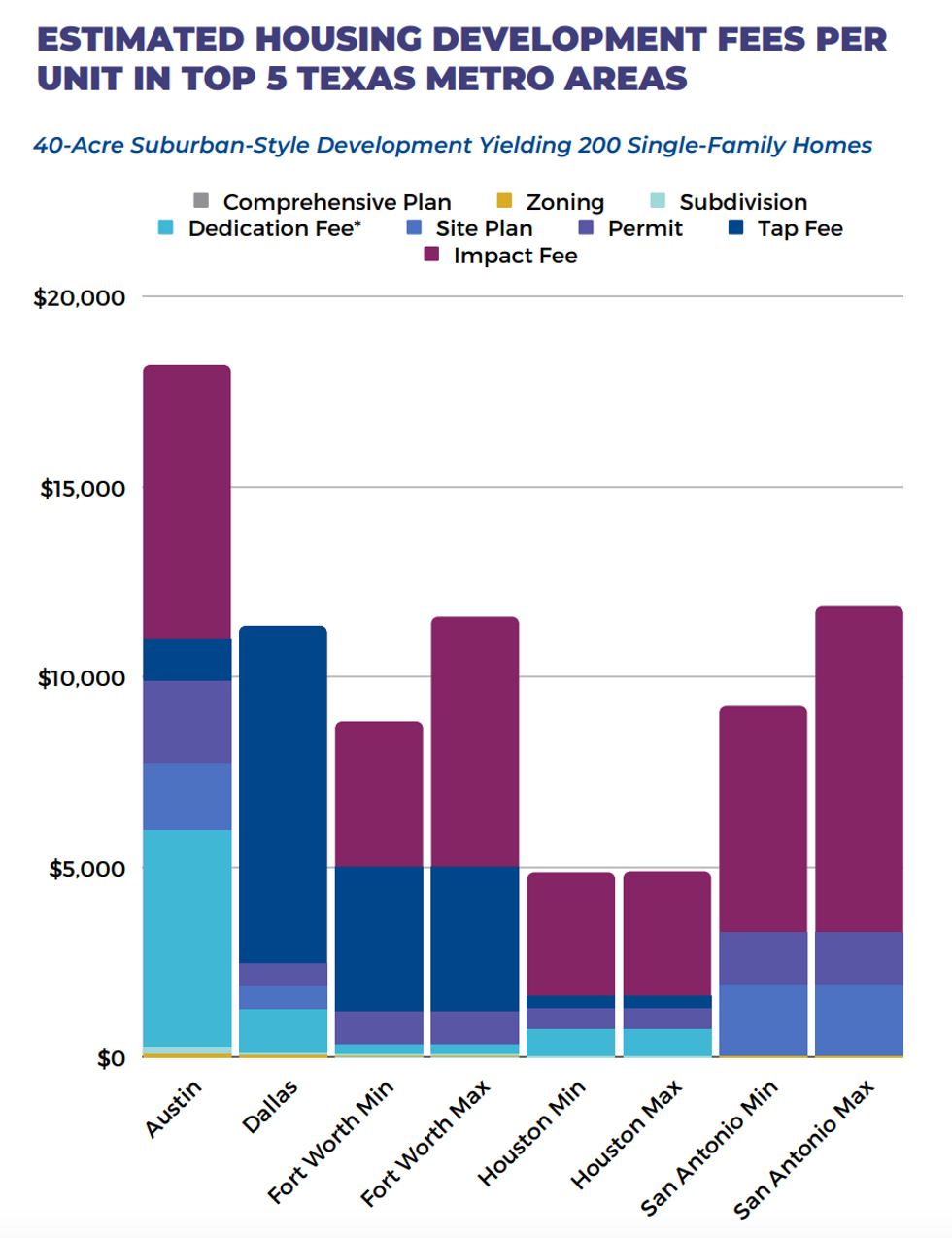 The report found that in the Austin-Round Rock metro a suburban unit was charged 80.4% or about $8,000 more than the other five largest metros in Texas. Similarly, infill units—new housing in already developed areas—cost 186.8% more in Austin than on average for Texas.
Those numbers make up 3.4% of the 2021 median housing price of $536,331 per suburban unit, or 7.7% per infill development unit.
What does that mean for buyers?
Steep fees drive up the cost for residents and can have a big impact on first-time buyers. The average Austinite earning the median household income in 2019—$54,871—would be able to afford a $204,556 home loan, of which development fees would make up about 20%, according to the study.
The Austin-Round Rock median house price hasn't been $205,000 since February 2013, which is less than half of the median price in 2021. Austin-area housing has increased 22%, about $100,000, since the study was conducted.
"These findings, although disconcerting, are unsurprising," Home Builders Association of Greater Austin CEO Taylor Jackson said. "We need to course correct on how the city of Austin handles home building and time is of the essence."
Should renters be concerned?
Managing editor for Rent.com Brian Carberry said the renter market tends to follow the housing market, albeit on a few months' delay. Carberry said not only did Austin have less apartment inventory in May 2022 than it did in May 2021, but most new complexes are being built in high-demand areas, meaning people are still being priced out.
"A lot of that is just due to there's just so much demand for apartments and the housing market does play into that a little bit because people are being priced out," Carberry said. "Your younger millennials, older Gen Z looking for their first homes are in a position where they're unable to afford something because the price has gone up so high and now mortgage rates are so high, it's just not a sustainable option for them right now."
Is there a solution?
In the study, the Austin Board of Realtors and the Home Builders Association of Greater Austin included joint recommendations for local policymakers:
Increase transparency in development fees, as a lack of information limits the ability to understand the full impact of the fees.
Implement development process improvements, including reviewing fee structure, setting goals for housing approval and adopting successful models from similarly-sized cities.
Right-size development fees, which will become critical as Austin's urban population grows and infill development increases.
"The National Association of Home Builders 2022 Priced Out Index reports that for every $1,000 increase in the price of a home, whether it be from market forces or development fees, 791 households are priced out of the Austin-Round Rock MSA," Jackson said. "We urge Austin's leadership to act and act now or we risk becoming a wholly unaffordable city to build or buy a home in."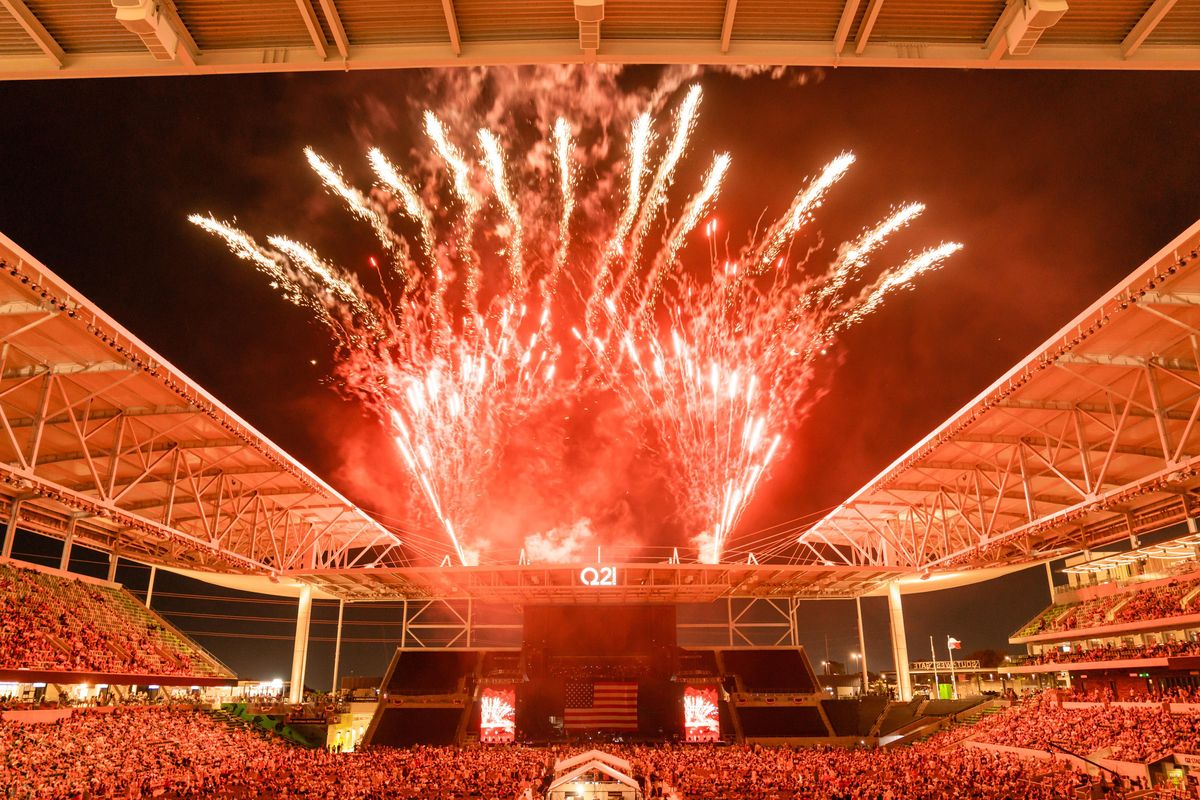 Q2 Stadium swapped its Verde for red, white and blue as country music legend Willie Nelson returned for his first in-person Fourth of July Picnic since 2019 on Monday.
The music fest included fireworks, fun merch and acts from country greats including Charley Crockett, Midland, Brothers Osborne, Allison Russell, Tyler Childers, Jason Isbell and Austin's own Asleep at the Wheel. And while Q2 will have some kinks to straighten before it becomes a concert-hosting regular, Nelson's unifying spirit kept things cool during the 12-hour outdoor event.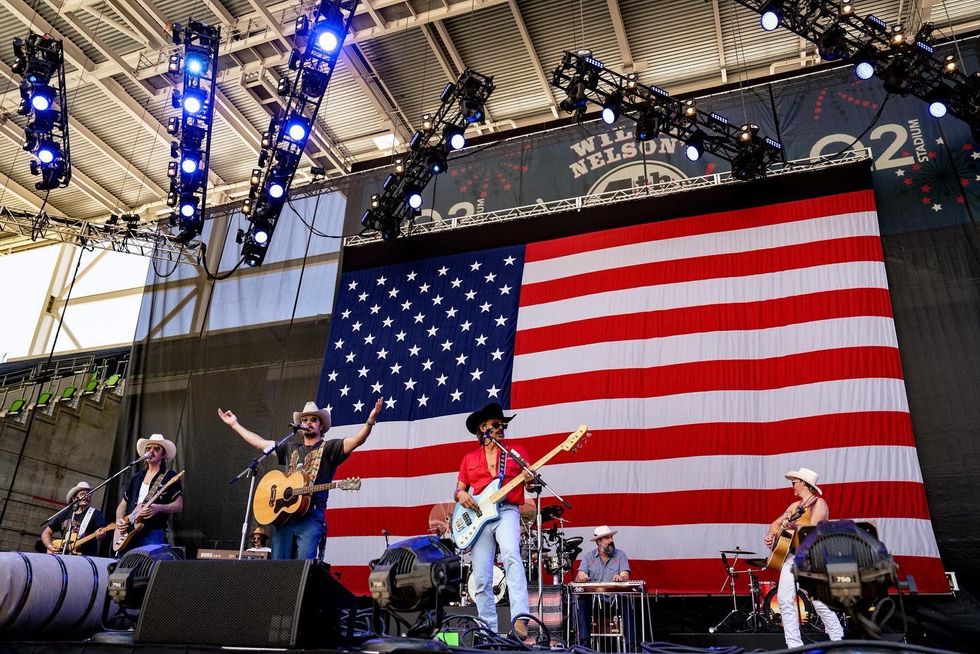 Midland performed at Willie Nelson's Fourth of July Picnic. (Q2 Stadium/Twitter)
Doors opened at 11 a.m., and Asleep at the Wheel was on the stage by 12 p.m.—though as one Reddit post pointed out, there weren't many people there to see them play.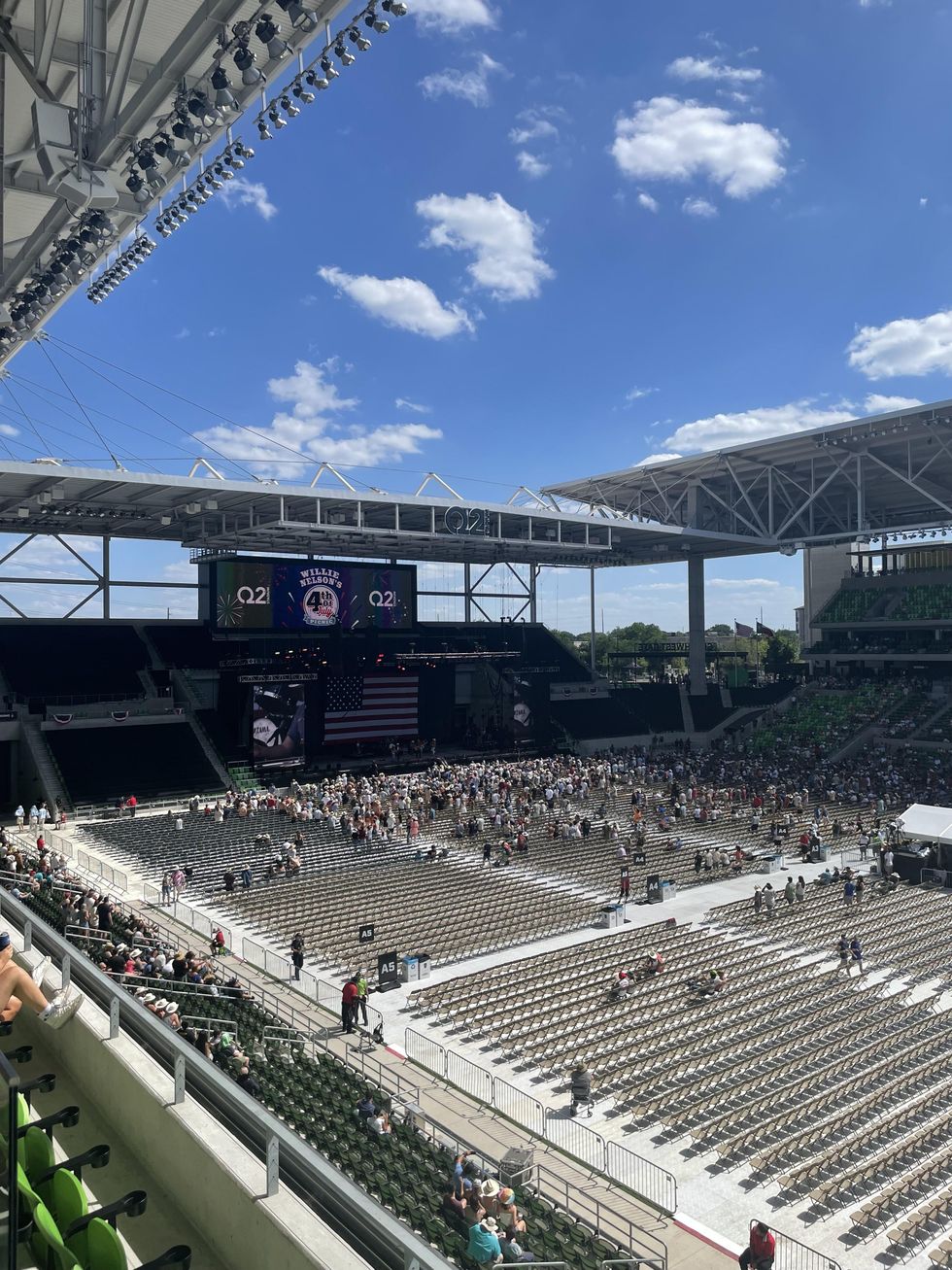 Q2 Stadium stayed sparsely populated for the first half of the day. (Claire Partain/Austonia)
Per Q2 Stadium policy, attendees weren't allowed to re-enter the venue after leaving, so anyone who wanted to watch both an afternoon and Nelson's big performance were stuck at the venue for hours straight. That opened up the perfect opportunity for customers to snatch up snacks, water and beers, which emptied wallets even faster than at Austin FC games. Nothing says "the end is nigh" like $15 beers.
An open-air, 20,500 seat venue, Q2 Stadium sometimes struggled to carry sound clearly, and between-song banter was often limited to an incomprehensible garble. Still, Tyler Childers' commanding growls came through, Alison Russells' multi-instrument ensemble shone and Nelson's strums on his trusty guitar, Trigger, were front and center by the end of the night.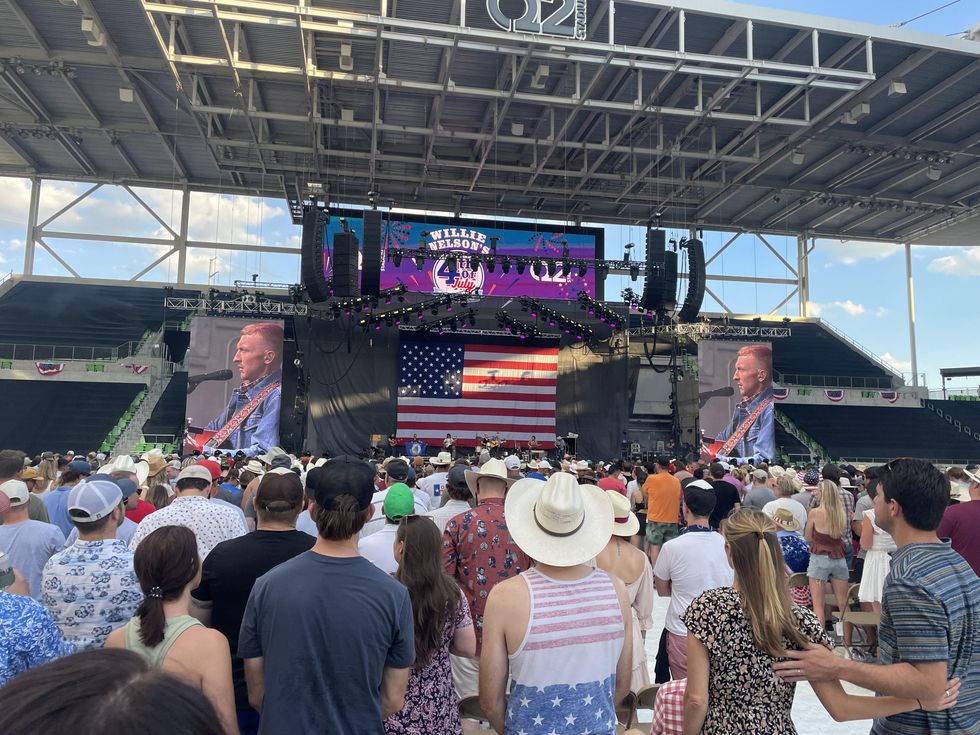 Fans found it hard to look away from Tyler Childers' enrapturing performance. (Jakob Rodriguez)
The July 4th picnic, which was most recently held at Circuit of the Americas from 2015-2019, benefitted from Q2's more central location, and the large venue offered plenty of room for attendees to mull about.
As the sun mercifully dipped below the horizon, the music paused for a 15-minute fireworks show.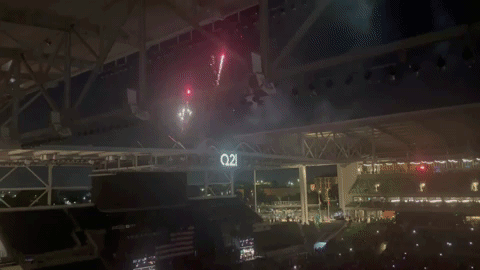 But the July 4th staples weren't the main event. At 89, Nelson didn't disappoint, sitting calmly as he performed alongside his family members and even gubernatorial candidate Beto O'Rourke, who made a surprise appearance midway through the show.
At times wistful, joyful or both, Nelson took the crowd through hits from "On the Road Again" to "Always on My Mind."
And as each favorite was played, all of the heat and stress of the day were encompassed by Nelson's voice, his storytelling and more as Austinites new and old gathered for the decades-old tradition.