Austonia AM
100% Austin news, info, and entertainment, straight to your inbox at 6 a.m. every morning.
In five minutes, you're fully informed and ready to start another great day in our city.
Get connected with our daily update
(Galleta/Twitter)
Jersey Number: 7
Hometown: Rafaela, Argentina
Position: Midfielder
Age: 25
Former club: Club Atletico Talleres
---
Background
He's #VERDE!
Your newest Designated Player. 🌳

Welcome to Austin FC, Tomás Pochettino! pic.twitter.com/WUwcTuoqdS

— Austin FC (@AustinFC) February 11, 2021
Austin FC spent big bucks on Tomas Pochettino, an attacking midfielder from Argentina who went Verde off a $2.5 million contract.
Before he signed on as the club's second Designated Player, "Toto" Pochettino transferred from Club Atlético Talleres in Argentina's Primera División. Pochettino appeared in 62 matches with Club Atlético Talleres, logging seven goals and 10 assists in 62 matches from 2018-21.
With Talleres, Pochettino was an expert at free kicks, and he's transferred that over to his newest club.
"It's something that I'm quite used to," Pochettino said. "I used to do a lot of set pieces and a lot of free kicks back in Talleres so it's something that I have a lot of practice with."
Before the club, Pochettino started his career at the Boca Juniors U-20 team, followed by Boca Juniors II in 2014. Pochettino then helped the Boca Juniors first team to win the Argentine Primera División in 2015 and was loaned to Defensa y Justicia, where he made 51 appearances, scored four goals and made five assists.
With Austin FC
That field-level look to start your day. pic.twitter.com/inyYiBdyXl

— Austin FC (@AustinFC) April 4, 2021
As the team's second Designated Player, Pochettino gained a starting position in the club's first match as a creative midfielder for the club.
"Tomás is an exciting and attack-minded midfielder we have been monitoring for some time. He has the technical and tactical qualities we are looking for in a Designated Player," Wolff said. "He will offer us pace and versatility in the midfield, and we are confident he will make an immediate impact on our attacking end."
Pochettino said that he was happy to make the move to the MLS and join Austin FC for its first-ever season.
"I think being a Designated Player's a beautiful responsibility, and I don't concentrate much on it," Pochettino said. "I'm just here to be a part of the team, and I hope that the rest of the team and the technical staff can trust me."
So far, Pochettino has shown that he can be trusted to put the ball in the back of the net. Pochettino scored the first-ever Austin FC goal against an MLS opponent against the Houston Dynamo as part of La Copita, and he put another one in off a free kick against San Antonio FC to close out the preseason. In the team's first-ever match against LAFC, Pochettino saw some of the most chances out of any player on the team, and he proved to be a solid defensive player when needed as well.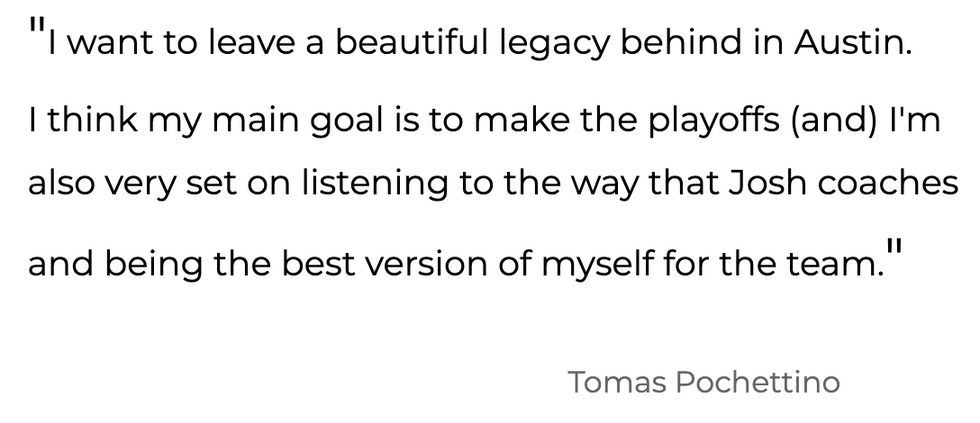 Both Pochettino and Wolff have acknowledged that they come with different skillsets: while Pochettino is used to having more liberty as he channels the ball up the field, Wolff has implemented a stricter regimen to help with the team's cohesiveness.
"Tomas is probably used to having more freedom," Wolff said. "So we're bridging that to find the right balance for him, and I think that'll be a continuous growth thing for both of us. And we need to because he's got real quality, and we've seen that in the moments that he's played for us in these games."

Pochettino's biggest goal, aside from scoring, is to leave a legacy behind and make a run for the playoffs.
"I want to leave a beautiful legacy behind in Austin," Pochettino said. "I think my main goal is to make the playoffs (and) I'm also very set on listening to the way that Josh coaches and being the best version of myself for the team."
Off the pitch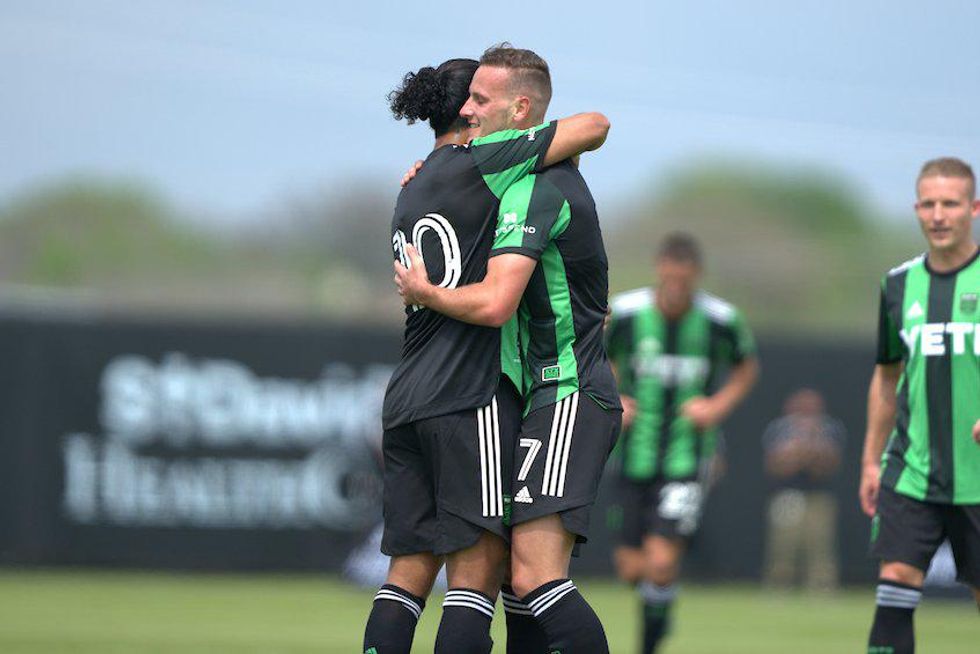 (Austin FC/Twitter)
Born in Rafaela, Argentina, Pochettino might be the farthest from home in Austin. Although he missed some of preseason due to COVID protocol, Pochettino said he's still had time to connect with his teammates on and off the pitch.
"Everything in life takes time to adapt, and in soccer, I have to rely on my teammates, both on and off the pitch," Pochettino said. "I've been stuck in a hotel for a couple of weeks, but throughout the preseason, I've gotten to know my teammates a lot more. And we've built some great friendships so far."
Though far from home, Pochettino can find a familiar face in fellow DP Cecilio Dominguez. Pochettino and Dominguez went head-to-head as opposing players in the Primera División, but now Pochettino says he's glad to get to know the person behind the player.
"I knew that he's a good player, I know that he wants to get to the ball," Pochettino said. "But now that I've known him as a person off the pitch, I can attest that he's a good an overall great person, so I'm really excited that I get to play alongside him now."
Ingredients:
1 1/2 oz of hibiscus-infused Tito's Handmade Vodka
2 oz sparkling water
1 oz fresh lime juice
3/4 oz simple syrup
1 tsp allspice dram
Directions: Add infused Tito's Handmade Vodka, lime juice, and simple syrup to a shaker with ice. Shake and strain into a glass over fresh ice. Top with sparkling water, and garnish with a lime slice. Enjoy!
A week after Texas added two congressional seats and California lost one, state officials reported a population decline in 2020 for the first time in the Golden State's history.
California fell by over 182,000 people from January 2020 to January 2021, dropping almost 0.5% to cap out at around 39.5 million people. It is still the nation's most populous state.
For over thirty years, California has seen more people leave than move in from other states, state officials said, with 6.1 million people moving out and 4.9 million coming in last year. Immigration and births kept California growing, but the state saw a shrink in international migration in 2020 due to COVID and the White House's hold on visas.
Of the steady flow of ex-Californians moving to other states, more are moving to Texas than any other state. Many are relocating to Austin, which has been labeled a "little California" by billionaire resident Elon Musk and continues to grow astronomically.
Meanwhile, California cities including Los Angeles, San Diego, San Jose and San Francisco saw a population decline.
With immigration and state migration on the decline, the Golden State was also hit with a spike in deaths- 51,000 people died from COVID in 2020, and all but seven of the state's counties saw death rates higher than the three-year average.
Still, the California Department of Finance said a "slightly positive annual growth" can be expected next year as the state recovers from COVID deaths and political repercussions.