Get connected with our daily update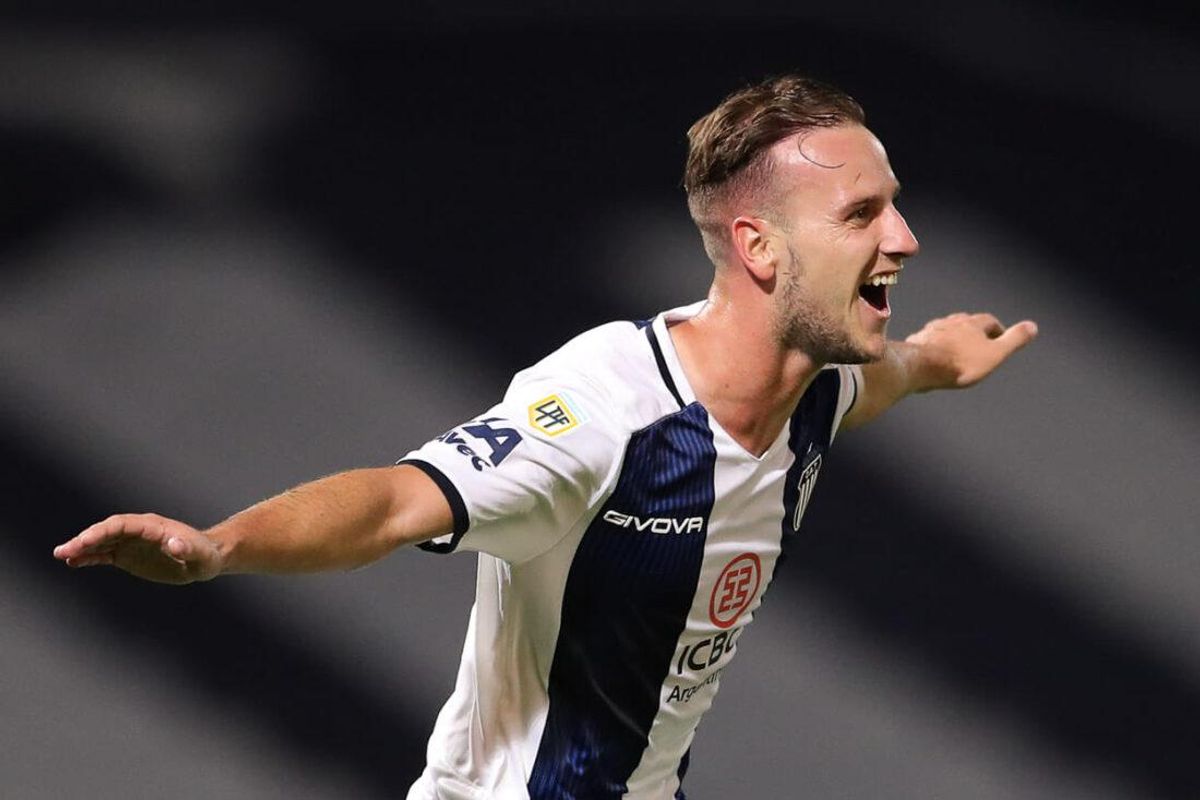 (Galleta/Twitter)
Jersey Number: 7
Hometown: Rafaela, Argentina
Position: Midfielder
Age: 25
Former club: Club Atletico Talleres
---
Background
He's #VERDE!
Your newest Designated Player. 🌳

Welcome to Austin FC, Tomás Pochettino! pic.twitter.com/WUwcTuoqdS

— Austin FC (@AustinFC) February 11, 2021
Austin FC spent big bucks on Tomas Pochettino, an attacking midfielder from Argentina who went Verde off a $2.5 million contract.
Before he signed on as the club's second Designated Player, "Toto" Pochettino transferred from Club Atlético Talleres in Argentina's Primera División. Pochettino appeared in 62 matches with Club Atlético Talleres, logging seven goals and 10 assists in 62 matches from 2018-21.
With Talleres, Pochettino was an expert at free kicks, and he's transferred that over to his newest club.
"It's something that I'm quite used to," Pochettino said. "I used to do a lot of set pieces and a lot of free kicks back in Talleres so it's something that I have a lot of practice with."
Before the club, Pochettino started his career at the Boca Juniors U-20 team, followed by Boca Juniors II in 2014. Pochettino then helped the Boca Juniors first team to win the Argentine Primera División in 2015 and was loaned to Defensa y Justicia, where he made 51 appearances, scored four goals and made five assists.
With Austin FC
That field-level look to start your day. pic.twitter.com/inyYiBdyXl

— Austin FC (@AustinFC) April 4, 2021
As the team's second Designated Player, Pochettino gained a starting position in the club's first match as a creative midfielder for the club.
"Tomás is an exciting and attack-minded midfielder we have been monitoring for some time. He has the technical and tactical qualities we are looking for in a Designated Player," Wolff said. "He will offer us pace and versatility in the midfield, and we are confident he will make an immediate impact on our attacking end."
Pochettino said that he was happy to make the move to the MLS and join Austin FC for its first-ever season.
"I think being a Designated Player's a beautiful responsibility, and I don't concentrate much on it," Pochettino said. "I'm just here to be a part of the team, and I hope that the rest of the team and the technical staff can trust me."
So far, Pochettino has shown that he can be trusted to put the ball in the back of the net. Pochettino scored the first-ever Austin FC goal against an MLS opponent against the Houston Dynamo as part of La Copita, and he put another one in off a free kick against San Antonio FC to close out the preseason. In the team's first-ever match against LAFC, Pochettino saw some of the most chances out of any player on the team, and he proved to be a solid defensive player when needed as well.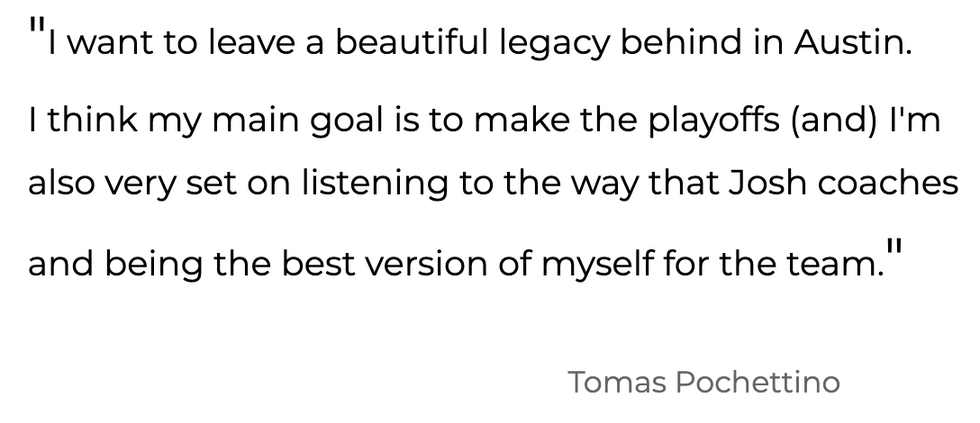 Both Pochettino and Wolff have acknowledged that they come with different skillsets: while Pochettino is used to having more liberty as he channels the ball up the field, Wolff has implemented a stricter regimen to help with the team's cohesiveness.
"Tomas is probably used to having more freedom," Wolff said. "So we're bridging that to find the right balance for him, and I think that'll be a continuous growth thing for both of us. And we need to because he's got real quality, and we've seen that in the moments that he's played for us in these games."

Pochettino's biggest goal, aside from scoring, is to leave a legacy behind and make a run for the playoffs.
"I want to leave a beautiful legacy behind in Austin," Pochettino said. "I think my main goal is to make the playoffs (and) I'm also very set on listening to the way that Josh coaches and being the best version of myself for the team."
Off the pitch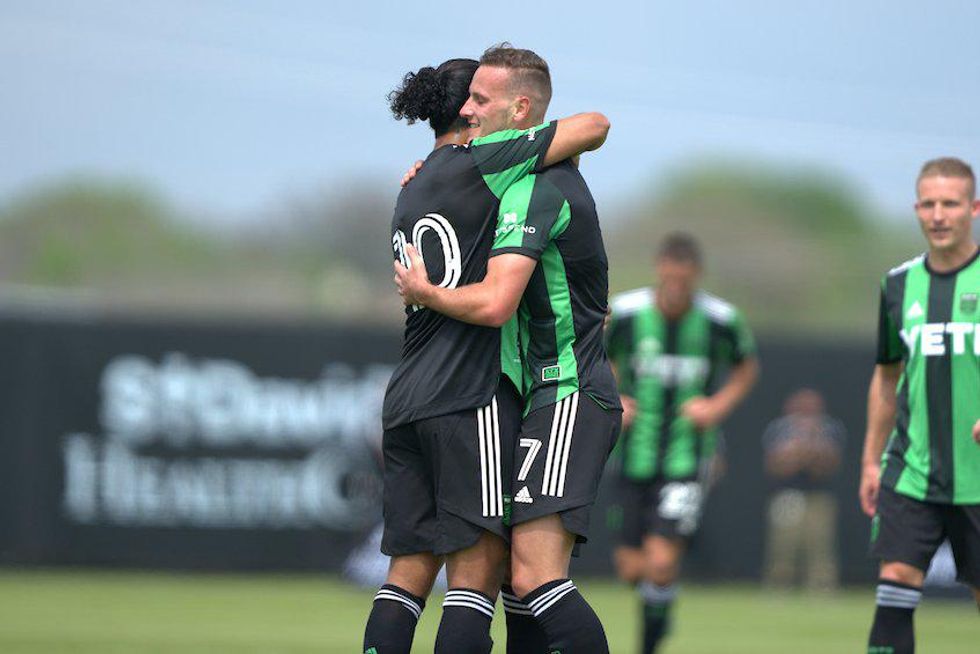 (Austin FC/Twitter)
Born in Rafaela, Argentina, Pochettino might be the farthest from home in Austin. Although he missed some of preseason due to COVID protocol, Pochettino said he's still had time to connect with his teammates on and off the pitch.
"Everything in life takes time to adapt, and in soccer, I have to rely on my teammates, both on and off the pitch," Pochettino said. "I've been stuck in a hotel for a couple of weeks, but throughout the preseason, I've gotten to know my teammates a lot more. And we've built some great friendships so far."
Though far from home, Pochettino can find a familiar face in fellow DP Cecilio Dominguez. Pochettino and Dominguez went head-to-head as opposing players in the Primera División, but now Pochettino says he's glad to get to know the person behind the player.
"I knew that he's a good player, I know that he wants to get to the ball," Pochettino said. "But now that I've known him as a person off the pitch, I can attest that he's a good an overall great person, so I'm really excited that I get to play alongside him now."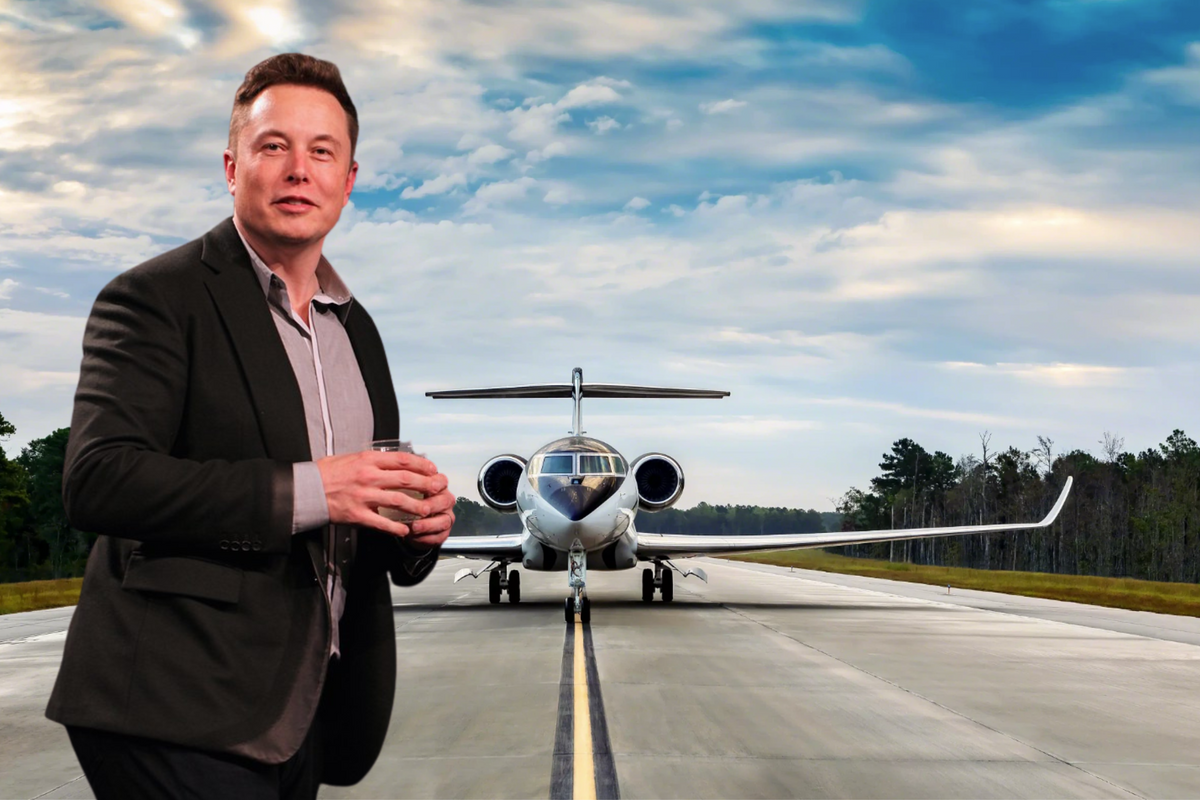 Elon Musk is developing plans for a new private airport, multiple sources tell Austonia. While the timetable and exact location are unknown, the conceptual plans have been confirmed by sources who say the airport would be east of Austin, near Bastrop.
Besides being available for private jet travel for himself and his executives, the potential new airfield could service Musk's companies, many of which have a local presence: Tesla, SpaceX, and The Boring Company in particular. Musk and his companies own thousands of acres in Central Texas, mostly along the Colorado River corridor.
The key piece of land for Musk is Giga Texas in southeast Travis County. Covering 2,500 acres, Tesla made the site its headquarters in December.
The Boring Company, which first came to Pflugerville in December 2020, also joined Tesla in an HQ move to the Austin area and this spring saw the region's largest ever venture investment. Its address on Impact Way sits three miles from Austin Executive Airport, a controlled airfield that serves as a general aviation alternative to the Austin-Bergstrom International Airport.
Last year, Gapped Bass LLC, an entity tied to top executives at Boring, purchased 73 acres in Northwest Bastrop. Then in February, representatives for the company sought approval from the Bastrop County Commissioners Court for a permit to build an 80,000-square-foot warehouse and manufacturing facility. Plans for the site are unclear, but job postings indicated it may be used for developing a tunneling technology known as "Prufrock."
It's unclear how much space Musk would use for a private airport. But for scale, Austin Executive Airport has a 6,025-foot runway and over 130,000 sq. ft. of community hangar space.
Currently, Musk's visits to Austin are made on a 2015 Gulfstream G650, though he has placed an order for a new top-of-the-line private jet that has an expected delivery in early 2023. Trips to Central Texas this year have been key for Musk as Tesla ramps up production on its Model Y at Giga Texas.
At the grand opening of the gigafactory, Musk boasted about the site's proximity to the Austin- Bergstrom International airport, which is about five miles away.
Building a new airport requires federal EPA approval for environmental impacts and FAA approval for air traffic impacts. Local regulations may apply, too. The path to completion could be a long one, especially given Musk's ongoing feud with President Joe Biden.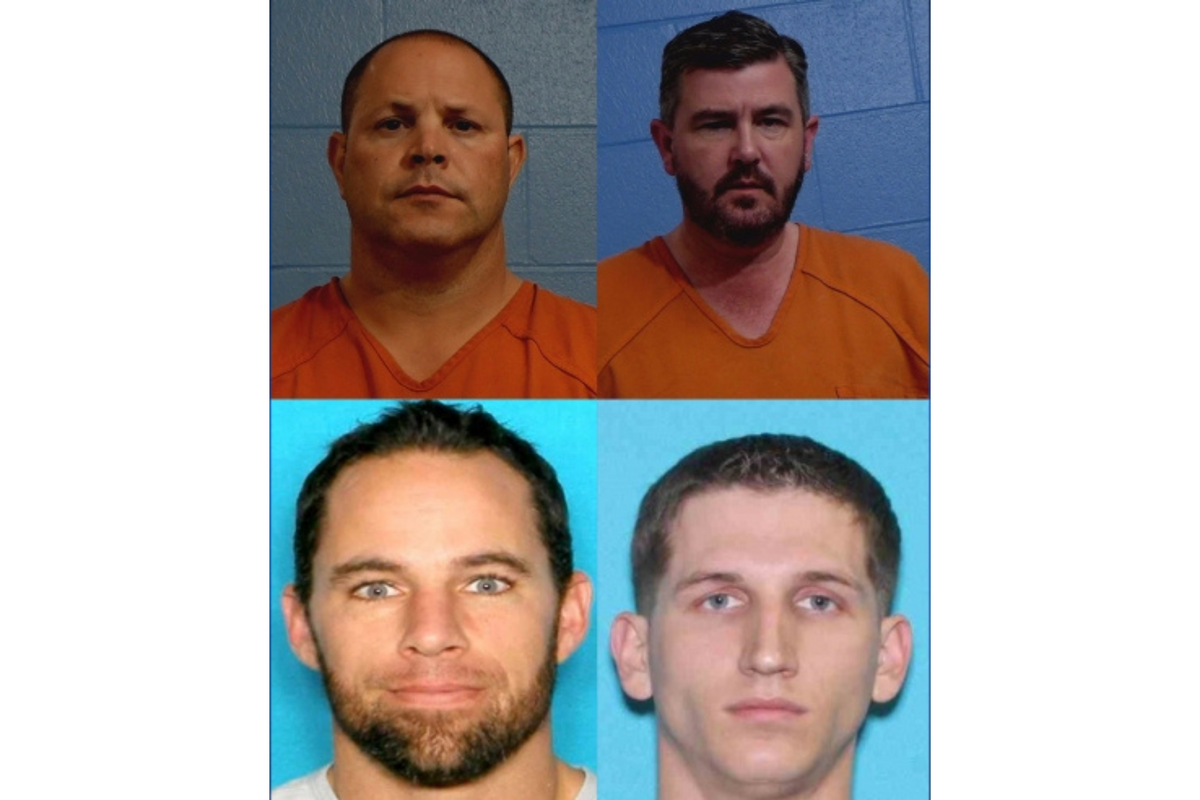 A former partner with Austin-based Maund Automotive Group has been indicted on murder-for-hire charges, alongside three others, for killing a man and woman in Nashville in March 2020.
Austinites Erik Charles Maund, Gilad Peled, Bryon Brockway and North Carolina native Adam Carey were additionally charged with conspiracy to kidnap resulting in death and kidnapping resulting in death, according to U.S. Attorney for Middle District of Tennessee Mark H. Wildasin.
The case centers around the murder of 33-year-old Holly Williams, who 47-year-old Maund was allegedly seeing. Upon hearing of the relationship, Williams' estranged boyfriend William Lanway, allegedly messaged Maund, who is married, asking for hush money. Williams and Lanway were found dead inside a car in Nashville about a month later.
According to the U.S. Department of Justice, Maund is also facing an additional murder-for-hire charge for trying to arrange to have one of his co-conspirators killed after Peled told Maund in prison they were asking for more money.
The DOJ release said Maund agreed to pay the co-conspirator an additional $25,000, $50,000 to Peled and $100,000 to Brockway to end further payment requests. Since March 11, Maund transferred more than $750,000 to a bank account belonging to Peled, which is believed to be the initial payment.
The four were arrested in December 2021 and remain in custody. If convicted, they could face life in prison.