Get connected with our daily update
(Galleta/Twitter)
Jersey Number: 7
Hometown: Rafaela, Argentina
Position: Midfielder
Age: 25
Former club: Club Atletico Talleres
---
Background
He's #VERDE!
Your newest Designated Player. 🌳

Welcome to Austin FC, Tomás Pochettino! pic.twitter.com/WUwcTuoqdS

— Austin FC (@AustinFC) February 11, 2021
Austin FC spent big bucks on Tomas Pochettino, an attacking midfielder from Argentina who went Verde off a $2.5 million contract.
Before he signed on as the club's second Designated Player, "Toto" Pochettino transferred from Club Atlético Talleres in Argentina's Primera División. Pochettino appeared in 62 matches with Club Atlético Talleres, logging seven goals and 10 assists in 62 matches from 2018-21.
With Talleres, Pochettino was an expert at free kicks, and he's transferred that over to his newest club.
"It's something that I'm quite used to," Pochettino said. "I used to do a lot of set pieces and a lot of free kicks back in Talleres so it's something that I have a lot of practice with."
Before the club, Pochettino started his career at the Boca Juniors U-20 team, followed by Boca Juniors II in 2014. Pochettino then helped the Boca Juniors first team to win the Argentine Primera División in 2015 and was loaned to Defensa y Justicia, where he made 51 appearances, scored four goals and made five assists.
With Austin FC
That field-level look to start your day. pic.twitter.com/inyYiBdyXl

— Austin FC (@AustinFC) April 4, 2021
As the team's second Designated Player, Pochettino gained a starting position in the club's first match as a creative midfielder for the club.
"Tomás is an exciting and attack-minded midfielder we have been monitoring for some time. He has the technical and tactical qualities we are looking for in a Designated Player," Wolff said. "He will offer us pace and versatility in the midfield, and we are confident he will make an immediate impact on our attacking end."
Pochettino said that he was happy to make the move to the MLS and join Austin FC for its first-ever season.
"I think being a Designated Player's a beautiful responsibility, and I don't concentrate much on it," Pochettino said. "I'm just here to be a part of the team, and I hope that the rest of the team and the technical staff can trust me."
So far, Pochettino has shown that he can be trusted to put the ball in the back of the net. Pochettino scored the first-ever Austin FC goal against an MLS opponent against the Houston Dynamo as part of La Copita, and he put another one in off a free kick against San Antonio FC to close out the preseason. In the team's first-ever match against LAFC, Pochettino saw some of the most chances out of any player on the team, and he proved to be a solid defensive player when needed as well.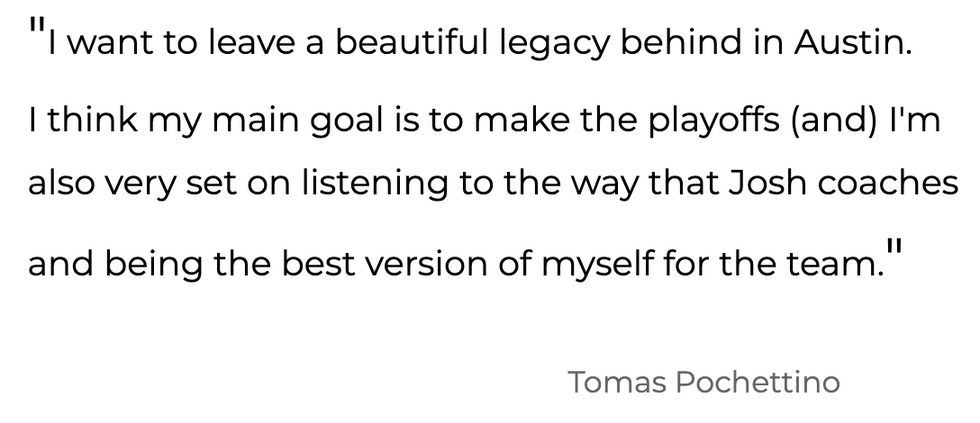 Both Pochettino and Wolff have acknowledged that they come with different skillsets: while Pochettino is used to having more liberty as he channels the ball up the field, Wolff has implemented a stricter regimen to help with the team's cohesiveness.
"Tomas is probably used to having more freedom," Wolff said. "So we're bridging that to find the right balance for him, and I think that'll be a continuous growth thing for both of us. And we need to because he's got real quality, and we've seen that in the moments that he's played for us in these games."

Pochettino's biggest goal, aside from scoring, is to leave a legacy behind and make a run for the playoffs.
"I want to leave a beautiful legacy behind in Austin," Pochettino said. "I think my main goal is to make the playoffs (and) I'm also very set on listening to the way that Josh coaches and being the best version of myself for the team."
Off the pitch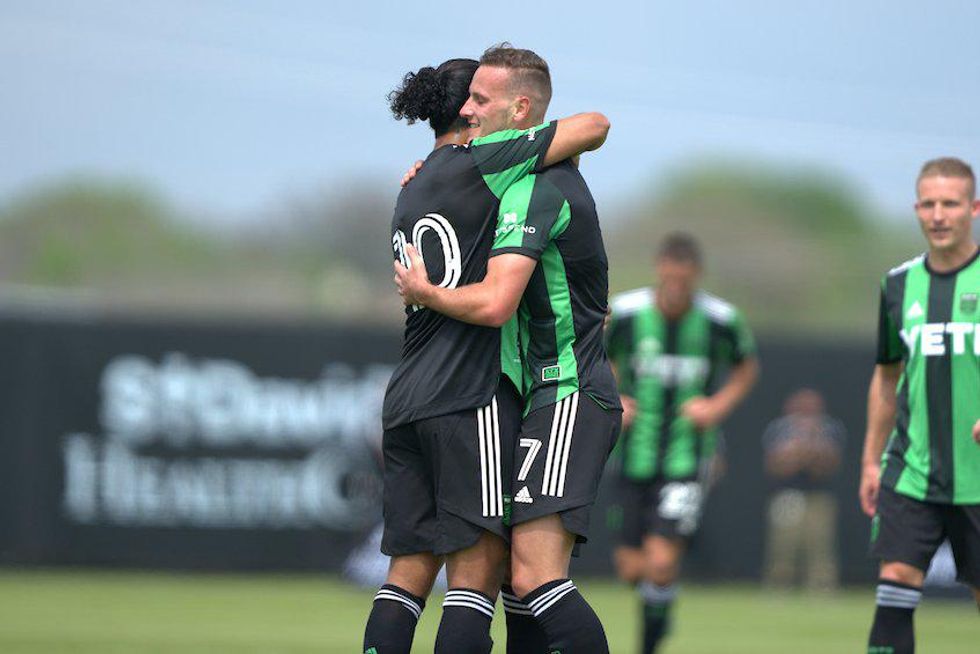 (Austin FC/Twitter)
Born in Rafaela, Argentina, Pochettino might be the farthest from home in Austin. Although he missed some of preseason due to COVID protocol, Pochettino said he's still had time to connect with his teammates on and off the pitch.
"Everything in life takes time to adapt, and in soccer, I have to rely on my teammates, both on and off the pitch," Pochettino said. "I've been stuck in a hotel for a couple of weeks, but throughout the preseason, I've gotten to know my teammates a lot more. And we've built some great friendships so far."
Though far from home, Pochettino can find a familiar face in fellow DP Cecilio Dominguez. Pochettino and Dominguez went head-to-head as opposing players in the Primera División, but now Pochettino says he's glad to get to know the person behind the player.
"I knew that he's a good player, I know that he wants to get to the ball," Pochettino said. "But now that I've known him as a person off the pitch, I can attest that he's a good an overall great person, so I'm really excited that I get to play alongside him now."
Concerning levels of cylindrospermopsin were discovered on Sept. 22 after a person got sick and samples were sent to get tested on Sept. 9. Signs will be posted at access points to Sculpture Falls that people and their pets should not injest or swim in the water.
Unlike the harmful algae making dogs sick in parts of Lake Travis and Lady Bird Lake in past summers, these toxins are found in the water, the city says. Barton Creek visitors are asked to avoid stagnant water especially.
The toxins also result in different health effects than the harmful algae in Lady Bird Lake, including liver and kidney damage. If exposed, people can feel:
Fever
Headache
Vomiting
Bloody diarrhea
If exposed, people should seek medical attention and report it to 311.
TinyFest Texas 2021
When: 10 a.m. Saturday – 5 p.m. Sunday
Where: Jourdan-Bachman Pioneer Farms, 10621 Pioneer Farms Drive
What: Tour tiny houses, van converstions, shipping container homes and more at this year's TinyFest. Grab tickets here for a weekend of speakers, workshops and panel discussions plus live music, food and more!

Fierce Whiskers Grand Opening
When: 12 p.m. Saturday
Where: Fierce Whiskers, 5333 Fleming Court
What: Fan of whiskey? Come along to the free grand opening of Fierce Whiskers Distillery's new tasting room. Enjoy bites from a food truck, oysters, musical performances and a raffle.

Austin Summer Carnival
When: 6 p.m. Saturday – 2 a.m. Sunday
Where: The Venue ATX, 516 East 6th St.
What: Don your dancing outfit for this carnival that celebrates the African heritage with Brazilian, Latin and Caribbean rhythms in Austin. Snag your tickets here.

Beginner's Succulent Arrangement and Planting
When: 3 p.m. – 4 p.m. Sunday
Where: Succulent Native, 5501 North Lamar Blvd.
What: Calling all first-time planters: Get your hands dirty and learn about succulent and cactus arrangement and care. No tools required! Grab your tickets here.