Get connected with our daily update
After a week off, Austin FC is looking to win their first-ever rematch as they play Sporting Kansas City for their last match of an eight-game road stretch.
After losing to Kansas City 2-1 in early May following a catastrophic red card call, Austin is looking for vengeance against the No. 2 team in the West.
---
Austin FC will be at Q2 Stadium for their home opener June 19, but sit tight: there's still one more watch party to go before the club comes home.
Here's where to watch the Austin vs. Kansas City match at 2 p.m. on Saturday, June 12th:
Austin Anthem takes on Dreamland, 2770 W Hwy 290
What does pickleball, mini-golf, soccer, a giant outdoor screen and over 90 self-pour taps have in common? This week's #AustinFC watch party!
Join us at @dreamlanddstx in Dripping Springs for a full-day of family-fun & to cheer on the #verde to 3-points.https://t.co/ZakDLq4s76 pic.twitter.com/nZo5zSE9dg

— Austin Anthem (@AustinAnthem) June 7, 2021
Austin Anthem, Austin FC's first supporters' group, is back at Dreamland in Dripping Springs to watch Austin take on their head coach's former club. Expect more than just soccer—the facility comes with over 90-self pour beer taps, pickleball and mini-golf facilities, and a stage perfect for watching the big game.
Los Verdes' watch party and after party, Hopsquad Brewing Co. 2307 Kramer Lane
@AustinFC watch party this Saturday! BYO chair, come hang and watch the game on our huge LED, and stick around for a killer after party. Let's see how loud @LosVerdesATX @AustinAnthem and @LaMurgaATX will make that stadium. pic.twitter.com/i1YnWS5Ac9

— Hopsquad Brewing Co. (@HopsquadBrewing) June 10, 2021
From noon till well past Austin FC's 2 p.m. match, head to Hopsquad Brewing for live music, local eats and signature beers. Four bands will hit the stage for an after party following the match. Bring your own lawn chair and find parking early.
Season ticket holders: Stadium Preview at Q2 Stadium, 1835-A Kramer Lane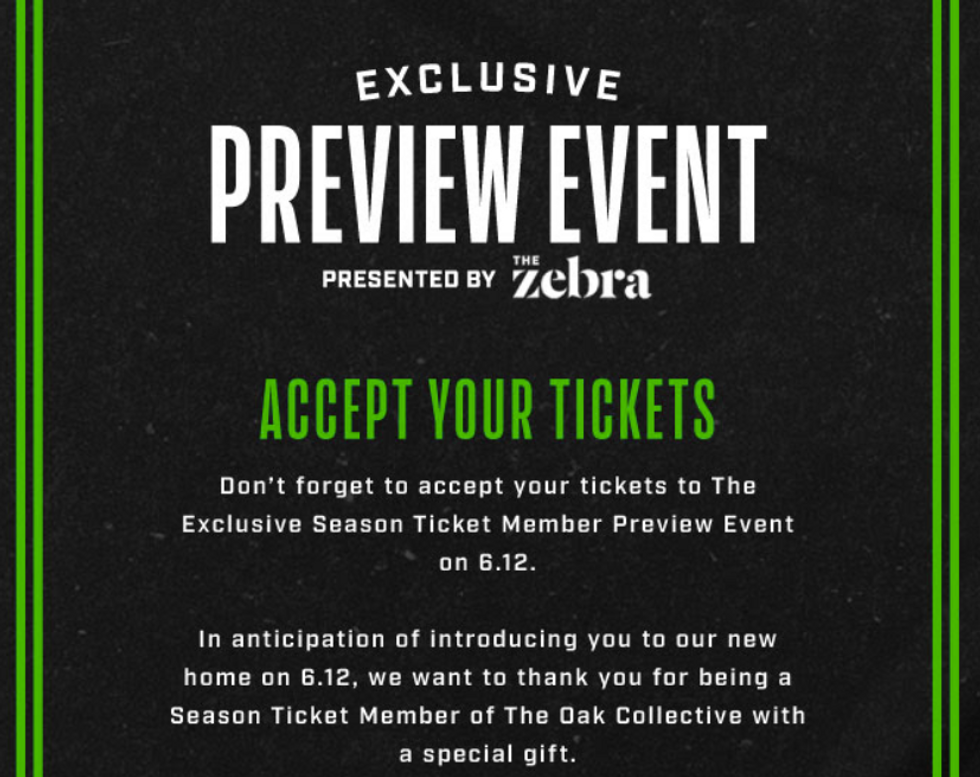 (Claire Partain)
Austin FC is presenting a gift for its season ticket holders just before the home opener. Members can attend an exclusive Stadium Premiere, complete with in-stadium food and drink, for Q2 Stadium's first watch party on Saturday starting at 1:30 p.m.
Pub Clubs
If none of these watch parties are quite the right fit for you, 31 bars will be streaming the match in the Austin metro as part of the Austin FC Pub Club.
In Austin
Austin Eastciders- Barton Springs, 1530 Barton Springs Rd.
Austin Eastciders- Collaboratory 979 Springdale Rd. Suite 130
B.D. Riley's Mueller, 1905 Aldrich St. Unit 130
The Bon Aire, 9070 Research Blvd
Bouldin Acres, 2027 S Lamar Blvd
Casa Chapala, 9041 Research Blvd Suite 100
The Cavalier, 2400 Webberville Rd Unit A
Cover 2,13701 N Highway 183
Cover 3 Anderson Lane, 2700 W Anderson Ln Unit 202
Happy Chicks, 214 E 6th St.
Haymaker, 2310 Manor Rd.
High Five- Anderson Ln, 2700 W Anderson Ln Unit 101
Local Post Pub, 7113 Burnet Rd
Pelons, 802 Red River St
Play on 6th, 620 W 6th St
Pluckers, various locations
Revelry On The Boulevard, 6215 N Lamar Blvd
Revelry- East 6th, 1410 E 6th St
Rusty Cannon Pub, 730 W Stassney Ln Unit 120
San Jac Saloon, 300 E 6th Street
Shiner's Saloon, 422 Congress Ave Unit D
Shooters Billiards 620, 11416 N FM 620
Taco Flats, mulitple locations
Twin Peaks, 701 E Stassney Ln
In the metro
Officials are asking certain residents in Bastrop State Park to evacuate as crews work to put out a "very active fire" that is currently 0% contained.
The Texas A&M Forest Service has responded to help local fire departments with the Rolling Pines Fire at 100 Park Road 1A, which is consuming 300 acres. Residents of Pine Hill Drive, Pine Tree Loop, Linda Lane and Lisa Lane are being asked to evacuate.
Aviation resources have been called to assist.

According to the Bastrop County Office of Emergency Management, the wildfire sparked during a prescribed burn that took place today, despite wildfire warnings. Park Road 1C from Harmon Road to Park Road 1A had been closed for the prescribed burn.
The blaze is in the same location as the Bastrop Complex Fire of 2011, which burned for 55 days, killing two people, destroying 34,000 acres and around 1,700 homes and buildings. The fire, which started in 2011, became the most destructive wildfire in Texas at the time.
A hotbed for fires, the Hidden Pines Fire started at the same location in 2015, destroying 4,600 acres and 64 structures.
Some road closures have been put in place at State Highway 21 South Shore Lake Bastrop and East State Highway 21.
This is a developing story and will be updated as information becomes available.
After months of record-setting periods for Austin real estate, the Austin Board of Realtors announced Tuesday that the metro's housing market accounted for over $23 billion of economic activity in 2021, making it the biggest year yet for both home sales and median home prices in the metro.
The Austin-Round Rock MSA saw 41,316 homes sold in 2021, 2.5% more than a record-setting 2020. Median home prices skyrocketed as well, rising 30.8% from 2020 to $450,000. The housing market also saw unprecedented impact on Austin's economy, with sales dollar volume jumping to over $23.38 billion, and more homes hit the market in 2021 than any previous year, increasing by 5.9% to 46,449 total homes listed.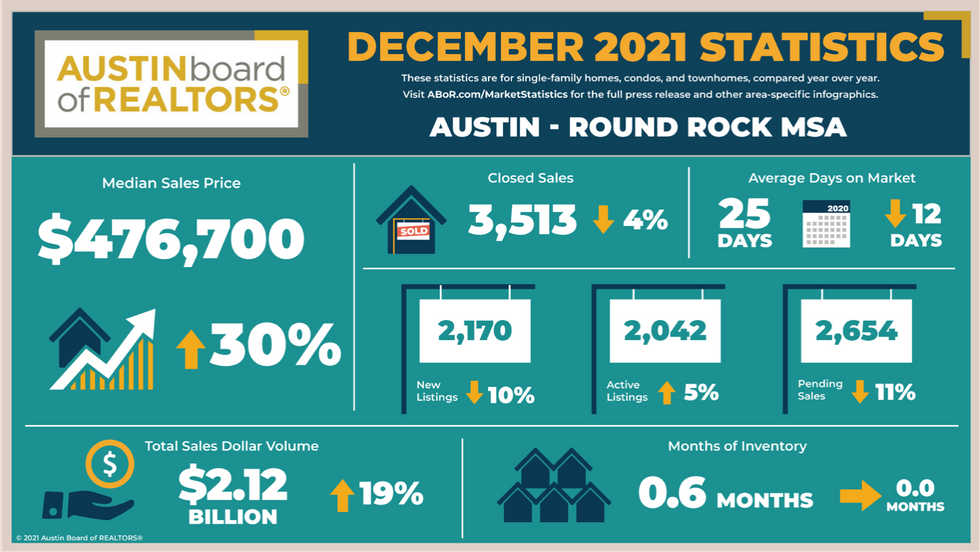 (Austin Board of Realtors)
As many recent Austin homebuyers have experienced firsthand, Austin Board of Realtors 2022 President Cord Shiflet said 2021 was the most "exciting, complicated, fast-paced and record-setting housing market" in Austin's history.
Shiflet dubbed the market as "complicated" for a reason—Austin became a case study on supply and demand in 2021, with demand far outpacing the number of active listings, which dropped by 48.2% to 2,348 homes in 2021.
The metro ended the year with 0.6 months of inventory, a far cry from a "healthy" six-month supply, and houses were snatched at breakneck speeds, spending 25 fewer days on the market when compared to 2020. The average home was on the market for 20 days.
But low inventory is more due to high demand than a stagnant homebuilding market, Mark Sprague, Independence Title's state director of information capital, said in the report.
"In 2021, the record number of homes sold were demand-driven transactions and that demand was influenced greatly by companies continuing to target the region for job creation and expansion," Sprague said. "Even though more homes are being built, listed and sold than ever before, our region is still nowhere close to having a comfortable amount of supply to meet the demand, which is why home prices continue to rise steadily."
Over 23,000 jobs have been promised by companies across the metro as of December 2021, breaking the 2020 record, according to Opportunity Austin, the economic development arm of the Greater Austin Chamber of Commerce. With an influx of major factories and offices, including Tesla's Giga Texas, Samsung's Taylor plant and a planned 33-floor Facebook office, Sprague said the region's booming market paired with a struggling inventory and supply chain issues could be a double-edged sword in 2022.
"In short, 2022 will see a robust market for home sales and property values, but the region must do more to address inventory, " Sprague said.
Shiflet recommended that potential homebuyers make a decision ahead of predicted increases in interest rates and home prices and said that he hopes local politicians will continue to prioritize affordable housing in the election year.
Still, Shiflet said a record-breaking housing market reflects Austin's growing reputation as a hub for talent, tech jobs and a good quality of life.
"With all the new jobs across the region from exciting companies like Tesla and Samsung, Austin was put on the world's stage and captured the hearts and attention of so many," Shiflet said. "We are lucky to call Austin our home when it has so much to offer from a great quality of life to a wonderful destination for innovation and opportunity."