Get connected with our daily update
(Austin Travis County EMS / Twitter)
Sam Pitasky is a light sleeper. So when his noise machine cut out around 2 a.m. on Monday morning, he woke up.
Like more than 40% of Austin Energy customers, Pitasky, 29, and his wife, Maddy Sembler, 31, were facing a power outage.
The couple got up and went into the backyard of their Hyde Park home, where their three chickens—two goldens named Abbi and Ilana and black-and-white Eleanor Roosevelt—live in a homemade enclosure. They moved the chickens into the bathtub, which is now filled with hay.
"If the power hadn't gone out, they might not have made it," Pitasky told Austonia.
---
By 6 a.m., it seemed clear to them the outage was not a rolling one, and he texted a couple they are friends with to see if they had power. After hearing back a couple hours later, he and Sembler tried to decide if it was safe to drive to nearby North Loop. With four-wheel drive and few cars on the road, they decided to go for it—and arrived at their friends' condo around 10 a.m.
"Things like this have been happening a lot this year," Sembler said.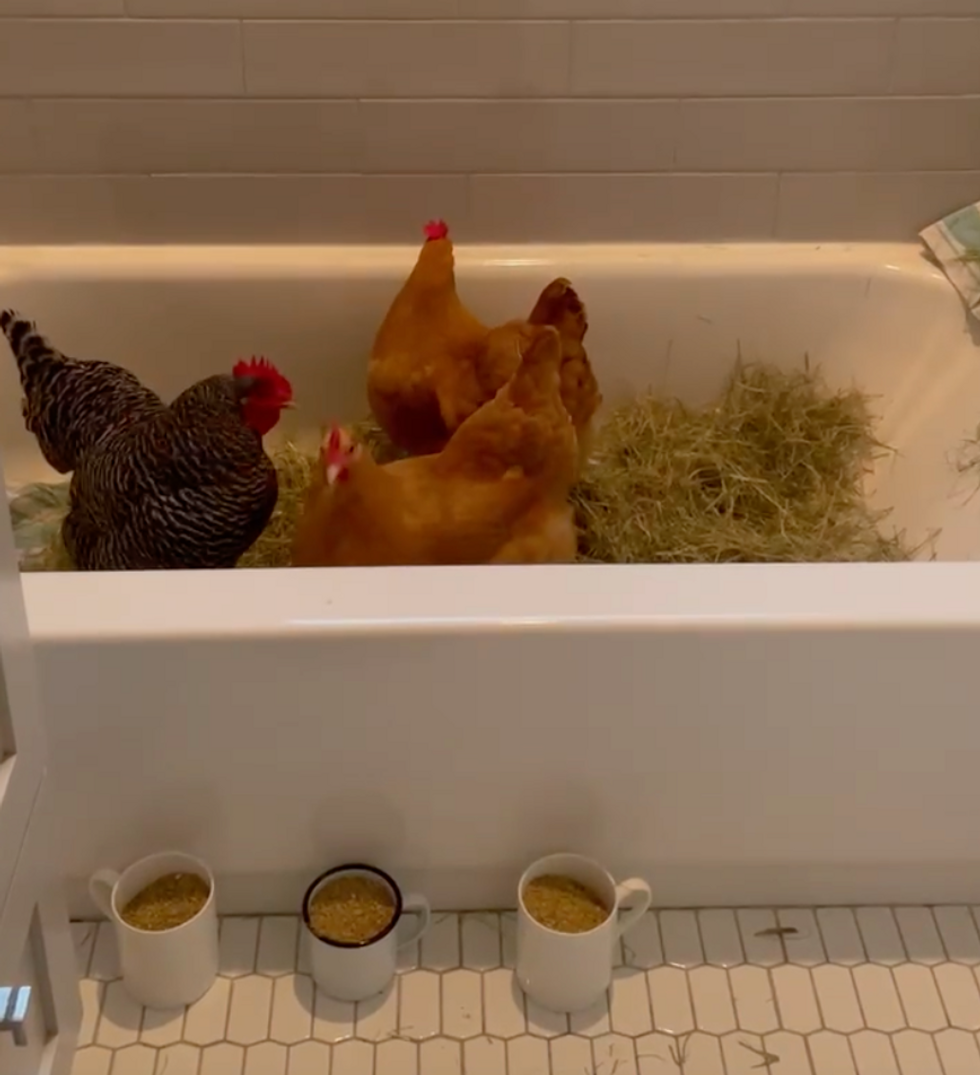 (Maddy Sembler)
A common experience

The couple isn't alone in trying to make sure their pets, property and selves are safe. By Monday evening, more than 212,387 Austin Energy customers were without power, slightly more than earlier in the day, and many took to social media to share updates and, in some cases, concerns.
When city officials hosted a midday press conference on Facebook live, thousands of viewers commented. Some were worried about Austin's homeless residents and whether they had access to indoor shelter; others had family members with medical needs who were facing outages.

"It's 35° in our house... my son needs his oxygen back on and our E tanks are out ... we need our electricity turned on!" one woman wrote. "My mother is elderly and on oxygen - she hasn't had power since 2:00 AM!!! What is she supposed to do? I can't get to her," another commented.
By 6 p.m. Austin-Travis County EMS received more than 1,000 calls for service, and the Austin Police Department had issued a request to residents not to call 911 to report power outages so that people in need of immediate attention could get through.
In addition to concerns about people and pets, more than two hundred Austinites also reported broken pipes on Monday, according to city data.
Another day ahead

Local and state officials expect the power outages to continue through Tuesday and advise residents to stay home, conserve energy and avoid driving, especially after dark, until power can be restored and roadways are cleared.
Back at the Pitasky-Sembler residence, their chickens remain in the bathroom. The couple plans to return home on Tuesday to make sure they're safe and—hopefully—find that their power is back.
"We said it was weird that we were leaving the house and the chickens were staying," Pitasky said.
The Texas French Bread Bakery, located on 2900 Rio Grande Street, has been completely destroyed after a fire erupted on Monday night.
The Austin Fire Department responded to the fire just before 11 p.m., where they arrived to see flames coming from the roof of the bakery. Firefighters fought the fire for about an hour before the roof collapsed.
While no one was injured in the fire, firefighters say the historic building was completely totaled.
AFD determined that the fire was accidental and caused by mechanical failure. AFD said the damages amounted to $1.6 million total: $1.1 million in structural damage and $500,000 in damage to the contents of the bakery.

This year, Texas French Bread will celebrate 40 years of business. Before the bakery occupied the building, it was the Rome Inn, a music venue that hosted 1970s artists like Stevie Ray Vaughan.
Austin's first major league team is ready to extend its reach with a new collaborative sports complex The Pitch, an Austin FC destination packed with local food, beverages and Verde fervor is set to open in Northeast Austin in February.
The Pitch, a collaboration between Austin FC and Karlin Real Estate, among other entities, will be located in the 50-acre Parmer Pond District, which already hosts the club's practice facility St. David's Performance Center.
Dubbed a "true destination" for both soccer fans and the community, The Pitch will consist of multilevel shipping containers designed by Mark Odom Studio that will carve out into a 1,200-seat stadium complete with a soccer pitch made of turf, food and beverage options and a five-acre "Parmer Pond" featuring jogging trails.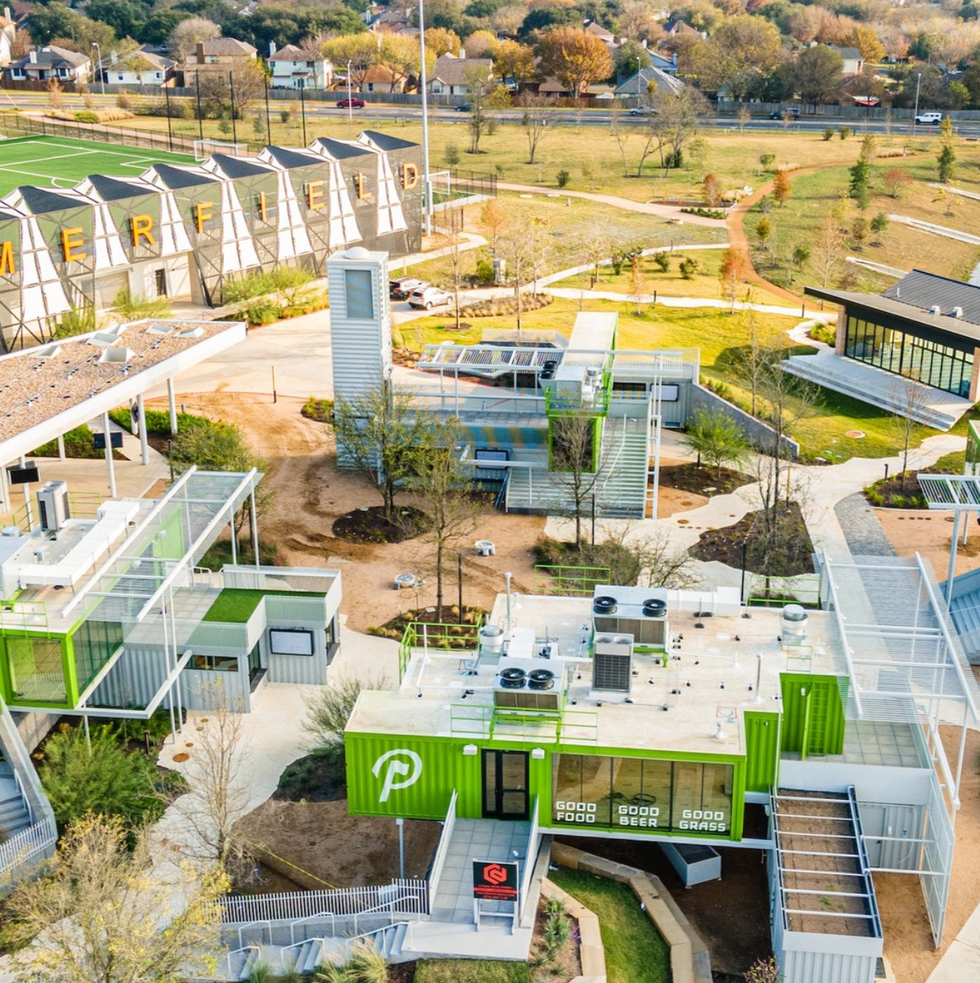 Made from multilevel shipping containers, The Pitch will include food and a 1,200-seat soccer pitch made from artificial turf. (The Pitch)
"The launch of Karlin's new food and entertainment experience will greatly enhance the Parmer development while perfectly complimenting St. David's Performance Center," Austin FC founder Anthony Precourt said. "The Pitch... will offer a strong variety of food options and gathering spaces for guests who will utilize St. David's Performance Center and Parmer Field for a variety of events."
The Pitch project lead Dave Greeley, who helped come up with the concept, is a former president of Austin FC parent company, Two Oak Ventures.
"The vision behind The Pitch at the Parmer Pond District is to be a first-of-its-kind sports, dining and entertainment destination," said Dave Greeley, The Pitch project lead and Team Orbis president. "This will be an unmatched experience for Parmer Austin tenants, Austin FC and club supporters, and the community."
With its proximity to the practice center, the venture hopes to contribute to the growing "soccer city" of Austin during Austin FC matches and youth games with the Austin FC Academy hosted at the St. David's Performance Center.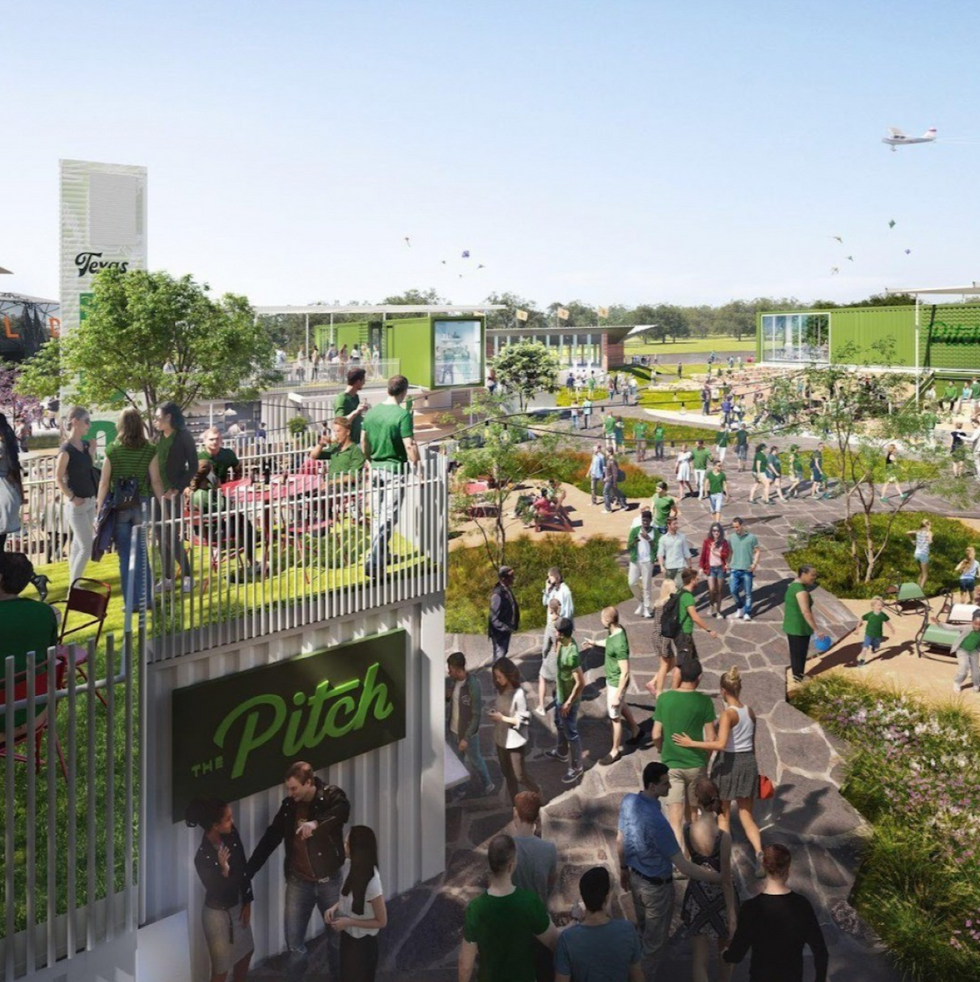 The Pitch hopes to converge both community and club interests with Austin FC. (The Pitch)
In addition to the soccer pitch, stadium and pond, The Pitch will provide a foody experience made by the creative team behind Austin staples like Fareground and Easy Tiger. The complex will offer local bites including:
Ranger Burger, which offers beers and burgers made from highly-coveted Wagyu beef direct from Ranger Cattle in East Austin
Ga Roti, which merges flavors from Northern Vietnam with the culinary techniques of France to create a unique rotisserie chicken joint
Taco Flats, a local taco chain serving Mexico City-style tacos, micheladas and more
Sand Bar, which fulfills its namesake with beauty cocktails, local beers and a sand volleyball court
Coffee Club, a coffee shop and bakery
Corner Kick Bar, the soccer-focused main bar of The Pitch complete with "tunes, TVs and (a) beer garden"
The Pitch will squeeze between St. David's Performance Center and Parmer Pond alongside the southern edge of Parmer Austin, a Karlin Real Estate venture that will eventually include multifamily housing, corporate office space and an aerospace and defense center.