Never miss a story
Sign up for our free daily morning email...
...and afternoon text update
Get connected with our daily update
photo by Connor Leech
Last weekend, after the city of Austin recommended social distancing, but before the shelter-in-place order was announced, Connor Leech brought home a new dog.
The 24-year-old IBM content strategist lives in the Cherrywood neighborhood with two roommates. Prior to the pandemic, he planned to adopt a dog. But after realizing he would be working from home for at least several weeks he decided to call Austin Pets Alive.
"If there was a right time, it would be now," Leech said.
---
In early March, Austin's shelters began preparing for the coronavirus to arrive in Austin—and the likelihood that volunteers and staff would be affected. APA, the Austin Animal Center and the Austin Humane Society began calling for foster placements on their social media pages in an effort to free up space at their facilities.

With fewer animals on site, staff could continue to accept critical cases—such as sick or injured animals—and absorb the work usually done by volunteers, most of whom are not considered essential workers. Having fewer animals also means that the shelters can operate with a leaner staff.
"We needed to get as many animals out in case we had staff that became ill and we didn't have enough staff [to care] for animals," AAC Director Don Bland said.
AAC's goal was to move half of its inventory into foster homes. As of this morning, there were 129 animals on site, with around 494 in foster homes.
For the time being AAC is not worried about running out of animal food or supplies and will be able to continue to observe the city's no-kill policy, which requires 95% of animals that enter the shelter not be euthanized.
"This is going to be something that we'll be able to maintain easily now that we've sent so many animals to foster," Bland said.
Although animal shelters are familiar with emergency situations—those in Austin took in thousands of animals during Hurricane Harvey—this pandemic is different.
"This will be a more sustained response," said Dr. Katie Luke, a veterinarian and chief operations officer of the Austin Humane Society. "We don't really know what the endpoint will be."
To this end, AAC is no longer accepting strays or surrendered animals and is instead only responding to top priority calls, such as those involving a bite or an animal that is sick or injured. The shelter recommends that people who find dogs outside try to return them to their owners, who likely live nearby. APA is hosting virtual meet-and-greets on Zoom and Google Hangouts to avoid unnecessary contact between staff and prospective foster owners. And AHS has inventoried its medical supplies to see what masks, gloves and gowns it may be able to donate to area hospitals and clinics treating those with coronavirus.
The latter is also preparing for the likelihood that some animals exposed to the coronavirus will need care. Although there is no evidence that dogs and cats can contract the disease, they may carry it in their ears and mouth. Shelters may need to keep animals isolated or take in the pets of people with the disease who cannot care for them while ill, Dr. Luke said.
Another concern for shelters is fundraising.
Citing a drop in donations and cancelled events, Austin Pets Alive created a Facebook fundraiser on March 21 with a goal of $25,000. As of this morning, it has raised $16,724.
The nonprofit usually runs two thrift stores that generate revenue for the shelter; both are closed because of the pandemic.
"We know that as people fall on hard times, animals will fall on hard times, too," APA's Executive Director Dr. Ellen Jefferson said in a Facebook video posted to the shelter's page on March 26.

In the private sector, animal-related businesses are also experiencing financial hardship—but a boom in adoptions could mean more customers once this pandemic is contained.
Tim Smith—owner of Southpaws Playschool, a dog day care in South Austin—said he is seeing 80% less business than usual, even as he has increased operating hours to 24 hours a day to accommodate the schedules of essential workers.
Some customers, however, continue to bring in their pets because they need more exercise after being cooped up at home all day or they want to support a local business. Smith is also hopeful that, once people return to work, they may bring their new pets to Southpaws.
"Anything that gets pets out of the shelter—whether they get into foster care on a temporary basis or take the next step and actually get adopted—that's a good thing," he said.
First score made by LAFC. (Sonia Garcia/Austonia)
Austin FC couldn't find the stamina to fight off a 2-0 loss against LAFC for their inaugural match on Saturday.
The match, which saw No. 21 Austin FC go head-to-head with No. 2 LAFC in Los Angeles, was broadcast nationally on FOX and FOX Deportes.
Eleven players took the stage as Austin FC players for the first time, with five starters making their MLS debut. "Ringleader" Alex Ring took the captain's armband and wore it well. The defensive midfielder could be seen leading his teammates through their first ever match, but it wasn't enough to stage an Austin takeover in LA.
As Austin FC took the stage for their first-ever match, they appeared more experienced than their track record. The club held LAFC to a scoreless first half, keeping about equal possession of the ball.
In the signature style of Head Coach Josh Wolff, the team played with quickness and intensity, nearly connecting on several fast breaks.
The club was given some generous breaks from No. 2 LAFC, who had one or both of their star DPs out for the half. While forward Diego Rossi is out for the entire match due to a hamstring injury, Carlos Vela was accidentally pulled too soon on what turned out to be a miscommunication.
"He gave us the sign that he needed to come off," LAFC Head Coach Bob Bradley said on broadcast. "I can't say more than maybe it's my fault."
LA pulled some dramatics and slowly gained more possession throughout the half, but ATXFC's defense wasn't initially as shaky as it seemed in preseason. Jhohan Romana has pulled his weight in getting the ball out of goal, and a 34-year old Matt Besler held his own in center back.
As the second half commenced, however, it became clear that LAFC had the advantage over Austin's first major league team.
Goalkeeper Brad Stuver had his work cut out for him, fending off 24 shot attempts, 11 of which were on goal.
LAFC finally connected in the 61st minute of play as Corey Baird shot one into the bottom right corner. The team capitalized off their momentum and put one past Stuver a second time, drawing roars of approval from the LAFC crowd.
While some last-minute attempts from Jon Gallagher and others were made, Austin FC didn't have the endurance to bring a tie. After seven additional minutes of stoppage time, the club lost their first match 2-0.
It's matchday! Austin FC—Austin's first major league sport team—kicks off its debut season in Los Angeles today after years in the making. We know how much this means to our beloved city and are taking you along with us as we journey to LA!
Austin FC writer Claire Partain and I are excited to bring you game-day coverage straight from the City of Angels. Check back here for updates, and visit our socials: @austonianews for the latest.
~7 p.m: Austin FC loses to LAFC
A sad outcome for many, Austin FC was defeated by their competitor. Check out Claire's recap for a full rundown of what this game looked like: https://austonia.com/halftime-austin-fc-debut.
Until next time, Austin!
5 p.m: Kickoff!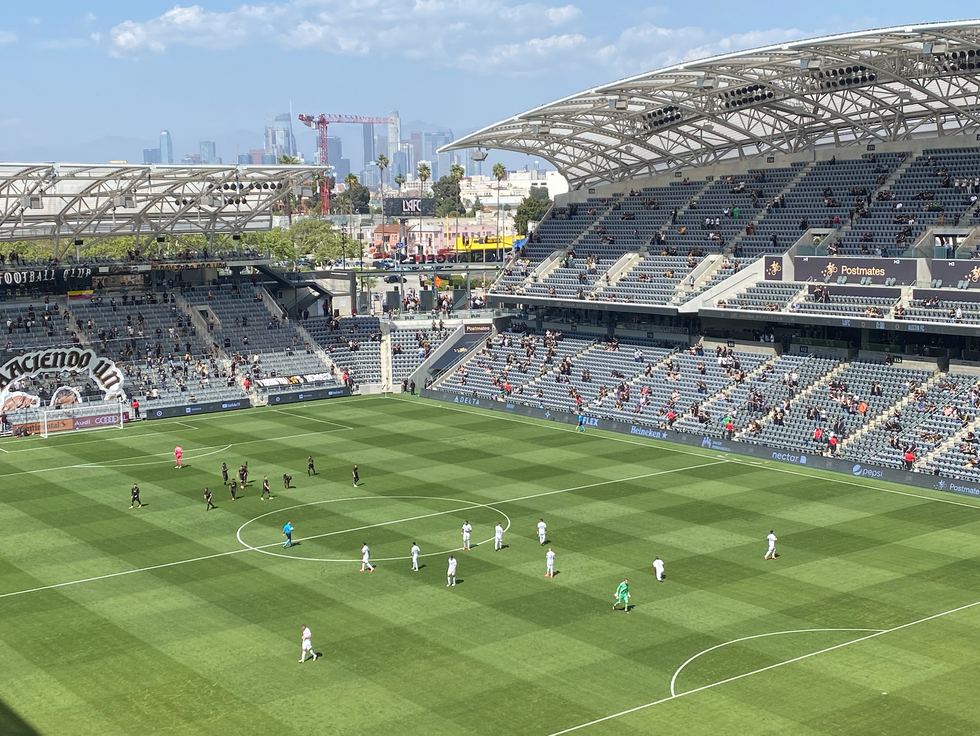 It's finally here! Claire will be updating Austonia's Twitter account live. And we'll post her game recap after the game. Best of luck Verdes!
4:40 p.m: Excitement radiates back home
Watch parties are in plenty supply back home. Austonia's Laura Figi visited Circle Brewing Co. and found a crowd of excited supporters.
4:20 p.m: Austin FC supporters are in the stadium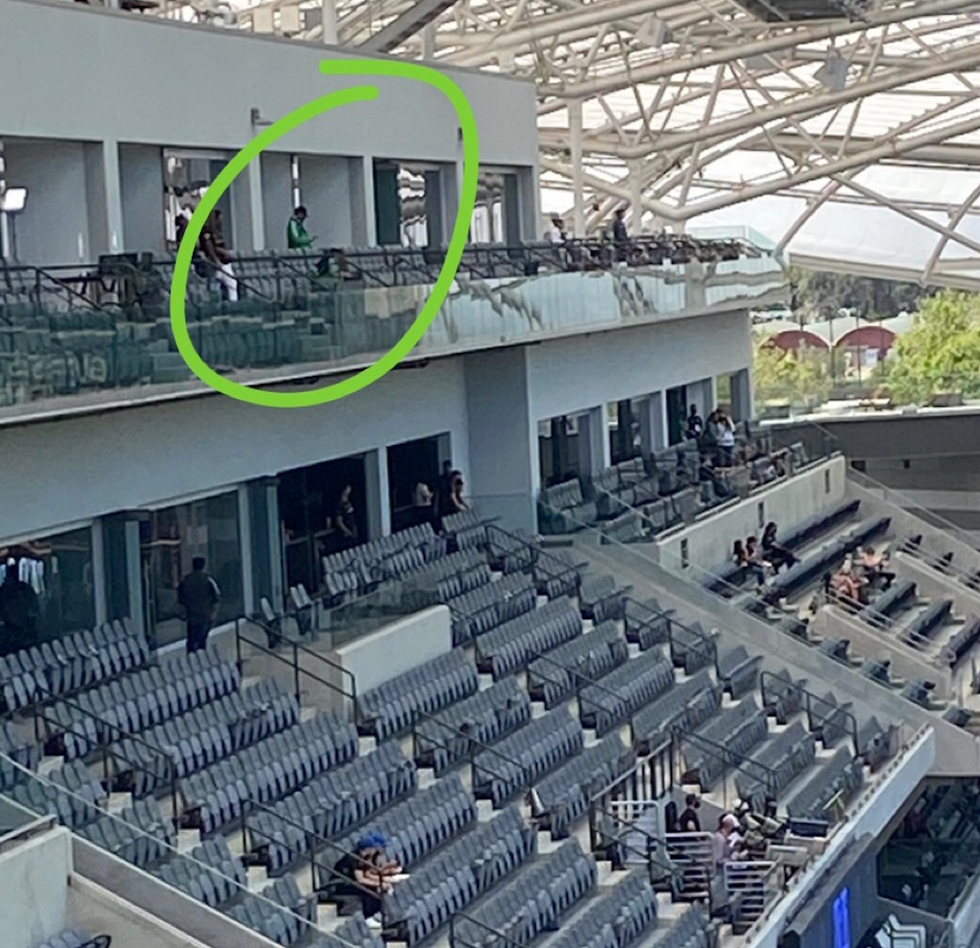 Although the Banc of California Stadium is hosting the match at limited capacity, we see some green in the stands ahead of kickoff. Just moments away from the Austin FC's debut!
~3:20 p.m: Austin FC's team bus enters the stadium grounds
With a warm welcome from Los Verdes, Austin FC players were welcomed into the Banc of California Stadium.
~1 p.m: Los Verdes in LA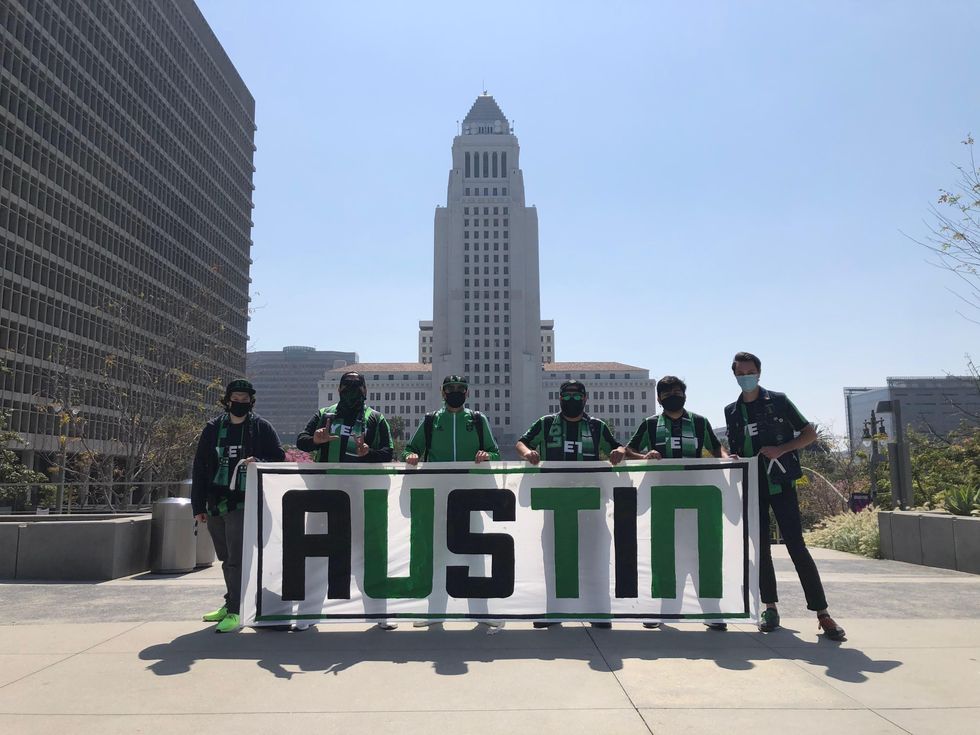 (Rigo Rodriguez/Los Verdes)
Austin FC supporters are making their presence known in LA, including the Los Verdes group.
Los Verdes members started having match-day fun around the area this morning with brunch. We'll be joining them about an hour before the game outside the stadium to share some of their excitement. We'll post immediately to Austonia's Instagram.
11:45 a.m: We landed!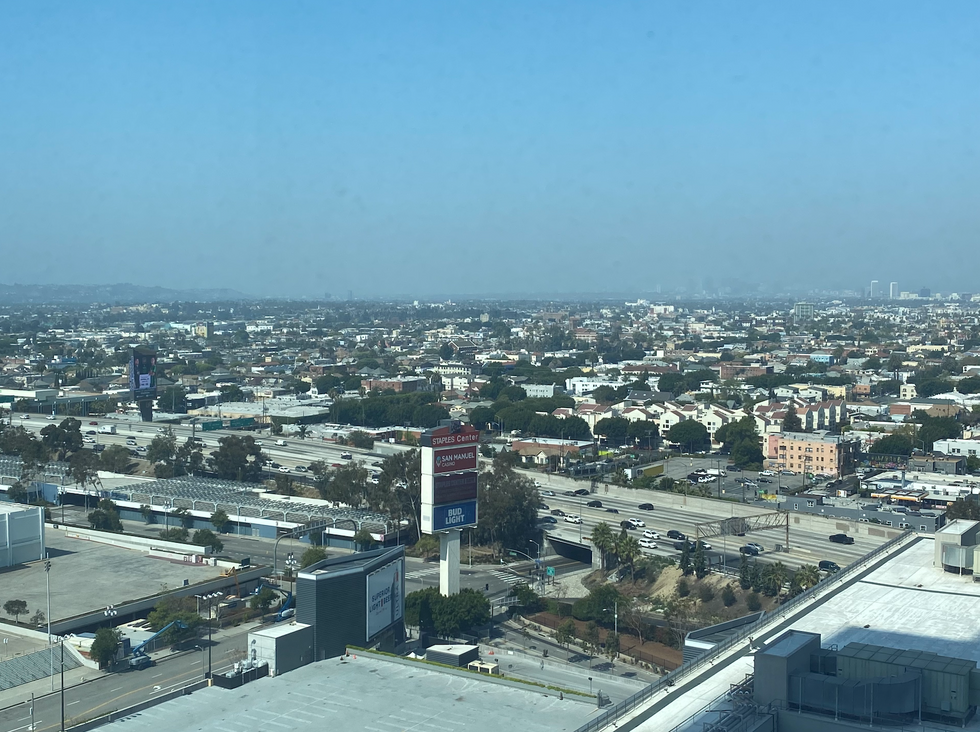 View from hotel room where we're staying; the stadium digital sign can be seen in the right corner. (Sonia Garcia/Austonia)
Switching over to pacific time, we're here and it's almost like no time went by. It's 9:45 a.m. here.
We've been in contact with Los Verdes, an Austin FC supporter group, who is also here in LA counting down to kickoff.
8:20 a.m: LA bound
Like many of you, we've been looking forward to this moment for, let's just say, a very long time. Today, we woke up bright and early, headed to Austin-Bergstrom International Airport and hopped on a flight to LA.
A gloomy day in Austin with a very quiet airport, we're headed to sunny skies in California.
As we wait for the game to start at 4:30 p.m., check out Claire's preview of the game with a predicted lineup and timeline of the long journey to get here.