Get connected with our daily update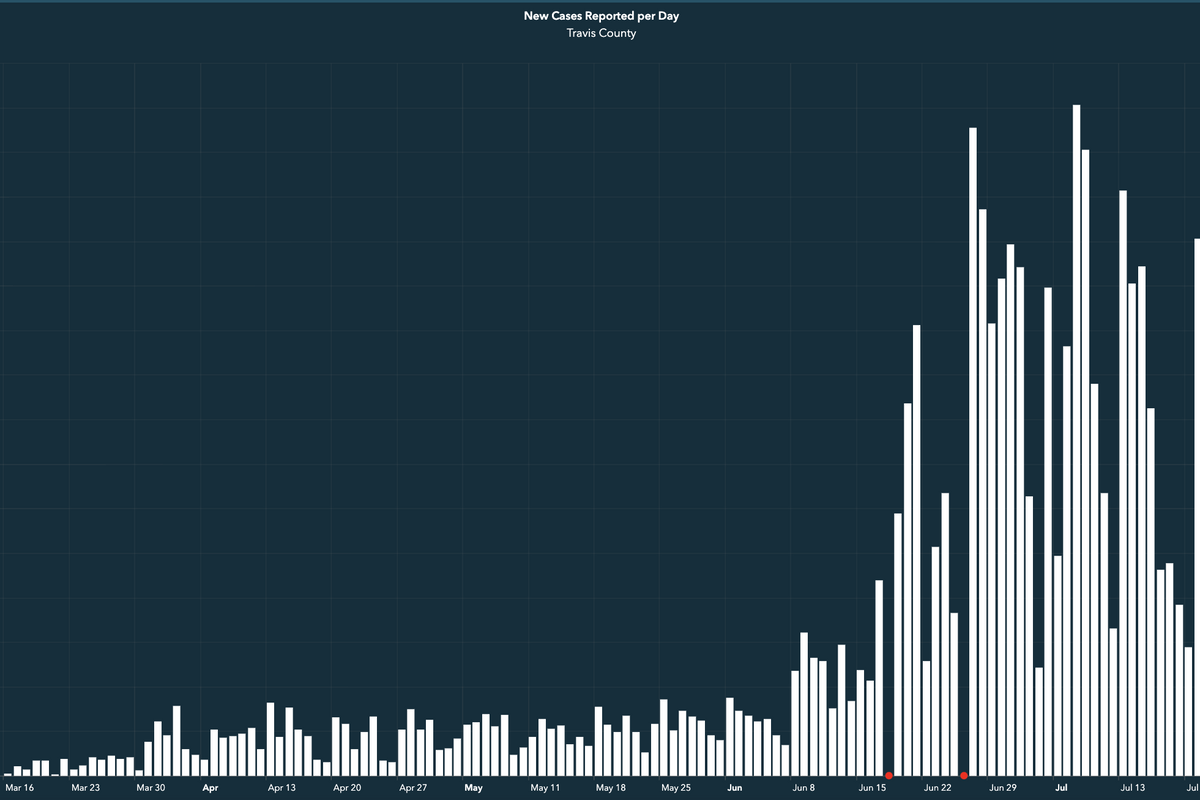 (Travis County COVID-19 Public Dashboard)
After a month of worryingly sharp increases in daily confirmed case counts, hospital admissions and ICU occupancy rates related to COVID-19, Austin is now experiencing a steady decline.
---
"We're doing well," Austin-Travis County Interim Health Authority Dr. Mark Escott told county commissioners on Tuesday.
As of Monday evening, the metro area reports a seven-day moving average of 47 daily COVID-related hospital admissions, down from a peak of 75.1 on July 9.
But there's still work to be done. ICUs remain near capacity, and their personnel is stressed.
"Now's not the time to dance," Dr. Escott said.
Surge lessons
Austin is at a critical point, said Dr. Spencer Fox, associate director of the COVID-19 Modeling Consortium at the University of Texas at Austin.
"We still have relatively high transmission compared to what we were seeing in March, April, May and even early June," he told Austonia. "But we have shown as a community the ability to start lowering transmission to a point that the epidemic is declining locally."
There is room for this decline to continue.
"The ideal situation is to push prevalence low enough that you have testing resources capable of getting timely test results and enough contact tracing resources to trace every contact of infected individuals," Fox said. "What that will do is eventually put us in a place where we can actually be tracking every infection in the city."
Austin Public Health recently expanded its testing capacity but continues to limit access and report slow turnaround times—up to 10 days—which stymie contact-tracing efforts. Dr. Escott said Tuesday that over the last week, APH has seen lower demand for COVID-19 testing, which may reflect the lower COVID-19 transmission rate across the city.
Pushing this rate lower will also make reopening schools and other businesses more feasible—so long as certain precautions are taken. Dr. Escott said a team of local experts is working on a set of risk-based guidelines for area schools and that their recommendations will likely include a phased reopening, starting at 25% occupancy.
"Let me just be clear: by reopening things, I don't mean just go back to life as normal," Dr. Fox said, adding that Austinites will have to continue to wear masks, socially distance and wash their hands to avoid another surge.
While the future remains uncertain, the recent surge—and the current decline—offers new insights into how best to avoid one in the future.
"We weren't sure that, as hospitalizations were surging, if people would actually be able to reduce transmission enough to slow that surge without having the actual stay-home order put back in place," Dr. Fox said. "It's a great sign that we were able to do that—and will help us in planning the future, potentially not needing to think about a stay-home order but rather consider public health messaging and communication to get people to respond accordingly."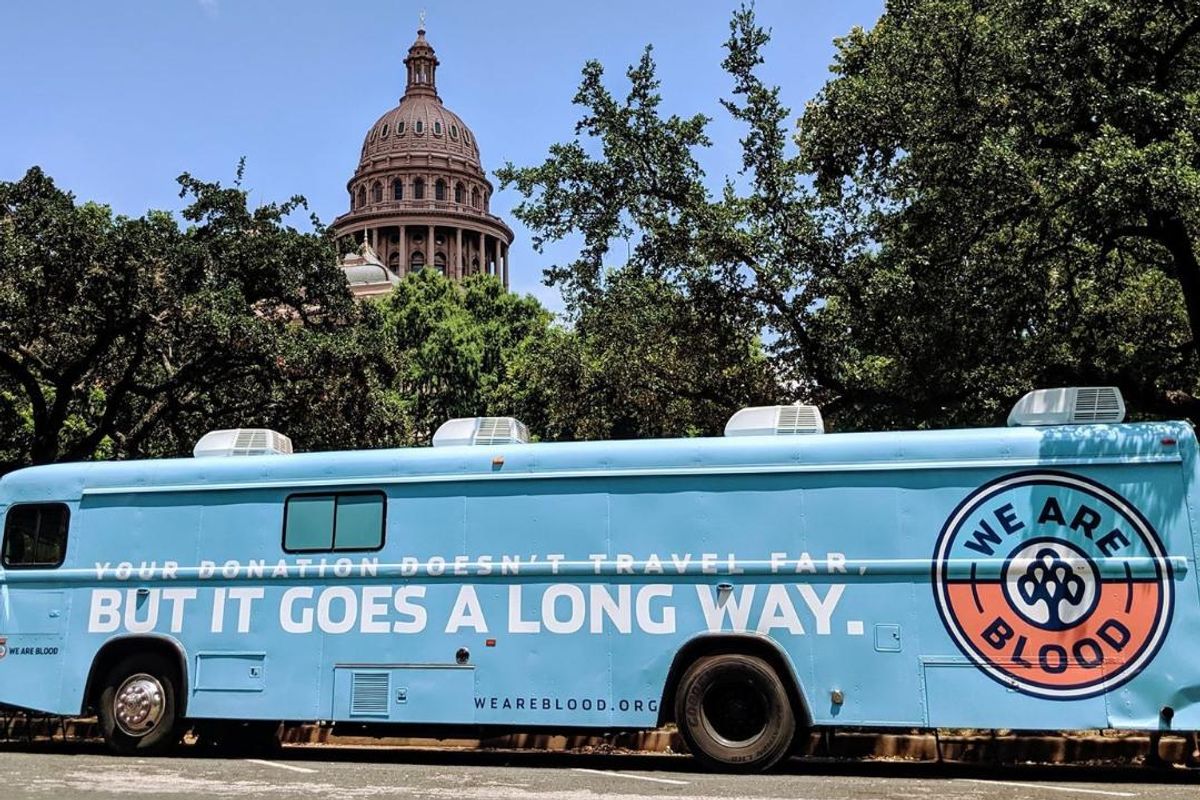 Communities are rallying together after an 18-year-old shot and killed 19 students and two teachers at Robb Elementary School in Uvalde, Texas.
Funds from organizations all around the state–including from Austin's own Los Verdes–are being raised to support families affected by the tragedy. Here's how you can help.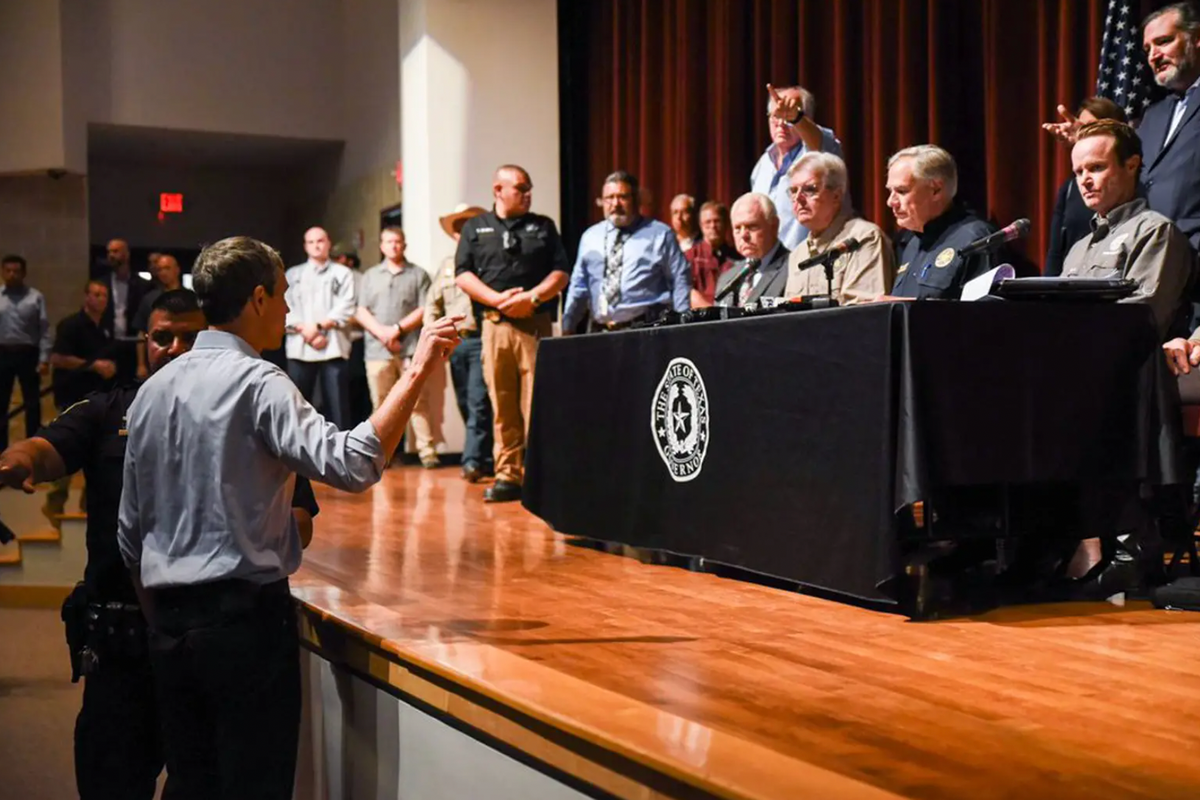 By Patrick Svitek
Beto O'Rourke caused a dramatic scene on Wednesday when he angrily confronted Gov. Greg Abbott at his news conference about the Uvalde school shooting, yelling, "This is on you."
After Abbott was done giving his initial remarks, O'Rourke approached the stage and told Abbott he was "doing nothing" to combat gun violence. He said the Uvalde massacre, in which a gunman killed 19 children and two adults, was "totally predictable."
Some of the Republican officials onstage with Abbott quickly denounced O'Rourke, telling him to go away. Another man onstage used expletives to criticize O'Rourke for interrupting the event. O'Rourke was eventually escorted away amid the unruly scene.
"I can't believe that you're a sick son of a bitch that would come to a deal like this to make a political issue," Uvalde Mayor Don McLaughlin told O'Rourke at one point.