Get connected with our daily update
Editor's Note: This is the last political column Austonia will run in a series of opinion pieces. The views displayed here are not those of Austonia. View past opinions, including contrasting views to this one here.
Matt Mackowiak has lived in Austin from 1984-2003 and since 2011. He is the Travis County Republican chair and co-founder of Save Austin Now PAC, a nonpartisan political action committee that advocates for policies and candidates that support quality of life issues and public safety.
If you've lived in Austin more than three years, then you've almost surely experienced the same thing that I have.
---
While traveling anywhere in the U.S. (and increasingly globally), when asked where you are from and you respond with Austin, invariably the person says either "I love Austin, what a great city" or "I have always wanted to visit Austin."
In the last few years, that has changed. People continually ask me the same question, "What happened to Austin?"
That simple question has a long and complicated answer and voters will have an opportunity to choose new leadership in the November 2022 election.
Let me try to answer it here, and then paint a picture for a future for our city that is within our grasp.
I came to Austin at the age of 4, went to public schools (Laurel Mountain Elementary, Canyon Vista Middle and Westwood High) and then proudly graduated from the University of Texas-Austin in 2003. After spending nine years professionally in Washington, D.C., after college, I returned home in 2011.
When I was a kid, Austin was a lovely and growing city with an outstanding standard of living. It was safe, affordable, culturally rich, diverse (and becoming more diverse), well educated, and full of opportunity. It had big city fun, without big city problems.
But storm clouds gathered.
Austin leaders in those decades generally believed that "if we did not build it, they wouldn't come." They foolishly subscribed to the idea that growth could be prevented and the quintessential Austin ethos could remain forever unchanged. But Austin grew and we did not manage that growth.
Now our city has at least four major challenges all hitting at the same time:
a larger and complex homeless community that is not receiving adequate care
a significantly understaffed police department that is contributing to a violent crime wave
an affordability crisis caused by artificially limited housing supply and insatiable city spending
rapidly worsening commutes due to limited transportation infrastructure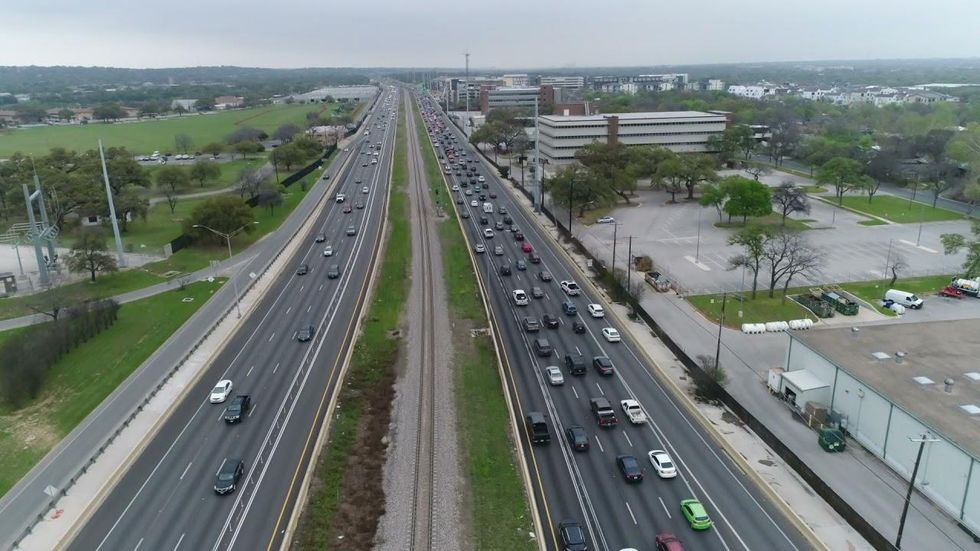 Austin's transportation infrastructure has been highly contested as Austin's population grows. (Steven Joyner)
Our city has not seriously addressed these challenges for many years and these problems have become larger, more urgent, and more expensive to address.
On the homeless community, voters passed Prop B 58%-42% on May 1, reinstating a public camping ban and forcing the city to provide actual solutions for the homeless (which they have not provided). Now the camping ban must be enforced and an efficient, transparent, accountable plan must be adopted that gets the homeless off the streets, into detox and mental health treatment and on a pathway to work, self-sufficiency and housing. Housing our homeless immediately has failed in San Francisco and Houston and it is failing here. We must help them settle first, stabilize, and then prepare them to reenter life off the streets in a way that minimizes relapses, poor decisions, unsafe activities and criminal behavior. We can serve our homeless better than we have–and we must.
On the public safety issue, City Hall (with the exception of Mackenzie Kelly) is now fighting a nationally recognized police staffing standard (2.0 police officers per 1,000 residents) that more than 200 cities over 50,000 population meet, including Dallas (2.9/1000) and Houston (2.4/1000), according to City-data.org. This is at a time when homicides are on track to nearly double last year's all-time record, every violent crime statistic is up considerably, police staffing is down 200 officers in one year (from 1,800 to 1,600) and police 911 responses times are up. Voters will have a choice to support public safety on Nov. 2 with Prop A.
Austin must stop constraining the supply of housing with overregulation and ridiculous land development codes that govern individual neighborhoods, which results in a new house taking on average 18 months to build in Travis County, while the time is six months in Williamson and Hays counties. Average home prices are up sharply, and while the state limited property tax increases to 3.5% annually, that does not address valuation increases that are resulting in explosive increases in property taxes, which puts economic pressure on blue collar workers, middle class families, teachers, first responders, senior citizens and every renter in our city. Code Next was a total mess, with each successive version of it worse than the one before it. But a uniform land development code, with strong neighborhood input, with a streamlined permitting process at the city level, would be far better than the city's top-down "affordable housing" mess and the failing Better Builder program.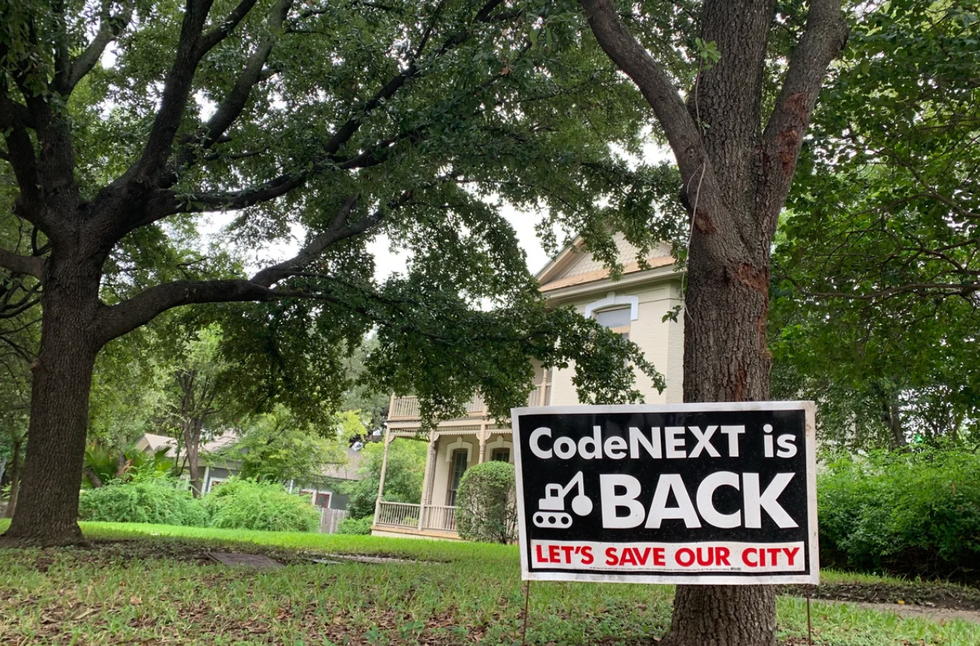 Although the city of Austin has scrapped CodeNEXT, signs in opposition to a land-use code rewrite can sometimes still be spotted around town. (Austonia)
Instead of inefficient and unaffordable transportation projects like Project Connect, the first phase of the massive and bloated train system which passed last November, Austin should focus on increasing density at the intersection of major roads first, much like Houston and Dallas have, then connecting those dense areas. We need a 'Big Dig' under I-35 which reduces delays and adds real estate above ground, connecting downtown and East Austin, and we must expand MoPac. We also need an East-West highway between 183 and 71.
These are some ideas for how we can address our most pressing challenges. But ignoring them or tripling down on failure hurts every Austinite and that is what current city leaders are choosing to do.
Austin is the 11th largest city in America.
Since the 10-1 city council system took effect, we have been governed by hard left ideologues for at least two years and the voter uprising that began on May 1 will continue until City Hall abandons their extreme agenda and instead focuses on quality of life issues that affect every Austin family.
Austin can be the greatest city to live, work, and raise a family in our country. How do I know? Because it was when I was growing up.
New leadership will be required to address these problems directly and save our city.
Austin's Delta 8 industry has been turned on its head after Texas health officials clarified that the cannabinoid is on the state list of illegal substances, though it was previously believed to be legal by most retailers, consumers and manufacturers.
House Bill 1325, which was signed in June 2019 by Gov. Greg Abbott, and the Farm Bill, signed into law by former President Donald Trump in 2018, legalized any hemp product containing less than .3% THC. The same bills were thought to have made Delta 8 legal, though the Texas Department of State Health Services added a notice on its website saying it was still a controlled substance as of Friday, Oct. 15.
Both the federal and state governments keep separate lists on what is considered a controlled substance. Marijuana is considered Schedule I, a category reserved for substances with "no currently accepted medical use and a high potential for abuse," both statewide and federally.
Austin-based CBD retailer Grassroots Harvest CEO Kemal Whyte, like many CBD shop retailers, was blindsided by the announcement. Many small businesses rely on Delta 8 for their sales—Green Herbal Care CBD said about 90% of its sales come from Delta 8—and Whyte said he is frustrated by the inconsistencies in the drug scheduling system.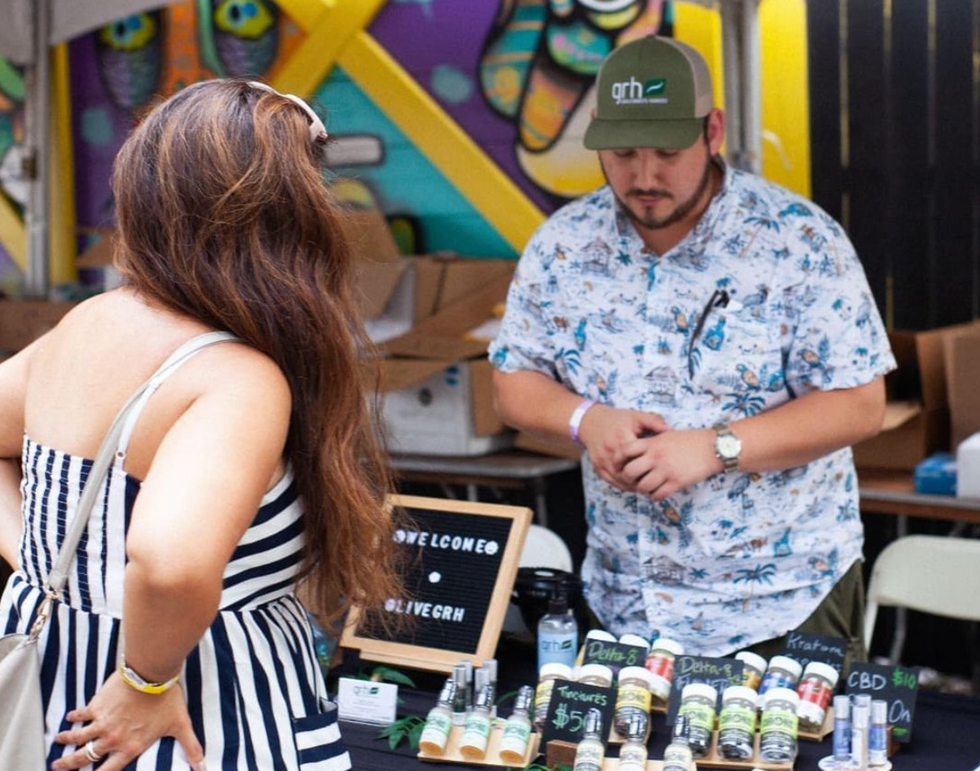 (Grassroots Harvest/Instagram)
Since 87% of Texans support the legalization of marijuana, at least for medical use, per a recent poll, Whyte said he wonders who this legislation is for.
"It's gonna have a massive impact on small businesses—there's just no way around it," Whyte said. "The reality is, we don't want to push out anything bad for our customers, we want this to benefit our customers and to help them. If we can make money while doing it, that's the American dream. What are we doing, whose benefit is this for?"
Delta 8 surged in popularity after the perceived legalization—consumers enjoyed its lower psychotropic potency, decreased anxiety while using it and the peace of mind as a legal way to get high. So in order to protect their products and livelihoods, both Grassroots Harvest and Austin-based manufacturer Hometown Heroes are taking legal action.
Whyte said Grassroots Harvest is suing DSHS, saying their action is creating negative effects in the market. Meanwhile, a Hometown Heroes spokesperson said the company is in the process of filing a temporary restraining order that would pause the ban on Delta-8 in the state of Texas.
Threats against Delta 8 are not new—DSHS lost a lawsuit trying to make "smokable hemp products" illegal last year and Texas lawmakers had been considering a bill that would make Delta 8 illegal, though it was dropped after the clarification was made.
Hometown Heroes released a formal statement in response to the DSHS rule.
"I need to be clear—we love Texas, we're just choosing to fight for the will of the people in regards to cannabis in Texas," Hometown Hero CEO Lukas Gilkey said in a statement. "(Texas DSHS) are using backhanded ways to create legislation and go against the will of the people."
Whyte laments the fact that it would be easier legally to "open up a strip club that also sells guns," and said he can't post customer testimonials that mention the benefits of Delta 8 without getting hit with a cease and desist from the Food and Drug Administration. Whyte said he isn't opposed to regulation—far from it—he just wants to see it go through the correct channels.
"The fact that they're stunting our ability to communicate with our clients that want to learn about this, you're preventing us from communicating with them and teaching them, or spreading information that we know," Whyte said. "I think that that in and of itself opens up a lot of questions."
Grassroots Harvest still has Delta 8 products on its shelves for the time being but for how long, Whyte doesn't know.
Austin Public Health and other clinics around Austin are now providing booster shots for all three vaccines, including Pfizer, Moderna and Johnson & Johnson, to fully vaccinated individuals after both Pfizer and J & J were approved by the CDC on Wednesday.
APH and Austin clinics, which were already administering the approved Pfizer booster, will begin distributing shots as soon as Friday.
Those who received the second dose of the Pfizer and Moderna vaccine more than six months ago are elligble to receive a booster if they are over 65 or if they are over 18 and:
Live in a long-term care environment
Have underlying medical conditions
Work or live in high-risk settings, such as schools, hospitals or correctional facilities
Those who took the Johnson & Johnson shot are eligible if they are over 18 and received their dose over two months ago.
Austin-Travis County Health Authority Dr. Desmar Walkes said in a media Q&A Friday that APH is encouraging boosters just as much as they have urged residents to get their first and second doses.
"Boosters are incredibly important to keeping our community protected and hospitalizations low," Walkes said. "If we can stay on top of our vaccinations, we provide protections for our most vulnerable and make it that much harder for COVID to spread in our community."
Eligible residents are free to choose the same booster as their first doses or "mix and match," per the CDC announcement.
Those looking for another dose can simply bring their vaccination card to APH centers or the dozens of Walgreens and CVS locations in the metro, which began administering doses Friday.
Additional updated guidance from the CDC allows for all eligible individuals to choose which vaccine they receive as a "mix-and-match" booster dose. It is advised to remember to bring your CDC COVID-19 Vaccination Card showing the original doses with you when going for booster shots.