Get connected with our daily update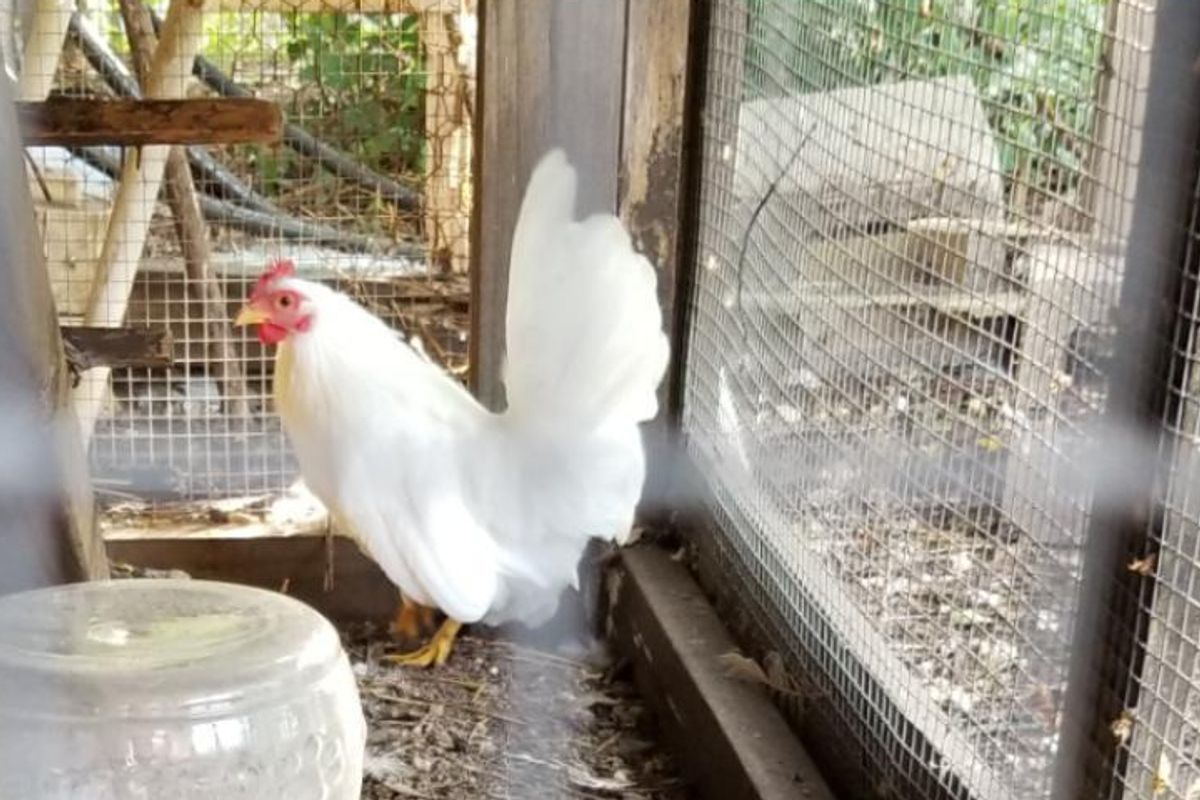 After 13 years of maintaining a brotherly feud, celebrity status and fighting for her spot as the coop's top dog (or chicken), Austin's oldest chicken, Esperanza, died over the weekend.
---
Esperanza's claim to fame came from the aid of her owners, Edward Gottschalk and Liath Appleton, who started investigating the elderly chicken's unique status after a 13 or 14-year-old chicken from Austin made an appearance on a late-night television show several years ago.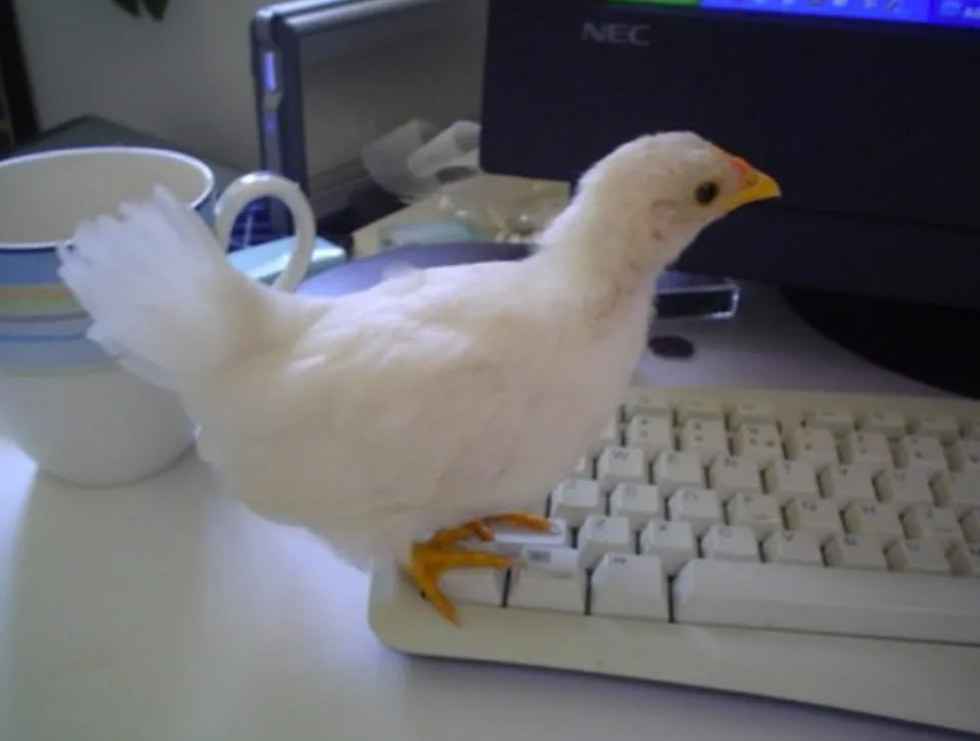 Esperanza as a chick. (Edward Gottschalk)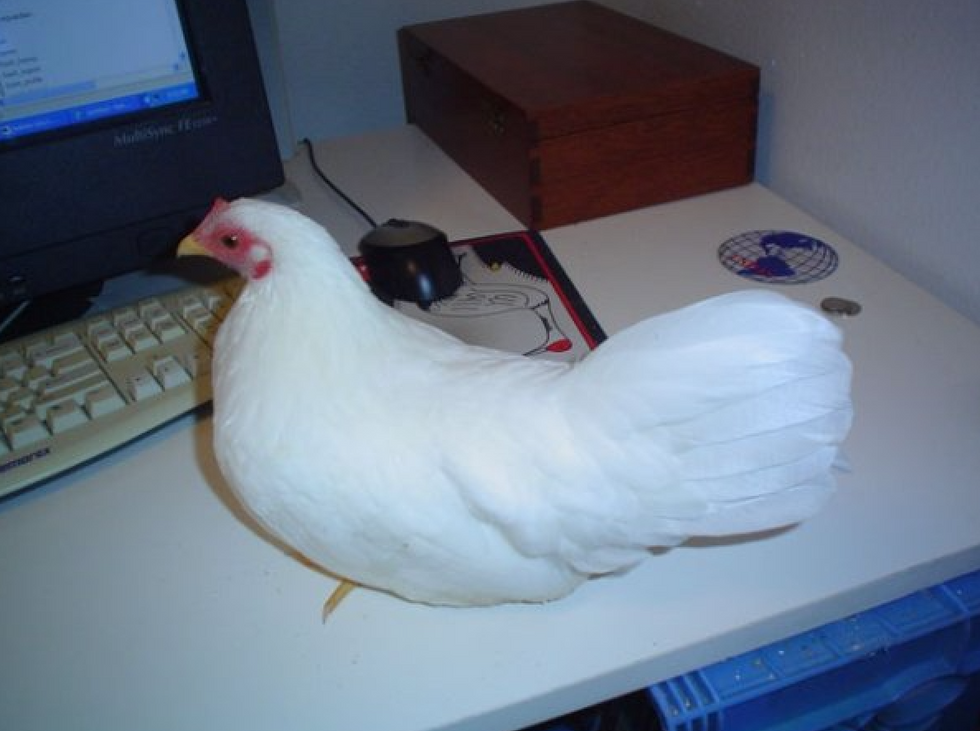 Esperanza as a grown chicken. (Edward Gottchalk)
At 13, Esperanza lived a full life that ended with her favorite meal, cantaloupe and mealworms, in Austin's Highland neighborhood. Her coop, which was fully enclosed to ward off predators, bordered the couple's bedroom window so she could be fed treats as needed, and she enjoyed bad weather days inside watching TV on Appleton's lap. Gottschalk said Esperanza passed peacefully in her sleep.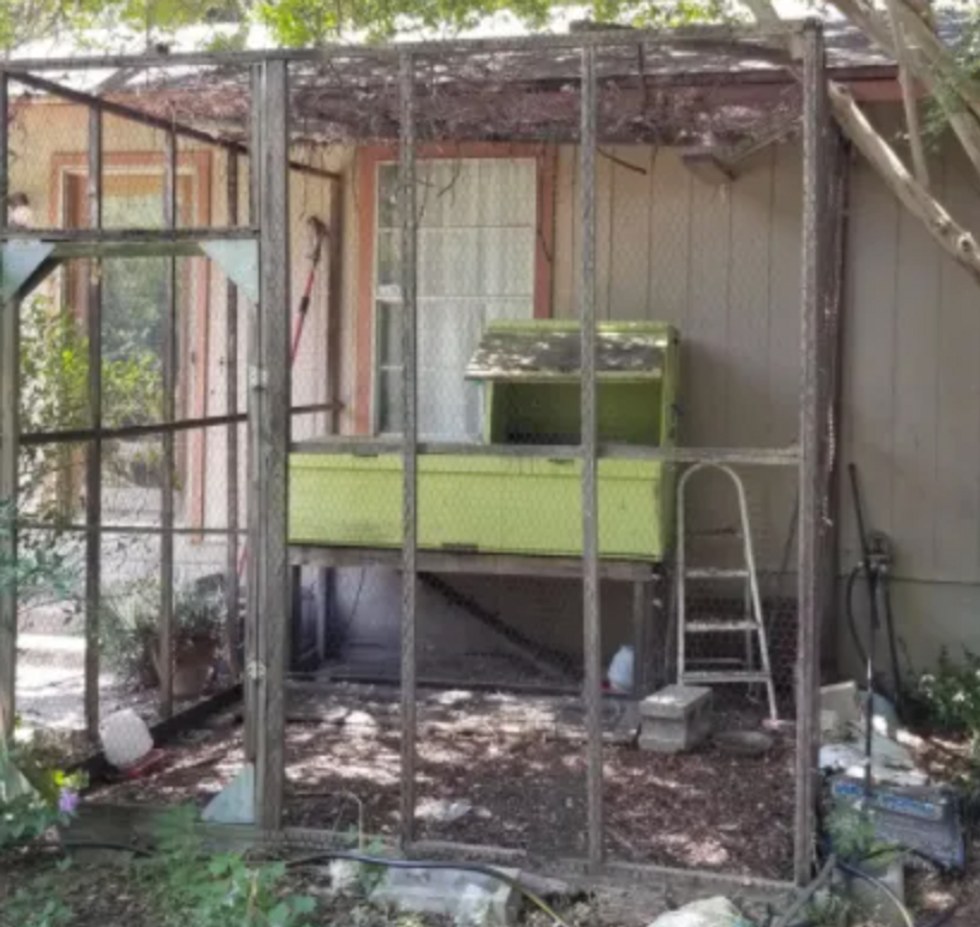 Esperanza's coop bordered the couple's window so that she could be fed treats as easily as possible. (Edward Gottschalk)
But her celebrity status didn't come without strife; according to Gottschalk, Esperanza was "not that nice" and had a cantankerous old-lady attitude. Gottschalk said she may have blood on her hands (or claws): some of her companion chickens have died naturally or flown away, but in cutthroat chicken tradition, Esperanza herself has likely killed a sick chicken or two herself in her rise to the top.
Even on her crankiest days, however, Esperanza had the unique power of bringing people together. In an in-family Hatfield vs. McCoy-esque dispute, Gottschalk and his brother, Mark, have been in stiff competition over their claims to fame: for Gottschalk, it's Esperanza, while Mark is a champion pumpkin grower.
But that feud appears to have laid to rest as Mark and many others paid their respects to Esperanza.
"They've been very supportive, actually everyone has," Gottschalk told Austonia.
As Austin's biggest celebrity, over 50 Redditors in the r/Austin subreddit paid their respects to Esperanza in Gottschalk's memorial post.
"I hope you are scratching up delicious grubs in that great coop in the sky," one Redditor wrote.
Esperanza is the daughter of Frita and Frederico. Though her relatives are no longer clucking, she will be remembered by her doting owners Gottschalk and Appleton and the rest of Austin, who will now have to resort to supporting other local celebrities like "that McCoughy guy or whatever his name is," according to one grieving Redditor.
"She lived a nice quiet life the past couple of years," Gottschalk said. "She's pretty sweet with age. It's been nice to have her."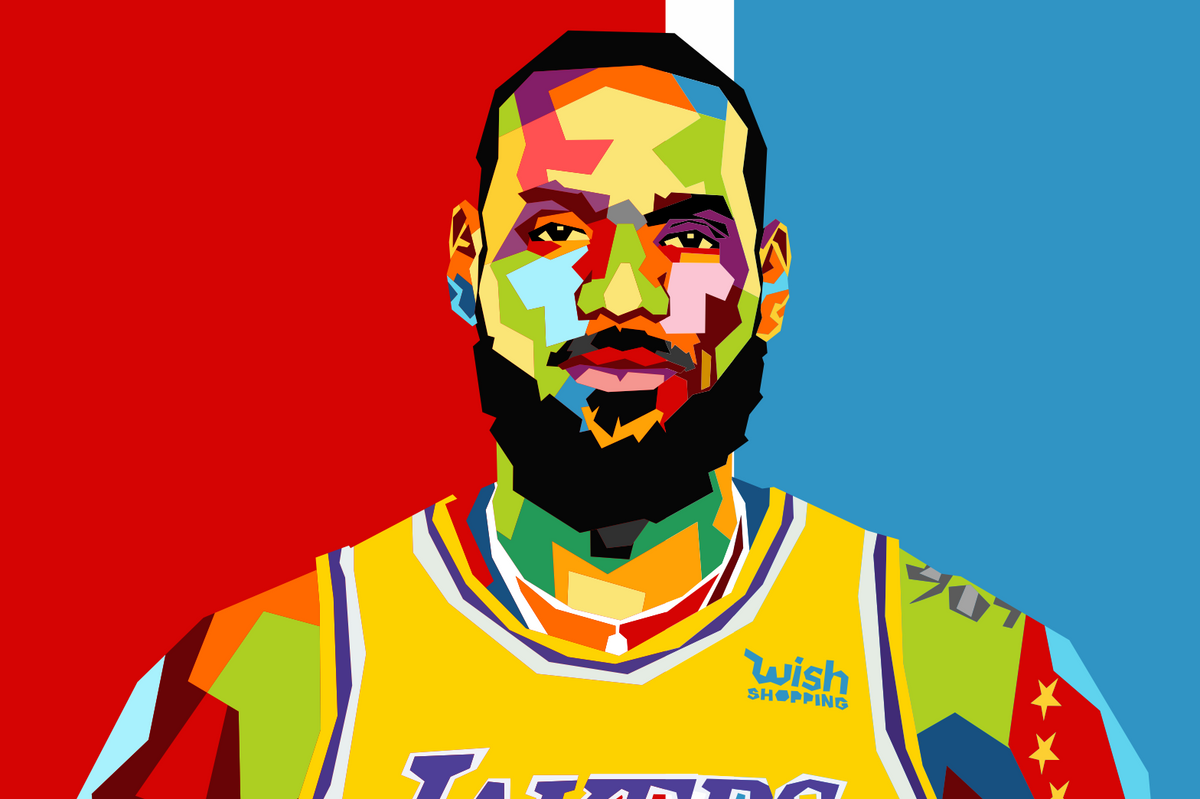 Shutterstock
It's not on the level of LeBron signing with the Spurs, but who knows, maybe you'll see him at Guero's one day, having a Rob's Especial marg and a No. 1 dinner?
LeBron James, Draymond Green, Kevin Love, LeBron's business partner Maverick Carter, and a bunch of other sports-related investors are buying a Major League Pickleball expansion franchise.
Oddly, MLP teams aren't associated with places, so at this point it's just "an expansion team."
But Major League Pickelball is based in Austin, created, according to the Austin Business Journal, by Dreamland and Richard's Rainwater owner Steve Kuhn.
League investors include familiar Austin names like C3 Presents founders Charles Attal and Charlie Walker, Parsley Energy founder and partial Austin FC owner Brian Sheffield, Silicon Labs Chairman Nav Sooch, and pickleball enthusiast Brené Brown.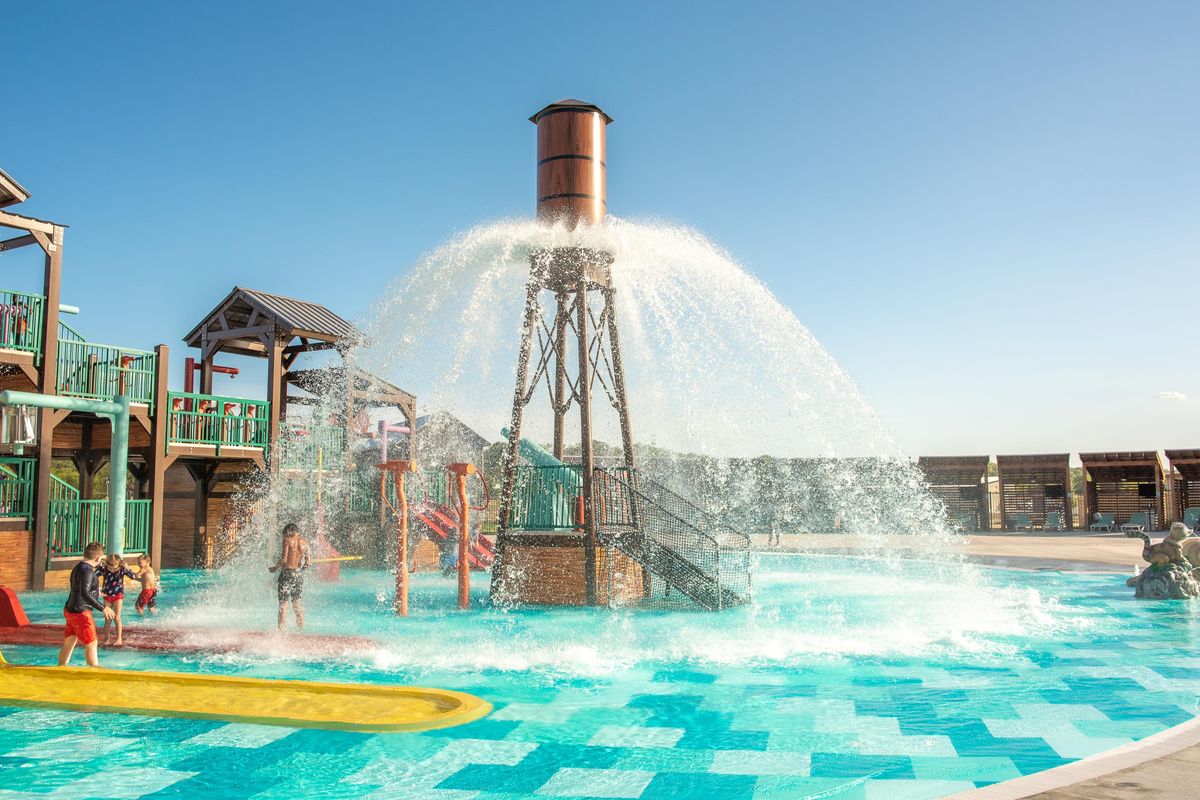 Camp Fimfo Waco
Camp Fimfo Waco, a brand new camping resort, is kicking off football and fall camping season in style! With top-notch amenities, premium accommodations, and 10 weekends of fall fun, there's no better place to have a fall camping getaway, especially if you're a Baylor football fan!
Fall promises to be a one-of-a-kind camping experience. From Sept. 16 to Nov. 24, weekends will be packed with fall-themed activities, including special Halloween weekends in October. Campers can enjoy activities like fall crafts, campground trick-or-treating, costume contests, site decorating, outdoor movie nights, and more!