Get connected with our daily update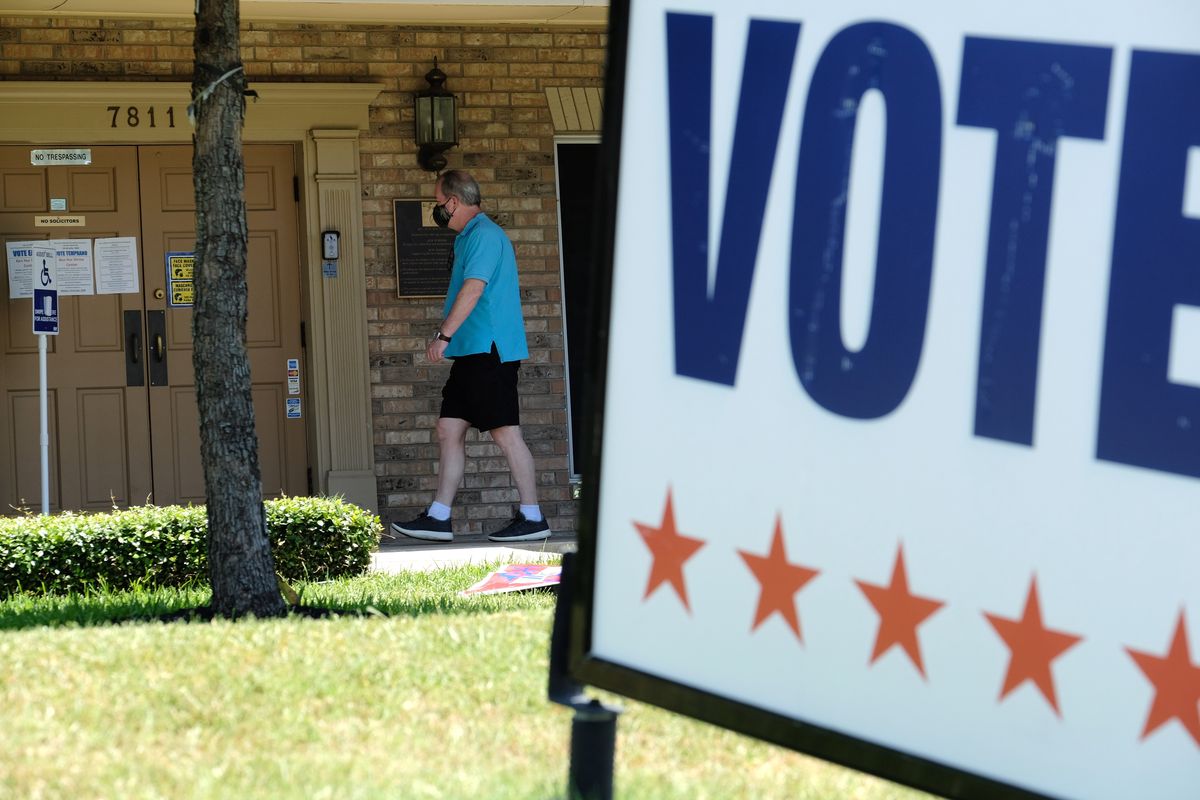 (Charlie Harper III)
This article has been updated to include information about Texas Gov. Greg Abbott's proclamation limiting counties to one mail-in ballot drop-off location.

The upcoming Nov. 3 election is set to be a historic one—in Austin and around the country.
The Travis County Clerk's office expects as many as 100,000 voters will apply for a mail-in ballot by the Oct. 23 deadline, and it has already received nearly double the number of applications it did for the 2016 general election.
"It is most definitely COVID," County Clerk Dana DeBeauvoir told Austonia earlier this month. "People are afraid to come inside."
Ahead of Election Day, we've rounded up key dates to remember, a guide to voting by mail and some background on the major races at the local, state and federal levels.
---
Mark your calendars 
How to apply for a mail-in ballot
In Texas, only certain voters are eligible to vote by mail. They include: people who are 65 years or older; out of the country during the entire election period; sick or disabled; in jail.
Eligible voters must apply for a mail-in ballot by Friday, Oct. 23. The application form, which can be found here, must be mailed to the following address and received by that date.
Dana DeBeauvoir
Travis County Clerk - Elections Division
P.O. Box 149325
Austin, TX 78714
Given the turmoil at the U.S. Postal Service, DeBeauvoir recommends eligible voters who wish to vote by mail submit their applications as soon as they can.
Once you receive your mail-in ballot, fill it out per the instructions and return it. It must be postmarked by or on Election Day and received the following business day.
Voters who wish to hand-deliver their mail-in ballot can do so. Travis County initially had identified four drive-thru locations where voters could drop off their ballots, starting on Thursday, Oct. 1. However, Texas Gov. Greg Abbott issued a proclamation "enhancing ballot security protocols" requiring Texas counties to designate a single office location for ballot drop-off, effective Friday, Oct. 2.
U.S. House Rep. Lloyd Doggett, D-Austin, called the proclamation an "outrageous act of voter suppression" in a tweet.
Once the Travis County Clerk has identified the sole drop-off location, this article will be updated to provide the details.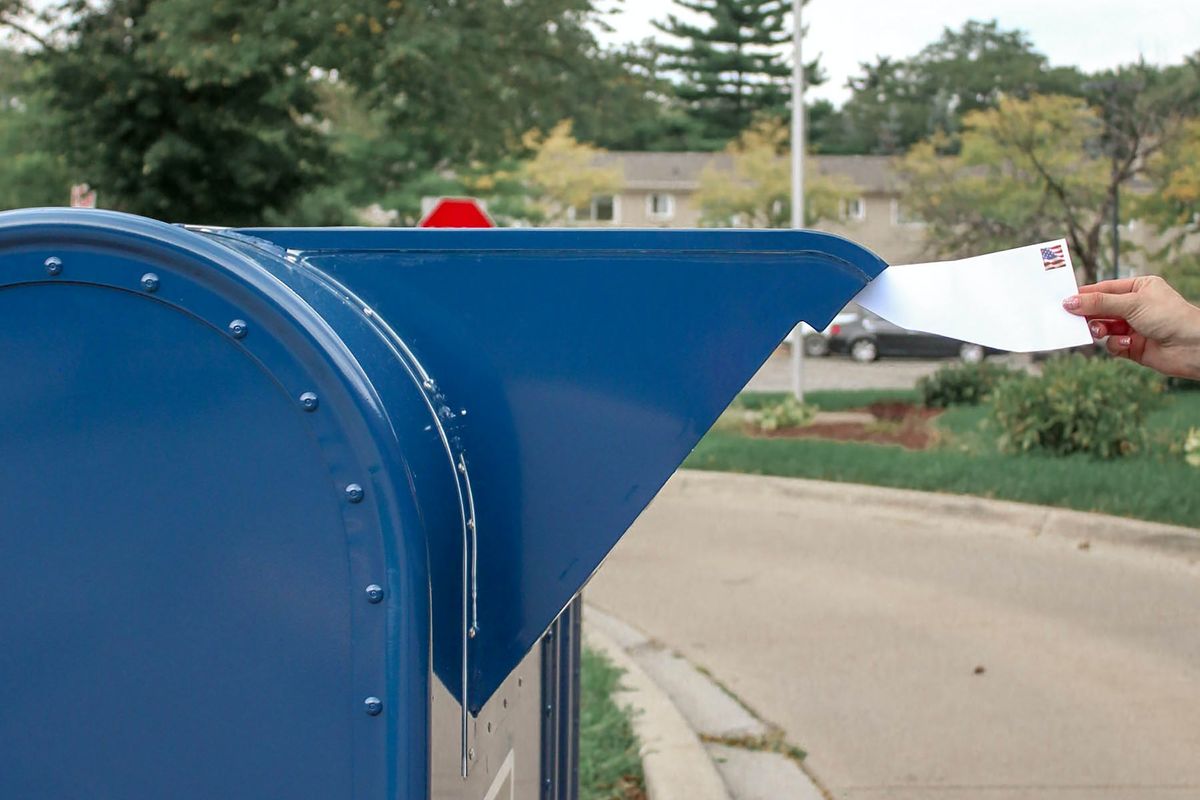 The last day to apply for a mail-in ballot in Texas is Fri., Oct. 23. Unlike most states, Texas only allows voters who meet certain eligibility requirements to vote by mail.
(Pexels)
Races to watch 
President
President Donald Trump faces off against Democratic candidate Joe Biden. The last time a Democratic candidate won in Texas was in 1976, when Jimmy Carter was on the ballot.
According to a poll tracker compiled by the Texas Politics Project at the University of Texas at Austin, Trump is favored to win Texas in three of four polls conducted this month. The fourth poll predicts a tie.
U.S. Senate
Three-term incumbent Sen. John Cornyn is seeking his fourth term against combat veteran and self-described "badass" MJ Hegar. Cornyn has vastly outraised Hegar, but Democrats are hopeful that their candidate can win.
U.S. House
Travis County is spliced into five congressional districts, three of which the Texas Tribune has identified as "races to watch" this November.
U.S. House District 10 incumbent Rep. Michael McCaul, R-Austin, faces Democratic candidate Mike Siegel. U.S. House District 21 incumbent Rep. Chip Roy, R-Austin, faces Democrat, and former gubernatorial candidate, Wendy Davis. And U.S. House District 25 incumbent Rep. Roger WIlliams, R-Austin, faces Democratic candidate Julie Oliver.
Texas Senate
Travis County is represented by four members of the state Senate, two of whom are up for reelection this November.
District 21 State Sen. Judith Zaffrini, D-Laredo, will face Republican candidate Frank Pomeroy, and District 24 State Sen. Dawn Buckingham, R-Lakeway, will face Democratic candidate Clayton Tucker.
Texas House
Travis County is represented by five members of the state House. One of those members, District 47 incumbent Rep. Vikki Goodwin, D-Austin, faces Republican challenger Justin Berry, in a race that the Tribune calls a "GOP target."
Travis County Commissioners Court
Three of the five seats that make up the Travis County Commissioners Court are up this November.
Democrat Andy Brown and Republican Michael Lovins will compete for the position of county judge in a special election after Sarah Eckhardt resigned less than two years into her second term to run for state senator. Both candidates were selected by their respective political parties rather than local voters.
The county judge serves as chief executive of the county and oversees the Commissioners Court. The office functions similarly to that of a city's mayor.
Precinct 1 Commissioner Jeffrey Travillion, a Democrat, will run against Republican candidate Solomon Arcoven.
Precinct 3 Commissioner Gerald Daugherty, the sole Republican on the court, is not running for reelection. Democrat Ann Howard will face off against Republican Becky Bray for his seat.
Austin City Council
Half of City Council's 10 seats are up for election this November. Twenty candidates have thrown their hats in the ring.
Council seats are nonpartisan, although all current members are affiliated with the Democratic party. You can find out which district you live in here.
District 2 Council Member Delia Garza will vacate her seat to serve as Travis County attorney. Four candidates—David Chincanchan, Vanessa Fuentes, Casey Ramos and Alex Strenger—are running to replace her. You can read more about them here.
District 4 Council Member Greg Casar faces two competitors, Louis C. Herrin III and Ramesses II Setepenre. You can read more about the candidates here.
District 6 Council Member Jimmy Flannigan is running for reelection against Deedra Harrison, Mackenzie Kelly and Dr. Jennifer Musthaler. You can read more about them here.
District 7 Council Member Leslie Pool faces one opponent, Morgan Witt. You can read more about the race here.
The most crowded race is in District 10, where incumbent Alison Alter faces six other candidates: Ben Easton, Belinda Greene, Pooja Sethi, Robert Thomas, Noel Tristan and Jennifer Virden. You can read more about the field here.
Elected members will be tasked with rewriting the city's land use code, considering further cuts to the Austin Police Department's budget and, if voters approve Proposition A, implementing the $7.1 billion Project Connect transit plan.
Propositions
There are two local mobility propositions on the November ballot.
Proposition A gives voters the chance to approve a permanent 8.75-cent increase to the city's property tax rate to pay for and maintain Project Connect, a proposed $7.1 billion, 15-year overhaul of Austin's transit system.
Proposition B allows voters to opt into a $460 million active mobility bond, with funding going toward sidewalks, urban trails, bikeways and Vision Zero, a campaign to eliminate traffic fatalities and serious injuries.
You can read more about these propositions—including their ballot language, who supports and opposes the measures and the tax impact—here.
Want to continue staying informed with all things Austin? Start every day with a quick look at what's happening in Austin. Sign up for Austonia.com's free daily morning email.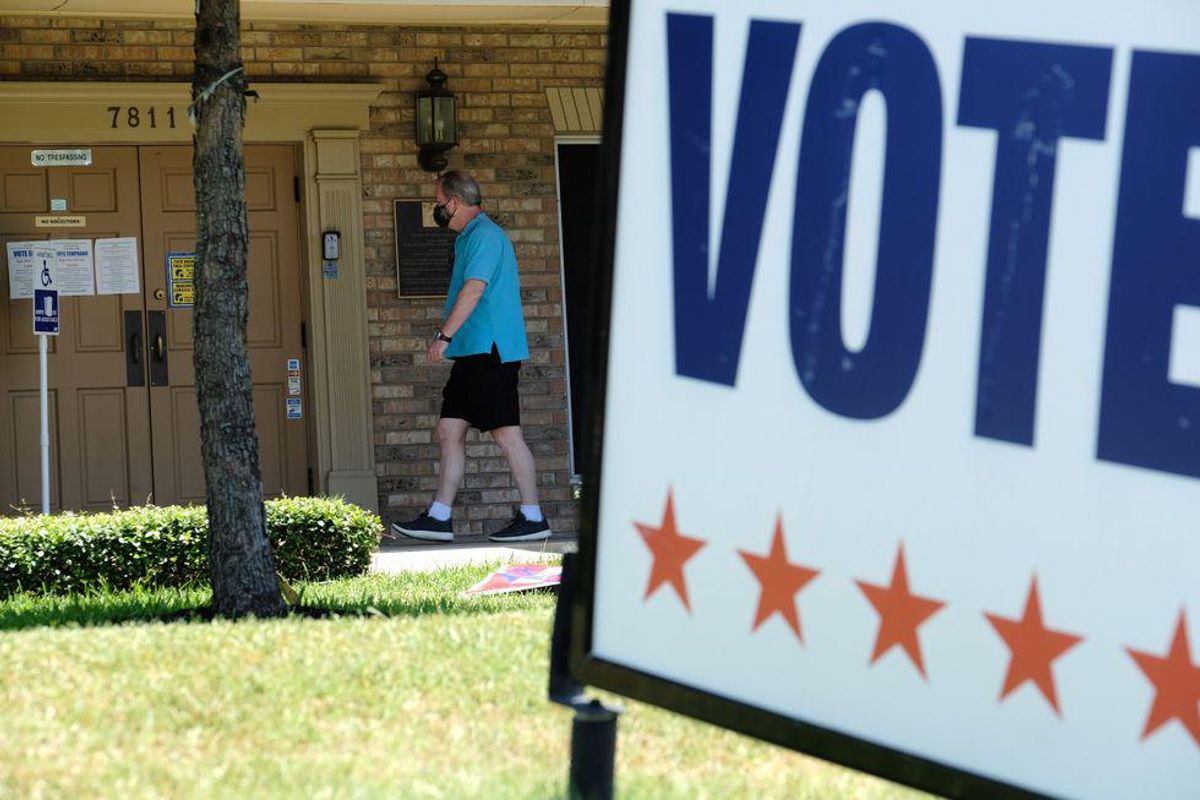 May's second election is here, in which voters will decide on the candidates to represent their party in the November general election after the winner in some March primary races was unclear.
Just like the March primaries, voters will choose which party they choose to vote in. Then based on location, each ballot will show which races are in a runoff.
In Texas, candidates must win at least 50% of the vote to be elected. In the races where the top candidate only received a plurality of votes, a runoff is being held.
Here's everything you need to know before heading to the polls.
Know before you go
Early voting for the Texas primary runoff election begins Monday and will last through May 20; Election Day is May 24.
The registration period for this election has passed; check if you're registered to vote here.
The polls are open from 7 a.m. to 7 p.m. daily. As long as you're in line by 7 p.m., you can vote.
You'll need a valid photo ID to present once you're at a polling location.
Here are the early voting locations in Travis County.
View wait times at polling locations here.
Races to watch in Travis County:
Statewide
Lieutenant Governor
Republican: Incumbent Lt. Gov. Dan Patrick won his primary in March.
Democratic: Mike Collier and Michelle Beckley are vying to be the Democrat candidate on the ballot.
Attorney General
Republican: Incumbent AG Ken Paxton is fighting for his seat against George P. Bush.
Democratic: Rochelle Garza and Joe Jaworski will face off to be the Democratic candidate in this race.
View all the statewide races on the ballot here.
U.S. House of Representatives

View the district you live in here.
District 21
Republican: Incumbent Chip Roy won his primary in March.
Democratic: Claudia Andreana Zapata and Ricardo Villarreal are hoping to secure this vote.
District 35
Republican: Dan McQueen and Michael Rodriguez are going head to head to be the Republican candidate in this race.
Democratic: Former Austin council member Greg Casar won this race in March.
Texas House
District 19
Republican: Ellen Troxclair and Justin Berry are vying to be the Republican candidate in this race.
Democratic: Pam Baggett won her primary in March.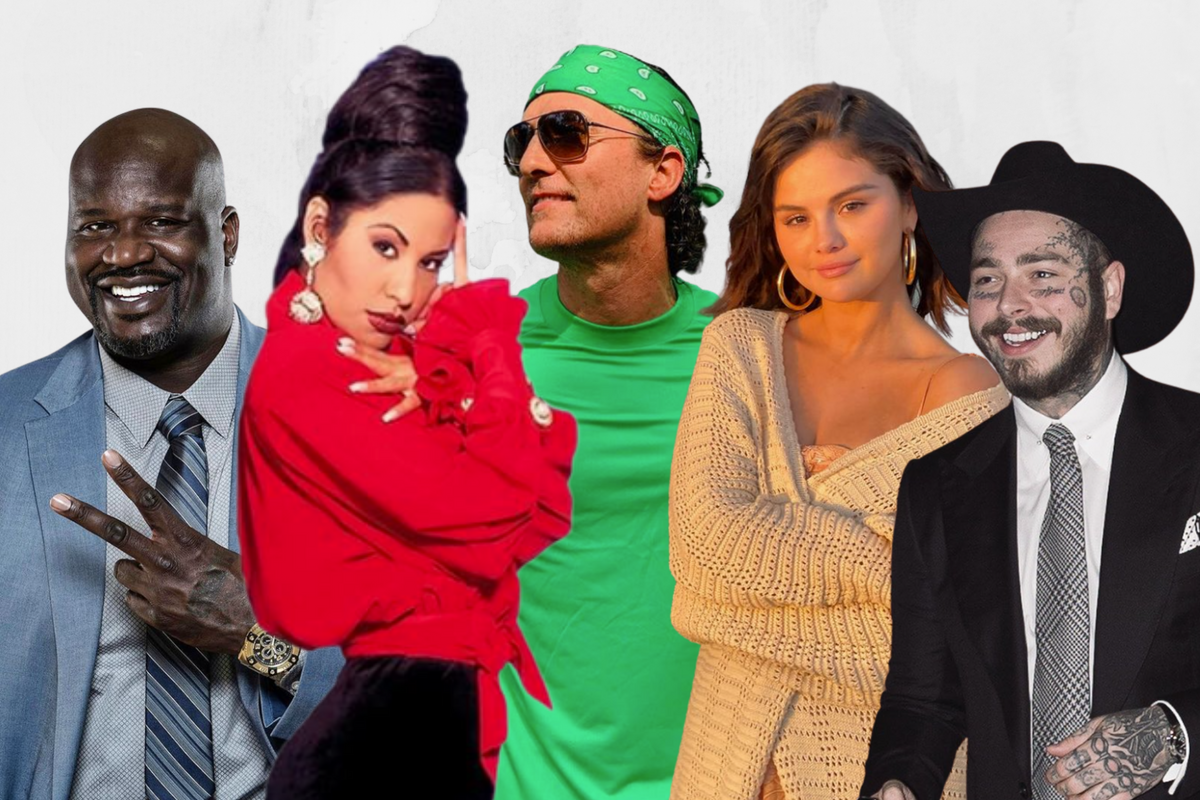 Texas has been home to some of the country's biggest celebrities of all time—think Amarillo resident Georgia O'Keeffe, Lubbock's Buddy Holly and Corpus Christi's famous singer Selena.
The Pudding's People Map of the U.S., which shows each city's "most Wikipedia'ed" resident, placed celebrities from all walks of life on the Texas map. As for Central Texas celebrities, there are some interesting (and not so surprising) names on deck.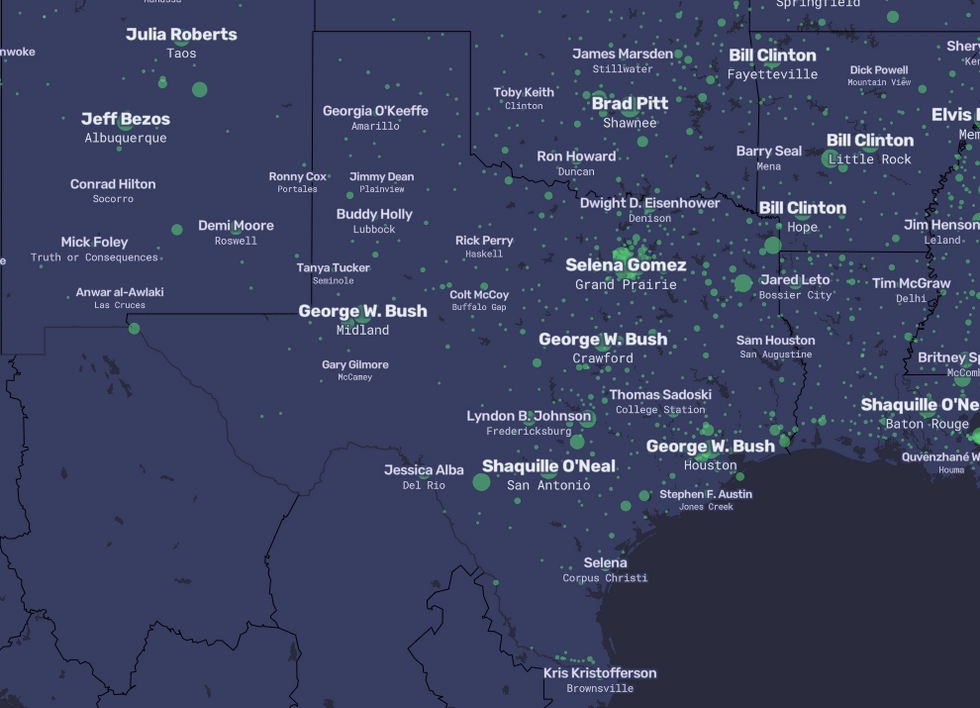 (The Pudding)
Proving that Austin is "alright, alright, alright," Minister of Culture Matthew McConaughey is both Austin's and Uvalde's top Wikipedia'ed resident. McConaughey, who was born in San Antonio adjacent Uvalde, has deeply ingrained himself in Austin by studying Radio-Television-Film at UT Austin, starring in the Austin-filmed movie "Dazed and Confused" and investing in Austin FC.
Heading down just a few miles south, San Marcos claimed former president Lyndon Baines Johnson as Texas State University's most famous alumni, who graduated in 1930, and was also named in Fredericksburg. LBJ wasn't the only ex-president on the map—George W. Bush was listed as the top resident in Dallas, Midland, Houston and Crawford.
You'll see some other names with ties to Austin strewn around the state: Janis Joplin in Beaumont and Port Arthur; Stone Cold Steve Austin in Victoria and Edna; Dan Rather in his hometown of Wharton; and Waylon Jennings in Littlefield.
Venturing outside of the central areas, there are big celebrities who call Texas Home. Actress and artist Selena Gomez dominated search traffic in her hometown of Grand Prairie, musical artist Post Malone was most "Wikipedia'ed" in Grapevine, and Shaquille O'Neal was named in the city where he went to high school, San Antonio.
Plus, Thomas Haden Church, Angela Kinsey, Jessica Simpson, Chuck Norris, Roy Orbison, Ron White, Jessica Alba, Colt McCoy, Jimmy Dean and Johnny Manziel all had at least one city covered on the list.
Where's Texas' newest resident, Elon Musk? You'll find him still in Los Angeles, as his foray into Texas living has just begun.
Click here
to view the full map.