Never miss a story
Sign up for our free daily morning email...
...and afternoon text update
Get connected with our daily update
(Charlie Harper III)
This article has been updated to include information about Texas Gov. Greg Abbott's proclamation limiting counties to one mail-in ballot drop-off location.

The upcoming Nov. 3 election is set to be a historic one—in Austin and around the country.
The Travis County Clerk's office expects as many as 100,000 voters will apply for a mail-in ballot by the Oct. 23 deadline, and it has already received nearly double the number of applications it did for the 2016 general election.
"It is most definitely COVID," County Clerk Dana DeBeauvoir told Austonia earlier this month. "People are afraid to come inside."
Ahead of Election Day, we've rounded up key dates to remember, a guide to voting by mail and some background on the major races at the local, state and federal levels.
---
Mark your calendars 
How to apply for a mail-in ballot
In Texas, only certain voters are eligible to vote by mail. They include: people who are 65 years or older; out of the country during the entire election period; sick or disabled; in jail.
Eligible voters must apply for a mail-in ballot by Friday, Oct. 23. The application form, which can be found here, must be mailed to the following address and received by that date.
Dana DeBeauvoir
Travis County Clerk - Elections Division
P.O. Box 149325
Austin, TX 78714
Given the turmoil at the U.S. Postal Service, DeBeauvoir recommends eligible voters who wish to vote by mail submit their applications as soon as they can.
Once you receive your mail-in ballot, fill it out per the instructions and return it. It must be postmarked by or on Election Day and received the following business day.
Voters who wish to hand-deliver their mail-in ballot can do so. Travis County initially had identified four drive-thru locations where voters could drop off their ballots, starting on Thursday, Oct. 1. However, Texas Gov. Greg Abbott issued a proclamation "enhancing ballot security protocols" requiring Texas counties to designate a single office location for ballot drop-off, effective Friday, Oct. 2.
U.S. House Rep. Lloyd Doggett, D-Austin, called the proclamation an "outrageous act of voter suppression" in a tweet.
Once the Travis County Clerk has identified the sole drop-off location, this article will be updated to provide the details.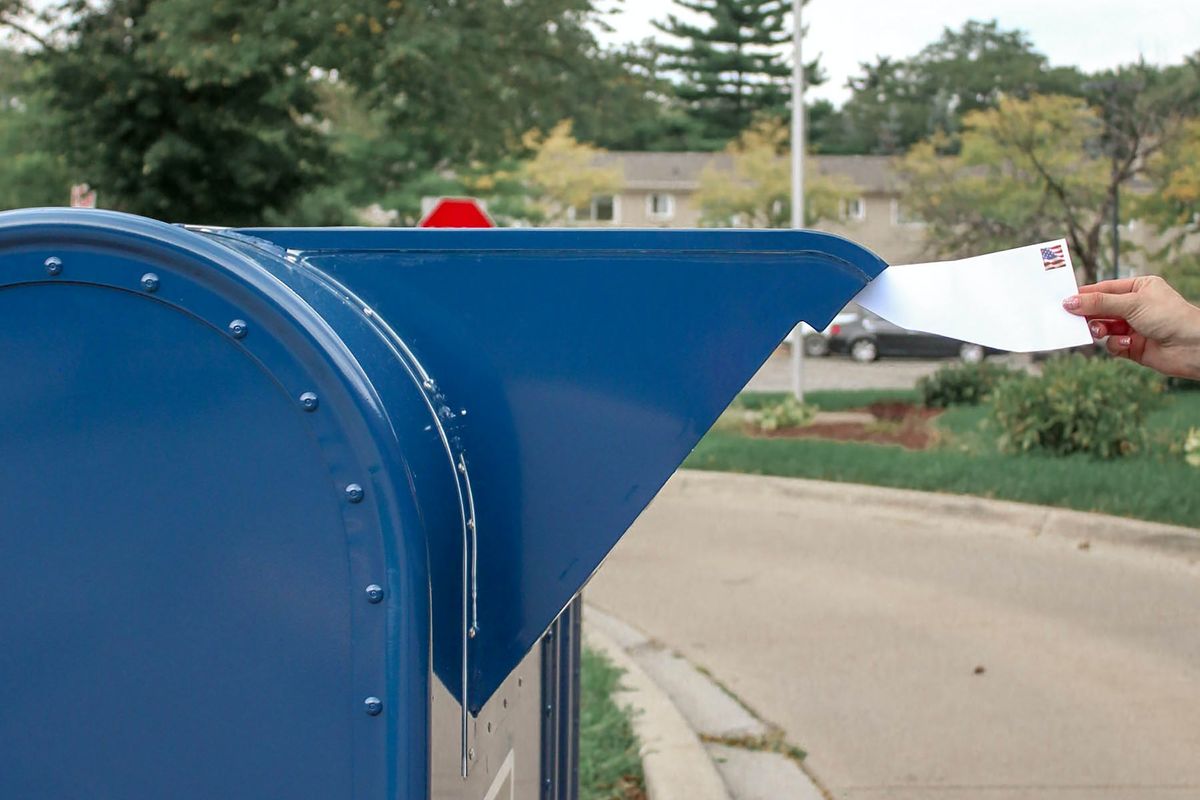 The last day to apply for a mail-in ballot in Texas is Fri., Oct. 23. Unlike most states, Texas only allows voters who meet certain eligibility requirements to vote by mail.
(Pexels)
Races to watch 
President
President Donald Trump faces off against Democratic candidate Joe Biden. The last time a Democratic candidate won in Texas was in 1976, when Jimmy Carter was on the ballot.
According to a poll tracker compiled by the Texas Politics Project at the University of Texas at Austin, Trump is favored to win Texas in three of four polls conducted this month. The fourth poll predicts a tie.
U.S. Senate
Three-term incumbent Sen. John Cornyn is seeking his fourth term against combat veteran and self-described "badass" MJ Hegar. Cornyn has vastly outraised Hegar, but Democrats are hopeful that their candidate can win.
U.S. House
Travis County is spliced into five congressional districts, three of which the Texas Tribune has identified as "races to watch" this November.
U.S. House District 10 incumbent Rep. Michael McCaul, R-Austin, faces Democratic candidate Mike Siegel. U.S. House District 21 incumbent Rep. Chip Roy, R-Austin, faces Democrat, and former gubernatorial candidate, Wendy Davis. And U.S. House District 25 incumbent Rep. Roger WIlliams, R-Austin, faces Democratic candidate Julie Oliver.
Texas Senate
Travis County is represented by four members of the state Senate, two of whom are up for reelection this November.
District 21 State Sen. Judith Zaffrini, D-Laredo, will face Republican candidate Frank Pomeroy, and District 24 State Sen. Dawn Buckingham, R-Lakeway, will face Democratic candidate Clayton Tucker.
Texas House
Travis County is represented by five members of the state House. One of those members, District 47 incumbent Rep. Vikki Goodwin, D-Austin, faces Republican challenger Justin Berry, in a race that the Tribune calls a "GOP target."
Travis County Commissioners Court
Three of the five seats that make up the Travis County Commissioners Court are up this November.
Democrat Andy Brown and Republican Michael Lovins will compete for the position of county judge in a special election after Sarah Eckhardt resigned less than two years into her second term to run for state senator. Both candidates were selected by their respective political parties rather than local voters.
The county judge serves as chief executive of the county and oversees the Commissioners Court. The office functions similarly to that of a city's mayor.
Precinct 1 Commissioner Jeffrey Travillion, a Democrat, will run against Republican candidate Solomon Arcoven.
Precinct 3 Commissioner Gerald Daugherty, the sole Republican on the court, is not running for reelection. Democrat Ann Howard will face off against Republican Becky Bray for his seat.
Austin City Council
Half of City Council's 10 seats are up for election this November. Twenty candidates have thrown their hats in the ring.
Council seats are nonpartisan, although all current members are affiliated with the Democratic party. You can find out which district you live in here.
District 2 Council Member Delia Garza will vacate her seat to serve as Travis County attorney. Four candidates—David Chincanchan, Vanessa Fuentes, Casey Ramos and Alex Strenger—are running to replace her. You can read more about them here.
District 4 Council Member Greg Casar faces two competitors, Louis C. Herrin III and Ramesses II Setepenre. You can read more about the candidates here.
District 6 Council Member Jimmy Flannigan is running for reelection against Deedra Harrison, Mackenzie Kelly and Dr. Jennifer Musthaler. You can read more about them here.
District 7 Council Member Leslie Pool faces one opponent, Morgan Witt. You can read more about the race here.
The most crowded race is in District 10, where incumbent Alison Alter faces six other candidates: Ben Easton, Belinda Greene, Pooja Sethi, Robert Thomas, Noel Tristan and Jennifer Virden. You can read more about the field here.
Elected members will be tasked with rewriting the city's land use code, considering further cuts to the Austin Police Department's budget and, if voters approve Proposition A, implementing the $7.1 billion Project Connect transit plan.
Propositions
There are two local mobility propositions on the November ballot.
Proposition A gives voters the chance to approve a permanent 8.75-cent increase to the city's property tax rate to pay for and maintain Project Connect, a proposed $7.1 billion, 15-year overhaul of Austin's transit system.
Proposition B allows voters to opt into a $460 million active mobility bond, with funding going toward sidewalks, urban trails, bikeways and Vision Zero, a campaign to eliminate traffic fatalities and serious injuries.
You can read more about these propositions—including their ballot language, who supports and opposes the measures and the tax impact—here.
Want to continue staying informed with all things Austin? Start every day with a quick look at what's happening in Austin. Sign up for Austonia.com's free daily morning email.
First score made by LAFC. (Sonia Garcia/Austonia)
Austin FC couldn't find the stamina to fight off a 2-0 loss against LAFC for their inaugural match on Saturday.
The match, which saw No. 21 Austin FC go head-to-head with No. 2 LAFC in Los Angeles, was broadcast nationally on FOX and FOX Deportes.
Eleven players took the stage as Austin FC players for the first time, with five starters making their MLS debut. "Ringleader" Alex Ring took the captain's armband and wore it well. The defensive midfielder could be seen leading his teammates through their first ever match, but it wasn't enough to stage an Austin takeover in LA.
In the signature style of Head Coach Josh Wolff, the team played with quickness and intensity, nearly connecting on several fast breaks. It was harder for them to stay in front, however, something that Wolff credits with quick decision making and a tough LAFC defense.
"We have a quick attacking team, but I think when you make quick attacks and it fizzles it's just about some decision making," Wolff said. "Are we in position to finish attacks? If not, can we reestablish our attack and get stuff better?"
The club was given some generous breaks from No. 2 LAFC, who had one or both of their star DPs out for the half. While forward Diego Rossi is out for the entire match due to a hamstring injury, Carlos Vela was accidentally pulled too soon on what turned out to be a miscommunication.
"He gave us the sign that he needed to come off," LAFC Head Coach Bob Bradley said on broadcast. "I can't say more than maybe it's my fault."
LA pulled some dramatics and slowly gained more possession throughout the half, but ATXFC's defense wasn't initially as shaky as it seemed in preseason. Jhohan Romana has pulled his weight in getting the ball out of goal, and a 34-year old Matt Besler held his own in center back.
As the second half commenced, however, it became clear that LAFC had the advantage over Austin's first major league team.
Goalkeeper Brad Stuver had his work cut out for him, fending off 24 shot attempts, 11 of which were on goal. He didn't have much time to prepare, either: in the first 30 seconds of play, Stuver had already made a save to keep the match 0-0.
LAFC finally connected in the 61st minute of play as Corey Baird shot one into the bottom right corner. The team capitalized off their momentum and put one past Stuver a second time, drawing roars of approval from the LAFC crowd.
While some last-minute attempts from Jon Gallagher and others were made, Austin FC didn't have the endurance to bring a tie. After seven additional minutes of stoppage time, the club lost their first match 2-0.
While the scoreboard tells one story, Wolff said that the team did well considering the skill of LAFC and the pressure of their club debut.
"We've got to be realistic," Wolff said. "This is the first time this organization has been in front of TV with an opportunity to show itself and I think there were some promising moments. And we're going to maximize those and continue to try to develop those, but there's lots to build on."
The team may have lost, but it still won the support of thousands of Verde fans, dozens of which made it to watch their team's first match. When Stuver and the team made it to bthe stadium, Los Verdes fans were already there to show support, and Stuver said his wife saw the same back in Austin.

"The moment that we pulled into the stadium, we saw Black and Verde fans cheering us on as we got to the stadium," Stuver said. "During warm up, you can just look around and see different groups sitting in different sections of the stadium and it's just truly amazing to see the support in our first game. We know that we want to give the fans everything, because this we play for the city and we play for them."