Get connected with our daily update
(Charlie Harper III)
This article has been updated to include information about Texas Gov. Greg Abbott's proclamation limiting counties to one mail-in ballot drop-off location.

The upcoming Nov. 3 election is set to be a historic one—in Austin and around the country.
The Travis County Clerk's office expects as many as 100,000 voters will apply for a mail-in ballot by the Oct. 23 deadline, and it has already received nearly double the number of applications it did for the 2016 general election.
"It is most definitely COVID," County Clerk Dana DeBeauvoir told Austonia earlier this month. "People are afraid to come inside."
Ahead of Election Day, we've rounded up key dates to remember, a guide to voting by mail and some background on the major races at the local, state and federal levels.
---
Mark your calendars 
How to apply for a mail-in ballot
In Texas, only certain voters are eligible to vote by mail. They include: people who are 65 years or older; out of the country during the entire election period; sick or disabled; in jail.
Eligible voters must apply for a mail-in ballot by Friday, Oct. 23. The application form, which can be found here, must be mailed to the following address and received by that date.
Dana DeBeauvoir
Travis County Clerk - Elections Division
P.O. Box 149325
Austin, TX 78714
Given the turmoil at the U.S. Postal Service, DeBeauvoir recommends eligible voters who wish to vote by mail submit their applications as soon as they can.
Once you receive your mail-in ballot, fill it out per the instructions and return it. It must be postmarked by or on Election Day and received the following business day.
Voters who wish to hand-deliver their mail-in ballot can do so. Travis County initially had identified four drive-thru locations where voters could drop off their ballots, starting on Thursday, Oct. 1. However, Texas Gov. Greg Abbott issued a proclamation "enhancing ballot security protocols" requiring Texas counties to designate a single office location for ballot drop-off, effective Friday, Oct. 2.
U.S. House Rep. Lloyd Doggett, D-Austin, called the proclamation an "outrageous act of voter suppression" in a tweet.
Once the Travis County Clerk has identified the sole drop-off location, this article will be updated to provide the details.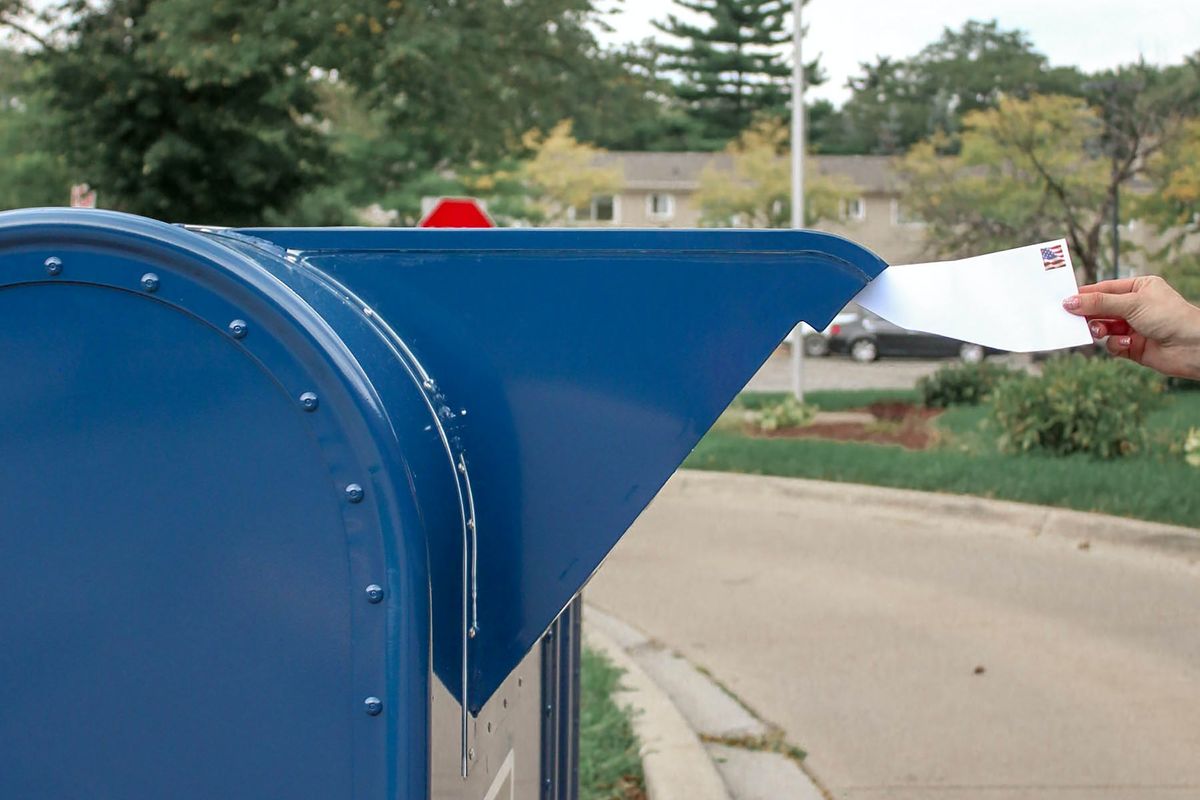 The last day to apply for a mail-in ballot in Texas is Fri., Oct. 23. Unlike most states, Texas only allows voters who meet certain eligibility requirements to vote by mail.
(Pexels)
Races to watch 
President
President Donald Trump faces off against Democratic candidate Joe Biden. The last time a Democratic candidate won in Texas was in 1976, when Jimmy Carter was on the ballot.
According to a poll tracker compiled by the Texas Politics Project at the University of Texas at Austin, Trump is favored to win Texas in three of four polls conducted this month. The fourth poll predicts a tie.
U.S. Senate
Three-term incumbent Sen. John Cornyn is seeking his fourth term against combat veteran and self-described "badass" MJ Hegar. Cornyn has vastly outraised Hegar, but Democrats are hopeful that their candidate can win.
U.S. House
Travis County is spliced into five congressional districts, three of which the Texas Tribune has identified as "races to watch" this November.
U.S. House District 10 incumbent Rep. Michael McCaul, R-Austin, faces Democratic candidate Mike Siegel. U.S. House District 21 incumbent Rep. Chip Roy, R-Austin, faces Democrat, and former gubernatorial candidate, Wendy Davis. And U.S. House District 25 incumbent Rep. Roger WIlliams, R-Austin, faces Democratic candidate Julie Oliver.
Texas Senate
Travis County is represented by four members of the state Senate, two of whom are up for reelection this November.
District 21 State Sen. Judith Zaffrini, D-Laredo, will face Republican candidate Frank Pomeroy, and District 24 State Sen. Dawn Buckingham, R-Lakeway, will face Democratic candidate Clayton Tucker.
Texas House
Travis County is represented by five members of the state House. One of those members, District 47 incumbent Rep. Vikki Goodwin, D-Austin, faces Republican challenger Justin Berry, in a race that the Tribune calls a "GOP target."
Travis County Commissioners Court
Three of the five seats that make up the Travis County Commissioners Court are up this November.
Democrat Andy Brown and Republican Michael Lovins will compete for the position of county judge in a special election after Sarah Eckhardt resigned less than two years into her second term to run for state senator. Both candidates were selected by their respective political parties rather than local voters.
The county judge serves as chief executive of the county and oversees the Commissioners Court. The office functions similarly to that of a city's mayor.
Precinct 1 Commissioner Jeffrey Travillion, a Democrat, will run against Republican candidate Solomon Arcoven.
Precinct 3 Commissioner Gerald Daugherty, the sole Republican on the court, is not running for reelection. Democrat Ann Howard will face off against Republican Becky Bray for his seat.
Austin City Council
Half of City Council's 10 seats are up for election this November. Twenty candidates have thrown their hats in the ring.
Council seats are nonpartisan, although all current members are affiliated with the Democratic party. You can find out which district you live in here.
District 2 Council Member Delia Garza will vacate her seat to serve as Travis County attorney. Four candidates—David Chincanchan, Vanessa Fuentes, Casey Ramos and Alex Strenger—are running to replace her. You can read more about them here.
District 4 Council Member Greg Casar faces two competitors, Louis C. Herrin III and Ramesses II Setepenre. You can read more about the candidates here.
District 6 Council Member Jimmy Flannigan is running for reelection against Deedra Harrison, Mackenzie Kelly and Dr. Jennifer Musthaler. You can read more about them here.
District 7 Council Member Leslie Pool faces one opponent, Morgan Witt. You can read more about the race here.
The most crowded race is in District 10, where incumbent Alison Alter faces six other candidates: Ben Easton, Belinda Greene, Pooja Sethi, Robert Thomas, Noel Tristan and Jennifer Virden. You can read more about the field here.
Elected members will be tasked with rewriting the city's land use code, considering further cuts to the Austin Police Department's budget and, if voters approve Proposition A, implementing the $7.1 billion Project Connect transit plan.
Propositions
There are two local mobility propositions on the November ballot.
Proposition A gives voters the chance to approve a permanent 8.75-cent increase to the city's property tax rate to pay for and maintain Project Connect, a proposed $7.1 billion, 15-year overhaul of Austin's transit system.
Proposition B allows voters to opt into a $460 million active mobility bond, with funding going toward sidewalks, urban trails, bikeways and Vision Zero, a campaign to eliminate traffic fatalities and serious injuries.
You can read more about these propositions—including their ballot language, who supports and opposes the measures and the tax impact—here.
Want to continue staying informed with all things Austin? Start every day with a quick look at what's happening in Austin. Sign up for Austonia.com's free daily morning email.
After months of speculation, a new report says political personality Beto O'Rourke is mulling a run for Texas governor that he will announce later this year.
Sources tell Axios the former congressman is preparing his campaign for the 2022 election, where he will likely vie for the position against incumbent Gov. Greg Abbott. The only other candidate that has announced he will take on Abbott for governor is former Texas GOP Chairman Allen West—no Democrats have announced they are running as of yet.
"No decision has been made," Axios reports David Wysong, O'Rourke's former House chief of staff and a longtime adviser, said. "He has been making and receiving calls with people from all over the state."
A new poll from The Dallas Morning News and University of Texas at Tyler shows O'Rourke is narrowing the gap between himself and Abbott's prospects for governor. In the poll, 37% said they'd vote for O'Rourke over Abbott, while 42% said they'd vote for Abbott.
Abbott has been in the hot seat due to his handling of COVID-19 and the signing of landmark legislation into law, including new abortion and voting rights laws; 54% of poll respondents voted they think the state is headed in the "wrong direction." Still, Texas hasn't had a Democrat as governor since the 90s.
O'Rourke's people-focused approach to the 2018 Senator race, which he lost to Sen. Ted Cruz, gave him a widespread following and many hoped he'd throw his hat into the ring since he said he was considering it earlier this year.
"We hope that he's going to run," Gilberto Hinojosa, the state chair of the Democratic Party, told Axios. "We think he'll be our strongest candidate. We think he can beat Abbott because he's vulnerable."
Austin rapper Jordi Esparza may not have won the 2021 Red Bull Batalla, the world's largest Spanish freestyle rap competition, but for a spirited two rounds, the 22-year old Mexican native looked like he had every right to.
On Saturday evening in Los Angeles, the event itself looked like Cobra Kai meets Star Search with graphics adding a very Batman Beyond aesthetic. Over a dozen rappers hoping to represent the U.S. in the international round of the competition took to the stage with in-your-face jabs at accents, sexual orientation and odors, among other things.
This was Esparza's second rodeo; he had placed third at the 2020 National Finals, automatically securing him a spot this year.
However, things were different this year. He was not nervous about the contest. Unlike in 2020, when he made his Red Bull Batalla debut, the anxiety of the event led him to "feeling so bad."
Affecting a casual calm, the locally-based landscaper said he just felt "so relaxed, so happy" and primarily wanted to "enjoy everything."
Choosing his first-round opponent, Esparza, whose stage name is Jordi, elected to go against LA-based Boss.
Esparza freestyled an attack on his opponent's weight and cholo style of dress.
Boss—bracketing his Latin freestyle with English appeals to the crowd—mocked Jordi's lack of education, made fun of how clean Jordi's shoes looked and suggested that Jordi just came back from a Footlocker.
That first round went to Jordi.
But his next opponent Eckonn would prove to be his undoing.
Eckonn compared Jordi to Hannah Montana, while Jordi soulfully explained that he had learned from the best.
Esparza's verbal dexterity is matched by a rattling rhythm and a game face that is as mawkish as it is mockish. The overall effect is that of an underdog with bite.
Eckonn beat Esparza in that round with the overall championship going to Palm Beach-based rapper Reverse.
However, Esparza was just happy to be there. He recently told Austonia going to the finals again was a dream come true—a pinnacle that he said he won't know how to top.
With his nimble jabs and sneaky prowess, honed from pop culture and the swagger of a young working man hungry to be more, Jordi Esparza is just getting started.