Get connected with our daily update
It's Election Day, which means Austin voters will determine the fates of eight propositions during this election. Each proposes to amend the city charter in ways big and small. Two in particular have garnered attention and controversy.
---
If passed, Proposition B would reinstate a ban on public camping that Austin City Council lifted in 2019 and Proposition F would shift the city government from a strong-manager system to a strong-mayor one. The other six propositions also have far-reaching implications for how the city is run, from police oversight to campaign finance reform.
Check Austonia.com tonight for election results.
When and where
Polling locations, which can be found here, will be open today from 7 a.m. to 7 p.m. Residents can ensure they are registered before heading to the polls here.
Find a polling location near you:
Races to watch

Proposition A: Charter amendment regarding binding arbitration in firefighters' labor contract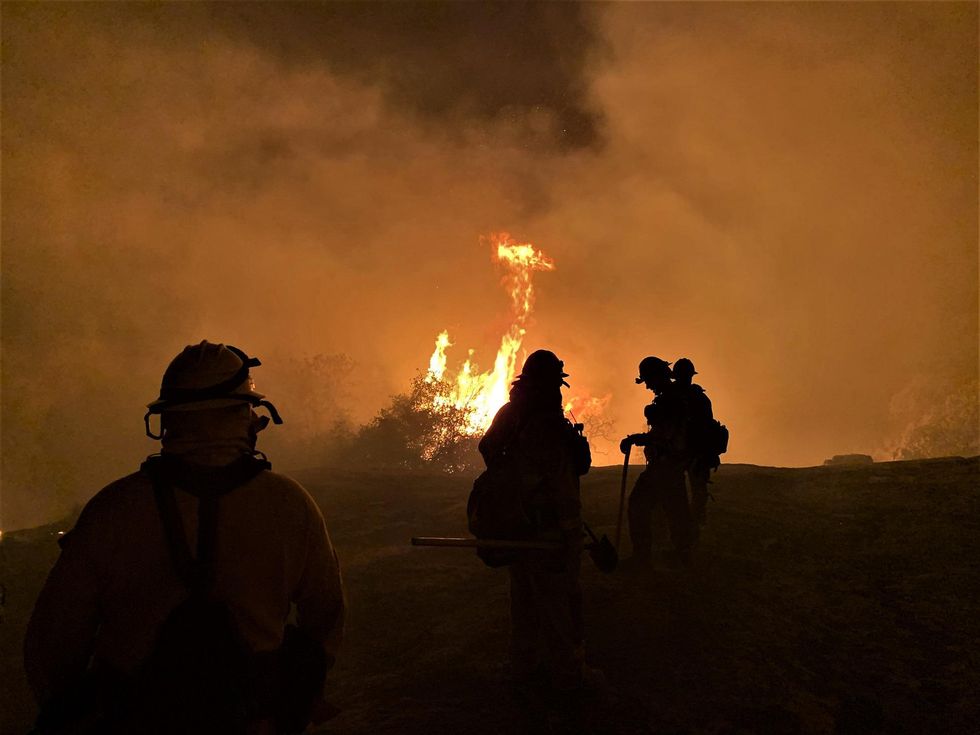 (Austin Fire Department/Twitter)
If passed, this proposition would require an arbitrator to intervene in cases where the city and the Austin Firefighters Association, a union representing Austin Fire Department employees, reach a stalemate during labor contract negotiations. The arbitrator would hear presentations from both parties and make a binding ruling, like a judge.
AFA President Bob Nicks led a petition process to get this proposition on the ballot and argues that it would help avoid future prolonged arguments, which have occurred in three of the union's last six bargaining cycles—at significant cost. "Rather than getting to impasse at the table, you're more likely to look at each other's interests and come to an agreement at the table if you know that—if you don't—it'll go to an arbitrator," he told Austonia.
Proposition B: City Code amendment to reinstate restrictions on public camping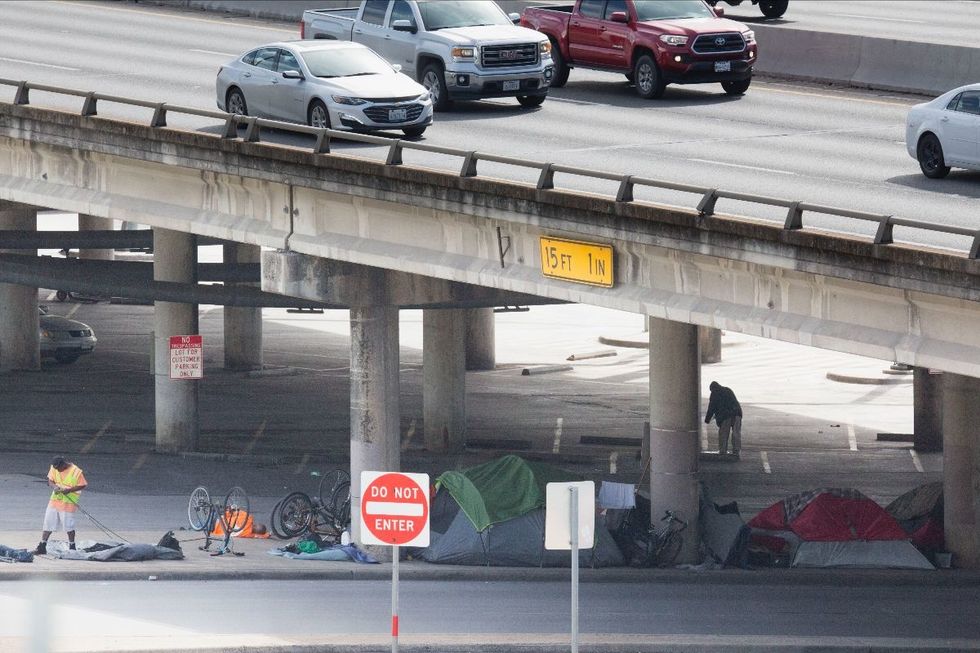 (Charlie L. Harper III)
This proposition resulted from a successful petition effort by the local political action committee Save Austin Now, which is campaigning to reinstate the city's ban on public camping—along with other activities, such as sitting or lying down on a public sidewalk or aggressive panhandling, in certain areas—after council overturned in 2019.
SAN argues that the decision to repeal the ban has adversely impacted public safety, residents and businesses and left homeless people to live in unsafe conditions. Although the group's opponents generally agree that the city's homeless situation is untenable, they argue that reinstating the ban will do nothing to address the root causes of homelessness and instead lead to citations and tickets that make it harder for homeless people to access housing, work and other resources.
Proposition C: Charter amendment regarding office of police oversight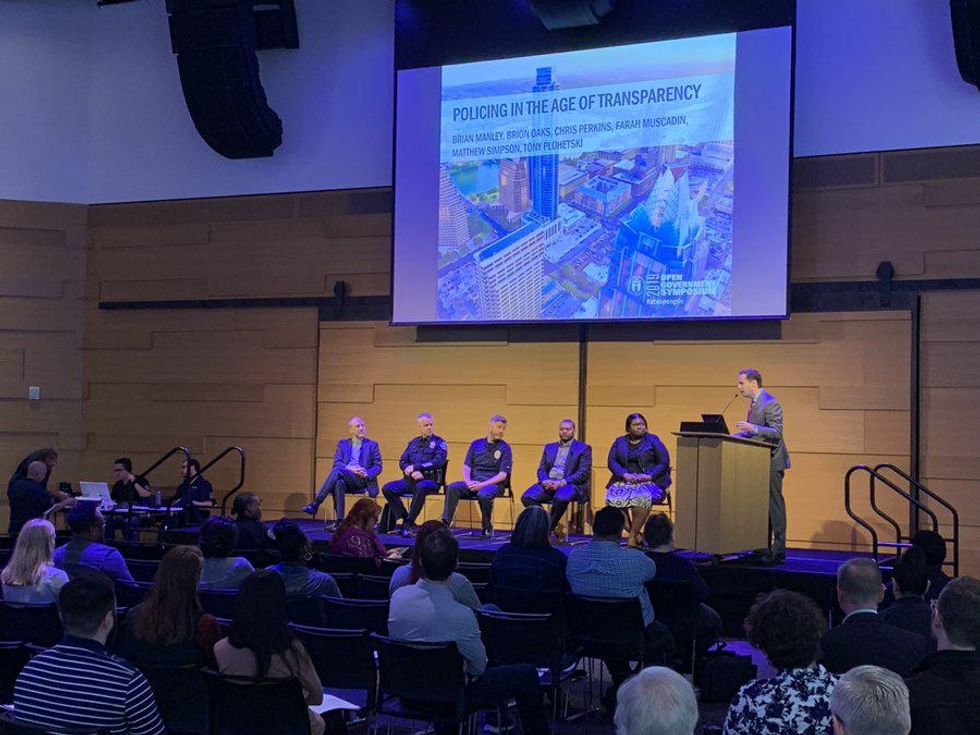 Office of Police Oversight Director Farah Muscadin, second from right, at a local policing symposium in 2019. (Office of Police Oversight/Twitter)
This proposition stems from an ordinance put forward by Council Member Greg Casar. If approved, it would move the city's office of police oversight from the control of the city manager's office to that of council. City Manager Spencer Cronk faced criticism from council members and residents for his handling of the Black Lives Matter protests last summer.
Margo Fraiser, vice president of the National Association for Civilian Oversight of Law Enforcement and former Travis County Sheriff and city of Austin police monitor, said such a shift is only half of the battle as an independent oversight office is only as strong as its ability to access and report on data from the police department. "It's hard to predict whether (this proposition alone) would improve civilian oversight or not," she said.
Proposition D: Charter amendment to move mayoral elections to presidential years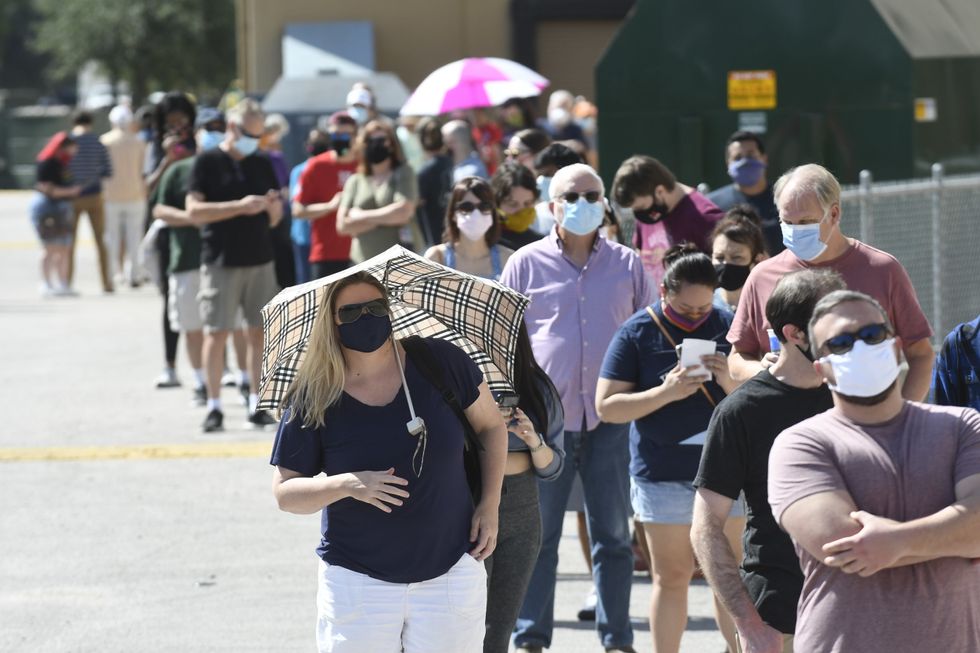 Travis County saw record turnout during the Nov. 3 general election. (Bob Daemmrich)
Local political action committee Austinites for Progressive Reform successfully submitted a petition in January that proposed a series of amendments to the city charter in an effort to increase voter turnout. Propositions D through H stem from this initiative.
This proposition would move mayoral elections from gubernatorial election years to presidential election years in an effort to ensure higher voter turnout. The mayor elected in 2022 will serve a two-year term, and the next election will take place during the general election in November 2024.
Proposition E: Charter amendment to create ranked choice voting for city elections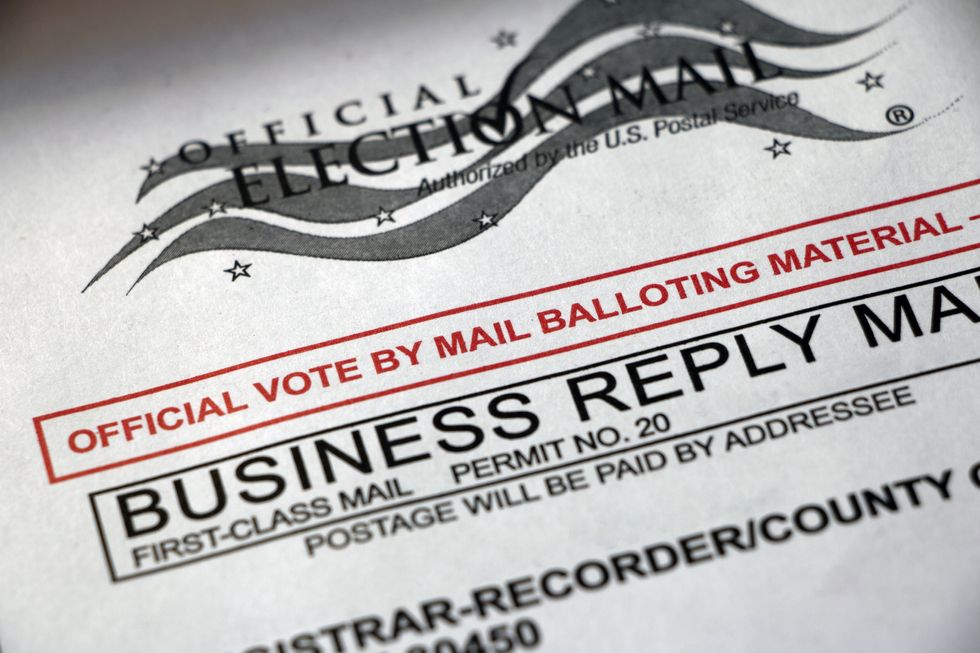 (Pexels)
Also stemming from the citizen-led petition organized by APR, this proposition would amend the city charter to provide for ranked choice voting in city elections if permitted by state law. The intention of this proposition is to eliminate runoffs, which typically have much lower turnout than general elections and participating voters tend to skew older and more conservative.
Ranked-choice voting, however, is certainly prohibited under state law. A city charter amendment, even if passed, would not be implemented unless state lawmakers make the same change.
Proposition F: Charter amendment to change to a strong mayor form of government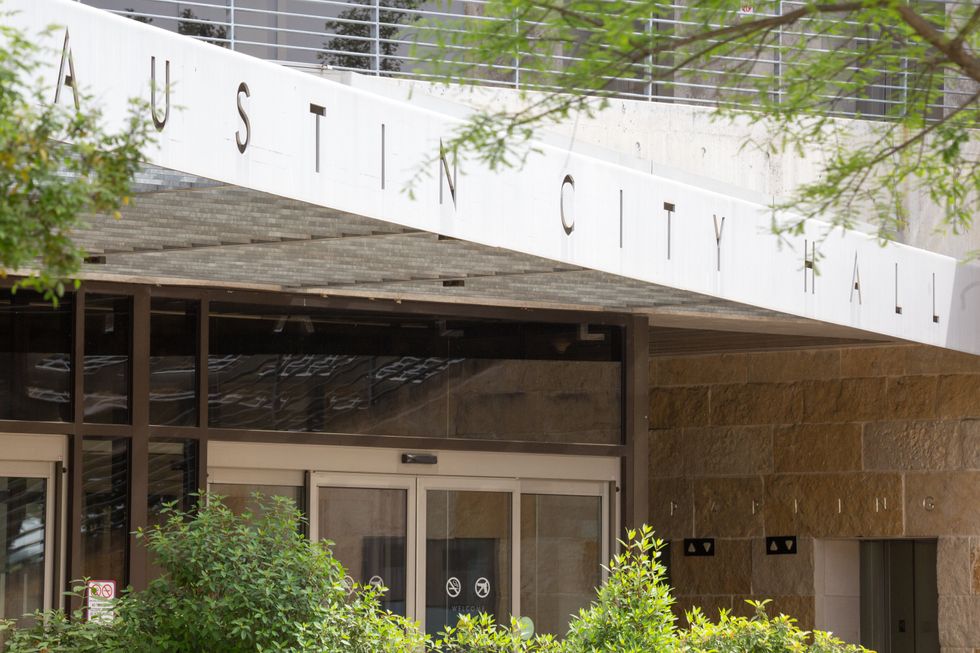 (Charlie L. Harper III)
The most controversial of APR's proposed amendments, this proposition would fundamentally change how the city government operates, shifting it from a strong-manager form to a strong-mayor form. Under the latter form, the city manager position would be eliminated and replaced by the mayor, who would not vote on items brought to council but could veto legislation approved by its members.
Proponents say it will give voters more control over the person who actually runs the city—an elected mayor rather than an appointed city manager—and point to the Jim Crow-era origins of Austin's current strong-manager system. A broad coalition of opponents, which includes local unions, most council members and business leaders, say it will consolidate power in one office and undermine the gains of the 10-1 council system enacted in 2014.
Proposition G: Charter amendment to add an 11th council district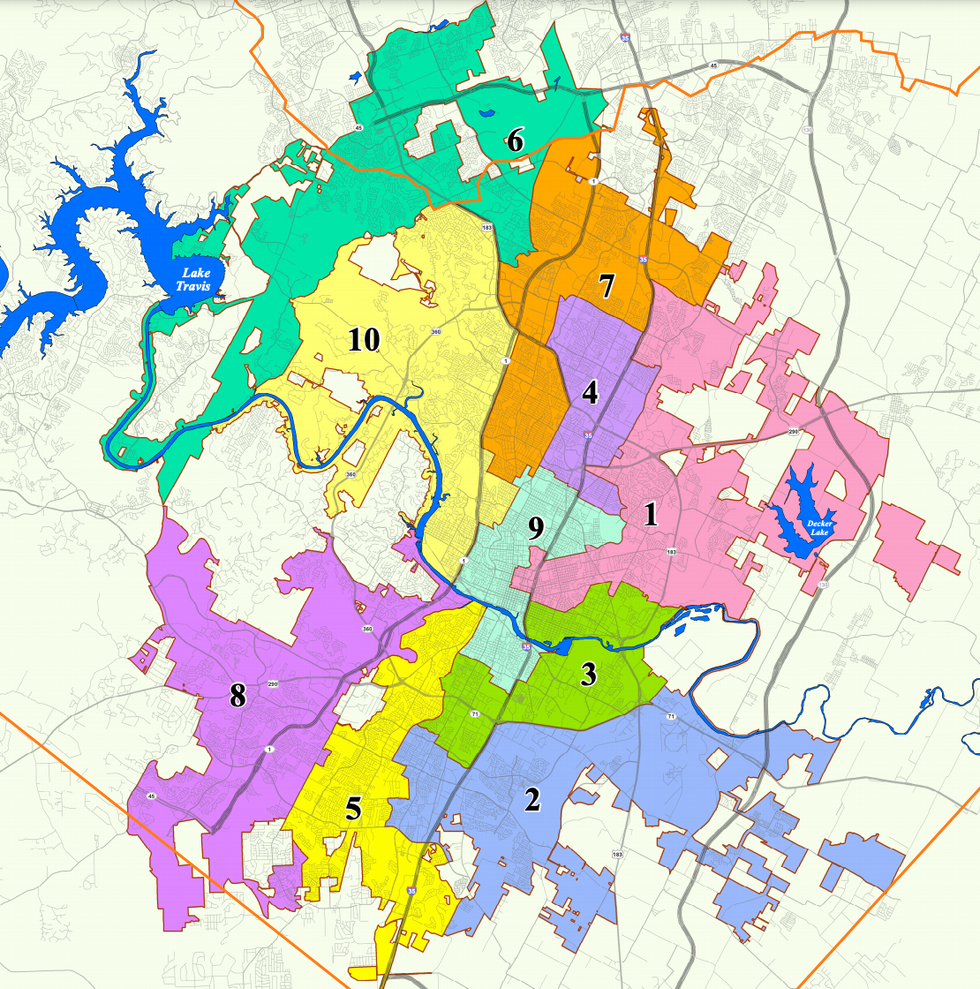 Because Proposition F entails the mayor no longer serving as a council member, APR proposed creating an 11th council district to prevent tie votes and expand district representation in keeping with the city's population growth.
Council decided to separate the initiatives on the ballot, creating the possibility that one will be approved and not the other, leaving council with an even number of voting members—and a higher chance of tie votes and legislative gridlock.
Proposition H: Charter amendment to adopt a public campaign finance program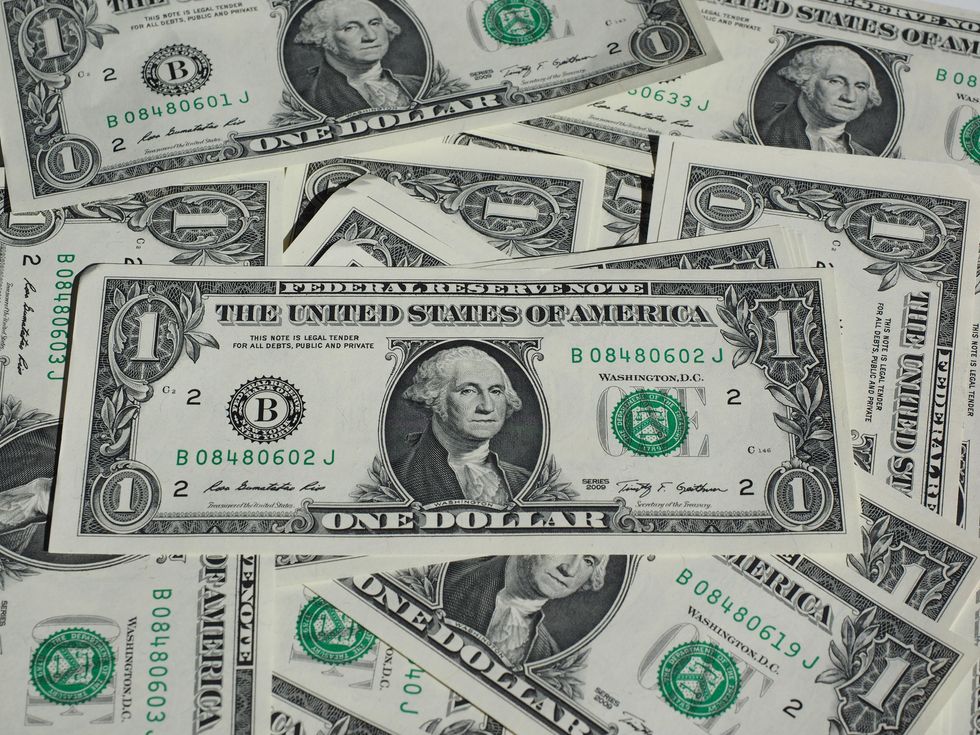 (Pexels)
This proposition would implement a public campaign funding program, called Democracy Dollars, to give voters $25 vouchers to support the local council candidate—and, in presidential election years, mayoral candidate—of their choice in an attempt to offset the influence of wealthy donors.
Such a program is already in place in Seattle, where it has driven turnout and increased donor diversity. APR has faced criticism locally for deviating from Seattle's model; as proposed, its Democracy Dollars program would exclude those unable to vote due to immigration status or criminal history.
Republic Square Park has turned into a Ford-themed fiesta for its Built to Connect pop-up experience, complete with test drives, off-roading and an inside look at the Tesla-rivaling electric vehicles that the motor vehicle company is planning to integrate over the next decade.
The outdoor driving event is free, open to the public and will stay in the park from now until Oct. 24, offering rides on Bronco Mountain, a 0-40 mph zip in the 2022 all-electric Ford F-150 Lightning and a chance to win an original Ford Bronco.
The event kicked off with a panel of speakers, including Austin Director of Transportation Rob Spillar, Ford General Manager Darren Palmer and engineering specialists discussing Ford's goals to make it so that 50% of the vehicles on the road are electric by 2030.
As an eco-conscious city, Spillar said that around 4,000 vehicles, or 22% of the Texas electric vehicle market, as well as over 15,000 plugins lie in Austin, meaning driving electric just got accessible.
"Austin, as you know, is a fast-growing modern city that is committed to protecting the long term health and viability of our communities and strategies that reduce greenhouse gases, mitigate the effects of climate change and improve the drone quality of life here in Central Texas for all of our residents," Spillar said.
And Ford's electric vehicles are putting up some steep competition for newly-Austin-based company Tesla. The new electric Mustang Mach-E and F-150 Lighting offer amenities that used to be exclusive to Musk's brand, such as the BlueCruise self-driving network. The cars also boast a 300-mile range on a single charge, assisted reverse technology and access to the biggest charging network outside of the home.
Plus, Ford's got affordability on its side. The F-150 Lightning starts at $39,974 and the Mustang Mach-E starts at $42,895, while the cheapest Tesla model, the Model 3, starts at $41,990 and averages 262 miles on a single charge.
Speaking of price, the numbers on the electric vehicles may look like a little more than you'd like to pay for your transport, but Palmer promises it will pay off. In addition to a $7,500 tax credit you can earn for your sustainability, you'll never have to buy a pricey tank of gas again.
"Personally, I have not found one customer ever, who would go back to gas so that says something," Palmer said. "I realized, at $51,000, that car outruns every childhood hero car I ever had."
Texas buyers: take note. The Ford Lightning can power your house for three to 10 days, just in case the statewide power grid fails. You can take it glamping with you, so you don't have to leave the comfort of modern life behind, and in a pinch, Palmer said he's even seen a wedding party powered by the truck.
Ford is investing $30 billion into the U.S. market to meet demand by 2025 and the new electric truck already has over 150,000 reservations.
"I think they're going to take off much faster than you expect—they're going to be extremely, extremely popular next year," Palmer said. "With the incentives that are available today, this is starting to become more mainstream and viable for more and more families. We couldn't have done that before, we didn't have the technology, or the technology at that price."
The event is ongoing through next weekend from 12-9 p.m. Monday-Friday and 9 a.m.- 8 p.m. Saturday and Sunday.
The Austin Police Department is searching for a man who is believed to be behind a series of robberies that is "sexual in nature and is escalating."
Three robbery cases that took place in North Austin within a 30-day period are being investigated by police, who report the victims all had similar descriptions for suspects in the case. The suspect is described as a 20-25-year-old Spanish-speaking Hispanic man, approximately 5'3, thin build, recently shaved with black hair. Police say he is known to typically wear athletic clothing and used a knife on each of the victims.
Here's a breakdown of the cases:
1. At 7:56 a.m. on Sept. 22 at the 1600 block of Rutland Drive, a woman was walking alone and returning from her child's school when a suspect walking by inappropriately touched her. The suspect then grabbed her by the arm, threatened her with a knife and demanded "her property."
2. At 8:10 a.m. on Oct. 11 at 1700 block of Colony Creek Drive, a woman was walking to her child's school when a man approached her with a knife and then demanded her personal items. The suspect then said he would return the items in return for sex.
3. At 11:03 a.m. on Oct. 13 at the 9300 block of Northgate Boulevard, a woman was with her child in the laundry room of an apartment complex when a man walked in performing a sexual act. The suspect demanded personal items from the victim, threatening to hurt the victim and take her child.
Police cautioned the public to walk without earbuds, stay alert and report suspicious activity to the police.