Get connected with our daily update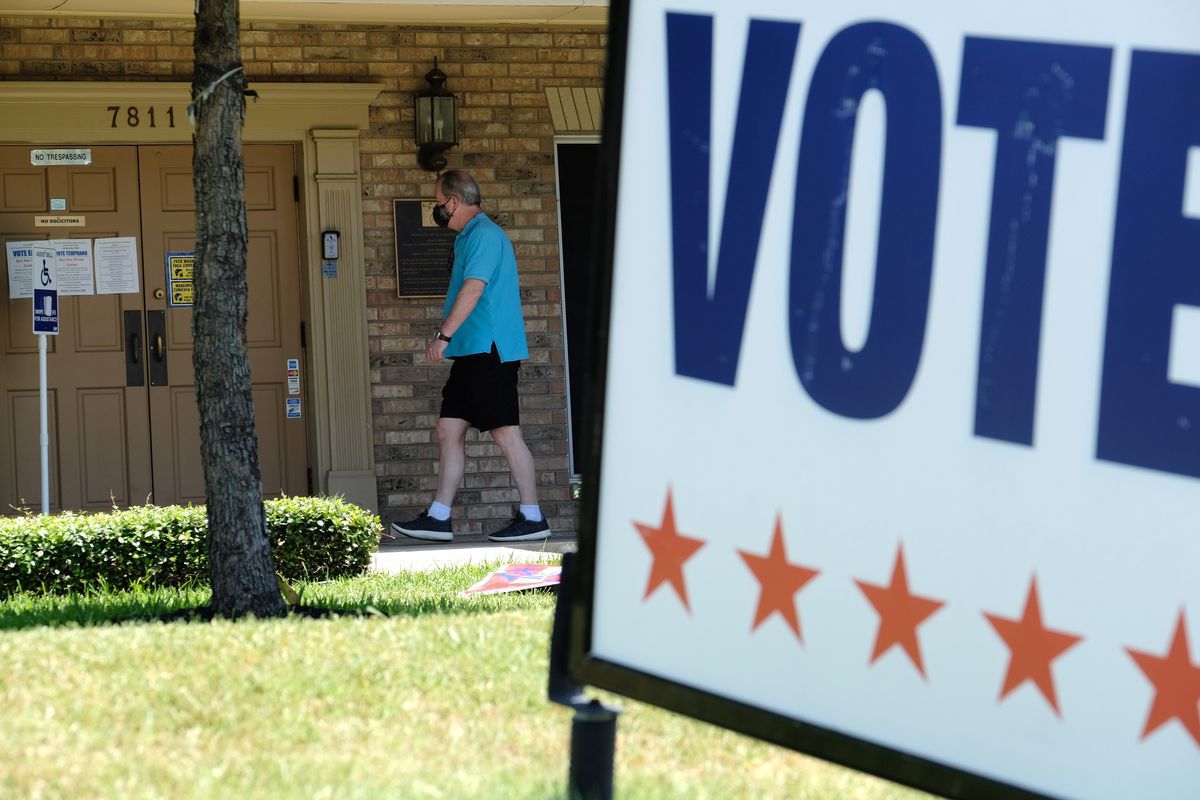 It's Election Day, which means Austin voters will determine the fates of eight propositions during this election. Each proposes to amend the city charter in ways big and small. Two in particular have garnered attention and controversy.
---
If passed, Proposition B would reinstate a ban on public camping that Austin City Council lifted in 2019 and Proposition F would shift the city government from a strong-manager system to a strong-mayor one. The other six propositions also have far-reaching implications for how the city is run, from police oversight to campaign finance reform.
Check Austonia.com tonight for election results.
When and where
Polling locations, which can be found here, will be open today from 7 a.m. to 7 p.m. Residents can ensure they are registered before heading to the polls here.
Find a polling location near you:
Races to watch

Proposition A: Charter amendment regarding binding arbitration in firefighters' labor contract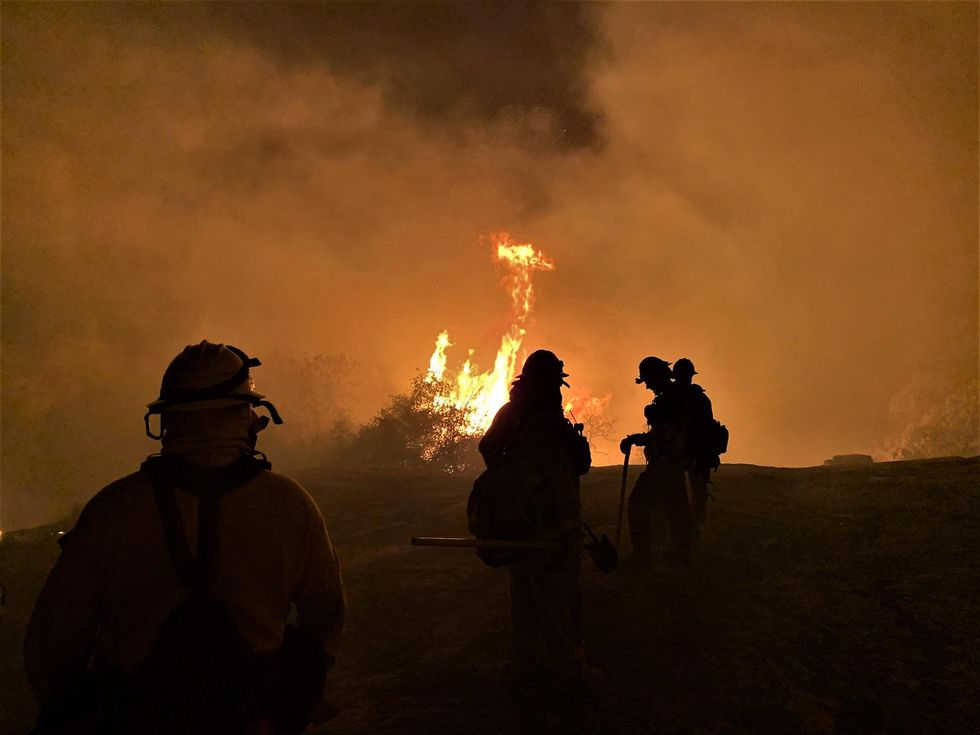 (Austin Fire Department/Twitter)
If passed, this proposition would require an arbitrator to intervene in cases where the city and the Austin Firefighters Association, a union representing Austin Fire Department employees, reach a stalemate during labor contract negotiations. The arbitrator would hear presentations from both parties and make a binding ruling, like a judge.
AFA President Bob Nicks led a petition process to get this proposition on the ballot and argues that it would help avoid future prolonged arguments, which have occurred in three of the union's last six bargaining cycles—at significant cost. "Rather than getting to impasse at the table, you're more likely to look at each other's interests and come to an agreement at the table if you know that—if you don't—it'll go to an arbitrator," he told Austonia.
Proposition B: City Code amendment to reinstate restrictions on public camping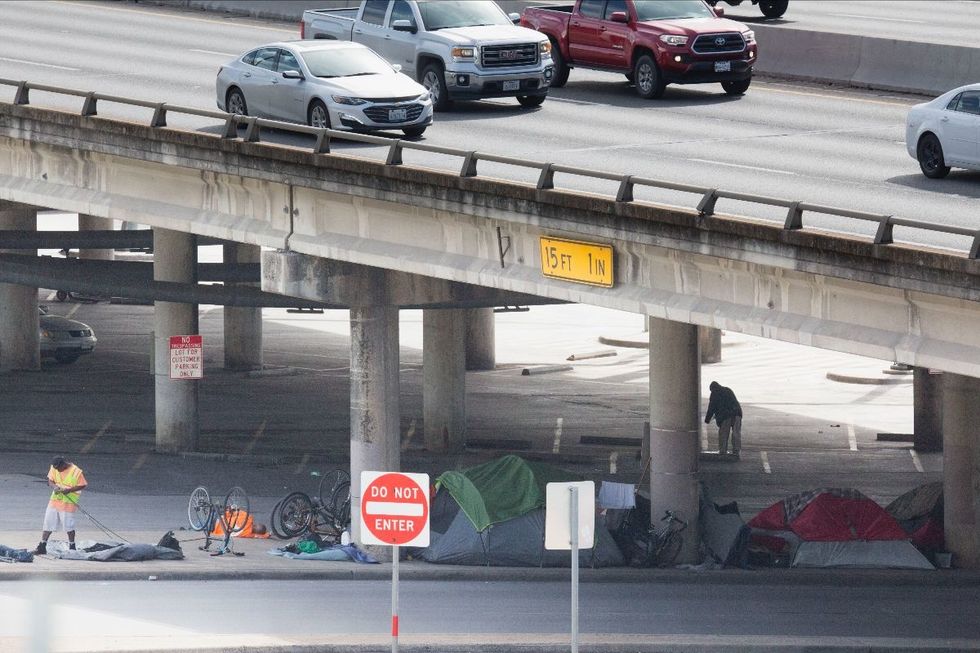 (Charlie L. Harper III)
This proposition resulted from a successful petition effort by the local political action committee Save Austin Now, which is campaigning to reinstate the city's ban on public camping—along with other activities, such as sitting or lying down on a public sidewalk or aggressive panhandling, in certain areas—after council overturned in 2019.
SAN argues that the decision to repeal the ban has adversely impacted public safety, residents and businesses and left homeless people to live in unsafe conditions. Although the group's opponents generally agree that the city's homeless situation is untenable, they argue that reinstating the ban will do nothing to address the root causes of homelessness and instead lead to citations and tickets that make it harder for homeless people to access housing, work and other resources.
Proposition C: Charter amendment regarding office of police oversight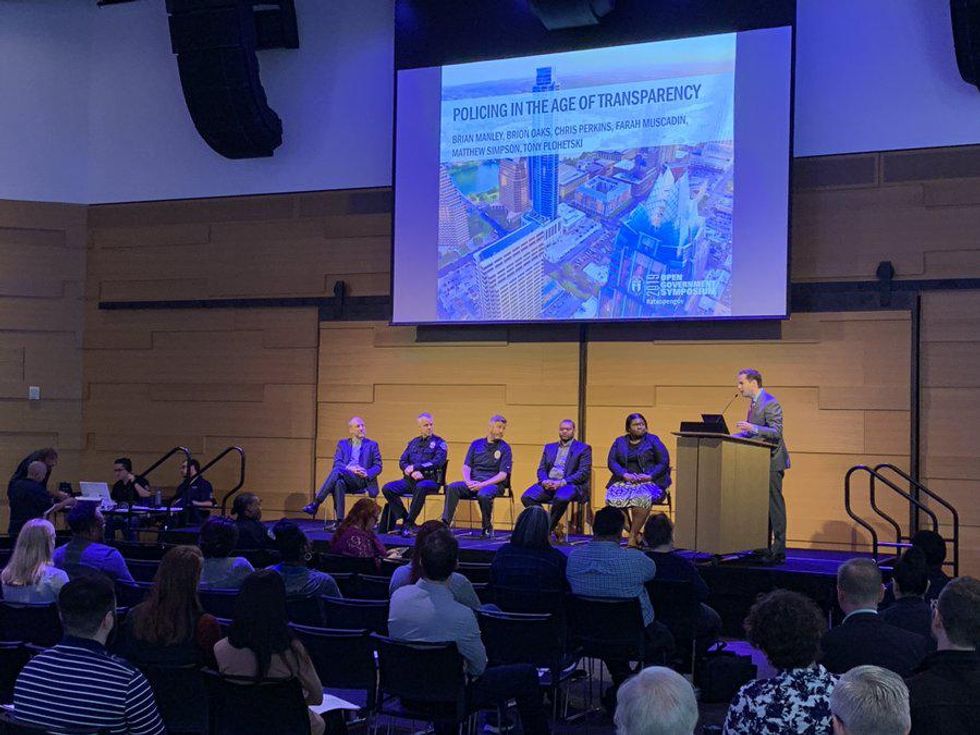 Office of Police Oversight Director Farah Muscadin, second from right, at a local policing symposium in 2019. (Office of Police Oversight/Twitter)
This proposition stems from an ordinance put forward by Council Member Greg Casar. If approved, it would move the city's office of police oversight from the control of the city manager's office to that of council. City Manager Spencer Cronk faced criticism from council members and residents for his handling of the Black Lives Matter protests last summer.
Margo Fraiser, vice president of the National Association for Civilian Oversight of Law Enforcement and former Travis County Sheriff and city of Austin police monitor, said such a shift is only half of the battle as an independent oversight office is only as strong as its ability to access and report on data from the police department. "It's hard to predict whether (this proposition alone) would improve civilian oversight or not," she said.
Proposition D: Charter amendment to move mayoral elections to presidential years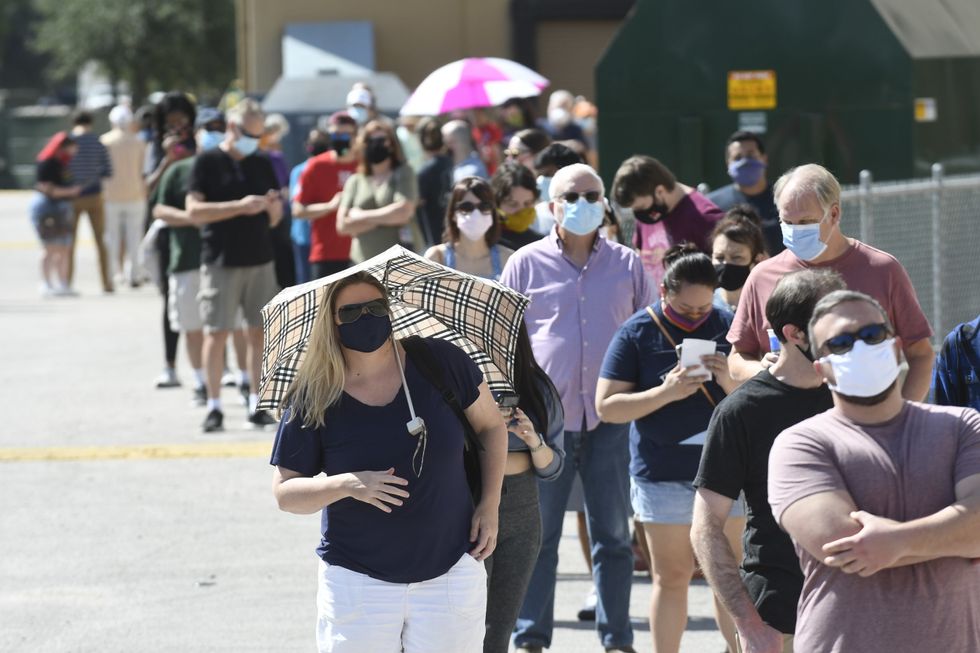 Travis County saw record turnout during the Nov. 3 general election. (Bob Daemmrich)
Local political action committee Austinites for Progressive Reform successfully submitted a petition in January that proposed a series of amendments to the city charter in an effort to increase voter turnout. Propositions D through H stem from this initiative.
This proposition would move mayoral elections from gubernatorial election years to presidential election years in an effort to ensure higher voter turnout. The mayor elected in 2022 will serve a two-year term, and the next election will take place during the general election in November 2024.
Proposition E: Charter amendment to create ranked choice voting for city elections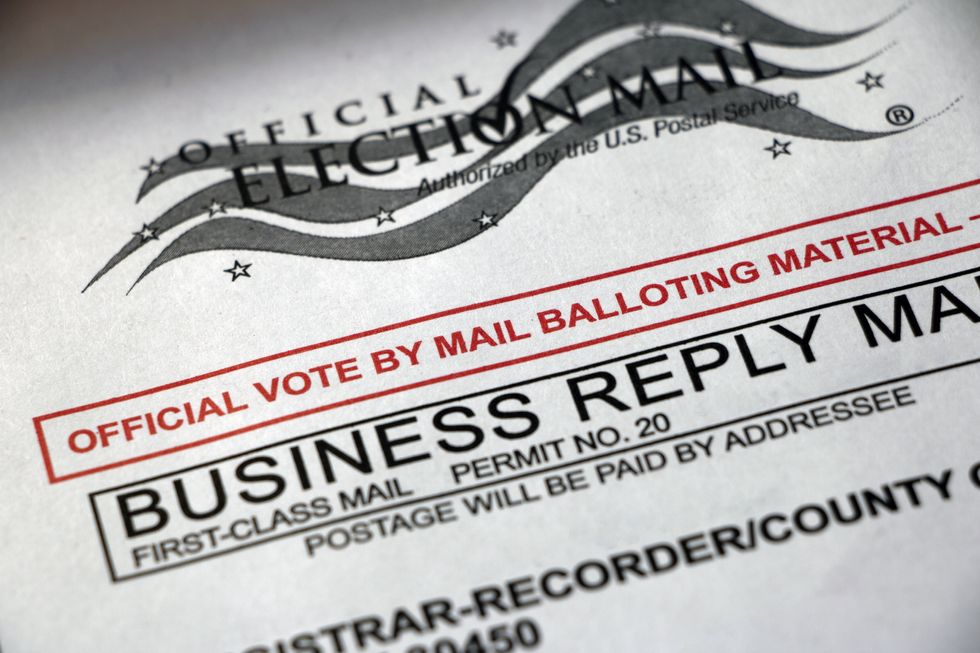 (Pexels)
Also stemming from the citizen-led petition organized by APR, this proposition would amend the city charter to provide for ranked choice voting in city elections if permitted by state law. The intention of this proposition is to eliminate runoffs, which typically have much lower turnout than general elections and participating voters tend to skew older and more conservative.
Ranked-choice voting, however, is certainly prohibited under state law. A city charter amendment, even if passed, would not be implemented unless state lawmakers make the same change.
Proposition F: Charter amendment to change to a strong mayor form of government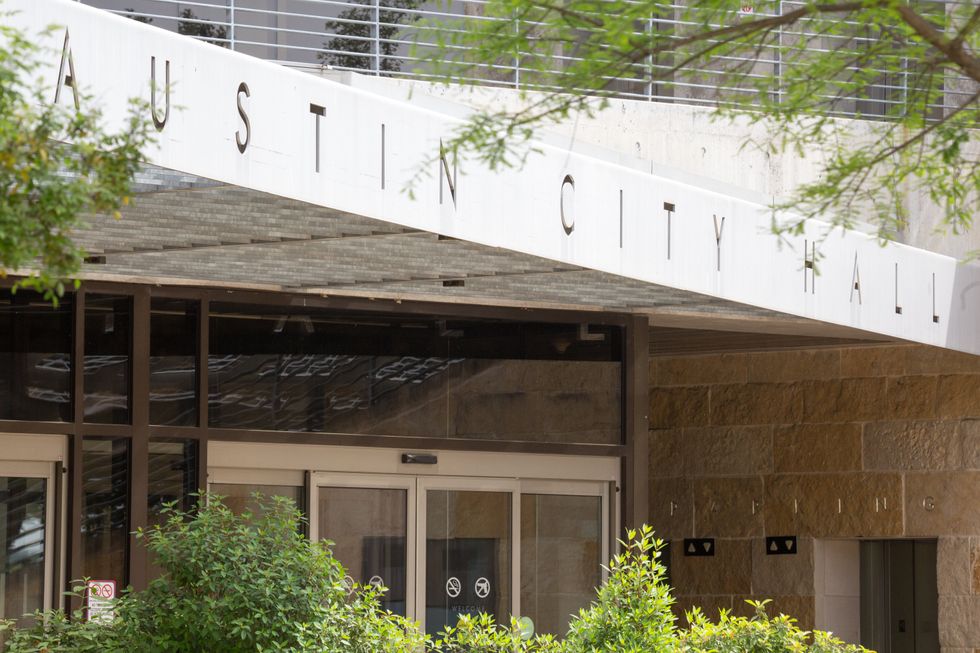 (Charlie L. Harper III)
The most controversial of APR's proposed amendments, this proposition would fundamentally change how the city government operates, shifting it from a strong-manager form to a strong-mayor form. Under the latter form, the city manager position would be eliminated and replaced by the mayor, who would not vote on items brought to council but could veto legislation approved by its members.
Proponents say it will give voters more control over the person who actually runs the city—an elected mayor rather than an appointed city manager—and point to the Jim Crow-era origins of Austin's current strong-manager system. A broad coalition of opponents, which includes local unions, most council members and business leaders, say it will consolidate power in one office and undermine the gains of the 10-1 council system enacted in 2014.
Proposition G: Charter amendment to add an 11th council district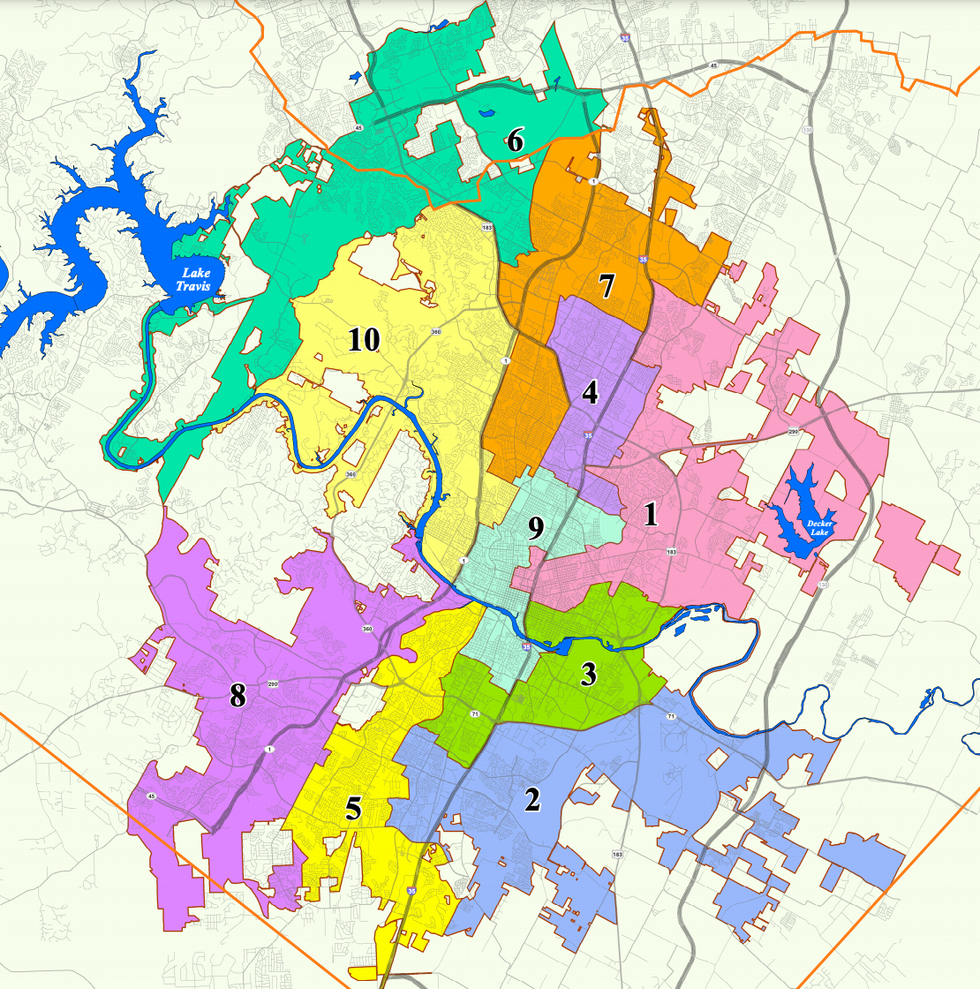 Because Proposition F entails the mayor no longer serving as a council member, APR proposed creating an 11th council district to prevent tie votes and expand district representation in keeping with the city's population growth.
Council decided to separate the initiatives on the ballot, creating the possibility that one will be approved and not the other, leaving council with an even number of voting members—and a higher chance of tie votes and legislative gridlock.
Proposition H: Charter amendment to adopt a public campaign finance program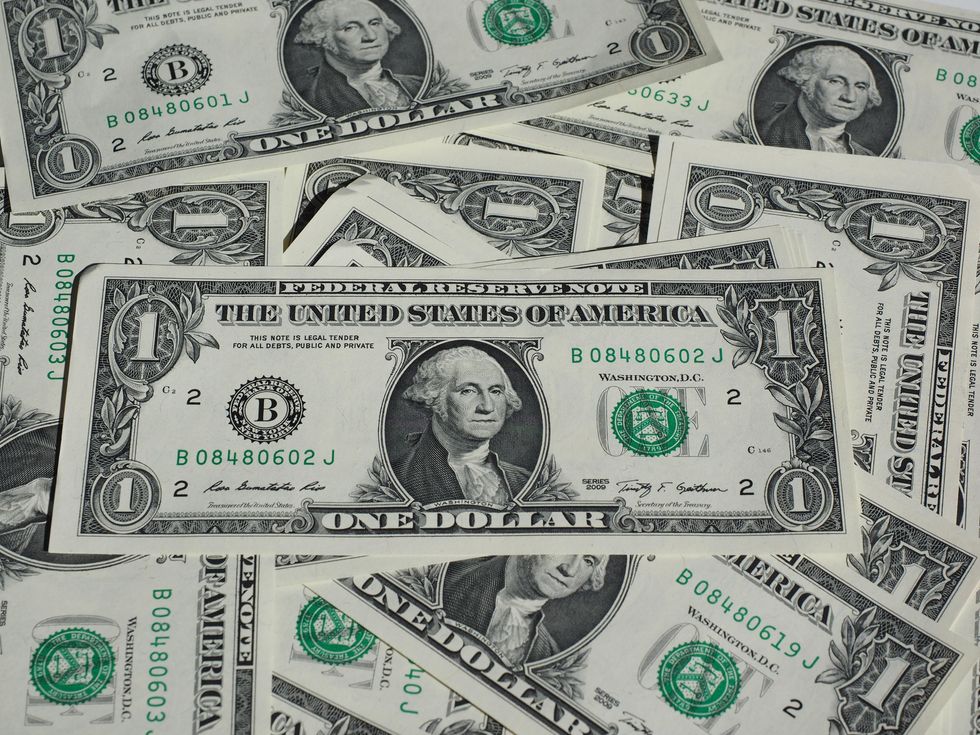 (Pexels)
This proposition would implement a public campaign funding program, called Democracy Dollars, to give voters $25 vouchers to support the local council candidate—and, in presidential election years, mayoral candidate—of their choice in an attempt to offset the influence of wealthy donors.
Such a program is already in place in Seattle, where it has driven turnout and increased donor diversity. APR has faced criticism locally for deviating from Seattle's model; as proposed, its Democracy Dollars program would exclude those unable to vote due to immigration status or criminal history.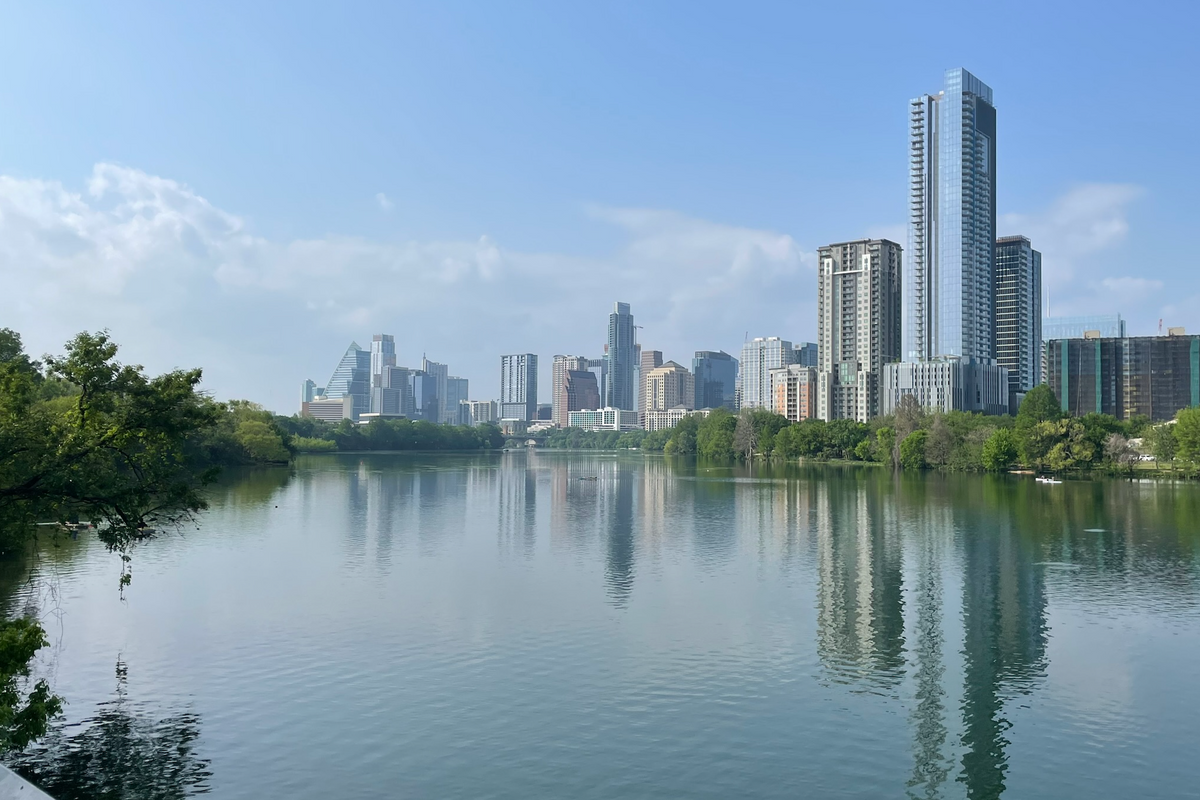 We've all heard it before, 'Austin isn't what it used to be,' despite residents complaining about their beloved city morphing since the 1880s. However, that's not to say Austin hasn't changed.
With expansive population growth, new businesses steadily flowing in, celebrities snapping up local property and constant new development, Austin is making its way through some growing pains.
Here are some of the parts of the city longtime Austinites gripe about and newcomers don't notice.
South Congress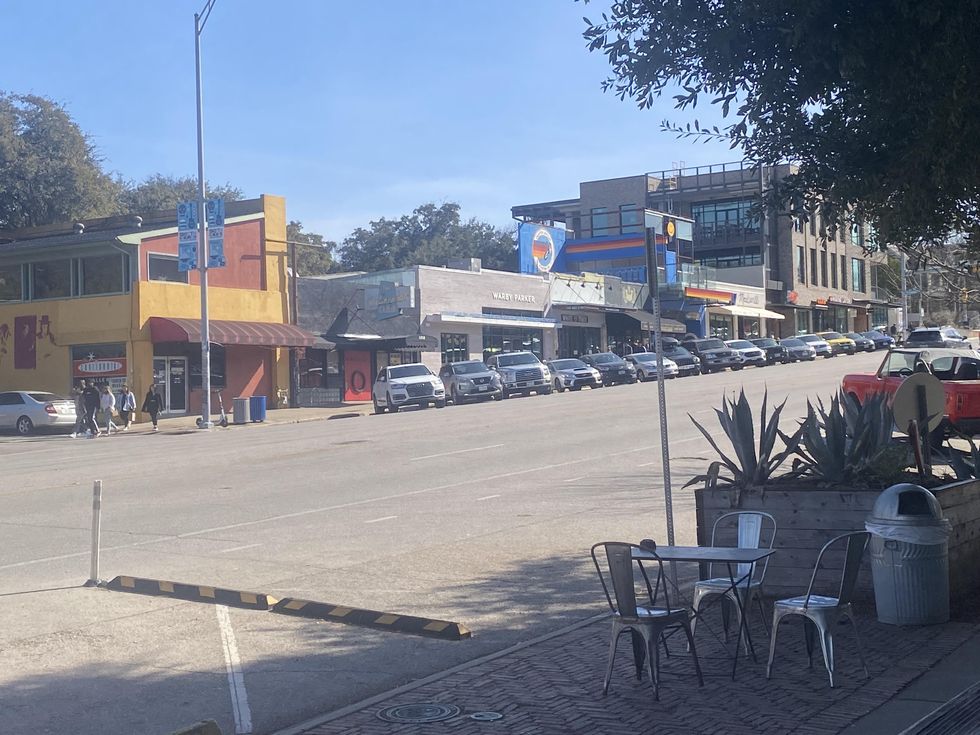 (Laura Figi/Austonia)
From its origins as a pseudo-red light in the 1990s to its emerging identity as a luxury shopping center and tourist destination, South Congress has been the epicenter of change in Austin. While many legacy businesses—think Prima Dora, Güero's Taco Bar and The Continental Club—are still operating, it has also seen its fair share of closures since the pandemic: Most recently, Lucy in Disguise with Diamonds announced it would closing.
the south congress area is raising my blood pressure

— woman (@fiorellino__1) August 6, 2022
For each closure, there has been a handful of new openings, namely along Music Lane, which was completed in spring 2020. The new strip has brought crowds to luxury stores and restaurants that are typically reserved for the likes of The Domain, like designer brand Hermès, social club Soho House and luxury perfumery Le Labo. One person's sadness about the change is anothers excitement.
High-rise towers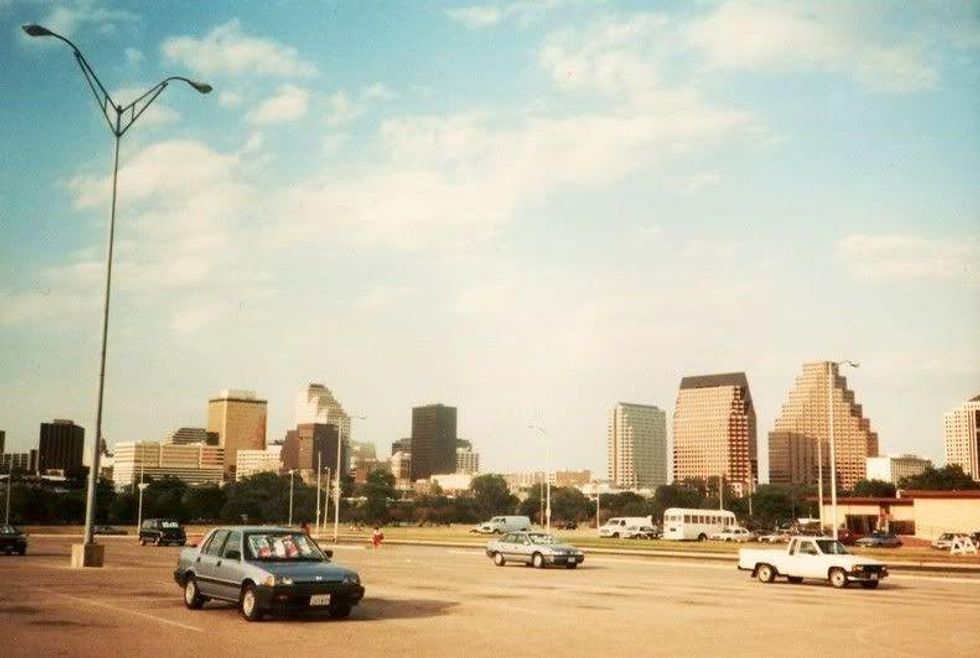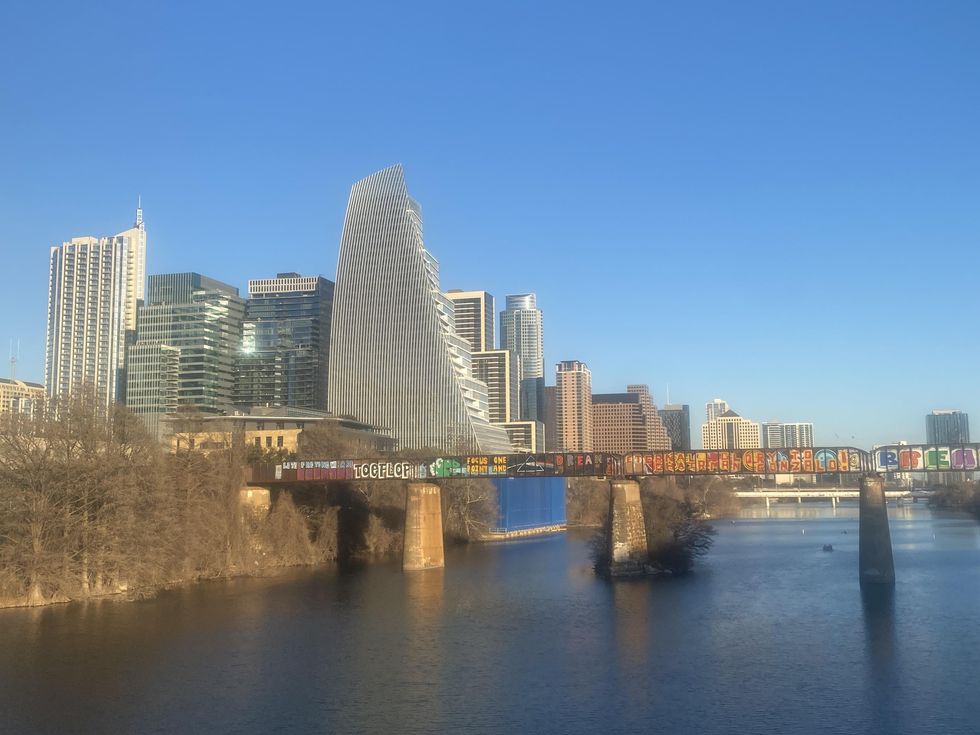 Since 2019, Austin has added 32 new buildings to its skyline, with another 28 under construction and yet another 25 in the proposal stage according to a June Downtown Austin Alliance report. In the words of the antique Austin-American Statesman in 1936, "Rip Van Winkle would have rubbed his eyes in amazement," upon seeing the difference just 10 years can bring to the skyline.
While newcomers, especially tech executives, look forward to moving into the newest high rises, they mean big changes for long-time Austinites. The new towers mean the closure of Rainey Street favorites, as well as the 4th Street Warehouse District.
Making restaurant reservations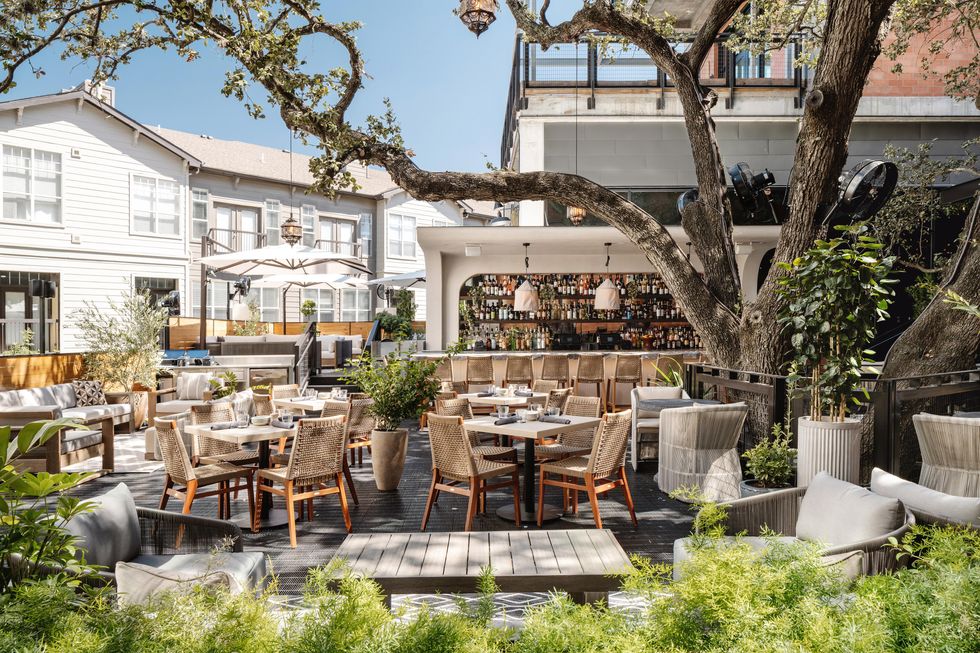 (Aba)
One of the most universal complaints about the 'new' Austin, from locals and visitors alike, is the need to make a reservation at most restaurants in town. This is a big change for locals that have lived here most of their life—you rarely had to make reservations pre-pandemic. And while this isn't loved by newer Austinites, it's the norm they know.
While you can still find walk-in options—think Lou's, Taquero Mucho, Magnolia Cafe and Terry Black's Barbecue—most restaurants with two or more dollar signs on reservation sites like Resy are likely to require a reservation… likely a month or more in advance.
According to
Open Table,
some of the hardest places to get a reservation are celebrity hotspot Aba, James Beard Foundation Award-winning restaurant El Naranjo, Lady Bird Lake rooftop bar P6, sushi restaurant Uchi and farm-to-table restaurant Emmer & Rye. You'll need to break out your calendar for those.
The Domain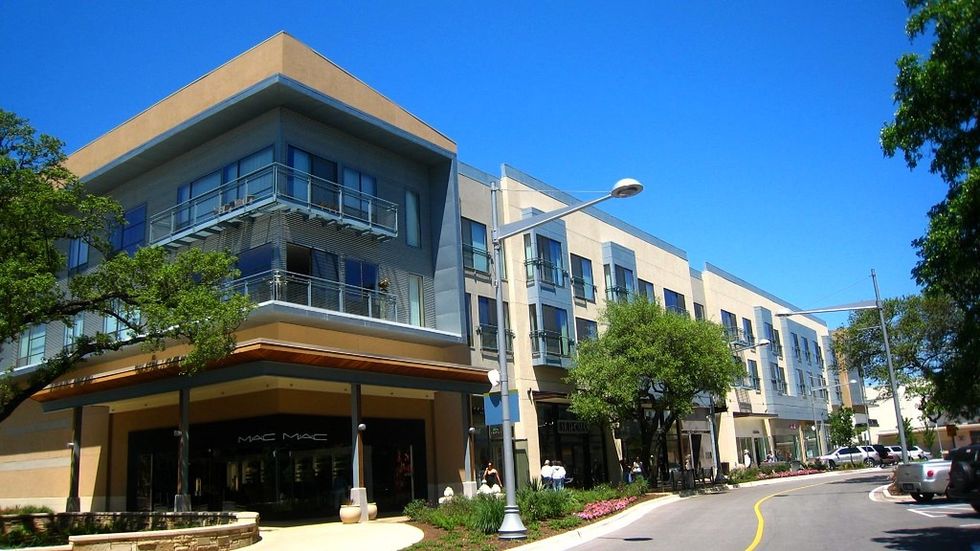 (Peter French/CC)
This massive development in North Austin is the go-to stop for luxury brands like Gucci, Anthropologie, Louis Vuitton, Tiffany & Co. and Restoration Hardware. Split into two sides: The Domain and Domain NORTHSIDE. Originally opened in 2007, The Domain has changed drastically in its 15 years of business and is often called Austin's "second downtown" but that still doesn't change the fact that it still feels like a new area to longtime residents.
Smart City
apartment locator Maddie Hastings
said she doesn't often lease locals at The Domain, mostly people from out of town, and when she does, they don't typically stay more than a year. Still, for newcomers, it's a fun development to work, eat and play.
Austin FC vs. UT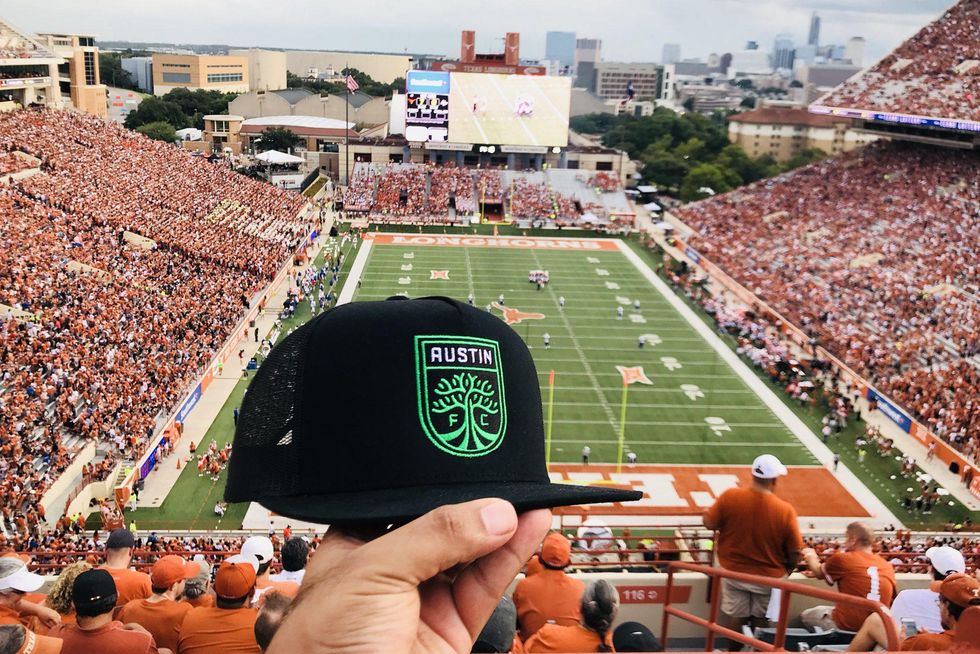 (Jay Torres)
Verde has yet to stamp out that burnt orange cult following in town. Austin FC has gained a steady following despite only being on its second MLS season, but the University of Austin has strength in numbers from the hundreds of thousands of Longhorns who have graduated from the famous school living both in and outside of Austin.
Longhorns fans are often older Austnites or those that have graduated from the school. But for newer Austnites, they don't have a connection to the school and are instantly welcomed into the diverse and fresh MLS team.
That said, Austin FC and Longhorn fans seem to be peacefully coexisting, with part-owner and UT alum Matthew McConaughey saying "the more, the merrier."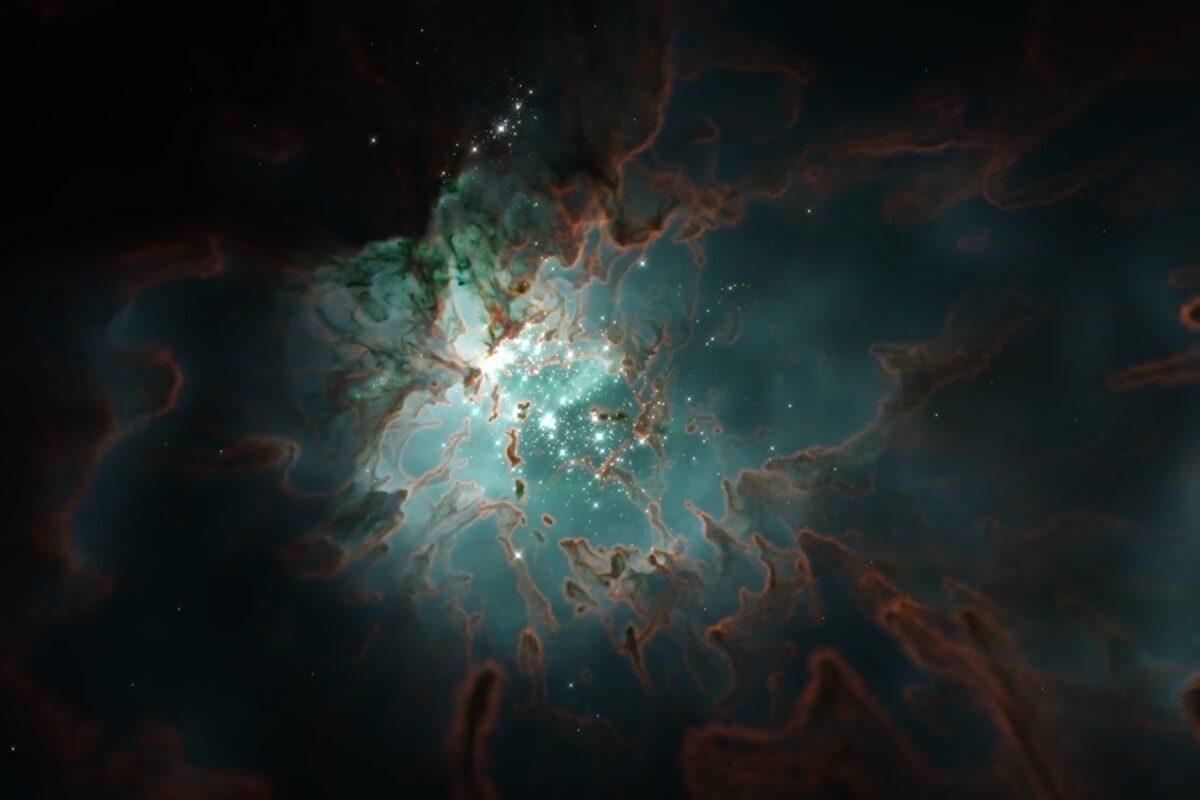 The stars aligned for a breakthrough discovery.
A collaborative team led by researchers from the University of Texas at Austin has found that star formation is a self-regulatory process. This understanding could lead to more information on star formation within our own and far away galaxies.
Every population of stars in our galaxy, and in the dwarf galaxies surrounding us, has the same balance for the mass distribution of stars, or what astronomers call the initial mass function. This has confused astronomers for decades since the stars in other galaxies were born under different conditions over billions of years.
So the researchers carried out simulations that were the first of their kind. Essentially, they follow the formation of individual stars in a collapsing giant cloud while also capturing how these newly formed stars interact with their surroundings by giving off light and shedding mass in a phenomenon known as "stellar feedback."
"For a long time, we have been asking why," said Dávid Guszejnov, a postdoctoral fellow at the Department of Astronomy at UT. "Our simulations followed stars from birth to the natural endpoint of their formation to solve this mystery."
The research was completed on two of the most powerful supercomputers in the world and was part of an initiative known as the STARFORGE Project, which is co-lead by UT Austin and the Carnegie Observatories.