Get connected with our daily update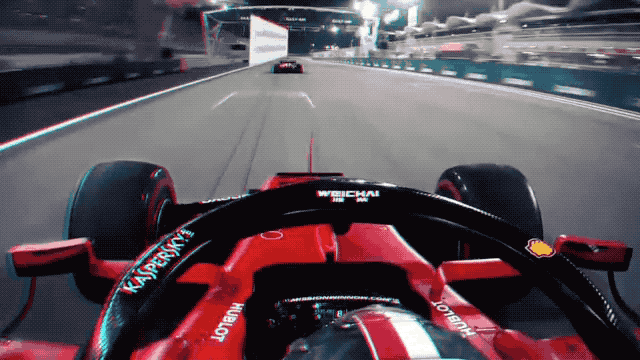 Just weeks after music fest Austin City Limits, Austin will be host to another global event as the Circuit of the Americas hosts Formula 1's United States Grand Prix race for the first time since the onset of the pandemic.
---
The weekend-long fest will have events stretching from Friday, Oct. 22 through Sunday, Oct. 24 for the United States' premier Formula 1 race.
With three days of races, parades and more, it can be hard to know what to expect for an event that COTA chairman Bobby Epstein said would be "the biggest event on the planet this year."
Don't miss a beat: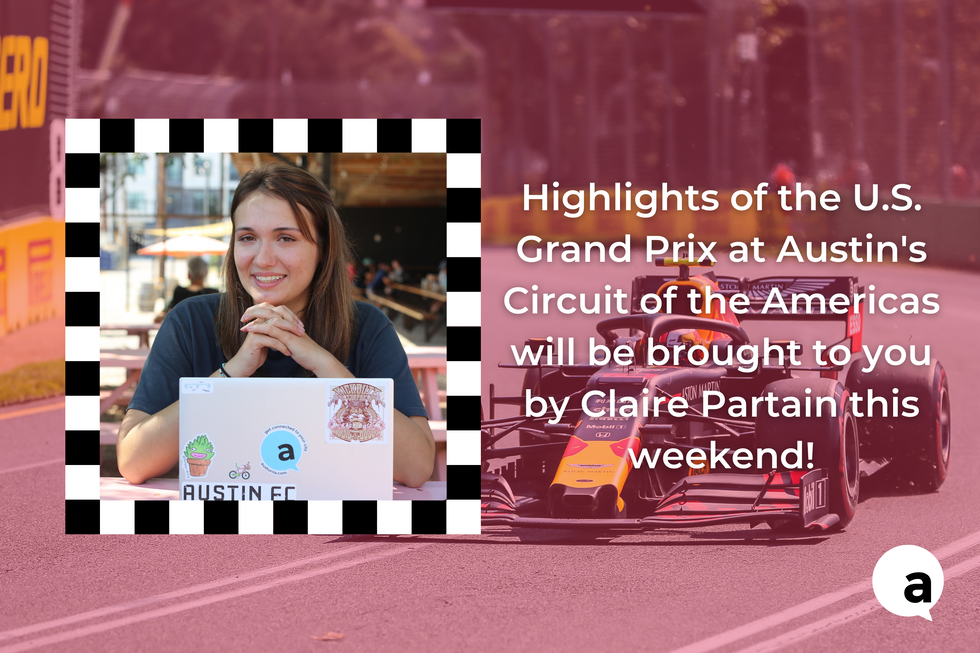 But have no fear. Here's Austonia's complete guide to make sure your trip to the U.S. Grand Prix is out of this world:
What to bring
This is why you shouldn't have a hot mic in COTA Twitter HQ. #USGPpic.twitter.com/9PhcKAVJEe

— Circuit of The Americas (@COTA) October 25, 2018
While some may have bought tickets just for the big race, others are planning for a three-day fest of constant outdoor activity. For the foreigners and out-of-towners, October weather in Austin may not be quite what you expect—many joke that a Texas "fall" is near-nonexistent. Check the weather often to see what's in store.
Our prediction is that shorts or flowy pants/skirts, a short-sleeve shirt and a light jacket may suffice. If it looks like rain is on the horizon, don't forget a poncho and/or small umbrella as there isn't much coverage from the elements once you're there.
Regardless of weather, it's a safe bet to bring sunscreen, sunglasses, a hat and some bug spray as well. Other not-so-typical items to pack in your bag—which should be smaller than 12x12x20 inches—include earplugs for the big race, binoculars and your phone camera to capture those Ferraris at full-speed.
Depending on your seats, don't forget a folding chair, and to pack a sealed plastic water bottle if you can—it's the only type of food or drink that's permitted on the property.
Keep all tents/canopies, coolers and large umbrellas at home. Check out more on what not to bring here.
Make sure you've got your tickets and you're all set!
Parking
trying to get from your parking spot to your seat 15 minutes before the race starts pic.twitter.com/2ly2DDcUVU

— Circuit of The Americas (@COTA) February 8, 2021
COTA's notorious parking can be a doozy—F1 1 fan Kevin Andrew said he's spent two and a half hours in line for the venue's sprawling paved and grass lots.
If you're of the impatient sort, it may be smart to look for some early-bird treatment even before gates open at 7 a.m. Friday, 8 a.m. Saturday and 6:25 a.m. Sunday. Show up well before your first desired event starts, especially on Sunday.
Three-day tickets are already sold out (although you can find some from resellers), while one-day tickets start at $60. Click here to book a one-day ticket.
For those looking to beat the crowd and keep some change, shuttles will pick up from five locations around the city for $15 a day. An additional Park-N-Ride lot, Lot Q, will also allow guests to drop their cars off and take the shuttle to COTA. Click here for shuttle information.
Additional transportation amenities include a drop-off spot for limos, taxis and rideshare apps. Bicyclists will have access to showers in the GEICO Premium RV Lot.
Food, music and more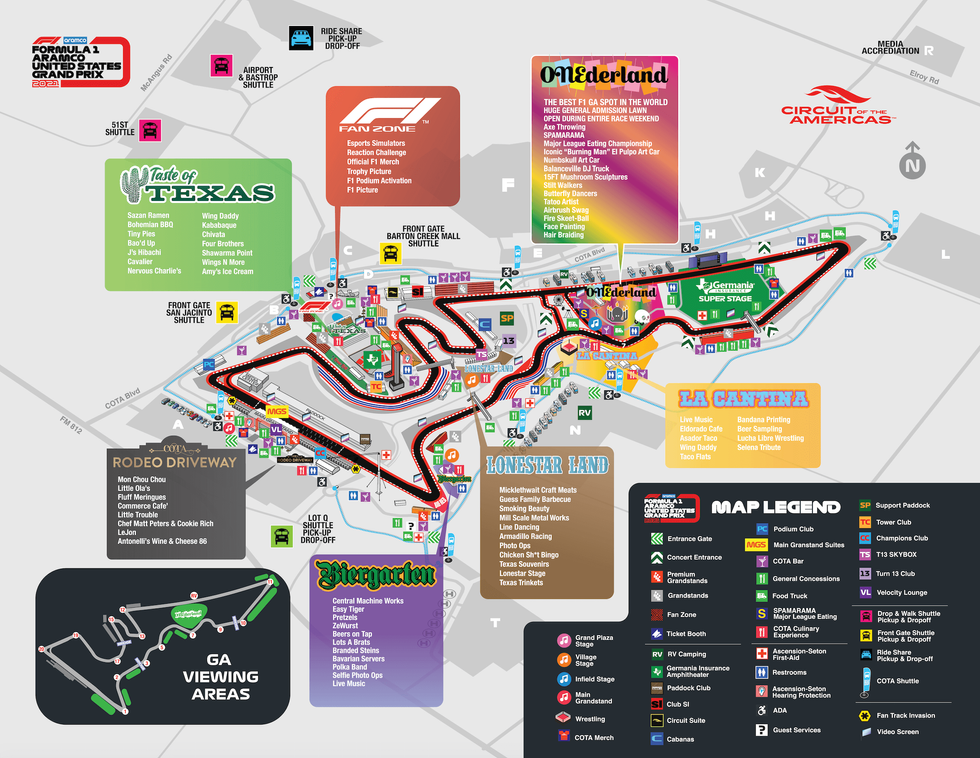 COTA will become a "World Fair"-esque fest full of local eats, live music and out-of-the-ordinary activities as part of the U.S. Grand Prix. (Circuit of the Americas)
Once you've entered those gates, the actual event will be a lot to take in. Anywhere from 300-350K people are expected to attend the big race, and fans are more excited than ever after nearly two years with no F1 in North America.
But just as fun as the big race—at least for more casual viewers—are the many attractions leading up to it.
Some highlights include performances from Twenty One Pilots and Billy Joel on Friday and Saturday, respectively, two races for the all-women's racing championship W Series and junior championship FIA Formula 4, NASCAR demos and a driver's parade on Sunday just before the race.

This is also a chance for Austin to entertain guests from far and wide—like a "World's Fair," as Andrews put it—and COTA will ensure that Austin remains on the map.
The "Live Music Capital of the World" will earn its rep with over 20 concerts across multiple stages on Saturday and Sunday. Highlights include Kool and the Gang and 15 Austin ensembles including The Ghost Wolves, Mobley and three-time Best of Austin winner DJ Chorizo Funk.
That Austin flair is well-represented in cuisine as well—expect over 30 dining options including local favorites Bao'd Up, Easy Tiger, Amy's Ice Cream and Tiny Pies scattered across the grounds. Check out the Taste of Texas section for local eats, the Biergarten for Bavarian beer, food and polka dancing, Lone Star Land for Austin's classic Chicken Shit Bingo and line dancing, and La Cantina for some Tex-Mex and a Selena tribute.
Still not satisfied? COTA's Onederland claims to host the best F1 General Admission lawn in the world and is packed with more than just amusement park rides. Expect the annual SPAMARAMA (yes, a Spam-themed festival,) axe throwing, the Major League Eating Championship and plenty of performers on stilts. Don't forget to ink a COTA-themed tattoo with an on-site tattoo artist as well.
Formula 1—a breakdown
Hamilton and Perez served up a treat with this mini battle 🍿#TurkishGP 🇹🇷 #F1pic.twitter.com/jOTcurRWue

— Formula 1 (@F1) October 10, 2021
New to Formula 1? You're not alone—the sport has exploded in popularity in North America after gaining recognition from Netflix series "Drive To Survive." With a new track set to open in Miami, that growth will only continue.
Here's what you need to know to get caught up:
Formula 1 vehicles are arguably the fastest road-racing cars in the world. The open-wheeled single-seaters can reach top speeds around 215 miles per hour and all adhere to a "formula" set by the Fédération Internationale de l'Automobile.
Formula 1 is the top formula racing league in the world and consists of 20 drivers across 10 teams who compete in venues across North and South America, Central Asia and its native continent, Europe. F1 has existed in some form for over 70 years and features races on closed city streets as well as purpose-built racetracks like COTA.
The league is massively popular in Europe but has seen intermittent success in North America. The U.S. Grand Prix was first held in 1908 and flip-flopped across 10 different locales for 49 appearances over the next century, last spending seven years in Indianapolis from 2000-2007 before making a home in Austin in 2012.
This U.S. Grand Prix will be its 50th race and will be the 17th race of the season.
The Big Race—Hamilton v. Verstappen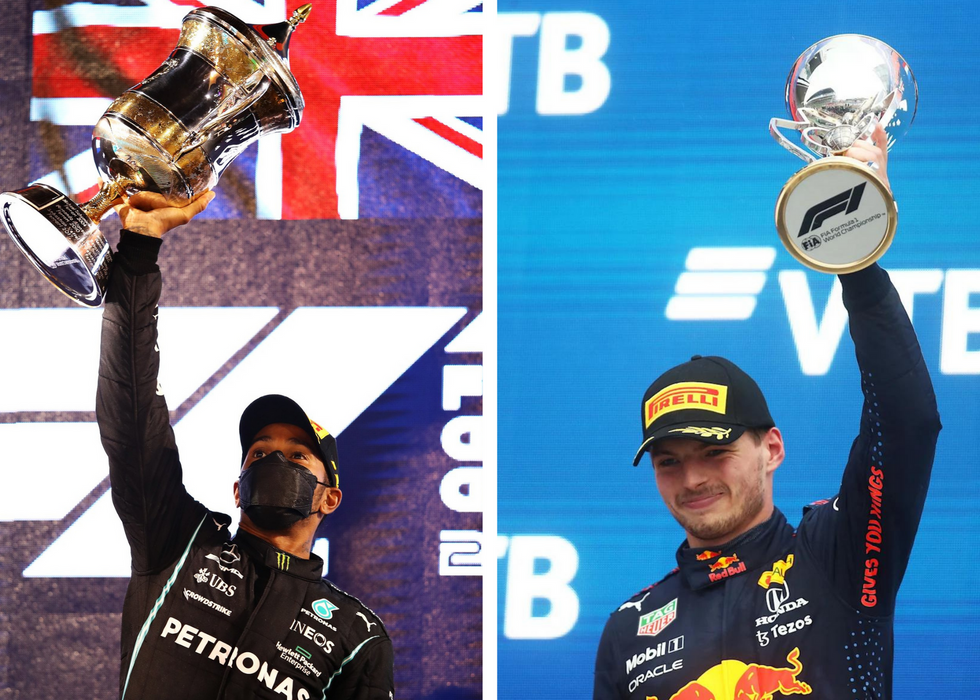 Defending champion Lewis Hamilton is in for some stiff competition from a young Max Verstappen as they fight for the F1 Championship. (Mercedes-AFG Petronas F1 Team/Twitter) (Red Bull Racing/Twitter)
The league's 20 drivers have crisscrossed across the map through the season, adapting to locales across four continents with vastly different terrains. But one factor has remained constant—standouts Lewis Hamilton and Max Verstappen have rarely left the leaderboard.
Just six points differentiate the two-star drivers with over a dozen races in—a margin low enough that the true winner may not be evident until the very end. With 262.5 points, Dutchman Verstappen holds the slight lead over Great Britain's Hamilton and both have over 1.5X the points of the next runner-up, Hamilton's teammate Valtteri Bottas.
Hamilton and Bottas make up Team Mercedes, the No.1 team in the league, while Verstappen and fifth-place Sergio Perez constitute second-place team Red Bull Racing Honda.
The evenly matched team, evenly-matched cars and neck-and-neck standings have brought forth a fan-fueled rivalry that F1 hasn't seen for quite some time.
This U.S. Grand Prix, much like the rest of the season, will be a testament of old vs. new. A 36-year-old Hamilton has taken home seven F1 championships, including a four-year dominance in the sport from 2017-2020, and has won on U.S. turf at COTA five times. Meanwhile, the 24-year-old Verstappen was once the youngest F1 driver and youngest Grand Prix race winner ever and has since finished third for two consecutive years.
The heated rivalry has culminated in three dangerous crashes throughout the season, including one at the Italian Grand Prix Sept. 13. Grand Prix Drivers' Association chairman Alex Wurz said it is "very likely" that they will again.
That next crash site may or may not be at COTA, but the U.S. Grand Prix will still see the two titans clash once more as the season nears its end. Expect either or both to end at the top of the leaderboard, and make sure to bring up either name to a committed fan if you're looking for some sideline banter.
Other racers to look out for include Bottas as a likely third-place contender and some mid-race fun from Perez and fourth-place rival Lando Norris.
For a full weekend schedule click here. Happy COTA days!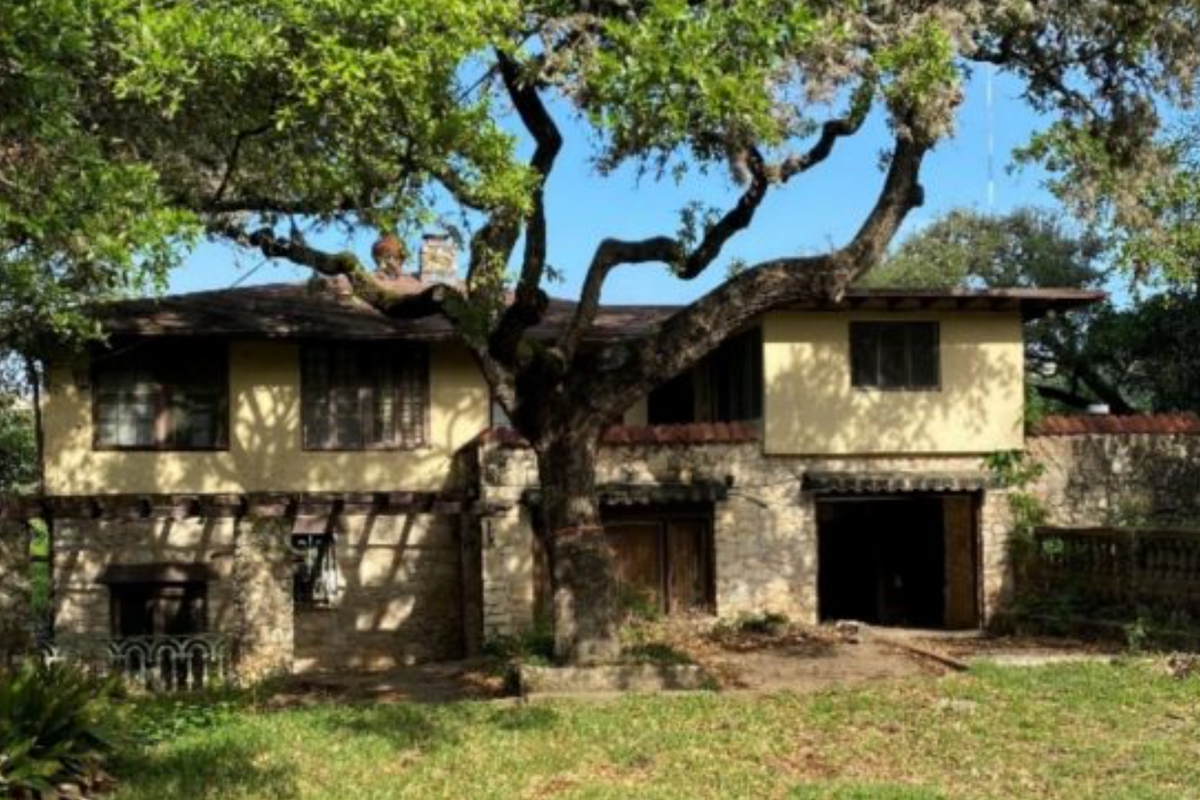 Austin Monitor
By Jonathan Lee
The Planning Commission was split Tuesday on whether to help save an eclectic lakefront estate from demolition by zoning it historic amid concerns over tax breaks and the likelihood that a previous owner participated in segregation as a business owner.
The property in question, known as the Delisle House, is located at 2002 Scenic Drive in Tarrytown. The main house, with Spanish and Modern influences, was built in 1923 by Raymond Delisle, an optician. A Gothic Revival accessory apartment was built in 1946. The current owner applied to demolish the structures in order to build a new home.'
Historic preservationists, for their part, overwhelmingly support historic zoning, which would preserve the buildings in perpetuity. The Historic Landmark Commission unanimously voted to initiate historic zoning in July, citing architectural significance, landscape features and association to historic figures. City staffers recommend historic zoning, calling both structures one-of-a-kind examples of vernacular architecture.
Tarrytown neighbors have also banded together to stop the demolition. Many have written letters, and a few spoke at the meeting. "How could anyone buy this property with the intent of destroying it?" Ila Falvey said. "I think it's an architectural treasure."
Michael Whellan, an attorney representing the property owner, said that the claims made by preservationists are shaky. The buildings are run down, he said, and have had substantial renovations. A structural engineer hired by the owner said any attempt at preservation would involve tearing down and rebuilding – an undertaking Whellan said would likely cost millions.
Whellan also argued that any historical significance derived from the property's association with Delisle and longtime owner C.H. Slator is dubious. "These men are not noted for any civic, philanthropic or historic impact," he said.
What's more, according to Whellan, Slator likely participated in segregation as the owner of the Tavern on North Lamar Boulevard between 1953 and 1960.
A city staffer, however, said she found no evidence to support the claim. "We would never landmark a property where a segregationist lived, or there was a racist person," Kimberly Collins with the Historic Preservation Office said.
Commissioner Awais Azhar couldn't support historic zoning in part due to lingering uncertainty about Slator. "Focusing on that factor is not here to disparage an individual or family. It is not about playing the race card. This is an important assertion for us to consider as Planning commissioners," Azhar said.
Commissioner Carmen Llanes Pulido said that allegations of racism should come as no surprise. "We're talking about white male property owners in the 1950s, in Austin, on the west side – and of course they were racist," she said. But she argued that allowing the house to be demolished based on these grounds does nothing to help people of color who have been harmed by racism and segregation.
The question of tax breaks was also controversial. Michael Gaudini, representing the property owner, said that the tax breaks associated with historic zoning would exacerbate inequality by shifting property tax burdens to less affluent communities. City staffers estimate that the property, appraised at $3.5 million, would get either a $8,500 or $16,107 property tax break annually, depending on whether a homestead exemption is applied.
Commissioner Grayson Cox preferred the commission focus not on tax breaks but on whether the structures merit preservation. "To me, nothing in the historic preservation criteria lists, is this person deserving of a tax break or not?"
Azhar, on the other hand, said he plans to propose a code amendment getting rid of city property tax breaks for historic properties.
The commission fell one vote short of recommending historic zoning, with six commissioners in support and three opposed. Azhar and commissioners Claire Hempel and Greg Anderson voted against.
The odds of City Council zoning over an owner's wishes are slim. Nine out of 11 members must vote in favor, and there have only been a handful of such cases over the past several decades.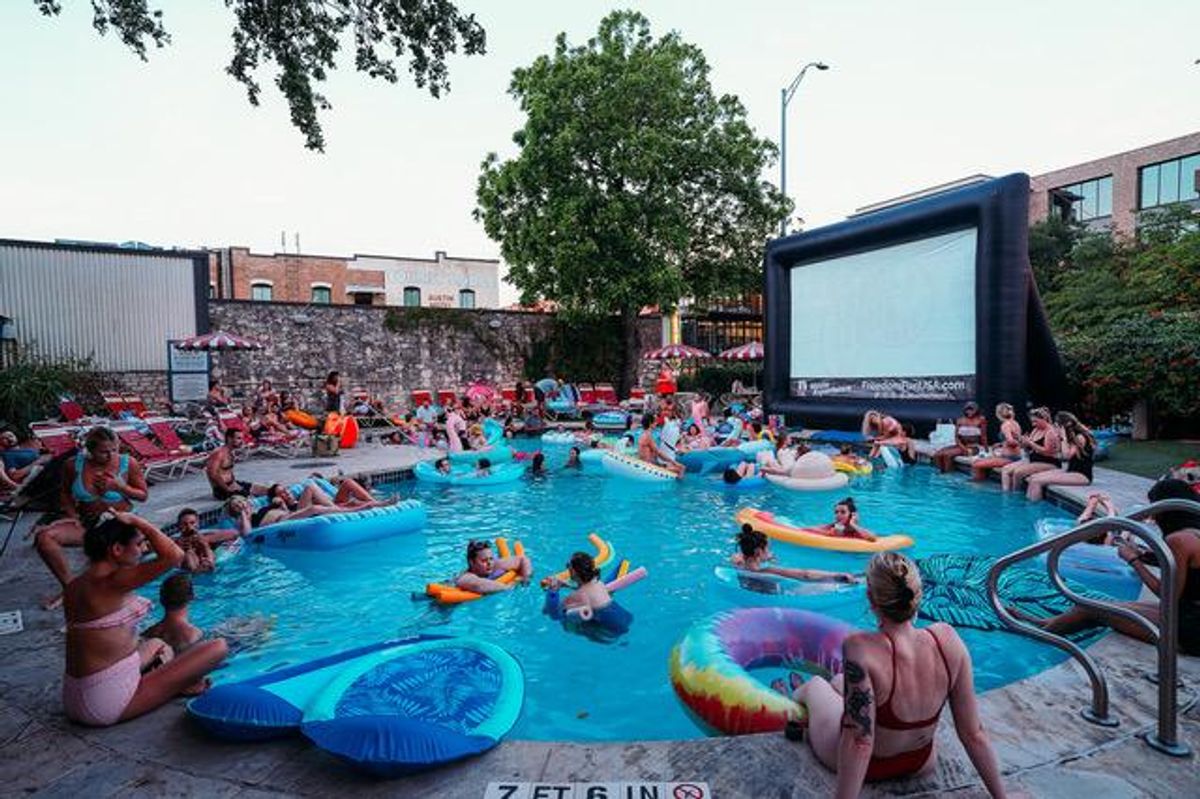 Austin Motel
What's new in Austin food & drink this week:
Nau's Enfield Drug closing after losing their lease. Did McGuire Moorman Lambert buy the building, with its vintage soda fountain?
Nixta Taqueria Chef Edgar Rico named to Time Magazine's Time 100 Next influencer list, after winning a James Beard Award earlier this year.
Question: From what BBQ joint did pescatarian Harry Styles order food this week?
Austin Motel is opening the pool and pool bar Wednesday nights in October for Freaky Floats.
Vincent's on the Lake closing due to "economic conditions and low water levels [at Lake Travis]."
Cenote has closed its Windsor Park location. The East Cesar Chavez location remains open.
The Steeping Room on N. Lamar has closed.
Local startup It's Skinnyscored new financing for its gluten-free pasta business.
P. Terry's opened a new location in Kyle, at 18940 IH-35.