Get connected with our daily update
Just weeks after music fest Austin City Limits, Austin will be host to another global event as the Circuit of the Americas hosts Formula 1's United States Grand Prix race for the first time since the onset of the pandemic.
---
The weekend-long fest will have events stretching from Friday, Oct. 22 through Sunday, Oct. 24 for the United States' premier Formula 1 race.
With three days of races, parades and more, it can be hard to know what to expect for an event that COTA chairman Bobby Epstein said would be "the biggest event on the planet this year."
Don't miss a beat: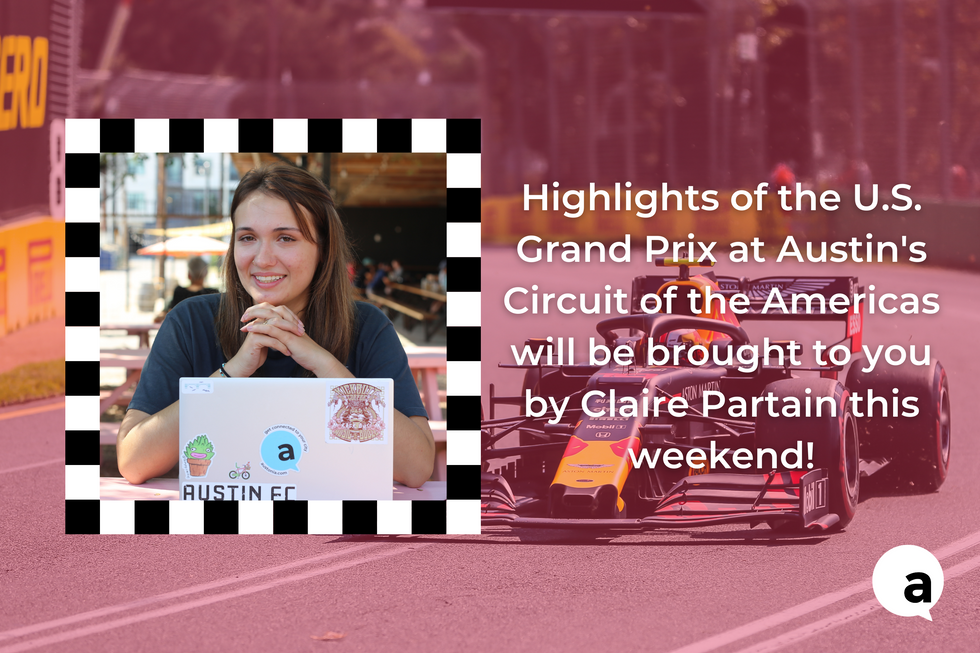 But have no fear. Here's Austonia's complete guide to make sure your trip to the U.S. Grand Prix is out of this world:
What to bring
This is why you shouldn't have a hot mic in COTA Twitter HQ. #USGP pic.twitter.com/9PhcKAVJEe

— Circuit of The Americas (@COTA) October 25, 2018
While some may have bought tickets just for the big race, others are planning for a three-day fest of constant outdoor activity. For the foreigners and out-of-towners, October weather in Austin may not be quite what you expect—many joke that a Texas "fall" is near-nonexistent. Check the weather often to see what's in store.
Our prediction is that shorts or flowy pants/skirts, a short-sleeve shirt and a light jacket may suffice. If it looks like rain is on the horizon, don't forget a poncho and/or small umbrella as there isn't much coverage from the elements once you're there.
Regardless of weather, it's a safe bet to bring sunscreen, sunglasses, a hat and some bug spray as well. Other not-so-typical items to pack in your bag—which should be smaller than 12x12x20 inches—include earplugs for the big race, binoculars and your phone camera to capture those Ferraris at full-speed.
Depending on your seats, don't forget a folding chair, and to pack a sealed plastic water bottle if you can—it's the only type of food or drink that's permitted on the property.
Keep all tents/canopies, coolers and large umbrellas at home. Check out more on what not to bring here.
Make sure you've got your tickets and you're all set!
Parking
trying to get from your parking spot to your seat 15 minutes before the race starts pic.twitter.com/2ly2DDcUVU

— Circuit of The Americas (@COTA) February 8, 2021
COTA's notorious parking can be a doozy—F1 1 fan Kevin Andrew said he's spent two and a half hours in line for the venue's sprawling paved and grass lots.
If you're of the impatient sort, it may be smart to look for some early-bird treatment even before gates open at 7 a.m. Friday, 8 a.m. Saturday and 6:25 a.m. Sunday. Show up well before your first desired event starts, especially on Sunday.
Three-day tickets are already sold out (although you can find some from resellers), while one-day tickets start at $60. Click here to book a one-day ticket.
For those looking to beat the crowd and keep some change, shuttles will pick up from five locations around the city for $15 a day. An additional Park-N-Ride lot, Lot Q, will also allow guests to drop their cars off and take the shuttle to COTA. Click here for shuttle information.
Additional transportation amenities include a drop-off spot for limos, taxis and rideshare apps. Bicyclists will have access to showers in the GEICO Premium RV Lot.
Food, music and more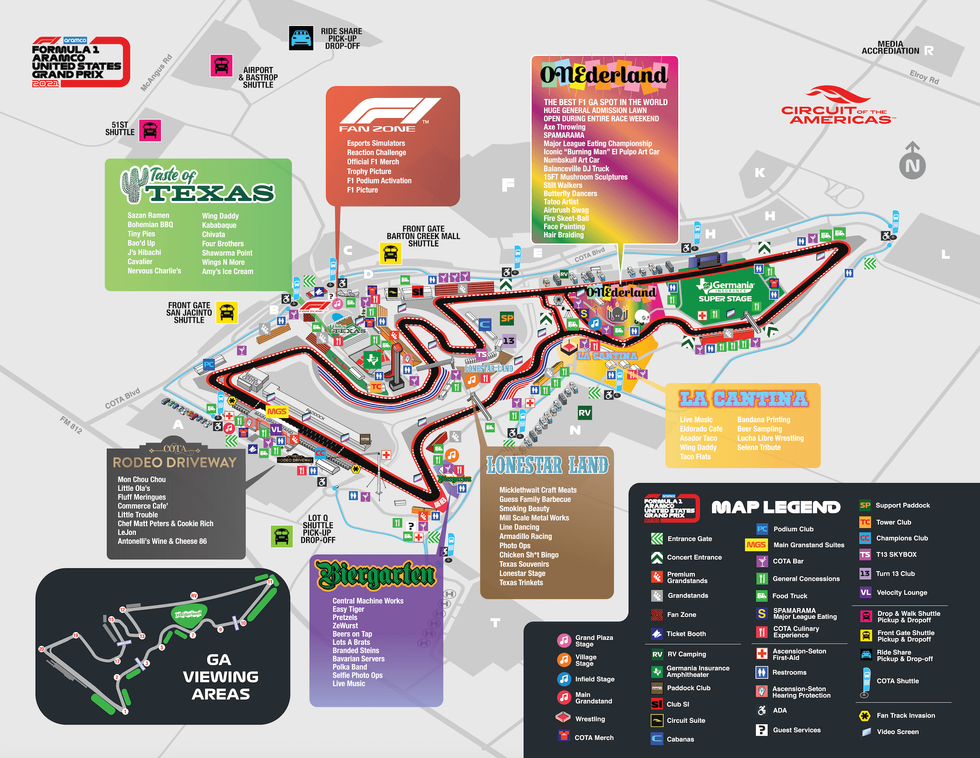 COTA will become a "World Fair"-esque fest full of local eats, live music and out-of-the-ordinary activities as part of the U.S. Grand Prix. (Circuit of the Americas)
Once you've entered those gates, the actual event will be a lot to take in. Anywhere from 300-350K people are expected to attend the big race, and fans are more excited than ever after nearly two years with no F1 in North America.
But just as fun as the big race—at least for more casual viewers—are the many attractions leading up to it.
Some highlights include performances from Twenty One Pilots and Billy Joel on Friday and Saturday, respectively, two races for the all-women's racing championship W Series and junior championship FIA Formula 4, NASCAR demos and a driver's parade on Sunday just before the race.

This is also a chance for Austin to entertain guests from far and wide—like a "World's Fair," as Andrews put it—and COTA will ensure that Austin remains on the map.
The "Live Music Capital of the World" will earn its rep with over 20 concerts across multiple stages on Saturday and Sunday. Highlights include Kool and the Gang and 15 Austin ensembles including The Ghost Wolves, Mobley and three-time Best of Austin winner DJ Chorizo Funk.
That Austin flair is well-represented in cuisine as well—expect over 30 dining options including local favorites Bao'd Up, Easy Tiger, Amy's Ice Cream and Tiny Pies scattered across the grounds. Check out the Taste of Texas section for local eats, the Biergarten for Bavarian beer, food and polka dancing, Lone Star Land for Austin's classic Chicken Shit Bingo and line dancing, and La Cantina for some Tex-Mex and a Selena tribute.
Still not satisfied? COTA's Onederland claims to host the best F1 General Admission lawn in the world and is packed with more than just amusement park rides. Expect the annual SPAMARAMA (yes, a Spam-themed festival,) axe throwing, the Major League Eating Championship and plenty of performers on stilts. Don't forget to ink a COTA-themed tattoo with an on-site tattoo artist as well.
Formula 1—a breakdown
Hamilton and Perez served up a treat with this mini battle 🍿#TurkishGP 🇹🇷 #F1 pic.twitter.com/jOTcurRWue

— Formula 1 (@F1) October 10, 2021
New to Formula 1? You're not alone—the sport has exploded in popularity in North America after gaining recognition from Netflix series "Drive To Survive." With a new track set to open in Miami, that growth will only continue.
Here's what you need to know to get caught up:
Formula 1 vehicles are arguably the fastest road-racing cars in the world. The open-wheeled single-seaters can reach top speeds around 215 miles per hour and all adhere to a "formula" set by the Fédération Internationale de l'Automobile.
Formula 1 is the top formula racing league in the world and consists of 20 drivers across 10 teams who compete in venues across North and South America, Central Asia and its native continent, Europe. F1 has existed in some form for over 70 years and features races on closed city streets as well as purpose-built racetracks like COTA.
The league is massively popular in Europe but has seen intermittent success in North America. The U.S. Grand Prix was first held in 1908 and flip-flopped across 10 different locales for 49 appearances over the next century, last spending seven years in Indianapolis from 2000-2007 before making a home in Austin in 2012.
This U.S. Grand Prix will be its 50th race and will be the 17th race of the season.
The Big Race—Hamilton v. Verstappen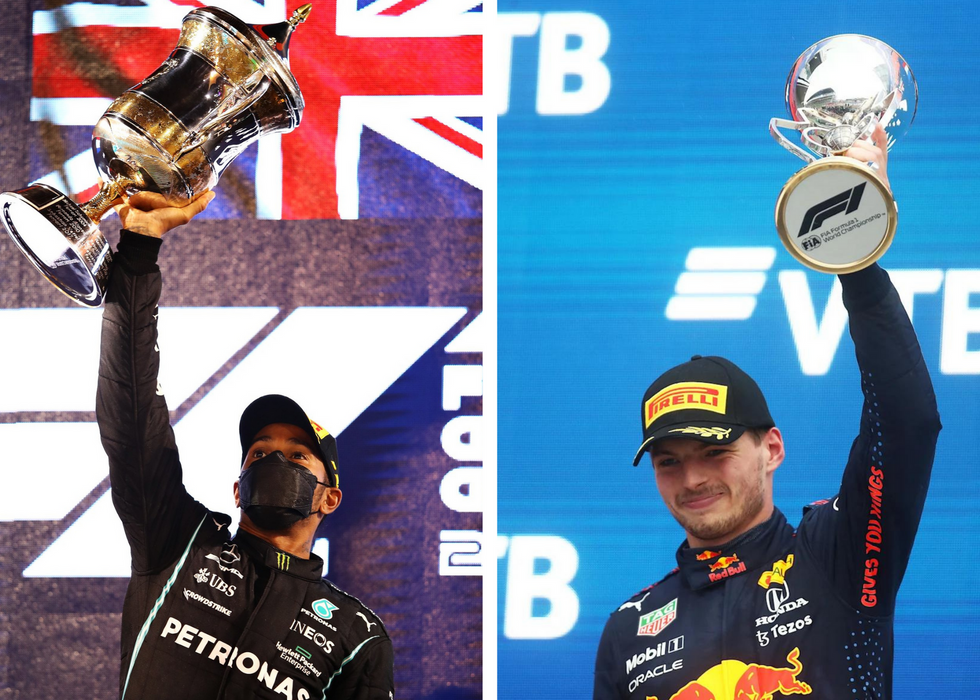 Defending champion Lewis Hamilton is in for some stiff competition from a young Max Verstappen as they fight for the F1 Championship. (Mercedes-AFG Petronas F1 Team/Twitter) (Red Bull Racing/Twitter)
The league's 20 drivers have crisscrossed across the map through the season, adapting to locales across four continents with vastly different terrains. But one factor has remained constant—standouts Lewis Hamilton and Max Verstappen have rarely left the leaderboard.
Just six points differentiate the two-star drivers with over a dozen races in—a margin low enough that the true winner may not be evident until the very end. With 262.5 points, Dutchman Verstappen holds the slight lead over Great Britain's Hamilton and both have over 1.5X the points of the next runner-up, Hamilton's teammate Valtteri Bottas.
Hamilton and Bottas make up Team Mercedes, the No.1 team in the league, while Verstappen and fifth-place Sergio Perez constitute second-place team Red Bull Racing Honda.
The evenly matched team, evenly-matched cars and neck-and-neck standings have brought forth a fan-fueled rivalry that F1 hasn't seen for quite some time.
This U.S. Grand Prix, much like the rest of the season, will be a testament of old vs. new. A 36-year-old Hamilton has taken home seven F1 championships, including a four-year dominance in the sport from 2017-2020, and has won on U.S. turf at COTA five times. Meanwhile, the 24-year-old Verstappen was once the youngest F1 driver and youngest Grand Prix race winner ever and has since finished third for two consecutive years.
The heated rivalry has culminated in three dangerous crashes throughout the season, including one at the Italian Grand Prix Sept. 13. Grand Prix Drivers' Association chairman Alex Wurz said it is "very likely" that they will again.
That next crash site may or may not be at COTA, but the U.S. Grand Prix will still see the two titans clash once more as the season nears its end. Expect either or both to end at the top of the leaderboard, and make sure to bring up either name to a committed fan if you're looking for some sideline banter.
Other racers to look out for include Bottas as a likely third-place contender and some mid-race fun from Perez and fourth-place rival Lando Norris.
For a full weekend schedule click here. Happy COTA days!
In a city where live music is heralded above all else, Pete Monfre was surprised to find local musicians working for free that he quit the industry for 10 years in 2006.
Local musicians tended to be underpaid before COVID-19 sent the music industry reeling, but the fallout from the pandemic exasperated the existing problems. Musician and marketer Monfre knows—he's been behind that shaking tip jar, trying to turn a profit while doing what he loves. He's tackling the problem with a unique brand of live shows, which go against the grain, mix business with pleasure and help bring home the bacon.
The shows, called Stories from the Road, are an informal storytelling jam session at The Saxon Pub that encourages interaction between the artist and audience.
After a brief hiatus due to ongoing woes of the pandemic Stories from the Road came back to The Saxon Pub on Saturday. It was the first of 23 consecutive shows that didn't sell out, which Monfre attributes to the break of not having shows.
"We called it Stories from the Road—not a band, an experience," Monfre said. "We're not going to rehearse, we're not going to have a list, we're not going to prepare, every show is a one-off and you will never see it again."
His shows start early at 6 p.m., with a rotating group of musicians playing blues or Americana who need not rehearse. This time it featured Mark "Kaz" Kazanoff on saxophone and harmonica, bassist Mark Epstein, drummer Kevin Hall and Adam Pryor on Hammond Organ.
You'll probably end up spending a bit more than the typical show at the Saxon Pub, around $30 per person, but each show goes directly to supporting the artists that made it.
"Part of the mission was to advocate for fair wages for musicians and to help musicians understand their economic value," Monfre said. "Now I can afford to pay musicians a modest guarantee and we call that the Fair Play approach to live music."
Monfre moved to Austin as a young adult with the intention of "conquering the music industry" in 1981, which he told Austonia he did not do but did meet "a lot of interesting people." He left Austin to tour for a few years, then moved to Milwaukee, where he continued to play music.
After returning to Austin in 2006, Monfre discovered some musicians were playing shows for free.
"I'm playing in Chicago and Michigan and hardcore blues places, and we don't play for free," Monfre said. "So I actually quit for 10 years. There is no reason to play for free whatsoever if you just get the model right."
Having already tried to conquer the music industry once, Monfre took a business-forward approach the second time. The model also caters to what he believes is an underserved group: working professionals who want to meet like-minded individuals but also be home by 9 p.m.
Chief Technology Officer for Economic Transformation Technologies David Smith, who has been coming to other Monfre shows since they started in 2016, said he enjoys the improvisational nature of the shows because it reminds him of old Austin.
"The Stories from the Road get back to the root of what music is: the fact that you can sit and jam, make music with musicians because they understand music, and that's the soul of Austin," Smith said. "It really is a celebration of music."
Monfre said the informality is what makes his shows so popular—you'll hear the musicians ask the key for a song, take a request from the crowd, make a lighthearted jab at one another or create a song from scratch.
"They want to see the sausage being made, it's really funny I would have never thought it," Monfre said.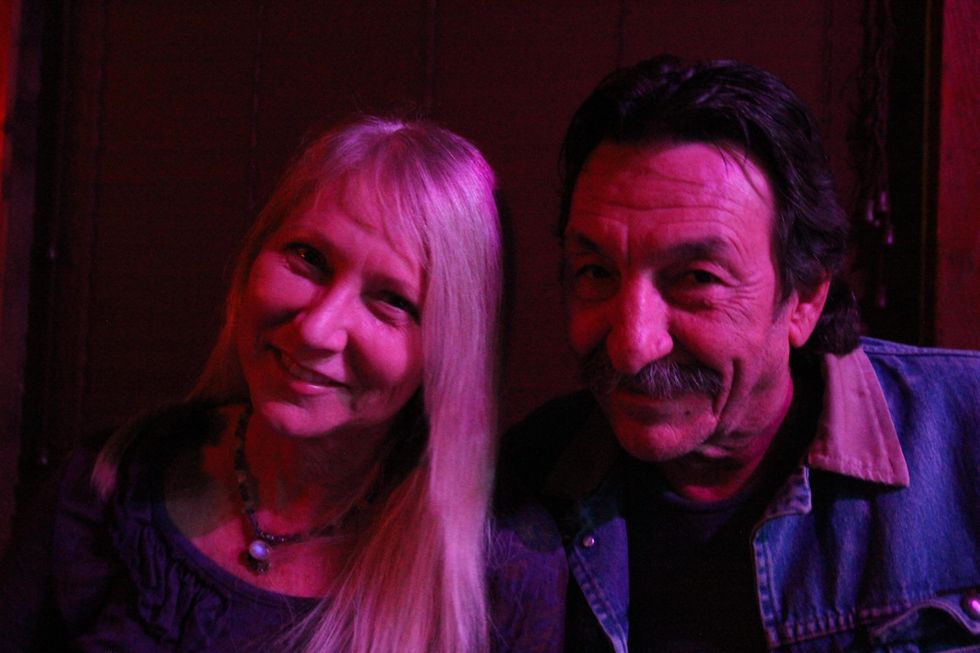 Price (right) said he was happy the show ended early so he could make it home to Lampasas. (Laura Figi/Austonia)
"I am knocked out. It just really didn't get any better than what we just had—this band was so good, the crowd was so good," Price said. "That's what Austin in the '60s and '70s was all about, just everybody throwing it together."
Stories from the Road is returning to The Saxon Pub stage on Dec. 18, with a completely new group of musicians. The show, like always, will start at 6 p.m.
In this season of gifts, giving, and gratitude, Tito's is making it easy to shop for your friends and loved ones while helping our community.
The beloved Austin company's Love, Tito's retail space, downtown at 215 Lavaca Street, is fully stocked with great gear. 100% of net proceeds of whatever you purchase—a new collar for your four-legged friend, a Tito's tee, some branded barware—go to the nonprofits they support. From the environment to animal rescue, you can choose your cause while choosing a new copper cocktail kit… or old school cap… or golf polo.
The store is stocked with stuff that the online experience just can't offer: never-before-seen swag, doggy photo booths (to say it's a dog-friendly space is an understatement), a record player to spin some tunes, and a bar finder listing local spots serving mean Tito's cocktails. Locals and out-of-town visitors alike can enjoy wonderful distractions while kicking back in an environment designed to cater to Tito's fans.

While you can't enjoy a cocktail there due to Texas liquor laws, the store offers unique experiences for any and all fans of the brand, and gives folks a chance to find what resonates with them while taking home a piece of the Tito's story.
*At our Love, Tito's store in Austin, net proceeds constitute an average margin of at least 25% of the retail price of a product, excluding the cost of tax on the purchase. We are not deducting cost of our people, the store rent or other operating costs.
The holiday season is upon us, so get ready to celebrate with carols, snacks and light shows galore. Austin is full of holiday festivities spanning throughout all of December so get out and enjoy the cool weather while it lasts.
Don't miss these nine holiday-themed light shows.
Austin's most famous annual light show and a Readers Choice of USA Today's 10 Best Public Displays of Holiday Lights, the Trail of Lights will be drive-thru again this year Nov. 27-Dec. 31. For 57 years in a row, the Trail of Lights has lit up Zilker Park with games, food, local vendors and more than two million lights gleaming for the holidays. The event, as always, is free to the public and you can reserve slots here. The Zilker Tree is already up, so you can already see it if the holiday cheer is too much to bear.
Coming back for the second year in a row, Peppermint Parkway will transport you to COTALAND, where six million lights gleam and Christmas is just a one-mile drive away. The hybrid event will have you drive through the display of lights, dancing elves and unique little villages before you hit the walking plaza, where you can grab a bite to eat and meet Santa. Tickets range from $40-$95, some including a lap around the COTA track, running from Nov. 26-Dec. 26.
Dreamland Dripping Springs has been transformed into a winter wonderland—running throughout the month of December, the venue's first-ever holiday display is taking over with activities for the whole family. Plus, running from Nov. 20-Jan. 4, a pop-up ice skating rink will really bring the holiday cheer for $10 or $5 Monday specials. The lights display will feature half a million lights and warm, festive sips from the taproom.
With events galore for the holiday season, winter is really when the Hill Country Galleria thrives. Starting with its Light Up The Plaza event on Saturday from 6-8 p.m., where visitors can see Santa, gaze at the official lighting of the holiday tree and hear some live tunes from rock band American Authors. The Galleria will also hold a holiday market every Thursday, Friday and Saturday leading up to Christmas Eve and periodic photos with Santa at Buenos Aires Cafe.
Deck the Halls at the Driskill Hotel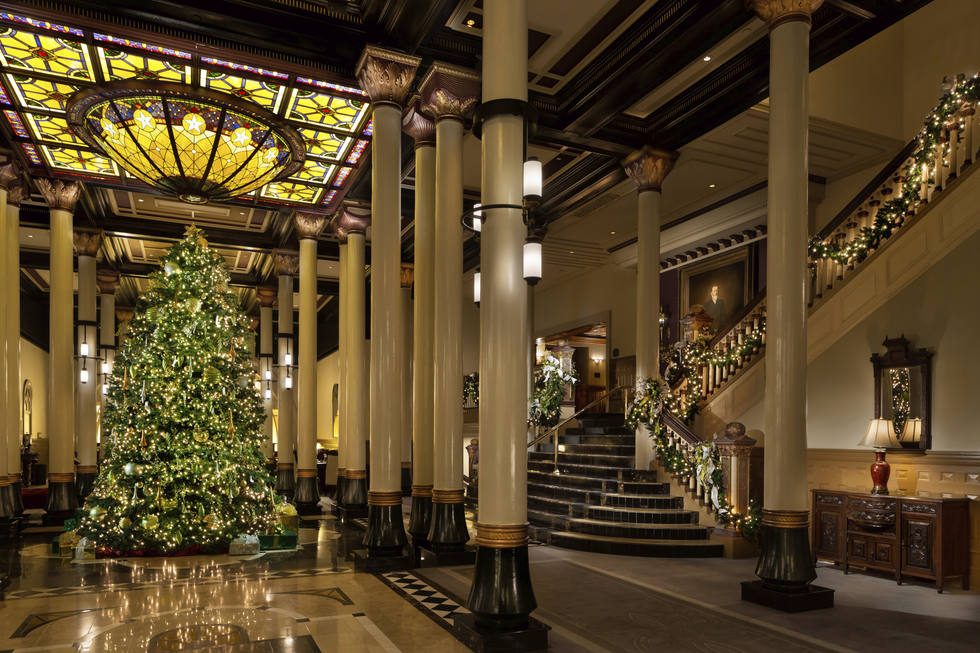 (Courtesy of the Driskill Hotel)
This holiday season, the Driskill will deck out every nook and cranny of the historic hotel from the grand staircase to the 16-foot Christmas tree in the lobby to be lit on a Dec. 1 ceremony that will be open to the public. Touches of Driskill festivities can also be seen at Dell Children's Hospital with a gingerbread village for its annual "Cookies for Caring" event.
Kicking off the lighting of the tree on Saturday, Dec. 4, Austinites will gather on the steps of the Texas Capitol at 6 p.m. to sing the 45-foot tree to life. Afterward, local band Los Coast will close out the night with a free concert. The fun doesn't stop there though as the Downtown Austin Alliance will host the Downtown Holiday Stroll, with "holiday passports" and stamps to collect for local restaurants and stores, and a Frida Friday Holiday Market at Republic Square.
Combining festive holiday lights and the beautiful native plants of Central Texas, Luminations at the Wildflower Center is back with thousands of lights, luminarias and a lit-up look at Fortlandia. This year will also feature an interactive light maze called "silvana" by Ben Busche of architecture firm Brut Deluxe, which will be the maze's first appearance in North America. The event will run Thursdays-Sundays from Dec. 2-Jan. 30 for $10-$25 per person.
Reserved tables are back for Mozart's Coffee Roasters annual Christmas Lights Show for $20 four-person tables and $30 six-person tables—so get your tickets early because these tables are likely to sell out. The light show will also feature a festival-style Bavarian marketplace for those last-minute gifts. If you're too late to reserve a table, don't worry, there will be standing room available for free so come one, come all, and come early for parking.
From Dec. 2-4, Old Settlers Park will light up with holiday displays, family activities, festive refreshments and live music. Watch the balloons hover above the lake as you sip on a hot chocolate or give to those in need, with stands for Round Rock Operation Blue Santa, which is taking toys for kids in need, the Play For All Foundation, which is accepting cash donations for disabled children, and the People & Parks Foundation, accepting cash donations for green space in the community. Admission to the event is free, along with most of the activities in the park.