Get connected with our daily update
Just weeks after music fest Austin City Limits, Austin will be host to another global event as the Circuit of the Americas hosts Formula 1's United States Grand Prix race for the first time since the onset of the pandemic.
---
The weekend-long fest will have events stretching from Friday, Oct. 22 through Sunday, Oct. 24 for the United States' premier Formula 1 race.
With three days of races, parades and more, it can be hard to know what to expect for an event that COTA chairman Bobby Epstein said would be "the biggest event on the planet this year."
Don't miss a beat: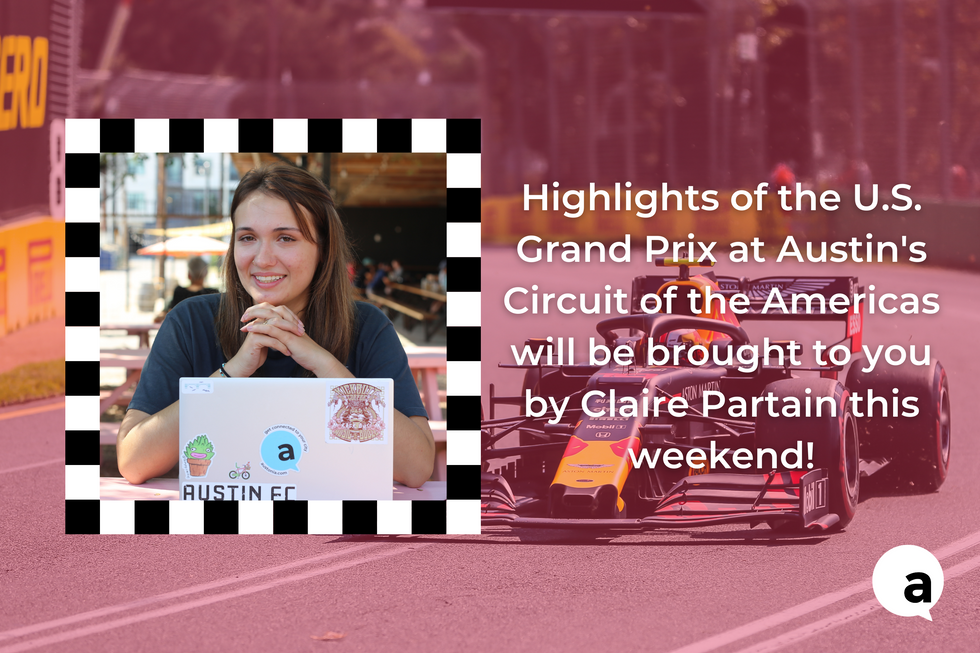 But have no fear. Here's Austonia's complete guide to make sure your trip to the U.S. Grand Prix is out of this world:
What to bring
This is why you shouldn't have a hot mic in COTA Twitter HQ. #USGP pic.twitter.com/9PhcKAVJEe

— Circuit of The Americas (@COTA) October 25, 2018
While some may have bought tickets just for the big race, others are planning for a three-day fest of constant outdoor activity. For the foreigners and out-of-towners, October weather in Austin may not be quite what you expect—many joke that a Texas "fall" is near-nonexistent. Check the weather often to see what's in store.
Our prediction is that shorts or flowy pants/skirts, a short-sleeve shirt and a light jacket may suffice. If it looks like rain is on the horizon, don't forget a poncho and/or small umbrella as there isn't much coverage from the elements once you're there.
Regardless of weather, it's a safe bet to bring sunscreen, sunglasses, a hat and some bug spray as well. Other not-so-typical items to pack in your bag—which should be smaller than 12x12x20 inches—include earplugs for the big race, binoculars and your phone camera to capture those Ferraris at full-speed.
Depending on your seats, don't forget a folding chair, and to pack a sealed plastic water bottle if you can—it's the only type of food or drink that's permitted on the property.
Keep all tents/canopies, coolers and large umbrellas at home. Check out more on what not to bring here.
Make sure you've got your tickets and you're all set!
Parking
trying to get from your parking spot to your seat 15 minutes before the race starts pic.twitter.com/2ly2DDcUVU

— Circuit of The Americas (@COTA) February 8, 2021
COTA's notorious parking can be a doozy—F1 1 fan Kevin Andrew said he's spent two and a half hours in line for the venue's sprawling paved and grass lots.
If you're of the impatient sort, it may be smart to look for some early-bird treatment even before gates open at 7 a.m. Friday, 8 a.m. Saturday and 6:25 a.m. Sunday. Show up well before your first desired event starts, especially on Sunday.
Three-day tickets are already sold out (although you can find some from resellers), while one-day tickets start at $60. Click here to book a one-day ticket.
For those looking to beat the crowd and keep some change, shuttles will pick up from five locations around the city for $15 a day. An additional Park-N-Ride lot, Lot Q, will also allow guests to drop their cars off and take the shuttle to COTA. Click here for shuttle information.
Additional transportation amenities include a drop-off spot for limos, taxis and rideshare apps. Bicyclists will have access to showers in the GEICO Premium RV Lot.
Food, music and more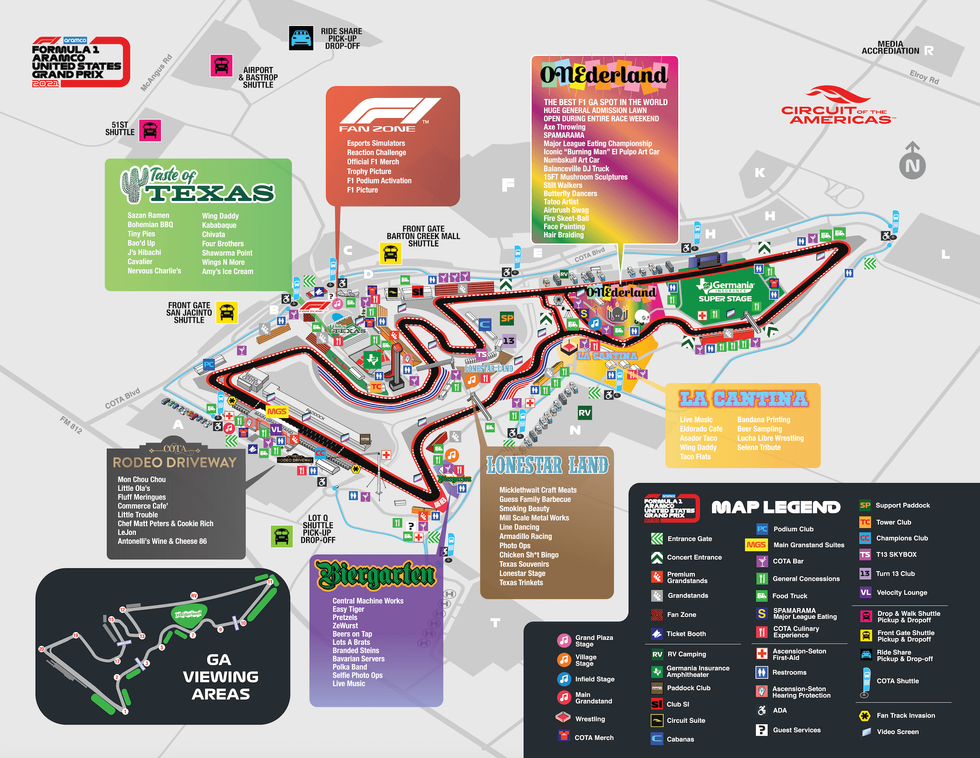 COTA will become a "World Fair"-esque fest full of local eats, live music and out-of-the-ordinary activities as part of the U.S. Grand Prix. (Circuit of the Americas)
Once you've entered those gates, the actual event will be a lot to take in. Anywhere from 300-350K people are expected to attend the big race, and fans are more excited than ever after nearly two years with no F1 in North America.
But just as fun as the big race—at least for more casual viewers—are the many attractions leading up to it.
Some highlights include performances from Twenty One Pilots and Billy Joel on Friday and Saturday, respectively, two races for the all-women's racing championship W Series and junior championship FIA Formula 4, NASCAR demos and a driver's parade on Sunday just before the race.

This is also a chance for Austin to entertain guests from far and wide—like a "World's Fair," as Andrews put it—and COTA will ensure that Austin remains on the map.
The "Live Music Capital of the World" will earn its rep with over 20 concerts across multiple stages on Saturday and Sunday. Highlights include Kool and the Gang and 15 Austin ensembles including The Ghost Wolves, Mobley and three-time Best of Austin winner DJ Chorizo Funk.
That Austin flair is well-represented in cuisine as well—expect over 30 dining options including local favorites Bao'd Up, Easy Tiger, Amy's Ice Cream and Tiny Pies scattered across the grounds. Check out the Taste of Texas section for local eats, the Biergarten for Bavarian beer, food and polka dancing, Lone Star Land for Austin's classic Chicken Shit Bingo and line dancing, and La Cantina for some Tex-Mex and a Selena tribute.
Still not satisfied? COTA's Onederland claims to host the best F1 General Admission lawn in the world and is packed with more than just amusement park rides. Expect the annual SPAMARAMA (yes, a Spam-themed festival,) axe throwing, the Major League Eating Championship and plenty of performers on stilts. Don't forget to ink a COTA-themed tattoo with an on-site tattoo artist as well.
Formula 1—a breakdown
Hamilton and Perez served up a treat with this mini battle 🍿#TurkishGP 🇹🇷 #F1 pic.twitter.com/jOTcurRWue

— Formula 1 (@F1) October 10, 2021
New to Formula 1? You're not alone—the sport has exploded in popularity in North America after gaining recognition from Netflix series "Drive To Survive." With a new track set to open in Miami, that growth will only continue.
Here's what you need to know to get caught up:
Formula 1 vehicles are arguably the fastest road-racing cars in the world. The open-wheeled single-seaters can reach top speeds around 215 miles per hour and all adhere to a "formula" set by the Fédération Internationale de l'Automobile.
Formula 1 is the top formula racing league in the world and consists of 20 drivers across 10 teams who compete in venues across North and South America, Central Asia and its native continent, Europe. F1 has existed in some form for over 70 years and features races on closed city streets as well as purpose-built racetracks like COTA.
The league is massively popular in Europe but has seen intermittent success in North America. The U.S. Grand Prix was first held in 1908 and flip-flopped across 10 different locales for 49 appearances over the next century, last spending seven years in Indianapolis from 2000-2007 before making a home in Austin in 2012.
This U.S. Grand Prix will be its 50th race and will be the 17th race of the season.
The Big Race—Hamilton v. Verstappen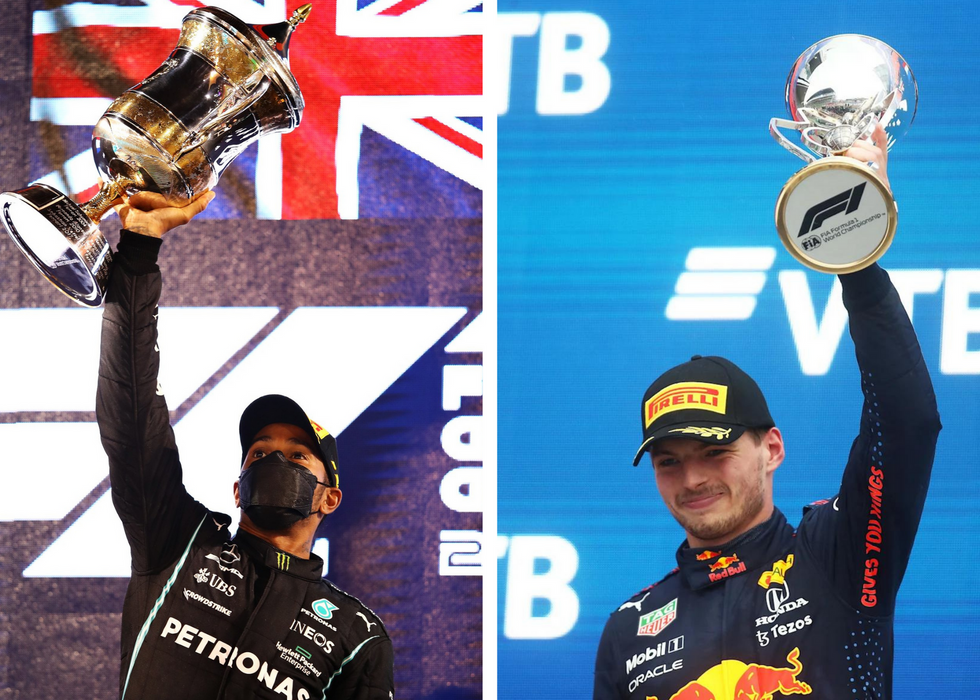 Defending champion Lewis Hamilton is in for some stiff competition from a young Max Verstappen as they fight for the F1 Championship. (Mercedes-AFG Petronas F1 Team/Twitter) (Red Bull Racing/Twitter)
The league's 20 drivers have crisscrossed across the map through the season, adapting to locales across four continents with vastly different terrains. But one factor has remained constant—standouts Lewis Hamilton and Max Verstappen have rarely left the leaderboard.
Just six points differentiate the two-star drivers with over a dozen races in—a margin low enough that the true winner may not be evident until the very end. With 262.5 points, Dutchman Verstappen holds the slight lead over Great Britain's Hamilton and both have over 1.5X the points of the next runner-up, Hamilton's teammate Valtteri Bottas.
Hamilton and Bottas make up Team Mercedes, the No.1 team in the league, while Verstappen and fifth-place Sergio Perez constitute second-place team Red Bull Racing Honda.
The evenly matched team, evenly-matched cars and neck-and-neck standings have brought forth a fan-fueled rivalry that F1 hasn't seen for quite some time.
This U.S. Grand Prix, much like the rest of the season, will be a testament of old vs. new. A 36-year-old Hamilton has taken home seven F1 championships, including a four-year dominance in the sport from 2017-2020, and has won on U.S. turf at COTA five times. Meanwhile, the 24-year-old Verstappen was once the youngest F1 driver and youngest Grand Prix race winner ever and has since finished third for two consecutive years.
The heated rivalry has culminated in three dangerous crashes throughout the season, including one at the Italian Grand Prix Sept. 13. Grand Prix Drivers' Association chairman Alex Wurz said it is "very likely" that they will again.
That next crash site may or may not be at COTA, but the U.S. Grand Prix will still see the two titans clash once more as the season nears its end. Expect either or both to end at the top of the leaderboard, and make sure to bring up either name to a committed fan if you're looking for some sideline banter.
Other racers to look out for include Bottas as a likely third-place contender and some mid-race fun from Perez and fourth-place rival Lando Norris.
For a full weekend schedule click here. Happy COTA days!
No matter how long you've been in Austin, Samuel Grey Horse has probably been here longer than you and the spirit of his indigenous ancestors walked the land far before anyone living did. Born and raised in the capital city in 1961, the city has grown and changed all around him.
You've probably seen or heard of Grey Horse before—he's been called the "Sixth Street Cowboy" due to his penchant for riding his horses through the city streets, dressing up as Santa Claus during the holidays and making national news back in 2011 when he received a DUI while riding his mule down Sixth Street.
"I remember when I could see the capital from anywhere," Grey Horse told Austonia during a visit to his East Austin ranch. "I never thought or imagined that I would see Austin like this."
Now, living with his three horses, mule and dogs in East Austin on "the road that time forgot," Grey Horse lives the "Native" lifestyle; he cares for his horses, tends to his garden, holds sacred prayer ceremonies, writes music, sings with legendary musicians and occasionally films with Richard Linklater, director of "Dazed and Confused."
Just as Austin changed over the years, so too did Grey Horse. On June 26, 2010, he was in an accident that he credits for changing his life. While riding a racing horse, Grey Horse's saddle came loose and dragged him underneath for 150 yards. By the time they had stopped, Grey Horse had 12 broken ribs, collapsed lungs, a broken neck, broken clavicle, cracked skull, broken wrist and went into a coma.
"I had all the things done to me but that's how the universe teaches you," Grey Horse said. "They said I would never ride a horse again or walk correctly, but no, I don't live in that world, because where I went to with my coma. I was living in another world, in the other world's illusion."
His road to recovery was long, arduous, miraculous and aided by his horses: Big Tex, Big Red and mule Mula, who have all been in his care for well over a decade. Grey Horse said they took care of his "energy" when he needed them most. Despite the pain that ensued from horses, his accident drew the cross-species family together.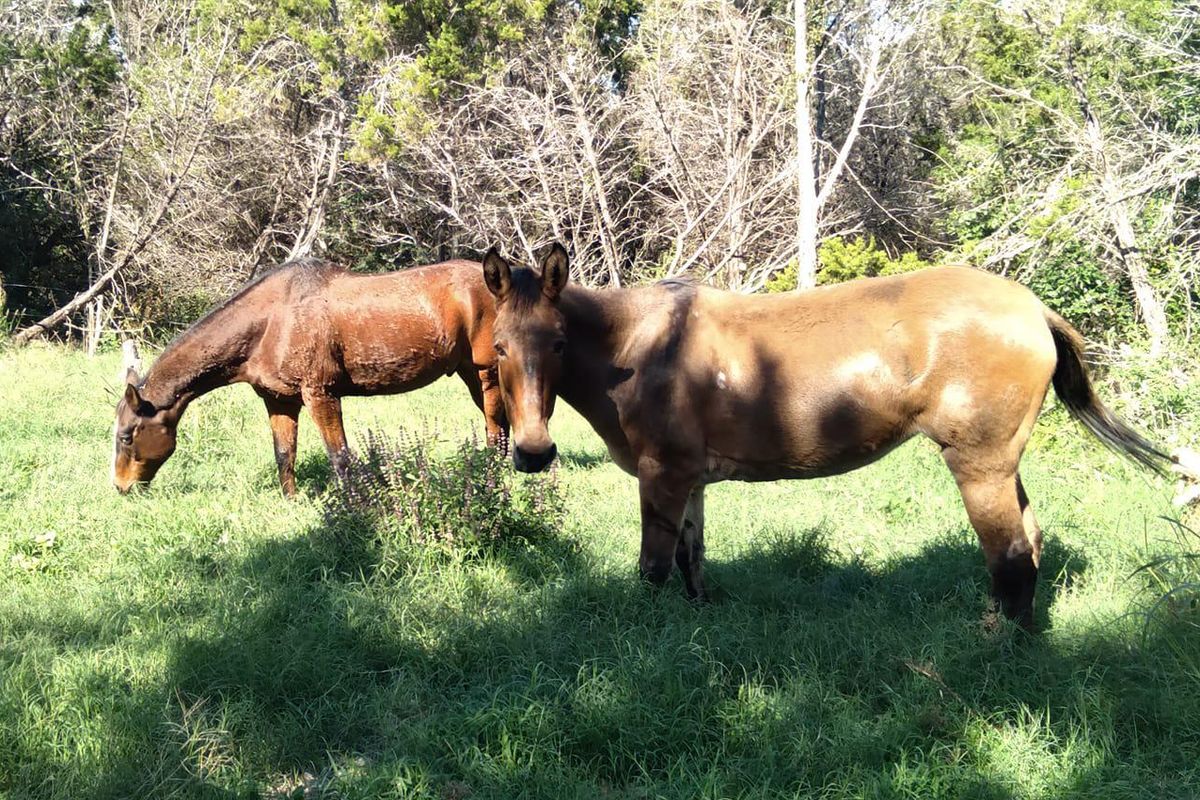 Big Red and Mula have been living with Grey Horse for 16 and 14 years, respectively. (Sam Grey Horse/Instagram)
"I ride them around town and share them with everybody because everything has a purpose," Grey Horse said. "You don't throw something away just because it's a little beat up. I was all beat up."
The winters are still painful for his joints but he powers through so he can bring joy to the people of Downtown Austin in his Santa Claus costume every year.

"I can't hurt because I'm Santa Claus, and I got to be Santa for the kids and everybody. I give them inspiration and energy, I make millions happy downtown," Grey Horse said. "I sing often with a cordless mic, my horses dance and they're happy. If I can make one person happy that makes a difference."
Though it was never his intention, a career in music found Grey Horse and it felt right due to his mother telling him as a child he would be a singer one day. Grey Horse recently returned from his tour with The Greyhounds and Sir Woman across Texas, Arkansas and Oklahoma.
(Laura Figi/Austonia)
His original song, "Crow Dog," is a tribute to his life and the people who have passed along their loving energy in it.

Show biz can't get enough of Grey Horse, who also models for Patagonia and Levi's; he taught Joe Jonas how to ride a horse for a video shoot. He is now working with a British filmmaker on a documentary, and was featured on episode 10 of Linklater's "That Animal Rescue Show."
"I sing with Grammy winners, which is very special to me, and I write songs about my life. Very magical stuff," Grey Horse said. "(The tour) was one of the best runs we've done for now—people are out and want to get out and the energy the guys bring is amazing."

You're certain to see Grey Horse around town if you spend some time near The Continental Club on South Congress or the Texas Capitol into the night. Until then, tok sha.
"There are no words for goodbye in my language, it's 'tok sha,'" Grey Horse said. "It means I'll see you again. I'll see you soon. I'll see you in the next life."
For women who feel threatened while they're out, an app that lets users easily call for help is now available in Austin.
Launching in the capital city on Tuesday, SafeUP, works by training users over the age of 18 who are known as "guardians" on how to respond in times of crisis. Those who are placing a call for help are connected to guardians less than half a mile away who, depending on the situation, can chat on the phone or physically go to the user and escort them.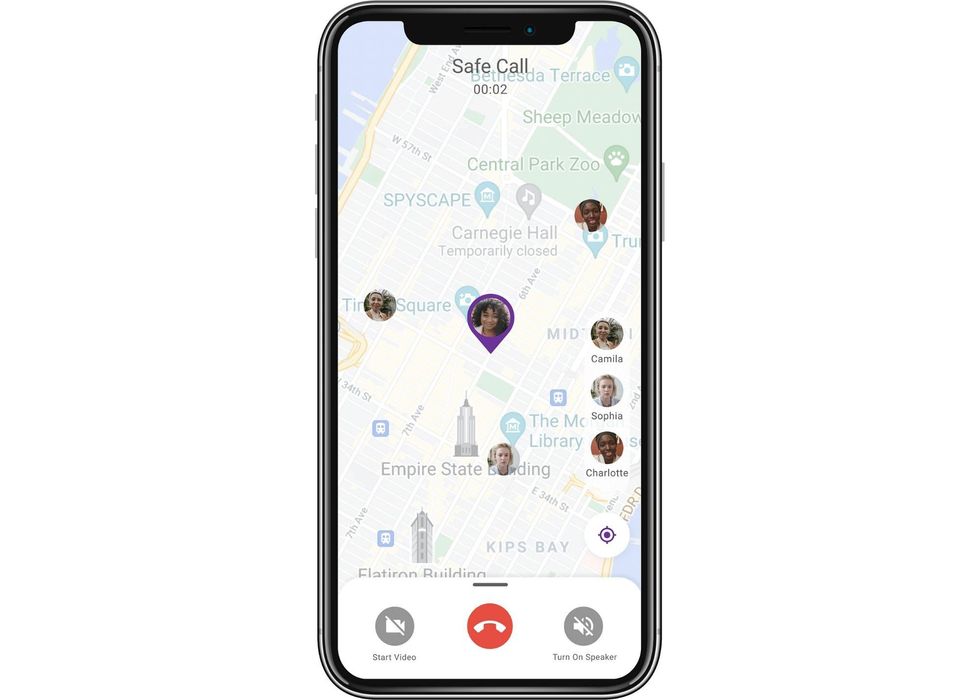 SafeUP allows women to contact others who can help them when in danger. (SafeUP)
First launched in Israel, the app was co-founded by Neta Schreiber, who became interested in safety tools after her friend went missing at a house party about a decade ago.
"My friend and I searched for her in a panic, and, as we headed upstairs, we heard her voice amidst a group of men's voices," Schreiber has stated. "We went into one of the rooms and there they were—the men and our friend, half-naked, fighting them."
The assailants fled once the friends stepped in. "We managed to get there just in time," Schreiber said. "Luck and women saved my friend that night."

Schreiber told Reuters that during the testing phase of SafeUP, two guardians stepping in was enough to have people leave a woman alone.
Earlier this month, SafeUP became active in other major cities including Boston, San Francisco, Miami and New York City. There are more than 70,000 members in the global network with approximately 200 guardians in Austin so far.
Mira Marcus, a spokesperson for SafeUP, told Austonia most users are millennials and younger, and a lot of college students use the app, which made an Austin launch especially fitting. The company also has a partnership with Lime so that guardians can take free rides to reach a person.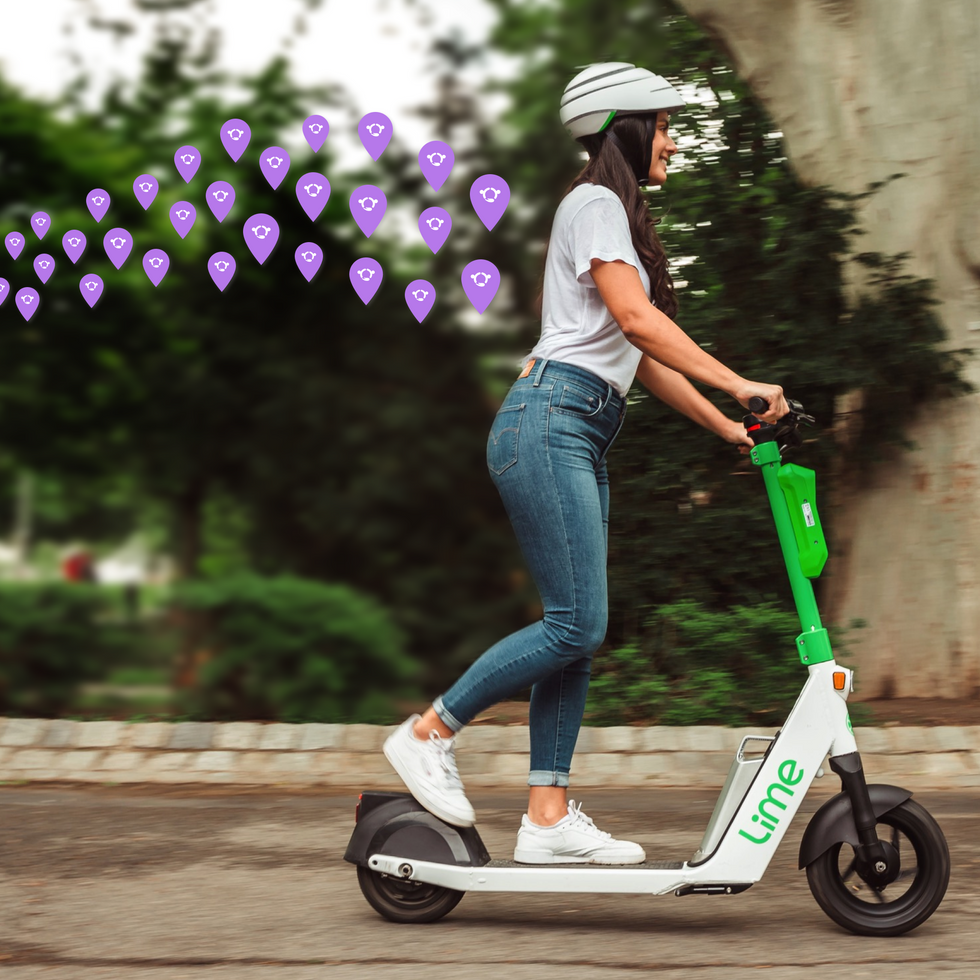 SafeUP's partnership with Lime allows users to take free rides to a person calling for help. (SafeUP)
"You could always call the police, but they won't necessarily be there within a matter of a minute or two. You could always speed dial your mom or girlfriend, but they won't always be available to answer," Marcus said. "The idea behind SafeUP is no matter where you are and what time, you can always turn on the app and see on the map the guardians around you."
The app also allows users to call the police if the guardian finds the situation requires their backup. With that function, the app uses the phone's camera and microphone to record evidence.
In a somewhat similar fashion, the Austin Police Department discussed possibly issuing a civilians unit to assist with non-emergency crimes over the summer. The discussion came as the department announced it would not respond to 911 calls where there was not a present danger due to a staffing shortage.
Some have turned to personal safety tech as public safety in Austin continues to be a hot topic with a record-breaking number of homicides in the city.
SafeUP joins other tech like the Citizen app and Ring cameras that track crime and include tools for reporting to the police. Some scholars and activists have criticized this tech for potential racial and gender bias, as well as expansion of surveillance. Biometric data is also taken in before users have full access to the SafeUP app so they can be verified as female, though facial recognition systems have a tendency to vary in accuracy.
It's the most (philanthropic) time of the year, and the Michael & Susan Dell Foundation added to Central Texas' $100 million Giving Tuesday donations by promising a $38 million commitment towards combatting homelessness in Austin.
The Round Rock-based foundation, headed by tech giant Dell CEO Michael Dell, will donate the lump sum to three local nonprofits: Multiplying Goodness, Foundation Communities and LifeWorks.
Almost all of the funds—$36.6 million—are headed to Multiplying Goodness, which is a capital campaign to grow the Community First! Village in Austin, a neighborhood that offers permanent housing for the homeless. The 51-acre housing development has already rented out tiny homes to 220 formerly homeless residents and has plans to add 1,400 more units with the Multiplying Goodness program headed by Mobile Loaves and Fishes.
Dubbed a "hand up, not hand out" program by Mobile Loaves CEO and Founder Alan Graham, the neighborhood also helps residents with services and resources as they leave homelessness behind.
The Dell foundation is asking the public to match their donation as the "most talked about neighborhood in Austin" looks to reach its $150 million goal. Expansion of the Community First! Village is expected to break ground in 2022.
"As Austin grows, it's more important than ever that we care for those most vulnerable in our communities," Dell Foundation's co-founder Susan Dell said in a press release. "By coming together as a community, we can provide those experiencing homelessness in Central Texas with the dignity they deserve through stable housing and the opportunity to experience community again. We are honored to partner with Mobile Loaves & Fishes, Foundation Communities and LifeWorks—along with the broader Central Texas community through our community match—to accelerate the difference these organizations are already making on the ground each day."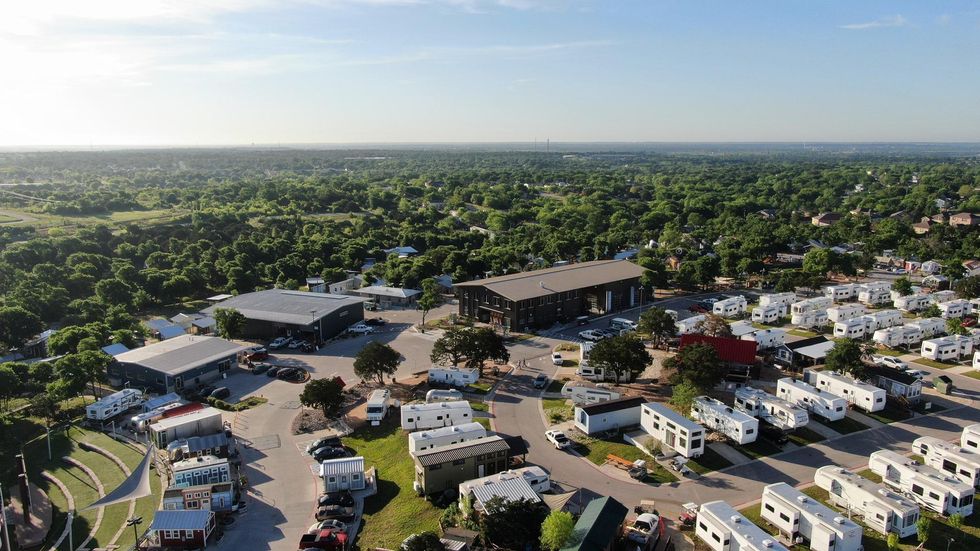 Community First! Village, a 51-acre housing development, currently houses over 200 formerly homeless people. (Community First! Village/Facebook)
The Michael & Susan Dell Foundation also announced a $1 million donation to Foundation Communities as they construct 100 units on the Burleson property at Community First! Village. LifeWorks Austin, a nonprofit aiming to end youth homelessness, will also receive $400,000 as it looks to provide permanent housing for local youth experiencing homelessness.
All three donations will funnel to the greater cause of ending homelessness in Austin, a hot topic in local politics in recent years. Around 3,000 Austinites are currently experiencing homelessness, with nearly 50% described as "chronically homeless." That's 25% above the national average.
Giving Tuesday has seen more than just the Dells digging into their pockets: known as a "global generosity movement unleashing the power of people and organizations to transform their communities and the world," the Tuesday after Thanksgiving has ushered in donations from corporations and private individuals around the world, including $100 million coming to Central Texas nonprofit I Live Here I Give Here.
The nonprofit has become the front for Central Texas' Giving Tuesday campaign. In 2020, Austin businesses, individuals and nonprofits contributed over 20 million acts of generosity during the holiday.
This year, Home Depot surprised small Austin nonprofit Green Doors with a $30,000 donation as they work to combat homelessness.
AppSumo, a leading digital marketplace for entrepreneurs, announced that it will match donations to Future Front Texas, PeopleFund and Swan Impact Network—all Central Texas nonprofits looking to benefit the area's small business owners—from Giving Tuesday through Friday at 5 p.m.
Local philanthropy group Impact Austin awarded $226,200 in grants to four Austin nonprofit organizations on Tuesday as part of their fall giving cycle, while Austin influencer Laura Lux agreed to match any donation under $1,000 given to Austin Pets Alive! on Giving Tuesday.