Get connected with our daily update
Just weeks after music fest Austin City Limits, Austin will be host to another global event as the Circuit of the Americas hosts Formula 1's United States Grand Prix race for the first time since the onset of the pandemic.
---
The weekend-long fest will have events stretching from Friday, Oct. 22 through Sunday, Oct. 24 for the United States' premier Formula 1 race.
With three days of races, parades and more, it can be hard to know what to expect for an event that COTA chairman Bobby Epstein said would be "the biggest event on the planet this year."
Don't miss a beat: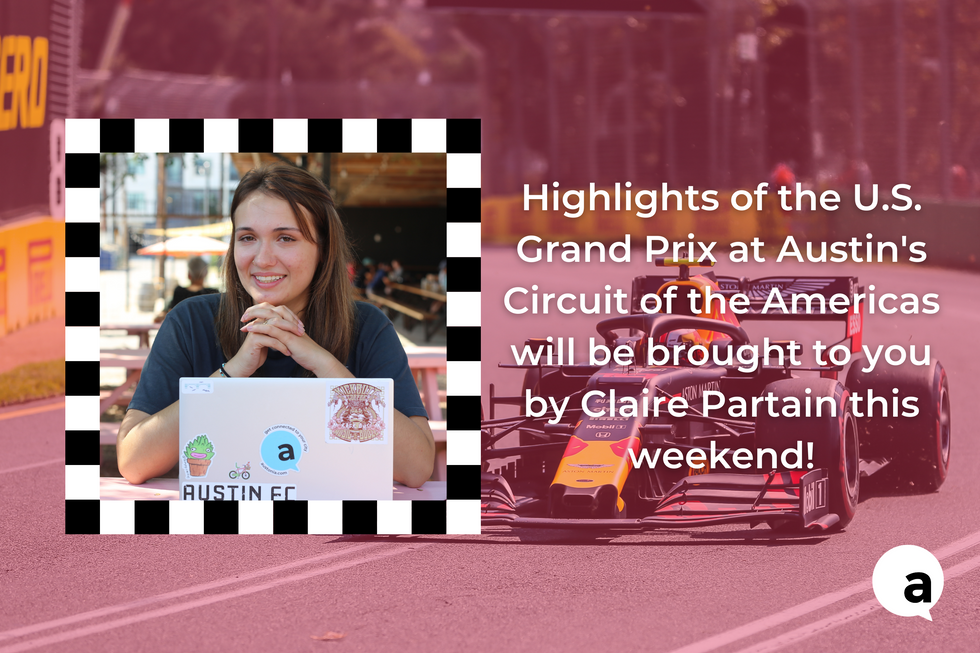 But have no fear. Here's Austonia's complete guide to make sure your trip to the U.S. Grand Prix is out of this world:
What to bring
This is why you shouldn't have a hot mic in COTA Twitter HQ. #USGP pic.twitter.com/9PhcKAVJEe

— Circuit of The Americas (@COTA) October 25, 2018
While some may have bought tickets just for the big race, others are planning for a three-day fest of constant outdoor activity. For the foreigners and out-of-towners, October weather in Austin may not be quite what you expect—many joke that a Texas "fall" is near-nonexistent. Check the weather often to see what's in store.
Our prediction is that shorts or flowy pants/skirts, a short-sleeve shirt and a light jacket may suffice. If it looks like rain is on the horizon, don't forget a poncho and/or small umbrella as there isn't much coverage from the elements once you're there.
Regardless of weather, it's a safe bet to bring sunscreen, sunglasses, a hat and some bug spray as well. Other not-so-typical items to pack in your bag—which should be smaller than 12x12x20 inches—include earplugs for the big race, binoculars and your phone camera to capture those Ferraris at full-speed.
Depending on your seats, don't forget a folding chair, and to pack a sealed plastic water bottle if you can—it's the only type of food or drink that's permitted on the property.
Keep all tents/canopies, coolers and large umbrellas at home. Check out more on what not to bring here.
Make sure you've got your tickets and you're all set!
Parking
trying to get from your parking spot to your seat 15 minutes before the race starts pic.twitter.com/2ly2DDcUVU

— Circuit of The Americas (@COTA) February 8, 2021
COTA's notorious parking can be a doozy—F1 1 fan Kevin Andrew said he's spent two and a half hours in line for the venue's sprawling paved and grass lots.
If you're of the impatient sort, it may be smart to look for some early-bird treatment even before gates open at 7 a.m. Friday, 8 a.m. Saturday and 6:25 a.m. Sunday. Show up well before your first desired event starts, especially on Sunday.
Three-day tickets are already sold out (although you can find some from resellers), while one-day tickets start at $60. Click here to book a one-day ticket.
For those looking to beat the crowd and keep some change, shuttles will pick up from five locations around the city for $15 a day. An additional Park-N-Ride lot, Lot Q, will also allow guests to drop their cars off and take the shuttle to COTA. Click here for shuttle information.
Additional transportation amenities include a drop-off spot for limos, taxis and rideshare apps. Bicyclists will have access to showers in the GEICO Premium RV Lot.
Food, music and more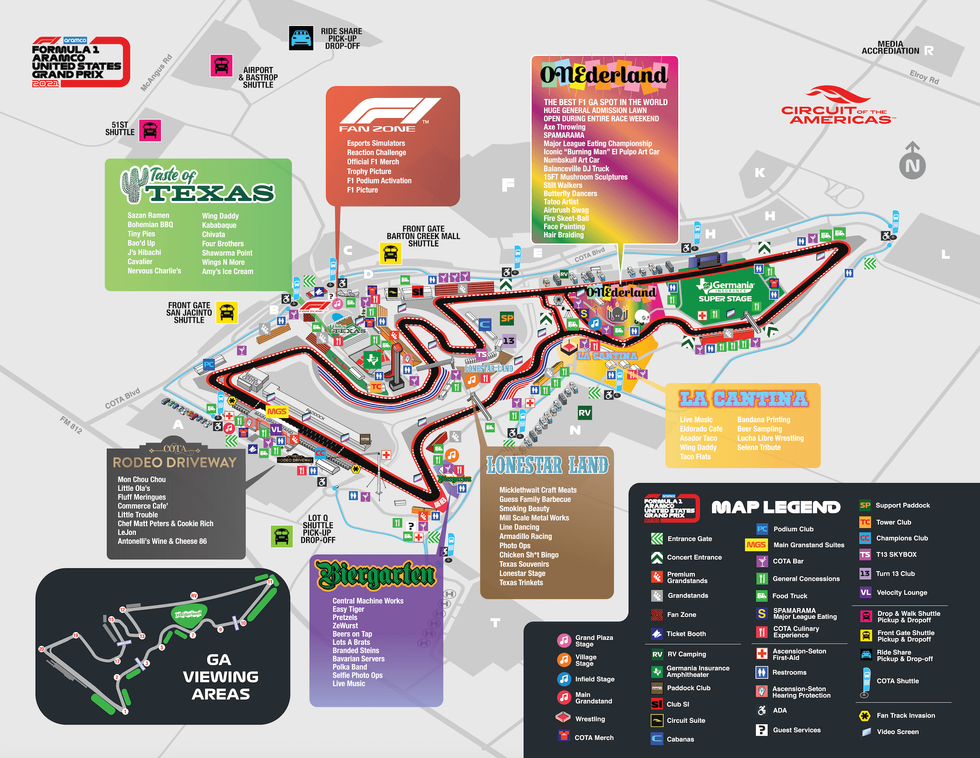 COTA will become a "World Fair"-esque fest full of local eats, live music and out-of-the-ordinary activities as part of the U.S. Grand Prix. (Circuit of the Americas)
Once you've entered those gates, the actual event will be a lot to take in. Anywhere from 300-350K people are expected to attend the big race, and fans are more excited than ever after nearly two years with no F1 in North America.
But just as fun as the big race—at least for more casual viewers—are the many attractions leading up to it.
Some highlights include performances from Twenty One Pilots and Billy Joel on Friday and Saturday, respectively, two races for the all-women's racing championship W Series and junior championship FIA Formula 4, NASCAR demos and a driver's parade on Sunday just before the race.

This is also a chance for Austin to entertain guests from far and wide—like a "World's Fair," as Andrews put it—and COTA will ensure that Austin remains on the map.
The "Live Music Capital of the World" will earn its rep with over 20 concerts across multiple stages on Saturday and Sunday. Highlights include Kool and the Gang and 15 Austin ensembles including The Ghost Wolves, Mobley and three-time Best of Austin winner DJ Chorizo Funk.
That Austin flair is well-represented in cuisine as well—expect over 30 dining options including local favorites Bao'd Up, Easy Tiger, Amy's Ice Cream and Tiny Pies scattered across the grounds. Check out the Taste of Texas section for local eats, the Biergarten for Bavarian beer, food and polka dancing, Lone Star Land for Austin's classic Chicken Shit Bingo and line dancing, and La Cantina for some Tex-Mex and a Selena tribute.
Still not satisfied? COTA's Onederland claims to host the best F1 General Admission lawn in the world and is packed with more than just amusement park rides. Expect the annual SPAMARAMA (yes, a Spam-themed festival,) axe throwing, the Major League Eating Championship and plenty of performers on stilts. Don't forget to ink a COTA-themed tattoo with an on-site tattoo artist as well.
Formula 1—a breakdown
Hamilton and Perez served up a treat with this mini battle 🍿#TurkishGP 🇹🇷 #F1 pic.twitter.com/jOTcurRWue

— Formula 1 (@F1) October 10, 2021
New to Formula 1? You're not alone—the sport has exploded in popularity in North America after gaining recognition from Netflix series "Drive To Survive." With a new track set to open in Miami, that growth will only continue.
Here's what you need to know to get caught up:
Formula 1 vehicles are arguably the fastest road-racing cars in the world. The open-wheeled single-seaters can reach top speeds around 215 miles per hour and all adhere to a "formula" set by the Fédération Internationale de l'Automobile.
Formula 1 is the top formula racing league in the world and consists of 20 drivers across 10 teams who compete in venues across North and South America, Central Asia and its native continent, Europe. F1 has existed in some form for over 70 years and features races on closed city streets as well as purpose-built racetracks like COTA.
The league is massively popular in Europe but has seen intermittent success in North America. The U.S. Grand Prix was first held in 1908 and flip-flopped across 10 different locales for 49 appearances over the next century, last spending seven years in Indianapolis from 2000-2007 before making a home in Austin in 2012.
This U.S. Grand Prix will be its 50th race and will be the 17th race of the season.
The Big Race—Hamilton v. Verstappen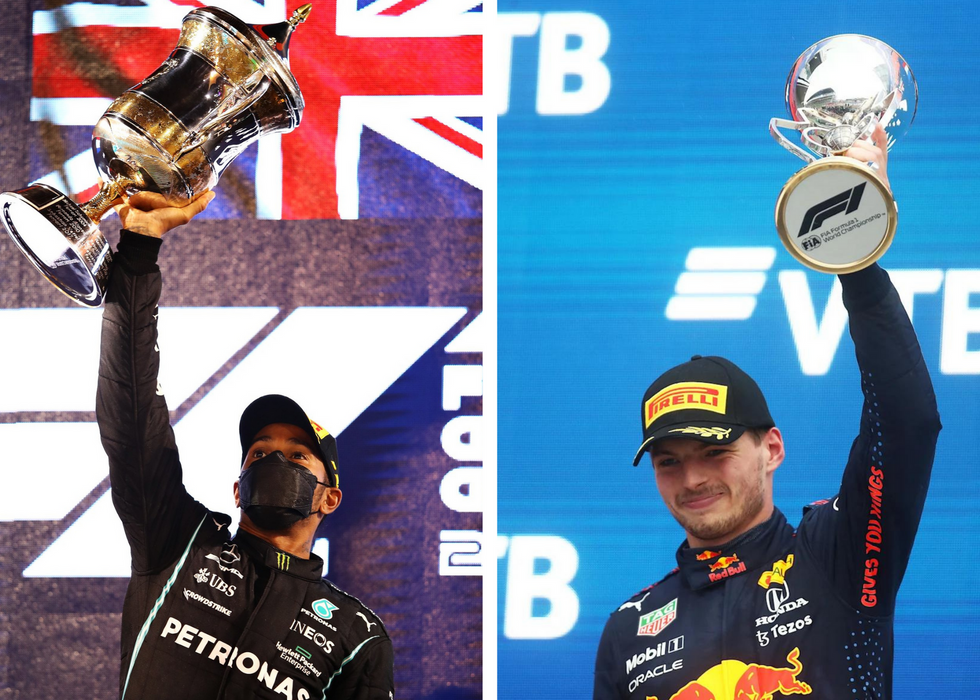 Defending champion Lewis Hamilton is in for some stiff competition from a young Max Verstappen as they fight for the F1 Championship. (Mercedes-AFG Petronas F1 Team/Twitter) (Red Bull Racing/Twitter)
The league's 20 drivers have crisscrossed across the map through the season, adapting to locales across four continents with vastly different terrains. But one factor has remained constant—standouts Lewis Hamilton and Max Verstappen have rarely left the leaderboard.
Just six points differentiate the two-star drivers with over a dozen races in—a margin low enough that the true winner may not be evident until the very end. With 262.5 points, Dutchman Verstappen holds the slight lead over Great Britain's Hamilton and both have over 1.5X the points of the next runner-up, Hamilton's teammate Valtteri Bottas.
Hamilton and Bottas make up Team Mercedes, the No.1 team in the league, while Verstappen and fifth-place Sergio Perez constitute second-place team Red Bull Racing Honda.
The evenly matched team, evenly-matched cars and neck-and-neck standings have brought forth a fan-fueled rivalry that F1 hasn't seen for quite some time.
This U.S. Grand Prix, much like the rest of the season, will be a testament of old vs. new. A 36-year-old Hamilton has taken home seven F1 championships, including a four-year dominance in the sport from 2017-2020, and has won on U.S. turf at COTA five times. Meanwhile, the 24-year-old Verstappen was once the youngest F1 driver and youngest Grand Prix race winner ever and has since finished third for two consecutive years.
The heated rivalry has culminated in three dangerous crashes throughout the season, including one at the Italian Grand Prix Sept. 13. Grand Prix Drivers' Association chairman Alex Wurz said it is "very likely" that they will again.
That next crash site may or may not be at COTA, but the U.S. Grand Prix will still see the two titans clash once more as the season nears its end. Expect either or both to end at the top of the leaderboard, and make sure to bring up either name to a committed fan if you're looking for some sideline banter.
Other racers to look out for include Bottas as a likely third-place contender and some mid-race fun from Perez and fourth-place rival Lando Norris.
For a full weekend schedule click here. Happy COTA days!
Tesla has officially moved its headquarters from Silicon Valley to its under-construction Gigafactory in southeast Travis County.
In October, CEO Elon Musk had announced plans to uproot the HQ from California during a company shareholder meeting. The company's filing with U.S. securities regulators on Wednesday locked down the move.
It's unclear whether the 10,000 employees in Palo Alto will be required to move. An analyst told the Associated Press that while many may be given the option of staying, up to 50% could make the move with some motivated by a lower cost of living in Austin.
"It's tough for people to afford houses, and people have to come in from far away… there's a limit to how big you can scale in the Bay Area," Musk had previously said. Regardless of the HQ move, the company plans to increase production at its California plant.
The HQ swap is the latest development on Giga Texas, the approximately 1,700-acre factory that Tesla received at least $14.7 million in tax breaks for. The factory is on track to start production of its Model Y vehicles by year's end.
Musk has hinted at making the move for some time. Last year, while California health officials were concerned with the spread of COVID-19, Tesla's push to reopen the factory in Fremont set off a spat. During an earnings call in April 2020, he'd described the state's health orders as "fascist." Recently, Musk relocated his own residence from Los Angeles to Texas, bringing almost each one of his companies along with him, including the Boring Company, Neuralink and his foundation.
At the cutting edge of tech, music and business are many successful leaders who not too long ago weren't old enough to drive or vote.
These wunderkinds were honored in Forbes' prestigious "30 under 30" lists, which highlights hundreds of top young entrepreneurs in categories from social media to science, in the 2022 rendition of the list on Wednesday. Some of the Class of '22 were as young as 14, while the average honoree was around 28 years old. Ten of these burgeoning business moguls were from Austin, which has seen such distinguished 30 under 30 alumni as former UT basketball player Kevin Durant get top spots on the 10-year-old list.
Here's a look at the 10 Austinites who made the cut:
Downtown may be recovering from the pandemic but the priorities residents want in their city center are changing, according to the City Pulse Survey done by design firm Gensler.
After studying 7,500 people in 15 global markets, including Austin, Gensler found that life in COVID has pushed city-dwellers to want more outdoor activities, social spaces and entertainment venues in bustling business districts.
Post-pandemic, the highest-rated downtown activities were shopping, visiting parks and just "hanging out." The need for more public spaces like parks jumped from sixth on the list to second this year.
Although globally people view downtown as a business district for task-based activities, across the U.S., downtown districts are viewed more as a vehicle for entertainment. This is especially true for Austinites, where people surveyed said they would rather see more entertainment and cultural venues than shopping or public transit downtown.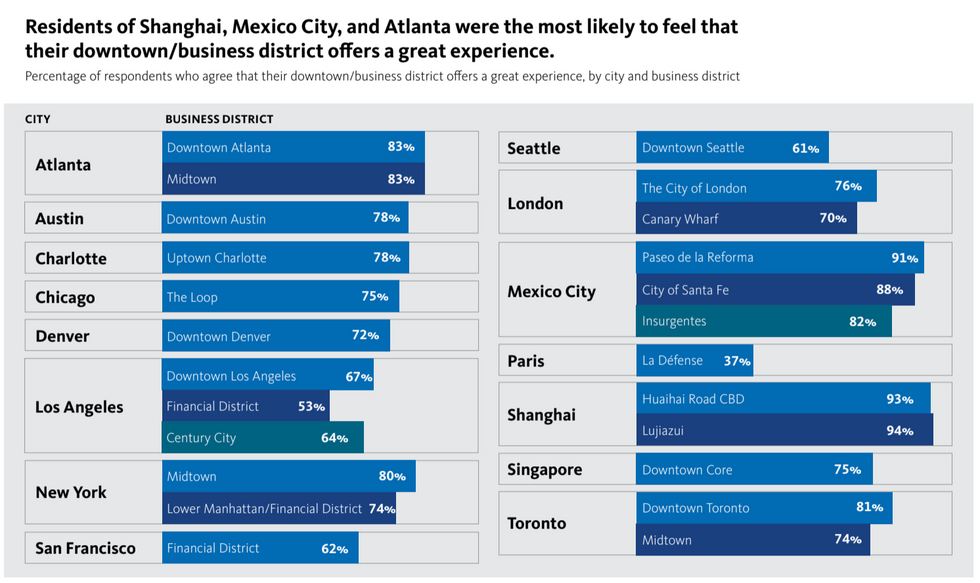 (Gensler)
For Melanie Gartman, a manager at construction software company Levelset who has been living in Austin for most of her life, the needs and wants of the average resident closely align with her own.
Austin clocked in second-most desirable downtown, tied with Charlotte, North Carolina. Like the 78% of Austinites in the survey, Gartman said she thinks Downtown Austin is hanging on to its lovable charm.
"Even now with fewer people out and about it's still very vibrant and lively. I feel like I saw life come back to downtown a lot sooner than I expected it to," Gartman said. "It's still holding on a bit that Austin vibe and with the high rises coming in, it's scary that we could lose that. I think it's holding on better than I would have expected, especially within the last two years of everything that happened."
As Austinites eased back into downtown, the first stop Gartman made was to go see music again. Since venues opened back up, Gartman and her loved ones have seen live music at their favorite venues: Moody Amphitheatre, Mohawk, The Parish and Empire Control Room.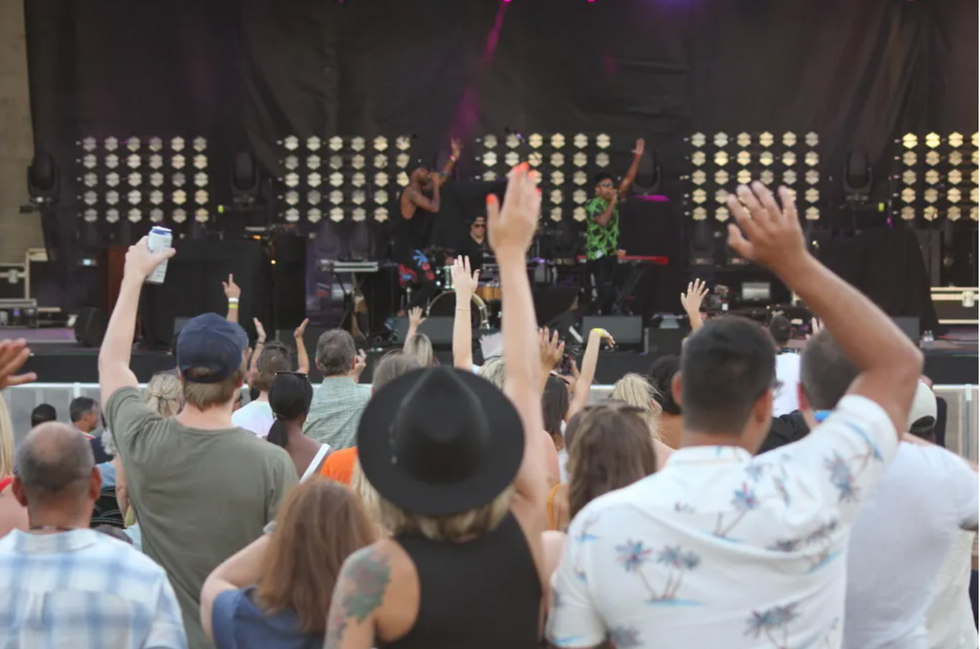 Blackillac opened for Gary Clark Jr. at the Moody Amphitheater's first show back in August. (Laura Figi/Austonia)
Entertainment is most important for Gartman's life in Austin—seeing Gary Clark Jr. in August brought normalcy back into her routine—and said our local downtown is the ideal out of other cities in Texas.
"I've always noticed that between Houston's downtown and Austin's, Houston's is so Monday to Friday, eight to five, maybe a post-work happy hour," Gartman said. "Growing up, downtown (Austin) was always the place to go. It has always been the hub and I think Austin is unique in that way."
Traffic in downtown areas is way down overall, even though concern over pandemic safety has taken a backseat. Shopping traffic has decreased by 28%, dining out and entertainment attendance dropped by 33% in the post-pandemic sphere.
Even though her office is located downtown, Gartman usually works from home. Her downtown visits tend to be for the purpose of entertainment and she said the lack of parking sometimes becomes problematic.
"I feel like all these high rises are taking over all the parking," Gartman said. "It used to be for go-to parking, I would just park under I-35. No big deal. But now, that's kind of scary, especially if you're by yourself. The party parking is a barrier to actually making it down there."
But with the rise of the hybrid work model, it's likely that the downtown sphere is going to change all across the U.S. For now, survey participants said they would like to see their downtown reduce traffic, add more green space, improve the cityscape and increase parking capacity as we shape the future of cities.