Get connected with our daily update
(Ghrista McWhirter)
After months of writing about Austin FC's $260 million Q2 Stadium, Austonia finally got a sneak peek of what the facility will look like in time for the June 19 home opener.
Austin FC writer Claire Partain, senior producer Sonia Garcia and photo journalist Christa McWhirter put on our hard hats, grabbed a camera, and learned about all the details-from mesh stadium seats to the pitch's premium grass species. We made pit stops on the field, in the stands and in the press box. View highlights of the visit on Instagram here.
Here are some things to take away before seeing it for yourself:
---
Overview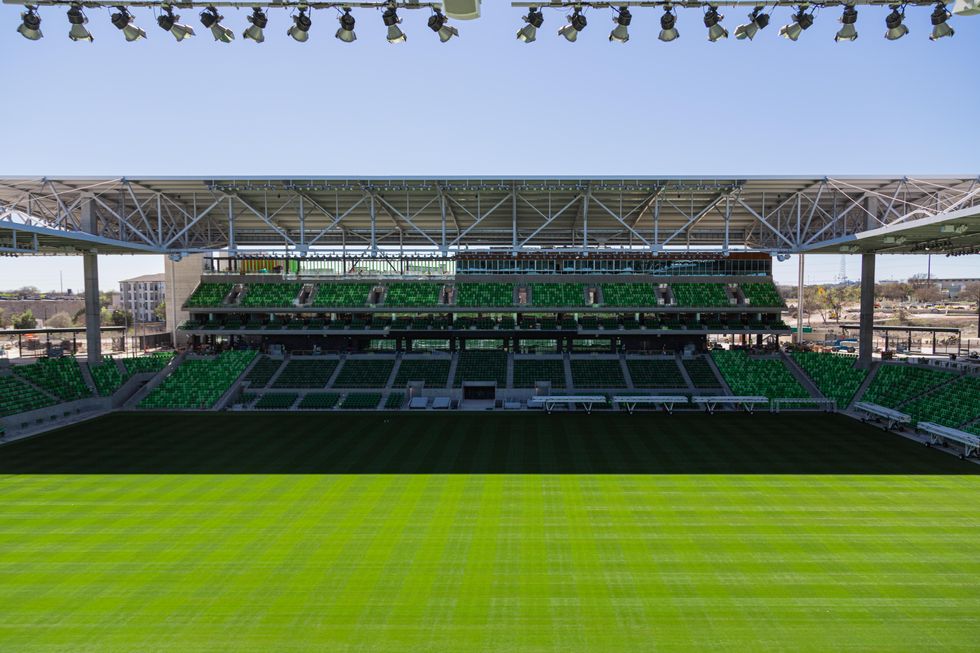 (Christa McWhirter)
When COVID rules are fully lifted, the Q2 Stadium can fill up to 20,500 people. Around 75% of seating will go to season ticket holders, while the rest will be allocated to regular-season single match ticket buyers.
Official COVID protocols have not been officially announced, but Austin FC President Andy Loughnane said that fans can expect a "large crowd" for the team's home opener. Stadium and team officials are going to continue to play it by ear as the pandemic continues to improve.
According to Loughnane, the stadium is on schedule to be completed—for the most part—by late March or early April. Some details, such as furniture and signage, may take a bit longer and will be filled in for the remainder of April and May, as well as some privately-run offsite traffic projects.
From the pitch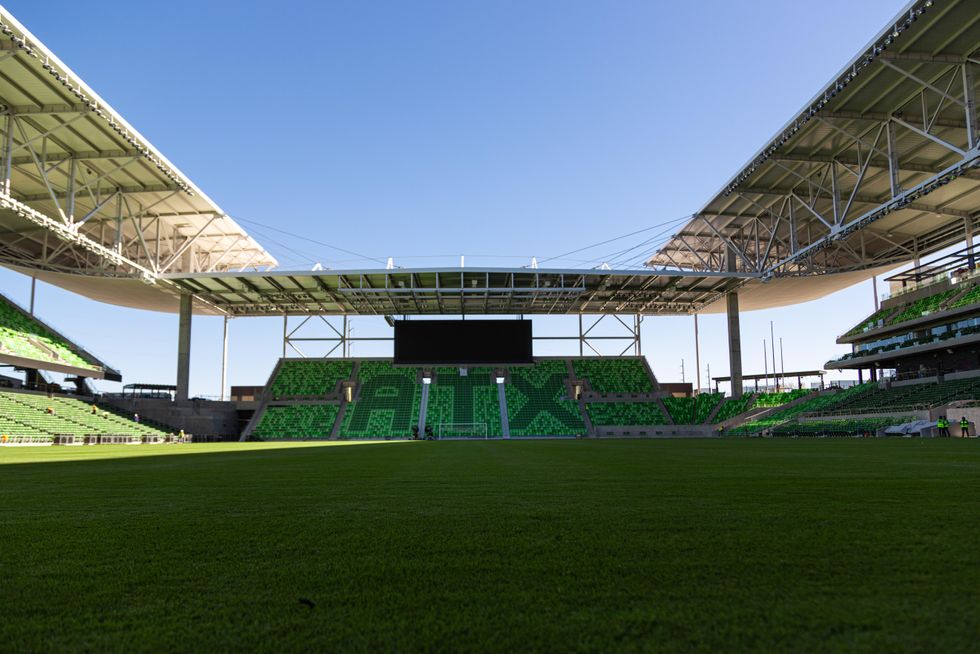 (Christa McWhirter)
A team with a signature Verde color needs to go hand-in-hand with a bright green field. That's where Platinum TE Seashore Paspalum comes in: the species of grass carefully selected and shipped in from Arizona to become Austin FC's first-ever pitch. The grass, which has been used by other shaded open-air stadiums such as the Houston Astros, can be cut short and is durable and reliable. It's the first time the species has been used on an MLS field, and the club has plenty of staff and technology to keep it green and pristine.
While the white stripes had been on the field previously, according to Senior Public Relations Manager Mauricio Villarreal, the 115-yard pitch was missing its lines once again when we paid a visit. The benches for the players, located on the west side of the stadium, were still being worked on and covered.
Amenities: what is and isn't ready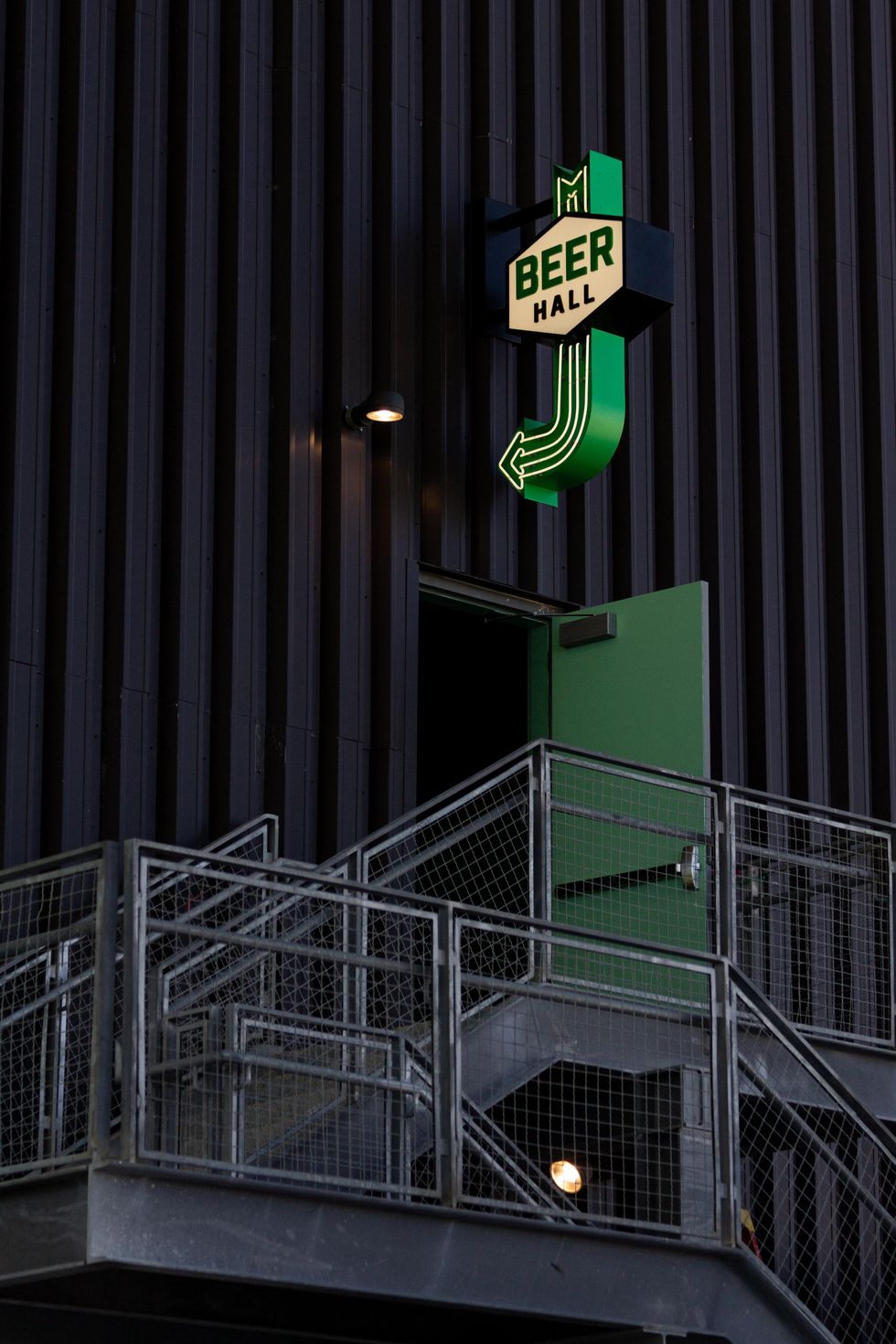 (Christa McWhirter)
While Austonia saw the field, the press box and part of the area's food and hospitality space, many features are still in progress.
Here's a list of things that are still in the works:
The beer hall won't be open to the public, but we know that the facility will have 18 taps, 20 TV screens and be able to hold up to 400 people.
The 5,000-square foot Verde Store, located underneath the beer hall on the north side, will be a one-stop shop for Verde merch and accessories. The store will be open even when matches aren't going on, with daily openings except for on major holidays. Another store, The ATXFC Shop, will be located on the other side of the stadium and will draw its inspiration from famous Austin record stores.
We got a peek at the luxury suites in the building but weren't able to enter. While much of the furniture and amenities that will take the suites to the next level were not yet in place, we were able to see some built in benches in the air-conditioned spaces.
The press box—more for us than for you—gives us a bird's eye view from the west side to make sure our coverage is as accurate as possible.
The H-E-B Plaza, located outside of the stadium's northeast corner, will be home to iconic Austin food trucks.
Austin FC's newest sponsor, Captain Morgan, will be the namesake for the east side's Captain Morgan Club, an entertainment and hospitality area.
Concerts and events at the live music capital​​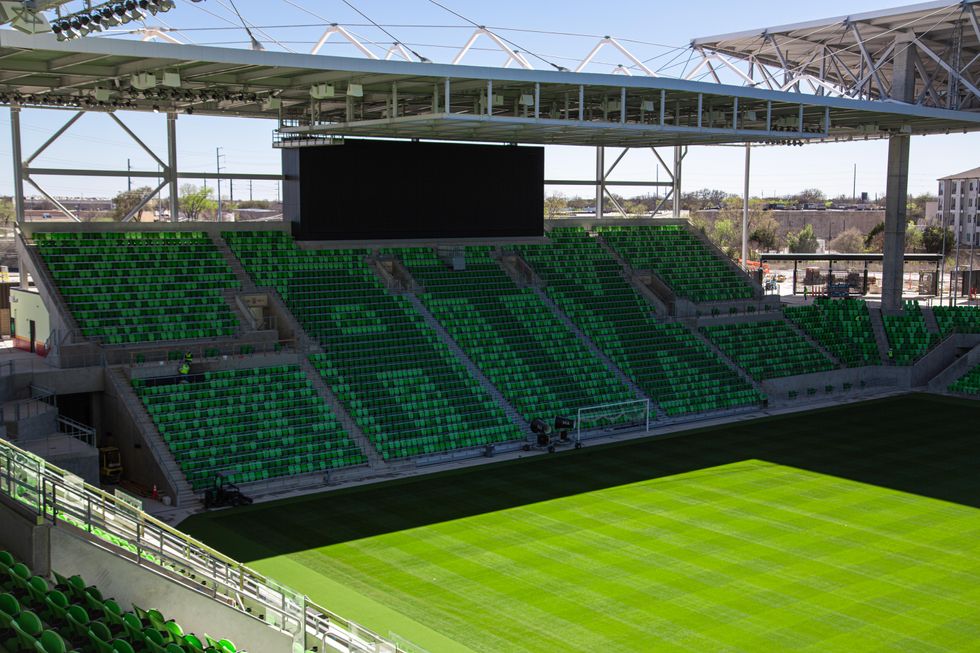 (Christa McWhirter)
With Austin being Austin, it's no surprise that the stadium will also double as a concert and events venue. Rumor has it that some events may even take place before the team's home opener, but no official announcements have been made.
The south side of the stadium's seats will also be a stage. The iconic "ATX" seats can actually be split in half and pushed away to give way to a massive concert and event facility.
The seats, which are designed for standing only, will be home to Austin FC fan clubs including Austin Anthem, Los Verdes and La Murga de Austin. The murga, or band, is inspired by fan bands for teams in many Latin American countries and will keep spirits alive in the stadium throughout the game. Although it hasn't been tested out yet, the stadium was designed to make sure fans in all corners of the stadium can hear La Murga's steady drumbeats and chants.
Keeping it cool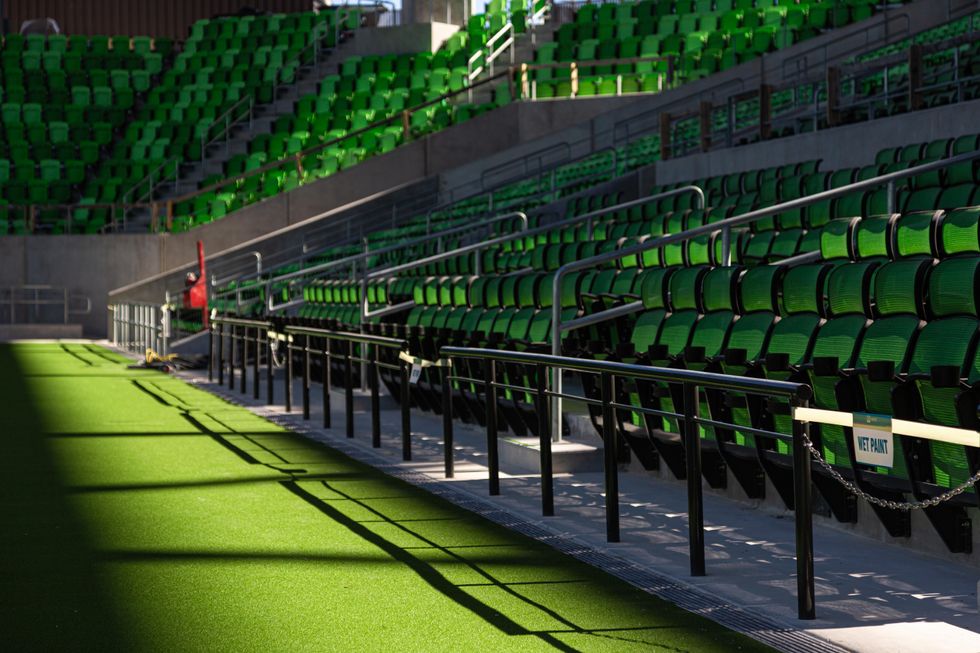 (Christa McWhirter)
Although the winter storm may have made us temporarily forget, a balmy Austin summer is ahead of us. Austin FC knows that keeping fans and players cool is a priority and have adjusted to the potentially oppressive Texas heat. The stadium has been built to bring wind in and keep a steady air flow throughout the stadium, and 6,000 total seats on the lower sections of the stadium are made of breathable mesh to minimize heat.
Air conditioned areas are located on the north and south sides of the stadium as well as suites on the west side.
Coming up
As construction wraps up for the city's newest stadium, fans may actually be able to see the facility for themselves before the June 19 home opener. On Monday, Loughnane said that the club is looking to open up public tours in the next few months.
Austin FC will face its first-ever opponent in Los Angeles against LAFC on April 17 before they make it home for the first time to play the San Jose Earthquakes on Saturday, June 19.
For daily updates on Austin FC, sign up for free messages from Austonia.
The Taylor Police Department is investigating an apparent murder-suicide that left four people dead on Tuesday.
Officers responded to a call at around 1 p.m. for a welfare check at 616 Symes St. in Taylor, Texas, where the Taylor Fire Department helped force entry into the home since it was locked, police said. Once inside, officers found four dead bodies. The names of the victims have not been released as police continue to contact relatives, but officers revealed they consisted of a 45-year-old woman, a 20-year-old woman, an 18-year-old man and a 57-year-old man.
Police believe the deaths to be a murder-suicide and are investigating with the help of the Williamson County Sheriff's Office and the Texas Rangers.
Later that day, another murder was reported in Taylor, which police say is unrelated.
Police responded to a shooting at 2100 Whistling Way around 4 p.m. Tuesday. They said a family member found 33-year-old Jonathan Hitch with a gunshot wound to his head. It is being investigated as a suspicious death.
No matter how long you've been in Austin, Samuel Grey Horse has probably been here longer than you and the spirit of his indigenous ancestors walked the land far before anyone living did. Born and raised in the capital city in 1961, the city has grown and changed all around him.
You've probably seen or heard of Grey Horse before—he's been called the "Sixth Street Cowboy" due to his penchant for riding his horses through the city streets, dressing up as Santa Claus during the holidays and making national news back in 2011 when he received a DUI while riding his mule down Sixth Street.
"I remember when I could see the capital from anywhere," Grey Horse told Austonia during a visit to his East Austin ranch. "I never thought or imagined that I would see Austin like this."
Now, living with his three horses, mule and dogs in East Austin on "the road that time forgot," Grey Horse lives the "Native" lifestyle; he cares for his horses, tends to his garden, holds sacred prayer ceremonies, writes music, sings with legendary musicians and occasionally films with Richard Linklater, director of "Dazed and Confused."
Just as Austin changed over the years, so too did Grey Horse. On June 26, 2010, he was in an accident that he credits for changing his life. While riding a racing horse, Grey Horse's saddle came loose and dragged him underneath for 150 yards. By the time they had stopped, Grey Horse had 12 broken ribs, collapsed lungs, a broken neck, broken clavicle, cracked skull, broken wrist and went into a coma.
"I had all the things done to me but that's how the universe teaches you," Grey Horse said. "They said I would never ride a horse again or walk correctly, but no, I don't live in that world, because where I went to with my coma. I was living in another world, in the other world's illusion."
His road to recovery was long, arduous, miraculous and aided by his horses: Big Tex, Big Red and mule Mula, who have all been in his care for well over a decade. Grey Horse said they took care of his "energy" when he needed them most. Despite the pain that ensued from horses, his accident drew the cross-species family together.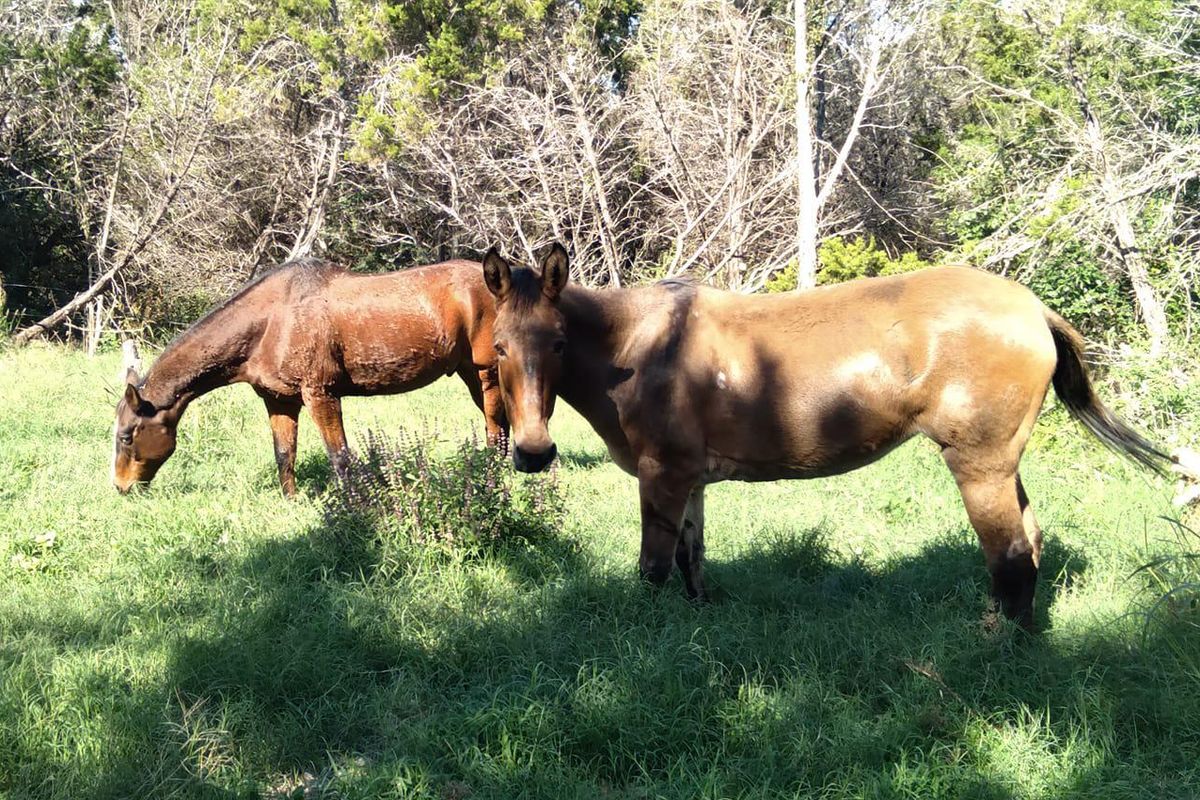 Big Red and Mula have been living with Grey Horse for 16 and 14 years, respectively. (Sam Grey Horse/Instagram)
"I ride them around town and share them with everybody because everything has a purpose," Grey Horse said. "You don't throw something away just because it's a little beat up. I was all beat up."
The winters are still painful for his joints but he powers through so he can bring joy to the people of Downtown Austin in his Santa Claus costume every year.

"I can't hurt because I'm Santa Claus, and I got to be Santa for the kids and everybody. I give them inspiration and energy, I make millions happy downtown," Grey Horse said. "I sing often with a cordless mic, my horses dance and they're happy. If I can make one person happy that makes a difference."
Though it was never his intention, a career in music found Grey Horse and it felt right due to his mother telling him as a child he would be a singer one day. Grey Horse recently returned from his tour with The Greyhounds and Sir Woman across Texas, Arkansas and Oklahoma.
(Laura Figi/Austonia)
His original song, "Crow Dog," is a tribute to his life and the people who have passed along their loving energy in it.

Show biz can't get enough of Grey Horse, who also models for Patagonia and Levi's; he taught Joe Jonas how to ride a horse for a video shoot. He is now working with a British filmmaker on a documentary, and was featured on episode 10 of Linklater's "That Animal Rescue Show."
"I sing with Grammy winners, which is very special to me, and I write songs about my life. Very magical stuff," Grey Horse said. "(The tour) was one of the best runs we've done for now—people are out and want to get out and the energy the guys bring is amazing."

You're certain to see Grey Horse around town if you spend some time near The Continental Club on South Congress or the Texas Capitol into the night. Until then, tok sha.
"There are no words for goodbye in my language, it's 'tok sha,'" Grey Horse said. "It means I'll see you again. I'll see you soon. I'll see you in the next life."
For women who feel threatened while they're out, an app that lets users easily call for help is now available in Austin.
Launching in the capital city on Tuesday, SafeUP, works by training users over the age of 18 who are known as "guardians" on how to respond in times of crisis. Those who are placing a call for help are connected to guardians less than half a mile away who, depending on the situation, can chat on the phone or physically go to the user and escort them.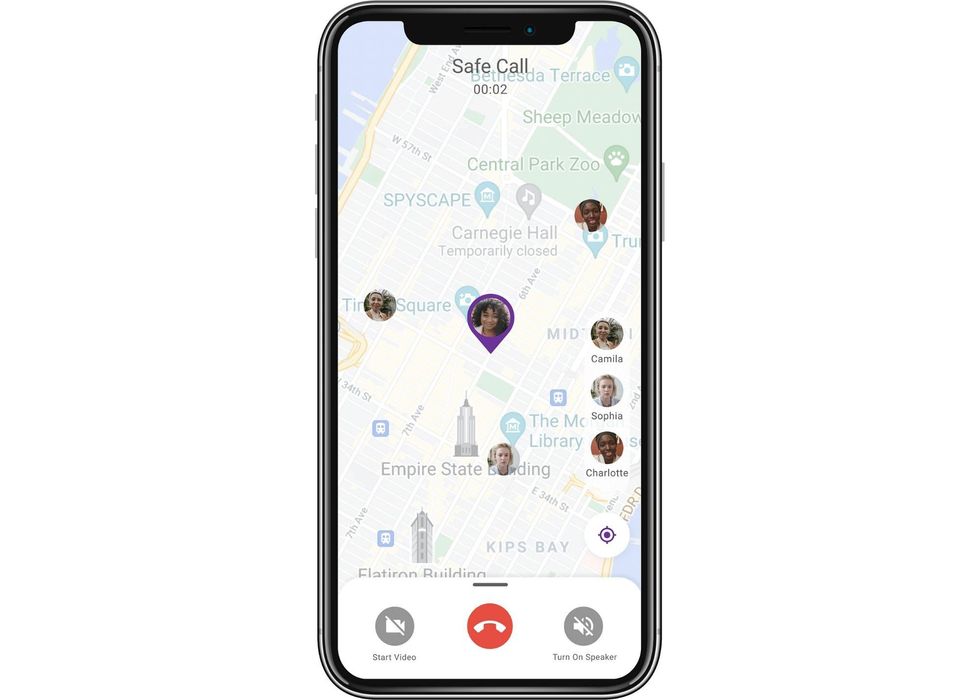 SafeUP allows women to contact others who can help them when in danger. (SafeUP)
First launched in Israel, the app was co-founded by Neta Schreiber, who became interested in safety tools after her friend went missing at a house party about a decade ago.
"My friend and I searched for her in a panic, and, as we headed upstairs, we heard her voice amidst a group of men's voices," Schreiber has stated. "We went into one of the rooms and there they were—the men and our friend, half-naked, fighting them."
The assailants fled once the friends stepped in. "We managed to get there just in time," Schreiber said. "Luck and women saved my friend that night."

Schreiber told Reuters that during the testing phase of SafeUP, two guardians stepping in was enough to have people leave a woman alone.
Earlier this month, SafeUP became active in other major cities including Boston, San Francisco, Miami and New York City. There are more than 70,000 members in the global network with approximately 200 guardians in Austin so far.
Mira Marcus, a spokesperson for SafeUP, told Austonia most users are millennials and younger, and a lot of college students use the app, which made an Austin launch especially fitting. The company also has a partnership with Lime so that guardians can take free rides to reach a person.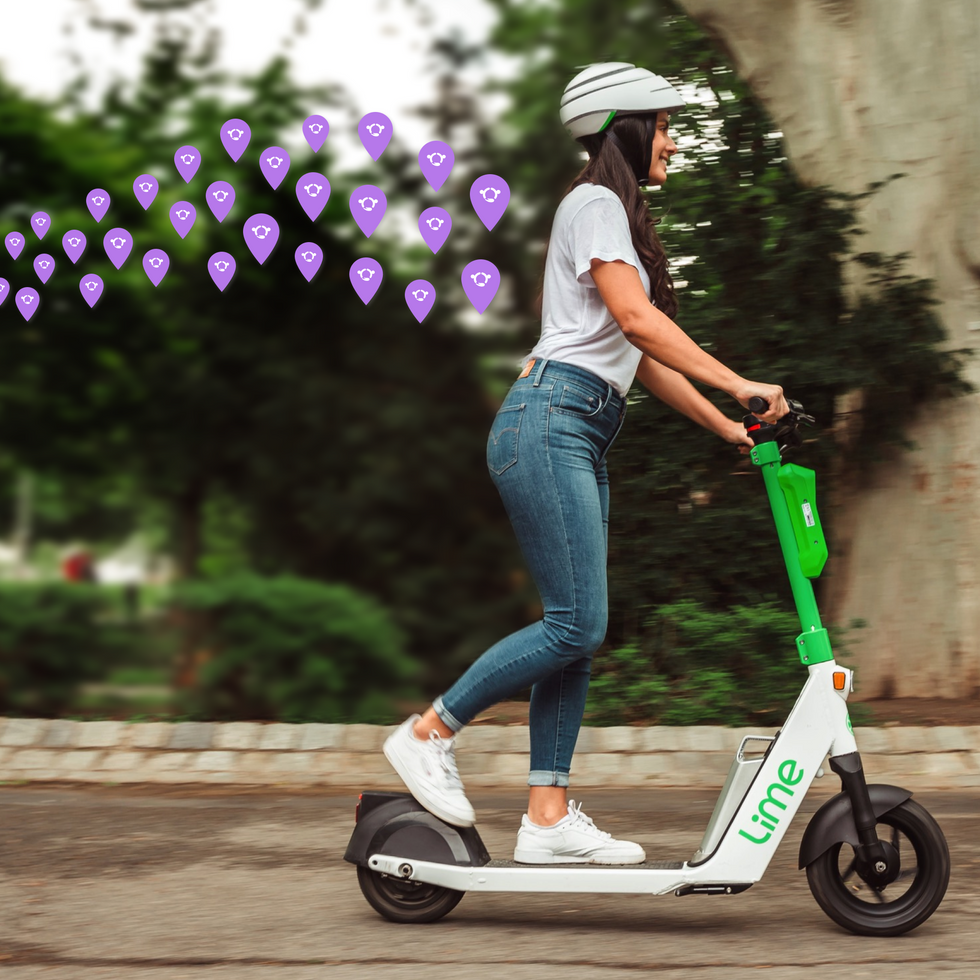 SafeUP's partnership with Lime allows users to take free rides to a person calling for help. (SafeUP)
"You could always call the police, but they won't necessarily be there within a matter of a minute or two. You could always speed dial your mom or girlfriend, but they won't always be available to answer," Marcus said. "The idea behind SafeUP is no matter where you are and what time, you can always turn on the app and see on the map the guardians around you."
The app also allows users to call the police if the guardian finds the situation requires their backup. With that function, the app uses the phone's camera and microphone to record evidence.
In a somewhat similar fashion, the Austin Police Department discussed possibly issuing a civilians unit to assist with non-emergency crimes over the summer. The discussion came as the department announced it would not respond to 911 calls where there was not a present danger due to a staffing shortage.
Some have turned to personal safety tech as public safety in Austin continues to be a hot topic with a record-breaking number of homicides in the city.
SafeUP joins other tech like the Citizen app and Ring cameras that track crime and include tools for reporting to the police. Some scholars and activists have criticized this tech for potential racial and gender bias, as well as expansion of surveillance. Biometric data is also taken in before users have full access to the SafeUP app so they can be verified as female, though facial recognition systems have a tendency to vary in accuracy.