Get connected with our daily update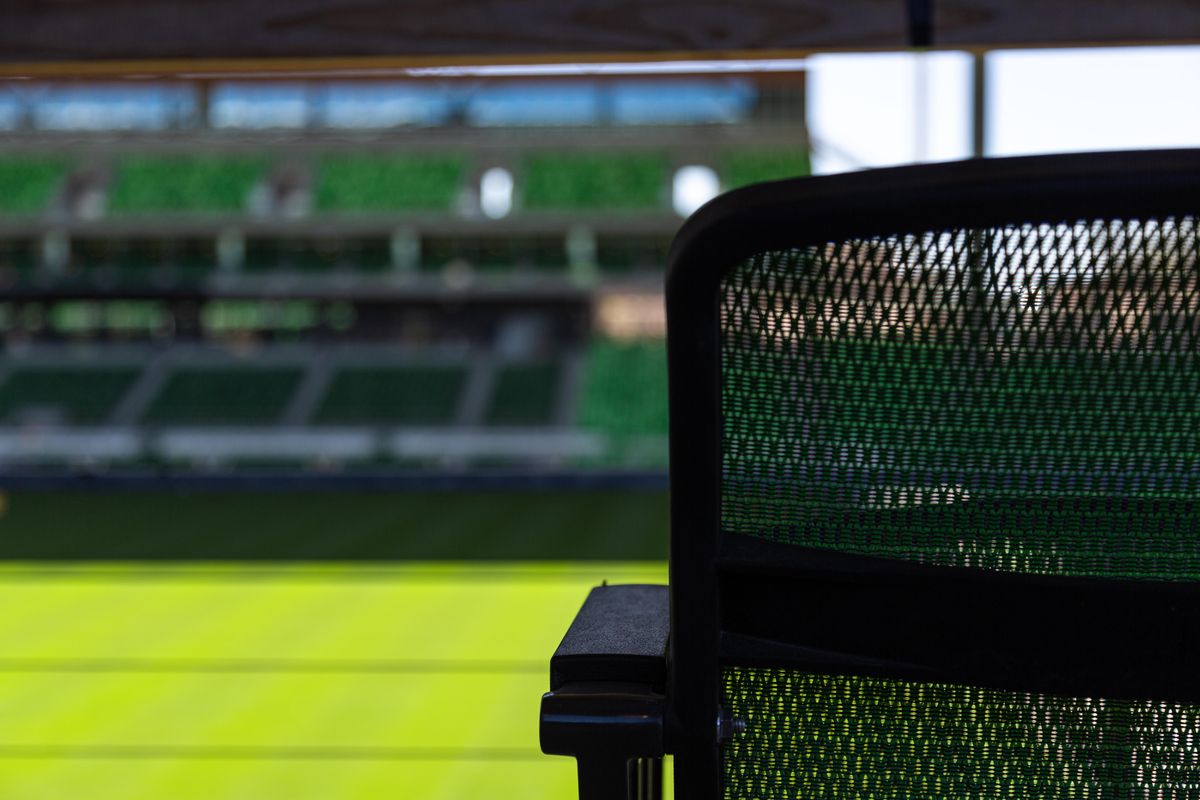 (Ghrista McWhirter)
After months of writing about Austin FC's $260 million Q2 Stadium, Austonia finally got a sneak peek of what the facility will look like in time for the June 19 home opener.
Austin FC writer Claire Partain, senior producer Sonia Garcia and photo journalist Christa McWhirter put on our hard hats, grabbed a camera, and learned about all the details-from mesh stadium seats to the pitch's premium grass species. We made pit stops on the field, in the stands and in the press box. View highlights of the visit on Instagram here.
Here are some things to take away before seeing it for yourself:
---
Overview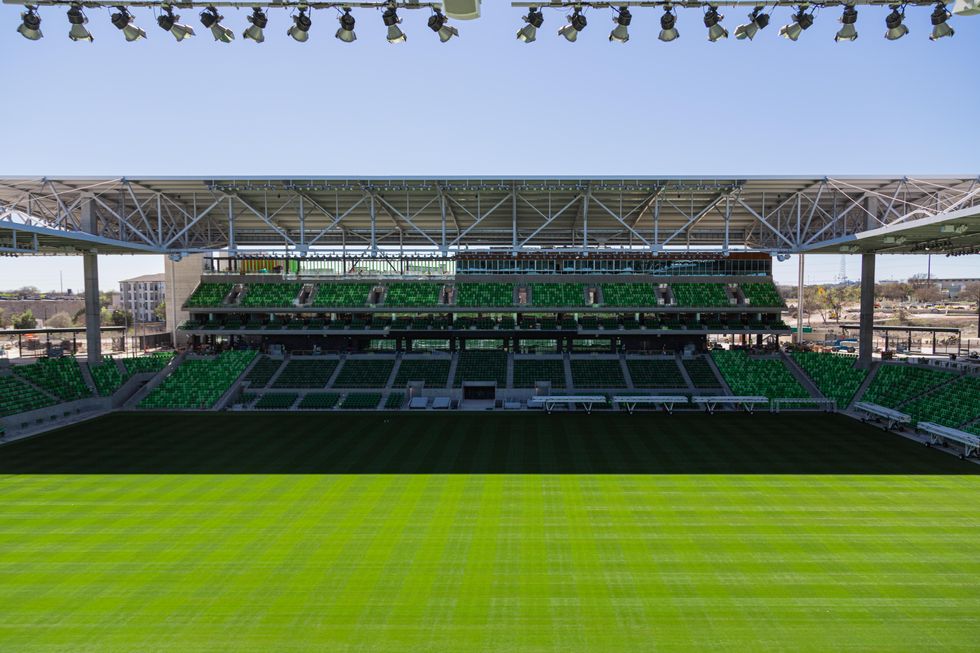 (Christa McWhirter)
When COVID rules are fully lifted, the Q2 Stadium can fill up to 20,500 people. Around 75% of seating will go to season ticket holders, while the rest will be allocated to regular-season single match ticket buyers.
Official COVID protocols have not been officially announced, but Austin FC President Andy Loughnane said that fans can expect a "large crowd" for the team's home opener. Stadium and team officials are going to continue to play it by ear as the pandemic continues to improve.
According to Loughnane, the stadium is on schedule to be completed—for the most part—by late March or early April. Some details, such as furniture and signage, may take a bit longer and will be filled in for the remainder of April and May, as well as some privately-run offsite traffic projects.
From the pitch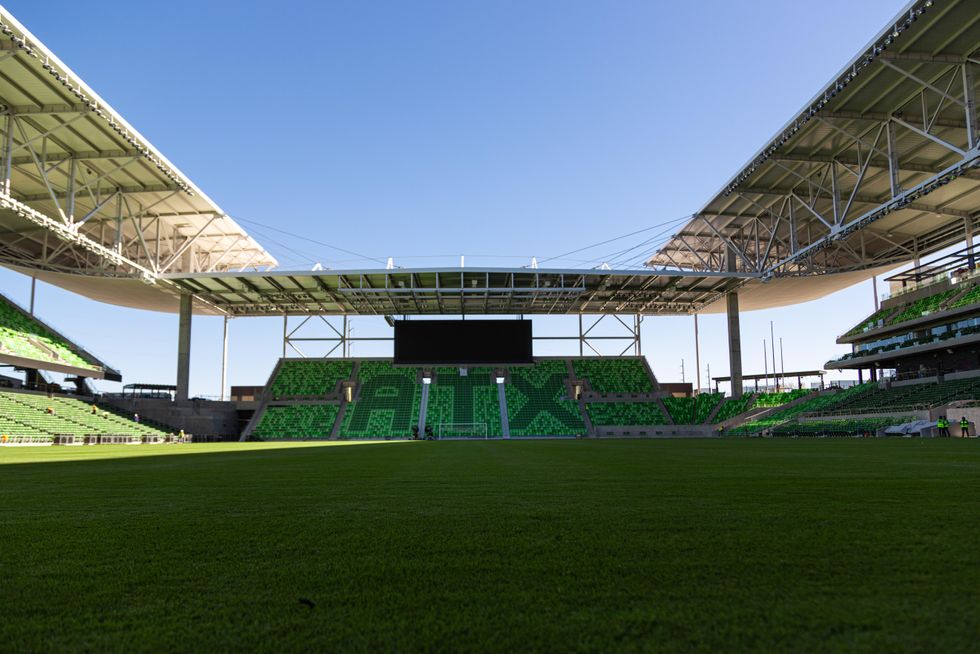 (Christa McWhirter)
A team with a signature Verde color needs to go hand-in-hand with a bright green field. That's where Platinum TE Seashore Paspalum comes in: the species of grass carefully selected and shipped in from Arizona to become Austin FC's first-ever pitch. The grass, which has been used by other shaded open-air stadiums such as the Houston Astros, can be cut short and is durable and reliable. It's the first time the species has been used on an MLS field, and the club has plenty of staff and technology to keep it green and pristine.
While the white stripes had been on the field previously, according to Senior Public Relations Manager Mauricio Villarreal, the 115-yard pitch was missing its lines once again when we paid a visit. The benches for the players, located on the west side of the stadium, were still being worked on and covered.
Amenities: what is and isn't ready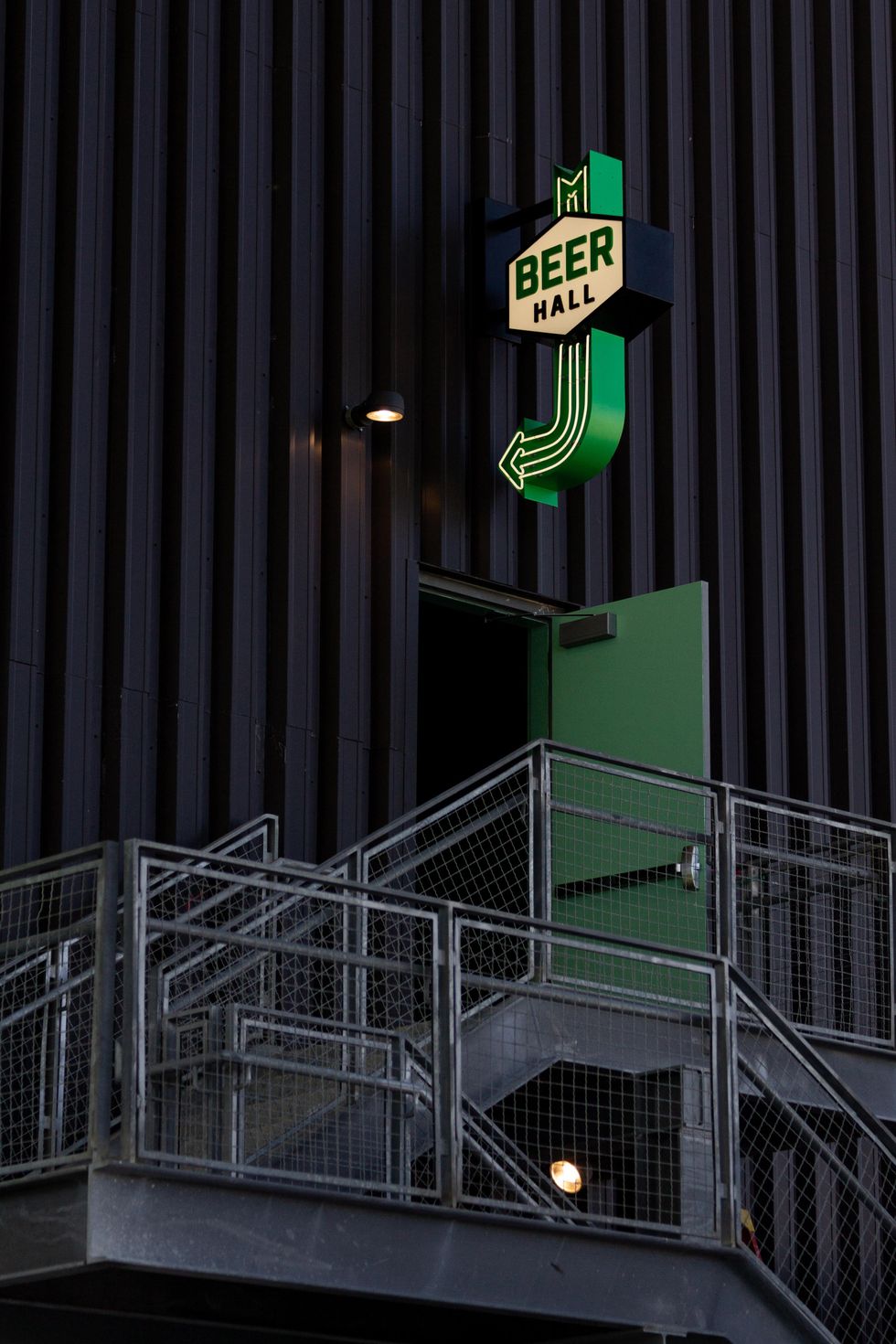 (Christa McWhirter)
While Austonia saw the field, the press box and part of the area's food and hospitality space, many features are still in progress.
Here's a list of things that are still in the works:
The beer hall won't be open to the public, but we know that the facility will have 18 taps, 20 TV screens and be able to hold up to 400 people.
The 5,000-square foot Verde Store, located underneath the beer hall on the north side, will be a one-stop shop for Verde merch and accessories. The store will be open even when matches aren't going on, with daily openings except for on major holidays. Another store, The ATXFC Shop, will be located on the other side of the stadium and will draw its inspiration from famous Austin record stores.
We got a peek at the luxury suites in the building but weren't able to enter. While much of the furniture and amenities that will take the suites to the next level were not yet in place, we were able to see some built in benches in the air-conditioned spaces.
The press box—more for us than for you—gives us a bird's eye view from the west side to make sure our coverage is as accurate as possible.
The H-E-B Plaza, located outside of the stadium's northeast corner, will be home to iconic Austin food trucks.
Austin FC's newest sponsor, Captain Morgan, will be the namesake for the east side's Captain Morgan Club, an entertainment and hospitality area.
Concerts and events at the live music capital​​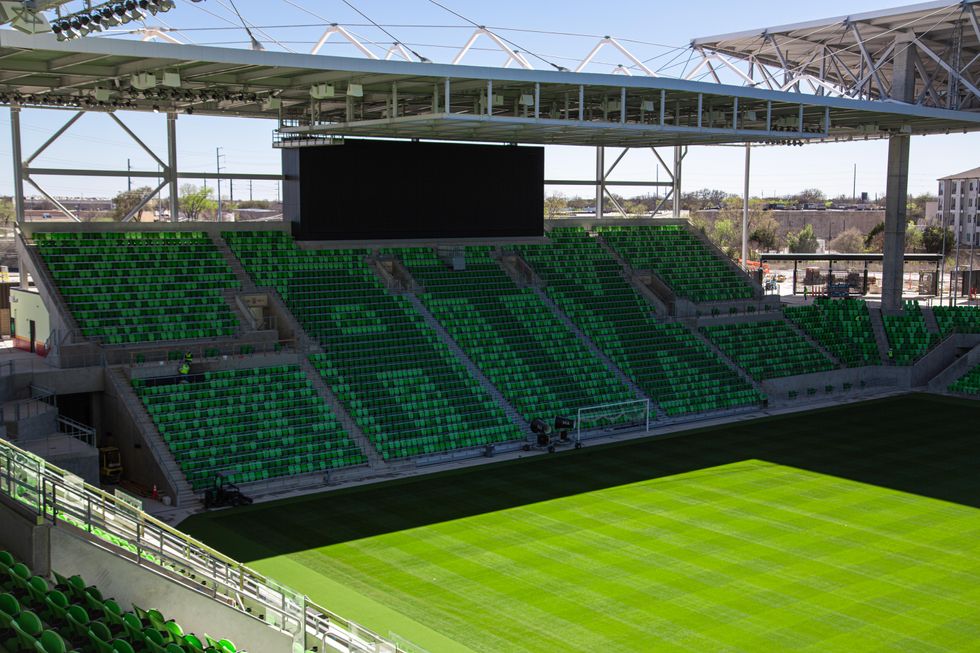 (Christa McWhirter)
With Austin being Austin, it's no surprise that the stadium will also double as a concert and events venue. Rumor has it that some events may even take place before the team's home opener, but no official announcements have been made.
The south side of the stadium's seats will also be a stage. The iconic "ATX" seats can actually be split in half and pushed away to give way to a massive concert and event facility.
The seats, which are designed for standing only, will be home to Austin FC fan clubs including Austin Anthem, Los Verdes and La Murga de Austin. The murga, or band, is inspired by fan bands for teams in many Latin American countries and will keep spirits alive in the stadium throughout the game. Although it hasn't been tested out yet, the stadium was designed to make sure fans in all corners of the stadium can hear La Murga's steady drumbeats and chants.
Keeping it cool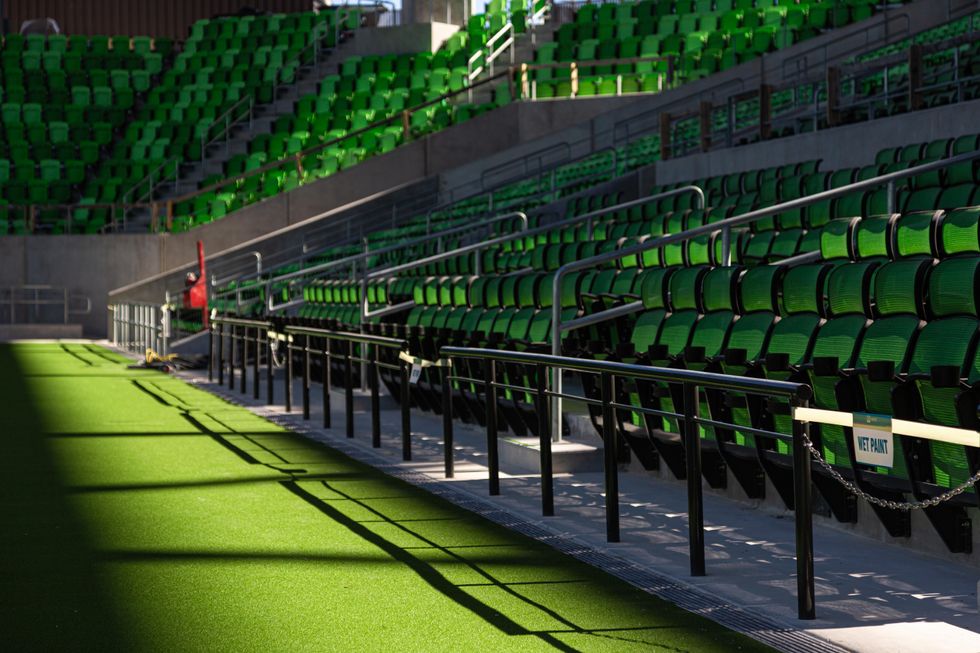 (Christa McWhirter)
Although the winter storm may have made us temporarily forget, a balmy Austin summer is ahead of us. Austin FC knows that keeping fans and players cool is a priority and have adjusted to the potentially oppressive Texas heat. The stadium has been built to bring wind in and keep a steady air flow throughout the stadium, and 6,000 total seats on the lower sections of the stadium are made of breathable mesh to minimize heat.
Air conditioned areas are located on the north and south sides of the stadium as well as suites on the west side.
Coming up
As construction wraps up for the city's newest stadium, fans may actually be able to see the facility for themselves before the June 19 home opener. On Monday, Loughnane said that the club is looking to open up public tours in the next few months.
Austin FC will face its first-ever opponent in Los Angeles against LAFC on April 17 before they make it home for the first time to play the San Jose Earthquakes on Saturday, June 19.
For daily updates on Austin FC, sign up for free messages from Austonia.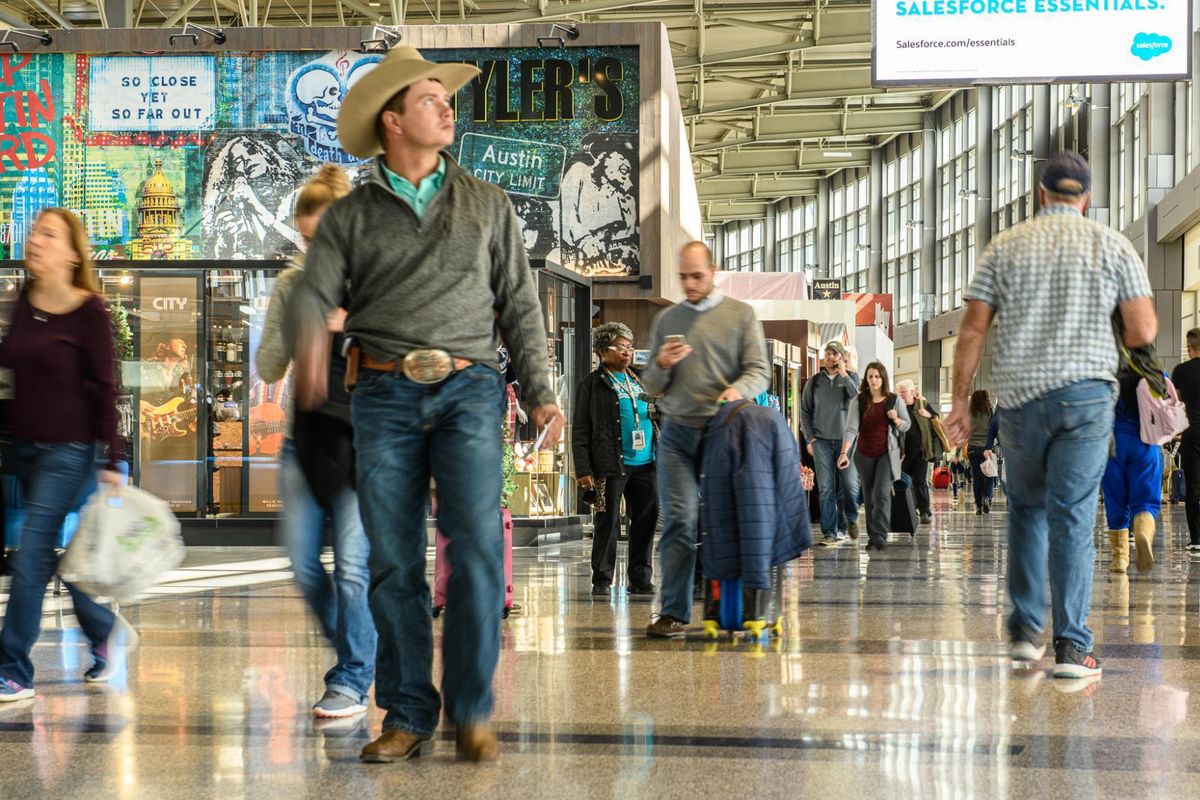 The Austin airport is warning travelers to "pack your patience" as it expects this Memorial Day weekend to be the busiest in airport history.
This weekend will kick off a period of more than 4.8 million passengers passing through Austin-Bergstrom International Airport by the end of summer—contributing to a projected record-breaking year of 22 million passengers at ABIA.
The surge in traffic at the airport comes as ABIA considers itself officially recovered from the pandemic's impact, an airport spokesperson ABIA Public Information Specialist Bailey Grimmett told Austonia. Additionally, the population growth in Central Texas and more service offered from ABIA has meant more people at the airport, she said. However, it has come under fire for increasingly long wait times at TSA and not having enough parking.
Flying soon? Here's how to prepare for a busy airport this summer.
Arrive hours early for your flight, especially if it's in the morning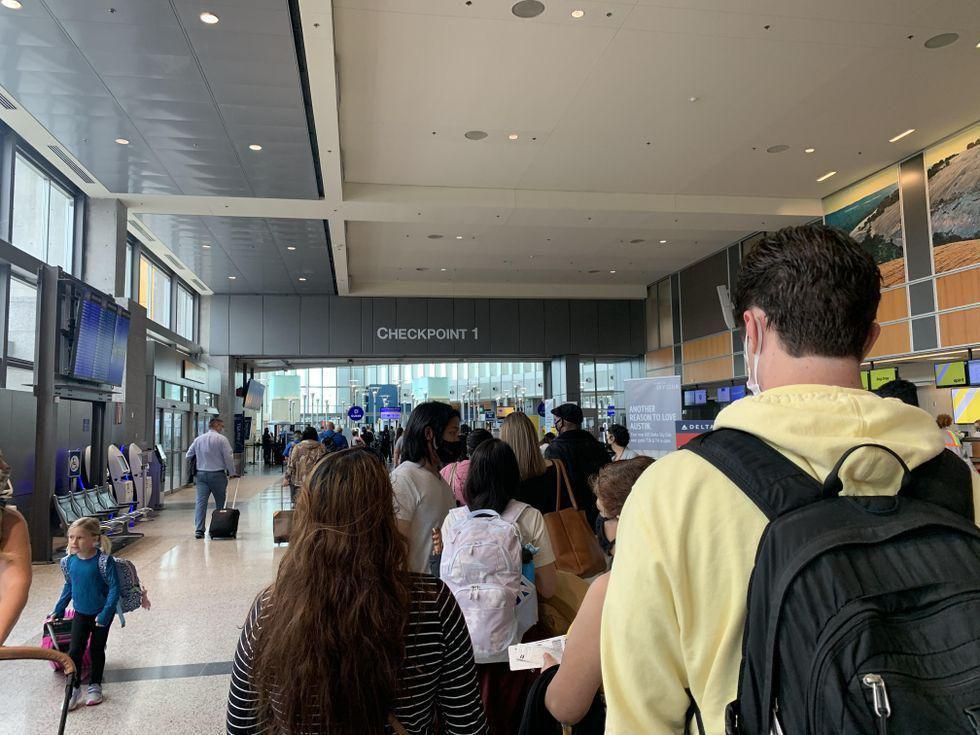 Summer travel lines in September 2021. (Austonia)
The busiest passenger traffic days in summer 2021 were Thursdays, Fridays, Sundays and Mondays, according to a release but each day of the week is expected to see increased traffic this summer. Lines tend to be longest before 8 a.m. and sometimes mid-morning hours.
Grimmett told Austonia the average person should arrive at the airport two-and-a-half hours before boarding time for domestic flights or three hours early for international flights. You might want to tack on extra time if…
You need to park or are returning a rental.
You're traveling with a big group, children or those who require assistance.
You're checking in baggage.
Familiarize yourself with TSA requirements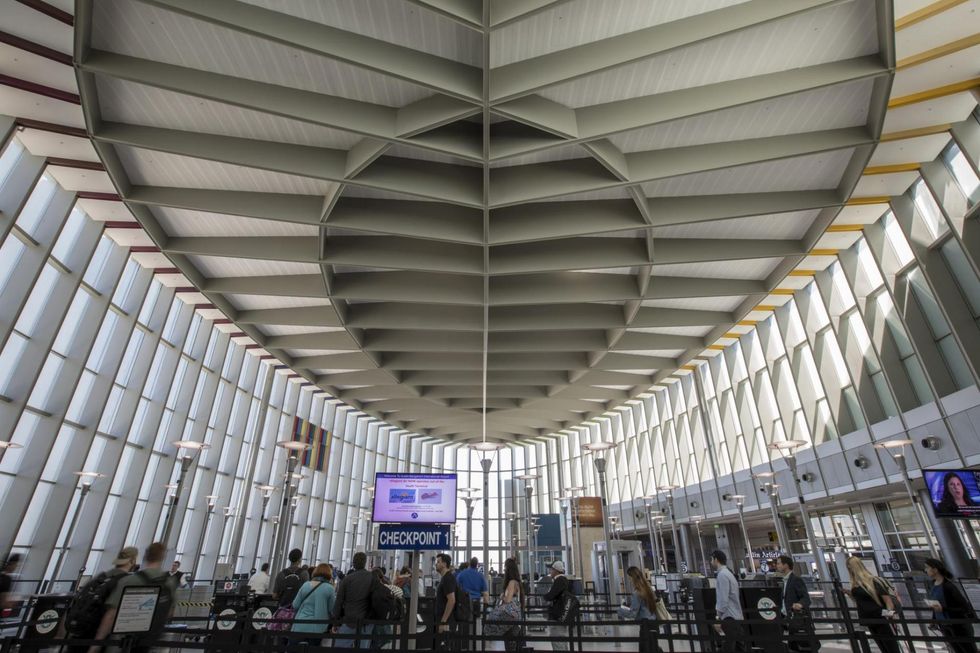 (ABIA)
The worst thing while traveling is getting stuck in security and having to repack all of your belongings. If you're traveling with a carry-on of toiletries, medication or food, double-check with TSA.gov if you're not sure.
Security screening checkpoints open at 3 a.m. and Grimmett said don't hesitate to ask a staff member if you need help. Faster screening is available by applying for
TSA PreCheck
or
Clear
screening for an extra fee.
Rather wait for the rush to die down?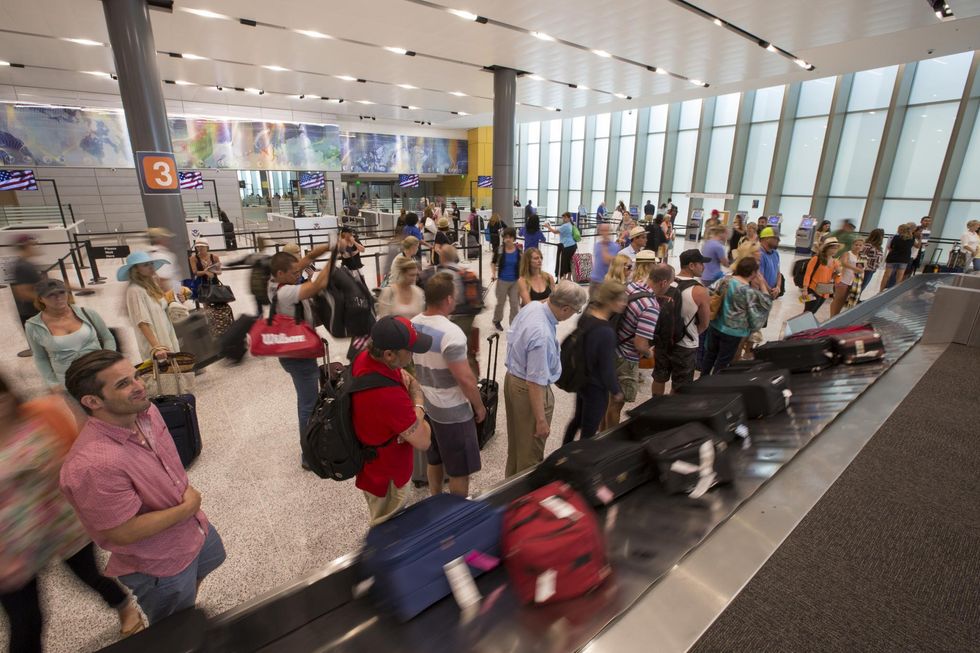 Grimmett said to expect near-constant high traffic through August, when students return to school and tourist season ends. The lull is short-lived though—ABIA typically sees another travel uptick in October for events like F1 and ACL Festival.
Once you're inside, refer to our complete guide to ABIA for a look at the amenities.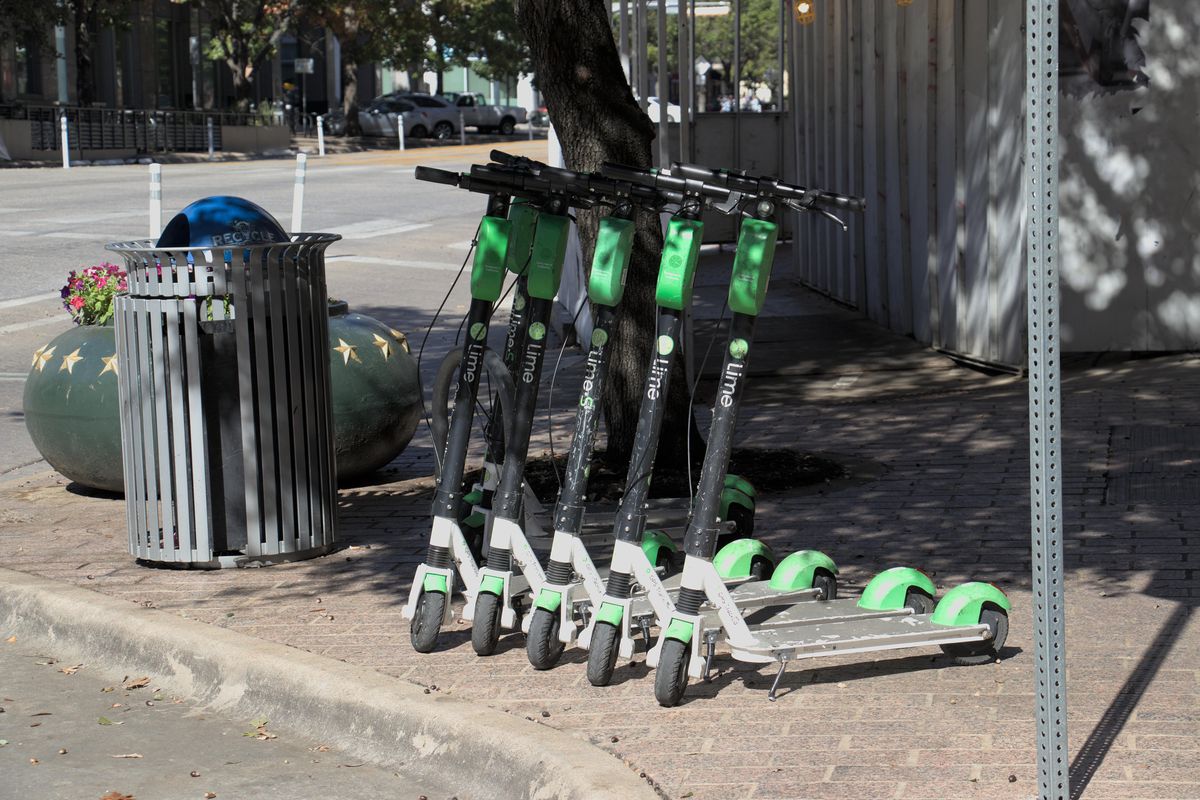 By Kali Bramble
Calls for firmer regulation of the dockless scooters, mopeds and e-bikes scattered about the city may hit the desks of City Council in coming months, as a recommendation from the Downtown Commission makes its way to the agenda.
The recommendation proposes stricter requirements for providers to remove devices blocking sidewalks, crosswalks and other rights of way and increase fees for subsequently impounded vehicles. The proposal also calls for implementing a ticketing system for riders who violate municipal traffic code or state law.
Since 2018, the steady influx of electronic scooters has left Austin's Transportation Department scrambling to integrate the devices into city infrastructure. As of this year, companies Bird, Lime, LINK, and Wheels collectively operate a total of 14,100 micromobility devices, many of which are concentrated in Austin's urban core.
"I walked out of my office at Sixth and Congress today at noon and counted 65 scooters laying on their side," Texas Monthly founder Michael Levy said in a public comment. "It looks like a war zone."
Critics of the exploding scooter market cite incidents of devices blocking pedestrian walkways for days on end. Under the commission's proposal, improperly discarded devices would be subject to impounding within two hours, with the time limit reduced to one hour in the downtown area. A $100 release fee along with a $5 per day storage fee would go toward investment in infrastructure solutions, such as augmenting the 25 existing parking corrals throughout the city.
Detractors also cite episodes of reckless and inebriated scooter riders as an increasing public health problem. While restrictions like in-app speed reduction technology have sought to mitigate such incidents, emergency room workers anecdotally report an alarming number of scooter-related injuries, especially on weekends. Preliminary data from Austin Public Health supports such claims, though it is still a challenge to quantify.
Micromobility advocates, on the other hand, argue that scooters provide an important service to those navigating Austin's patchwork public transportation system. The Transportation Department considers such short-distance mobility options another solution in its toolbox to combat the city's over-reliance on cars.
Still, scooter skeptics wonder if these benefits outweigh consequences. Levy noted that cities like San Diego have responded very differently to the burgeoning industry, instituting strict regulations and penalties that have reduced the presence of scooters without banning them entirely.
The Downtown Commission's recommendation proposes citations for scooter riders violating municipal parking and traffic laws amounting to $100 for first-time offenders, followed by $250 for subsequent offenses. The proposal would also ban scooter-riding on a number of highly trafficked sidewalks, though these remain unspecified.
The commission hopes such tools could work alongside efforts by the Transportation Department to ramp up enforcement, including the recent establishment of 10 full-time mobility service officer positions charged with regulating scooter use. Increased revenue from licensing fees and ticketing could also serve to finance infrastructure solutions.
"It's shocking to me that we currently only get around $1 million a year out of these fees," Commissioner Mike Lavigne said. "I did some rough math … and figure we've maybe gotten $6 million since this thing started. It seems to me like we could be getting a whole lot more to invest in making it more sustainable, like more docking stations and corrals, so there's somewhere for these scooters to go."