Get connected with our daily update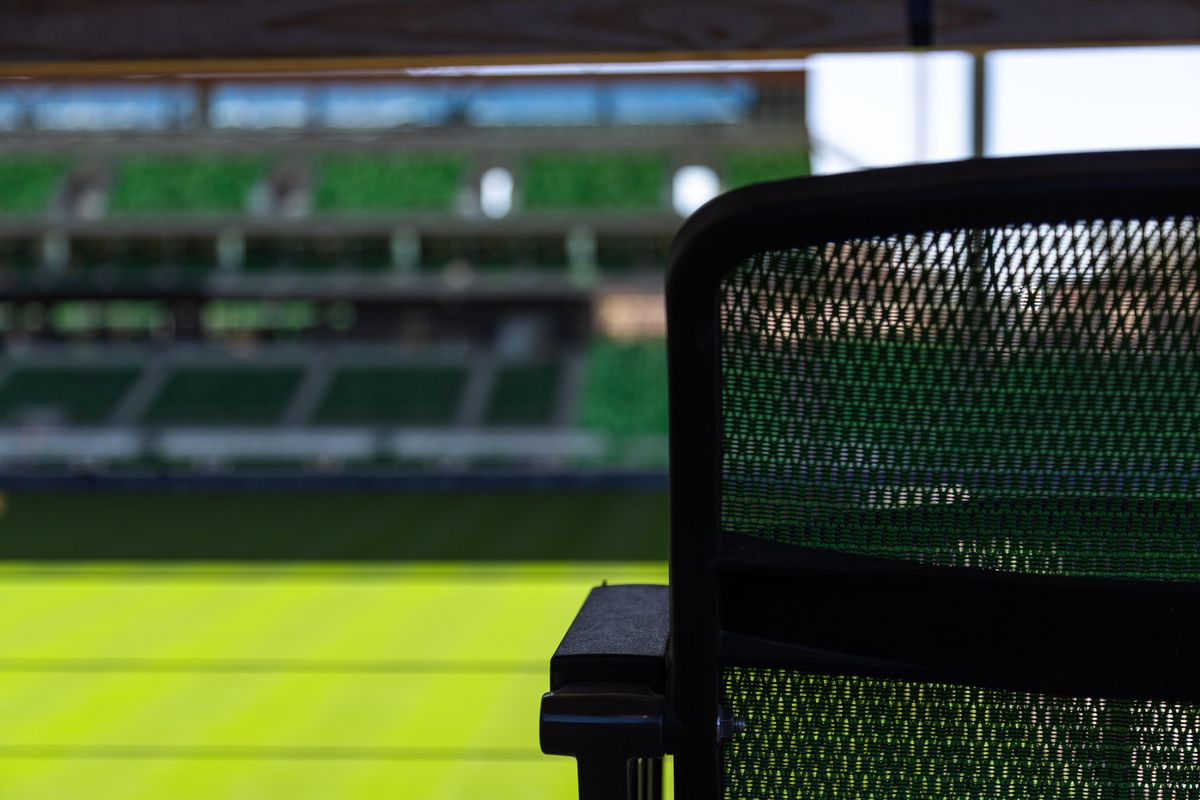 (Ghrista McWhirter)
After months of writing about Austin FC's $260 million Q2 Stadium, Austonia finally got a sneak peek of what the facility will look like in time for the June 19 home opener.
Austin FC writer Claire Partain, senior producer Sonia Garcia and photo journalist Christa McWhirter put on our hard hats, grabbed a camera, and learned about all the details-from mesh stadium seats to the pitch's premium grass species. We made pit stops on the field, in the stands and in the press box. View highlights of the visit on Instagram here.
Here are some things to take away before seeing it for yourself:
---
Overview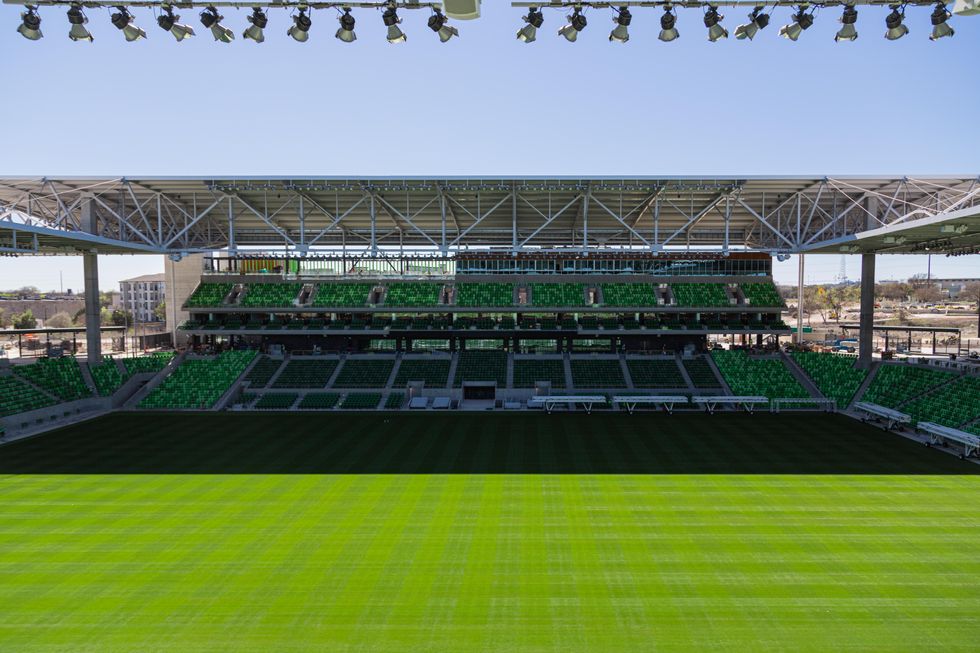 (Christa McWhirter)
When COVID rules are fully lifted, the Q2 Stadium can fill up to 20,500 people. Around 75% of seating will go to season ticket holders, while the rest will be allocated to regular-season single match ticket buyers.
Official COVID protocols have not been officially announced, but Austin FC President Andy Loughnane said that fans can expect a "large crowd" for the team's home opener. Stadium and team officials are going to continue to play it by ear as the pandemic continues to improve.
According to Loughnane, the stadium is on schedule to be completed—for the most part—by late March or early April. Some details, such as furniture and signage, may take a bit longer and will be filled in for the remainder of April and May, as well as some privately-run offsite traffic projects.
From the pitch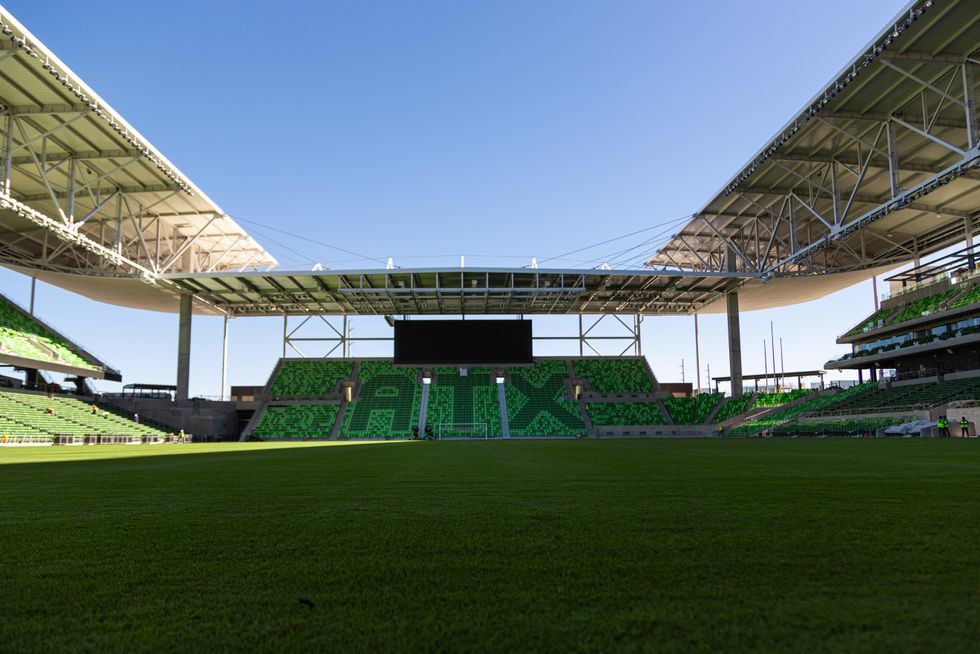 (Christa McWhirter)
A team with a signature Verde color needs to go hand-in-hand with a bright green field. That's where Platinum TE Seashore Paspalum comes in: the species of grass carefully selected and shipped in from Arizona to become Austin FC's first-ever pitch. The grass, which has been used by other shaded open-air stadiums such as the Houston Astros, can be cut short and is durable and reliable. It's the first time the species has been used on an MLS field, and the club has plenty of staff and technology to keep it green and pristine.
While the white stripes had been on the field previously, according to Senior Public Relations Manager Mauricio Villarreal, the 115-yard pitch was missing its lines once again when we paid a visit. The benches for the players, located on the west side of the stadium, were still being worked on and covered.
Amenities: what is and isn't ready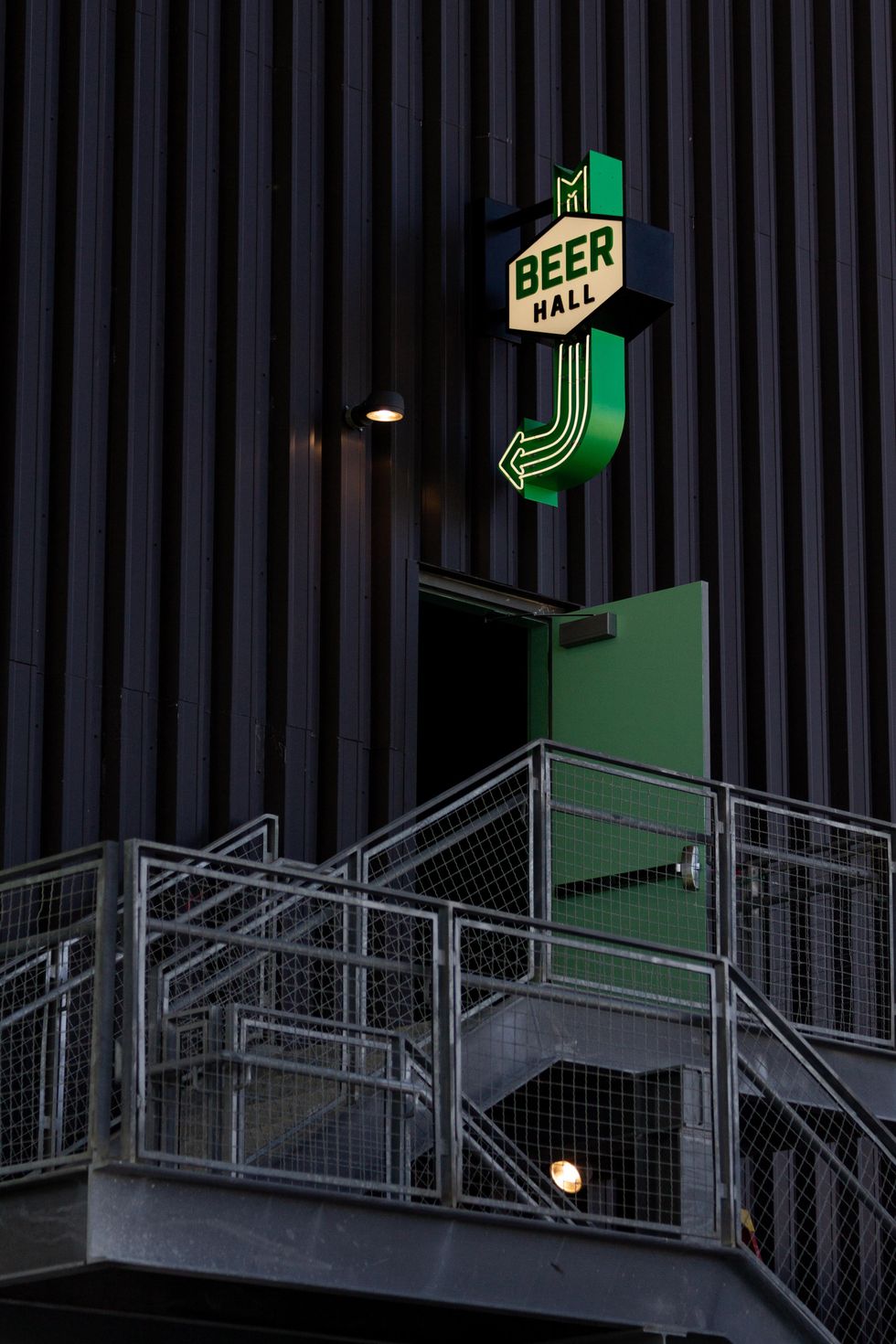 (Christa McWhirter)
While Austonia saw the field, the press box and part of the area's food and hospitality space, many features are still in progress.
Here's a list of things that are still in the works:
The beer hall won't be open to the public, but we know that the facility will have 18 taps, 20 TV screens and be able to hold up to 400 people.
The 5,000-square foot Verde Store, located underneath the beer hall on the north side, will be a one-stop shop for Verde merch and accessories. The store will be open even when matches aren't going on, with daily openings except for on major holidays. Another store, The ATXFC Shop, will be located on the other side of the stadium and will draw its inspiration from famous Austin record stores.
We got a peek at the luxury suites in the building but weren't able to enter. While much of the furniture and amenities that will take the suites to the next level were not yet in place, we were able to see some built in benches in the air-conditioned spaces.
The press box—more for us than for you—gives us a bird's eye view from the west side to make sure our coverage is as accurate as possible.
The H-E-B Plaza, located outside of the stadium's northeast corner, will be home to iconic Austin food trucks.
Austin FC's newest sponsor, Captain Morgan, will be the namesake for the east side's Captain Morgan Club, an entertainment and hospitality area.
Concerts and events at the live music capital​​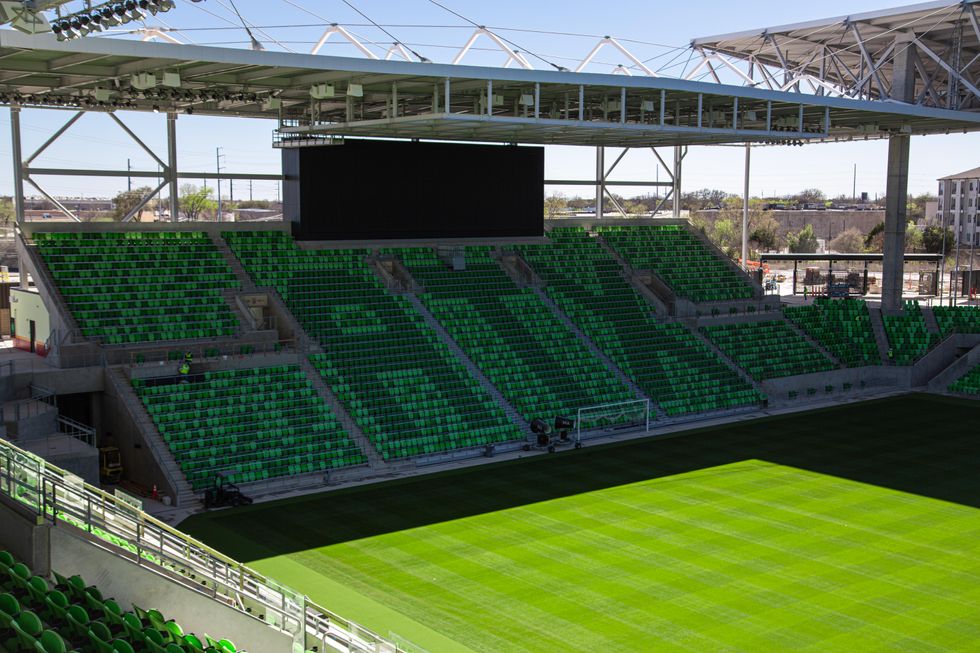 (Christa McWhirter)
With Austin being Austin, it's no surprise that the stadium will also double as a concert and events venue. Rumor has it that some events may even take place before the team's home opener, but no official announcements have been made.
The south side of the stadium's seats will also be a stage. The iconic "ATX" seats can actually be split in half and pushed away to give way to a massive concert and event facility.
The seats, which are designed for standing only, will be home to Austin FC fan clubs including Austin Anthem, Los Verdes and La Murga de Austin. The murga, or band, is inspired by fan bands for teams in many Latin American countries and will keep spirits alive in the stadium throughout the game. Although it hasn't been tested out yet, the stadium was designed to make sure fans in all corners of the stadium can hear La Murga's steady drumbeats and chants.
Keeping it cool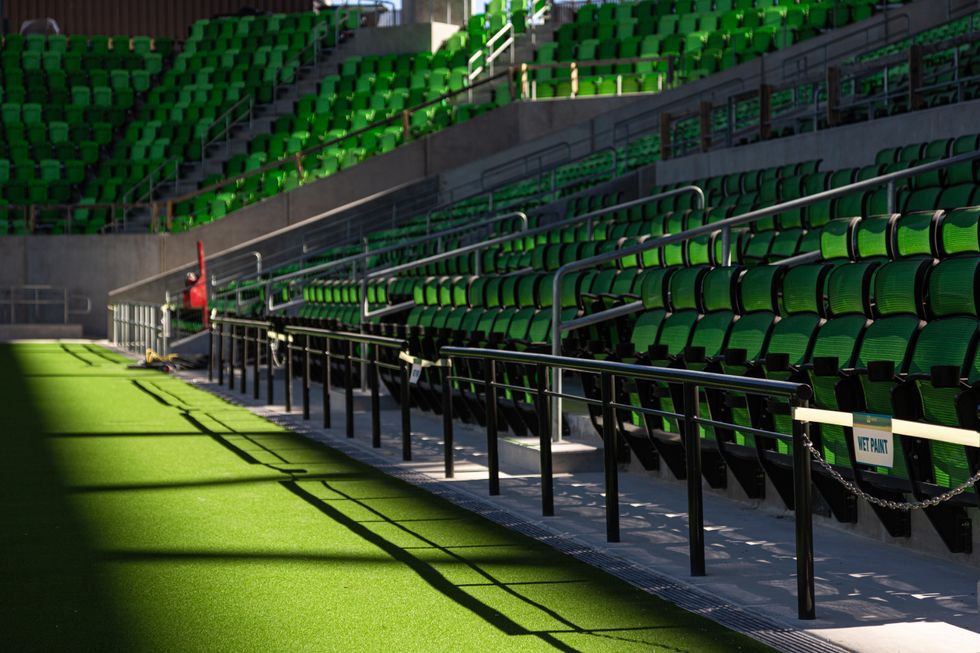 (Christa McWhirter)
Although the winter storm may have made us temporarily forget, a balmy Austin summer is ahead of us. Austin FC knows that keeping fans and players cool is a priority and have adjusted to the potentially oppressive Texas heat. The stadium has been built to bring wind in and keep a steady air flow throughout the stadium, and 6,000 total seats on the lower sections of the stadium are made of breathable mesh to minimize heat.
Air conditioned areas are located on the north and south sides of the stadium as well as suites on the west side.
Coming up
As construction wraps up for the city's newest stadium, fans may actually be able to see the facility for themselves before the June 19 home opener. On Monday, Loughnane said that the club is looking to open up public tours in the next few months.
Austin FC will face its first-ever opponent in Los Angeles against LAFC on April 17 before they make it home for the first time to play the San Jose Earthquakes on Saturday, June 19.
For daily updates on Austin FC, sign up for free messages from Austonia.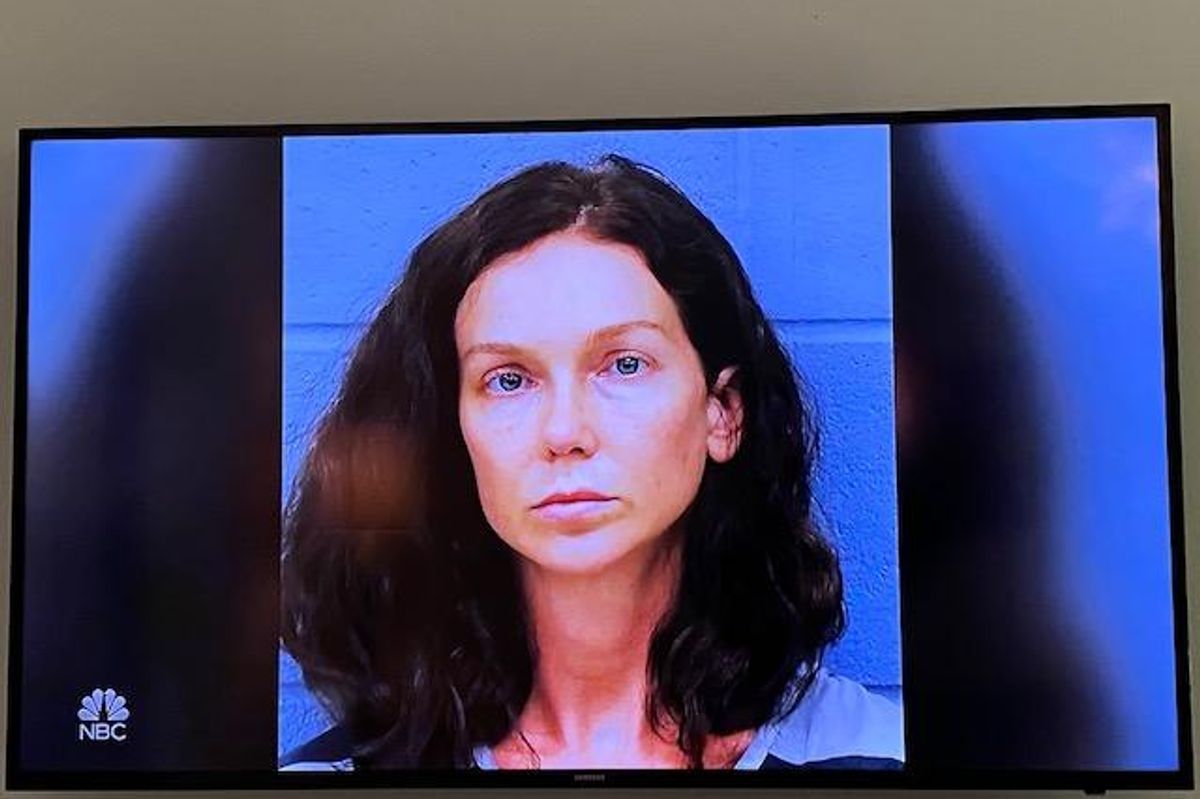 Austin's Kaitlin Armstrong after capture in Costa Rica.
(Editor's note: this is part two of a two part Austonia series tracking the Dateline NBC investigation of Moriah Wilson's murder. Read part one here.)
After pro gravel biker Moriah "Mo" Wilson is gunned down in South Austin on May 11, police investigators develop a "person of interest," Austin's Kaitlin Armstrong, 34, a real estate agent, yoga teacher, amateur cyclist, and longtime girlfriend of Austin cyclist Colin Strickland.
Originally from Michigan, where a childhood friend described her as "fun loving" and "smart," Armstrong finished college and traveled the world studying yoga, in places like Iceland, Bali, and Mexico. She ended up in Austin where she met Colin Strickland. The two were business partners in a vintage trailer business, along with her own venture flipping houses. "Business partners and life partners," NBC said.
According to NBC's evaluation of a police report, a friend of Wilson's, who remains anonymous, said that despite Strickland's relationship with Kaitlin Armstrong, Mo Wilson and Strickland had been seeing each other since their "fling" in Austin months before. NBC reports this friend told police that before she died, Wilson had received a number of calls from Kaitlin Armstrong warning her to stay away from Armstrong's boyfriend, Colin Strickland.
A second tipster claimed to have been present when Armstrong first learned that Wilson and Strickland had been seeing each other. The tipster said Armstrong became "enraged" and threatened to kill Moriah Wilson.
Police found an outstanding warrant for Armstrong for an unpaid botox bill, and brought her in for questioning. She was largely unresponsive to their inquiries. Then police discovered a typo in the warrant and were forced to release her.

Six days after Wilson's death, a police ballistics analysis pointed toward a 9mm weapon owned by Kaitlin Armstrong. In his police interview, Strickland had told police he had previously purchased two 9mm handguns, one for him and one for Armstrong.
Police obtained a warrant to arrest Kaitlin Armstrong for first degree murder, but when they went to arrest her, she was gone.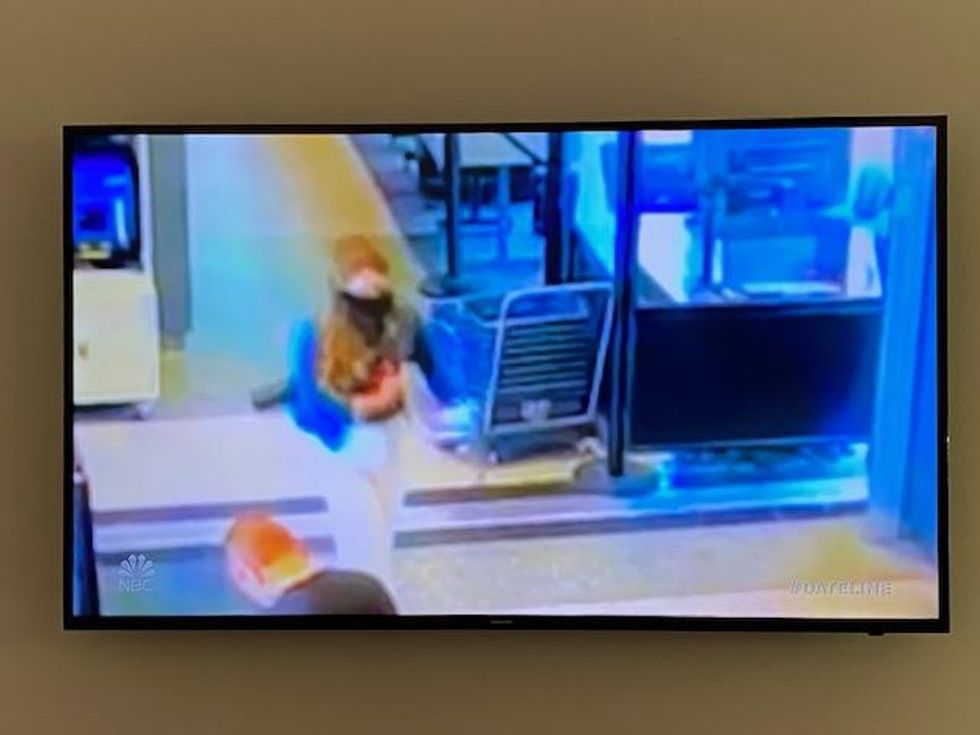 (Dateline NBC)
Disappearance
Austin police asked the U.S. Marshals to find her. The Marshals believed Armstrong was hiding in Austin, until 14 days after the murder when they discovered video from ABIA showing Armstrong, masked and carrying a yoga mat, about to board a plane 3 days after the murder. From Austin, Armstrong had flown to Houston and on to New York's LaGuardia, where the trail went cold.
The Marshals posted a reward, $5,000, asking the public for help. Help came with a tip that Armstrong had been seen in upstate New York a few days after arriving at LaGuardia. Investigators knew that Kaitlin's sister lived there, and went to investigate, but did not find any trace of Armstrong.
Another tip came that Kaitlin had been seen next at Newark International Airport on May 18. But, as before, there was no trail to follow.
But how could she travel without using her identification documents? And how could she survive without using her credit cards and bank account?
Back in Austin, police found her Jeep at a CarMax dealership, where she had sold it weeks before for $12,200.
Costa Rica
Meanwhile, in the small, end-of-the-road surfing town of Santa Teresa, Costa Rica, Kaitlin Armstrong had quietly arrived in town and was working for a local hostel, Don Jon's, checking in guests and teaching yoga.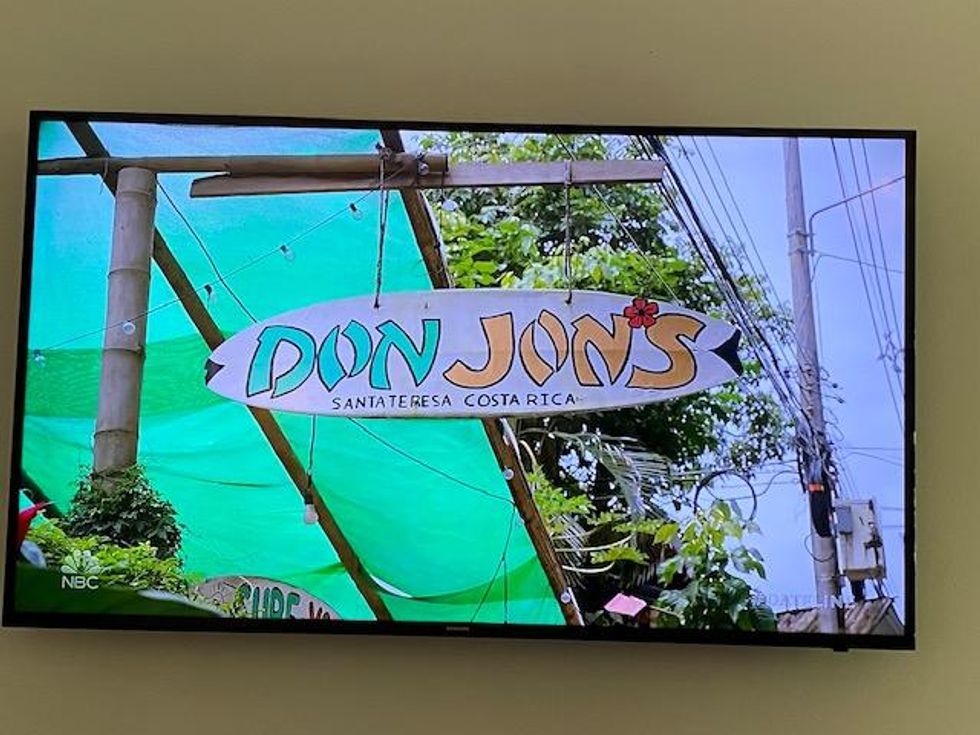 Dateline NBC
(Dateline NBC)
She befriended a local man who described Santa Teresa to NBC as "a really good place to hide out....it's the land of the unwanted, and the 'wanted.'"
At night, Armstrong became a regular at the town's one bar. She called herself "Ari," but didn't say much about past.
She dyed her hair dark and cut it shorter. She traveled to the capital, San Jose, where she may have had plastic surgery to change the appearance of her nose. Armstrong was later identified by an employee of the surgical center, but if that was her, she used a different name to register for the procedure.
Armstrong told people in Santa Teresa that she had had a surfing accident and needed treatment.
Capture
Summing it all up, Austin American-Statesman reporter Ryan Autullo said she "lacked the discipline, frankly, to not get caught." She did some things to conceal herself, but she also wanted to "have fun and live it up at the beach."
Around this time, working off the yoga mat clue, U.S. investigators were contacting police in "yoga destinations" around the world and circulating Armstrong's description. An officer in Costa Rica made inquiries, and was told about a "new yogi" in Santa Teresa.
43 days after Armstrong disappeared, police walked into Don Jon's and arrested her.
In the aftermath, a customer discovered Armstrong's documents, which he photographed before turning over to police. They included her sister's passport, and Armstrong's own passport, American Express Platinum Card, and her social security card.
Armstrong was extradited to the United States, returned to Austin, indicted for murder, and placed in jail with a $3.5 million dollar bail.
She pleaded not guilty, hiring Austin criminal attorney Rick Cofer to defend her.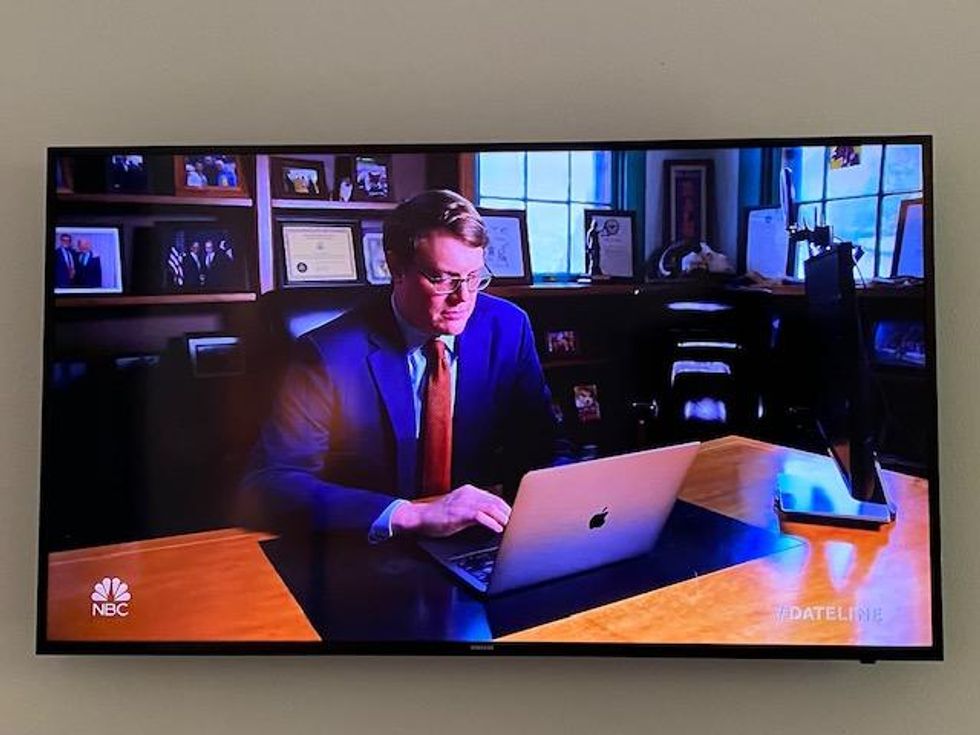 (Dateline NBC)
Cofer, a former prosecutor, was interviewed by NBC. He explained away every point of Armstrong's disappearance and apparent flight to a skeptical interviewer.
He identifies what he says are some weak points in the prosecution's case. Then he perhaps implies that he knows something prosecutors don't. "Kaitlin Armstrong is not guilty, Cofer said. "Evidence will come out that Kaitlin Armstrong was nowhere near the scene of Miss Wilson's murder."
A trial date was set for October 19, but a Travis County judge said in a ruling that an October trial is "highly unlikely."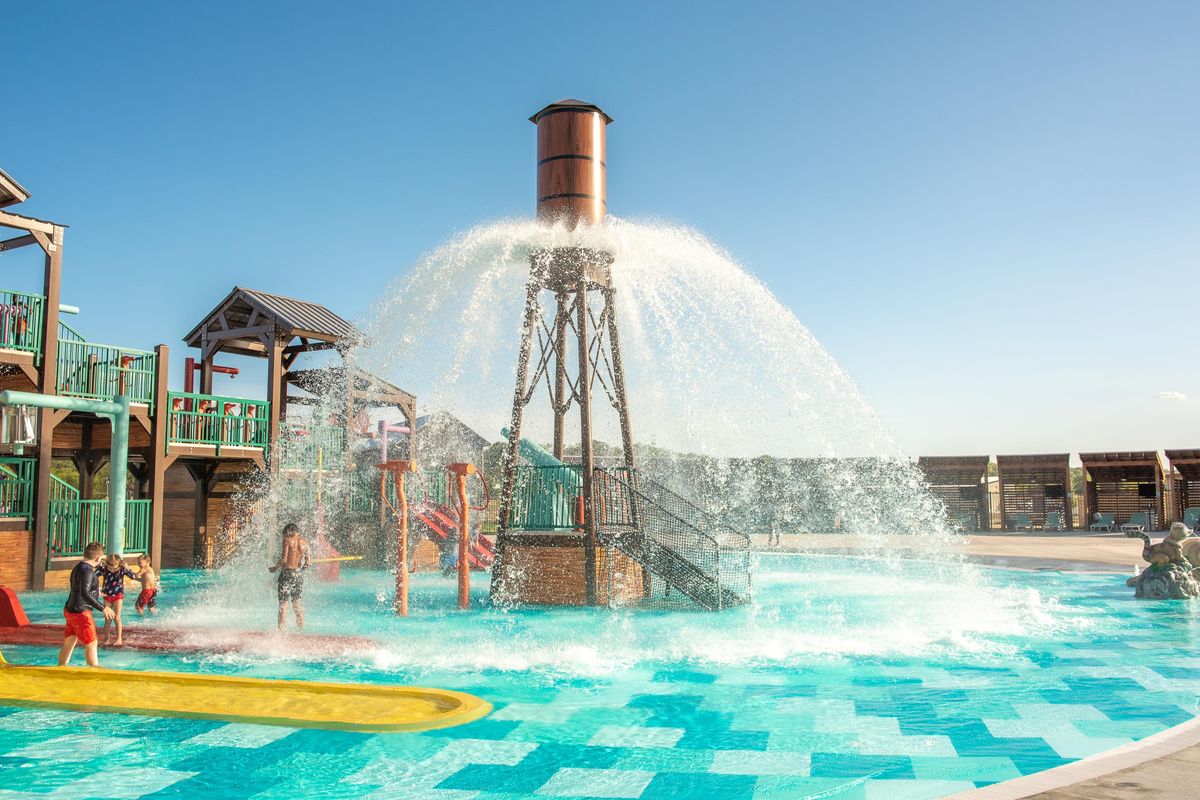 Camp Fimfo Waco
Camp Fimfo Waco, a brand new camping resort, is kicking off football and fall camping season in style! With top-notch amenities, premium accommodations, and 10 weekends of fall fun, there's no better place to have a fall camping getaway, especially if you're a Baylor football fan!
Fall promises to be a one-of-a-kind camping experience. From Sept. 16 to Nov. 24, weekends will be packed with fall-themed activities, including special Halloween weekends in October. Campers can enjoy activities like fall crafts, campground trick-or-treating, costume contests, site decorating, outdoor movie nights, and more!