Get connected with our daily update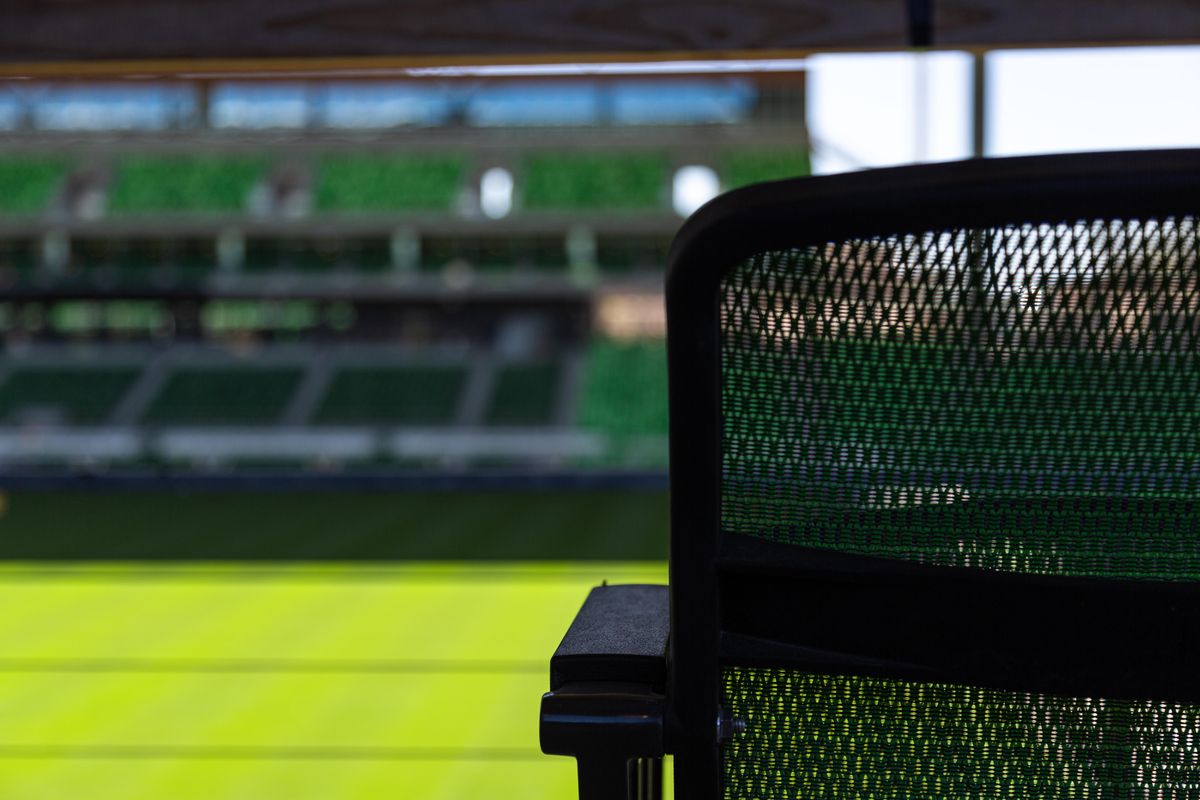 (Ghrista McWhirter)
After months of writing about Austin FC's $260 million Q2 Stadium, Austonia finally got a sneak peek of what the facility will look like in time for the June 19 home opener.
Austin FC writer Claire Partain, senior producer Sonia Garcia and photo journalist Christa McWhirter put on our hard hats, grabbed a camera, and learned about all the details-from mesh stadium seats to the pitch's premium grass species. We made pit stops on the field, in the stands and in the press box. View highlights of the visit on Instagram here.
Here are some things to take away before seeing it for yourself:
---
Overview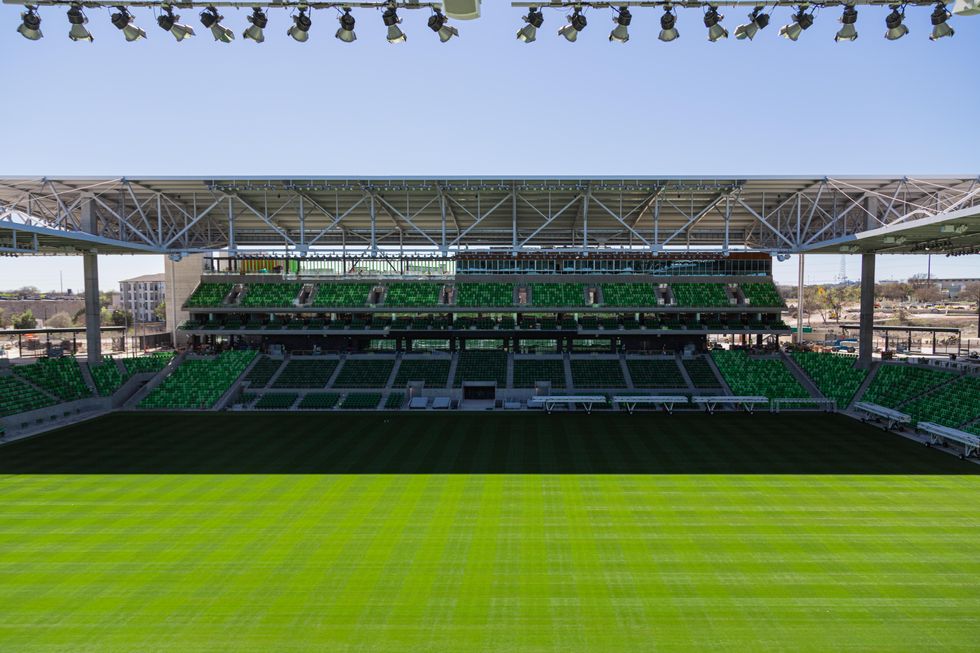 (Christa McWhirter)
When COVID rules are fully lifted, the Q2 Stadium can fill up to 20,500 people. Around 75% of seating will go to season ticket holders, while the rest will be allocated to regular-season single match ticket buyers.
Official COVID protocols have not been officially announced, but Austin FC President Andy Loughnane said that fans can expect a "large crowd" for the team's home opener. Stadium and team officials are going to continue to play it by ear as the pandemic continues to improve.
According to Loughnane, the stadium is on schedule to be completed—for the most part—by late March or early April. Some details, such as furniture and signage, may take a bit longer and will be filled in for the remainder of April and May, as well as some privately-run offsite traffic projects.
From the pitch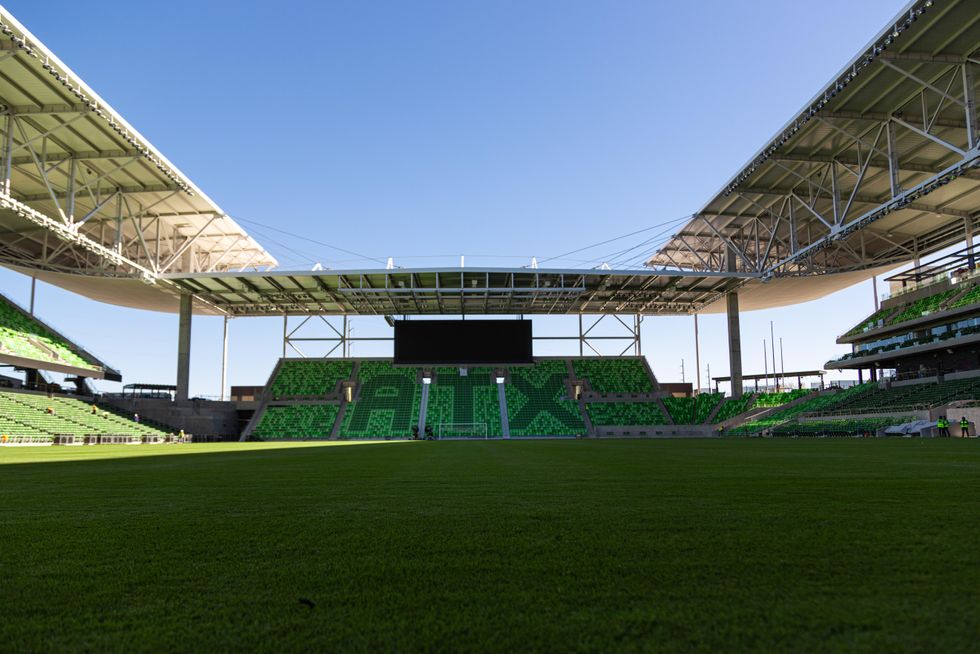 (Christa McWhirter)
A team with a signature Verde color needs to go hand-in-hand with a bright green field. That's where Platinum TE Seashore Paspalum comes in: the species of grass carefully selected and shipped in from Arizona to become Austin FC's first-ever pitch. The grass, which has been used by other shaded open-air stadiums such as the Houston Astros, can be cut short and is durable and reliable. It's the first time the species has been used on an MLS field, and the club has plenty of staff and technology to keep it green and pristine.
While the white stripes had been on the field previously, according to Senior Public Relations Manager Mauricio Villarreal, the 115-yard pitch was missing its lines once again when we paid a visit. The benches for the players, located on the west side of the stadium, were still being worked on and covered.
Amenities: what is and isn't ready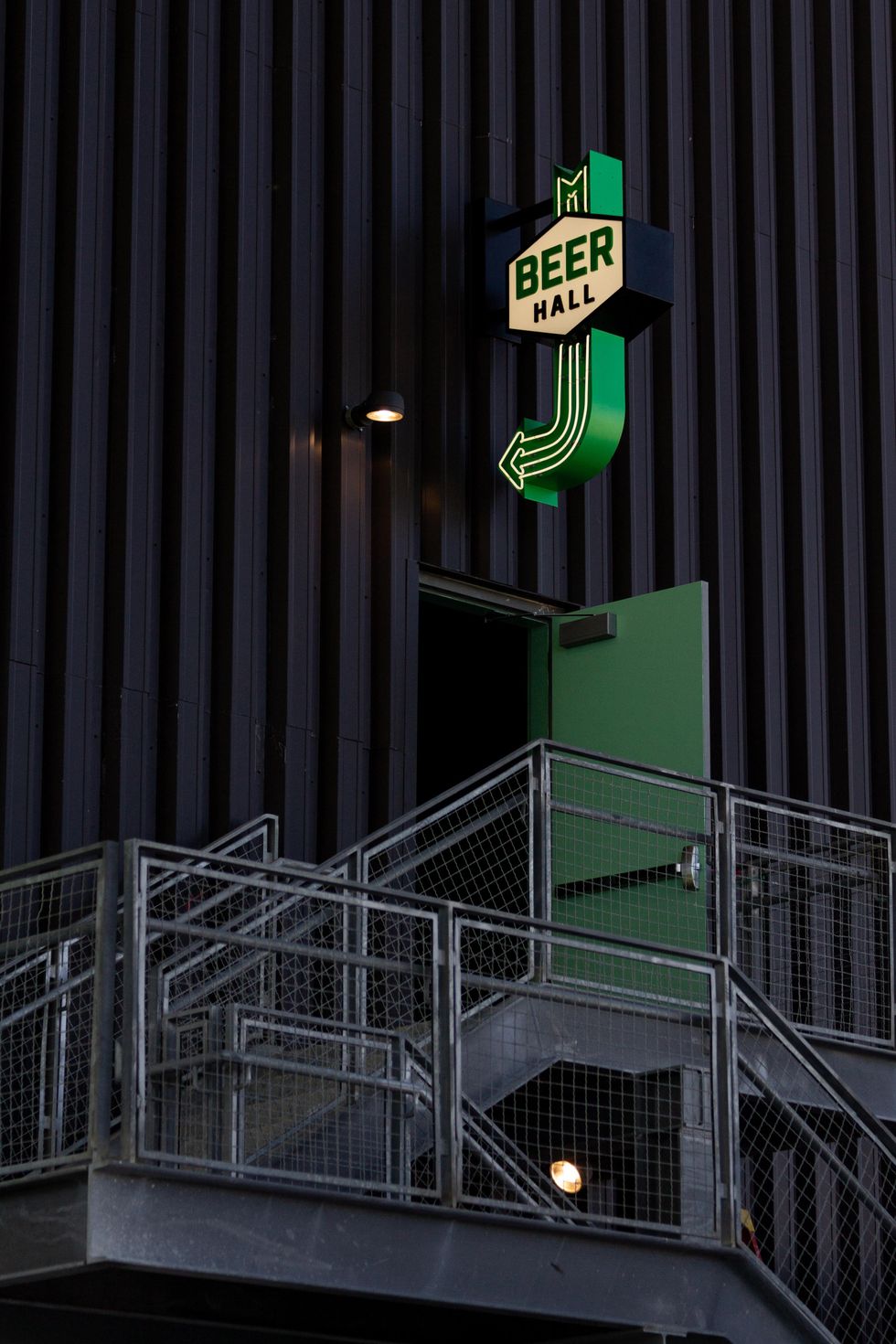 (Christa McWhirter)
While Austonia saw the field, the press box and part of the area's food and hospitality space, many features are still in progress.
Here's a list of things that are still in the works:
The beer hall won't be open to the public, but we know that the facility will have 18 taps, 20 TV screens and be able to hold up to 400 people.
The 5,000-square foot Verde Store, located underneath the beer hall on the north side, will be a one-stop shop for Verde merch and accessories. The store will be open even when matches aren't going on, with daily openings except for on major holidays. Another store, The ATXFC Shop, will be located on the other side of the stadium and will draw its inspiration from famous Austin record stores.
We got a peek at the luxury suites in the building but weren't able to enter. While much of the furniture and amenities that will take the suites to the next level were not yet in place, we were able to see some built in benches in the air-conditioned spaces.
The press box—more for us than for you—gives us a bird's eye view from the west side to make sure our coverage is as accurate as possible.
The H-E-B Plaza, located outside of the stadium's northeast corner, will be home to iconic Austin food trucks.
Austin FC's newest sponsor, Captain Morgan, will be the namesake for the east side's Captain Morgan Club, an entertainment and hospitality area.
Concerts and events at the live music capital​​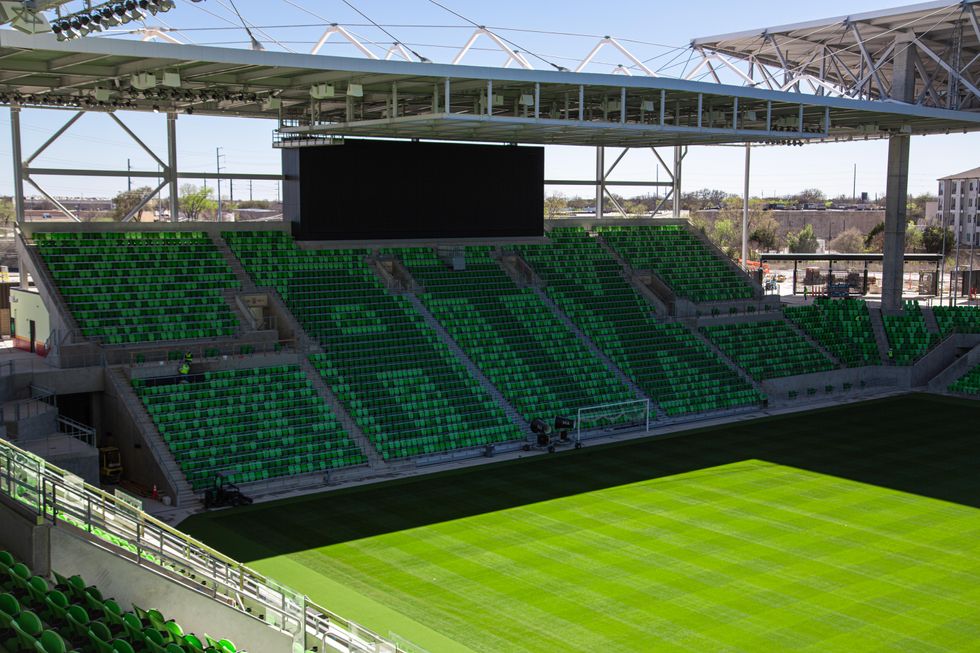 (Christa McWhirter)
With Austin being Austin, it's no surprise that the stadium will also double as a concert and events venue. Rumor has it that some events may even take place before the team's home opener, but no official announcements have been made.
The south side of the stadium's seats will also be a stage. The iconic "ATX" seats can actually be split in half and pushed away to give way to a massive concert and event facility.
The seats, which are designed for standing only, will be home to Austin FC fan clubs including Austin Anthem, Los Verdes and La Murga de Austin. The murga, or band, is inspired by fan bands for teams in many Latin American countries and will keep spirits alive in the stadium throughout the game. Although it hasn't been tested out yet, the stadium was designed to make sure fans in all corners of the stadium can hear La Murga's steady drumbeats and chants.
Keeping it cool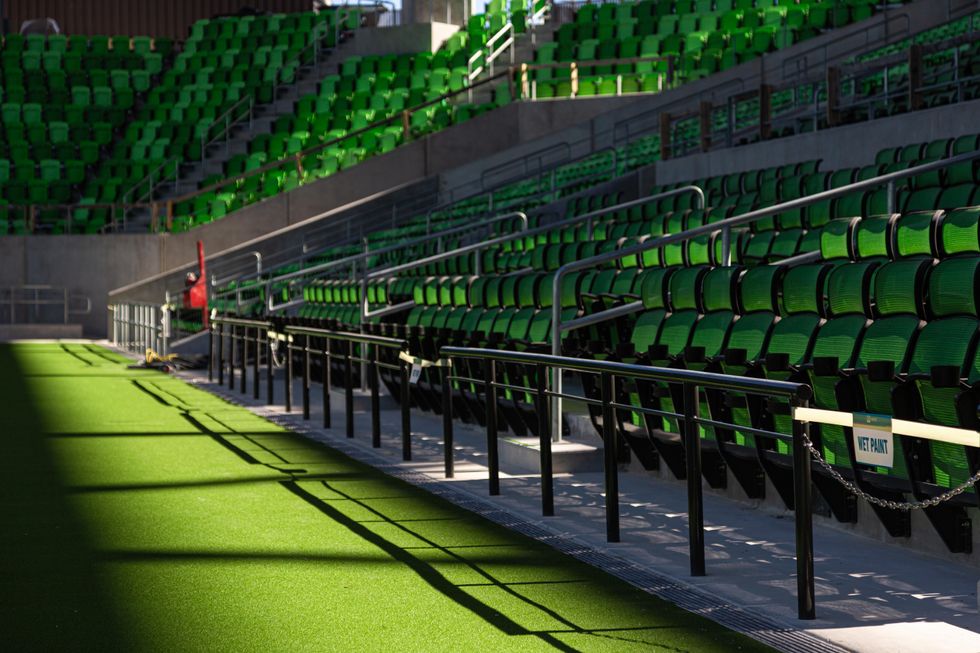 (Christa McWhirter)
Although the winter storm may have made us temporarily forget, a balmy Austin summer is ahead of us. Austin FC knows that keeping fans and players cool is a priority and have adjusted to the potentially oppressive Texas heat. The stadium has been built to bring wind in and keep a steady air flow throughout the stadium, and 6,000 total seats on the lower sections of the stadium are made of breathable mesh to minimize heat.
Air conditioned areas are located on the north and south sides of the stadium as well as suites on the west side.
Coming up
As construction wraps up for the city's newest stadium, fans may actually be able to see the facility for themselves before the June 19 home opener. On Monday, Loughnane said that the club is looking to open up public tours in the next few months.
Austin FC will face its first-ever opponent in Los Angeles against LAFC on April 17 before they make it home for the first time to play the San Jose Earthquakes on Saturday, June 19.
For daily updates on Austin FC, sign up for free messages from Austonia.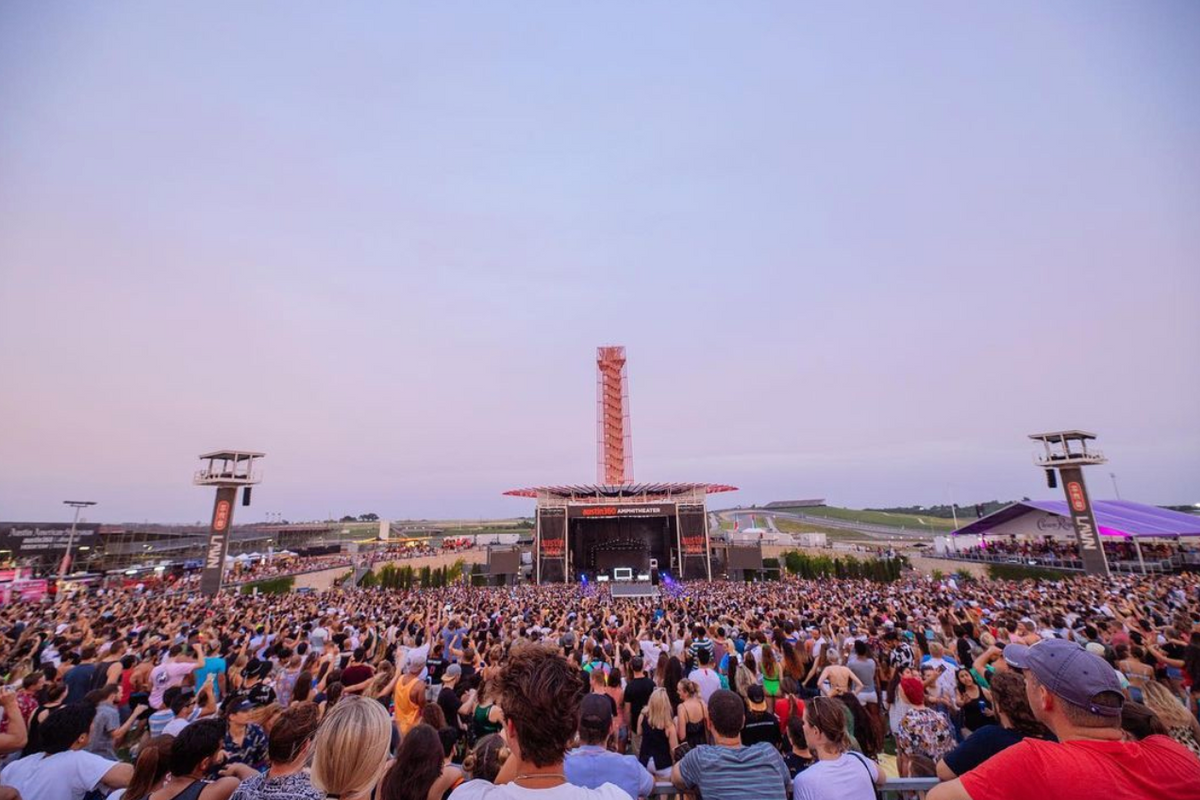 Friday
Calling all Porter Robinson fans–now is the time to see the electronic artist in Austin alongside six additional up-and-coming artists in the genre. The mini-fest moves to Dallas the next day and you can get tickets starting at $25.
4:30 p.m. Friday | Germania Insurance Amphitheater,
9201 Circuit of the Americas Blvd.
Held for the first time in Austin, Coindesk Consensus promises to be the "SXSW of crypto," with more than 300 speakers slated to talk about Web3, blockchain and the Metaverse. Fidelity Investments CEO Abby Johnson, Edward Snowden and Binance CEO Changpeng 'CZ' Zhao will speak. Tickets start at $99 for a virtual pass or $1,299 for general admission.
Times vary Friday-Sunday | The Fairmont & Austin Convention Center, 101 Red River St.
Embrace your inner biker for an extended weekend at the Republic of Texas Motorcycle Rally, which is being held in Bastrop for the first time. Live music, rides and motorcycle acrobats will keep you entertained! Tickets start at $25.
Times vary Thursday-Sunday | Mere's Reserve,
1141 FM 969 Farm-To-Market Rd.
Link & Pin has invited some of its favorite local artists to display their work during the 2022 Summer Strut, which runs all weekend through Aug. 28, to give them some exposure.
1-5 p.m. Thursday-Saturday | Link & Pin Gallery,
2235 E. 6th St. #102.
Saturday
This exclusive three-week show kicks off on Saturday, running through June 26, featuring never-before-seen large-scale work from owner Lisa Russell's private collection. The works will all have limited exposure, and be displayed together for the first time—pictures will not be allowed. Free private walkthroughs can be scheduled at sales@wcc.art.
1-5 p.m. Saturday-Sunday | West Chelsea Contemporary,
1009 W. 6th St #120.
Poetry in the Park is returning for a second time under the shady trees at Republic Square. As a platform for local poets and spoken word artists, this weekend's theme will focus on Pride Month and Juneteenth.
11 a.m.-1:30 p.m. Saturday-Sunday | Republic Square,
422 Guadalupe St.
Catch Canadian poet, illustrator and mind behind the poetry book "Milk and Honey," Rupi Kaur, in Austin. Get tickets for the famous "Instapoet" starting at $39.
8 p.m. Saturday | Bass Concert Hall,
2350 Robert Dedman Dr.
Celebrate Pride Month during a day in the sun with your fellow Austinites at Moody Amphitheater. The free daylong festival will feature Pride-themed activities and LBGTQIA performances.
12-9 p.m. Saturday | Moody Amphitheater at Waterloo Park, 500 E. 12th St.
Reminisce in the music of the '60s at the Cedar Park H-E-B Center, featuring tunes from The Drifters, The Platters + Cornell Gunter's Coasters.
7:30 p.m. Saturday | H-E-B Center at Cedar Park,
2100 Ave of the Stars.
Sunday
Put on your dancing shoes and get ready to learn about the shared African roots of Puerto Rico and Mexico at the Salsa & Heritage Festival. Tickets are $30 the day of the festival, $24 for early birds.
3-8 p.m. Sunday | JCC Austin Ballroom, 7300 Hart Ln.
Help benefit the Williamson County Food Bank while you enjoy a day full of cars, live music, bouncy houses and food. Plus, you can enter your car for a chance to win a trophy. Tickets start at $10.
9 a.m.-1 p.m. Sunday | Realty Texas,
2000 S I-35 Frontage Rd Suite P.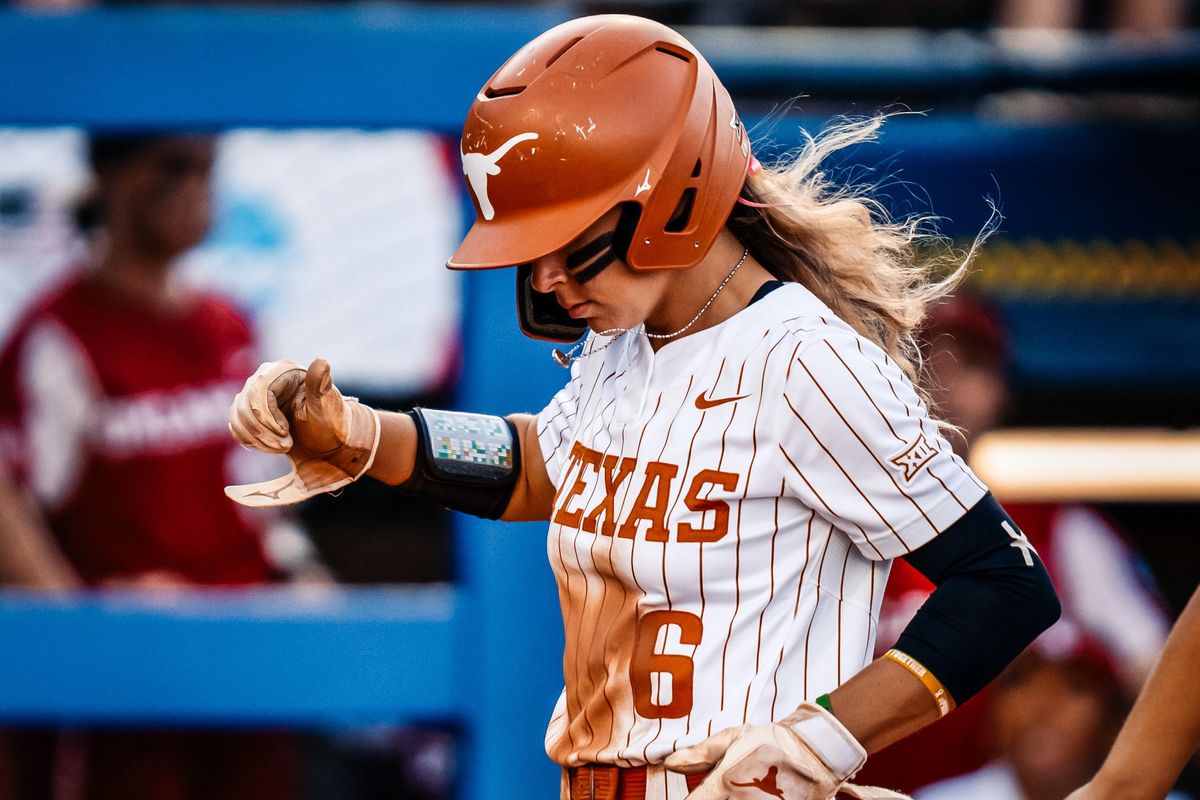 The unseeded Texas softball team couldn't hold 'em as they lost 16-1 to No. 1 Oklahoma in the first game of the College World Series championship Wednesday night.
While Austin's bats were hot enough to score a run in the first inning, the rest of the game was all Sooners as Oklahoma's Jocelyn Alo hit the first ball out of the park in the bottom of the first.
The Sooners capped the first inning with four more runs before slamming five more home runs, including two apiece from All and Tiara Jennings, to set a new WCWS record.
And while Texas threatened to score several more times and stranded seven runners on base in the fifth, the Longhorns would spend the rest of the match scoreless.
But Texas' 'Cinderella run' isn't done yet: the forever underdogs are set to play at least once more in the best-of-three series at 6:30 Thursday in Oklahoma City.