Never miss a story
Sign up for our free daily morning email...
...and afternoon text update
Get connected with our daily update
The world has changed drastically over the past year, and South by Southwest, one of Austin's most beloved institutions, has, too.
After being abruptly canceled by the city last year, one week before it was set to kick-off due to the increasing understanding of the potential impact of COVID-19, it returns this year in a virtual format March 16-20.
---
The festival, which for more than 30 years has drawn visitors from across the globe to Austin every March, will this year put an even greater focus on the changing world around us, with themes that touch on everything from cultural resilience in the arts to finding connection in a virtual world, said SXSW Chief Programming Officer Hugh Forrest.
Additionally, the festival will spotlight ways to create both immediate and lasting progress in areas such as racial injustice, poverty, nationalism and the climate crisis amid a global pandemic, Forrest said. Keynote speakers include Austin's musical icon Willie Nelson, U.S. Secretary of Transportation Pete Buttigieg; and political activist and bestselling author Stacey Abrams.
"Strangely, amazingly, in 30 years of SXSW, Willie Nelson has never spoken at SXSW. This is his first time ever," Forrest said. "If there's anyone who is the spiritual leader of Austin culture, of the Austin vibe, of the thing that's making everyone in the world try to move to Austin, that is Willie Nelson. I'm so, so excited he's a part of this year's event."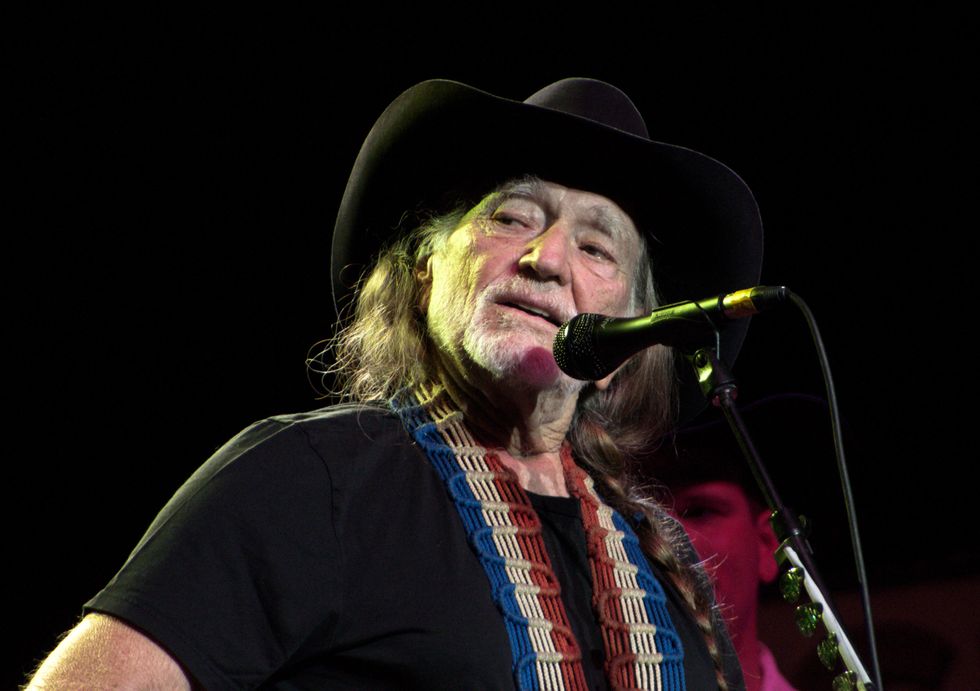 Austonia checked in with Forrest about highlights of this year's festival, lessons learned over the past year and what the festival might look like going forward. Below are edited excerpts from that interview.

First things first, how are you doing?
Let's not do another one of these years anytime soon, right? It has been a challenging year for everybody in Austin and Texas and the U.S. and the world. Personally, I've worked at SXSW for 30-plus years and this feels like it's been the most challenging year I've ever done this.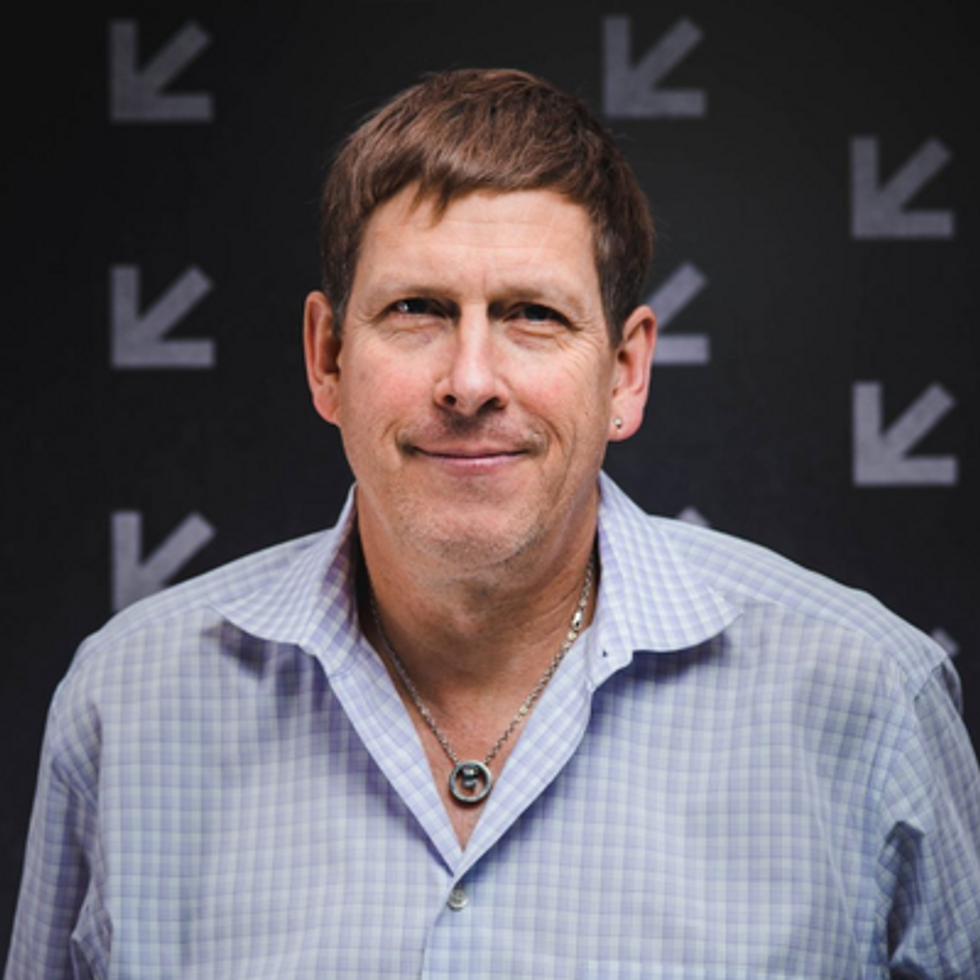 SXSW Chief Programming Officer Hugh Forrest (Hugh Forrest/Twitter)
Last year, the city decided to cancel SXSW on March 6. What was that like?
We were one of the first big events in the U.S. to be canceled because of COVID. At the time when it was canceled there were people who were like, 'Do we really need to cancel this?' A month, two months, three months later? It was absolutely the right call to make, and thank goodness the city had the foresight to do that.
You all had spent 10 months planning for SXSW 2020. How did the cancelation impact SXSW staff personally?
It was heartbreaking to have the event canceled. (Under normal circumstances) it's a really hard slog of 10 months but you're always rewarded when spring comes and all these people come to Austin and it's a heck of a lot of fun and it makes all the hard work worthwhile. That didn't happen this year. That was challenging. We had to layoff some of the staff, and that absolutely sucked. It was a difficult spring.
How did you plan for the 2021 event with so much in flux in the world?
That was challenging also because to the extent that we can recall where our mindset was in March, April and May last year, it seemed like this thing was going to be over in a few months and we'd be back to normal. We were kind of planning two or three different scenarios at once, whether 2021 will be an in-person event like we've always done, or wait, maybe it'll be somewhat in person, somewhat online, or wait, maybe it'll have to be fully online. By early fall, mid-fall it became pretty apparent we weren't going to be able to do any kind of in-person experience.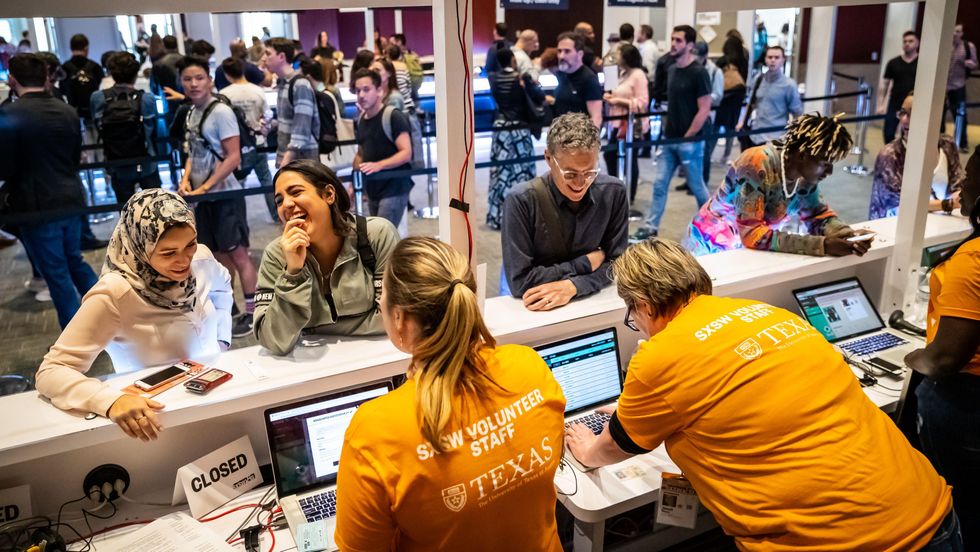 A normal year of SXSW brings in thousands from all over the world.(Aaron Rogosin/SXSW)
What were the primary challenges with planning a virtual event?
One of the things from a planning standpoint and an execution standpoint that has made this year's event so much more difficult is that we have 30 years of experience producing a live event. We've gotten a little better every year and of course in 30 years that equates to a lot of improvement. We've never done a virtual event before, so there's no playbook to look at. It's just a completely different scenario and very, very challenging.
The March timing of SXSW meant it was deeply impacted by the pandemic two years in a row, first with a cancellation and second with a virtual event. With the ACL festival and University of Texas football announcing that they plan to have in-person events come fall, is that frustrating for you at all?
Is it hard to take? Yes. Is there any alternative? Not really. When dealt with lemons try to make lemonade. I think for as challenging as this year has been, meaning planning for SXSW 2021, we've put together a pretty phenomenal program. It's going to be a different program than what you would experience in person but in many ways, it's not different. SXSW has always focused on massive creativity. People are doing incredibly innovative things, have ideas about the best new technologies, the best new music, the best new films. That's what we're doing again is bringing together very, very creative people and trying to inspire our audience, because inspiration is more important than ever in 2021.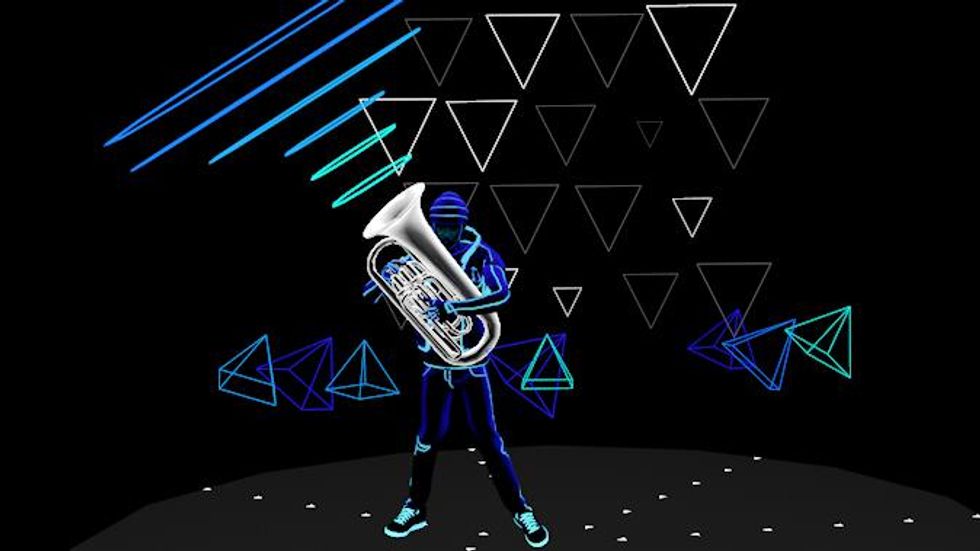 SXSW 2021 Online XR. (SXSW)
From the pandemic to the Black Lives Matter movement to the election, 2020 was a year like no other. How did the events of the past year impact this year's programming?
The one-word answer is immensely. I think the 2021 program is very, very reflective of everything we've seen over the last 12 months, be it COVID and COVID recovery or the Black Lives Matters protests and how a lot of us are trying to become more DEI (diversity, equity and inclusion) focused individually and as companies. Also, the divided scenarios that we saw on Election Day and thereafter and, even if you want to go back two weeks ago in Austin, the huge storm being likely a feature of climate change. We've got a lot of climate change content at this year's event.
What doors has having a virtual event opened in terms of programming?
The fact of being a virtual event where speakers participate by being on a Zoom call has given us the opportunity to pull in speakers that we've always wanted to have at SXSW but it's never quite worked. One of the best examples there is (businessman, investor and author) Sir Richard Branson, who is speaking on a session about how business leaders should be against the death penalty. It's a fascinating session, he's very committed to this cause and also committed to this idea that businesses need to get more involved in social issues. We've been trying to get him to Austin in the spring for at least the last five years and it never worked out and this year it did from a virtual standpoint.
What should people expect from the virtual SXSW experience?
One of the neatest things about the virtual event is in some ways people will be able to experience the convergence of different industries that SXSW always executes in an even more robust way. You'll be able to do a film screening and then go to a panel about food and then go to a music showcase and then a comedy thing, all in the space of 90 minutes and all from the convenience of your laptop or your connected device.
Do you have any attendance projections?
One of the features that I'm always proud and excited about for SXSW is it brings so many international people to Austin. In recent years in fact, about 25% of our paid registrants were from outside of the U.S. That number has gone up even more with the virtual event.
What's your hope for SXSW 2022?
I think, I believe, I hope that we'll be back to an in-person, real-world event in 2022, but I think what we will have learned doing the virtual event this year will be a huge help. The pandemic has impacted every business and the pandemic has forced every business to evolve and change and grow and reevolve very quickly and do 10 years of evolution in the space of a year. The event business is no different than that. When we come back in 2022, we'll have a hybrid approach where people who can travel to Austin and experience SXSW can experience the event that way. People who simply want to experience the event from the convenience of their computer will be able to experience the event that way also.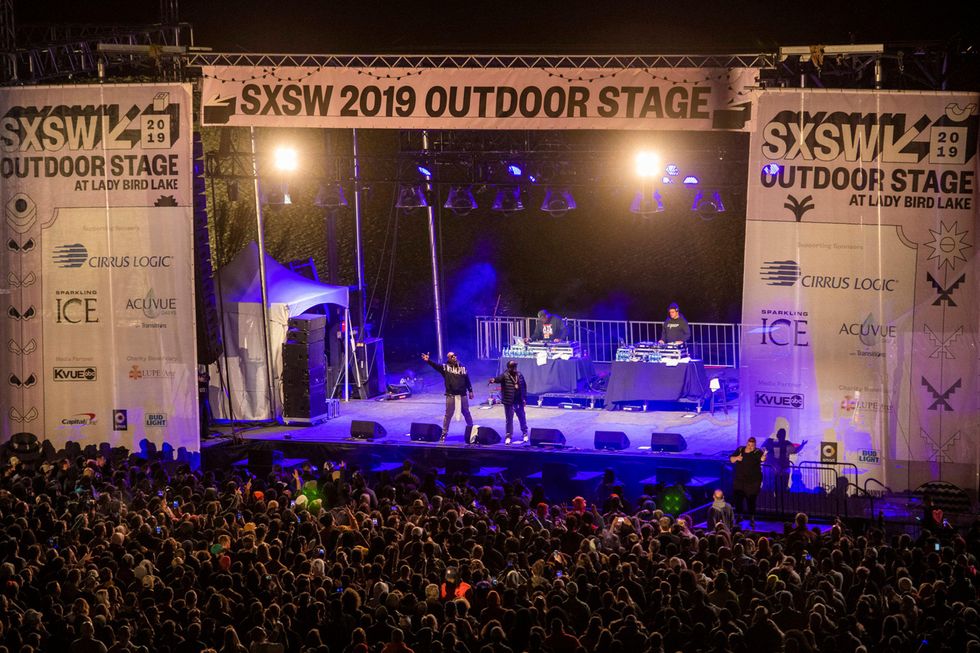 (David Brendan Hall)
Any final thoughts on this year's event?
On the one hand, it's a very different year because it's virtual and that has produced huge challenges, but on the other hand, it's the same SXSW we've been doing for 30-plus years where we're trying to emphasize, showcase, celebrate, propagate massive creativity in all different industries, bring very creative people together and see what kind of connections and new ideas come when you bring those people together. That's been the formula for what has made SXSW so special in the past and I think it will also make SXSW very special in 2021 and thank goodness in 2022, knock on wood, we'll be back to being able to do it in person and in real life.
IF YOU GO
SXSW's 2021 iteration, SXSW Online, will be held virtually March 16-20. Passes are $325 and include access to all aspects of the festival, including conference keynotes and featured speakers, film festival premieres and screenings, music festival showcases and events, comedy festival showcases and online exhibitions. After the festival ends, much of the content will remain available for passholders to view through the end of March. Learn more here.
Local nonprofit Mobile Loaves & Fishes announced plans to vastly expand Community First! Village, a 51-acre master-planned development that is home to more than 220 formerly chronically homeless residents, on Wednesday.
The two-phase expansion will add 1,400 micro homes and 127 acres between two pieces of land—one across the street from Community First! Village on Hog Eye Road in far East Austin and the other on Burleson Road in Southeast Austin—with development starting in summer 2022. The land purchases were made possible thanks to a donation commitment from Love, Tito's, the philanthropic arm of Tito's Handmade Vodka. (Disclosure: Tito's is an Austonia sponsor.)
Mobile Loaves & Fishes has operated Community First! Village, which Austin Mayor Steve Adler has coined as "Austin's most talked about neighborhood," for more than five years. During that time, the social outreach ministry has paid out more than $3 million to residents, who make and sell art and maintain the village.

The expansion consists of Community First! Villages third and fourth phases and will more than triple its size and sextuple its current number of homes, from 240 to 1,900 total. In addition to the coming micro-homes, the village also includes RVs and canvas-sided cottages.
Amber Fogarty, president of Mobile Loaves & Fishes, said the expansion announcement is proof that there is hope despite the city's ongoing homelessness crisis. "We realize there's an intensifying conversation happening in our city right now as it relates to homelessness, and for some it may seem like a dismal situation," she said in a statement. "It brings us great joy to think that today's expansion news means we will bring home many more of our friends who are currently suffering on the streets of Austin."

As residents prepare to vote on a controversial proposition that would reinstate a ban on camping and other activities in parts of the city, Adler said Community First! Village is "a vital and important piece of the puzzle" when it comes to addressing homelessness in Austin and praised Mobile Loaves & Fishes founder and CEO Alan Graham for his vision.
To be eligible to live at Community First! Village, applicants must be chronically homeless, meaning they have lived in a place unsuitable for habitation for at least one year and have at least one qualifying disability; have lived in Travis County for at least one year; and have the ability to pay rent, through social security income, disability benefits or on- and off-site work.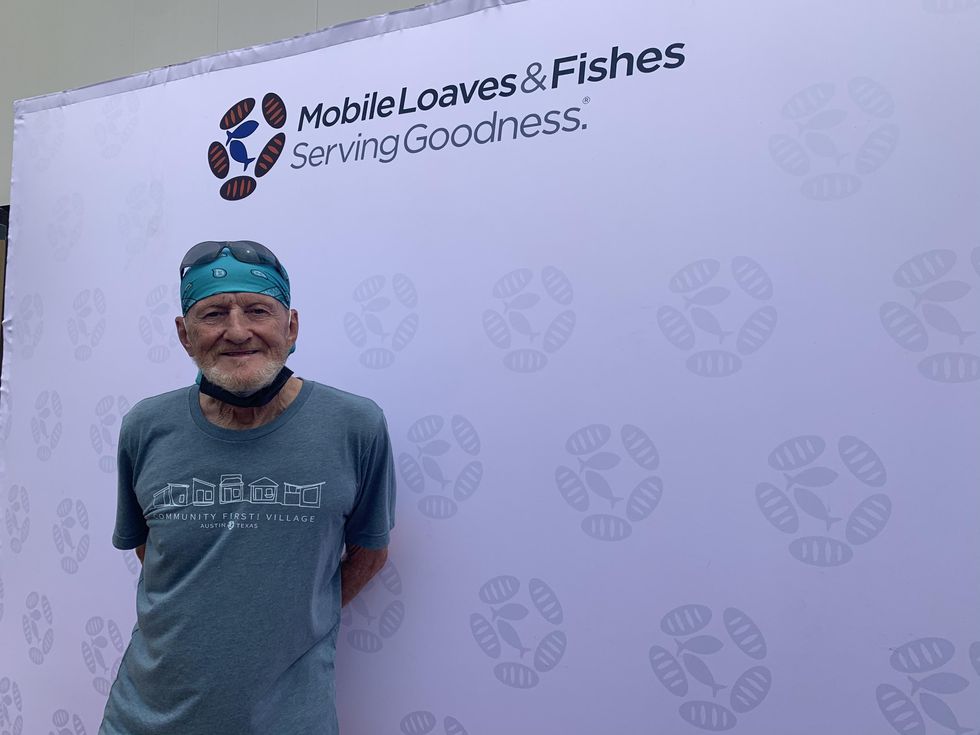 Tim Shea has lived at Community First! Village for five years. (Emma Freer)
Tim Shea has lived at Community First! Village for five years, after three decades of intermittent homelessness, heroin addiction and incarceration. After living in an RV, he became the first person in the country to move into a 3D-printed home, furnished by the Austin-based construction technology company ICON. "I am loving it," he said, citing its high ceilings, big windows and solidity as his favorite features.

The expansion plans are welcome news to Shea. "I'm not surprised," he said. "I just know that more people need to know about it."
Austin FC's first season will officially be underway, but their inaugural match will be nearly 1,500 miles away from their home city.
The match, which will see No. 21 ATXFC face No. 2 LAFC, will be broadcast nationally on FOX and FOX Deportes at 5 p.m. on Saturday, but for some, simply watching from home isn't quite enough.
Luckily, Austin FC, fan clubs and bars across the city are looking to keep the soccer spirit alive in Austin through several Saturday watch parties. So, put on your Verde gear and head to one of these watch parties this weekend.
As Austin navigates its homelessness crisis, city voters will decide starting Monday whether to reinstate a ban on sitting, lying and camping in certain areas of the city. Proposition B has drawn impassioned support and opposition and is perhaps the most contentious item on the May 1 ballot.
Austonia sought out clear and brief editorials from either side of the debate. Arguing in favor of Prop B is Cleo Petricek, a Democrat and co-founder, along with Travis County GOP Chairperson Matt Mackowiak, of the Save Austin Now political action committee, which has led the charge to reinstate the camping ban. Opponent Emily Seales is a licensed clinical social worker and advocate with over 20 years of experience working and volunteering in homeless services in Austin and around the country. She is currently on staff at the Sunrise Homeless Navigation Center and is board co-chair of Open Door.
Editor's note: These submissions are the unedited views of their authors. Claims made have not been fact-checked to give the proponent and opponent a chance to speak their minds freely.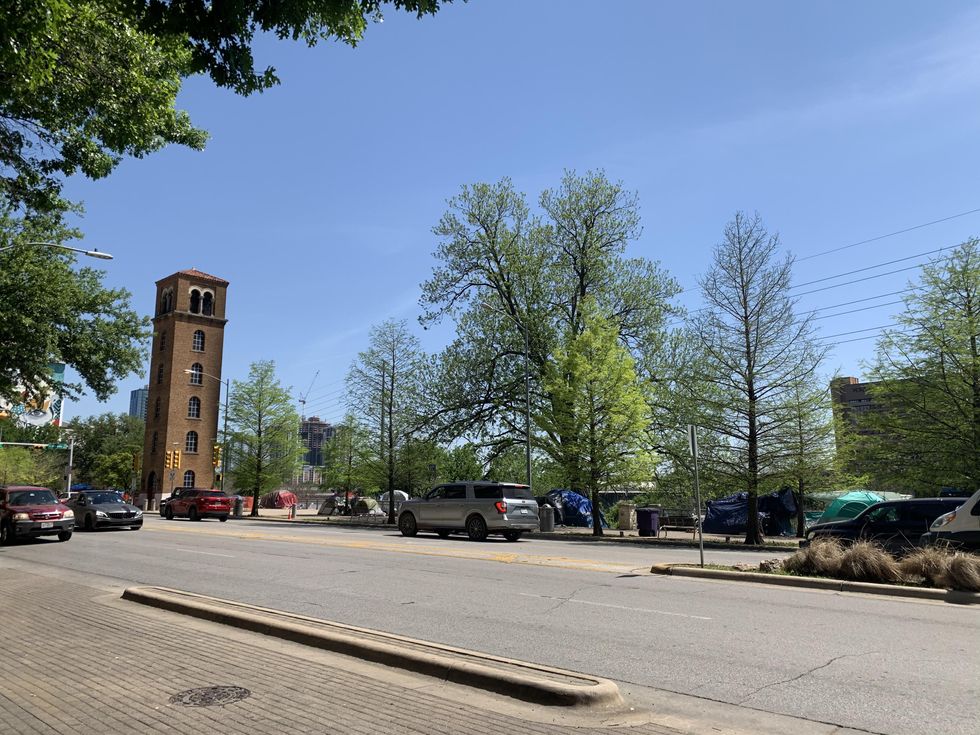 Homeless residents have also set up tents along Cesar Chavez Street near Buford Tower, which recently caught fire after a blaze spread from the camp. (Emma Freer)
Pro: Voting yes on Prop B sends a message to council that voters' voices and real solutions are paramount

In June 2019, the Austin City Council rescinded regulations on camping in public spaces. They did so without any serious public discussion and in fact appeared to actively avoid serious scrutiny. The resulting chaos is clear for all to see. Parks and playgrounds impacted by illicit behavior, lewd activities in public, trash strewn in waterways and public spaces, and most critically, assaults on the public and on other homeless individuals.
It is obvious that the homeless are not helped by this misadventure. Vulnerable women and youth in these camps are abused, mentally ill individuals are not served and there is no incentive for substance abusers to seek help.
Proponents of this mess have put forward no credible plan for any short term housing that restores safety—instead they talk about abstract housing concepts that even they acknowledge will take years to develop. This is the mark of narrowly focused activism, not what citizens should expect from elected leaders who promise to serve their communities. At every turn, the proponents of this chaos have demonstrated that they are not capable of fully considering the needs of diverse communities and proposing workable solutions. Instead they simply double down on trying to tell Austin that anything other than their chaos is heartless and inhumane. This is intellectually lazy, and Austin should demand better.
The chaos created by the City Council has resulted in a public outcry culminating in the citizens demanding to be heard by direct ballot. This demand is across the political and economic spectrum. As a co-founder of the Save Austin Now PAC and a lifelong Democrat, I have seen the diversity of people raising their voices in concern for our city.
It's time we turn this situation around and vote yes on Prop B. It sends a clear message to the council that the citizens of Austin must be heard as we work toward real solutions. There are successful models to learn from and some in our own state. But it all starts with voting yes on Prop B starting April 19.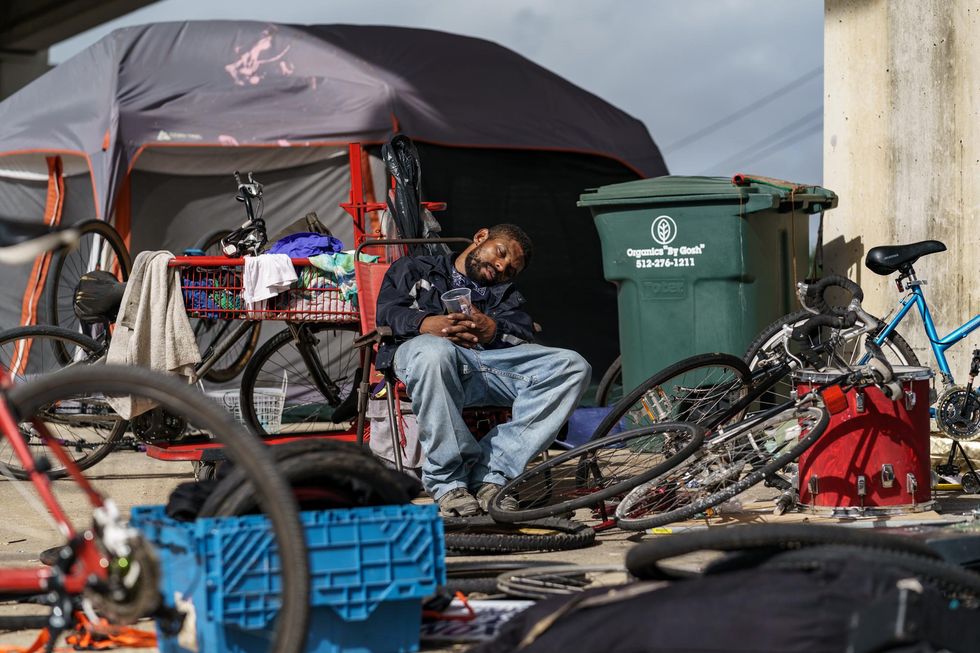 A homeless residents sleeps in the middle of a bike scavenging operation based at a camp under the South Austin overpass. (Jordan Vonderhaar)
Con: Prop B blames homeless individuals rather than providing solutions to societal problems
Austin's homeless population needs help, but Prop B doesn't do anything to solve our city's problems. It simply tells people who are experiencing homelessness that they cannot exist, visibly, in public space. I, too, am worried about the encampments. They are evidence that our strategies to help people return to housing aren't sufficient. But telling people "You can't stay here" without giving them alternatives isn't a solution.

The reason so many people are experiencing homelessness is that it takes a long time to get into housing, even when you do everything right. Shelters are at capacity, we lack deeply affordable housing, landlords can refuse housing vouchers, and housing programs are full.
As a case study, I want to tell you about "Bill," whom I met two years ago. Bill was a veteran, father, former truck driver and person of faith. He was also homeless and unsheltered. Bill had recently suffered a series of strokes and was desperate for both disability income and housing.
Bill and I worked together every single week for 17 months. He eventually was awarded disability and moved into his own apartment.
Bill's situation is typical of hundreds of people who are stymied by our complicated processes and lack of housing. Prop B would not add resources for people like Bill. Read the ballot language. Because Prop B bans "camping," people would have to move around constantly to avoid being cited. All that moving around takes time and energy. People like Bill would have a harder time keeping their appointments with case managers. Unpaid fines from citations build a criminal record—and landlords can choose not to rent to someone with a record. So punishing people for not having housing makes it even harder to get housing. Prop B hurts, not helps.
In this election, Austinites have a choice to criminalize people like Bill or to work toward solutions. Prop B places the blame on individuals rather than recognizing homelessness as a failure of society.
Prop B is an inhumane and wrong response. Oppose Prop B, and let's focus on solutions. Learn more
here
.