Get connected with our daily update
The world has changed drastically over the past year, and South by Southwest, one of Austin's most beloved institutions, has, too.
After being abruptly canceled by the city last year, one week before it was set to kick-off due to the increasing understanding of the potential impact of COVID-19, it returns this year in a virtual format March 16-20.
---
The festival, which for more than 30 years has drawn visitors from across the globe to Austin every March, will this year put an even greater focus on the changing world around us, with themes that touch on everything from cultural resilience in the arts to finding connection in a virtual world, said SXSW Chief Programming Officer Hugh Forrest.
Additionally, the festival will spotlight ways to create both immediate and lasting progress in areas such as racial injustice, poverty, nationalism and the climate crisis amid a global pandemic, Forrest said. Keynote speakers include Austin's musical icon Willie Nelson, U.S. Secretary of Transportation Pete Buttigieg; and political activist and bestselling author Stacey Abrams.
"Strangely, amazingly, in 30 years of SXSW, Willie Nelson has never spoken at SXSW. This is his first time ever," Forrest said. "If there's anyone who is the spiritual leader of Austin culture, of the Austin vibe, of the thing that's making everyone in the world try to move to Austin, that is Willie Nelson. I'm so, so excited he's a part of this year's event."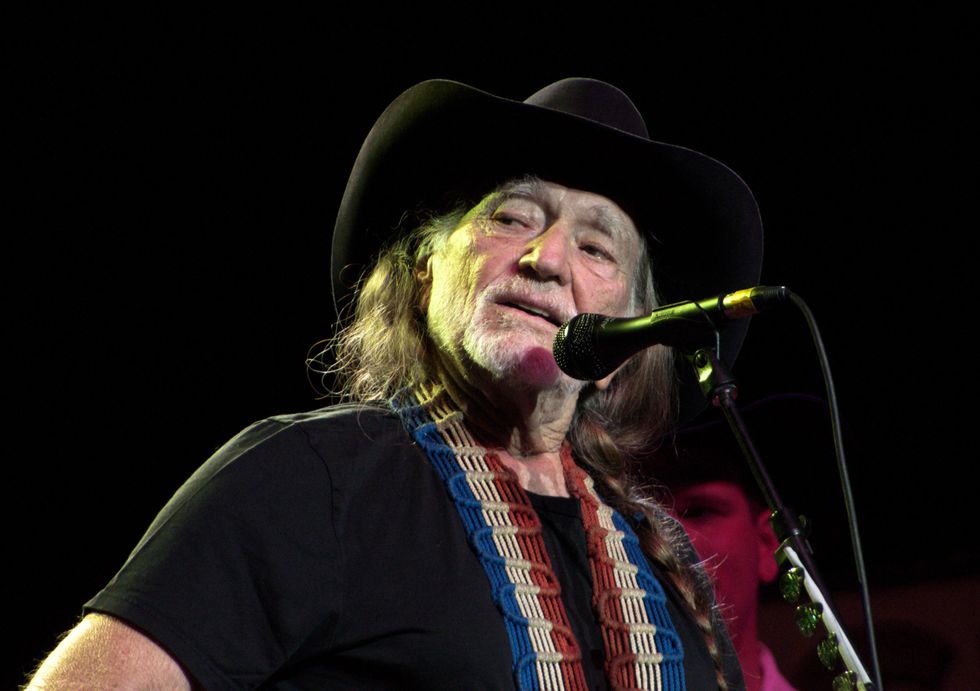 Austonia checked in with Forrest about highlights of this year's festival, lessons learned over the past year and what the festival might look like going forward. Below are edited excerpts from that interview.

First things first, how are you doing?
Let's not do another one of these years anytime soon, right? It has been a challenging year for everybody in Austin and Texas and the U.S. and the world. Personally, I've worked at SXSW for 30-plus years and this feels like it's been the most challenging year I've ever done this.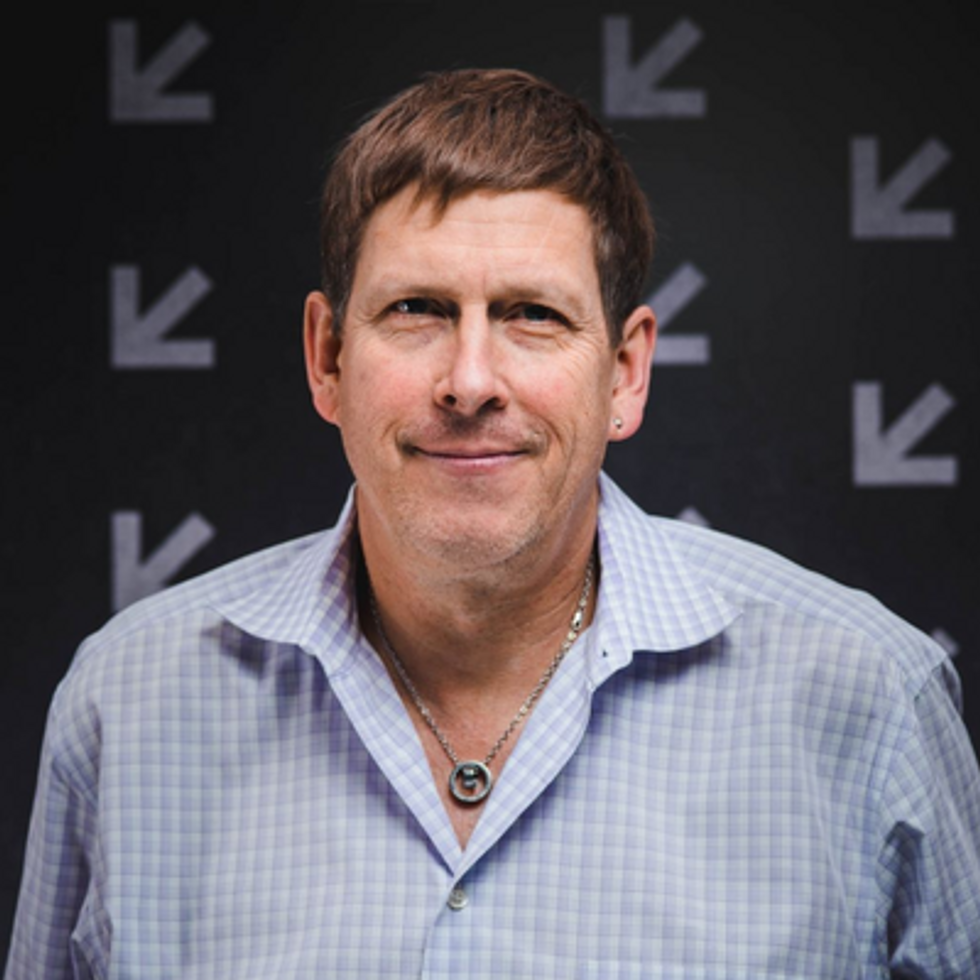 SXSW Chief Programming Officer Hugh Forrest (Hugh Forrest/Twitter)
Last year, the city decided to cancel SXSW on March 6. What was that like?
We were one of the first big events in the U.S. to be canceled because of COVID. At the time when it was canceled there were people who were like, 'Do we really need to cancel this?' A month, two months, three months later? It was absolutely the right call to make, and thank goodness the city had the foresight to do that.
You all had spent 10 months planning for SXSW 2020. How did the cancelation impact SXSW staff personally?
It was heartbreaking to have the event canceled. (Under normal circumstances) it's a really hard slog of 10 months but you're always rewarded when spring comes and all these people come to Austin and it's a heck of a lot of fun and it makes all the hard work worthwhile. That didn't happen this year. That was challenging. We had to layoff some of the staff, and that absolutely sucked. It was a difficult spring.
How did you plan for the 2021 event with so much in flux in the world?
That was challenging also because to the extent that we can recall where our mindset was in March, April and May last year, it seemed like this thing was going to be over in a few months and we'd be back to normal. We were kind of planning two or three different scenarios at once, whether 2021 will be an in-person event like we've always done, or wait, maybe it'll be somewhat in person, somewhat online, or wait, maybe it'll have to be fully online. By early fall, mid-fall it became pretty apparent we weren't going to be able to do any kind of in-person experience.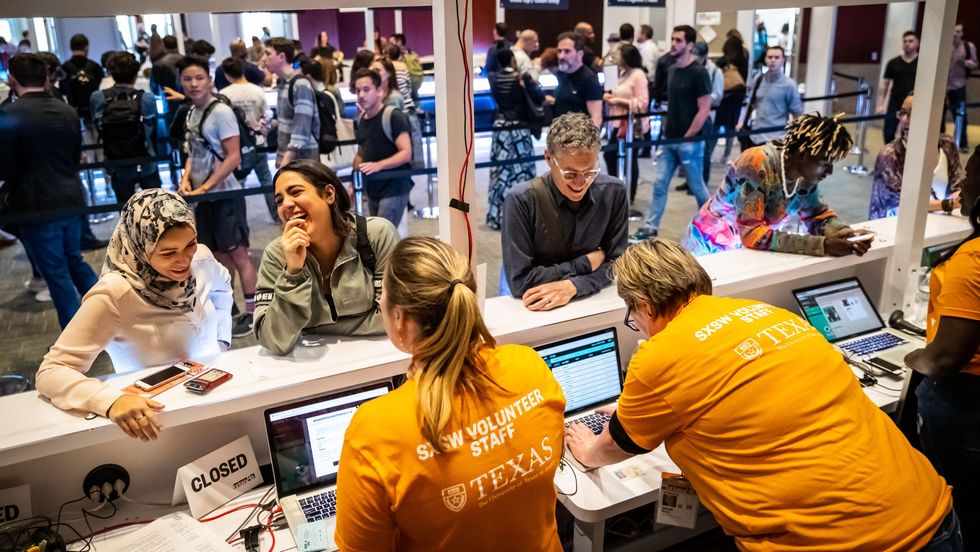 A normal year of SXSW brings in thousands from all over the world.(Aaron Rogosin/SXSW)
What were the primary challenges with planning a virtual event?
One of the things from a planning standpoint and an execution standpoint that has made this year's event so much more difficult is that we have 30 years of experience producing a live event. We've gotten a little better every year and of course in 30 years that equates to a lot of improvement. We've never done a virtual event before, so there's no playbook to look at. It's just a completely different scenario and very, very challenging.
The March timing of SXSW meant it was deeply impacted by the pandemic two years in a row, first with a cancellation and second with a virtual event. With the ACL festival and University of Texas football announcing that they plan to have in-person events come fall, is that frustrating for you at all?
Is it hard to take? Yes. Is there any alternative? Not really. When dealt with lemons try to make lemonade. I think for as challenging as this year has been, meaning planning for SXSW 2021, we've put together a pretty phenomenal program. It's going to be a different program than what you would experience in person but in many ways, it's not different. SXSW has always focused on massive creativity. People are doing incredibly innovative things, have ideas about the best new technologies, the best new music, the best new films. That's what we're doing again is bringing together very, very creative people and trying to inspire our audience, because inspiration is more important than ever in 2021.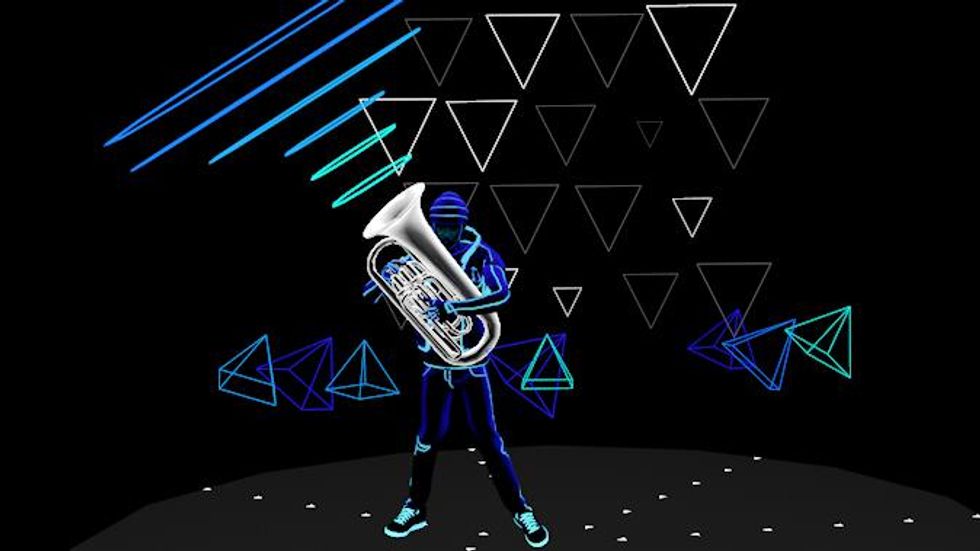 SXSW 2021 Online XR. (SXSW)
From the pandemic to the Black Lives Matter movement to the election, 2020 was a year like no other. How did the events of the past year impact this year's programming?
The one-word answer is immensely. I think the 2021 program is very, very reflective of everything we've seen over the last 12 months, be it COVID and COVID recovery or the Black Lives Matters protests and how a lot of us are trying to become more DEI (diversity, equity and inclusion) focused individually and as companies. Also, the divided scenarios that we saw on Election Day and thereafter and, even if you want to go back two weeks ago in Austin, the huge storm being likely a feature of climate change. We've got a lot of climate change content at this year's event.
What doors has having a virtual event opened in terms of programming?
The fact of being a virtual event where speakers participate by being on a Zoom call has given us the opportunity to pull in speakers that we've always wanted to have at SXSW but it's never quite worked. One of the best examples there is (businessman, investor and author) Sir Richard Branson, who is speaking on a session about how business leaders should be against the death penalty. It's a fascinating session, he's very committed to this cause and also committed to this idea that businesses need to get more involved in social issues. We've been trying to get him to Austin in the spring for at least the last five years and it never worked out and this year it did from a virtual standpoint.
What should people expect from the virtual SXSW experience?
One of the neatest things about the virtual event is in some ways people will be able to experience the convergence of different industries that SXSW always executes in an even more robust way. You'll be able to do a film screening and then go to a panel about food and then go to a music showcase and then a comedy thing, all in the space of 90 minutes and all from the convenience of your laptop or your connected device.
Do you have any attendance projections?
One of the features that I'm always proud and excited about for SXSW is it brings so many international people to Austin. In recent years in fact, about 25% of our paid registrants were from outside of the U.S. That number has gone up even more with the virtual event.
What's your hope for SXSW 2022?
I think, I believe, I hope that we'll be back to an in-person, real-world event in 2022, but I think what we will have learned doing the virtual event this year will be a huge help. The pandemic has impacted every business and the pandemic has forced every business to evolve and change and grow and reevolve very quickly and do 10 years of evolution in the space of a year. The event business is no different than that. When we come back in 2022, we'll have a hybrid approach where people who can travel to Austin and experience SXSW can experience the event that way. People who simply want to experience the event from the convenience of their computer will be able to experience the event that way also.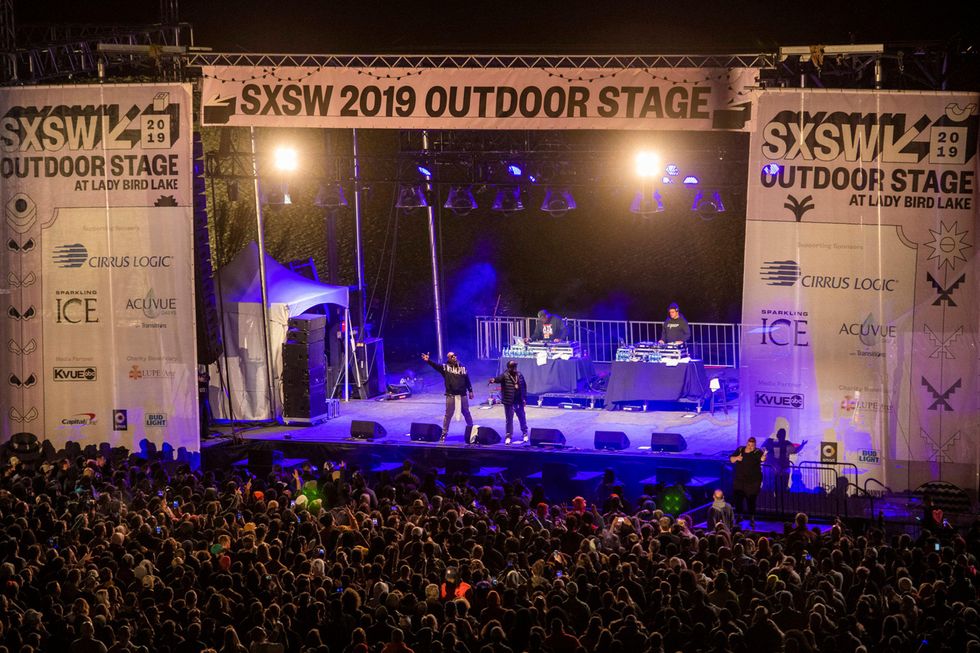 (David Brendan Hall)
Any final thoughts on this year's event?
On the one hand, it's a very different year because it's virtual and that has produced huge challenges, but on the other hand, it's the same SXSW we've been doing for 30-plus years where we're trying to emphasize, showcase, celebrate, propagate massive creativity in all different industries, bring very creative people together and see what kind of connections and new ideas come when you bring those people together. That's been the formula for what has made SXSW so special in the past and I think it will also make SXSW very special in 2021 and thank goodness in 2022, knock on wood, we'll be back to being able to do it in person and in real life.
IF YOU GO
SXSW's 2021 iteration, SXSW Online, will be held virtually March 16-20. Passes are $325 and include access to all aspects of the festival, including conference keynotes and featured speakers, film festival premieres and screenings, music festival showcases and events, comedy festival showcases and online exhibitions. After the festival ends, much of the content will remain available for passholders to view through the end of March. Learn more here.
Last fall, Janneke Parrish was pushing hard in her advocacy at Apple. She wanted to see flexibility with remote work, pay equity and for Apple to respond to Texas' six-week abortion ban with paid time off and coverage for the procedure under the company's health insurance plan.
Then, in October last year, she was fired.
Parrish, who lives in Round Rock and worked at Apple's Austin campus as an Apple Maps program manager for about five years, is a leader of an internal movement at the tech giant. It comes at a time when the company is expanding its local presence with a new $1 billion Northwest campus with space for 5,000 employees.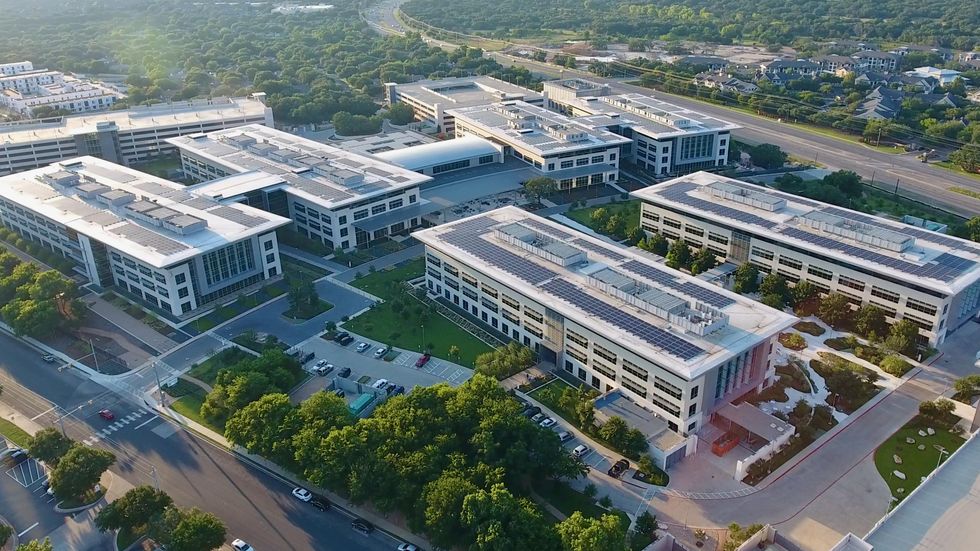 Parrish worked at this Apple campus on West Parmer Lane. (Steven Joyner)
In August, the movement known as #AppleToo launched a website with the goal of organizing employees and sharing stories about alleged workplace harassment and discrimination. Austonia talked to Parrish and another former Apple employee who are part of the movement about their claims in what they observed while working for Apple.
"I've been advocating for members of my immediate team within Apple for several years," Parrish said. "And when I realized that the issues that I was seeing with my own team were true throughout Apple, there was a natural transition toward, ok let's expand this advocacy and instead be more of an advocate for everybody at Apple to ensure that we the workers at Apple are treated fairly and equitably and get treated as human beings."
In the lead-up to her firing, Parrish faced an allegation that she had leaked details from a recent all-hands meeting to the Verge. She says she suspects it's this, along with her advocacy, that influenced Apple's decision to fire her.
"I didn't do (the leak). And I know that Apple knows I didn't do this," Parrish said since a few employees including herself didn't have access to that meeting due to a system crash that day. "I was still placed under investigation."
As a requirement of the investigation, Parrish turned in her work devices. Before doing so, she wiped the files from her computer, saying she didn't want her personal files on Apple servers. After a few days on paid suspension, she says human resources called and told her she'd been terminated with the reason being that she'd deleted those files.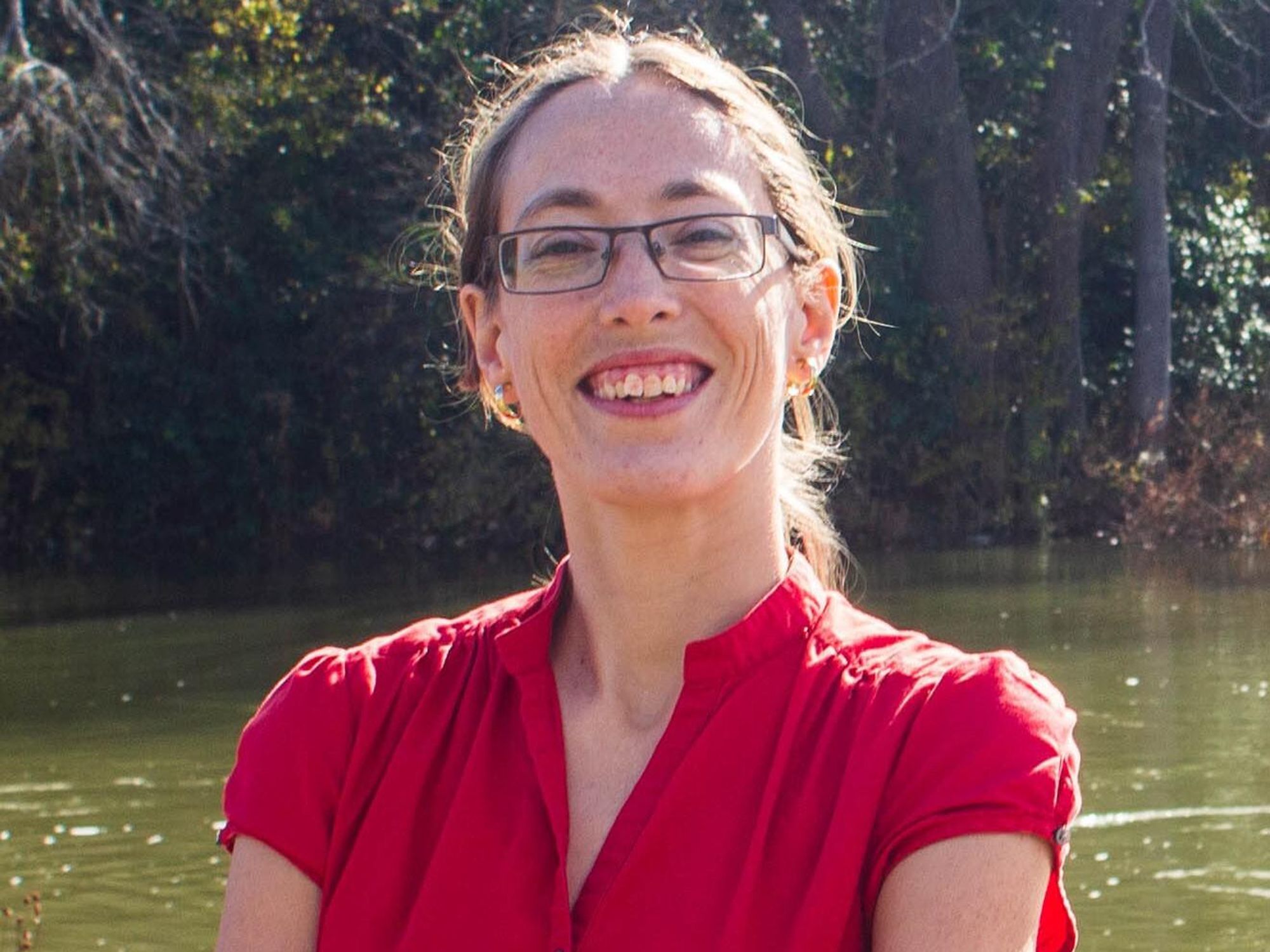 Parrish is one of the leaders of the AppleToo movement. (Janneke Parrish)
Before Parrish's firing, Apple was taking action on leaks and workplace organizing. An internal memo from 2018 noted a number of leakers they had caught were arrested. About a month before Parrish was fired, the tech giant had fired a senior engineering program manager for allegedly leaking confidential information. And in a September note, CEO Tim Cook sent a note to all Apple employees saying "people who leak confidential information do not belong" at Apple.
Austonia asked Apple about Parrish's case and other matters at the company. In an email reply, the company said:
"We are and have always been deeply committed to creating and maintaining a positive and inclusive workplace. We take all concerns seriously and we thoroughly investigate whenever a concern is raised and, out of respect for the privacy of any individuals involved, we do not discuss specific employee matters."
Another piece of Parrish's advocacy involved career opportunities for workers, particularly those based in Austin.
Even though Apple upped their presence in Austin in recent years, Parrish said Austin-area employees couldn't enjoy networking opportunities like California workers did as Apple events were held on the West Coast. Texan Apple workers shouldn't have to relocate to move up, she said.
"For those of us in Austin, I noticed, especially for my department, my career options were extremely limited," Parrish said. "I was told by a manager that if I really wanted to advance in my career, I would have to move out to California."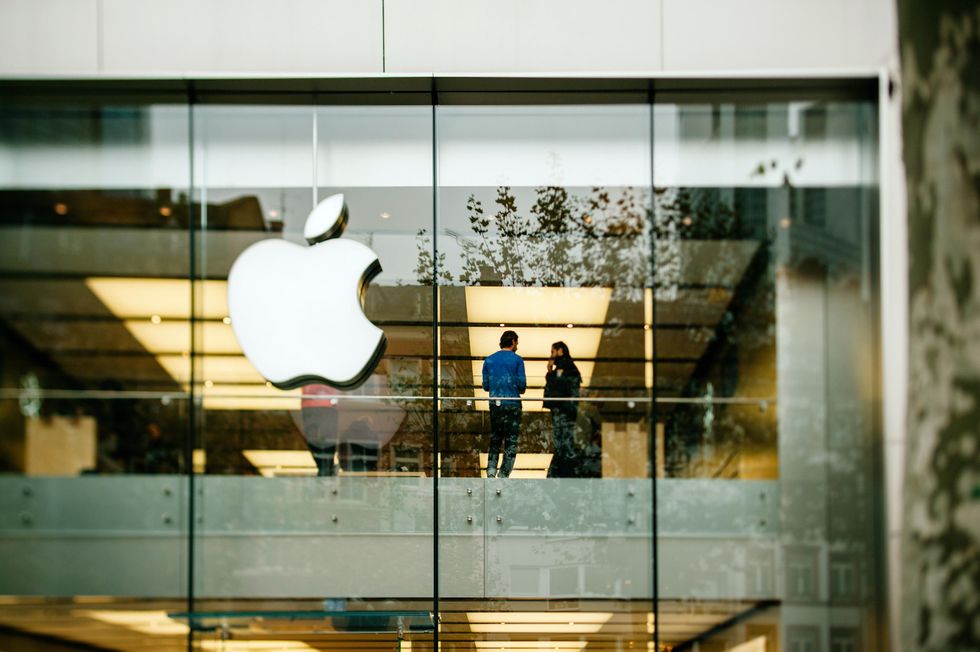 Parrish said Apple employees in Austin do not have the same career opportunities as those in California. (Shutterstock)
Austonia spoke to another member of the organizing group AppleToo. She requested anonymity to not hinder future job prospects in the tech industry. She'll be identified with the pseudonym Mary.
Mary said she's worked at Apple since 2008 in Austin, starting off as a contractor in customer support at iTunes and moving around over the years, leaving the tech giant earlier this month.
"It's too hard to advance and there are no opportunities for development so (I was) just kind of stuck in a dead-end job," Mary said.
Mary felt that another challenge was being a woman at a tech company. Starting out, she says she was the lowest paid in a training class of mostly men with pay of around $30,000, which rose to about $55,000 by the time she left.
But aside from pay, communication also proved to be a hurdle. To make her persona appear gender-neutral, she changed how her name was displayed on Slack, the interoffice directory and over email to just her first initial.
"The hard part was when I would have to get into a meeting with people then I felt like my voice is giving me away now," Mary said. "But when I could avoid having meetings, I felt like it did make a difference."
Mary says there's been some movement in the right direction. An internal memo in November affirmed employees' right to discuss pay after it had shut down employee-run pay equity surveys and an employee-run Slack channel. Earlier this month, it announced new efforts in a racial equity and justice initiative.
"We all want to see positive changes from Apple," Mary said. "We all want them to look at wage disparities. We'd like to see more diversity—more minorities in leadership positions, more females in leadership positions."
Still, Mary feels there's more to be done. "I wish Apple was more responsive at making bigger changes," she said.
The Texas French Bread Bakery, located on 2900 Rio Grande Street, has been completely destroyed after a fire erupted on Monday night.
The Austin Fire Department responded to the fire just before 11 p.m., where they arrived to see flames coming from the roof of the bakery. Firefighters fought the fire for about an hour before the roof collapsed.
While no one was injured in the fire, firefighters say the historic building was completely totaled.
AFD determined that the fire was accidental and caused by mechanical failure. AFD said the damages amounted to $1.6 million total: $1.1 million in structural damage and $500,000 in damage to the contents of the bakery.

This year, Texas French Bread will celebrate 40 years of business. Before the bakery occupied the building, it was the Rome Inn, a music venue that hosted 1970s artists like Stevie Ray Vaughan.