Get connected with our daily update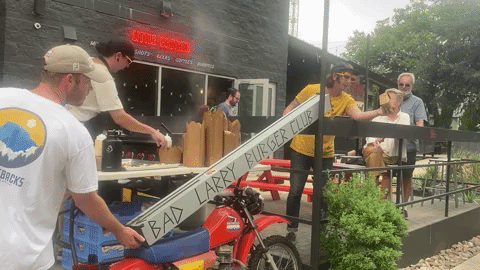 Matthew Bolick used to hold the craziest parties when he lived on Larry Lane in East Austin, slinging burgers and good vibes, beers and joints, which were lovingly called "Bad Larrys" by friends.
---
They called the parties the "Bad Larry Burger Club," where Bolick, a restaurateur and self-admitted "really bad cook," would gather up his "homies" and take turns creating their take on the classic cheeseburger on a backyard Weber grill, in hopes of landing the perfect burger.
"We always just kept coming back to a really simple burger," Bolick said.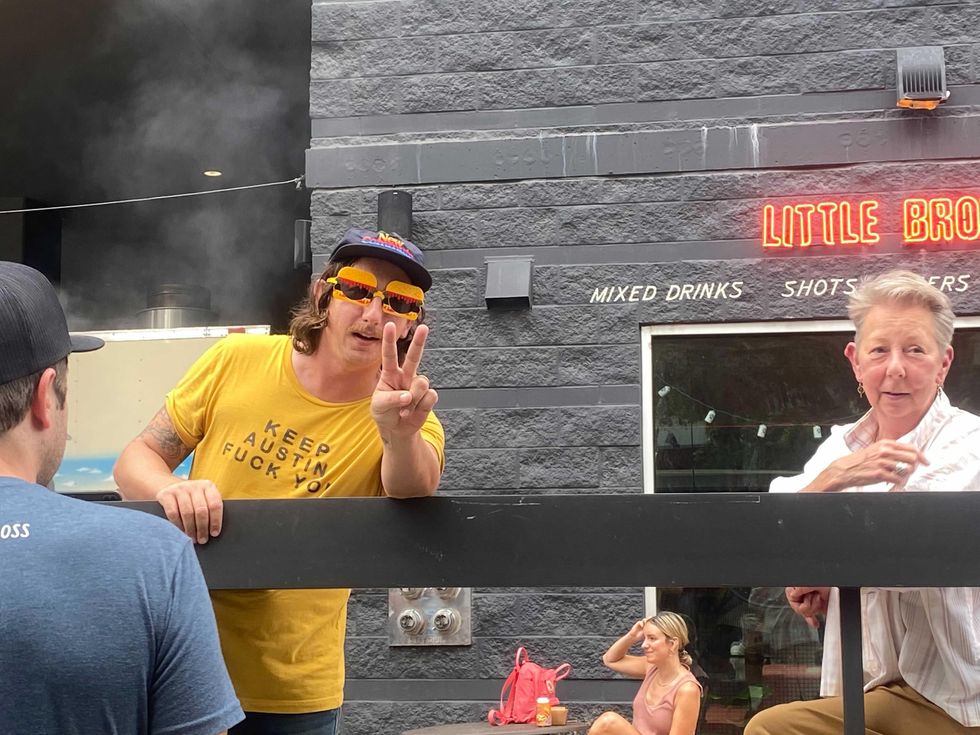 Matthew Bolick can be found donning his burger glasses and taking orders outside Little Brother bar. (Laura Figi/Austonia)
Once he found it, Bolick, a partner at Austin restaurants like Better Half, Hold Out Brewing, Brew & Brew, Little Brother and Flat Track Coffee, ran with his perfect smash burger recipe by running pop-ups at Little Brother under the name Bad Larry Burger Club in 2019.
Bolick didn't stop when the pandemic hit but he did find ways to make it weirder, running a fully-fledged ghost kitchen out of his driveway and delivering to customers via an RC dump truck. When he moved to a larger scale, the burger chute was born.
"(We) had this piece of gutter that was in the trash can and the staff cleaned it up, taped, 'We give a chute' on one side and 'Bad Larry Burger Club' on the other. It was kind of a no-brainer for that event," Bolick said.
(Laura Figi)
With the chute attached to his dirt bike, representing his love of motorsports, and cooks clad in burger sunglasses, the pop-up took off. Though he would only sell around 50 burgers at the beginning of his venture, the number climbed into the hundreds. Now, you might be hard-pressed to get a Bad Larry Burger unless you order in advance.

Bolick has been in the food industry basically his whole life; his mother was a cook and caterer who even named her cafe, Cafe Matthew, after him in Weatherford, Texas. "I've always really enjoyed showing people a really good time, throwing a party, you know, providing someone with something they just can't make themselves at home," Bolick said. "You're providing the entire experience and I think there's something very special about that."
A jack-of-all-trades and punk rock bandmate, Bolick said his pop-up has allowed him to reconnect with his inner child and create something fun out of a time where happiness was hard to come by.
"We've got a bunch of really polished businesses… We've individually opened all these projects ourselves, Matt Wright, Grady Wright and myself," Bolick said. "Having a thing that is just mine has been really fun. I've been able to stretch my legs a little bit and kind of take it back to what I love. It's become just kind of an extension of me as a kid."
And it's been working out for him—Bad Larry Burger Club has events booked halfway through 2021.
As the pandemic dies down, Bolick is going to start working on new projects for the Bad Larry brand, like Beef Boat, a hamburger party on a boat. While he plans to keep the burger chute around, he says he has weirder ideas for the future of "The Bad Larry Experience."
"I'm really pushing forward on these parties and throwing shows and being a part of the community coming back to life—I think that's really important," Bolick said. "I live in Austin for those magic situations where you're like, 'I can't believe I'm on a fucking boat, eating a burger.'"

You can grab a burger most often during pop-up nights at Little Brother or book Bad Larry Burger for an event via Instagram direct messages.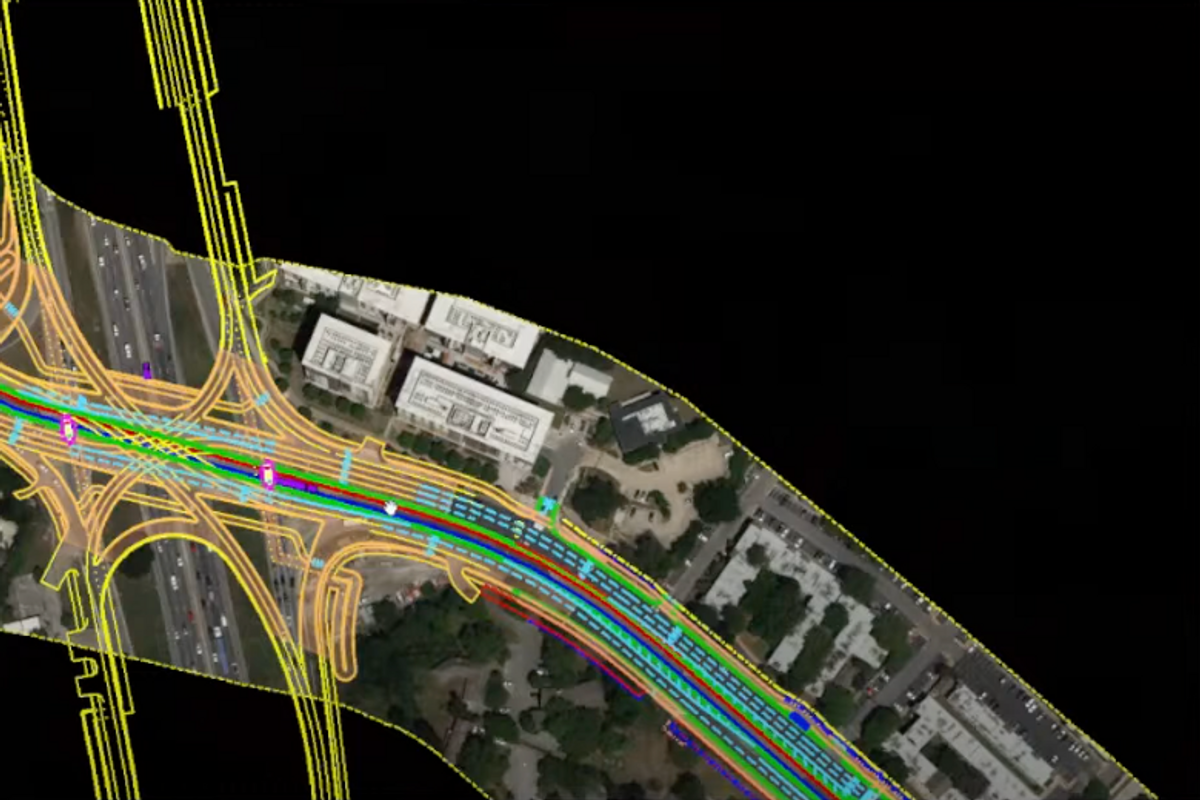 Designs for stations along Project Connect's Blue Line were presented this week, giving a detailed look at what part of the rail system extending from downtown to the airport could look like.
The planned stations that have gotten the latest focus include Waterfront, Travis Heights and Lakeshore stations past Lady Bird Lake.
At the Waterfront station, the preliminary design aims to prevent visual obstructions and save on costs. This is accomplished by a transit guideway that will lower from the bridge to a level station.
Heading onto East Riverside Drive, the light rail faces a curve requiring a slow down to about 10 miles per hour.
The Travis Heights station could involve relocating a pedestrian crosswalk zone at Alameda Drive to Blunn Creek. Since light rails can't effectively operate on a steep grade, this allows the transit guideway to avoid that.
From there, the rail will extend to the Norwood Park area, and though it will reach along the right-of-way zone, the park will be able to remain open.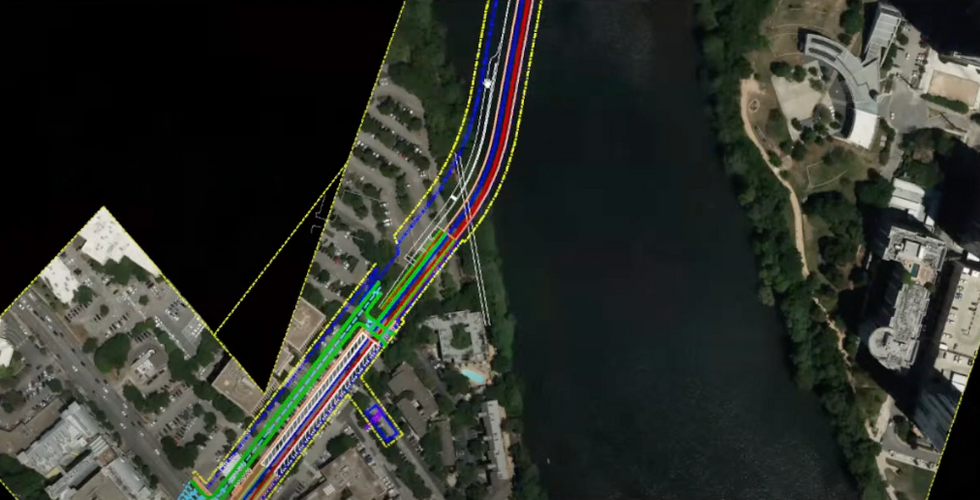 A view of the Blue Line by Lady Bird Lake. (Project Connect)
The line involves some coordination with the Texas Department of Transportation. That's because the department is working on an intersection that will have to be built before the phasing of the section of the Blue Line involving an I-35 crossing.
When it comes to the safety of cyclists and walkers, design ideas include a pedestrian hybrid beacon by East Bouldin Creek that would provide a protected signal to cross. And for the intersection TxDOT is carrying out, Project Connect is working with them on pedestrian access across the intersection. It could involve shared use paths along the street and crossings beneath it.
This summer, the public can expect 30% of design and cost estimates to be released. Though the project was $7.1 billion when voters approved it in November 2020, the latest estimates factoring in inflation and supply chain constraints show it could ultimately be upwards of $10 billion.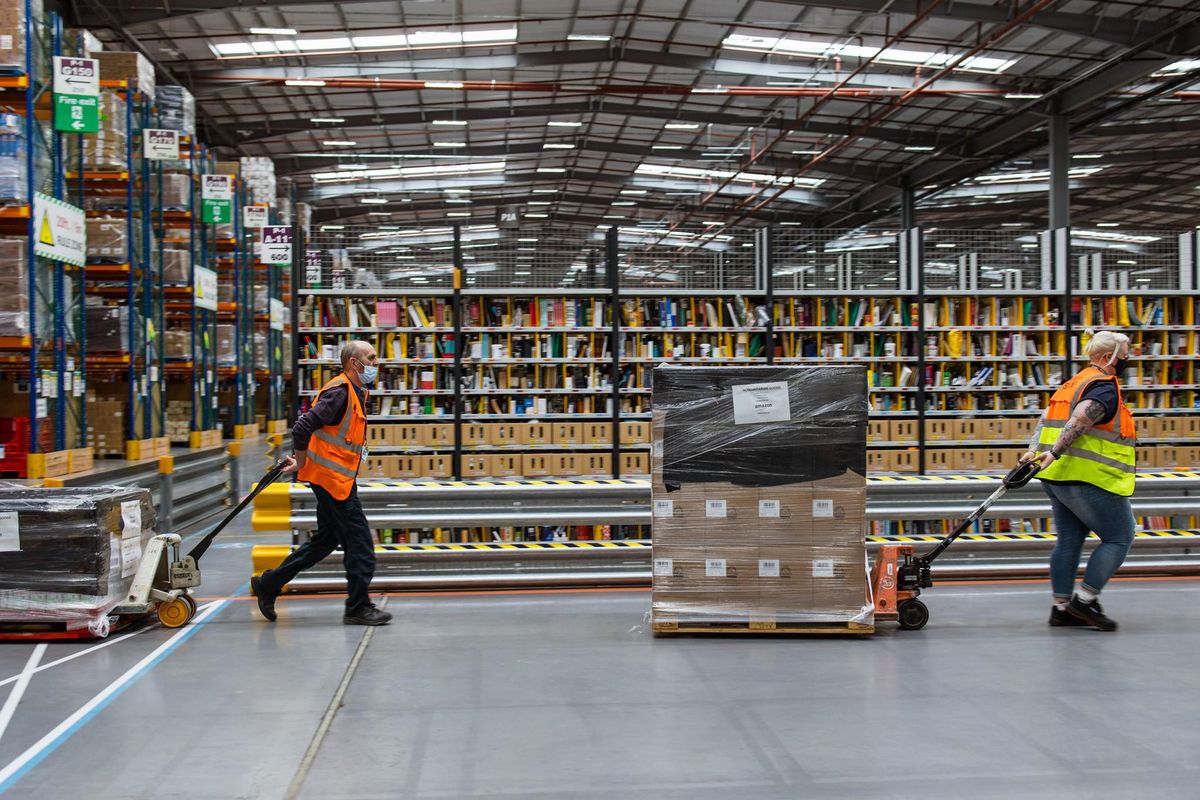 Plans for an Amazon warehouse in Round Rock—a $250 million project slated to be a large distribution center—are on hold.
This comes just after the tech giant had its worst financial quarter in seven years.
The details:
Late last year, it announced an expansion at the Domain adding 2,000 more corporate and tech jobs.
Amazon still owns the site in Round Rock. Plans for it are unclear.
Early this week, the Wall Street Journal reported that Amazon is aiming to scrap warehouse space as it faces a slowdown in its e-commerce operations.
Part of that effort involves exploring the possibility of ending or renegotiating leases with outside warehouse owners. Another aspect is a plan to sublease warehouse space.
"It allows us to relieve the financial obligations associated with an existing building that no longer meets our needs," an Amazon spokeswoman told the Wall Street Journal. "Subleasing is something many established corporations do to help manage their real estate portfolio."