Austonia AM
100% Austin news, info, and entertainment, straight to your inbox at 6 a.m. every morning.
In five minutes, you're fully informed and ready to start another great day in our city.
Get connected with our daily update
(Shutterstock)
A decade ago, Barton Hills resident Mark Sprague could not have imagined his community now commands home prices that can soar above $3 million.
But times have changed.
---
Sprague, who also serves as the state director of information capital at Independence Title Company and has lived in the roughly 2.8-square-mile neighborhood since 1996, credits its success with good schools and a prime location. Barton Hills is a stone's throw from downtown Austin, or about a 10-minute drive southwest from City Hall.
"At one point, south of the (Colorado) River wasn't very exciting, but that's probably 30 years ago," Sprague said. "And, of course, we all know what's happened to South Austin—it's exploded. Particularly Barton Hills has seen phenomenal appreciation."
Sprague said the central location of Barton Hills and its surrounding 78704 ZIP code has probably had some of the highest appreciation in Austin over the past three decades.
"There are no homes available right now," Blairfield Realty broker-owner Donna Blair said of Barton Hills. She said sales prices have climbed continuously over the past decade that she's been selling in the area.
But Susan Barringer, a Realtor with Kuper Sotheby's International Realty attributed the sharp uptick since 2016 to high demand and low inventory.
"We've just had an influx of Californians, New Yorkers," Barringer said. "It's just a great family neighborhood with great proximity to everything Austin—the airport, downtown."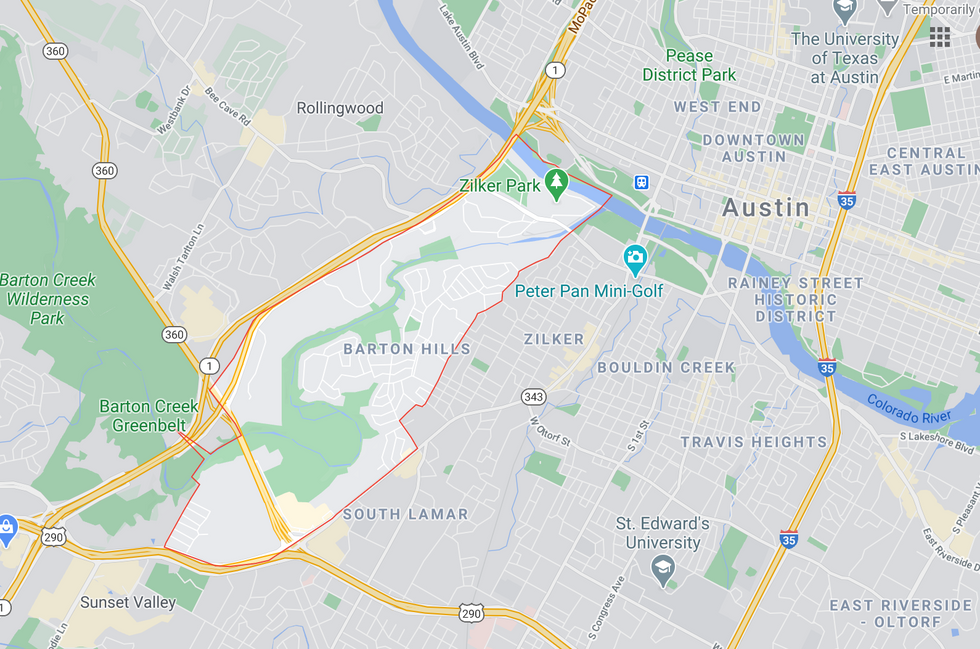 (Google Maps)
According to Zillow, Barringer's October listing—a 2,533 square-foot home on Barton Hills drive—is priced at $1.2 million, a 36% increase over its 2016 sales price of $880,500.

Austin Board of Realtors president Romeo Manzanilla, whose Realty Austin firm has been involved with Tesla employee relocations, said those executive buyers are looking in the Barton Hills and Zilker neighborhoods but have also broadened their home searches to southwest Austin and the Circle C neighborhood. Tesla is building a gigafactory in Del Valle, 13 miles down Texas 71 from Barton Hills.
"The desire, initially, from a lot of these people, especially if they haven't lived in Austin, is they want to be central, the 78704 ZIP code or 78702 (in East Austin)," he said. "But once they start to realize there is a serious lack of inventory, they're expanding their search outward."
Blair said multiple offers are common for the area's homes.
"We've watched that price per (square) foot jump constantly," she said. "Years ago, suddenly $600,000 (becomes) the 'new' $400,000 (sales price)," she said. "A new threshold keeps being set, and it has been happening very rapidly, and I don't know what to expect (or) when we're ever going to see that slow down."
The average price per square foot of single-family homes selling in the Barton Hills and Zilker neighborhoods grew almost $100 over the past two years, Blairfield Realty's director of marketing Hannah Hamrick said.
According to ABoR, the average price of a home sold in Barton Hills was about $822,000. In 2019, that average price jumped 17% to about $894,000.
Both Blair and Sprague said the starting price for an unremodeled home in the community now ranges from about $800,000 to $850,000.
The area's growth has taken Sprague by surprise. He said the corporations that now call Austin home weren't in place 20 or 30 years ago. Among those are Oracle and Tesla, each considered accessible from Barton Hills.
"Was that something you could have forecast?" Sprague said. "No."
So, who's buying in Barton Hills and why?
More young families are buying into the neighborhood, Sprague said, representing a change in demographics from the original owners who built their homes in the 1960s—structures that are now being torn down to make way for modern projects.
Developer Thomas Joseph has already figured that out. His company, Joseph/Design Build, purchased seven older Barton Hills homes within the last five years, and he is demolishing them to make way for modern residents he will sell. Buyers include Joseph and his partner and brother, Gabe Joseph.
"It's a beautiful neighborhood—the rolling hills, the big trees," Joseph said of Barton Hills. "It's aesthetically very pretty and interesting."
He also touted the community's good schools—Zilker Elementary or Barton Hills Elementary, O. Henry Middle and Austin High—as an incentive for buyers.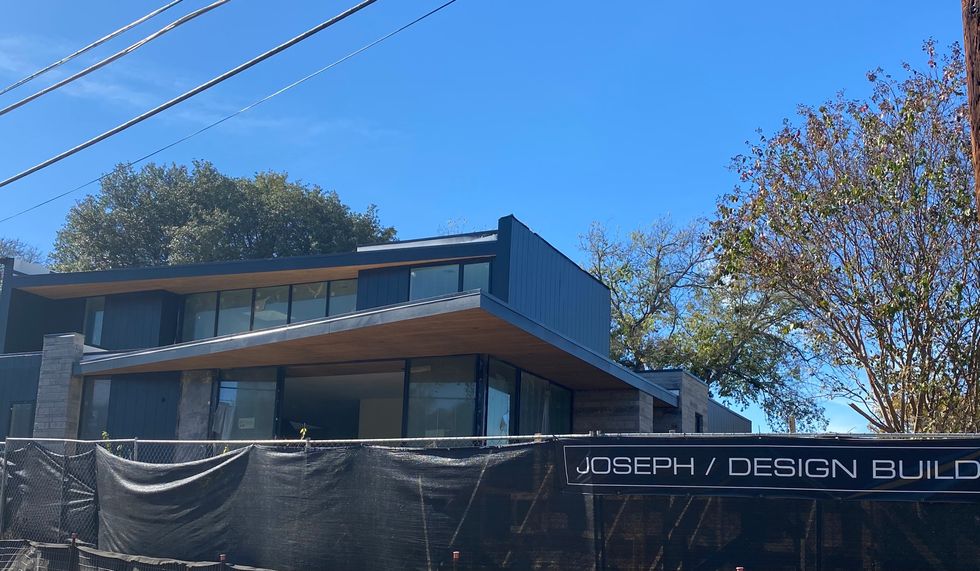 Joseph/Design Build has purchased seven older Barton Hills homes within the last five years for redevelopment. (Thomas Joseph)
There are also zoning incentives.

"From a development perspective, those things aside, the reason you're seeing so many people starting to move into Barton Hills is because of the lot size and deed restrictions," Joseph said.
The average lot size in Barton Hills is 10,000 to 14,000 square feet, he said, roughly double the lot size in the Bouldin Creek area. And the majority of the neighborhood has deed restrictions dating back to the mid-1900s, limiting the lots to single-family homes.
"Having the big lots and the deed restrictions, it's creating an environment where the only real houses that make sense to develop in Barton Hills are larger single-family homes," Joseph said of the 3,000- to 5,000-square-foot structures his company is now building. "As the market shifts towards bigger homes, Barton Hills is your only option for a neighborhood that's directly south of downtown."
Although some growing families have upgraded to homes within Barton Hills, Blair said sellers have also sold to "a lot of transplants"—out-of-state or international cash buyers.
As of Nov. 10, Austin boasted 5,500 startups and tech companies and is respected as a favorable alternative to the Bay Area and New York City for companies looking to grow.
"There's been a huge influx of people who are still moving into the Austin area, despite the pandemic," Manzanilla said. "So we're seeing the median prices, whether they be in the luxury market (of homes priced at $1 million-plus) or something just below that, we're seeing those numbers increase."
Barton Hills attracts buyers interested in luxury new construction but who can't come close to paying the price tag on a five-bedroom home in other states, such as California and New Yorker, even with their multi-million dollar pocketbook, Joseph said.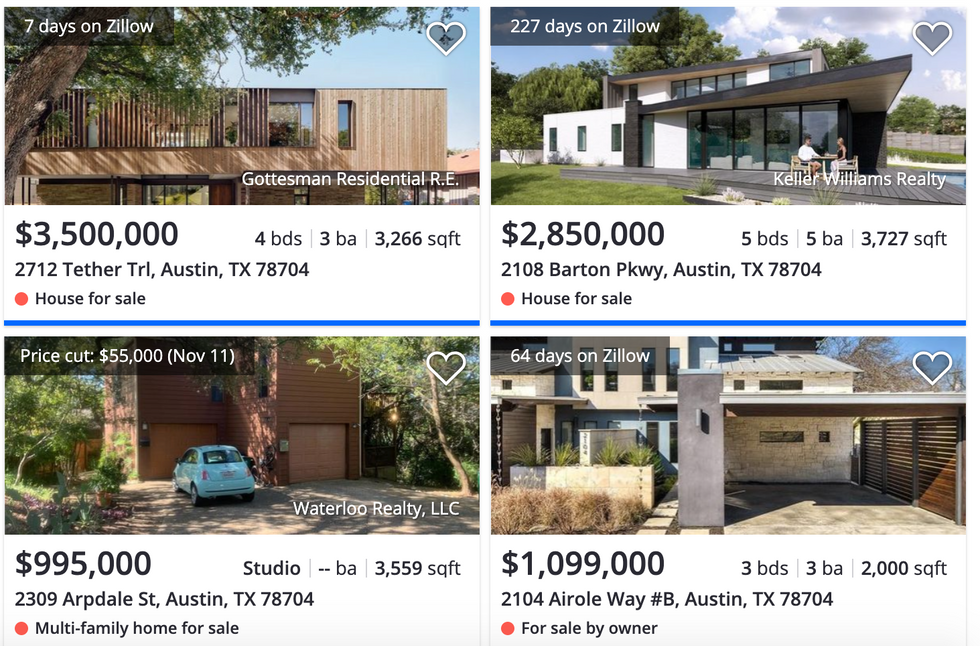 A Zillow search for single-family homes in the Barton Hills neighborhood mostly brings up properties selling for $1 million or more. (Zillow)
He's also found that many empty-nesters who are within five years of retiring are buying homes in the neighborhood, as well as people who can work remotely.

"If you come to Texas during those last five years, which are your highest earning years, you're not paying a state income tax," Joseph said. "To get ready for retirement, it's a way for people to take home more money and save more money for retirement while they're making the most money they've made in their careers."
The advantage of Austin for newcomers is not only the city's fair climate and lack of state income taxes but the liberal viewpoints that match those of New York and California, he said.
Joseph said his buyers are scattered throughout the fields of financial services, technology and energy, with half of his buyers being entrepreneurs.
"You're really not relying on one employer or one sector to fuel the development in Barton Hills, and that's a good thing," he said. The economic impact of a Tesla or Google enterprise moving into the Austin area is spread throughout Central Texas, he said, so "that no one neighborhood really sees a big jump."
And who's selling?
Blair said she's recently seen more residents leave the area "because either they're aging out, the taxes have gotten a little bit too high or they're just wanting to capitalize on that price."
Since Travis County offers a homestead exemption, which caps the amount a homestead value can increase at 10% year-over-year, Barton Hills homeowners are protected from being priced out of the neighborhood as home sales skyrocket, Joseph said.
"You're actually paying what is so far below market taxes, you don't experience any of that (gentrification)," he added. "But what you do experience is that when you do go to sell, that house you paid $50,000 for now is worth $800,000."
Joseph added that the Barton Hills phenomenon is unique.
"There is no neighborhood where a 20-year-old now can buy a $50,000 house and see it go up to $800,000 over the next 20 years," he said. "It just doesn't exist."
Joseph predicts the area's good schools will maintain its path to "a bright future."
"It's kind of an ideal neighborhood," he said.
Matthew McConaughey is reportedly weighing a run for Texas governor in 2022.
The Austin resident and Oscar winner has been "quietly making calls to influential people in Texas political circles, including a deep-pocketed moderate Republican and energy CEO" as he decides whether to run, according to Politico.
McConaughey said a gubernatorial run is "a true consideration" while on a March episode of Houston's "The Balanced Voice" podcast.
Although most political strategists doubt McConaughey's commitment and viability as a candidate, some are still intrigued by the possibility.
"I find it improbable, but it's not out of the question," Karl Rove, a top Republican strategist with a long history in Austin, told the political news site. He added that the big question is whether McConaughey would run as a Republican, a Democrat or an independent.
Brendan Steinhauser, an Austin-based GOP strategist, told Politico he's surprised McConaughey isn't being taken more seriously. "Celebrity in this country counts for a lot," he said. "It's not like some C-list actor no one likes. He has an appeal."

Texas Gov. Greg Abbott plans to run for a third term and remains popular among Republican voters, 77% of whom approve of his performance as of April, according to the Texas Politics Project.
Some strategists believe an independent McConaughey run would benefit Abbott. But a recent poll from The Dallas Morning News and the University of Texas at Tyler found that McConaughey would beat Abbott, 45% to 33%, with 22% opting for someone else.
Mimi Swartz, an executive editor at Texas Monthly, mulled a McConaughey run in a recent opinion essay from the New York Times. "Texas may not be ready for a philosopher king as a candidate, much less governor," she wrote. "May the best man win, man."
Some JuiceLand production facility workers and storefront employees are organizing to demand wage increases, better working conditions (including air conditioning in the warehouse) and pay transparency, among other asks. They are also calling on staff to strike and customers to boycott the Austin-based company until their demands are met.
JuiceLand responded on Saturday. "We are listening," the company wrote on their Instagram story. "JuiceLand crew now makes guaranteed $15 an hour or more companywide."
JuiceLand, which was founded in 2001 by Matt Shook and now has 35 locations in Austin, Houston and Dallas, acknowledged the rising cost of living across Texas and the added stress of the pandemic in an email to employees on Saturday, part of which @juicelandworkersrights shared on social media. "There's no denying that times are tough and financial security means more now than ever," the company wrote.
Organized JuiceLand workers rejected this proposal, according to a recent post on the @juicelandworkersrights Instagram account, and reiterated their demands.
"Cost of living in Austin is rising exponentially and will only continue to get worse with the tech boom," the post read. "$15 is barely a sustainable living."

Related Articles Around the Web