Get connected with our daily update
Bastrop is set for Hollywood treatment with a 546-acre film studio and entertainment district planned to open in the coming years.
---
A target date of August 2023 was announced earlier this week for the Bastrop 552 project. Also released was a first look at the expansive studio space that's located in a bend of the Colorado River south of Bastrop near Highway 304.
A California company working under the name Bastrop Colorado Bend LLC got approval for the site that will include 486,000 square feet of studio space, 300,000 square feet of warehouse and mill space and another 200,000 square feet of office space. It's expected to take at least six years to complete. Bastrop has been an entertainment destination before with more than 200 film and television productions shot there, including works like "Boyhood," "Friday Night Lights" and "Spy Kids."
Earlier this month, the Bastrop City Council approved the project's site at 1240 Lovers Lane as a media production development zone, a status that grants the company behind the project tax exemptions. Those include a two year sales and use exemption on items used during construction, maintenance, expansion, improvement or renovation of the facility.
As Austonia reported in June, the project is the work of Line 204 studios and is expected to create more than 1,400 jobs as well as 700 construction jobs over several years and generate about $2 billion in economic impact. The studio will join Troublemaker studios, which is owned by filmmaker and Austinite Robert Rodriguez.
This past summer, residents of the River Meadow neighborhood near the site voiced concerns about the project, saying it would bring noise, artificial lights and traffic.
"Let us be clear, we are not anti-progress nor anti-development," a petition with more than 900 signatures opposing the project says. "It is our position that a development of this nature is completely inappropriate for our neighborhoods, our families and surrounding environment."
The owner of Line 204 studios, Alton Butler, has commented to city officials about why he's drawn to Bastrop. According to the Bastrop Advertiser, the proximity to Austin is one factor as well as scenic views in the area.
Capital Metro has been awarded $750,000 from the Federal Transit Administration to go toward Project Connect's Orange Line, documents show.
The FTA announced the funding round on Thursday, which dispersed $11 million across 12 states and 20 projects. The money is meant to connect communities to affordable transit and housing through the FTA Pilot Program for Transit-Oriented Development planning.
CapMetro said the funds will go toward projects at eight stations spanning 6.5 miles on the South end of the Orange Line, which has a total of 22 stations. The full project stretches across the 20 miles from Southpark Meadows to Tech Ridge.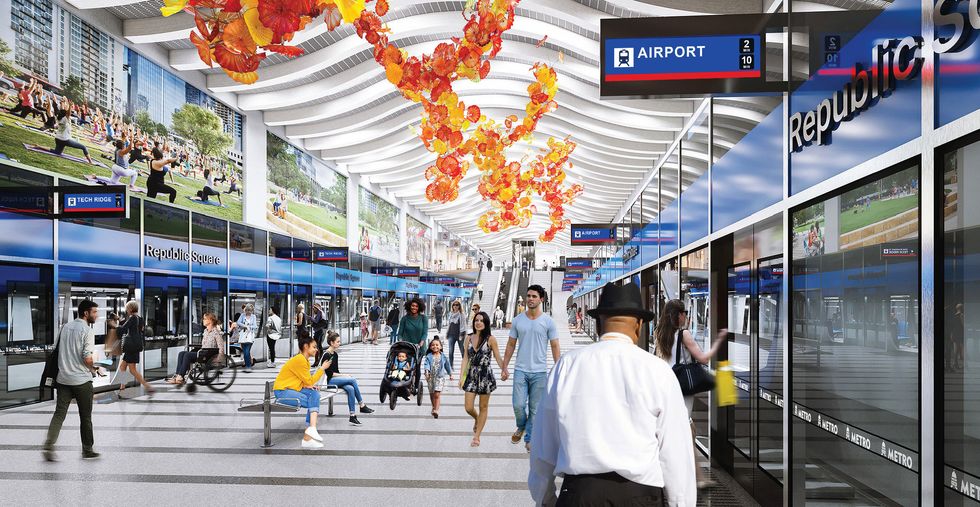 Republic Square station is along the Orange Line. (Project Connect rendering)
Once it's complete, which officials estimate will be in 2028, the Orange Line will reach the following stations:
Tech Ridge (Park & Ride)
North Lamar International District
Crestview
The Triangle
UT campus
Republic Square
Auditorium Shores
South Congress
Southpark Meadows (Park & Ride)
A $500 million mixed-use development spanning 1,400 acres is coming to Southeast Austin, near Tesla's headquarters at Giga Texas.
Plans for the development by Houston-based real estate firm Hines include 2,500 houses along with multi-family and townhomes, and commercial land. Hines is partnering with Trez Capital, Sumitomo Forestry and Texas-based Caravel Ventures.
The development, which is known as Mirador, will be located off the 130 Toll and Highway 71, which the developers say provides easy access to the Circuit of the Americas Formula 1 racetrack and other Austin attractions like restaurants, parks and live music venues.
Hines also boasts amenities like a 60-acre lake, over 600 acres of greenbelt, community parks, trails and a swimming pool.
"As Austin continues to grow into the tech epicenter of Texas, coupled with a supply-constrained market, the demand for new housing is at its highest," Dustin Davidson, managing director at Hines, said. "Mirador will be critical in providing more options for Austin's growing population and we are excited to work alongside our partners given they each provide a unique and valued perspective in single-family development."
The local housing market has been hot in recent years, with home sales accelerating earlier in the pandemic. In July 2021, the Austin metro area hit its pricing peak at $478,000. As Austonia previously reported, the area has been expected to see the Tesla effect, with the new workforce driving up demand for housing and other services.
The single-family houses are expected to be developed over the course of six years, in phases. Construction on the homes is expected to start this year and home sales will begin in 2023.