Austonia AM
100% Austin news, info, and entertainment, straight to your inbox at 6 a.m. every morning.
In five minutes, you're fully informed and ready to start another great day in our city.
Get connected with our daily update
(Laura Figi/Austonia)
Where does one find Austin's best art—in a museum or a great hall? At the auction house or inside glass boxes? Actually, Austin leaves its artwork out for all to see on its walls.

---
Navigating through Austin, you won't even need to look for murals because you are bound to see artwork galore, sheathing buildings near and far. It has become such an Austin staple, business owners are clamoring to have the best murals on their buildings.
Some of Austin's most famous murals adorn South Congress: the 'I love you so much' mural, which tells an iconic love story; the 'Willie for President' mural, which sought to liven the mood in a difficult political climate; and many, many more.
Fans of Mr.Rogers flock to Home Slice Pizza to pose with the 'Won't you be my neighbor?' mural on the other side of Home Slice at 1421 S. Congress Avenue, commissioned by one of the pizza chain's partners, Jeff Mettler.
Mettler said they loved the former Shepard Fairey mural that graced the wall but when the wall's wheatpaste started to deteriorate, it came time to invite something new. Mettler called upon Austin-based artist Niz to brainstorm a new mural to unite the South Congress community.
"(We) really just wanted a beacon of positivity and kind of just like a love letter to our community, the message being like everyone's welcome," Mettler said. "People love Mr. Rogers, so they're naturally drawn to that. I think we achieved our purpose of creating a positive mural, and people just really smile whenever they saw it."
Beyond the restaurant's desire to cover their walls in art, Mettler said back in the early 2000s, many artists weren't in it for the money—they just wanted a safe place to paint. Mettler said he has been proud to give local artists a space for their creativity.
"Other than us and the graffiti park on the west side, at the time, we were really the only places where graffiti artists could go on private property and not have to worry about police," Mettler said.
Hope Outdoor Gallery, otherwise known as graffiti park located at 1008 Baylor Street, is now defunct. However, it plans to open again in a new location near the airport soon.

Austin artists have been painting the city for years, often illegally.
Austin native Nathan Nordstrom made a name for himself as Sloke One, one of the most prominent graffiti artists in Texas, and has traveled the world showcasing his spray painting skills. You've probably seen his art, ads and murals on walls in Austin without even realizing. He's even sold a graffiti painting to Mayor Steve Adler.
Though he's successful now, he started out young in the 1990s by "getting up," a term those in the game use for painting illegally.
"There's a big rift between the murals and the illegal graffiti," Nordstrom said. "(Graffiti) went from being an art form that was looked down upon and illegal to now being something that is celebrated and promoted by developers and businesses."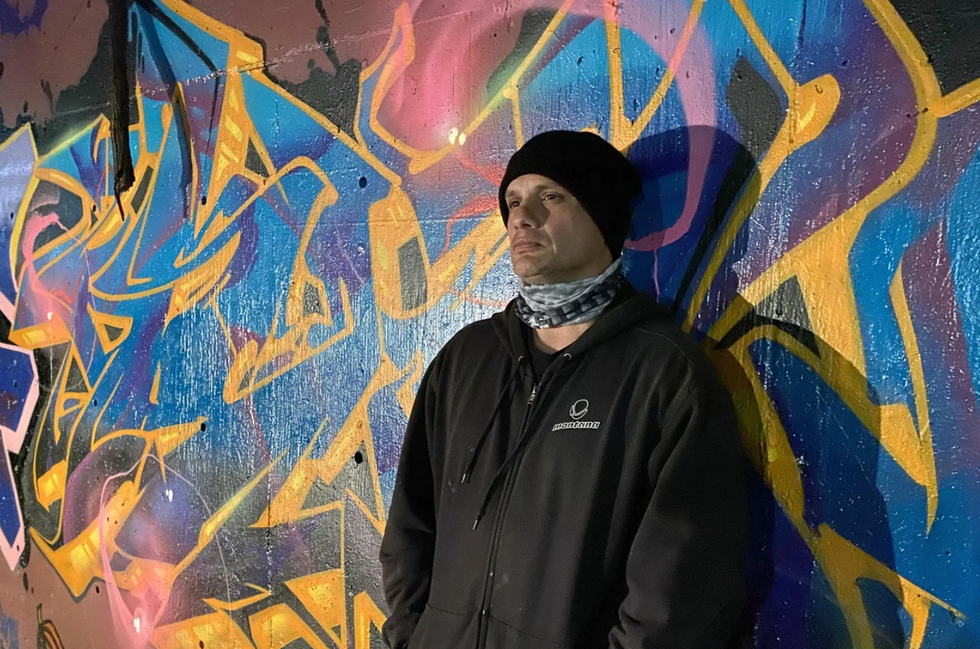 Even though it turned out great in the end for him, Nordstrom paid a hefty price for his art. Nordstrom said he has been arrested several times and served enough jail time to never want to go back, all for slinging spray paint.

"We weren't liked by the public, we weren't liked by the politicians and we weren't liked by the police because what we did was illegal," Nordstrom said. "We come from the streets."
The tables turned as Austin continued to grow. With more folks coming in from larger metropolitan areas around 2010, graffiti became more mainstream because new transplants were already used to seeing it and social media made it more widespread.
Nordstrom said it was frustrating to be chastised for his art one minute, then when it became popular, it suddenly became okay, praised even. He said that was when he noticed money getting involved.
"It comes down to money," Nordstrom said. "But what happens when it's not popular? People are still going to be doing it. If you're in it for the money and the fame, you're probably in it for the wrong reasons. Because there are going to be some dark times where there are no art jobs and maybe you'll go to jail for doing graffiti. Your heart has got to be in it."
The commercialization of graffiti and street art has alienated Nordstrom, to the point where he has turned down jobs that would have paid him well. He still paints, but on his own terms. He still does graffiti in it's purest form—illegally—but you'll never find out where.
But not all muralists started out in graffiti. In fact, many artists consider street, graffiti artists to be very different in the mediums they use and the meanings behind their art.
Opposite of Nordstrom, Austin-based muralist Avery Orendorf said she is in it for the money.
Orendorf enjoys painting so much, she minored in fine arts in college. However, she never saw it as a viable career path because her parents discouraged it. After graduating, working an office job for a few years and later leaving, she was left with no idea what to do.
"I'm not a hobbyist… so I knew that if I was going to do this, I had to do it as a career path," Orendorf said. "I started the business first and kind of learned how to paint murals as I just sort of jumped in and really approached it from a business mindset from the very beginning."
She has been making a living painting murals for the last eight years. Furthermore, the majority of projects she works on are commercial, since she came into the business needing to make money immediately.
Orendorf said she also thinks art and murals have become commercialized. Although, she said she doesn't take issue with it because she loves seeing art around the city.

"I think there is sort of this other side of the mural community where they feel like the commercial mural work is sort of selling out and doing something for the man," Orendorf said. "I just don't think so—I think that we can still create cool unique stuff and cater to clients."
Something both Nordstrom and Orendorf have in common: they love seeing murals uplift the community and if they're going to cover something up, they are always respectful to the artist who occupied the space before.
Orendorf said she refuses to cover a beautiful mural if it is in good condition and is sad to see murals covered up with advertising. Adding to the sentiment, Nordstrom said he always takes a picture beforehand just in case the original artist doesn't have one.
Despite Austin's constant change and the hardship Nordstrom has faced in the city, he said there is nowhere else he would rather be, even after travelling the world.
"Deep down inside, as much as the change hasn't always been pleasant, I still love this city," Nordstom said. "This is my home."
Something about Q2 Stadium brings the best out of goalkeepers.
Much like Austin FC's Brad Stuver has done throughout the season, U.S. men's national team keeper Matt Turner kept his team alive in a 1-0 victory over Qatar. The match proved to be a battle of stamina as USMNT's Gyasi Zardes netted a last-minute goal to push Team USA to the CONCACAF Gold Cup final.
Turner, who has conceded just one goal throughout the tournament, continually tipped off shots by an offensively-minded Qatar and put up three saves. Turner now has 18 saves in the Cup.
The USMNT stumbled through the first half, falling to a 10-shot deficit in the first 45 minutes. Qatar, which gained quick acclaim as the 2019 Asian Cup winners, has not gone scoreless throughout the tournament and has tallied the most goals in the Gold Cup so far.
Qatar saw their biggest shot to topple the U.S. team in the 61st minute after they were awarded a penalty kick. Turner never had to make a save, however, as Hassan Al Haydos missed the crucial shot.
Team USA regrouped and took the reins of the second half, but it was two substitutions by USMNT Head Coach Gregg Berhalter that advanced the team to the continental final.
The two second-half subs, Gyasi Zardes and Nicholas Gioacchini, proved to be the perfect mix for Team USA. As the final whistle loomed, Gioacchini set Zardes up for the first goal of the game in the 86th minute of play.
But Zardes wouldn't take credit for the game-changing goal.
"It's not just me, it's a whole team effort," Zardes told FS1. "It was a tight game, they're a great team, but our starters did a phenomenal job at wearing them out... and trying to create opportunities to where when the subs came in, we were able to make a difference."
An outmatched Qatar wasn't able to gain ground as the final tally went 1-0 to the U.S. in Q2 Stadium.
While some were concerned at stadium turnout before the match began, the stadium slowly swelled to near capacity as usual in Austin. Berhalter, whose son Sebastian Berhalter is a midfielder at Austin FC, has previously shown admiration for the MLS' newest stadium.
This was the second national team match held in Austin in under a month after the women's national team christened the pitch in June.
Next up, Team USA will play the winners of the Mexico vs. Canada semifinal, which takes place at 9 p.m. Thursday, in the Gold Cup final. The final round of the continent's biggest tournament will take place at 7:30 p.m. on Saturday in Las Vegas.
Ingredients:
1 1/12 oz sweet pepper-infused Tito's Handmade Vodka
3 oz soda water
1 oz grapefruit juice
1/2 oz lime juice
1/4 oz simple syrup
Directions: Add all ingredients, except soda water, to a shaker with ice. Shake and strain into a glass over fresh ice. Top with soda water and garnish with a mint sprig.
The Biden administration is asking cities and states to use pandemic relief funds to pay residents $100 to get vaccinated. Meanwhile, Texas Gov. Greg Abbott reaffirmed prohibitions on pandemic protocols in a new executive order issued on Thursday.
The order emphasizes that "the path forward relies on personal responsibility rather than government mandates," according to a press release. It outlaws government entities from requiring employees to be vaccinated or individuals to provide proof of vaccination and upholds previous orders restricting government entities' ability to impose pandemic protocols.
Local public health and elected officials have asked all Austinites to wear masks indoors, regardless of vaccination status, and unvaccinated individuals to avoid nonessential trips last week given the rising number of local confirmed cases and related hospitalizations in recent weeks. But it is not enforceable under Abbott's order.
The seven-day moving average of new hospital admissions in the five-county Austin metro has more than quintupled since the beginning of July and is now 47.4. The threshold for Stage 5 is 50, according to Austin Public Health's risk-based guidelines.
Despite these trends, Abbott stands firm in his commitment to avoid new statewide mandates and to prohibit local government entities from issuing any of their own.

"Texans have mastered the safe practices that help to prevent and avoid the spread of COVID-19," he said in a statement. "They have the individual right and responsibility to decide for themselves and their children whether they will wear masks, open their businesses and engage in leisure activities."
Public health officials have attributed the current spike to the more contagious Delta variant and unmitigated spread among unvaccinated individuals. Abbott encouraged Texans to get vaccinated if they haven't already but affirmed that it would never be required by the state in his statement.
An increasing number of Austin-area employers—including Ascension Seton, Baylor Scott & White Health, Facebook and the Department of Veterans Affairs—have announced new vaccine requirements in recent days. Austin Mayor Steve Adler asked the city manager to enact a similar requirement on Wednesday, but the city is unable to do so due to an executive order issued by Abbott in April.