Never miss a story
Sign up for our free daily morning email...
...and afternoon text update
Get connected with our daily update
(Laura Figi/Austonia)
Where does one find Austin's best art—in a museum or a great hall? At the auction house or inside glass boxes? Actually, Austin leaves its artwork out for all to see on its walls.

---
Navigating through Austin, you won't even need to look for murals because you are bound to see artwork galore, sheathing buildings near and far. It has become such an Austin staple, business owners are clamoring to have the best murals on their buildings.
Some of Austin's most famous murals adorn South Congress: the 'I love you so much' mural, which tells an iconic love story; the 'Willie for President' mural, which sought to liven the mood in a difficult political climate; and many, many more.
Fans of Mr.Rogers flock to Home Slice Pizza to pose with the 'Won't you be my neighbor?' mural on the other side of Home Slice at 1421 S. Congress Avenue, commissioned by one of the pizza chain's partners, Jeff Mettler.
Mettler said they loved the former Shepard Fairey mural that graced the wall but when the wall's wheatpaste started to deteriorate, it came time to invite something new. Mettler called upon Austin-based artist Niz to brainstorm a new mural to unite the South Congress community.
"(We) really just wanted a beacon of positivity and kind of just like a love letter to our community, the message being like everyone's welcome," Mettler said. "People love Mr. Rogers, so they're naturally drawn to that. I think we achieved our purpose of creating a positive mural, and people just really smile whenever they saw it."
Beyond the restaurant's desire to cover their walls in art, Mettler said back in the early 2000s, many artists weren't in it for the money—they just wanted a safe place to paint. Mettler said he has been proud to give local artists a space for their creativity.
"Other than us and the graffiti park on the west side, at the time, we were really the only places where graffiti artists could go on private property and not have to worry about police," Mettler said.
Hope Outdoor Gallery, otherwise known as graffiti park located at 1008 Baylor Street, is now defunct. However, it plans to open again in a new location near the airport soon.

Austin artists have been painting the city for years, often illegally.
Austin native Nathan Nordstrom made a name for himself as Sloke One, one of the most prominent graffiti artists in Texas, and has traveled the world showcasing his spray painting skills. You've probably seen his art, ads and murals on walls in Austin without even realizing. He's even sold a graffiti painting to Mayor Steve Adler.
Though he's successful now, he started out young in the 1990s by "getting up," a term those in the game use for painting illegally.
"There's a big rift between the murals and the illegal graffiti," Nordstrom said. "(Graffiti) went from being an art form that was looked down upon and illegal to now being something that is celebrated and promoted by developers and businesses."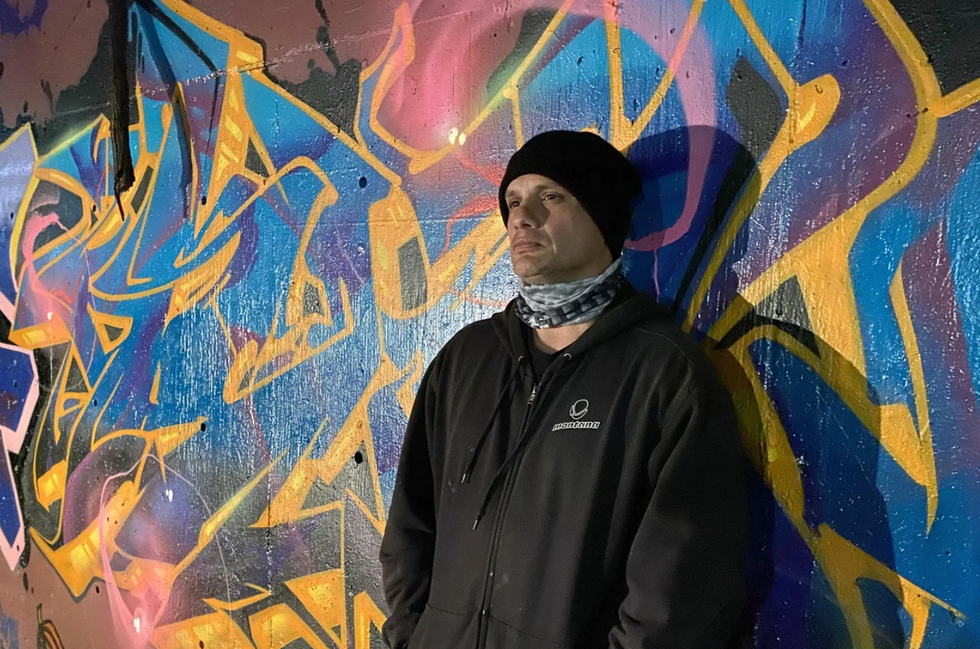 Even though it turned out great in the end for him, Nordstrom paid a hefty price for his art. Nordstrom said he has been arrested several times and served enough jail time to never want to go back, all for slinging spray paint.

"We weren't liked by the public, we weren't liked by the politicians and we weren't liked by the police because what we did was illegal," Nordstrom said. "We come from the streets."
The tables turned as Austin continued to grow. With more folks coming in from larger metropolitan areas around 2010, graffiti became more mainstream because new transplants were already used to seeing it and social media made it more widespread.
Nordstrom said it was frustrating to be chastised for his art one minute, then when it became popular, it suddenly became okay, praised even. He said that was when he noticed money getting involved.
"It comes down to money," Nordstrom said. "But what happens when it's not popular? People are still going to be doing it. If you're in it for the money and the fame, you're probably in it for the wrong reasons. Because there are going to be some dark times where there are no art jobs and maybe you'll go to jail for doing graffiti. Your heart has got to be in it."
The commercialization of graffiti and street art has alienated Nordstrom, to the point where he has turned down jobs that would have paid him well. He still paints, but on his own terms. He still does graffiti in it's purest form—illegally—but you'll never find out where.
But not all muralists started out in graffiti. In fact, many artists consider street, graffiti artists to be very different in the mediums they use and the meanings behind their art.
Opposite of Nordstrom, Austin-based muralist Avery Orendorf said she is in it for the money.
Orendorf enjoys painting so much, she minored in fine arts in college. However, she never saw it as a viable career path because her parents discouraged it. After graduating, working an office job for a few years and later leaving, she was left with no idea what to do.
"I'm not a hobbyist… so I knew that if I was going to do this, I had to do it as a career path," Orendorf said. "I started the business first and kind of learned how to paint murals as I just sort of jumped in and really approached it from a business mindset from the very beginning."
She has been making a living painting murals for the last eight years. Furthermore, the majority of projects she works on are commercial, since she came into the business needing to make money immediately.
Orendorf said she also thinks art and murals have become commercialized. Although, she said she doesn't take issue with it because she loves seeing art around the city.

"I think there is sort of this other side of the mural community where they feel like the commercial mural work is sort of selling out and doing something for the man," Orendorf said. "I just don't think so—I think that we can still create cool unique stuff and cater to clients."
Something both Nordstrom and Orendorf have in common: they love seeing murals uplift the community and if they're going to cover something up, they are always respectful to the artist who occupied the space before.
Orendorf said she refuses to cover a beautiful mural if it is in good condition and is sad to see murals covered up with advertising. Adding to the sentiment, Nordstrom said he always takes a picture beforehand just in case the original artist doesn't have one.
Despite Austin's constant change and the hardship Nordstrom has faced in the city, he said there is nowhere else he would rather be, even after travelling the world.
"Deep down inside, as much as the change hasn't always been pleasant, I still love this city," Nordstom said. "This is my home."
(Austin Police Department/Twitter)
Austin police lifted the shelter in place order after searching the area around 9600 block of Great Hills Trail near the Arboretum for a 41-year-old man named Stephen Broderick, who they believe is responsible for shooting and ultimately killing three people in Northwest Austin
As of 5 p.m., the suspect is still at large and considered to be armed and dangerous, though police do not believe he is actively targeting anyone else. During a press briefing at 4:45 on Sunday, APD Interim police Chief Joseph Chacon said they are switching the search from the immediate area to a fugitive search as they have exhausted all the leads they currently have.
Chacon confirmed during the briefing that Broderick was a former Travis County Sheriff's Office deputy. Chacon said they will remain on the scene for "several hours" and there were 75 FBI agents on the scene as of the briefing.
Police believe the victims, who have been identified as two Hispanic women and one Black man, knew their assailant. Chacon said a child was involved but is now safely in police custody. Broderick was described as 5 foot, 7 inches with a medium build and was last seen wearing a gray hoodie, sunglasses and a baseball cap.
"We're very sorry that obviously that this has happened and we continue to try and locate this individual, we are transitioning from a search in this area to a fugitive search and those efforts will continue until this person is located," Chacon said. "I don't want anyone to think that we're packing up and going home. We're going to continue to look for this individual because he continues to pose a threat to this community."
At a 2:30 p.m. press briefing, Chacon said APD responded to a "shoot, stab, hot shot" call on Great Hills Trail and Rain Creek Parkway at 11:46 a.m. to find the three victims with gunshot wounds. APD was joined by the Austin Fire Department. ATCEMS, the local chapter of the FBI, the U.S. Marshals, Department of Public Safety, and the Round Rock Police Department for support.
Though Austin Travis-County EMS originally reported it as an active shooter situation, police now believe the incident was an isolated domestic event.
"This is still an ongoing and active investigation and we do not have this individual in custody yet," Chacon said during the first press briefing. "We would ask if you have your neighbors, phone numbers, call or text them check on them and make sure that they're okay. We are concerned that he might possibly take a hostage and be himself sheltered somewhere waiting for us to leave."
Three helicopters and SWAT teams were sent to the area, as well as 18 ATCEMS response assets. According to Austin Police, the incident occurred at an apartment complex near Great Hills Trail and Rain Creek Parkway.

APD announced at 1:02 p.m. that Loop 360 will be shut down in both directions from Spicewood Springs to 183 due to the incident. The roads will remain closed until law enforcement is able to wrap up the crime scene and units demobilize.
This is a developing story.

(Hard Rock Stadium)
Formula 1 is returning to Florida for the first time since 1959, announcing that the brand-new Miami Grand Prix will join the calendar in 2022 and Austin will no longer be the only F1 race in the U.S.
Held at the Hard Rock Stadium complex in Miami Gardens, this will be the first race in the Sunshine State in 62 years. With a new track setup, F1 will loop the stadium, home of the NFL's Miami Dolphins.
The new 3.36 mile circuit has 19 corners, three straights and potential for three DRS zones, with expected top speeds of 198 mph.

Now with two races in the U.S., F1 President Stefano Domenicali said they will avoid having back-to-back events by keeping the Miami Grand Prix separate from the U.S. Grand Prix, which is held at Austin's Circuit of the Americas.
The date of the race has yet to be confirmed, though Domenicali said he expects the first race in a 10-year deal to take place in the second quarter of 2022. Austin's race will take place on Oct. 24 this year.
"The USA is a key growth market for us, and we are greatly encouraged by our growing reach in the U.S. which will be further supported by this exciting second race," Domenicali said.
Miami will mark the 11th race location in the U.S. since the Championship began in 1950: Circuit of The Americas in Austin; Dallas, Texas; Indianapolis, Indiana; Sebring, Florida; Riverside, California; Watkins Glen, New York; Long Beach, California; Las Vegas, Nevada; Detroit, Michigan and Phoenix, Arizona. COTA was first opened in 2012.
Domenicali said F1 will be working with the FIA and the Hard Rock Stadium to leave a lasting impact on the community: discounted tickets for residents, a program to support local businesses and a STEM education program through F1 in schools.