Get connected with our daily update
Ben Affleck has been spotted in Austin shooting his new movie, "Hypnotic," which is filming at the Federal Courthouse on 4th and San Antonio Streets in Austin.
---
Hordes of cars and heavy-duty equipment have the section of 4th Street, from the courthouse to the edge of Republic Square, blocked off for filming, which is set to continue through Nov. 17. One of the workers on set who did not disclose his name said the crew will be filming until around 10 p.m. today.
The movie, brought to life by Austinite and "Spy Kids" director Robert Rodriguez, follows Affleck in the role of a detective who becomes enveloped in a mystery involving his missing daughter, a string of high-profile crimes and a secret government program.
New Austin transplant Carole Cline lives nearby, so she watched the crew film for a few hours. Cline said one of the props set up in front of the steps of the courthouse—a hotdog stand—looked so realistic she almost went up to order before she noticed the equipment.
Cline said she watched Affleck film a scene where he was running down the courthouse steps in the opposite direction of a crowd passing by and that he had to repeat the sprint "at least 20 times."
Shortly afterward, the crew shifted to filming in the street for what appeared to be a car wreck scene. Three cars were tightly clumped together along with a steady stream of fog, a prop police car, an ambulance and a fire truck.
Affleck and partner Jennifer Lopez have been renting a condo in Austin while "Hypnotic" is filming, so keep an eye out for the high-profile couple around town. Affleck will also be seen in at least four movies coming up: DC's "The Flash," George Clooney's "Tender Bar," Ridley Scott's "The Last Duel" and Adrian Lyne's "Deep Water."
Enjoying Austonia? Signup for our newsletter to get daily Austin news, straight to your morning inbox!
Capital Metro has been awarded $750,000 from the Federal Transit Administration to go toward Project Connect's Orange Line, documents show.
The FTA announced the funding round on Thursday, which dispersed $11 million across 12 states and 20 projects. The money is meant to connect communities to affordable transit and housing through the FTA Pilot Program for Transit-Oriented Development planning.
CapMetro said the funds will go toward projects at eight stations spanning 6.5 miles on the South end of the Orange Line, which has a total of 22 stations. The full project stretches across the 20 miles from Southpark Meadows to Tech Ridge.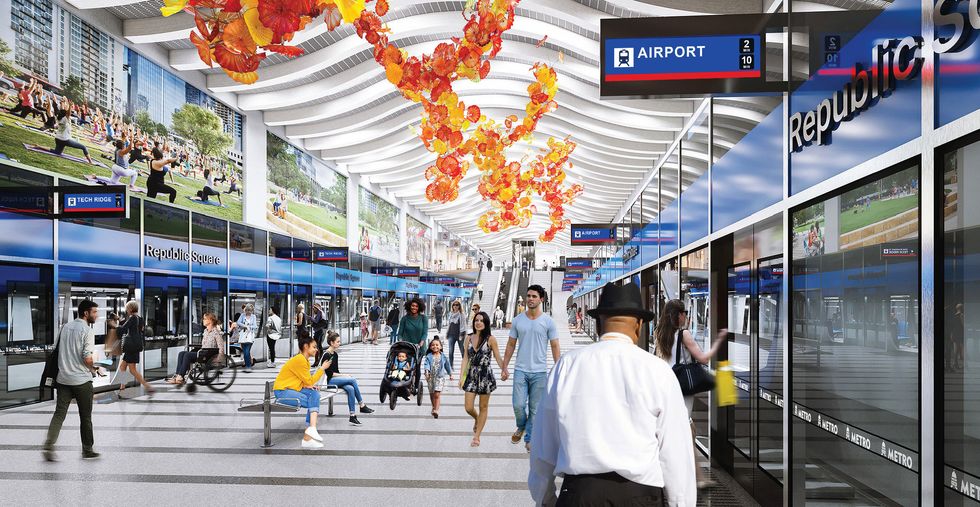 Republic Square station is along the Orange Line. (Project Connect rendering)
Once it's complete, which officials estimate will be in 2028, the Orange Line will reach the following stations:
Tech Ridge (Park & Ride)
North Lamar International District
Crestview
The Triangle
UT campus
Republic Square
Auditorium Shores
South Congress
Southpark Meadows (Park & Ride)
A $500 million mixed-use development spanning 1,400 acres is coming to Southeast Austin, near Tesla's headquarters at Giga Texas.
Plans for the development by Houston-based real estate firm Hines include 2,500 houses along with multi-family and townhomes, and commercial land. Hines is partnering with Trez Capital, Sumitomo Forestry and Texas-based Caravel Ventures.
The development, which is known as Mirador, will be located off the 130 Toll and Highway 71, which the developers say provides easy access to the Circuit of the Americas Formula 1 racetrack and other Austin attractions like restaurants, parks and live music venues.
Hines also boasts amenities like a 60-acre lake, over 600 acres of greenbelt, community parks, trails and a swimming pool.
"As Austin continues to grow into the tech epicenter of Texas, coupled with a supply-constrained market, the demand for new housing is at its highest," Dustin Davidson, managing director at Hines, said. "Mirador will be critical in providing more options for Austin's growing population and we are excited to work alongside our partners given they each provide a unique and valued perspective in single-family development."
The local housing market has been hot in recent years, with home sales accelerating earlier in the pandemic. In July 2021, the Austin metro area hit its pricing peak at $478,000. As Austonia previously reported, the area has been expected to see the Tesla effect, with the new workforce driving up demand for housing and other services.
The single-family houses are expected to be developed over the course of six years, in phases. Construction on the homes is expected to start this year and home sales will begin in 2023.