Get connected with our daily update
(Ben Sweat/Instagram)
Ben Sweat
Jersey Number: 22
Hometown: Palm Harbor, Florida
Position: Defender
Age: 29
Former Club: Inter Miami CF
---
Background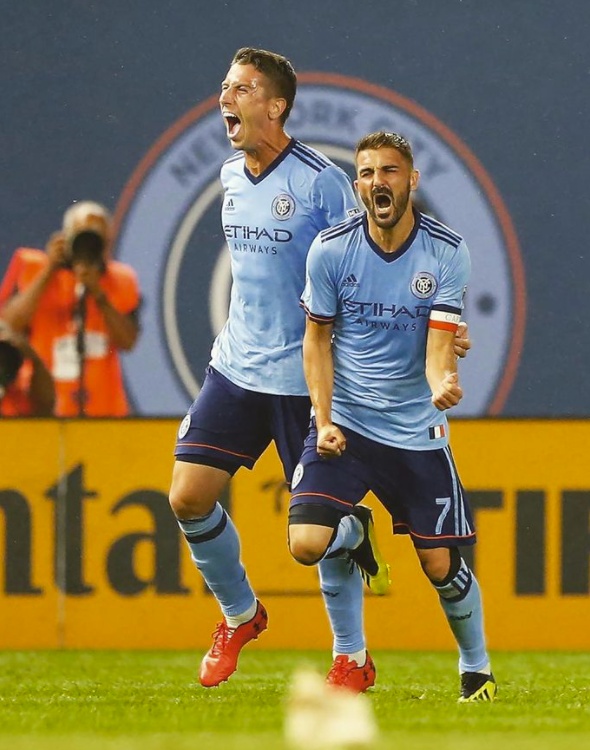 (Ben Sweat/Instagram)
On the same day that Austin FC secured four other players, including Julio Cascante, the team traded $100,000 in General Allocation Money to Inter Miami CF to bring Sweat to Austin.

Like his name implies, Sweat has put in real work to play at the level he's at today. He's been a part of three MLS teams so far, including two separate MLS Expansion teams, but he proved to be a bit of a late bloomer when it came to going pro.
Sweat first got experience at cracking a new team after spending two seasons in his home state with Inter Miami FC. Sweat was selected by the team as the first overall pick in the MLS Expansion Draft, where he played in 23 matches with the new MLS side, notching 20 starts and two assists to his roster.
Prior to his time in Miami, Sweat spent three seasons in the back line for NYCFC. The 6'2 defender served as a left back for the club in 81 matches, in which he scored one goal and tallied nine assists. During his time with NYCFC, he also played alongside Austin FC teammate Alex Ring.
Sweat was the 14th pick for the Columbus Crew in the 2014 SuperDraft, but it was several years before he cracked the MLS ceiling.
Before he went pro, Sweat played for NASL team the Tampa Bay Rowdies in 2015-16, where he made 23 starts. Sweat got his start near his hometown with 3-USL Pro side the Dayton Dutch Lions after being drafted by affiliate Columbus Crew SC in the 2014 MLS SuperDraft.
Sweat has also played in two matches for the US Men's National Team, including a friendly match against Colombia in Tampa Bay.
Before the big game, Sweat told U.S soccer it was a surreal moment to play for his country in his hometown.
"It's a special moment," Sweat said. "My first call up happens to be in my hometown. I've been emotional about it, and I'm excited for this opportunity."
With Austin FC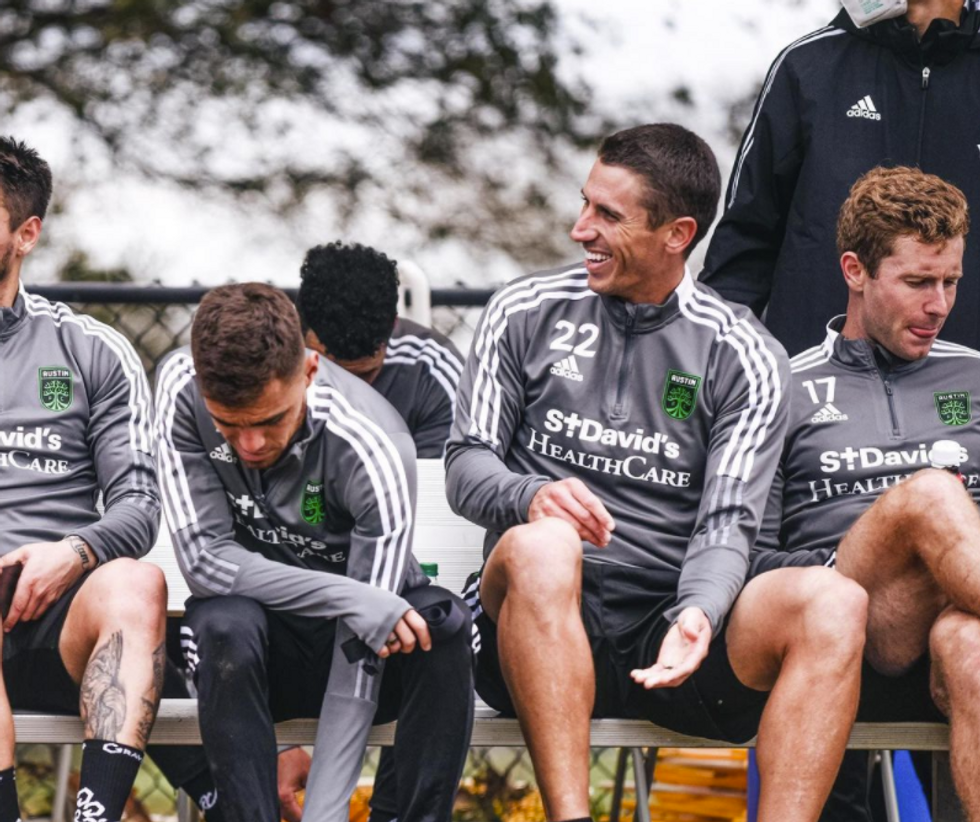 (Ben Sweat/Instagram)
As a solid left back, Sweat should be part of the starting lineup alongside fellow defenders Nick Lima and Matt Besler, although he could find competition in 32-year-old veteran Hector Jimenez. The 6'2 defender is one of the tallest of the team, and at 29, he's bringing experience as a starting left back in other MLS sides.
Because Sweat played for another MLS startup back in 2019, he also knows a thing or two about starting with a brand new team. His time with Inter Miami CF was marred by COVID, but Sweat said he brings his experience with a new team to the fledgling Austin FC program.
"Last year wasn't a normal season with COVID, so it was very difficult to have an expansion team," Sweat said. "But what doesn't kill you makes you stronger, and I can take that experience from Miami and what maybe Miami did really well or didn't do well and bring that here to Austin."
Sweat is coming off of a surgery in December but said he's recovered and better than ever after the long-overdue procedure. "I honestly feel better now than I have in recent years," he said. "I would say my fitness level is one of the best since when I was younger, and I'm excited to run without pain."
Sweat turns 30 this year, and he knows his years are numbered as a starting left back for an MLS side. That's why he's so motivated to win, and he hopes that Austin FC will become an underdog success story in their inaugural season.
"I want to win, and I think this is the place that's going to happen," Sweat said. "I think they've put together a culture already where everyone has bought in, (and) I think we're gonna have a lot of success here. I don't think an expansion team should go in and use that as an excuse."
Off the pitch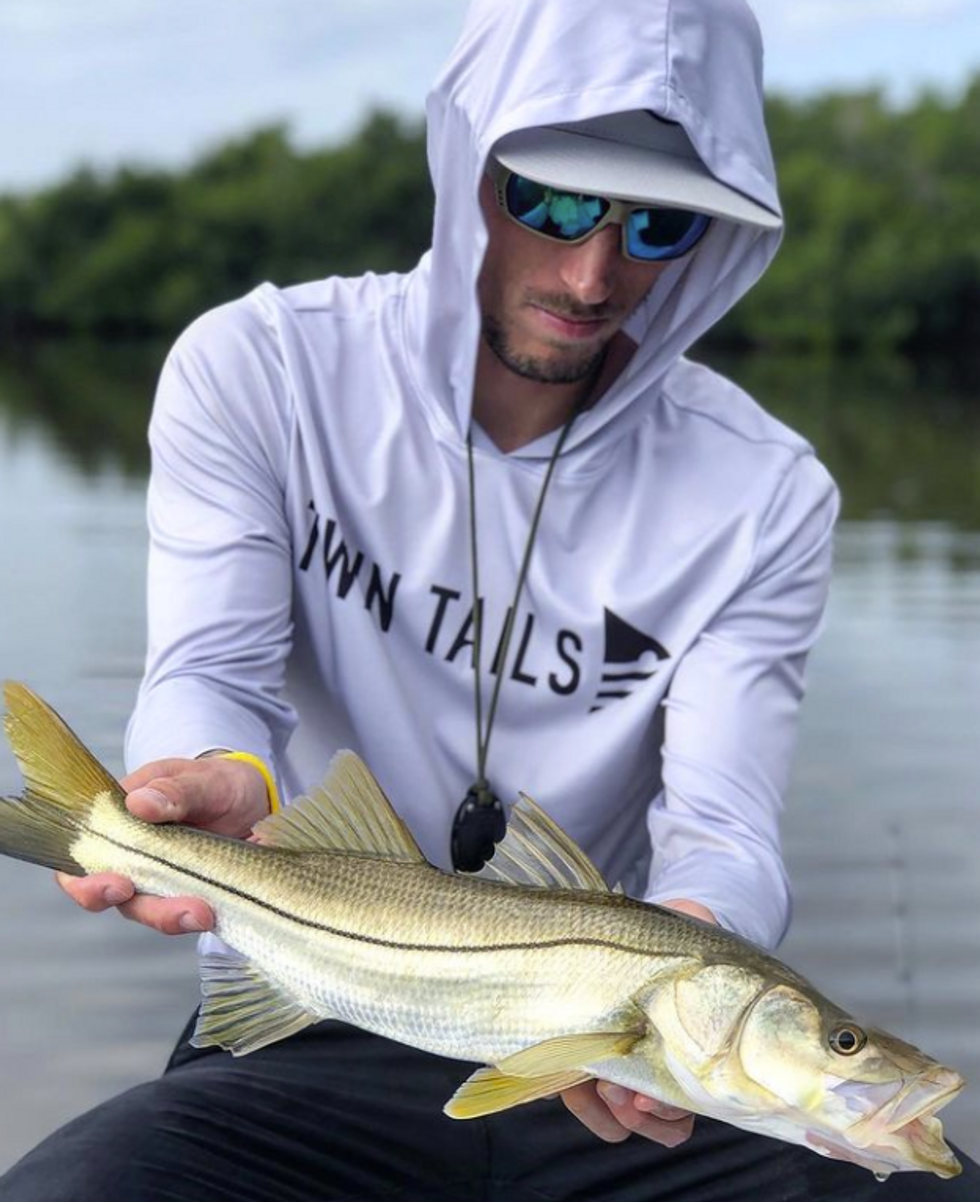 (Ben Sweat/Instagram)
A native English speaker, Sweat has used his experience working alongside Spanish-speaking teammates to pick up as much as possible. With his limited Spanish and years of experience at his side, Sweat works to be a positive role model for new players to the team. "I'm in a role now where I need to help the younger guys and and also have the ability to have a bigger voice and be more vocal on and off the field," he said.
Sweat is also a big proponent for the MLS said it could be a contender alongside the Premier League, the Bundesliga and other global giants in the next 5-10 years.
In a press conference Friday, Sweat said he sees a lot of homegrown and international players boosting the league's global footprint. "The MLS is a tough league," he said. "There's a lot of good players, it's growing, the player pool is getting bigger and better."
Soccer may come first, but fishing is a close second for Sweat. The Florida native is an avid angler and inshore fisherman. While he left the coast behind for the Texas Capitol, he still owns a fisherman's paradise, Twin Tails Outfitters, which specializes in fly fishing clothing and gear.
When moving to Austin, Sweat was accompanied by his wife, Inis Šišić, whom he married in 2018.
An Austin-based firm that's established itself as one of the top Bitcoin miners in North America is set to go public.
On Thursday, the company, known as Core Scientific Inc., announced it's now trading on Nasdaq as $CORZ. The stock opened at $9.74 per share then peaked at $10.48. The company was assigned a $414 million market cap.
"As one of the largest publicly-traded blockchain infrastructure providers and digital asset miners in North America, we are focused on growing our capacity, defending and securing the blockchain ecosystem and building long-term shareholder value," CEO Mike Levitt said.
As reported by Yahoo News, investors approved a plan for a public debut through a $4.3 billion merger with special purpose acquisition company Power & Digital Infrastructure Acquisition Corp. The deal arrives as Austin sees its crypto scene soar, with increased activity in the NFT economy and groups pooling their money together through DAOs.
Core Scientific was established in 2017 and relocated its headquarters from Seattle to Austin last year. It has a site in Downtown Austin on 106 E. 6th St. and data centers in Georgia, Kentucky, North Carolina and North Dakota. More than 100 full-time employees are in the U.S., but it's unclear how many are in Austin.
Now, they say they are the biggest Bitcoin miners based on processing power, with claims that the combined mining capacity on the Bitcoin network exceeds that of competitors. And SEC filings from earlier this month show it's in the process of acquiring Blockcap, Inc., which moved to Austin last year.
The company describes itself as a leader in high-performance, carbon-neutral blockchain infrastructure in an industry that catches flak for its energy use.
Aside from mining, the company provides internet hosting services for other large-scale miners. In fact, it derives about half its revenue by helping big customers mine, a quality seen in what's often referred to as an "institutional-grade" miner.
Looking ahead, Core Scientific seems optimistic about the year ahead even as Bitcoin falls from its all-time high.
"We've worked hard to lay the groundwork that will enable us to achieve our 2022 projections," Levitt told Yahoo News. "Our objective is to be the best. Being the best means doing all that we can for our business, the industry in which we participate and for the Bitcoin network."
Watch some Cricket
When: 5:30-10 p.m. Saturday and Sunday
Where: The Crossover, 1717 Scottsdale Drive
What: Looking for a new sport to obsess over? Attend one of Sports Movement's indoor cricket matches.
Le Garage Sale
When: 11 a.m. Saturday and Sunday
Where: Palmer Events Center, 900 Barton Springs Rd.
What: Find over 100+ boutiques, brands and designers at Le Garage sale. Shop leisurewear, accessories, menswear, children's apparel, home decor and more. Tickets start at $10.
See a movie at the drive-in
When: 6:25-8:45 p.m., 9:15-10:50 p.m. Saturday
Where: The Globe Drive-In Theater, 8017 Cele Rd.
What: This weekend you can see Harry Potter and the Prisoner of Azkaban at 6:25 p.m. or you can see The Cabin in the Woods at 9:15 p.m. at the drive-in. Tickets cost $16 per car.
Museum of Ice Cream
When: 11:30 a.m Saturday and Sunday
Where: Museum of Ice Cream, 11410 Century Oaks Ter.
What: The Museum of Ice Cream is featuring 12 never-before-seen instillations celebrating the enjoyment of ice cream. View tickets here.
The Austin Flea
When: 12 p.m. Sunday
Where: Meanwhile Brewing, 3901 Promontory Point Dr.
What: Find handmade items, vintage wares, food and drink and more at The Austin Flea at Meanwhile Brewing. Vendors are handpicked for each show to guarantee a great selection of items to shop for.