Get connected with our daily update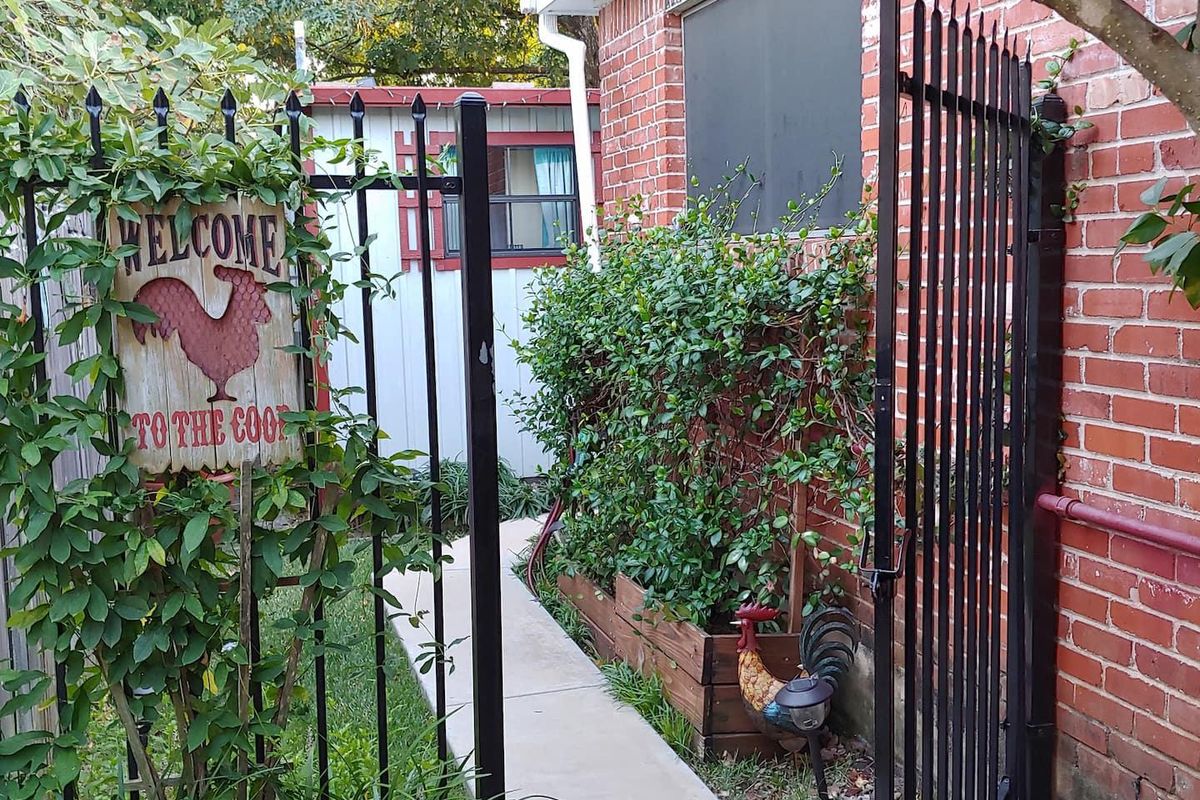 Tucked near Shoal Creek in Austin's cozy Allandale neighborhood, Jay and Jayne Crawford's Chicken Coop Tiny Cottage is more than just a sleepy vacation rental, it's the number one Airbnb in Texas.
---
According to Airbnb's "number one most hospitable Host" list that came out this month, the Crawfords run the most welcoming stay the Lone Star State has to offer. It was a surprise to the Crawfords, who have been running the Airbnb since October 2014.
"I knew we've been doing well but I just never would have dreamed," Jayne said. "I didn't ever imagine we would be number one, so that was a great surprise."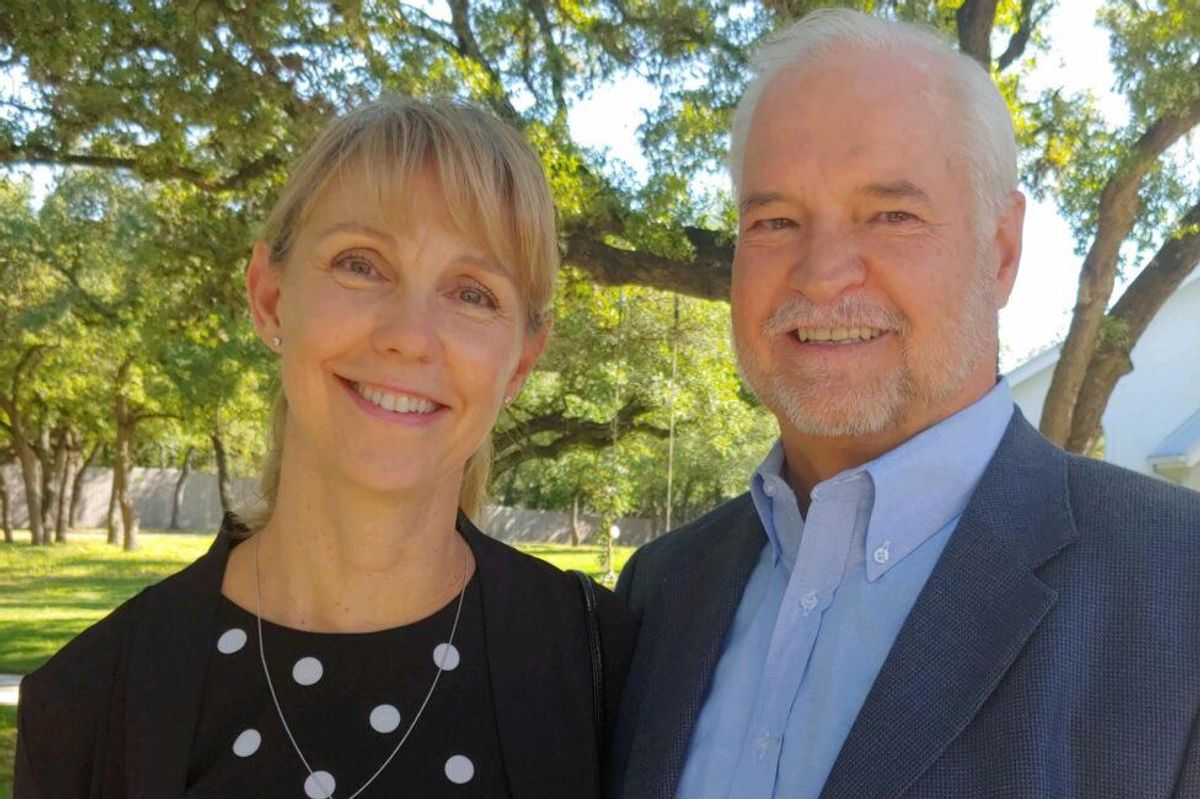 Jayne and Jay Crawford have been renting on Airbnb for the last six years. (Jayne Crawford)
Though there are no chickens to be seen, the rental sits in the couple's backyard. Before they had ever imagined entering the hospitality business Jay, who owned an insurance business, used it as an office before retiring. Jayne, a retired elementary school teacher, came up with the idea to rethink the space while on a beach trip with some friends.
With a love of travel herself, Jayne said she and her husband transformed the space into a rental she would be happy to stay in when far away from home. Growing up in a family of neat freaks, Jayne prides herself on her tidy nature.
"My husband will tell you that I'm very particular, especially out there, because when I travel I don't like surprises," Jayne said. "That's the way I grew up, you clean things and leave it nicer than you found it."
In order to be named "most hospitable" in Texas, the couple had to meet certain criteria: achieve 100 five-star ratings in cleanliness, check-in and communication; gain at least 100 reviews and gain the greatest number of reviews in Texas.
The chicken-themed stay has more than 360 reviews, which is among the most in the nation and maintains a perfect five-star review in five of the six categories, the remaining rating four-point-nine.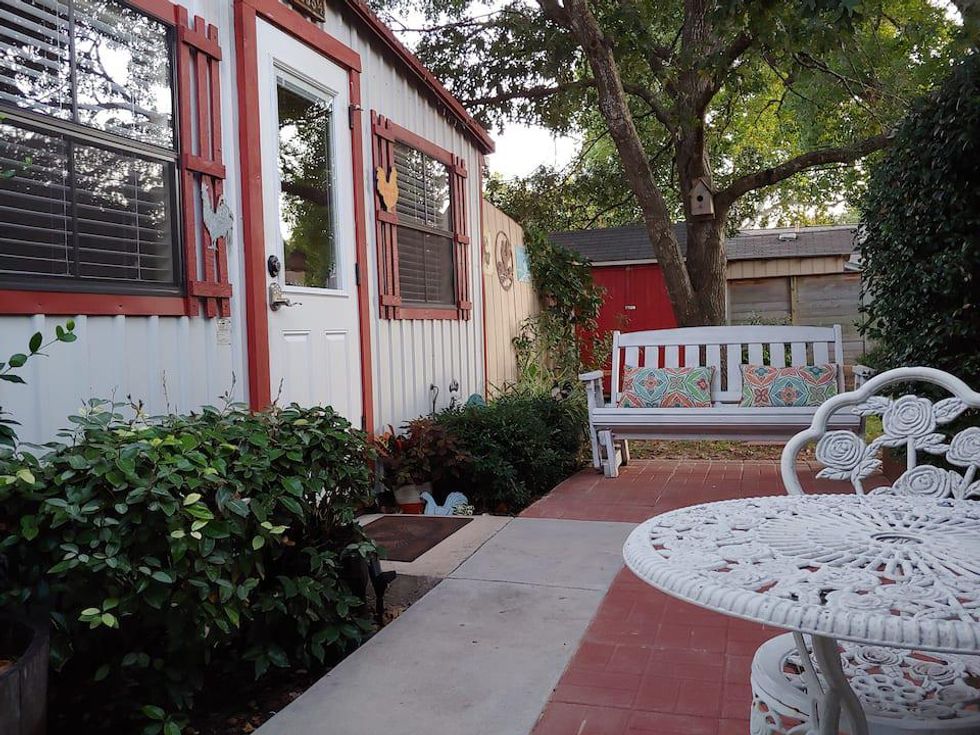 The house is only 160-square feet but the garden gives you plenty of room to roost. (Airbnb)
So what makes this Airbnb so cozy?
Jayne says it's the little things like spare toothbrushes, contact solution, chocolates on pillows, snacks on deck and that famous Southern hospitality that keeps people coming back. Before COVID, Jayne said she used to leave homemade brownies for guests.
"I've kind of found over the years that the more you offer people, the more grateful and the better they treat your place," Jayne said. "We pretty much try and think of anything that you would ever forget or I have forgotten on a trip."
The small, farmhouse-style property will let you live the Austin lifestyle with the neighborhood walkability and proximity to downtown for around $70 per night. Jayne said they have renters come and stay year after year like clockwork, so if you want to stay it would be best to book a few months in advance.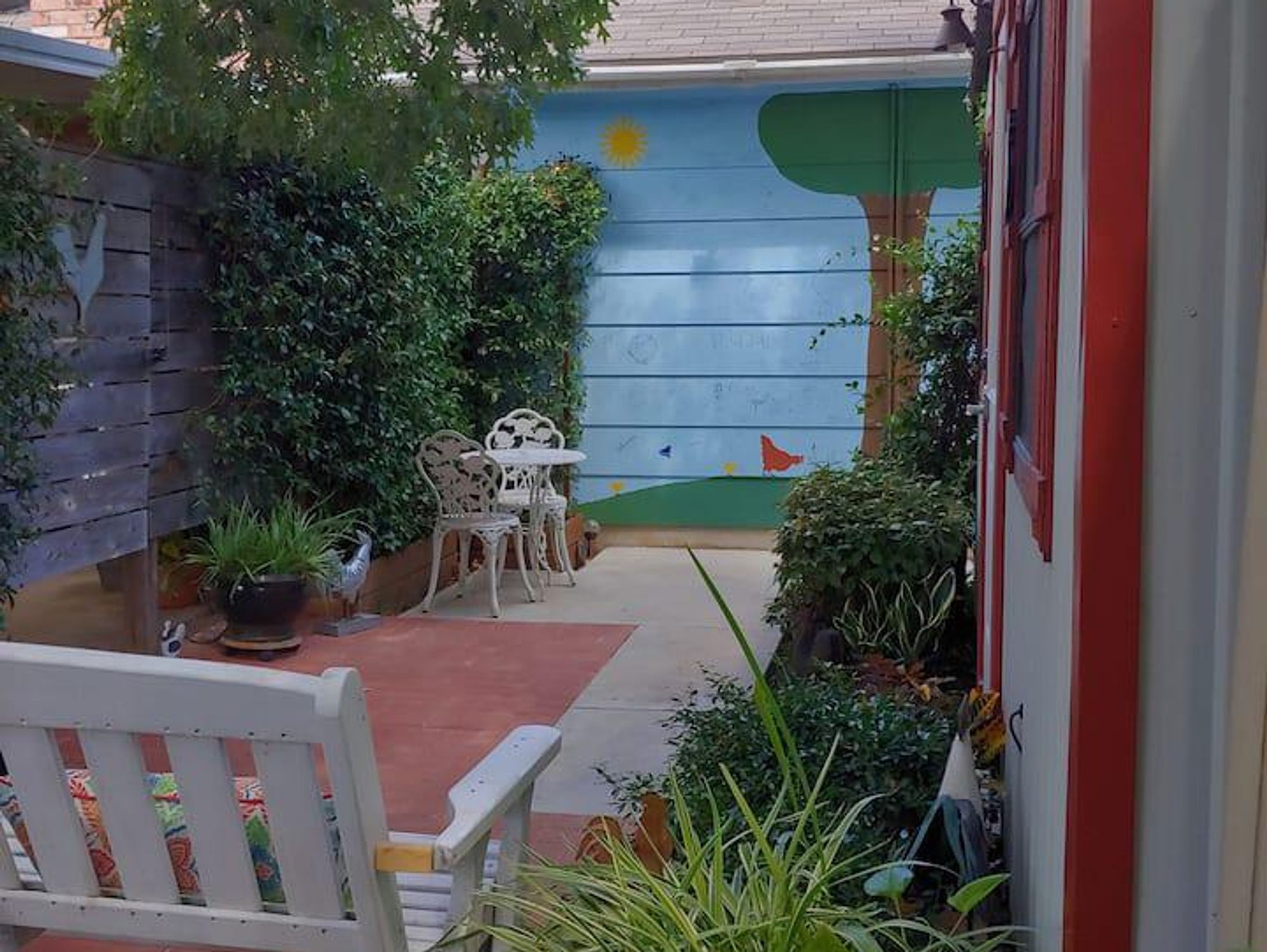 The couple asks everyone who stays to sign their mural before leaving. (Airbnb)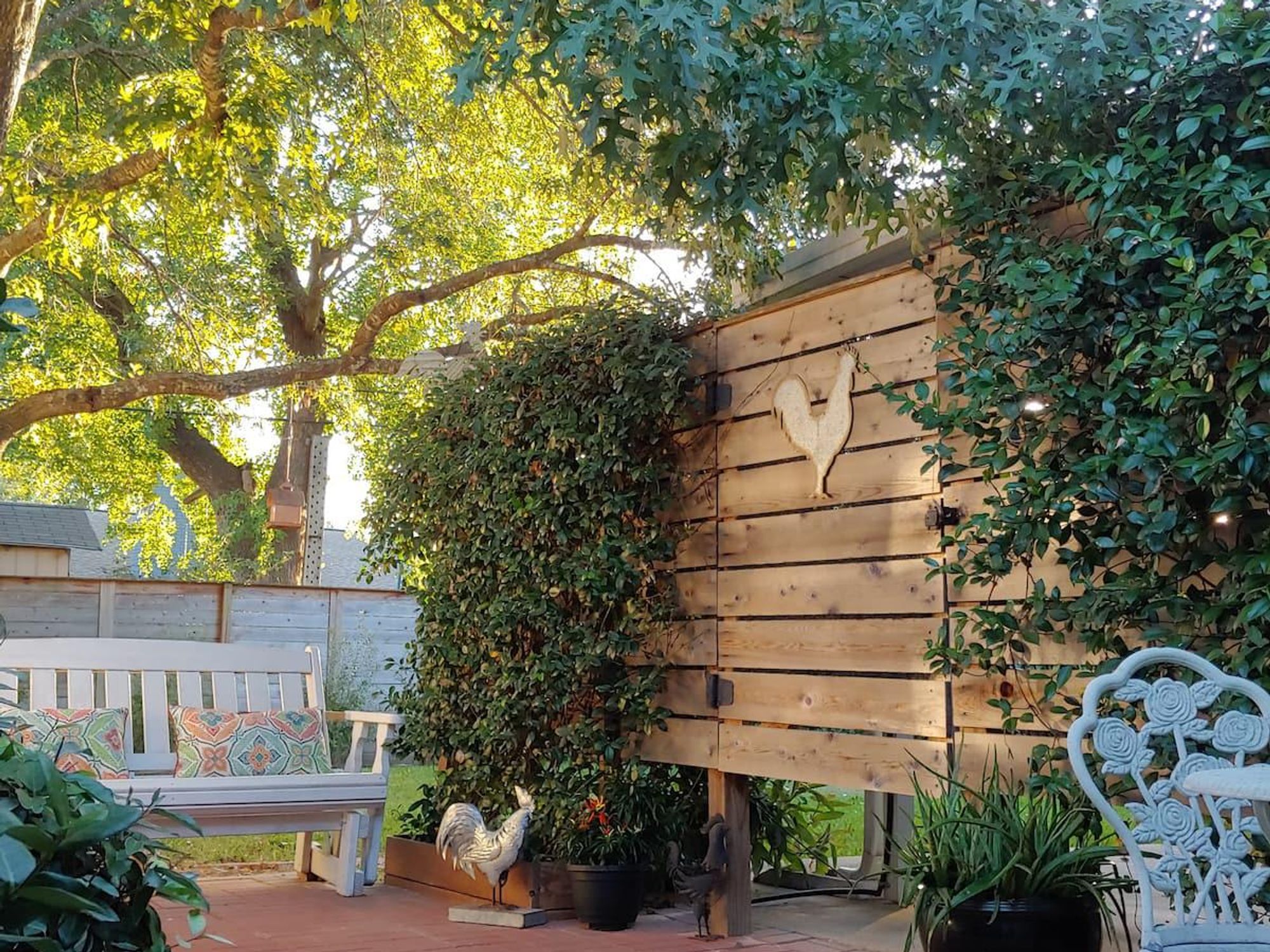 The garden is the pride and joy of Jayne Crawford. (Airbnb)
In addition to the money they get from listing their extended home, which covers the "ridiculous" Austin taxes, Jayne greets every group that stays and said the people who stay with her are a delight.
"I try and pop out and meet everybody when they first come just so that they know who's here and if they need anything, we're always available," Jayne said. "The people that rent from us, they're phenomenal, they're just wonderful."
Make sure when you stay to admire the garden personally attended by Jayne herself and sign the chicken mural so you can permanently commemorate your stay in the capital city.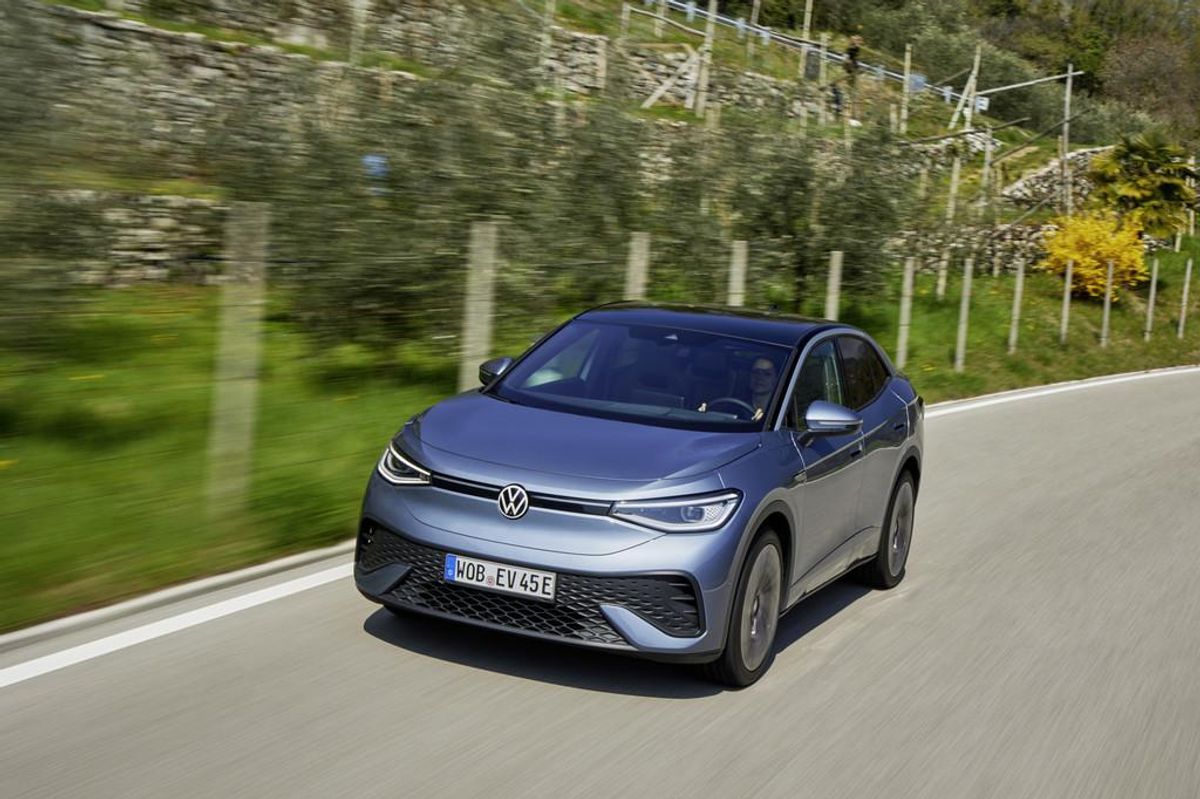 Whether you're making the switch out of a gas-powered car or thinking of adding another EV into the mix, tax credits could go away for your desired car.
The climate-health-tax package could become law soon. And while Democrats had aimed to expand consumer tax credits for battery-powered vehicles Sen. Joe Manchin called for some supply chain requirements in order to go along with the broader bill.
The Alliance for Automotive Innovation estimates that'll cut vehicles eligible for the credits from 72 to 25. Brands eligible for a tax credit include BMW, Ford and Rivian. As Electrek reports, sales can push manufacturers over the predetermined threshold of qualified sales, and Tesla is part of that group.
For some EV owners, however, this incentive wasn't an influence on their decision anyway.
Anuarbek Imanbaev, VP of the Tesla Owners Club Austin, said the credit played very little role in his decision to get a Tesla.
He views his first Tesla as a more luxurious type of purchase that's a different approach than what other car shoppers have.
"That's a different segment," Imanbaev said. "I think in that segment, it was nice to have, but it wasn't anything that affected whether I would buy the vehicle or not."
Still, Imanbaev thinks for those shopping for vehicles up to about $65,000, the tax credit could increase demand.
Reginald Collins, a sales professional at Onion Creek Volkswagen, has talked to the clients who weigh cost more when buying a vehicle and he said the tax credit is a "huge deal."
"On top of the fact that you're not paying for any gas. And you're saving Earth, it's not a combustion vehicle," Collins said, referring to Volkswagen's ID.4 that people can buy with a $7,500 tax credit.
What's its appeal over a Tesla or other electric vehicles?
"Just the flexibility of it, it's much less expensive," Collins said.
And while EVs require some wait—Collins estimates the ID.4 taking about 8 to 10 months— he also said that the plant in Chattanooga, Tennessee is making for faster production.
"If you need parts, you can order them from the states instead of ordering them in Germany," Collins said. "So if you have customer issues they can get parts quicker."
So if you're trying to get a deal on an EV, you may need to act quickly. The Senate sent the plan, known as the Inflation Reduction Act, to the House earlier this week meaning it could be headed to President Biden's desk soon.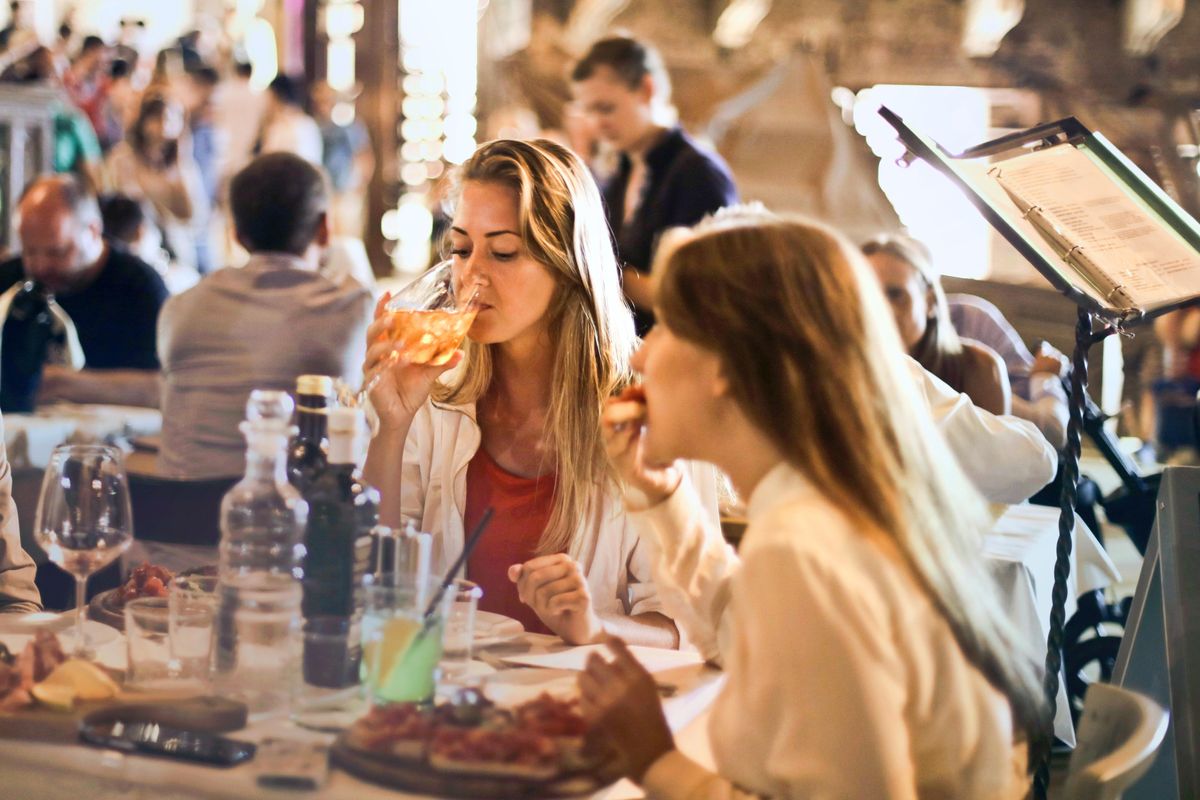 A chain of plant-based restaurants and wellness centers is getting its start in Austin.
Following time in executive-level positions with Austin-started Whole Foods Market, Betsy Foster, former senior vice president, retiring co-founder and CEO John Mackey and former Whole Foods co-CEO Walter Robb are onto their next project: a startup called Healthy America LLC.
The venture raised $31 million from investors earlier this year to create a national network of wellness centers and vegetarian restaurants.
Bloomberg reported on a now-closed job posting for Healthy America, which described it as "an evidence-based lifestyle company, leading the convergence of culinary, healthcare, and wellness."
The posting mentions an aim to "meaningfully transform the health and wellbeing of individuals." Aside from food, educational, fitness and spa services may also be offered.
Incorporated in 2020, Healthy America seems to be at an office near 38th Street and Lamar Boulevard, the
Austin Business Journal
reports.