Austonia AM
100% Austin news, info, and entertainment, straight to your inbox at 6 a.m. every morning.
In five minutes, you're fully informed and ready to start another great day in our city.
Get connected with our daily update
(Kerlin BBQ/Instagram)
One thing you need to know about Texans is not to get in between them and their smoked meats. Lucky for Austinites, some of the best barbecue in the world can be found right here in Central Texas.
And there are a lot of places to try out, whether you're a longtime resident, newcomer or just a barbecue fan. To get your barbecue journey started, here are some of Austin's favorite places to get their grub.
---
Franklin Barbecue, 900 E. 11th St.
Franklin Barbecue is known for having extremely long lines and amazing brisket from well-known pitmaster and "barbecue nerd" Aaron Franklin. From brisket to beef ribs and a Tipsy Texan sandwich, there's nothing more iconic to Austin than this particular barbecue joint. Along with barbecue lovers, celebrities such as Anthony Bourdain, Jimmy Kimmel and Barack Obama have celebrated the beloved spot. Since the pandemic, Franklin barbecue is only accepting preorders for extra safety precautions. Described by Texas Monthly as "serving the best barbecue in the known universe," Franklin Barbecue is a must-try if you're new to town. The dining room may be closed but curbside is available from 11 a.m.-2 p.m. daily except Mondays.
Valentina's Tex Mex BBQ, 11500 Manchaca Road
In a city where tacos and barbecue aren't hard to find, pitmaster Miguel Vida brings Valentina's Tex Mex BBQ to Austin with a twist on both food groups. Besides, is there anything more Austin than skipping tradition and creating something completely unique? Valentina's serves incredible brisket, pulled pork and chicken and beef fajita with a Mexican twist. Make sure to try their smoked brisket taco and order online before it all sells out. You can also dine in from 7:30 a.m.-8 p.m. Wednesday-Friday and 7:30 a.m.-6 p.m. Saturday and Sunday.
Micklethwait Craft Meats, 1309 Rosewood Ave.
Micklethwait Craft Meats is no stranger to the well-known barbecue game in Austin. Also featured in Texas Monthly as one of the best barbecue spots in Texas, pitmaster Tom Mickethwait brings standout items to the Austin food game. With brisket, pork ribs, pulled pork, homemade sausages and so much more on their menu, Micklethwait Craft Meats is the perfect spot for meat lovers looking for a new destination. You can get your barbecue fix Thursday-Saturday either through preorder or walk up and there's even an outdoor picnic area that is open from 11 a.m.-6 p.m. Thursday-Saturday and 11 a.m.-4 p.m. Sunday.
Terry Black's Barbecue, 1003 Barton Springs Road
Terry Black's namesake, operated by his sons, pitmasters Michael and Mark Black, takes Lockhart's barbeque knowledge to Austin. The meat market-style restaurant offers delicious brisket, pork rib, beef sausage and so much more for flavors and high-quality barbecue you can't miss out on. If you're new to town and thinking of sending a gift to your friends and family outside of the state, Terry Black's offers nationwide shipping for most of their meats. Austinites can preorder online for pickup or delivery, otherwise, the restaurant is open from 11 a.m.-9 p.m. Sunday-Thursday and until 9:30 p.m. Friday and Saturday.
LeRoy and Lewis Barbecue, 121 Pickle Road
This new-school and uniquely creative food truck proves that barbecue isn't just for the traditional establishments in town. LeRoy and Lewis Barbecue opened their doors in 2017 in the Cosmic Coffee + Beer Garden lot. Since then, pitmaster Evan LeRoy and Director of Operation Sayer Lewis have provided Austinites with amazing barbecue by also supporting local ranches in Texas. From brisket to sausage to barbacoa, LeRoy and Lewis Barbecue have all the fixins' and more for barbecue lovers in town. You can preorder online or eat in person from 11 a.m.-9 p.m. every day except Monday and Tuesday to try this inventive and mouth-watering barbecue.
Stiles Switch BBQ & Brew, 6610 N. Lamar Blvd.
Stiles Switch BBQ & Brew is one of those barbecue joints in Austin that helped create the lavish barbecue scene Austinites know and love. Lead pitmaster Lance Kirkpatrick learned his technique with a true Texan twist and provides Stiles Switch authentically delicious barbecue such as beef rib, pork ribs, sausage and so much more. Owner and Texas native Shane Stiles named Stiles Switch BBQ & Brew after a Central Texas railroad stop on the I&GN Railroad from the 1800s. You can preorder online or dine at the patio at Stiles Switch from 11 a.m.-8 p.m. every day except Monday.
Kerlin BBQ, 2207 E. Caesar Chavez St.
In the competitive barbecue market in Austin, this barbecue joint manages to hit top rank in all categories. Kerlin BBQ has been providing Austin with amazing brisket, pork ribs, pork shoulder and best of all, brisket and cheddar kolaches since 2014. Bill and Amelis Kerlin bring their own personal taste and preference to their menu, helping cater to most barbecue lovers in town. Dine-in is available from 11 a.m.-4 p.m. Friday-Sunday or to preorder, email orders@kerlinbbq.com.
Cooper's Old Time Pit Bar-B-Que, 217 Congress Ave.
For any barbecue lover who hasn't tried the pork ribs at Cooper's Old Time Pit Bar-B-Que, it's time to finally do so. Pitmasters Kenny Oestreich and Louis Garcia provide the family-owned and operated restaurant, along with any Austinite who walks by the delicious smelling barbecue, with great food on South Congress. Brisket, pork ribs, pork chops and beef ribs are only a small amount of what Cooper's has to offer. You can order for takeout or delivery if you don't want to dine in from 11 a.m.-10 p.m. daily.
Mum Foods, 2113 Manor Road
If you're thinking of skipping out on Mum Foods, think again. The farm-to-table barbecue joint can be found around town at the Barton Creek, Cedar Park and Mueller farmers' markets, along with their shop, Mum's brisket. Serving Austinites with quality brisket, amazing pastrami, sausage, chicken and delicatessen, Mum Foods has it all for meat lovers in town. You can preorder online from Thursday through Saturday.
La Barbecue, 2027 E. Cesar Chavez St.
In a state where barbecue is the shining star, La Barbecue has put themselves up to the task of providing Texas with one of the best barbecue spots. La Barbecue, owned by LeAnn Mueller and wife Ali Clem, has provided Austinites with brisket, beef and pork ribs, amazing sausages and so much more. Pitmaster Ali Clem has established her influence on La Barbecue with help from Francicso Saucedo, especially for the sausages and pork ribs for a perfect barbecue experience. You can preorder online or dine in from 11 a.m.-6 p.m. Wednesday-Sunday to try La Barbecue.
Brown's Bar-B-Que, 1901 S. Lamar Blvd.
It seems like the list of barbecue joints in Austin is never going to end, proving that there is no place better to find your favorite barbecue. Brown's Bar-B-Que adds to the list of incredible barbecue in town, providing South Austin with award-winning bone ribs, brisket, chicken, pulled pork and all the fixings. Pitmaster Daniel Brown has been in the barbecue game for a while, making incredible brisket and giving Austin yet another delicious barbecue spot. Visit from 11 a.m.-7 p.m. Tuesday-Friday, or 11 a.m.-5 p.m. on Sundays.
Green Mesquite BBQ, 1400 Barton Springs Rd.
An Austin classic, Green Mesquite BBQ has been providing Barton Springs with great barbecue since 1988. With affordable prices and all the mouthwatering flavors you can think of, this Austin barbecue spot switches thing up by featuring mesquite barbecue, a method of cooking meat over a fire using mesquite wood, giving it a distinct flavor. Try their smoked chicken wings for the best bite of chicken you'll ever have. Plus, both Austin locations are open for dine-in.
Interstellar BBQ
Using high-quality ingredients and wood, and cooking in small batches, low and slow is the motto Interstellar BBQ goes by. Of course, you can get all the classic favorites: brisket, pulled pork and ribs, but Interstellar has some pretty stellar signatures. Try the peach tea glazed pork belly, brisket taco, jalapeno popper sausage and you can even get bulk sauces or beef tallow to cook with. You can preorder your feast the day before or enjoy the open dining room and patio from 11 a.m. until sold out Wednesday-Sunday.
Isabella Lopes contributed to this story.
Texas voters are split on whether Gov. Greg Abbott should run for a third term and whether Matthew McConaughey should run at all. But Democrats are clear: they want to see Beto O'Rourke on the ballot.
These are the findings of a Quinnipiac University poll of registered voters released this week.
Abbott and McConaughey received the highest favorability ratings of the elected officials, candidates and potential candidates, according to the Quinnipiac poll.
Abbott: 49%
McConaughey: 42%
O'Rourke: 34%
Former Texas GOP Chair Allen West: 25%
Former Texas senator and Republican challenger Don Huffines: 8%
Overall, 48% say Abbott does not deserve to be reelected to a third term compared to 46% who say he does. "A Trump favorite in a state that is turning less red in recent election cycles, Abbott has a decent but in no way overwhelming grasp on reelection," Quinnipiac University Polling Analyst Tim Malloy said in a press release.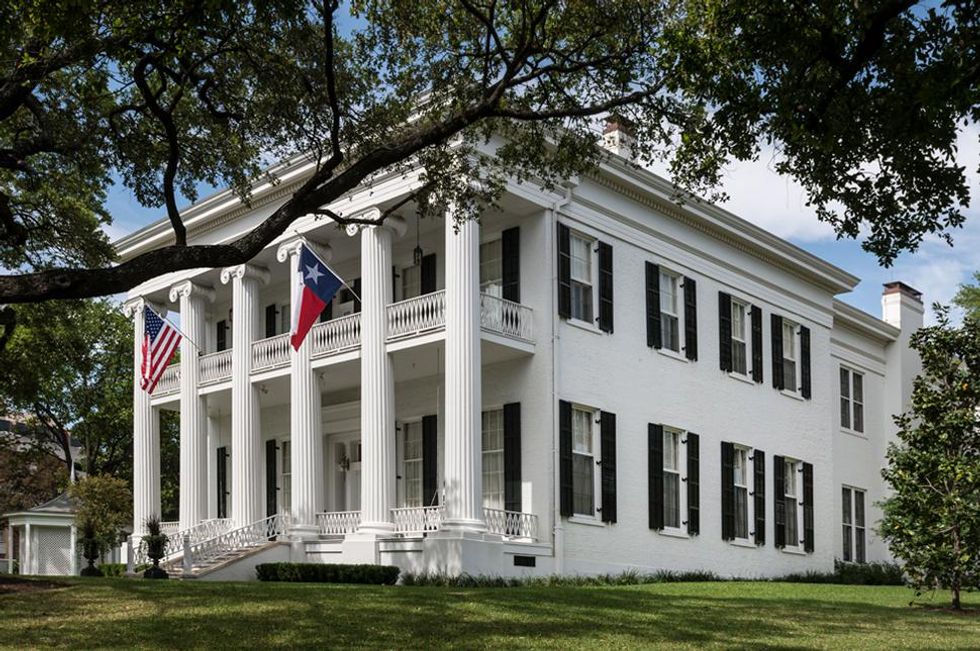 Abbott, McConaughey and Beto O'Rourke could vie for governor in 2022. (Office of the Texas Governor)
Voters are also divided on Matthew McConaughey, who is reportedly considering a gubernatorial run. Forty-one percent of voters say they would like to see him run, compared to 47% who say they wouldn't.

The poll found that Democrats and Independents favor the Oscar-winning Austinite, whose party affiliation is unclear. Forty-seven percent of Democrats would like to see him run, compared to 43% who wouldn't. Forty-four percent of Independents would, compared to 43% who wouldn't. Republicans, on the other hand, say 60%-29% they would not like to see him run.
Another possible candidate is former U.S. Representative and presidential hopeful Beto O'Rourke, who is also reportedly mulling a bid. Overall voters say 52%-41% they would not like to see him run for governor. But 77% of Democrats and 50% of Independents would, according to the poll.
"McConaughey and O'Rourke may still be on the fence, but their numbers suggest they have the attention of voters," Malloy said in the same release.
Austinites will soon be able to train like some of Hollywood's biggest stars as F45, a fitness franchise backed by major celebs, like Mark Wahlberg and David Beckham, is on its way to Austin.
F45 listed Austin as the location of its corporate headquarters in a June 21 federal filing—a big shift for the California company. The fitness franchise is preparing for its initial public offering, which will be as an Austin-based company.
F45 will be one of many California companies—Tesla, Oracle and Samsung—that have recently expanded in the Capital City. The company has several famous investors on its side—famed basketball player Earvin "Magic" Johnson and golfer Greg Norman in addition to Wahlberg and Beckham.
The fitness company is opening a 44,000-square-foot headquarters, located at Penn Field on 801 Barton Springs Road, with a lease running through 2029. F45 was one of the early adopters of Austin-based real estate-technology platform AnthemIQ, helping tenants find commercial real estate.
F45 focuses on one-on-one 45-minute workouts, which patrons watch on in-studio displays. With 2,247 franchise agreements spanning across 63 countries, F45 also has offices in Australia and England.
"We believe this flexibility will enable us to capitalize on our estimated long-term global opportunity of over 23,000 studios," the company said in its filing.
The greater Austin area already has 11 F45 locations, which take up 1,600 square feet of space each.
From Your Site Articles
Related Articles Around the Web
Texas Legislature staff members have taken to social media to raise awareness—and also just air their misfortunes—following the summer special session announcement and their own defunding.
In a game-seven-type move by Texas Democrats, the 87th Texas Legislative session was capped off by a last-minute walkout to avoid a final vote on a bill that would add restrictions to voting.
Needless to say, Gov. Greg Abbott—who cheerleaded the bill throughout the legislative session—was not thrilled.
Not up to date on your Texas Lege drama? Abbott was pointing to when former Texas State Senator Wendy Davis staged a dramatic hours-long filibuster over a 2013 abortion bill, which the public gallery aided. The "story" Abbott is referring to ended with him and other prominent conservatives sweeping the 2014 statewide election and the bill passing in a special session.
According to Abbott, the regular session centered around supporting "hardworking Texans and building a state that is safer, freer, healthier, and more prosperous."
However, the two items deemed at the top of Abbott's wish list for this session—election integrity and bail reform—did not reach his desk at the end of the session, both championed by Abbott to be "must-pass emergency items."
"It is deeply disappointing and concerning for Texans that neither reached my desk," Abbott said in a statement. "Ensuring the integrity of our elections and reforming a broken bail system remain emergencies in Texas, which is why these items, along with other priority items, will be added to the special session agenda."
Abbott said he expected lawmakers to work out their differences prior to the special session and continue to pass other emergency items and priority legislation.
So, everything is cool, right? No worries?
Wrong.
Hours before the no vote, as the clock ran out on the bill that he championed, Abbott tweeted that he would veto funding for the entire state legislative branch. The decision would impact not only Texas lawmakers but their staff and aides. "No pay for those who abandon their responsibilities," Abbott tweeted May 31.
With pay, health insurance and other support for staffers on the line, the threats became a reality on June 18 with an official veto of the funds from Abbott.
The veto effectively nixes all funding for the legislative branch.
"Texans don't run from a legislative fight and we don't walk away from an unfinished business," Abbott wrote in the veto. "Funding should not be provided for those who quit their job early, leaving their state with unfinished business and exposing taxpayers to higher costs for an additional legislative session."
However, questions have been brought up over the constitutionality of the veto itself. Section 24 of the Texas Constitution makes not paying members of the legislature illegal.
The special session is set to begin July 8. So, what does this mean for lawmakers, staffers and aides?
No pay, no insurance... and Twitter followers?
The staffers took their final stand on Twitter where they aired their grievances with the situation and asked for followers to increase their footprint.
Meet Jen Ramos, a staff member for Texas State Senator Judith Zaffarini—and also defunded by Abbott.
And she's not alone. Use the hashtag #txlege and you'll find other similar messages online, like Camille's and Hector's and more.
It's unclear whether Abbott and other prominent Republican lawmakers will come together with Democrats to overturn the veto and continue providing insurance and regular pay for lawmakers, staffers and aides.