Get connected with our daily update
(Kerlin BBQ/Instagram)
One thing you need to know about Texans is not to get in between them and their smoked meats. Lucky for Austinites, some of the best barbecue in the world can be found right here in Central Texas.
And there are a lot of places to try out, whether you're a longtime resident, newcomer or just a barbecue fan. To get your barbecue journey started, here are some of Austin's favorite places to get their grub.
---
Franklin Barbecue, 900 E. 11th St.
Franklin Barbecue is known for having extremely long lines and amazing brisket from well-known pitmaster and "barbecue nerd" Aaron Franklin. From brisket to beef ribs and a Tipsy Texan sandwich, there's nothing more iconic to Austin than this particular barbecue joint. Along with barbecue lovers, celebrities such as Anthony Bourdain, Jimmy Kimmel and Barack Obama have celebrated the beloved spot. Since the pandemic, Franklin barbecue is only accepting preorders for extra safety precautions. Described by Texas Monthly as "serving the best barbecue in the known universe," Franklin Barbecue is a must-try if you're new to town. The dining room may be closed but curbside is available from 11 a.m.-2 p.m. daily except Mondays.
Valentina's Tex Mex BBQ, 11500 Manchaca Road
In a city where tacos and barbecue aren't hard to find, pitmaster Miguel Vida brings Valentina's Tex Mex BBQ to Austin with a twist on both food groups. Besides, is there anything more Austin than skipping tradition and creating something completely unique? Valentina's serves incredible brisket, pulled pork and chicken and beef fajita with a Mexican twist. Make sure to try their smoked brisket taco and order online before it all sells out. You can also dine in from 7:30 a.m.-8 p.m. Wednesday-Friday and 7:30 a.m.-6 p.m. Saturday and Sunday.
Micklethwait Craft Meats, 1309 Rosewood Ave.
Micklethwait Craft Meats is no stranger to the well-known barbecue game in Austin. Also featured in Texas Monthly as one of the best barbecue spots in Texas, pitmaster Tom Mickethwait brings standout items to the Austin food game. With brisket, pork ribs, pulled pork, homemade sausages and so much more on their menu, Micklethwait Craft Meats is the perfect spot for meat lovers looking for a new destination. You can get your barbecue fix Thursday-Saturday either through preorder or walk up and there's even an outdoor picnic area that is open from 11 a.m.-6 p.m. Thursday-Saturday and 11 a.m.-4 p.m. Sunday.
Terry Black's Barbecue, 1003 Barton Springs Road
Terry Black's namesake, operated by his sons, pitmasters Michael and Mark Black, takes Lockhart's barbeque knowledge to Austin. The meat market-style restaurant offers delicious brisket, pork rib, beef sausage and so much more for flavors and high-quality barbecue you can't miss out on. If you're new to town and thinking of sending a gift to your friends and family outside of the state, Terry Black's offers nationwide shipping for most of their meats. Austinites can preorder online for pickup or delivery, otherwise, the restaurant is open from 11 a.m.-9 p.m. Sunday-Thursday and until 9:30 p.m. Friday and Saturday.
LeRoy and Lewis Barbecue, 121 Pickle Road
This new-school and uniquely creative food truck proves that barbecue isn't just for the traditional establishments in town. LeRoy and Lewis Barbecue opened their doors in 2017 in the Cosmic Coffee + Beer Garden lot. Since then, pitmaster Evan LeRoy and Director of Operation Sayer Lewis have provided Austinites with amazing barbecue by also supporting local ranches in Texas. From brisket to sausage to barbacoa, LeRoy and Lewis Barbecue have all the fixins' and more for barbecue lovers in town. You can preorder online or eat in person from 11 a.m.-9 p.m. every day except Monday and Tuesday to try this inventive and mouth-watering barbecue.
Stiles Switch BBQ & Brew, 6610 N. Lamar Blvd.
Stiles Switch BBQ & Brew is one of those barbecue joints in Austin that helped create the lavish barbecue scene Austinites know and love. Lead pitmaster Lance Kirkpatrick learned his technique with a true Texan twist and provides Stiles Switch authentically delicious barbecue such as beef rib, pork ribs, sausage and so much more. Owner and Texas native Shane Stiles named Stiles Switch BBQ & Brew after a Central Texas railroad stop on the I&GN Railroad from the 1800s. You can preorder online or dine at the patio at Stiles Switch from 11 a.m.-8 p.m. every day except Monday.
Kerlin BBQ, 2207 E. Caesar Chavez St.
In the competitive barbecue market in Austin, this barbecue joint manages to hit top rank in all categories. Kerlin BBQ has been providing Austin with amazing brisket, pork ribs, pork shoulder and best of all, brisket and cheddar kolaches since 2014. Bill and Amelis Kerlin bring their own personal taste and preference to their menu, helping cater to most barbecue lovers in town. Dine-in is available from 11 a.m.-4 p.m. Friday-Sunday or to preorder, email orders@kerlinbbq.com.
Cooper's Old Time Pit Bar-B-Que, 217 Congress Ave.
For any barbecue lover who hasn't tried the pork ribs at Cooper's Old Time Pit Bar-B-Que, it's time to finally do so. Pitmasters Kenny Oestreich and Louis Garcia provide the family-owned and operated restaurant, along with any Austinite who walks by the delicious smelling barbecue, with great food on South Congress. Brisket, pork ribs, pork chops and beef ribs are only a small amount of what Cooper's has to offer. You can order for takeout or delivery if you don't want to dine in from 11 a.m.-10 p.m. daily.
Mum Foods, 2113 Manor Road
If you're thinking of skipping out on Mum Foods, think again. The farm-to-table barbecue joint can be found around town at the Barton Creek, Cedar Park and Mueller farmers' markets, along with their shop, Mum's brisket. Serving Austinites with quality brisket, amazing pastrami, sausage, chicken and delicatessen, Mum Foods has it all for meat lovers in town. You can preorder online from Thursday through Saturday.
La Barbecue, 2027 E. Cesar Chavez St.
In a state where barbecue is the shining star, La Barbecue has put themselves up to the task of providing Texas with one of the best barbecue spots. La Barbecue, owned by LeAnn Mueller and wife Ali Clem, has provided Austinites with brisket, beef and pork ribs, amazing sausages and so much more. Pitmaster Ali Clem has established her influence on La Barbecue with help from Francicso Saucedo, especially for the sausages and pork ribs for a perfect barbecue experience. You can preorder online or dine in from 11 a.m.-6 p.m. Wednesday-Sunday to try La Barbecue.
Brown's Bar-B-Que, 1901 S. Lamar Blvd.
It seems like the list of barbecue joints in Austin is never going to end, proving that there is no place better to find your favorite barbecue. Brown's Bar-B-Que adds to the list of incredible barbecue in town, providing South Austin with award-winning bone ribs, brisket, chicken, pulled pork and all the fixings. Pitmaster Daniel Brown has been in the barbecue game for a while, making incredible brisket and giving Austin yet another delicious barbecue spot. Visit from 11 a.m.-7 p.m. Tuesday-Friday, or 11 a.m.-5 p.m. on Sundays.
Green Mesquite BBQ, 1400 Barton Springs Rd.
An Austin classic, Green Mesquite BBQ has been providing Barton Springs with great barbecue since 1988. With affordable prices and all the mouthwatering flavors you can think of, this Austin barbecue spot switches thing up by featuring mesquite barbecue, a method of cooking meat over a fire using mesquite wood, giving it a distinct flavor. Try their smoked chicken wings for the best bite of chicken you'll ever have. Plus, both Austin locations are open for dine-in.
Interstellar BBQ
Using high-quality ingredients and wood, and cooking in small batches, low and slow is the motto Interstellar BBQ goes by. Of course, you can get all the classic favorites: brisket, pulled pork and ribs, but Interstellar has some pretty stellar signatures. Try the peach tea glazed pork belly, brisket taco, jalapeno popper sausage and you can even get bulk sauces or beef tallow to cook with. You can preorder your feast the day before or enjoy the open dining room and patio from 11 a.m. until sold out Wednesday-Sunday.
Isabella Lopes contributed to this story.
Officials are asking certain residents in Bastrop State Park to evacuate as crews work to put out a "very active fire" that is currently 0% contained.
The Texas A&M Forest Service has responded to help local fire departments with the Rolling Pines Fire at 100 Park Road 1A, which is consuming 300 acres. Residents of Pine Hill Drive, Pine Tree Loop, Linda Lane and Lisa Lane are being asked to evacuate.
Aviation resources have been called to assist.

According to the Bastrop County Office of Emergency Management, the wildfire sparked during a prescribed burn that took place today, despite wildfire warnings. Park Road 1C from Harmon Road to Park Road 1A had been closed for the prescribed burn.
The blaze is in the same location as the Bastrop Complex Fire of 2011, which burned for 55 days, killing two people, destroying 34,000 acres and around 1,700 homes and buildings. The fire, which started in 2011, became the most destructive wildfire in Texas at the time.
A hotbed for fires, the Hidden Pines Fire started at the same location in 2015, destroying 4,600 acres and 64 structures.
Some road closures have been put in place at State Highway 21 South Shore Lake Bastrop and East State Highway 21.
This is a developing story and will be updated as information becomes available.
After months of record-setting periods for Austin real estate, the Austin Board of Realtors announced Tuesday that the metro's housing market accounted for over $23 billion of economic activity in 2021, making it the biggest year yet for both home sales and median home prices in the metro.
The Austin-Round Rock MSA saw 41,316 homes sold in 2021, 2.5% more than a record-setting 2020. Median home prices skyrocketed as well, rising 30.8% from 2020 to $450,000. The housing market also saw unprecedented impact on Austin's economy, with sales dollar volume jumping to over $23.38 billion, and more homes hit the market in 2021 than any previous year, increasing by 5.9% to 46,449 total homes listed.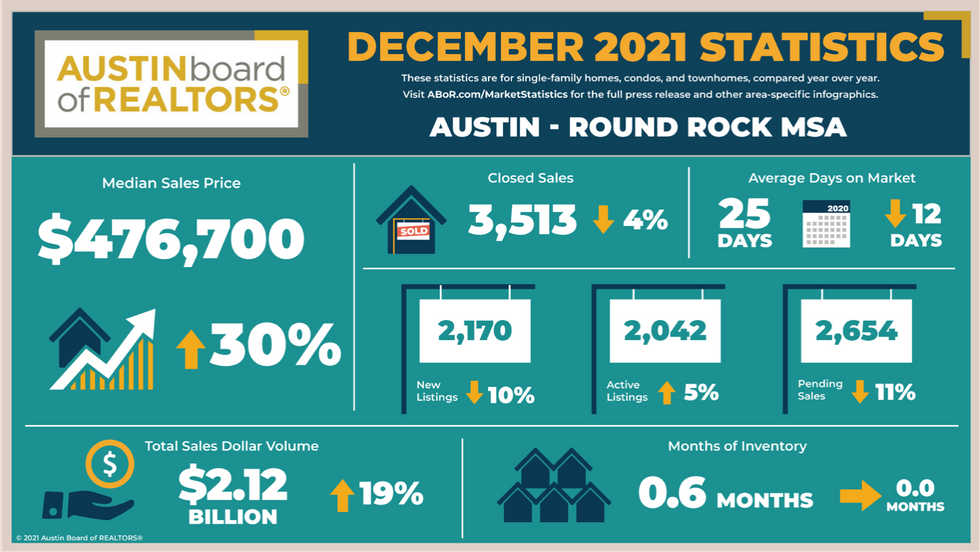 (Austin Board of Realtors)
As many recent Austin homebuyers have experienced firsthand, Austin Board of Realtors 2022 President Cord Shiflet said 2021 was the most "exciting, complicated, fast-paced and record-setting housing market" in Austin's history.
Shiflet dubbed the market as "complicated" for a reason—Austin became a case study on supply and demand in 2021, with demand far outpacing the number of active listings, which dropped by 48.2% to 2,348 homes in 2021.
The metro ended the year with 0.6 months of inventory, a far cry from a "healthy" six-month supply, and houses were snatched at breakneck speeds, spending 25 fewer days on the market when compared to 2020. The average home was on the market for 20 days.
But low inventory is more due to high demand than a stagnant homebuilding market, Mark Sprague, Independence Title's state director of information capital, said in the report.
"In 2021, the record number of homes sold were demand-driven transactions and that demand was influenced greatly by companies continuing to target the region for job creation and expansion," Sprague said. "Even though more homes are being built, listed and sold than ever before, our region is still nowhere close to having a comfortable amount of supply to meet the demand, which is why home prices continue to rise steadily."
Over 23,000 jobs have been promised by companies across the metro as of December 2021, breaking the 2020 record, according to Opportunity Austin, the economic development arm of the Greater Austin Chamber of Commerce. With an influx of major factories and offices, including Tesla's Giga Texas, Samsung's Taylor plant and a planned 33-floor Facebook office, Sprague said the region's booming market paired with a struggling inventory and supply chain issues could be a double-edged sword in 2022.
"In short, 2022 will see a robust market for home sales and property values, but the region must do more to address inventory, " Sprague said.
Shiflet recommended that potential homebuyers make a decision ahead of predicted increases in interest rates and home prices and said that he hopes local politicians will continue to prioritize affordable housing in the election year.
Still, Shiflet said a record-breaking housing market reflects Austin's growing reputation as a hub for talent, tech jobs and a good quality of life.
"With all the new jobs across the region from exciting companies like Tesla and Samsung, Austin was put on the world's stage and captured the hearts and attention of so many," Shiflet said. "We are lucky to call Austin our home when it has so much to offer from a great quality of life to a wonderful destination for innovation and opportunity."