Get connected with our daily update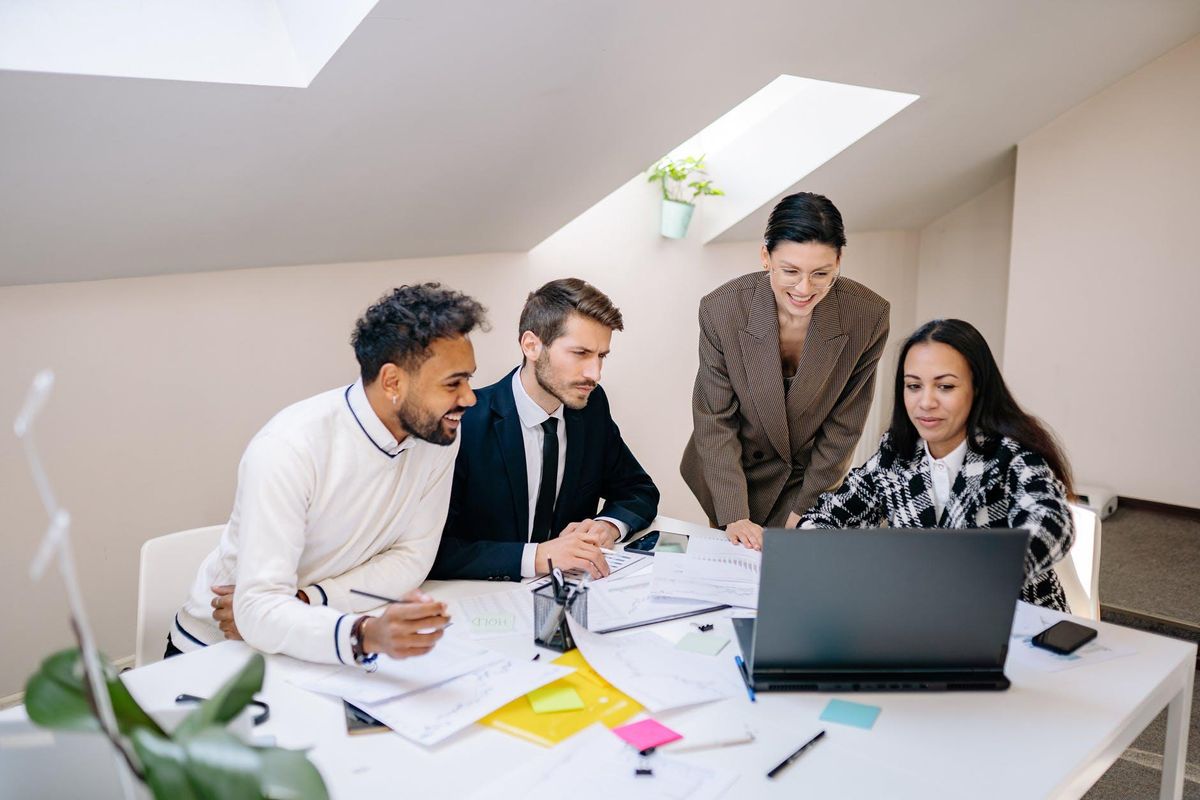 Tech companies in Austin are winning top talent, according to a new ranking list by job search company Hired.
---
The company based the ranking on three factors for attracting and retaining employees: equity, efficiency and transparency. These factors went into Hired's data analysis from October 2020 to the end of October 2021 to gauge whether workplaces are interviewing underrepresented candidates, navigating them through the hiring process and being open about salary.
These considerations are key to keeping workers, Hired says, as tech has also been affected by the Great Resignation, the trend of record quits across industries in recent months. Hired describes a tech worker shortage that may only deepen, with an October survey indicating 72% of tech employees considered quitting their jobs in the next 12 months. As pandemic restrictions eased, workloads increased, causing tech workers to undergo long hours and burnout.
Hired's ranking highlights these Austin-connected enterprise companies that are using best practices for finding and keeping workers:
No. 2 Maximus
Founded in 1975, the highest-rated company with Austin ties is Maximus. The government services company that helps connect citizens to programs such as Medicaid and Medicare came close to the top ranking, just behind Insider. The company performed well in all key areas, but especially with transparency. The company is also looking to grow in Austin, with jobs for analysts, network technicians and outreach currently open.
No. 5 Accenture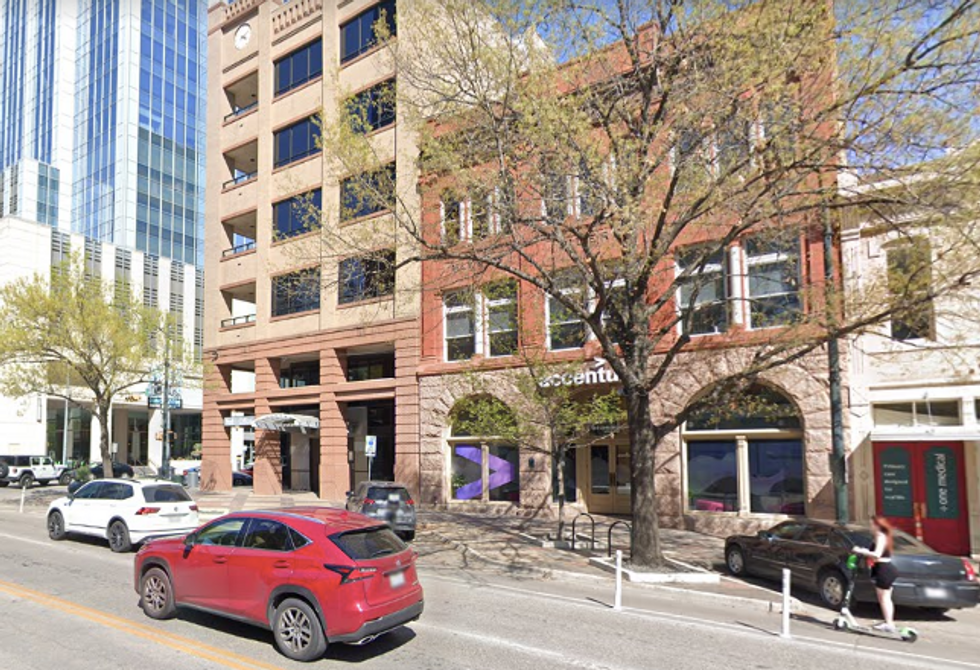 Accenture's office at the McKean-Eilers Building. (Google Street View)
This Fortune Global 500 company made the top five enterprise businesses. Involved in information technology services and consulting, the company showed Hired deep value for equity and transparency across the board, including at the Austin locations, with one downtown and another on South Congress. It is currently hiring a customer care associate, a writer/editor and an analyst.
No. 6 Sysco LABS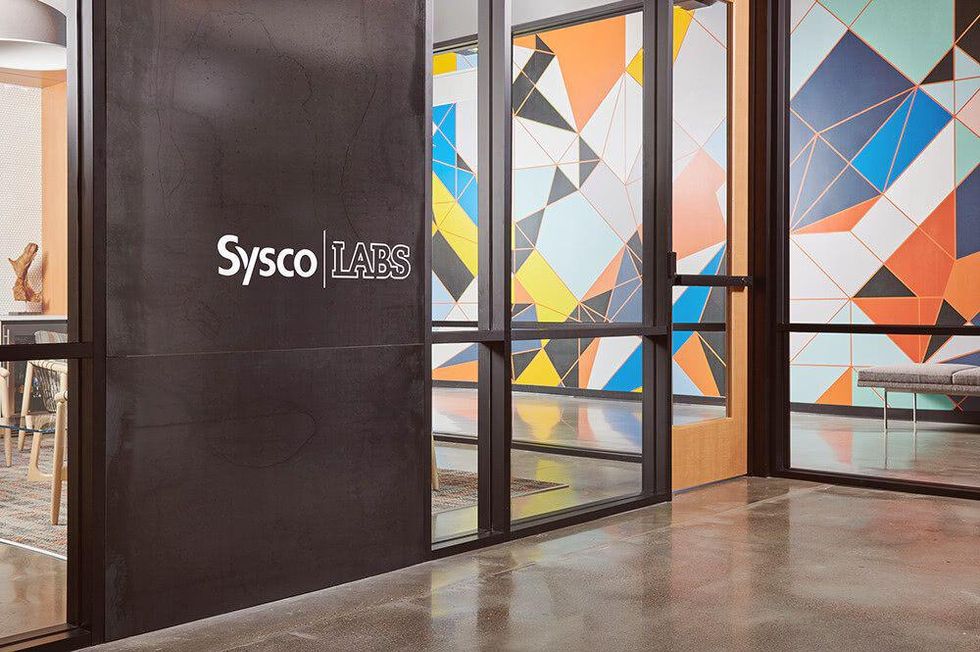 Austin-founded Sysco LABS wins top tech talent. (Sysco LABS/LinkedIn)
The computer software company with a downtown Austin office aims to transform traditional food service through its platforms that aids in placing and delivering orders. It currently has openings for data scientist, product designer, data engineer and more.
No. 7 Meta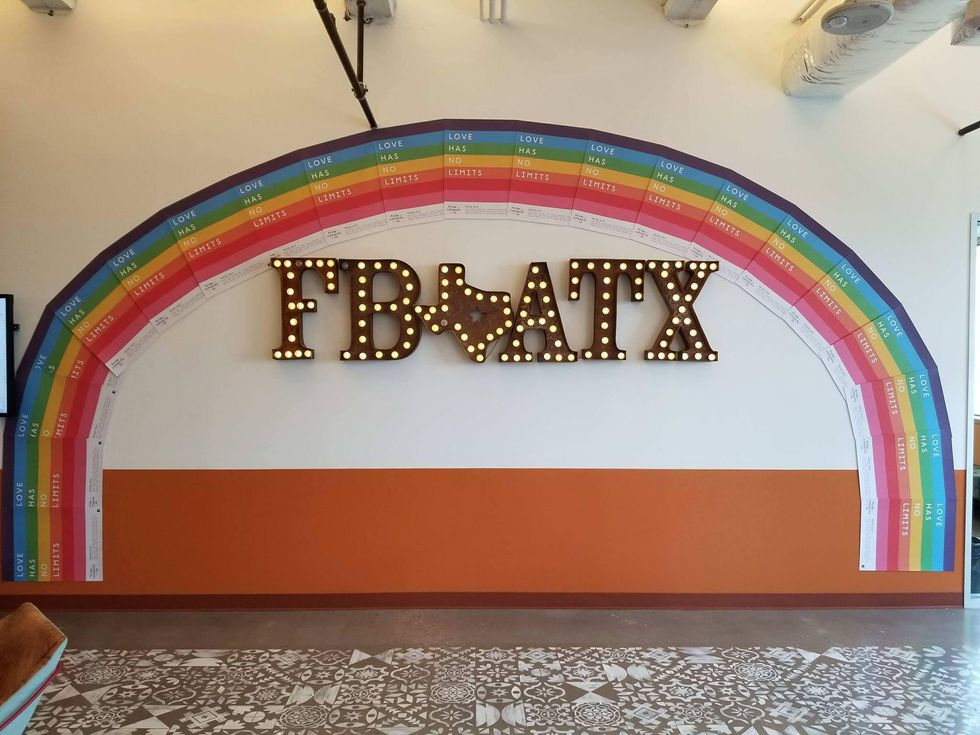 Facebook has grown in Austin since starting its presence more than a decade ago. (Facebook Austin)
Facebook, now doing business as Meta, has been in Austin since 2010 and has grown to more than 1,200 Austin employees. While Hired's ranking centered on the hiring process, workers at Meta enjoy some perks once they're brought on that could help with satisfaction like Austin workers who have access to three full-service kitchens, free laundry, a shipping center, a fitness center and a rec room. It is currently hiring for various software engineering jobs.
No. 9 Cisco Systems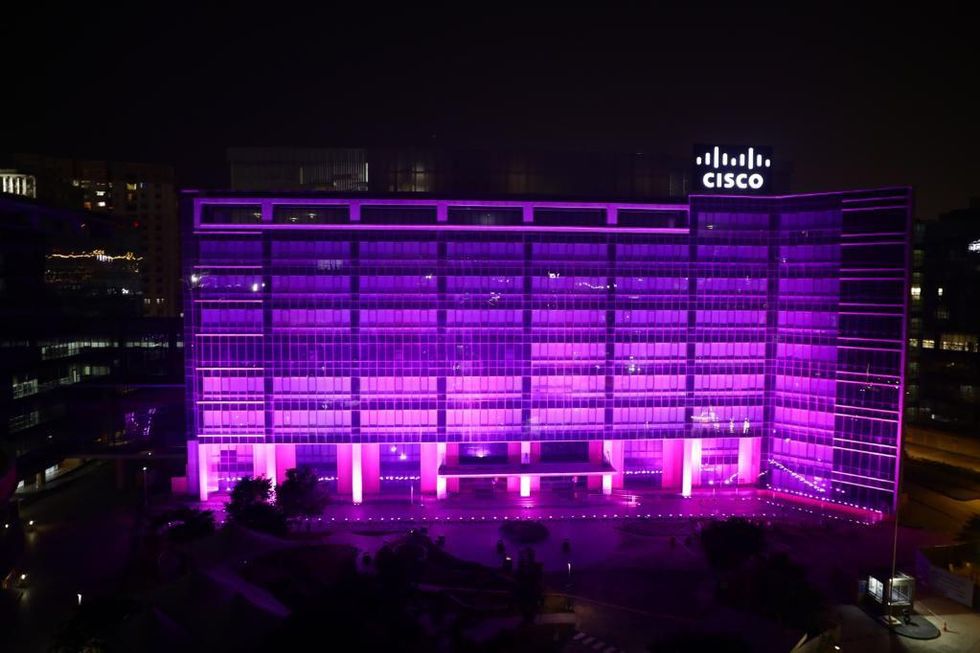 Cisco lit up their offices around the world with purple to show support for their workers with disabilities. (Cisco/LinkedIn)
Headquartered in San Jose, California, Cisco is a multinational tech conglomerate that's been growing since the early 80s. Its work developing and manufacturing software and telecommunications equipment eventually came to Austin with an office at Research Park, and Hired scored them especially high on efficiency in the hiring process. It is currently hiring in various areas including product development, data analyst and customer service.
No. 10 Capital One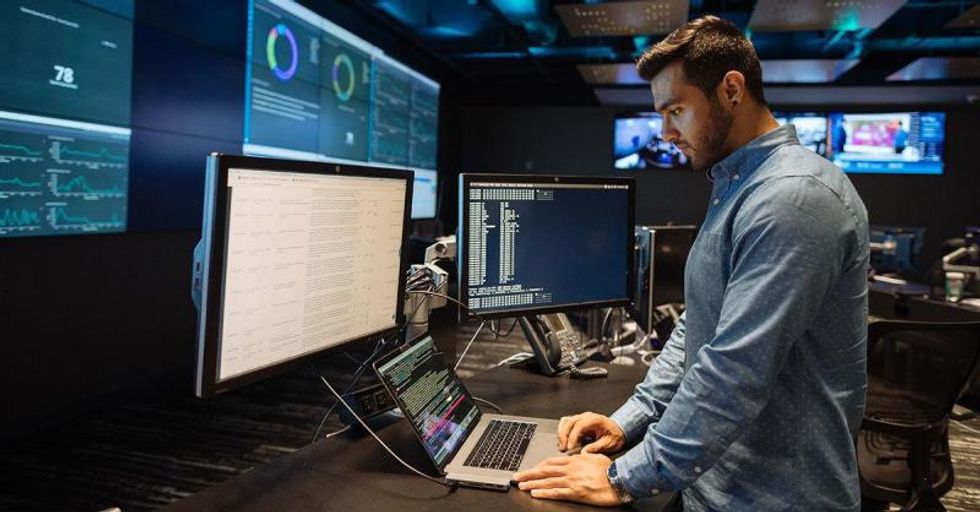 Capital One makes hires for cyber security. (Capital One/LinkedIn)
Tying with Wayfair, Capital One still made the ranking of top 10 enterprise businesses. The company is currently looking for talent in Austin, with openings such as account associate, client manager and bank teller.
No. 10 Wayfair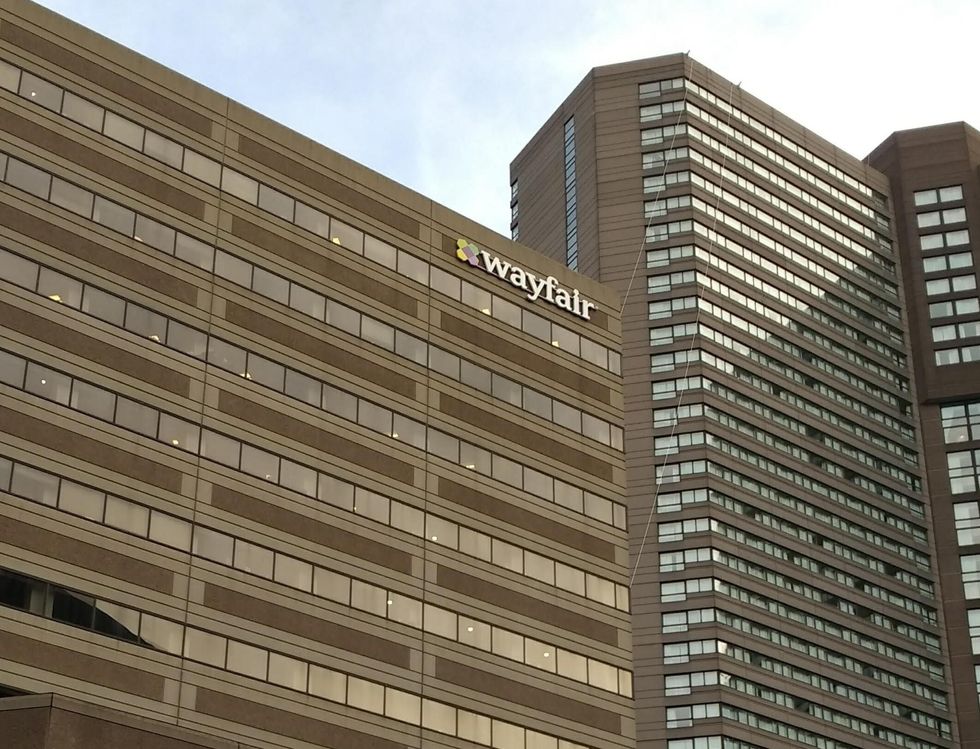 Wayfair announced an Austin expansion in April this year. (Whoisjohngalt/CC)
This e-commerce company that sells furniture and home goods is headquartered in Boston but made plans to come to Austin earlier this year with up to 200 hires. In April, the company said it expected the office to open within the next year, and had positions open for software engineers, infrastructure engineers, product managers, experience designers, analysts and data scientists.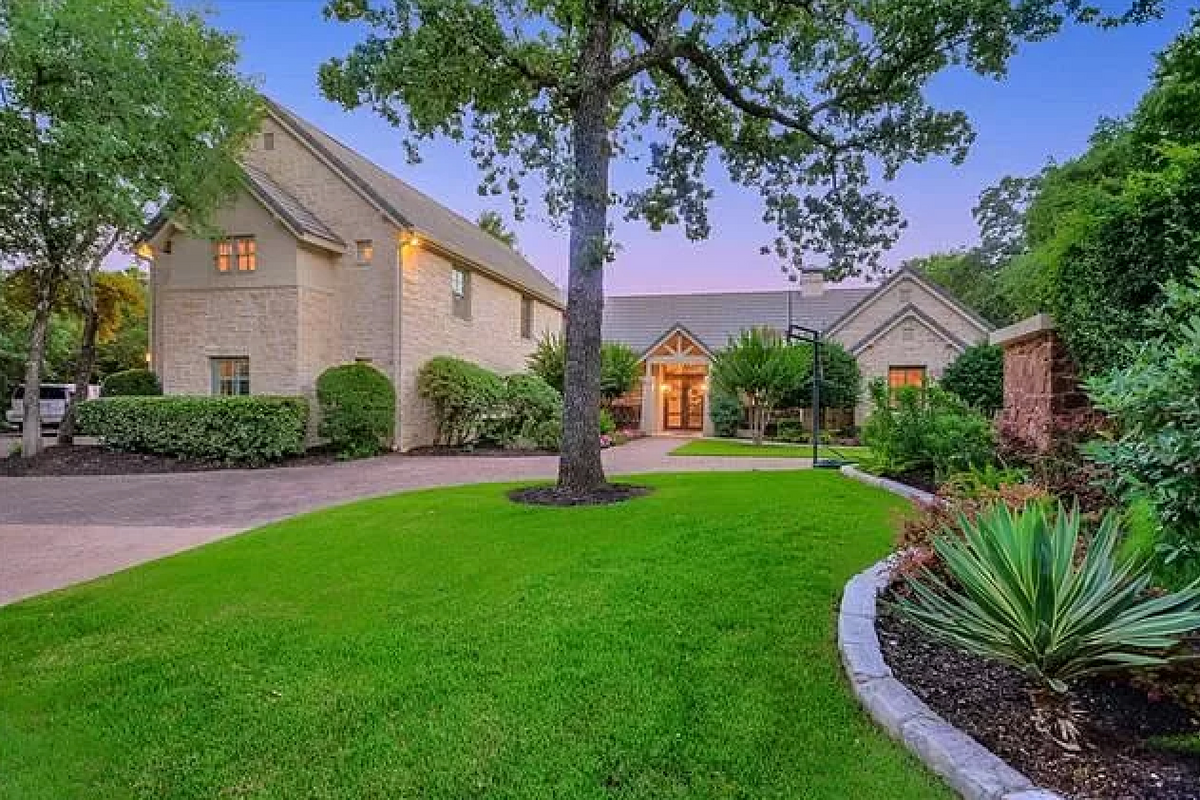 Elon Musk lives in a Westlake mansion at least part-time with his baby mama and new twins, a new report suggests.
Documents acquired by Insider show Musk and Shivon Alice Zilis, the mother of his twins and one of his top Neuralink executives, listing the same Austin residence for their address when petitioning to add Musk's last name to his kids' legal names.
Austonia finds one local home listed under the mother's name, Shivon Alice Zilis, matching the price tag Insider said the house was worth: $4.5 million. According to the Travis County Appraisal District, Zilis got the deed for the home in August 2021, 4 months before giving birth to Musk's twins.

The home, located in Westlake, was built in 1999 and sits on a little over an acre of land in a gated community. The 4,579 square foot home has six bedrooms, five baths and a pool.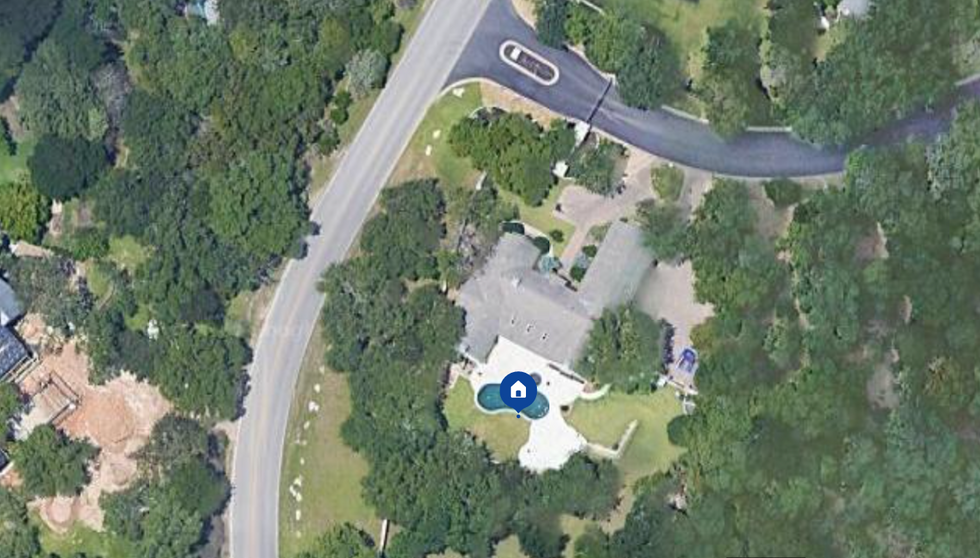 Google satellite view of Musk's residence in Westlake.
Where Musk lives has been highly contested in the past. In July 2021, Musk claimed his primary residence was a 20-feet-by-20-feet box in Boca Chica, Texas, that he rents from SpaceX. Then in December 2021, the month Musk's then-girlfriend, Grimes, had a child with Musk via surrogacy, the Wall Street Journal reported he lived in a $17.9 million Lake Austin home owned by PayPal co-founder Ken Howery. Musk denied he lived in that home, but said he had stayed there previously.
Musk has not commented on his residency since, but the Twitter account that tracks his jet movement shows he's in Austin days at a time on a near-weekly basis.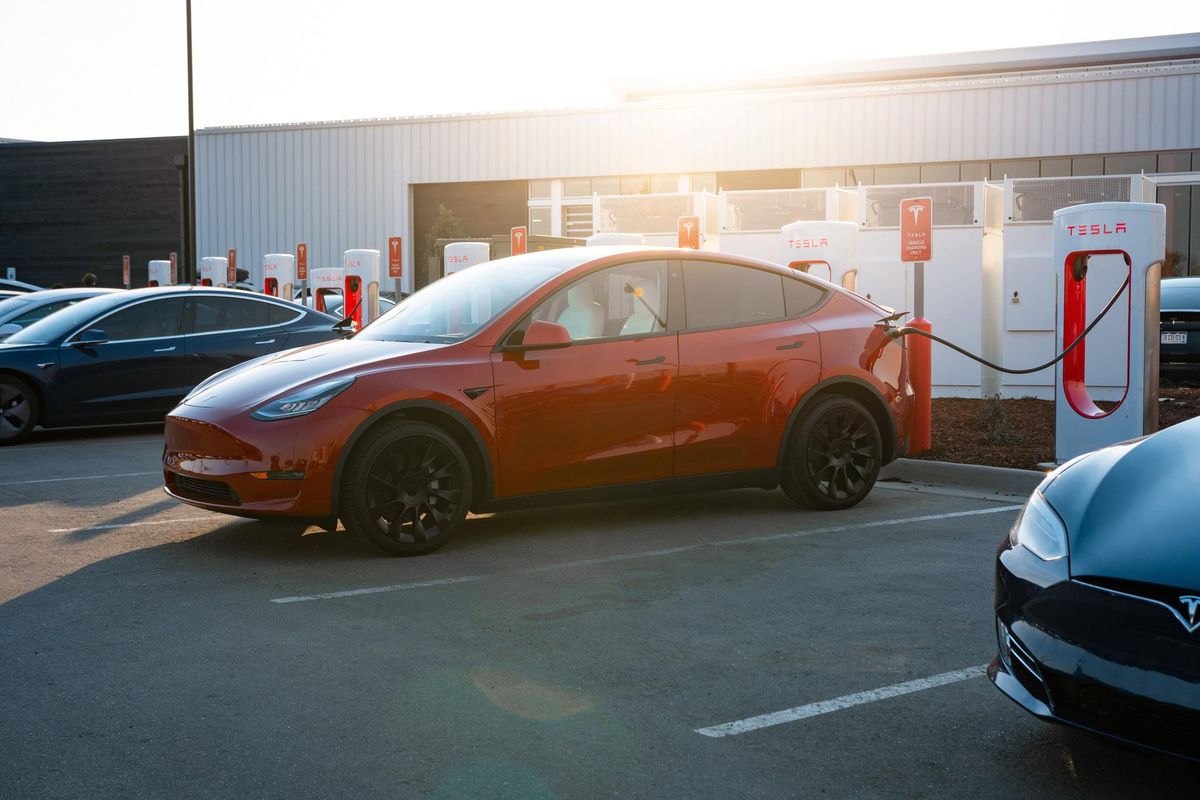 Electric, hybrid and alternative fuel vehicle sales are on the rise nationwide—since 2014, Texans have driven 76.9% more and had the seventh-highest increase of EVs in the U.S.
As you navigate the sea of Teslas on Austin's roadways, you might be surprised to see Elon Musk's vehicles only mark the poles of the most popular, with more affordable options filling in the gaps. Take a look at Austin's most popular EVs.
1. Tesla Model 3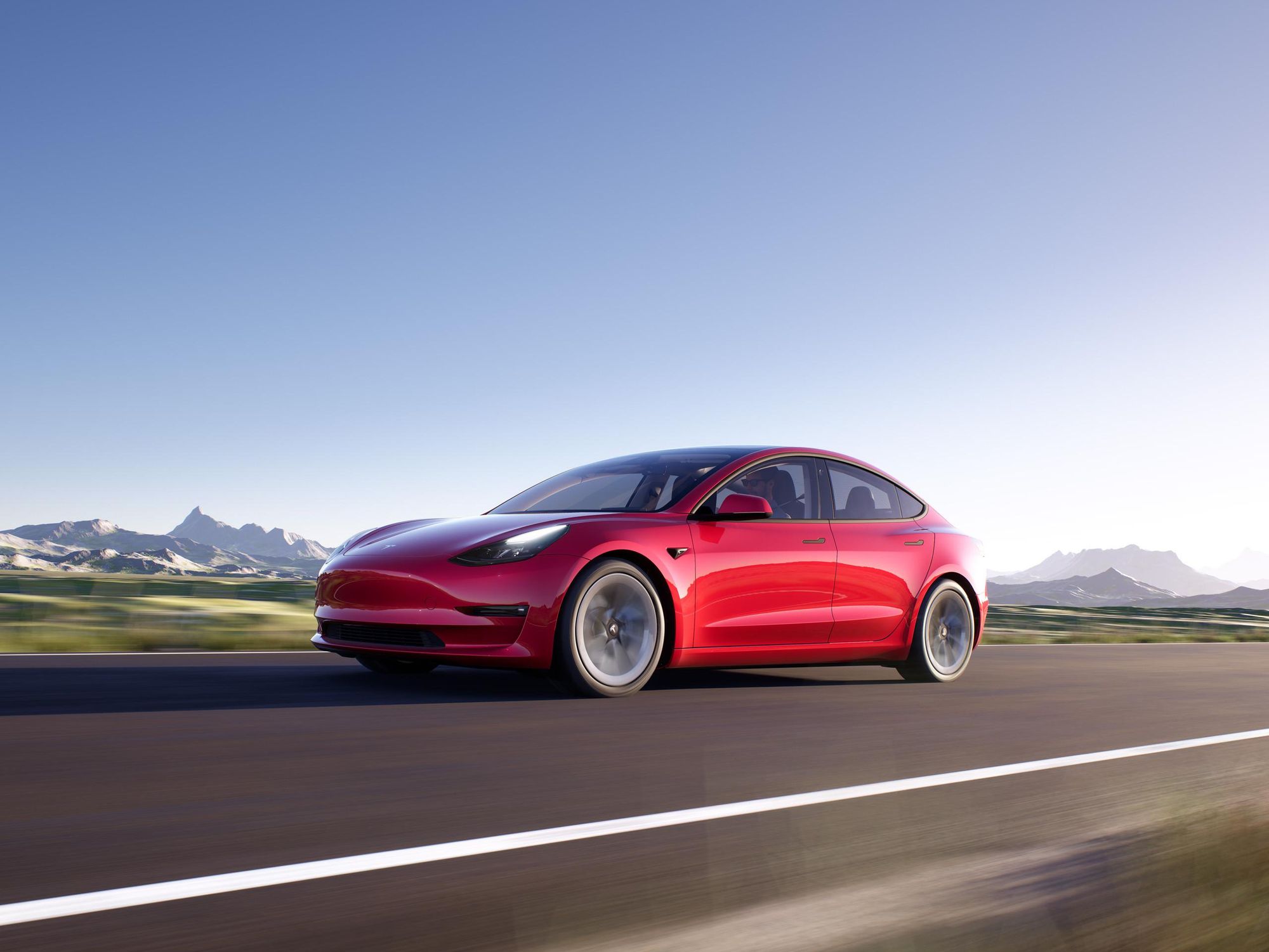 (Tesla)
There's a reason you see so many Model 3s in Austin—they're the most popular electric car for the capital city. The lowest price you can grab the five-seater car for is nearly $47,000, before tax credits, but if you want all-wheel drive, you're looking at an extra $10,000. This Tesla is known for its luxurious interior, sleek body, sizable 15" touchscreen displays, 360-degree cameras, 300+ mile range and ability to accelerate from 1-60 mph in 3.1 seconds.
2. Toyota RAV4 Hybrid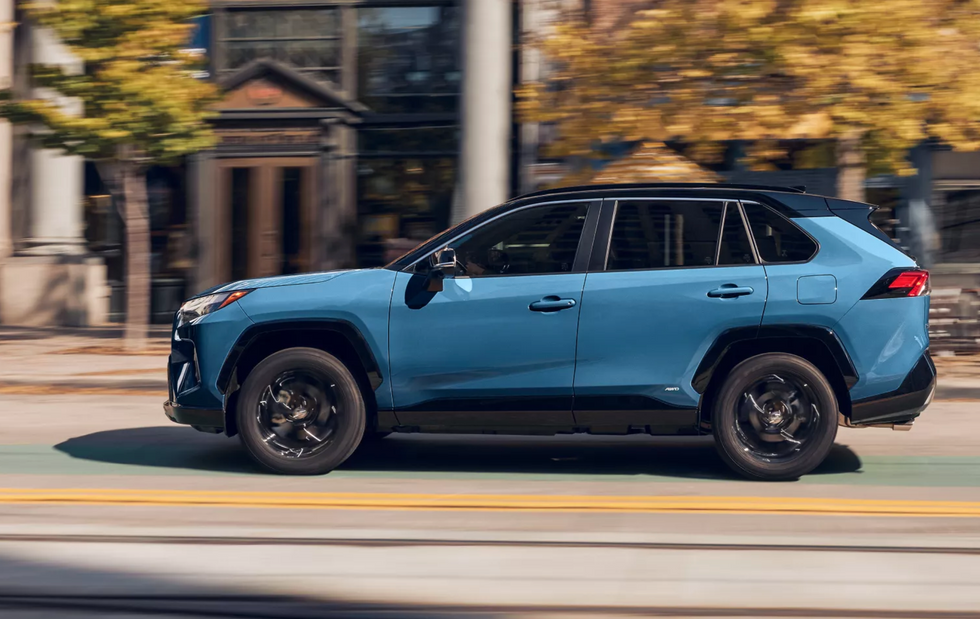 (Toyota)
​A bit more affordable than getting a Tesla, you can cop a hybrid RAV4 starting at $29,575 and experience the benefits of electric and gas all in one. With about 30 miles to the gallon, standard creature comforts like a seven-inch touch screen Bluetooth audio system, heated seat options, 203 horsepower and full electric capabilities, you're bound to see a bunch of these vehicles driving around town.
3. Toyota Prius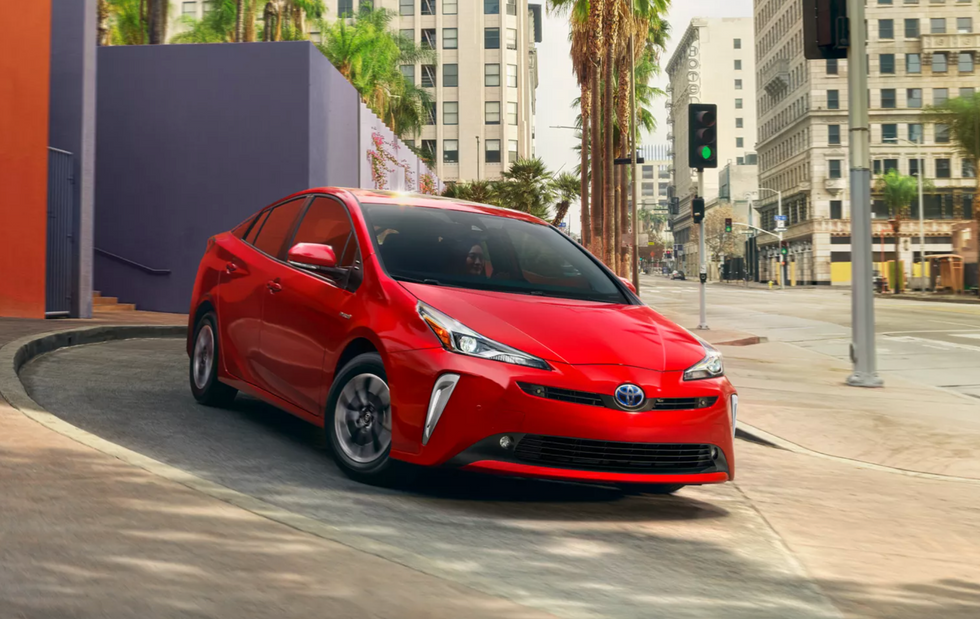 (Toyota)
Arguably the original EV, the Toyota Prius has stood the test of time as one of the most reliable hybrids on the market. Starting at $25,075, Priuses are one of the most affordable alternative fuel options available and can be customized to fit nearly any lifestyle. You can reach a cool 58 miles to the gallon with its 121 horsepower engine, find an AWD option if that suits you will you listen to your favorite tunes on a seven-inch touch screen display.
4. Toyota Camry Hybrid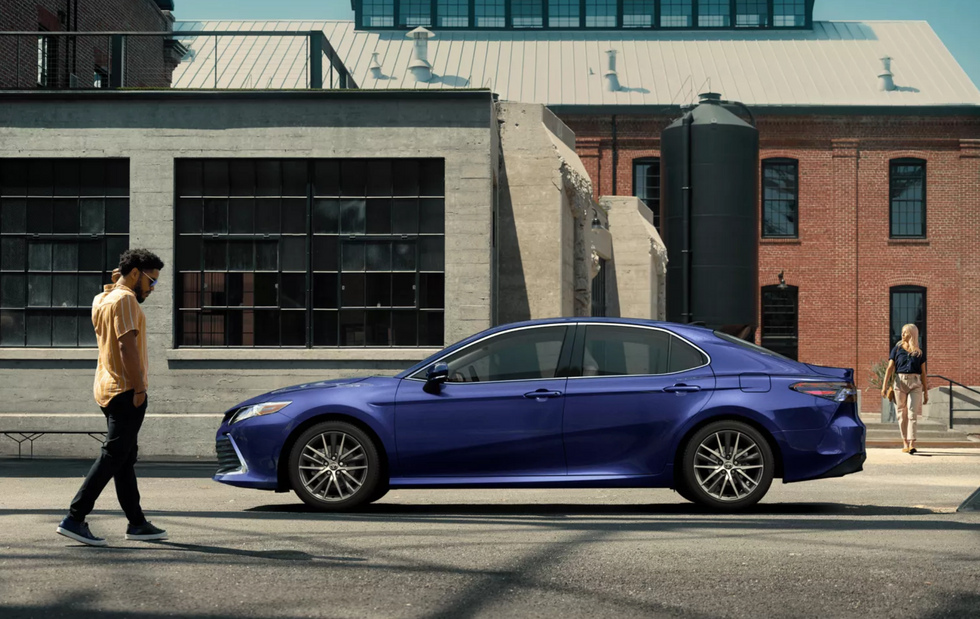 (Toyota)
Similar to its Prius and RAV4 counterparts, the Camry Hybrid has similar options to offer in a classic sedan frame. Starting at $27,980, the Camry can reliably get over 50 mpg, comes standard with a seven-inch touchscreen with the option to upgrade to a nine-inch, has a zippy 208 horsepower engine and ranks as a "Super Ultra-Low Emission Vehicle."
5. Tesla Model Y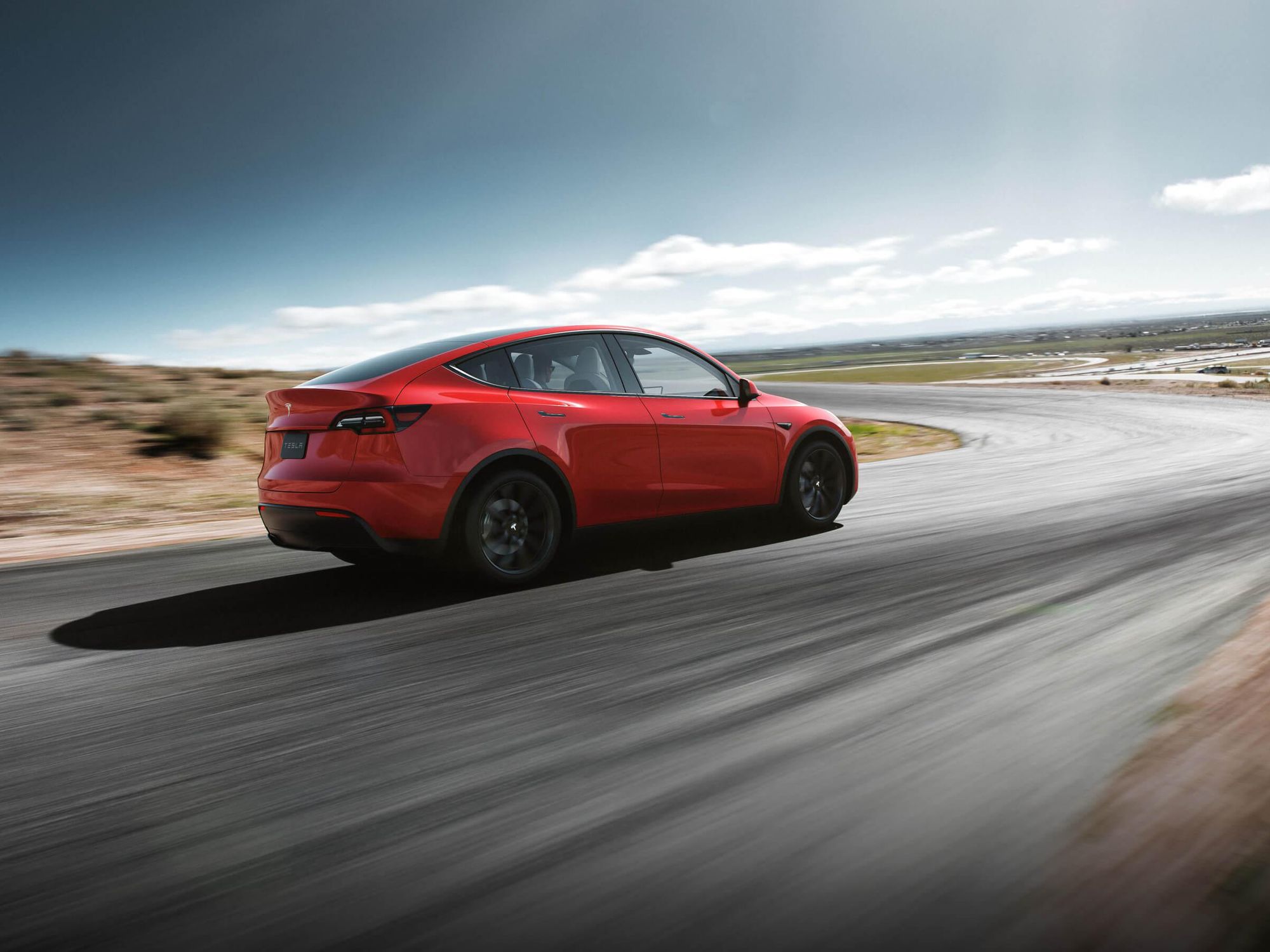 (Tesla)
The more robust cousin to the popular Model 3, the Tesla Model Y makes everything bigger. And they're made at the local Tesla factory.
Carrying over the 300+ range, 15" touchscreen display and the ability to supercharge, the Model Y comes with more diverse options: An add-on third row for up to seven seats, three times more cargo space and a marginally decreased acceleration speed of 0-60 mph in 3.5 seconds. You can only get an AWD version of this car at a starting price of $65,990.