Austonia AM
100% Austin news, info, and entertainment, straight to your inbox at 6 a.m. every morning.
In five minutes, you're fully informed and ready to start another great day in our city.
Get connected with our daily update
People are often drawn to Austin because of things like job or housing opportunities, however, it's the city's deep connection with the nature surrounding it that keeps them here.
---
This week, you'll see stories useful for someone new to Austin in anticipation of Austonia's "How to Austin" event. To attend, sign up here.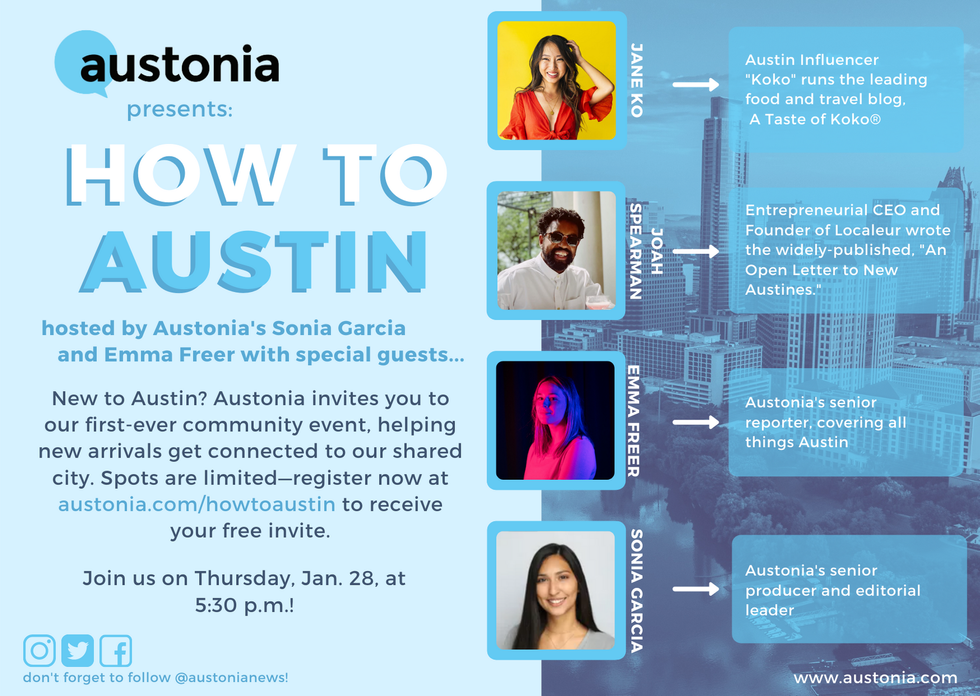 Much of Austin's allure is that residents are able to enjoy the great outdoors without ever having to go too far out of the city. Despite being in such close proximity to major urban construction, some of the most beautiful scenes in the Hill Country are right here, in Austin.
Mount Bonnell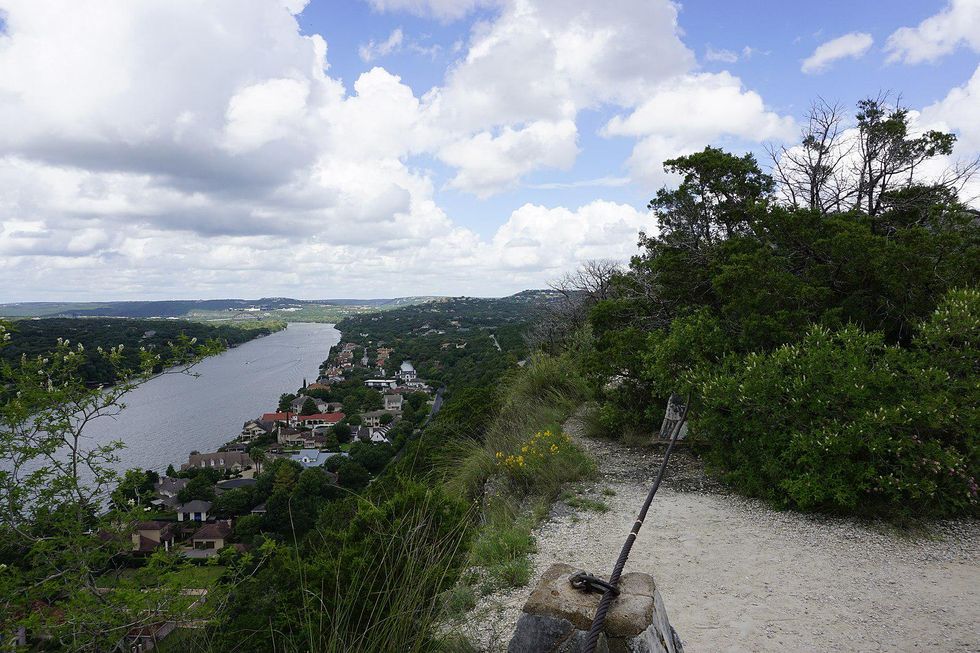 (Spawnzilla/CC)
Mount Bonnell is probably the most well-known scenic locale in Austin and has been since the 1830s. Known for its panoramic view of downtown, Lady Bird Lake and the Hill Country to the west. Today thousands of visitors ascend the 106 stone stairs to the summit to take in the beautiful view. Located in Covert Park in Northeast Austin, the trail is dog-friendly with a leash, but it is not wheelchair accessible.
Ann and Roy Butler Hike-and-Bike Trail and Boardwalk at Lady Bird Lake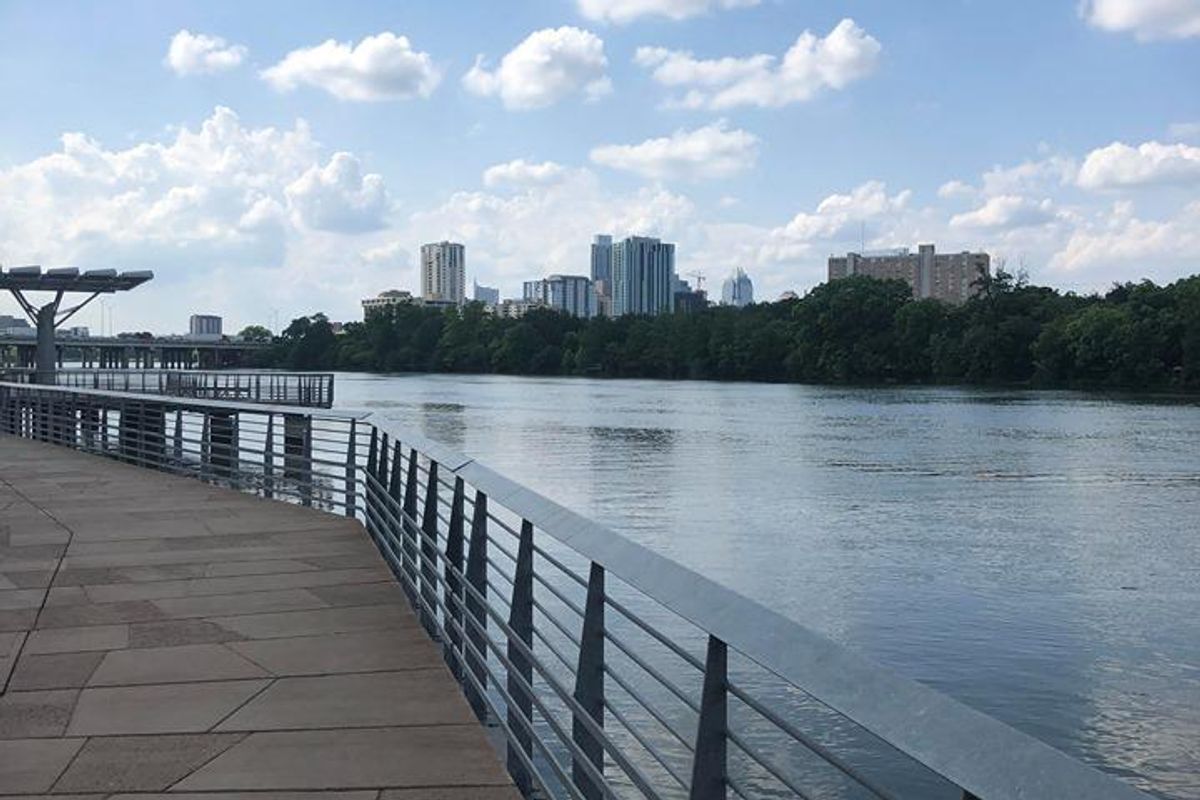 (MX/Wikimedia)
The Ann and Roy Butler Hike-and-Bike Trail is a 10-mile boardwalk with numerous entrance and exit points and is Austin's most recognized and popular recreational trail. Not only is it an Austin favorite for exercise, it also hosts one of the most beautiful views of Austin's skyline the city has to offer. The paved trail runs over Lady Bird Lake, also known as Town Lake, giving people an undisturbed view of Downtown Austin overlooking the water. The trail is dog friendly with a leash and wheelchair accessible.
Zilker Park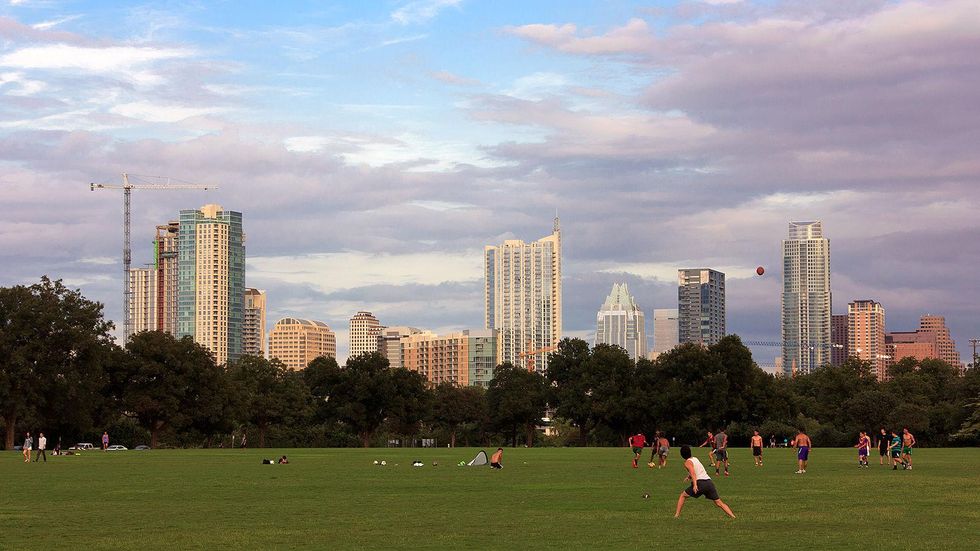 (Mwyzykowski0821/Wikimedia)
Zilker Park is Austin's pride and joy. The park hosts ACL every year (when there isn't a pandemic), the Trail of Lights each holiday season and other events in the city. The 351-acre space is the go-to locale for Austinites who want to get outside and enjoy a direct view of the city skyline--usually serving as a backdrop for any event held at the spot. As one of the only scenic destinations to allow dogs off-leash, it is the most dog-friendly spot in the city. Zilker Park is wheelchair accessible (although it might be best to avoid the park after rain).
Barton Creek Greenbelt-Sculpture Falls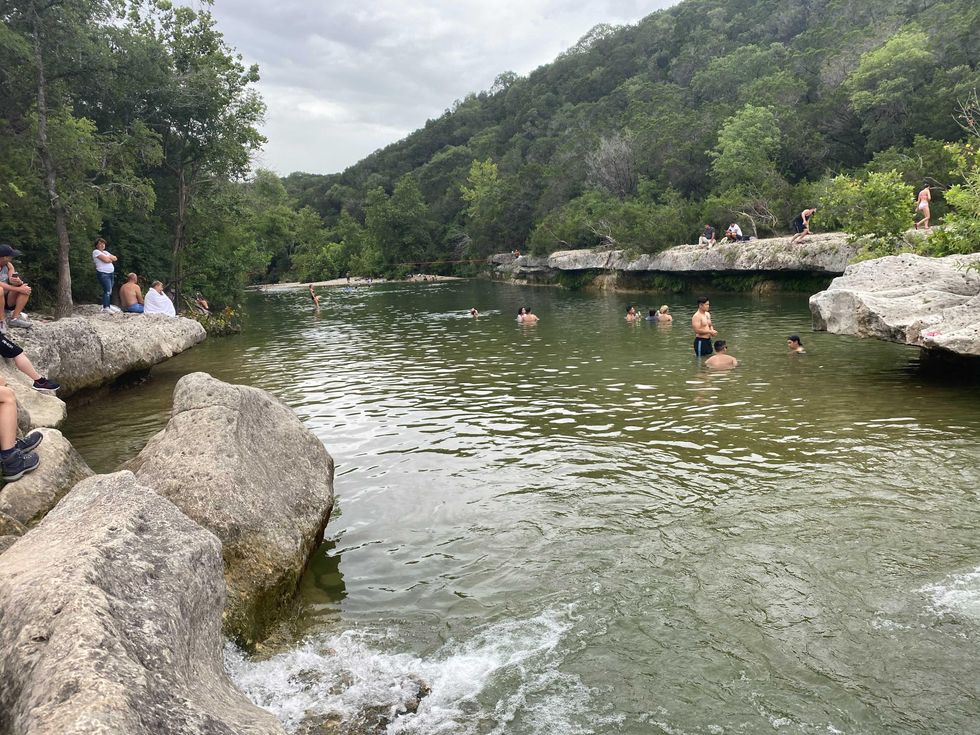 (Austonia)
Sculpture Falls is a hidden location on the 7.9 mile Barton Creek Greenbelt. The best way to access the location is via the Hill of Life and the Trail's End access point in South Austin at 1710 Camp Craft Road. The scenic views of this location may not be sweeping views of the city skyline, however, the glistening pools and waterfalls, the trees hanging over the water make the spot one of the most underrated in Austin. The hike back up the Hill of Life is 1.5 miles and mostly on the sun, so make sure to bring plenty of water. The location is dog-friendly with a leash, but it is not wheelchair accessible.
​McKinney Falls-Upper and Lower Falls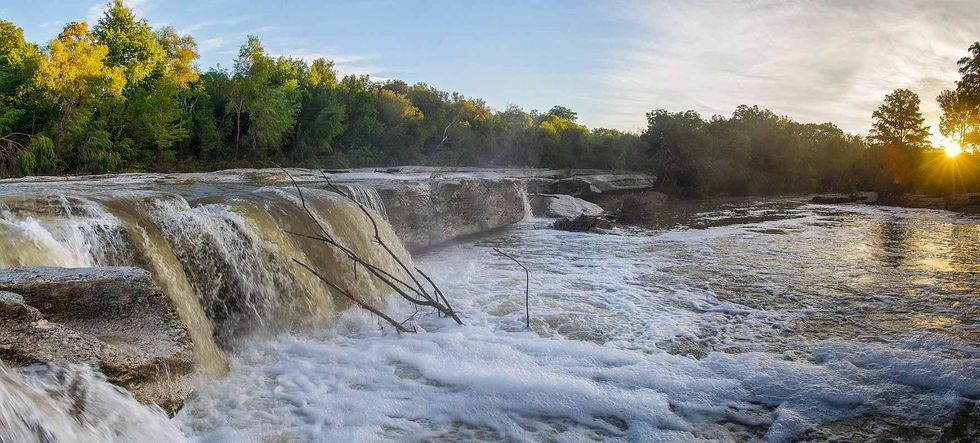 Photo of Lower McKinney Falls
(Texas Parks & Wildlife Department)
McKinney Falls is one of the many Texas State parks and is a series of two waterfalls–an upper and lower falls. Both spots feature limestone waterfalls along Onion Creek and swimming pools. The lower falls are more shallow and recommended for families with younger children while the upper falls are a bit deeper. Pets are allowed on a leash in the park, however, they are not allowed in the water at the falls. The park is not fully wheelchair accessible. There is a $6 fee for adults to enter the park and children under 12 can enter for free. During COVID, it is recommended to make reservations to enter the park if you plan to visit.

Westcave Outdoor Discovery Center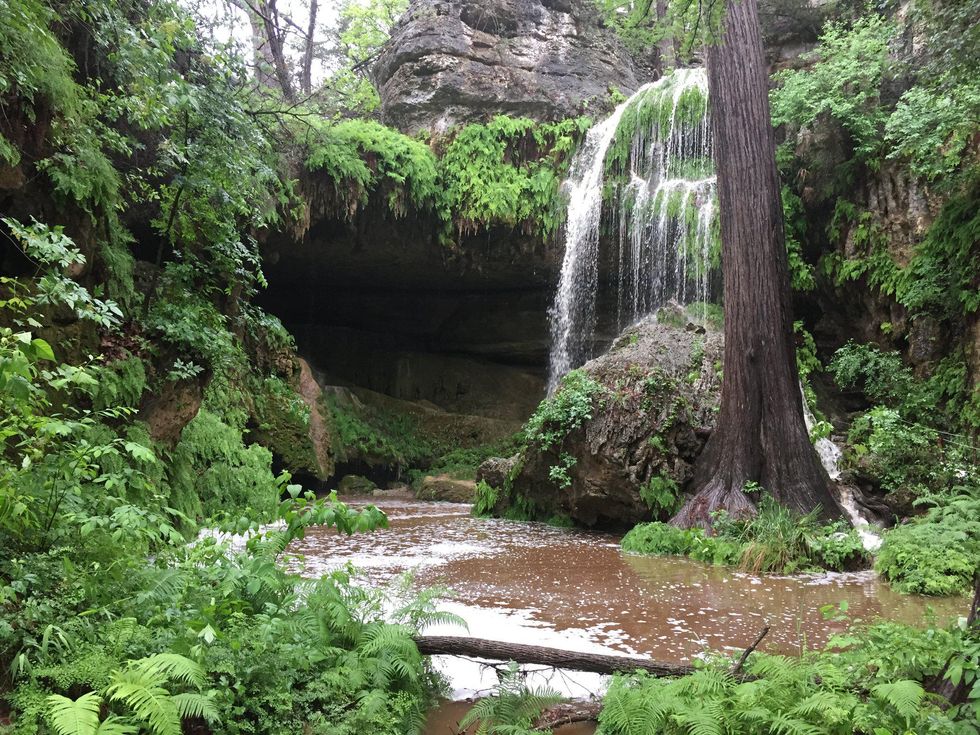 (Westcave Outdoor Discovery Center/Facebook)
Located in far-west Austin, Westcave Outdoor Discovery Center is the farthest out from Austin's city center and is another location that may not offer sweeping views of the Hill Country, however, the center features some of the most unique views in Texas. The highlight of the preserve is Westcave at the head of the canyon. It features a 40-foot waterfall backed by caves, diverse vegetation and an emerald pool. Canyon tours are not dog-friendly but are wheelchair accessible; they are offered every Saturday & Sunday. Self-guided hikes are offered Tuesday through Friday, 9:30 a.m. to 1:30 p.m. and require reservations.
​Red Bud Isle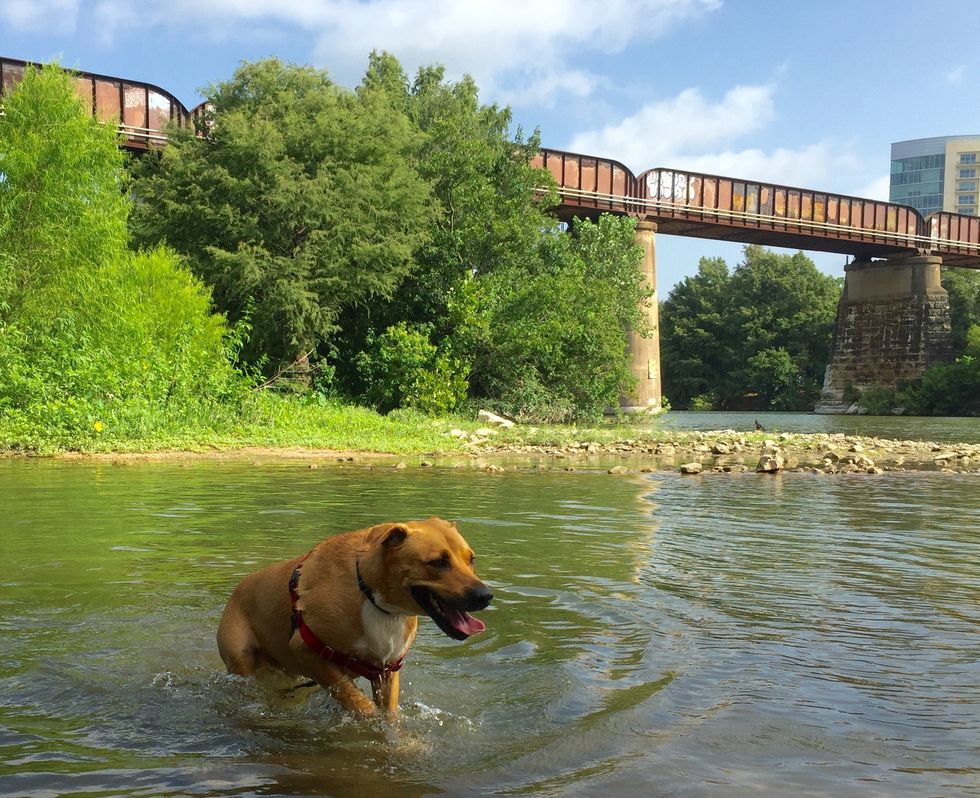 (Austonia)
Red Bud Isle is one of the most popular areas for pet owners to let their dogs off-leash in Austin. The small island lies just below the Tom Miller Dam on Town Lake. The edge of Red Bud Isle offers a view of Town Lake and the densely-packed trees to either side. Depending on the time of year, colorful kayaks and stand-up paddleboards add some pop of color to the view. The 13-acre park is, of course, dog-friendly and wheelchair accessible. Be careful with your pets during the summer months, however, as there have been toxic algae blooms two years in a row.

Wild Basin Preserve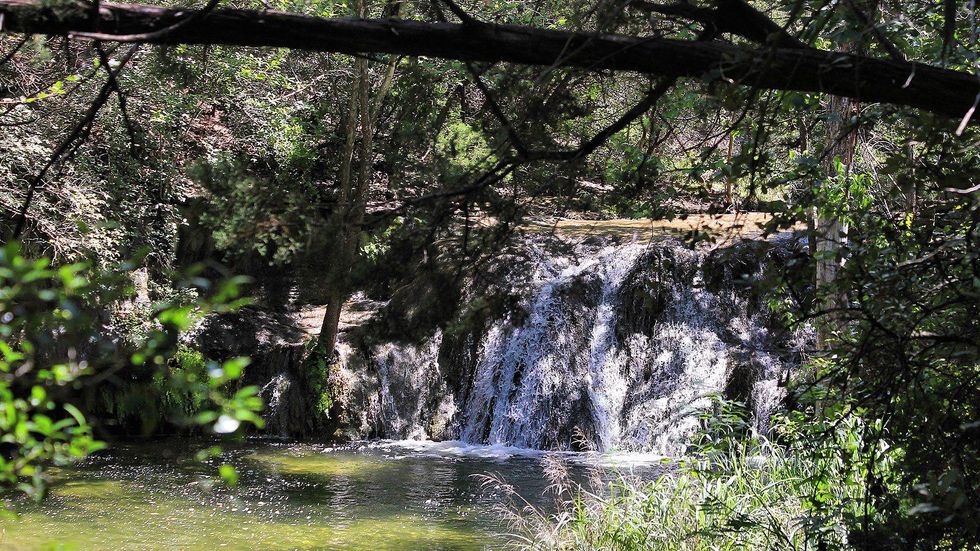 (Larry D. Moore/Wikimedia)
The Wild Basin Preserve is 227 acres of Hill Country woodlands owned by Travis County and St. Edwards University as part of the larger Balcones Canyonlands Preserve, which protects the unique environments of seven endangered species and 28 threatened plant and animal species. The preserve is home to the endangered Golden-cheeked warbler as well as many other Texas-native plants and wildlife. There isn't any one location that is the highlight of the preserve—the highlight is spotting the local wildlife. While it has been closed for the past several months, Wild Basin is expected to open for limited hours in late-January. It is not pet-friendly and is somewhat wheelchair accessible.

​Barton Springs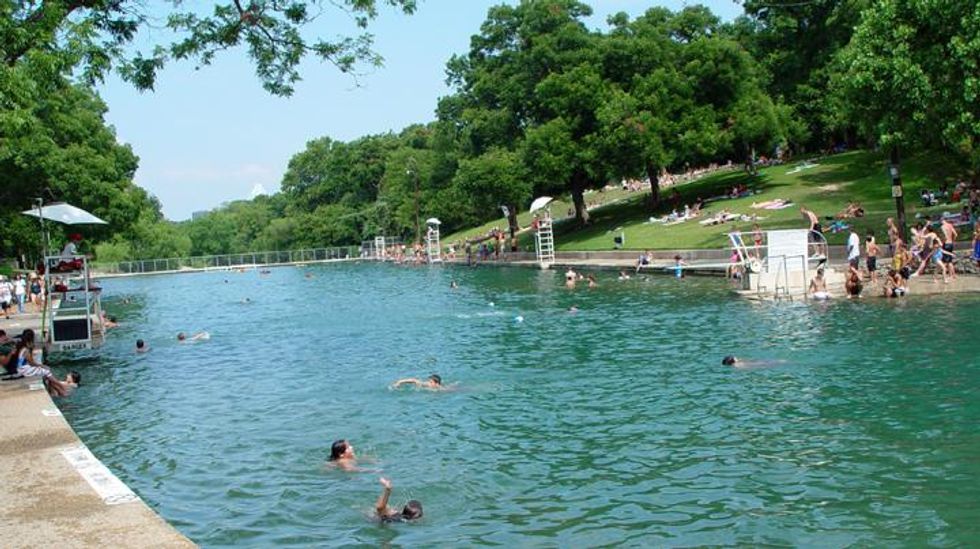 Section of Barton Springs on the paid access side. (austintx.gov)
Barton Springs is another one of those locations that doesn't have one particular highlight. There are two sections to Barton Springs: one section requires a small entrance fee and allows for a little more space to sprawl out, whereas the other, much larger, section is free but sometimes requires a little creativity with where you set up camp. Both sides feature cool, clear, blue water from the natural springs in the area.

​Congress Avenue Bridge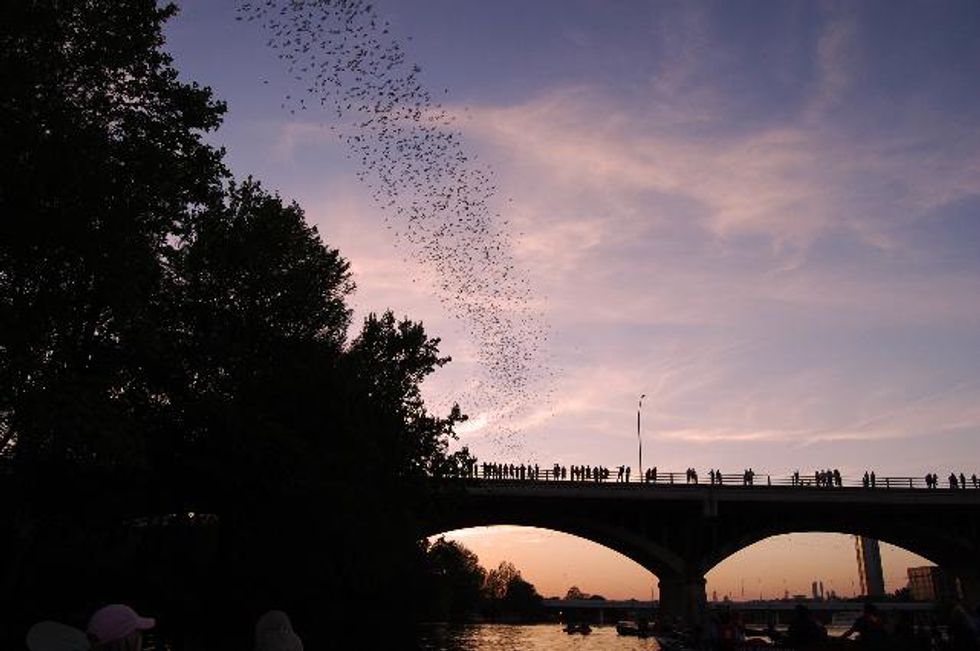 (Texas Parks & Wildlife Department)
The Congress Avenue Bridge goes over Lady Bird Lake and is a place to get a very unique view of the city. Every year, Austinites gather on the bridge to witness up to 1.5 million Mexican free-tailed bats feed on 10-30,000 pounds of insects. The best time to view the bats is mid-August when you can see them ascending into the evening sky. This area of Austin is wheelchair accessible and pet-friendly with a leash.
​The Middle of Town Lake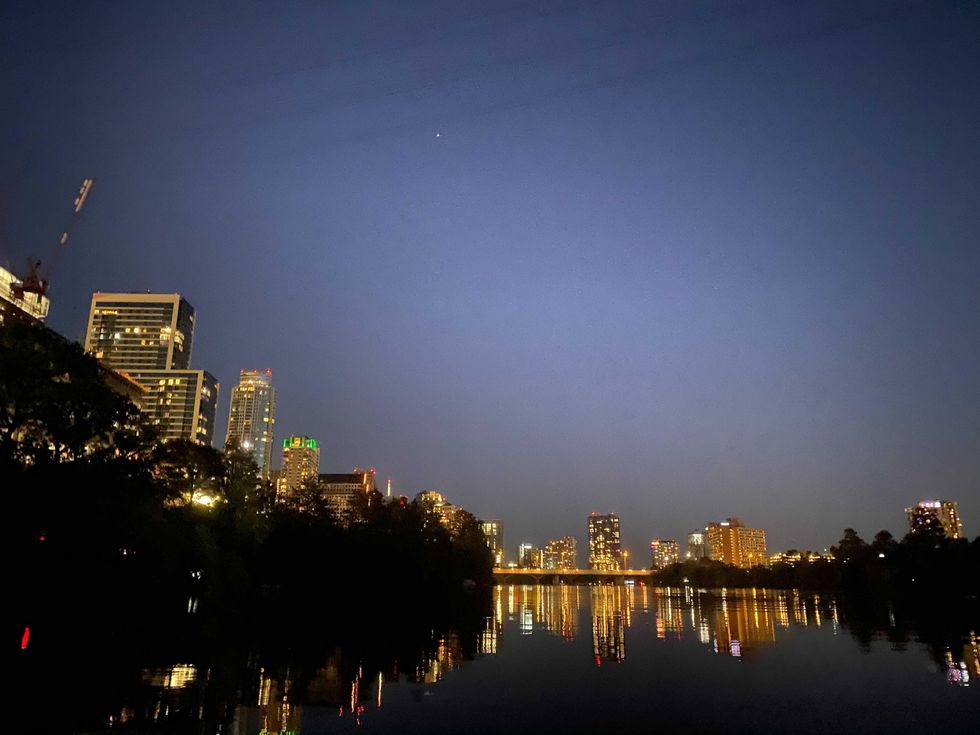 Evening view from the middle of Town Lake
(Laura Figi/Austonia)
This one might seem a little odd, but get yourself a kayak or stand up paddle board and enjoy the view of the city from the water. It's a unique perspective on the city that is probably the best representation of why this city is so unique. There are also some boat tours throughout the year. Boat tours are wheelchair accessible. The lake has multiple entrance points and pets are allowed on water vessels, but not in the water.

(Stubb's Austin/Instagram)
After a long, long year without live music, Austin has waited patiently for a return that has finally come. Festivals are planning returns and even venues that adhered strictly to safety protocols during the pandemic are feeling safe enough to gather again in person.
Starting in just a few short days, you can finally enjoy what makes Austin, well, Austin again. Here are a few of the live shows to look forward to.
Remember to jump on those tickets–Austinites have been missing their live music!
We asked you what you wanted and you told us. More newsletter!
Austonia launched its new and improved newsletter today. You can expect:
100% Austin news, info and entertainment
Sent straight to your inbox at 6 a.m. every morning
In 5 minutes or less, you're fully informed and ready for a great day
Sign up here:
For Marco Silvestrini, gelato takes him back to his childhood when he and neighborhood kids in a small Italian town would end their day at the local gelato shop. It was part of what made some of the best memories for him.
He's since been offering that same experience for the past seven years with his artisanal gelato shop, Dolce Neve, in Austin, alongside his sister and her husband.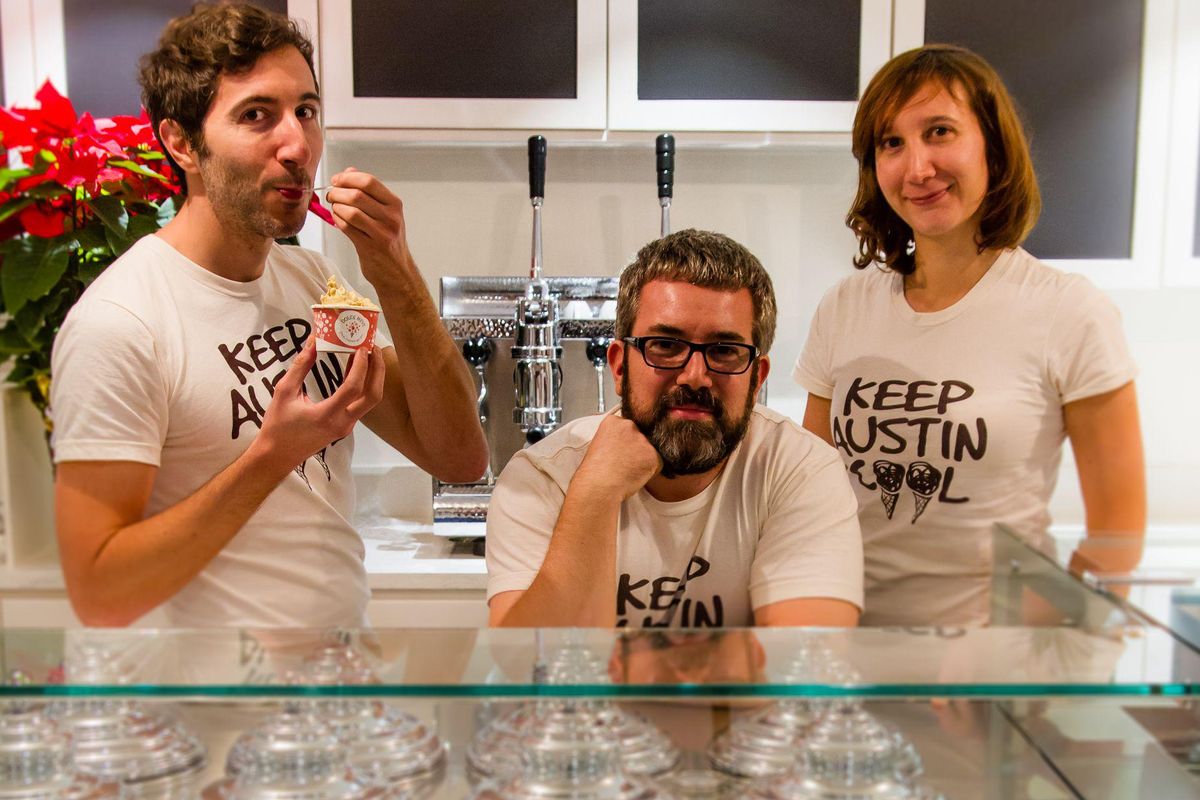 Leo Ferrarese, Marco and Franscesa Silvestrini run Dolce Neve. (Dolce Neve)
While gelato always played a big role in Silvestrini's life, it wasn't in his plans to take on a business with his favorite treat. After a few years in New York working as a management consultant, he felt he was missing out on something. "I decided to take a step back and started thinking, what could... I do to make society better and happier, even just for a moment," Silvestrini said.
He thought back to his childhood and the role gelato played in it and wanted to offer the same experience to Americans.
Once he had the product idea down, it came down to location. Growing up among farmers in a small community in Central Italy, Silvestrini knew he wanted a slower pace of living than New York, so he asked around. The answer he got: "Austin." The only thing he knew about what would become his future home was it had a Formula 1 track.
But after visiting once, he felt a great sense of community he didn't feel in The Empire State. "I felt it was not just a good place for a concept like mine, but also a good place to live because at the end of the day, you cannot just think about your business," he said.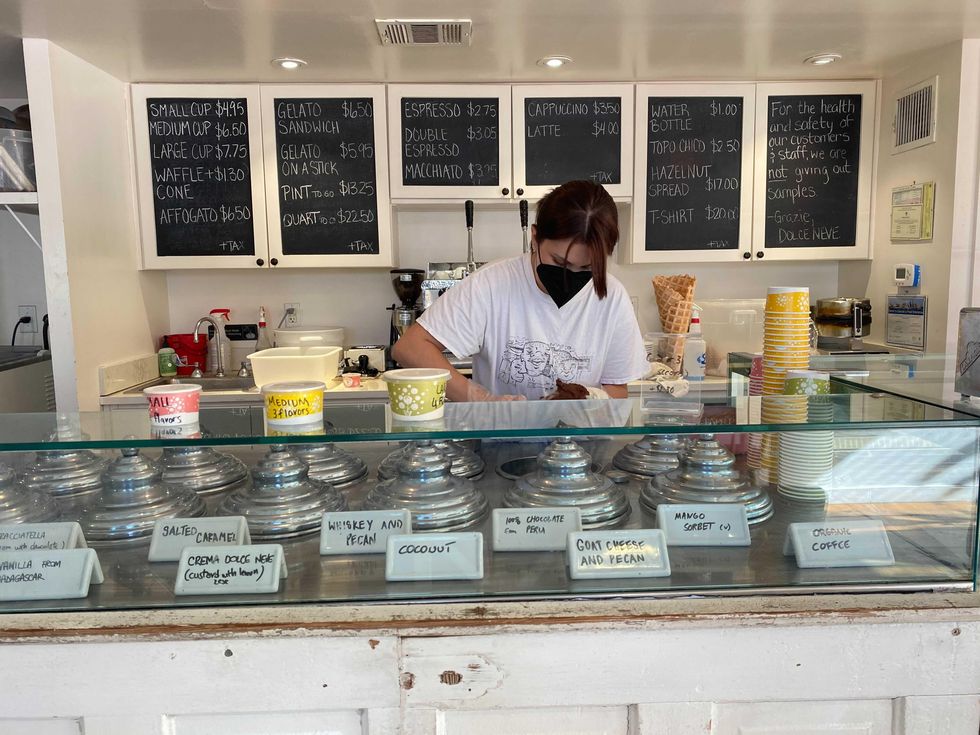 "Dolce Neve" translates to "sweet snow." The shops offers 12-18 flavors at a time. (Dolce Neve)
Similarly, his sister Francesca Silvestrini was experiencing the same feelings while studying for her Ph.D. in Ohio before teaming up with Silvestrini. She went back to Italy to be properly trained in making gelato while Silvestrini focused on the business plan. They brought Leo Ferrarese, her husband, onboard and opened their first shop on South First Street in January 2014. The rest is history.
On the menu, you'll find various traditional and innovative flavors that rotate out. Some of the staples include chocolate, 100% vanilla from Madagascar and salted caramel. Other rotating or seasonal flavors include whiskey and pecan, organic cantaloupe sorbet, goat cheese and pecan, almond custard and tiramisu. They've created over 300 flavors together in the span of the business.
So what's next for the shop? Lately, Silvestrini has been thinking a lot about that. With two locations in Austin, one in Houston—he's just not sure if expanding more is the right move. Maintaining a quality product and good service is of utmost importance that he's not willing to sacrifice.
"In order to be happy, it's not about making money, it's about being an integral part of the community," Silvestrini said. "There have been so many cases in which I think what I did today really made a difference in somebody's life."