Get connected with our daily update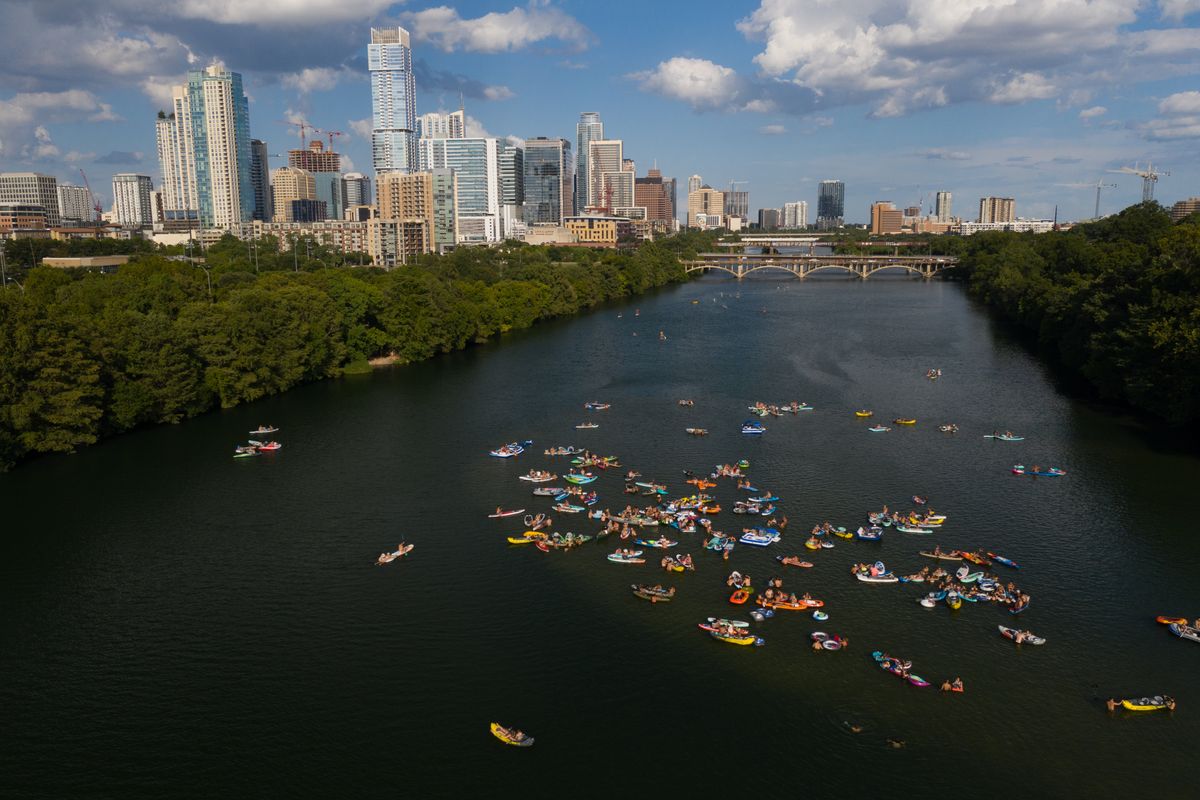 People are often drawn to Austin because of things like job or housing opportunities, however, it's the city's deep connection with the nature surrounding it that keeps them here.
---
Much of Austin's allure is that residents are able to enjoy the great outdoors without ever having to go too far out of the city. Despite being in such close proximity to major urban construction, some of the most beautiful scenes in the Hill Country are right here, in Austin.

Mount Bonnell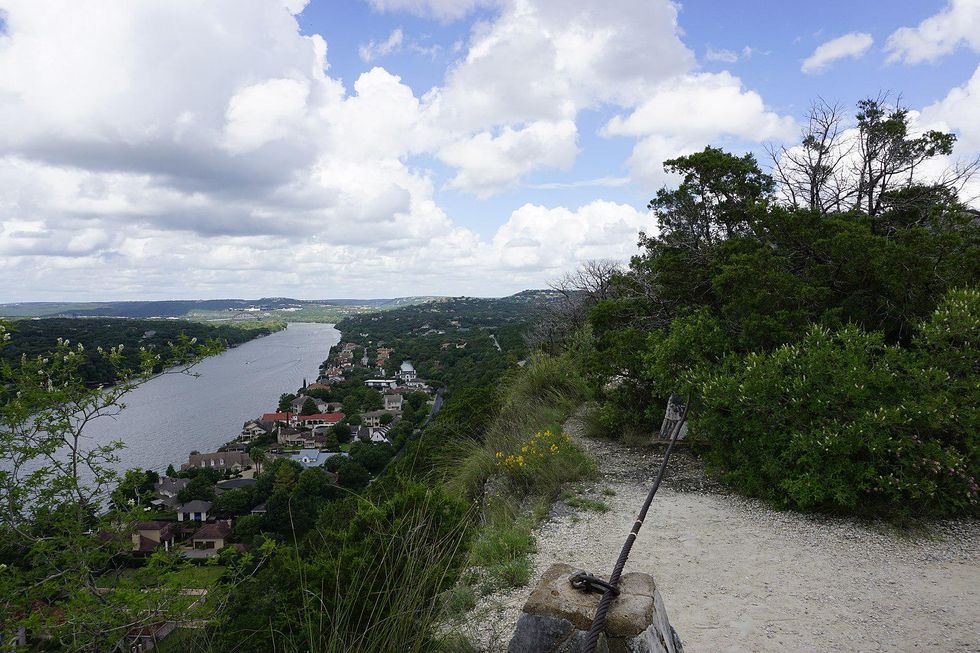 (Spawnzilla/CC)
Mount Bonnell is probably the most well-known scenic locale in Austin and has been since the 1830s. Known for its panoramic view of downtown, Lady Bird Lake and the Hill Country to the west. Today thousands of visitors ascend the 106 stone stairs to the summit to take in the beautiful view. Located in Covert Park in Northeast Austin, the trail is dog-friendly with a leash, but it is not wheelchair accessible.
Ann and Roy Butler Hike-and-Bike Trail and Boardwalk at Lady Bird Lake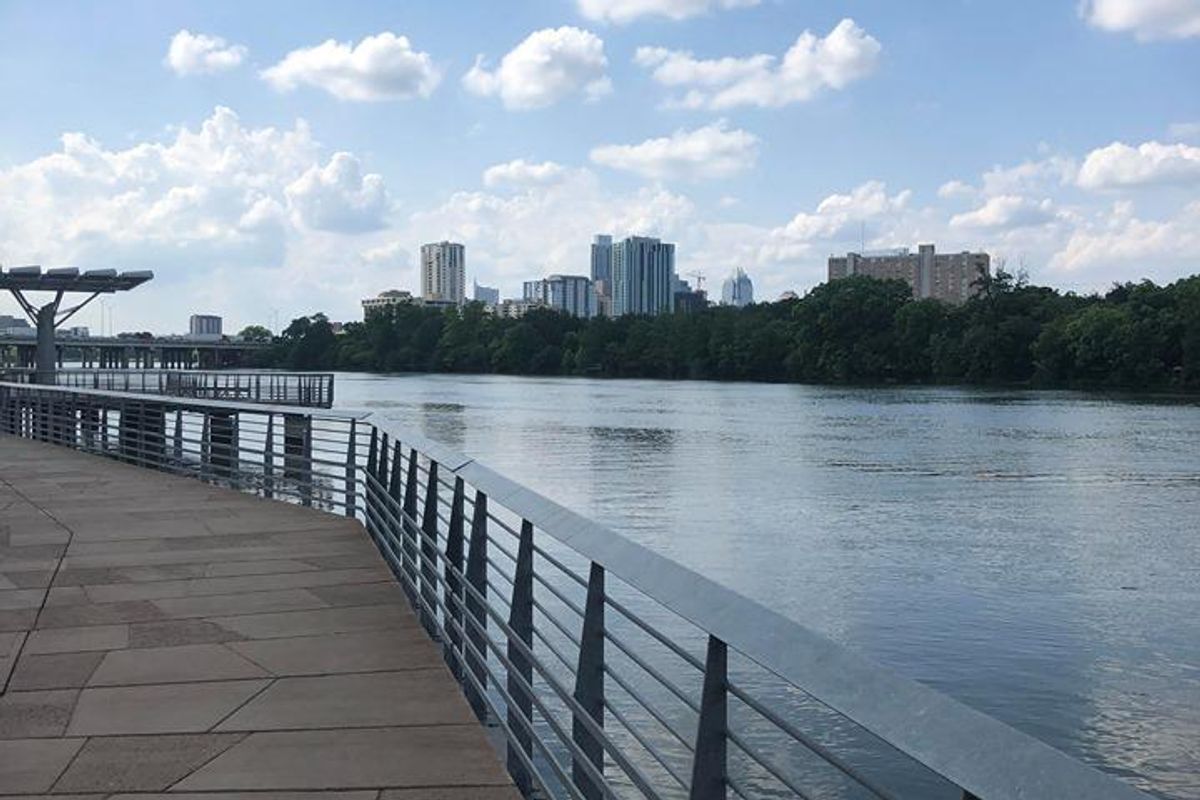 (MX/Wikimedia)
The Ann and Roy Butler Hike-and-Bike Trail is a 10-mile boardwalk with numerous entrance and exit points and is Austin's most recognized and popular recreational trail. Not only is it an Austin favorite for exercise, it also hosts one of the most beautiful views of Austin's skyline the city has to offer. The paved trail runs over Lady Bird Lake, also known as Town Lake, giving people an undisturbed view of Downtown Austin overlooking the water. The trail is dog friendly with a leash and wheelchair accessible.
Zilker Park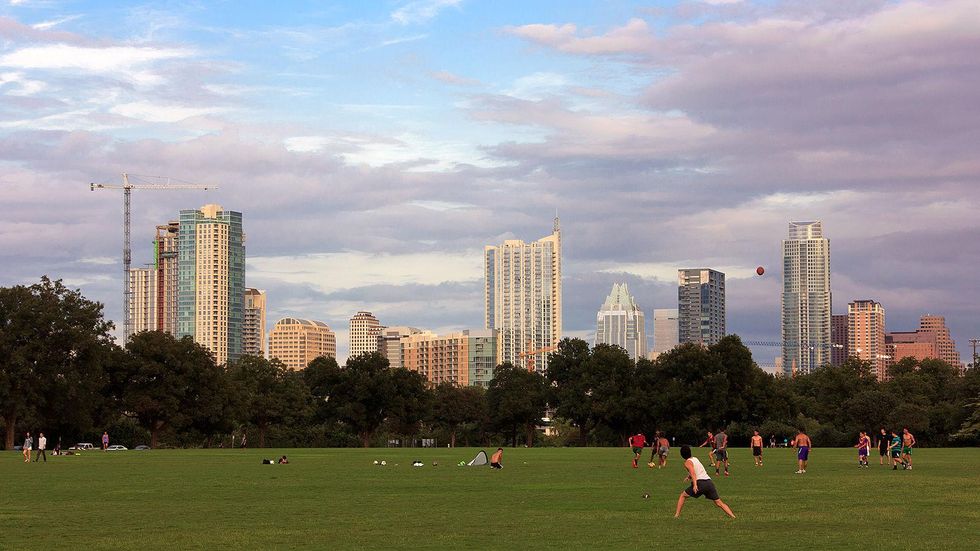 (Mwyzykowski0821/Wikimedia)
Zilker Park is Austin's pride and joy. The park hosts ACL every year (when there isn't a pandemic), the Trail of Lights each holiday season and other events in the city. The 351-acre space is the go-to locale for Austinites who want to get outside and enjoy a direct view of the city skyline--usually serving as a backdrop for any event held at the spot. As one of the only scenic destinations to allow dogs off-leash, it is the most dog-friendly spot in the city. Zilker Park is wheelchair accessible (although it might be best to avoid the park after rain).
Barton Creek Greenbelt-Sculpture Falls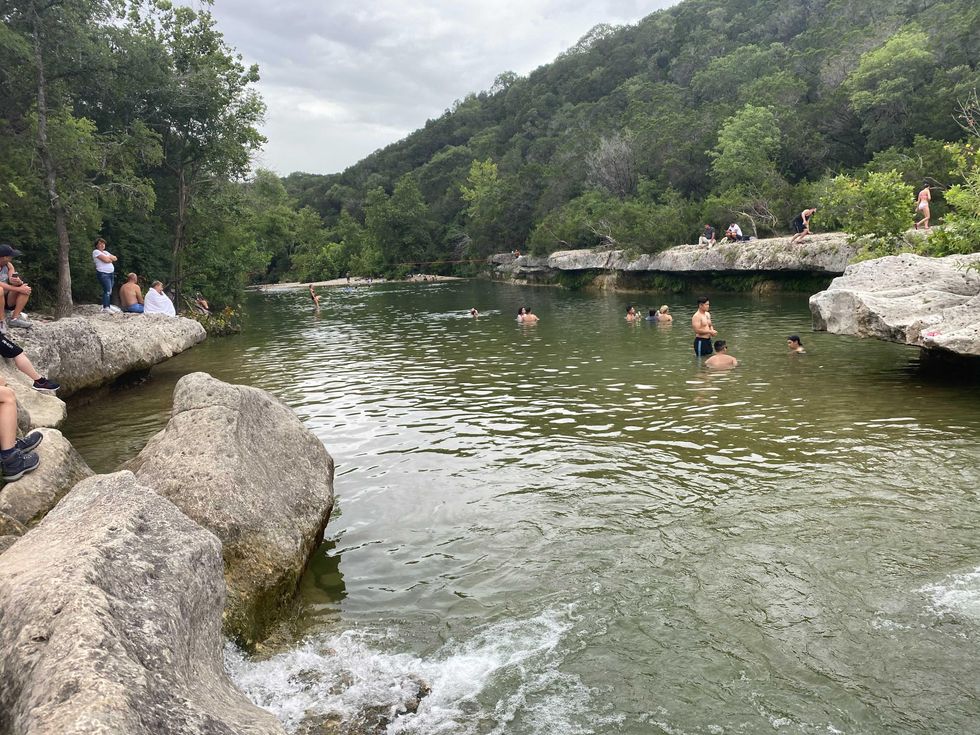 (Austonia)
Sculpture Falls is a hidden location on the 7.9 mile Barton Creek Greenbelt. The best way to access the location is via the Hill of Life and the Trail's End access point in South Austin at 1710 Camp Craft Road. The scenic views of this location may not be sweeping views of the city skyline, however, the glistening pools and waterfalls, the trees hanging over the water make the spot one of the most underrated in Austin. The hike back up the Hill of Life is 1.5 miles and mostly on the sun, so make sure to bring plenty of water. The location is dog-friendly with a leash, but it is not wheelchair accessible.
​McKinney Falls-Upper and Lower Falls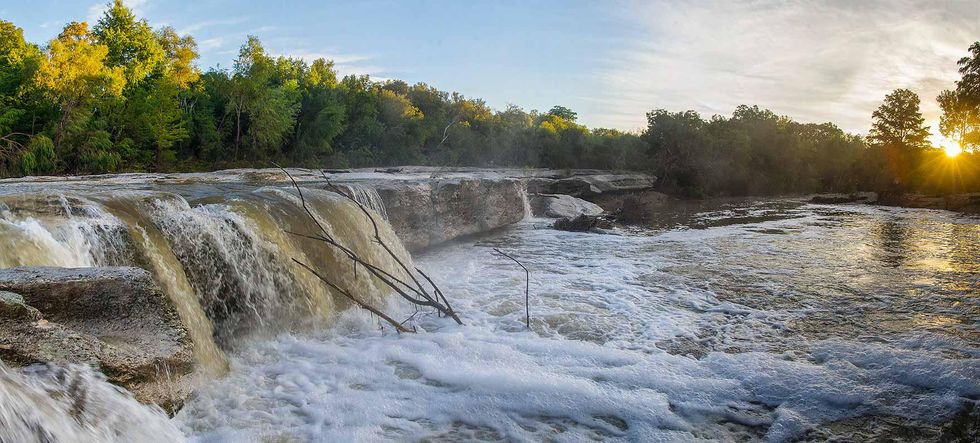 Photo of Lower McKinney Falls
(Texas Parks & Wildlife Department)
McKinney Falls is one of the many Texas State parks and is a series of two waterfalls–an upper and lower falls. Both spots feature limestone waterfalls along Onion Creek and swimming pools. The lower falls are more shallow and recommended for families with younger children while the upper falls are a bit deeper. Pets are allowed on a leash in the park, however, they are not allowed in the water at the falls. The park is not fully wheelchair accessible. There is a $6 fee for adults to enter the park and children under 12 can enter for free. During COVID, it is recommended to make reservations to enter the park if you plan to visit.

Westcave Outdoor Discovery Center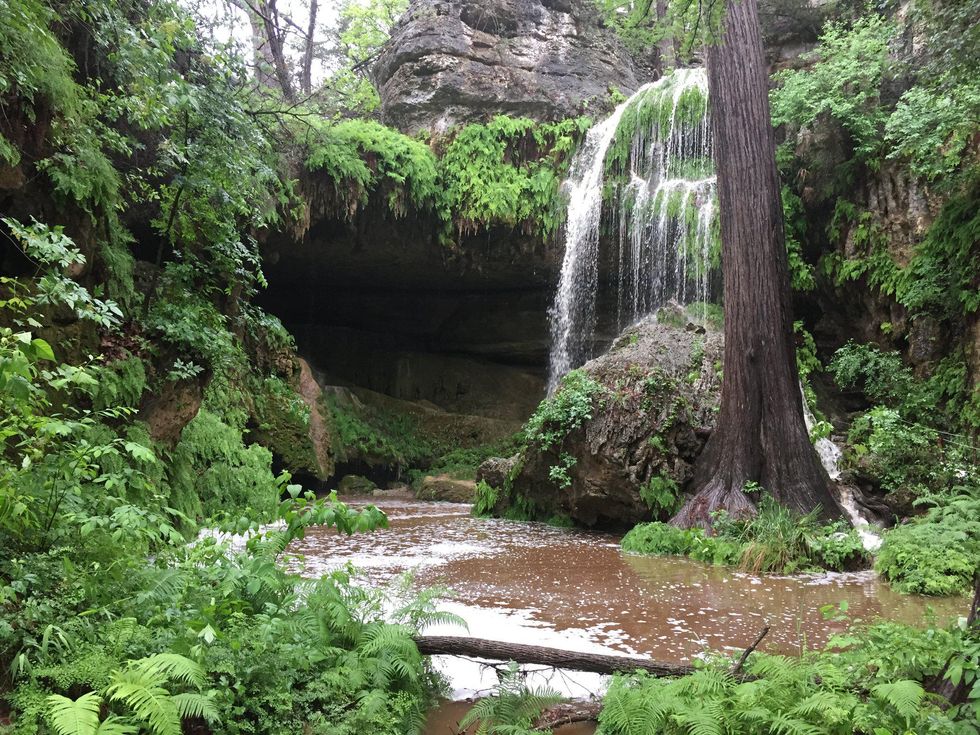 (Westcave Outdoor Discovery Center/Facebook)
Located in far-west Austin, Westcave Outdoor Discovery Center is the farthest out from Austin's city center and is another location that may not offer sweeping views of the Hill Country, however, the center features some of the most unique views in Texas. The highlight of the preserve is Westcave at the head of the canyon. It features a 40-foot waterfall backed by caves, diverse vegetation and an emerald pool. Canyon tours are not dog-friendly but are wheelchair accessible; they are offered every Saturday & Sunday. Self-guided hikes are offered Tuesday through Friday, 9:30 a.m. to 1:30 p.m. and require reservations.
​Red Bud Isle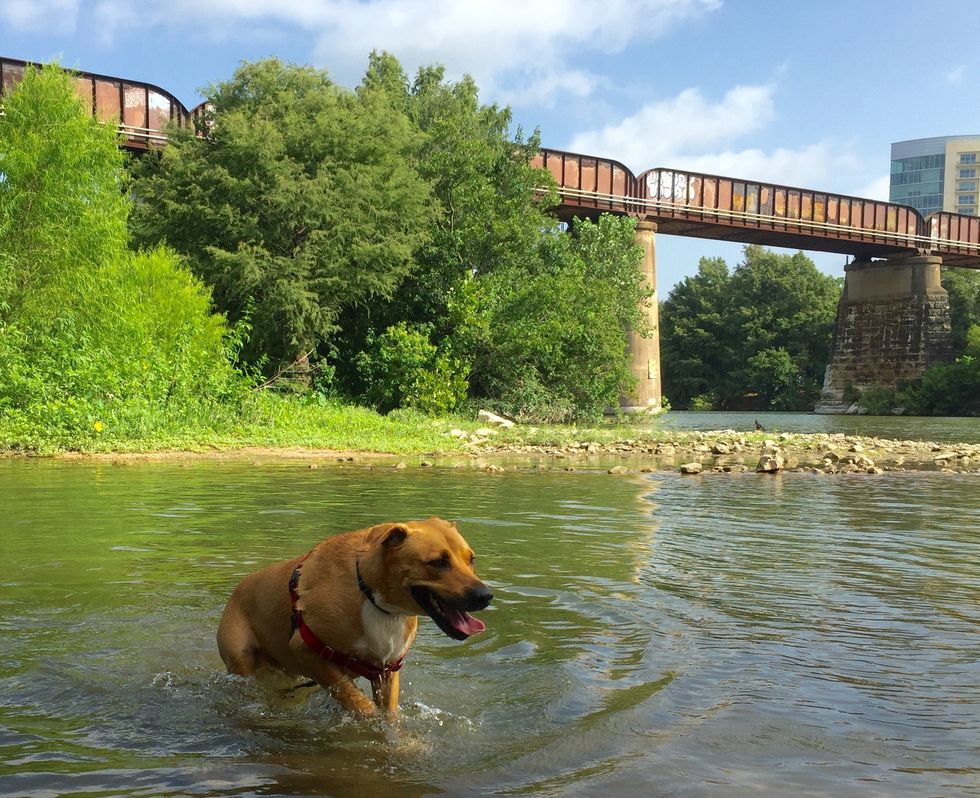 (Austonia)
Red Bud Isle is one of the most popular areas for pet owners to let their dogs off-leash in Austin. The small island lies just below the Tom Miller Dam on Town Lake. The edge of Red Bud Isle offers a view of Town Lake and the densely-packed trees to either side. Depending on the time of year, colorful kayaks and stand-up paddleboards add some pop of color to the view. The 13-acre park is, of course, dog-friendly and wheelchair accessible. Be careful with your pets during the summer months, however, as there have been toxic algae blooms two years in a row.

Wild Basin Preserve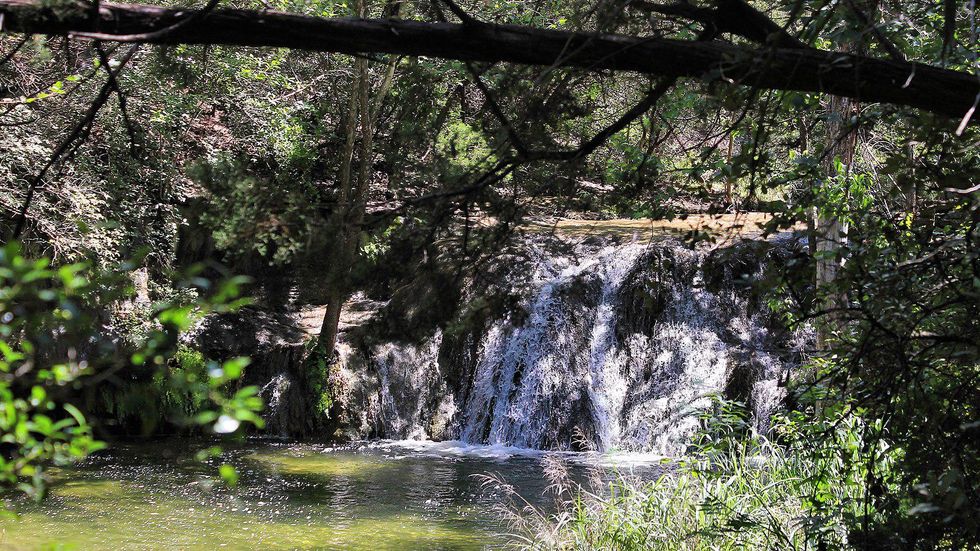 (Larry D. Moore/Wikimedia)
The Wild Basin Preserve is 227 acres of Hill Country woodlands owned by Travis County and St. Edwards University as part of the larger Balcones Canyonlands Preserve, which protects the unique environments of seven endangered species and 28 threatened plant and animal species. The preserve is home to the endangered Golden-cheeked warbler as well as many other Texas-native plants and wildlife. There isn't any one location that is the highlight of the preserve—the highlight is spotting the local wildlife. While it has been closed for the past several months, Wild Basin is expected to open for limited hours in late-January. It is not pet-friendly and is somewhat wheelchair accessible.

​Barton Springs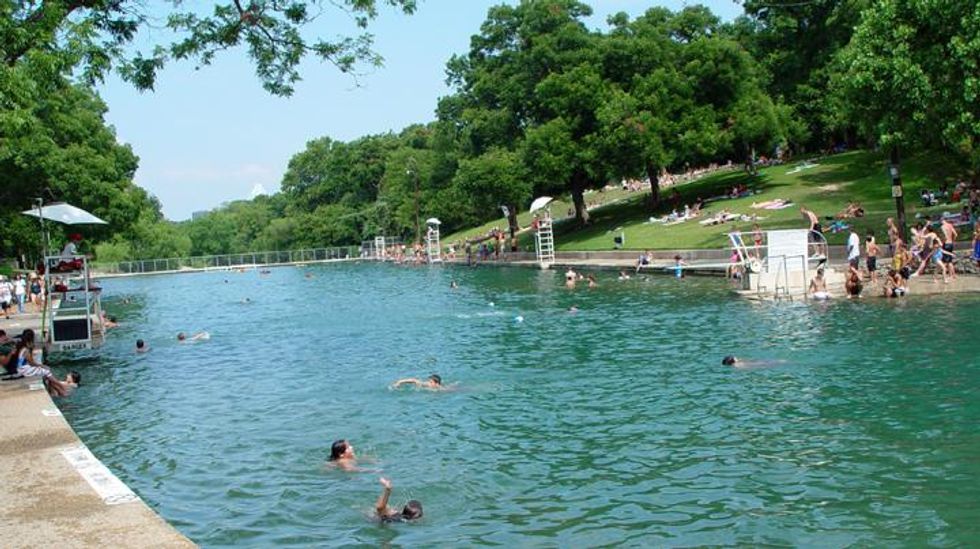 Section of Barton Springs on the paid access side. (austintx.gov)
Barton Springs is another one of those locations that doesn't have one particular highlight. There are two sections to Barton Springs: one section requires a small entrance fee and allows for a little more space to sprawl out, whereas the other, much larger, section is free but sometimes requires a little creativity with where you set up camp. Both sides feature cool, clear, blue water from the natural springs in the area.

​Congress Avenue Bridge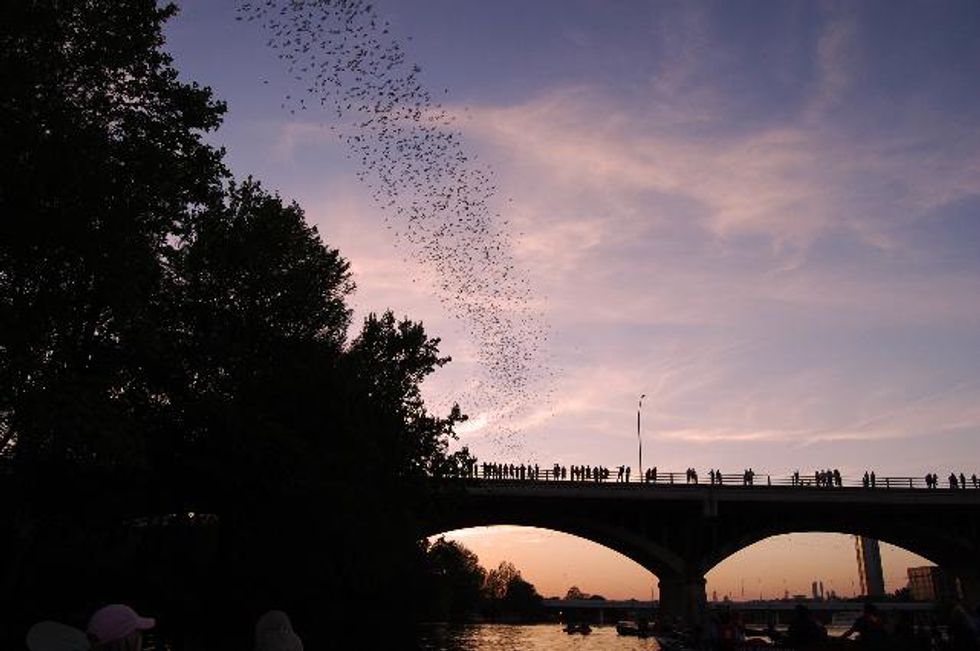 (Texas Parks & Wildlife Department)
The Congress Avenue Bridge goes over Lady Bird Lake and is a place to get a very unique view of the city. Every year, Austinites gather on the bridge to witness up to 1.5 million Mexican free-tailed bats feed on 10-30,000 pounds of insects. The best time to view the bats is mid-August when you can see them ascending into the evening sky. This area of Austin is wheelchair accessible and pet-friendly with a leash.
​The Middle of Town Lake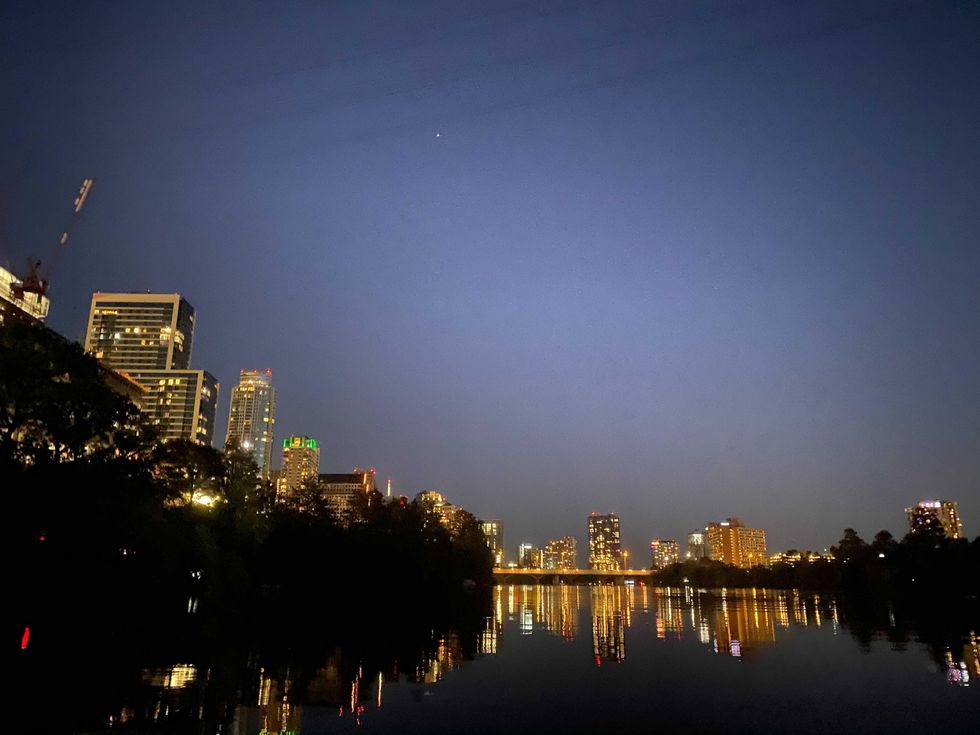 Evening view from the middle of Town Lake
(Laura Figi/Austonia)
This one might seem a little odd, but get yourself a kayak or stand up paddle board and enjoy the view of the city from the water. It's a unique perspective on the city that is probably the best representation of why this city is so unique. There are also some boat tours throughout the year. Boat tours are wheelchair accessible. The lake has multiple entrance points and pets are allowed on water vessels, but not in the water.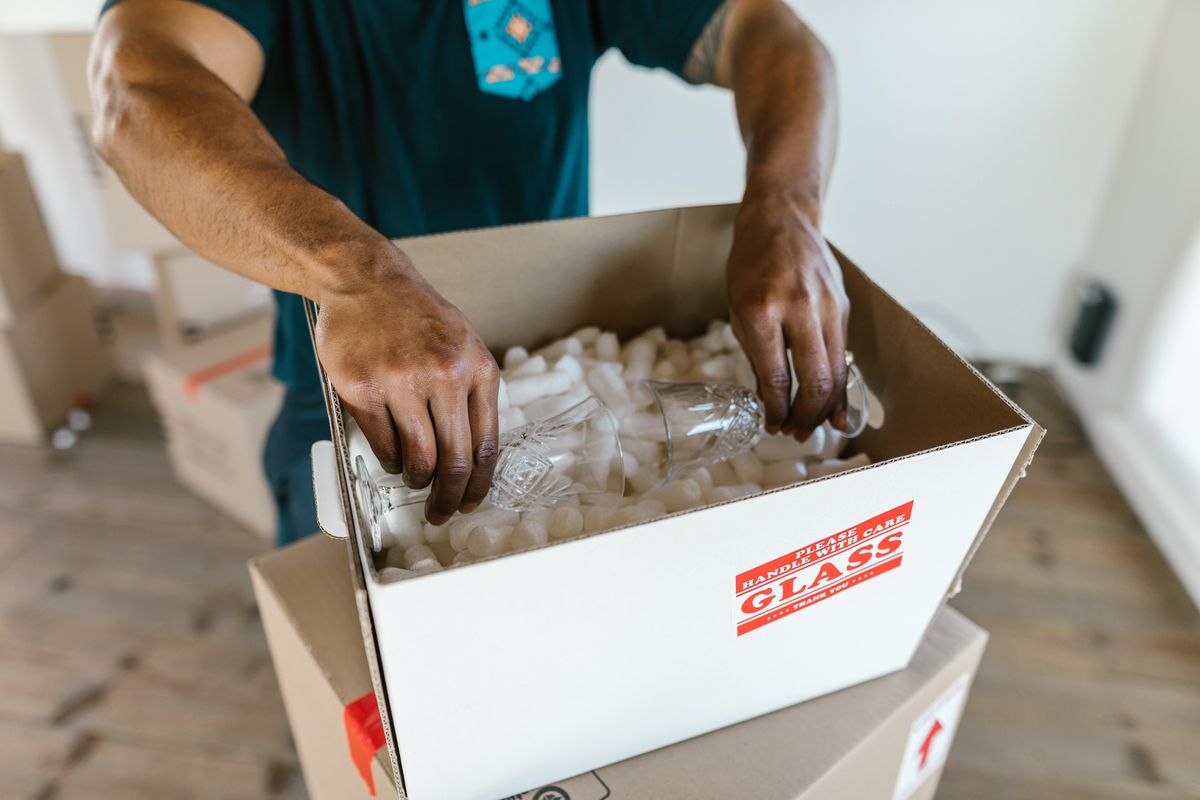 Introverts and personal space lovers may not want to make the move to Austin anytime soon: The Texas capital saw a bigger increase in one-bedroom rent prices than almost any other U.S. city in April, according to a Rent.com report.
Austin's one-bedroom rent has more than doubled—a 112% increase—from April 2021 to 2022, the report said. Only Oklahoma City saw a higher year-over-year increase with a 133% jump.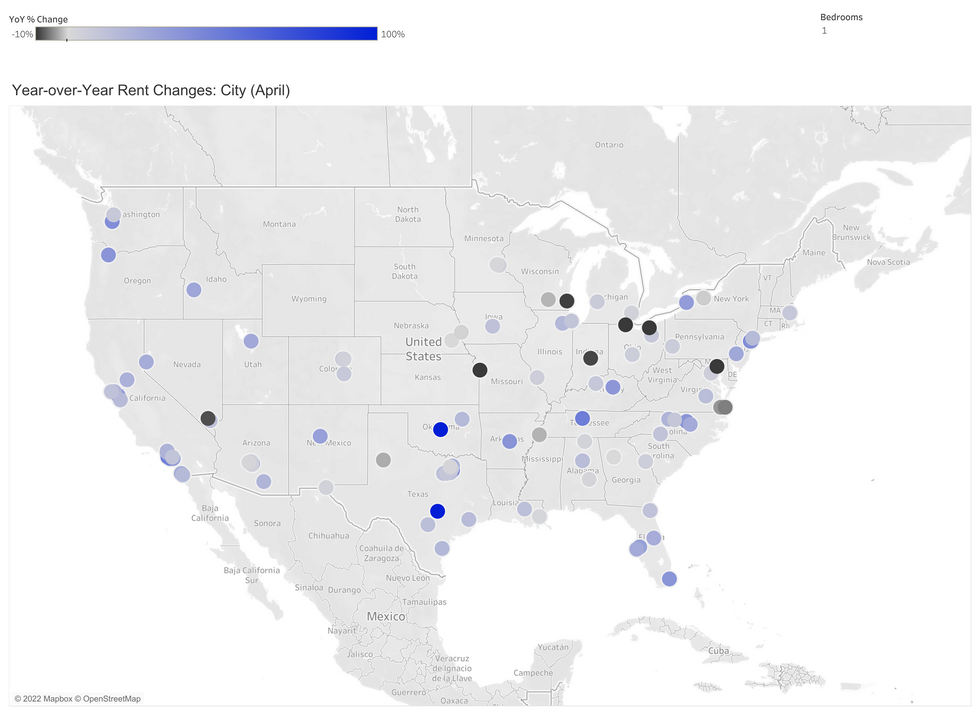 Austin also had the fourth-highest increase in two-bedroom rent, with a 50% increase in the past year. The city joined a nationwide trend where rents were up 8.3% year-over-year across the U.S, a trend exacerbated by a 6.2% increase in inflation in the same time period.
But "not everyone is experiencing inflation the same way," Redfin Deputy Chief Economist Taylor Marr said in the report, and a brunt of the load has gone to cities with more move-ins. While over 90% of state rental markets increased in the last year, that jump was seen most in Sun Belt states, including Texas, Arizona and Florida.
Even with breakneck increases in rent, however, Austin's rent prices still haven't cracked the top 10: the city's one-bedroom apartments are the 12th most expensive in the nation with an average price of $2,918. Meanwhile, its two-bedrooms fall behind Texas cities Frisco, Dallas and Plano and come out 34th on the list with a $2,302 average monthly rent.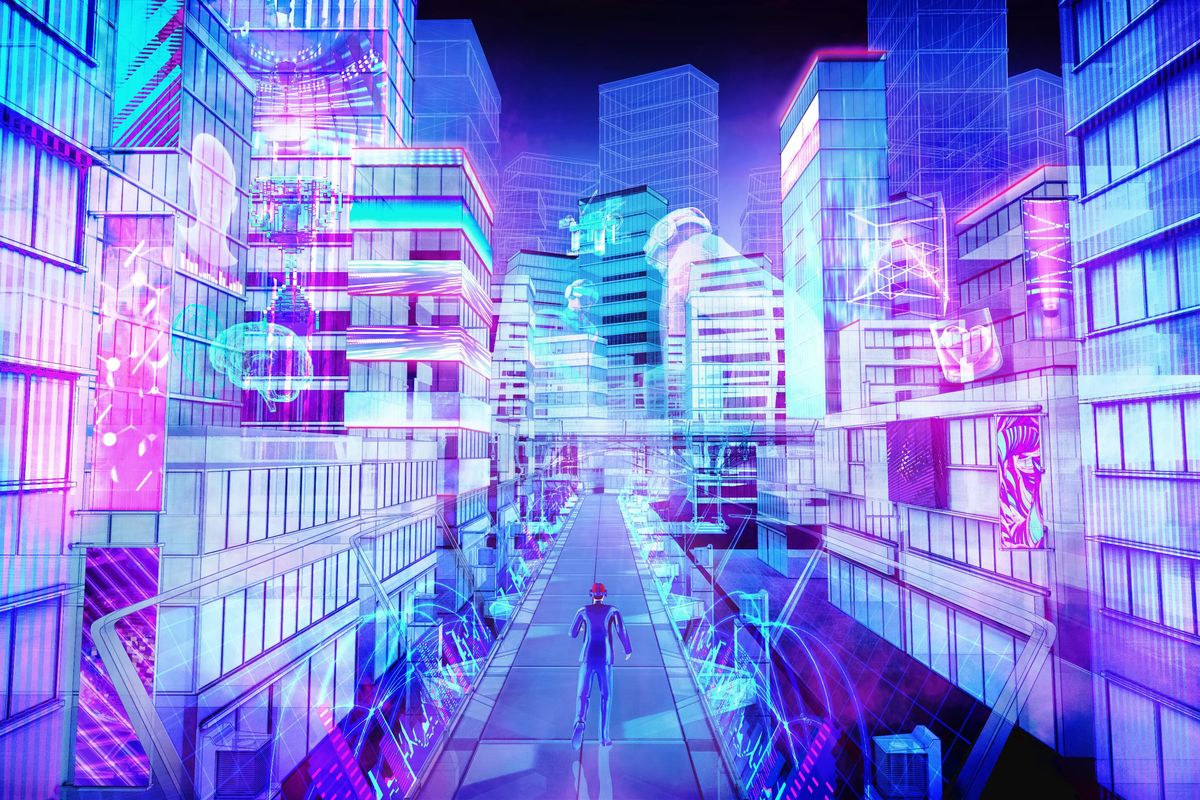 If the idea of the metaverse makes you feel more scared than excited, you're not alone.
In a recent poll on the metaverse, a third of respondents leaned toward feeling more scared about it. It's a response fitting for a tool that's in its infancy stages, where it's not uncommon for some to find it elusive or irrelevant, or require a virtual reality headset.
Amber Allen, founder of metaverse company Double A, has noticed these concerns. Now with the Austin-based company, she's working on advancements in the metaverse, which may see progress in business use before it becomes mainstream in the general public. But getting to that point involves demystifying misconceptions over it, like that we'll all put a headset on and avoid real life.
"A lot of people are talking about the metaverse and like what it could be in 10 or 30 years. And they're not talking a lot about what it is right now. And I think that's what scares people and confuses them," Allen told Austonia. "I'm just very passionate about what is the metaverse now. It's the next wave of the internet. No, you don't need to wear a VR headset."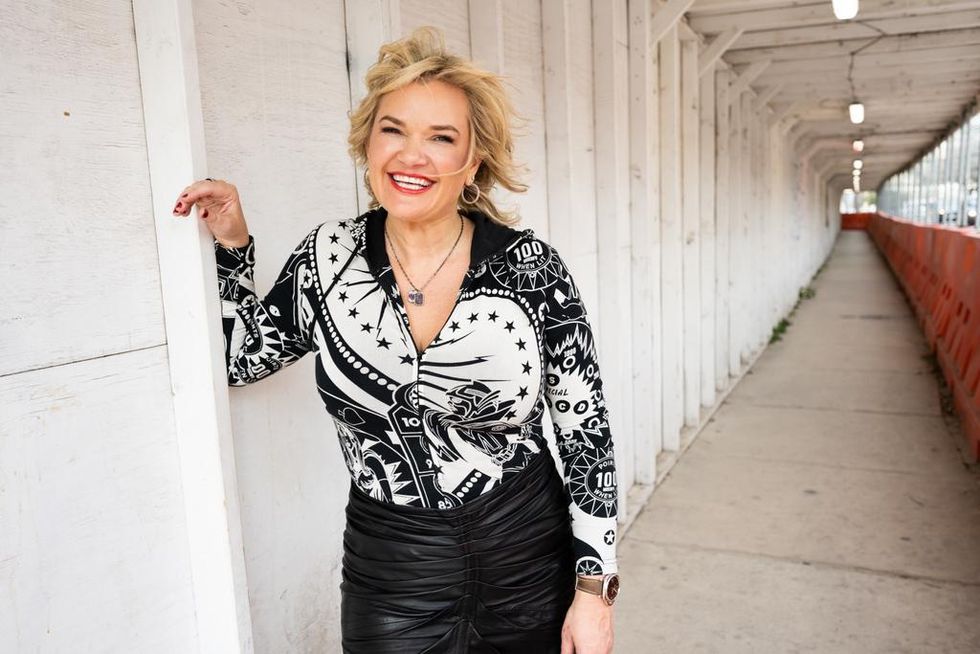 (Amber Allen/Twitter)
She broke this down last week in Forbes, writing about what is hype versus what's actually happening with this phase of the internet.
Allen sees how eventually, the metaverse could become a part of how we play and interact. But before the Metaverse extends to the average consumer, many predict that it will be popular in business first.

It's why some think Microsoft may have an edge over Facebook turned Meta in the industry. And why Allen has designed for work that's 3D, interactive and business to business, garnering interest from companies like General Mills, Dell and Chanel.
She points to how many workers now prefer a hybrid work environment, but says the business tools are not there right now. It's not just within the workplace, however. Double A also offers tools for boosting sales and generating brand engagement through activities like watch parties and meet and greets.
With companies like Allen's, corporate metaverse use could see wider adoption. Double A has hired 13 people this year, adding to the ranks of nearly 30 employees plus dozens of contractors. Some are remote workers outside of Texas while others use the office in East Austin with graffiti art that includes popular gaming figures like Zelda and the Mario Brothers.
Allen takes great pride in working in her home state, saying that she'd like to be a great ambassador for Austin. She said she wants people new to the city to feel welcome. She has meet ups from time to time so that new people who have moved in can get face time with others who have been in Austin for a while.
Still, her work is bound to extend outside of Austin as she aims to create products that will have global reach.
"I want to change the world," Allen said. "You got to think localized. If I'm creating something, how does this work for Europe? How would this work for Asia? How can they build on things?"