Get connected with our daily update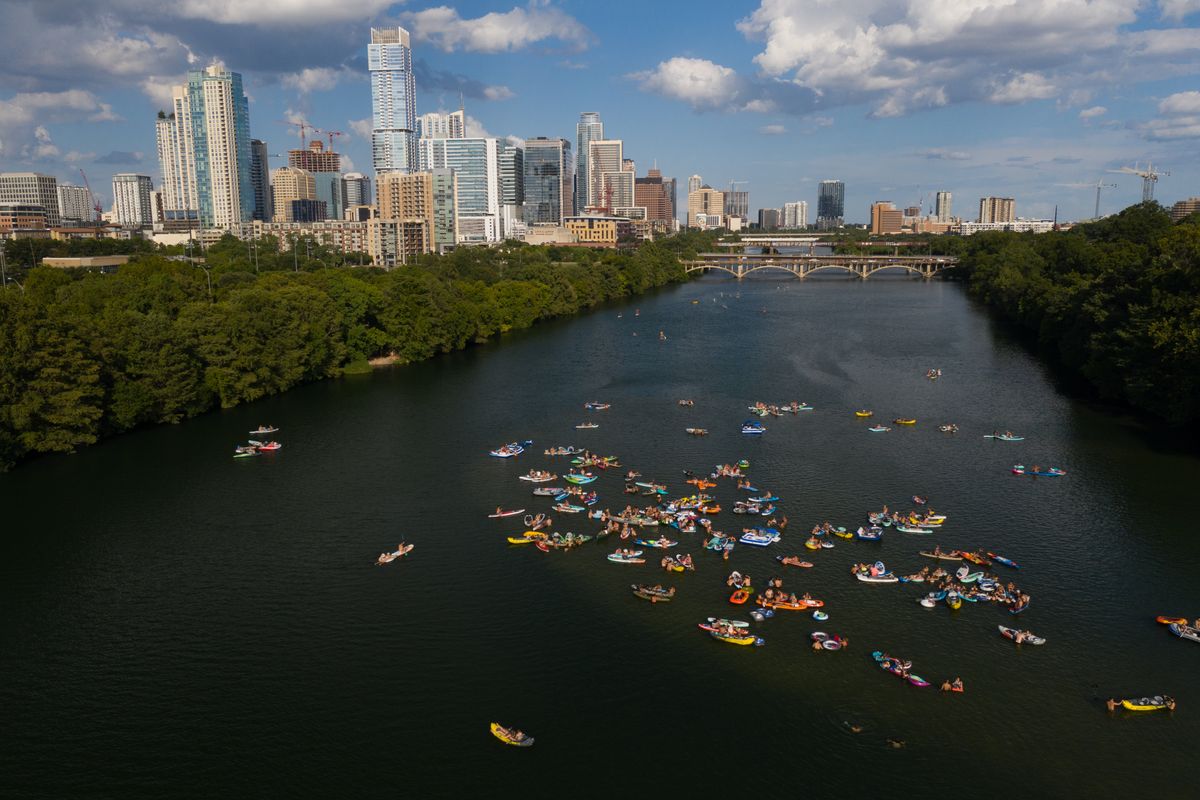 People are often drawn to Austin because of things like job or housing opportunities, however, it's the city's deep connection with the nature surrounding it that keeps them here.
---
Much of Austin's allure is that residents are able to enjoy the great outdoors without ever having to go too far out of the city. Despite being in such close proximity to major urban construction, some of the most beautiful scenes in the Hill Country are right here, in Austin.

Mount Bonnell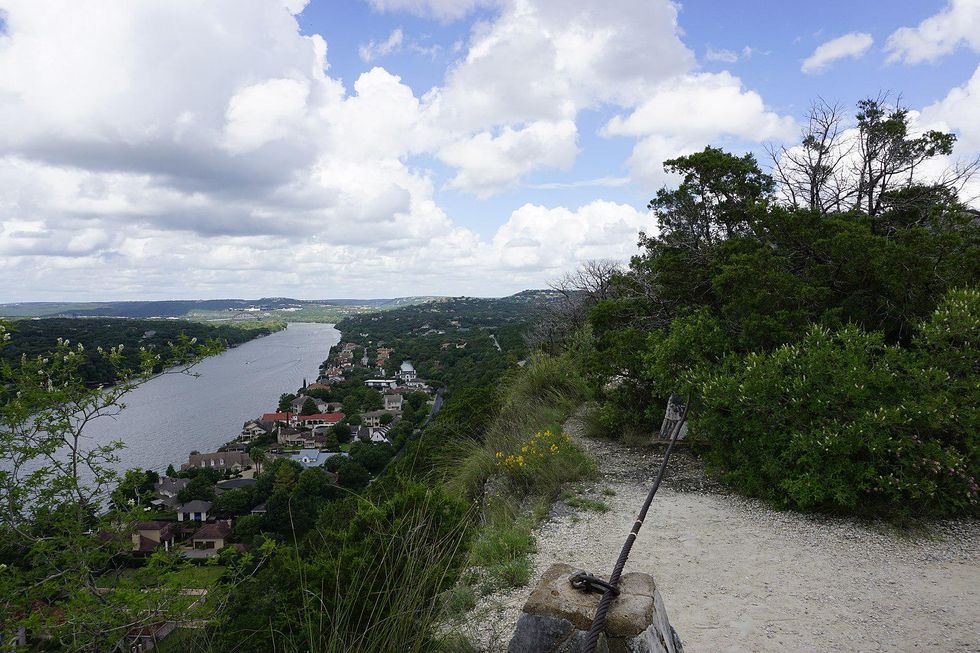 (Spawnzilla/CC)
Mount Bonnell is probably the most well-known scenic locale in Austin and has been since the 1830s. Known for its panoramic view of downtown, Lady Bird Lake and the Hill Country to the west. Today thousands of visitors ascend the 106 stone stairs to the summit to take in the beautiful view. Located in Covert Park in Northeast Austin, the trail is dog-friendly with a leash, but it is not wheelchair accessible.
Ann and Roy Butler Hike-and-Bike Trail and Boardwalk at Lady Bird Lake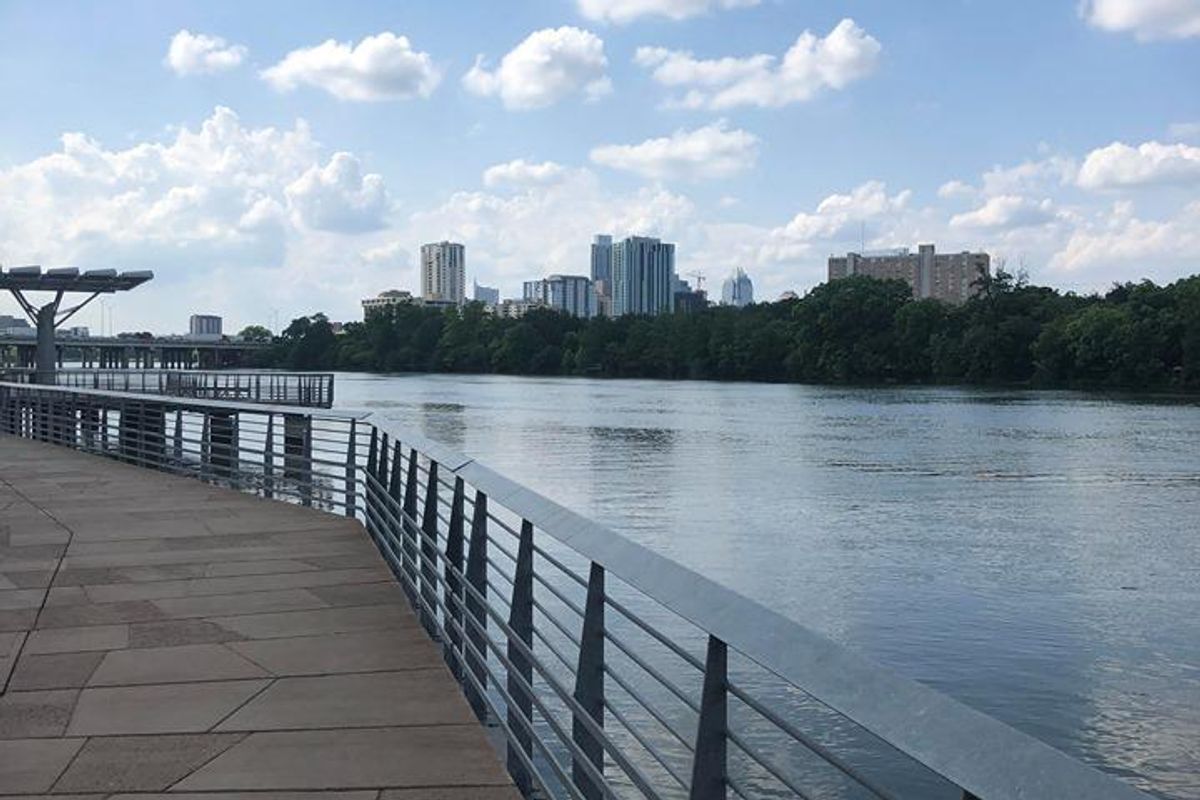 (MX/Wikimedia)
The Ann and Roy Butler Hike-and-Bike Trail is a 10-mile boardwalk with numerous entrance and exit points and is Austin's most recognized and popular recreational trail. Not only is it an Austin favorite for exercise, it also hosts one of the most beautiful views of Austin's skyline the city has to offer. The paved trail runs over Lady Bird Lake, also known as Town Lake, giving people an undisturbed view of Downtown Austin overlooking the water. The trail is dog friendly with a leash and wheelchair accessible.
Zilker Park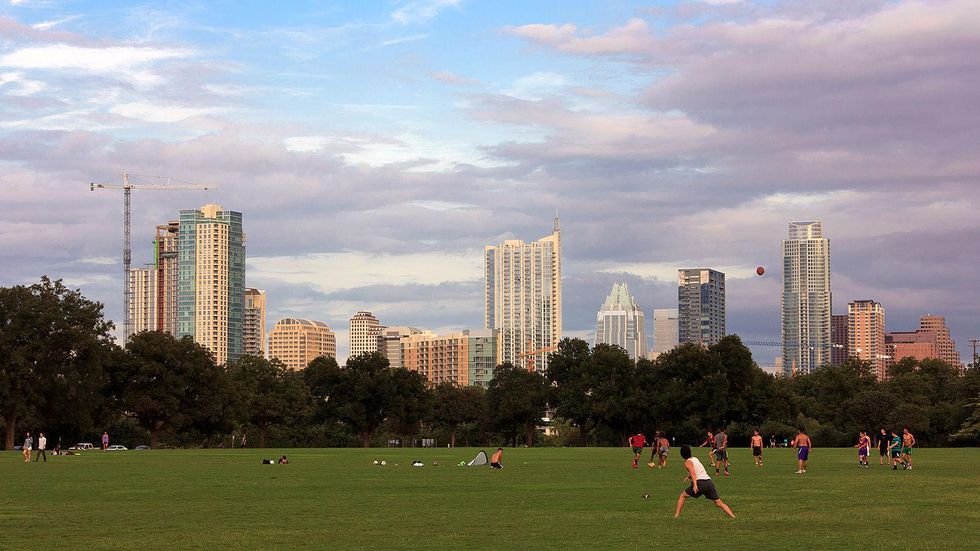 (Mwyzykowski0821/Wikimedia)
Zilker Park is Austin's pride and joy. The park hosts ACL every year (when there isn't a pandemic), the Trail of Lights each holiday season and other events in the city. The 351-acre space is the go-to locale for Austinites who want to get outside and enjoy a direct view of the city skyline--usually serving as a backdrop for any event held at the spot. As one of the only scenic destinations to allow dogs off-leash, it is the most dog-friendly spot in the city. Zilker Park is wheelchair accessible (although it might be best to avoid the park after rain).
Barton Creek Greenbelt-Sculpture Falls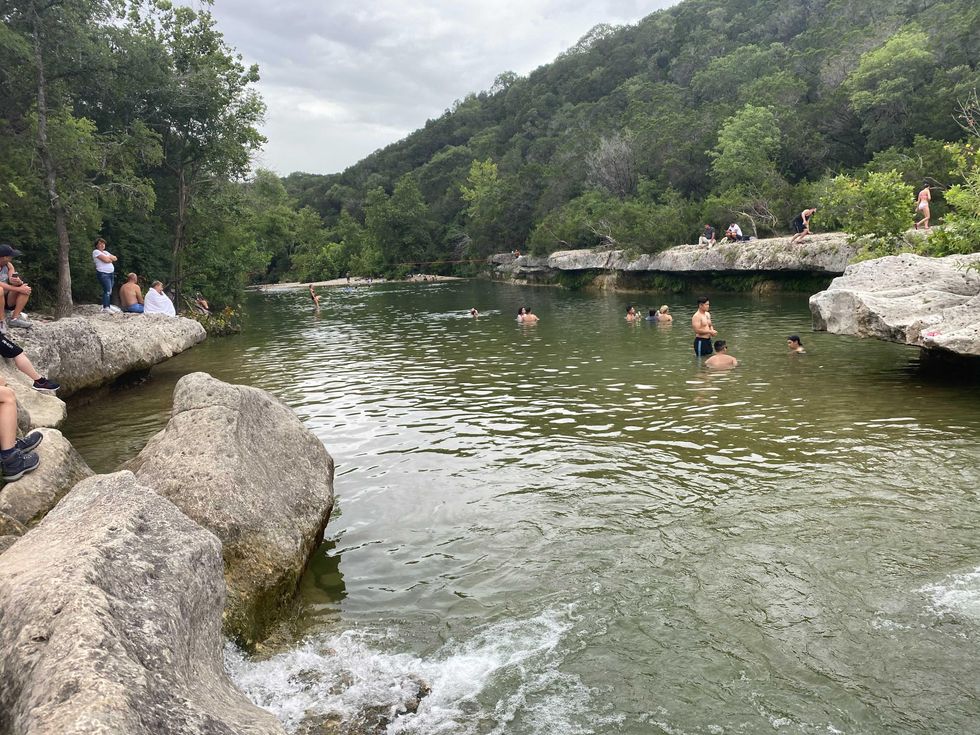 (Austonia)
Sculpture Falls is a hidden location on the 7.9 mile Barton Creek Greenbelt. The best way to access the location is via the Hill of Life and the Trail's End access point in South Austin at 1710 Camp Craft Road. The scenic views of this location may not be sweeping views of the city skyline, however, the glistening pools and waterfalls, the trees hanging over the water make the spot one of the most underrated in Austin. The hike back up the Hill of Life is 1.5 miles and mostly on the sun, so make sure to bring plenty of water. The location is dog-friendly with a leash, but it is not wheelchair accessible.
​McKinney Falls-Upper and Lower Falls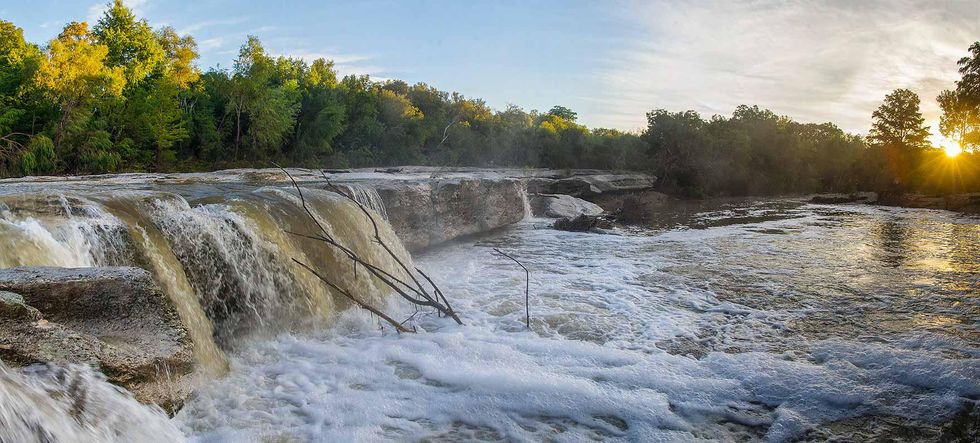 Photo of Lower McKinney Falls
(Texas Parks & Wildlife Department)
McKinney Falls is one of the many Texas State parks and is a series of two waterfalls–an upper and lower falls. Both spots feature limestone waterfalls along Onion Creek and swimming pools. The lower falls are more shallow and recommended for families with younger children while the upper falls are a bit deeper. Pets are allowed on a leash in the park, however, they are not allowed in the water at the falls. The park is not fully wheelchair accessible. There is a $6 fee for adults to enter the park and children under 12 can enter for free. During COVID, it is recommended to make reservations to enter the park if you plan to visit.

Westcave Outdoor Discovery Center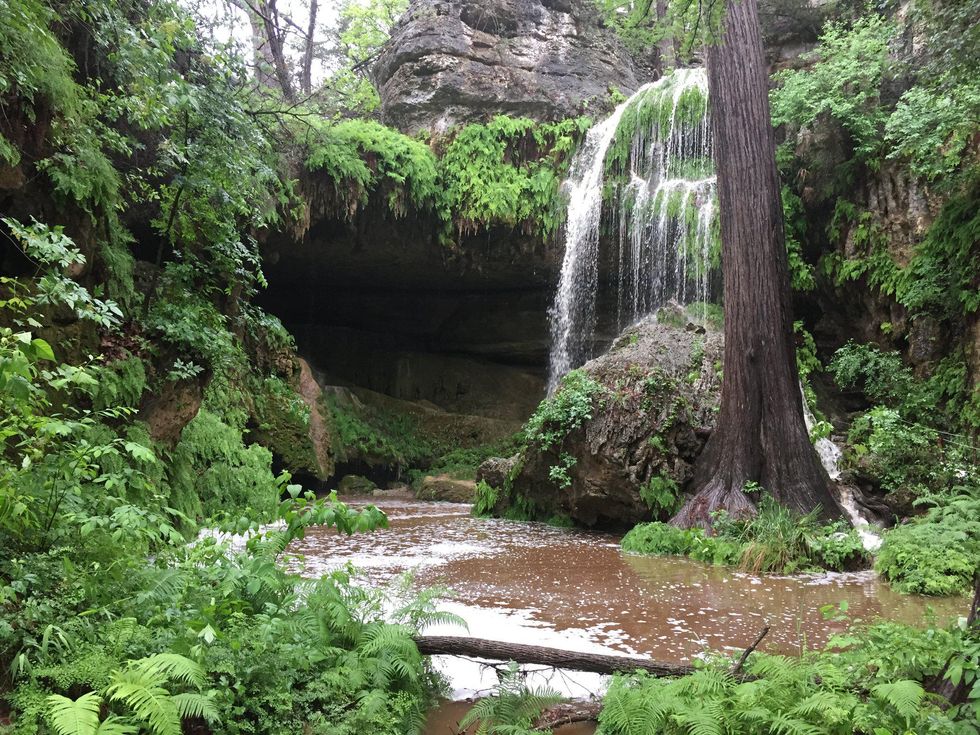 (Westcave Outdoor Discovery Center/Facebook)
Located in far-west Austin, Westcave Outdoor Discovery Center is the farthest out from Austin's city center and is another location that may not offer sweeping views of the Hill Country, however, the center features some of the most unique views in Texas. The highlight of the preserve is Westcave at the head of the canyon. It features a 40-foot waterfall backed by caves, diverse vegetation and an emerald pool. Canyon tours are not dog-friendly but are wheelchair accessible; they are offered every Saturday & Sunday. Self-guided hikes are offered Tuesday through Friday, 9:30 a.m. to 1:30 p.m. and require reservations.
​Red Bud Isle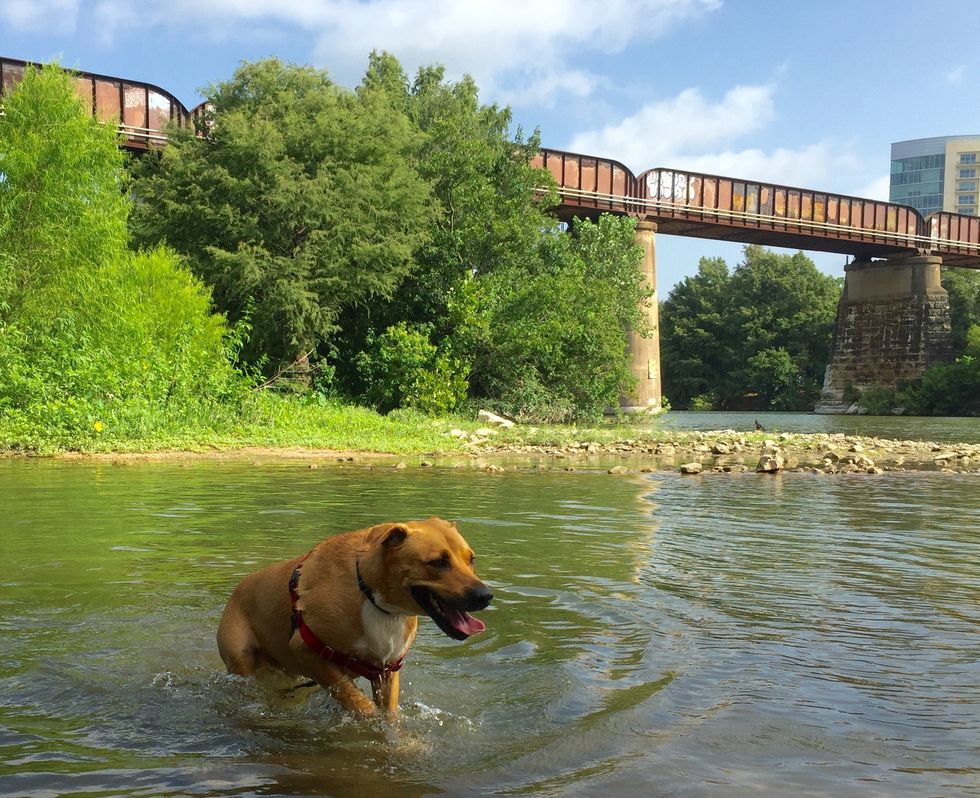 (Austonia)
Red Bud Isle is one of the most popular areas for pet owners to let their dogs off-leash in Austin. The small island lies just below the Tom Miller Dam on Town Lake. The edge of Red Bud Isle offers a view of Town Lake and the densely-packed trees to either side. Depending on the time of year, colorful kayaks and stand-up paddleboards add some pop of color to the view. The 13-acre park is, of course, dog-friendly and wheelchair accessible. Be careful with your pets during the summer months, however, as there have been toxic algae blooms two years in a row.

Wild Basin Preserve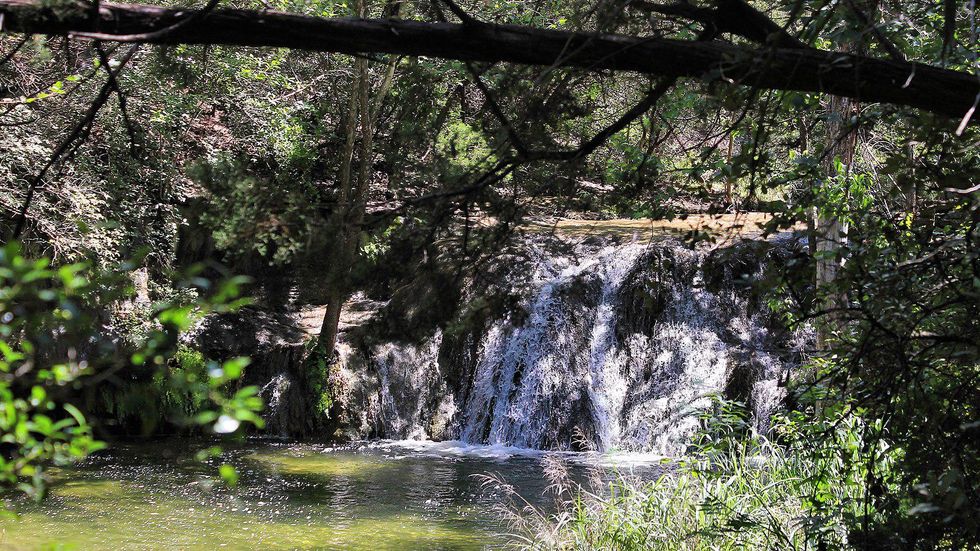 (Larry D. Moore/Wikimedia)
The Wild Basin Preserve is 227 acres of Hill Country woodlands owned by Travis County and St. Edwards University as part of the larger Balcones Canyonlands Preserve, which protects the unique environments of seven endangered species and 28 threatened plant and animal species. The preserve is home to the endangered Golden-cheeked warbler as well as many other Texas-native plants and wildlife. There isn't any one location that is the highlight of the preserve—the highlight is spotting the local wildlife. While it has been closed for the past several months, Wild Basin is expected to open for limited hours in late-January. It is not pet-friendly and is somewhat wheelchair accessible.

​Barton Springs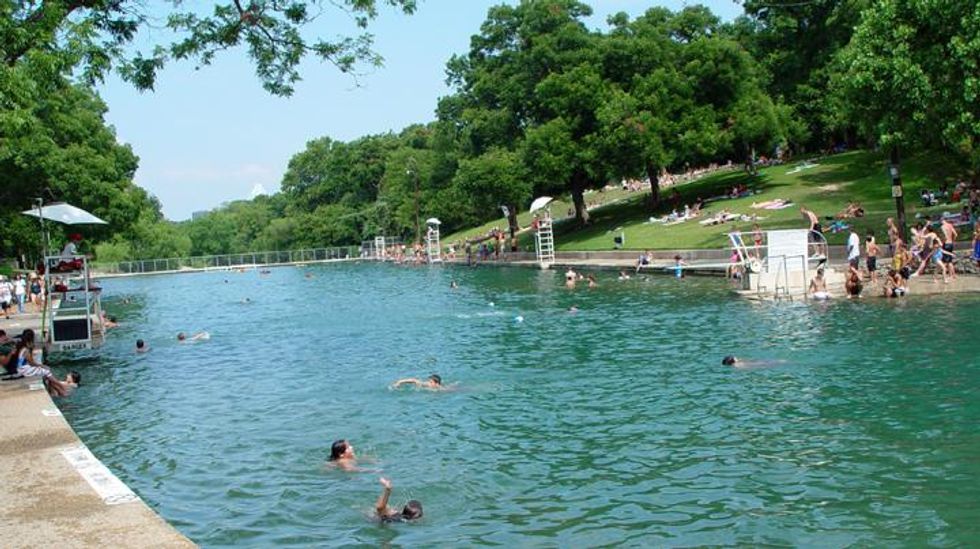 Section of Barton Springs on the paid access side. (austintx.gov)
Barton Springs is another one of those locations that doesn't have one particular highlight. There are two sections to Barton Springs: one section requires a small entrance fee and allows for a little more space to sprawl out, whereas the other, much larger, section is free but sometimes requires a little creativity with where you set up camp. Both sides feature cool, clear, blue water from the natural springs in the area.

​Congress Avenue Bridge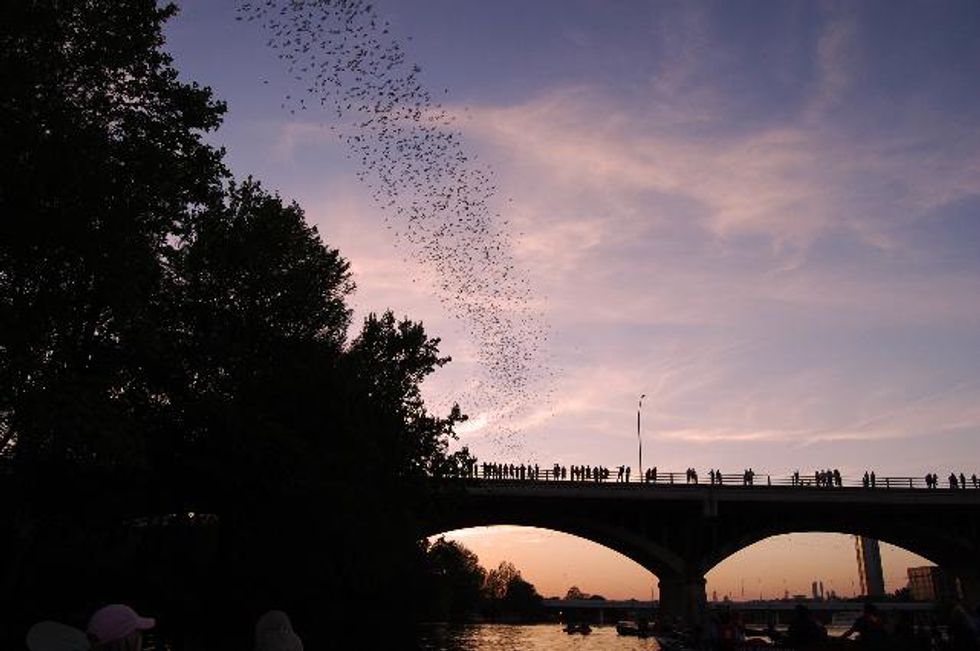 (Texas Parks & Wildlife Department)
The Congress Avenue Bridge goes over Lady Bird Lake and is a place to get a very unique view of the city. Every year, Austinites gather on the bridge to witness up to 1.5 million Mexican free-tailed bats feed on 10-30,000 pounds of insects. The best time to view the bats is mid-August when you can see them ascending into the evening sky. This area of Austin is wheelchair accessible and pet-friendly with a leash.
​The Middle of Town Lake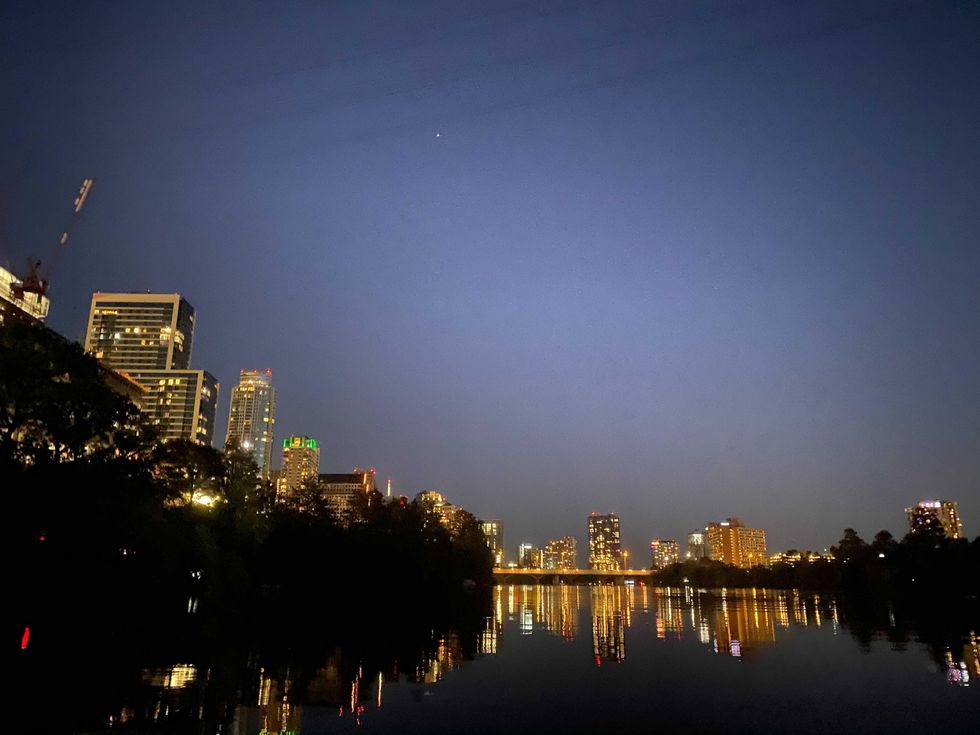 Evening view from the middle of Town Lake
(Laura Figi/Austonia)
This one might seem a little odd, but get yourself a kayak or stand up paddle board and enjoy the view of the city from the water. It's a unique perspective on the city that is probably the best representation of why this city is so unique. There are also some boat tours throughout the year. Boat tours are wheelchair accessible. The lake has multiple entrance points and pets are allowed on water vessels, but not in the water.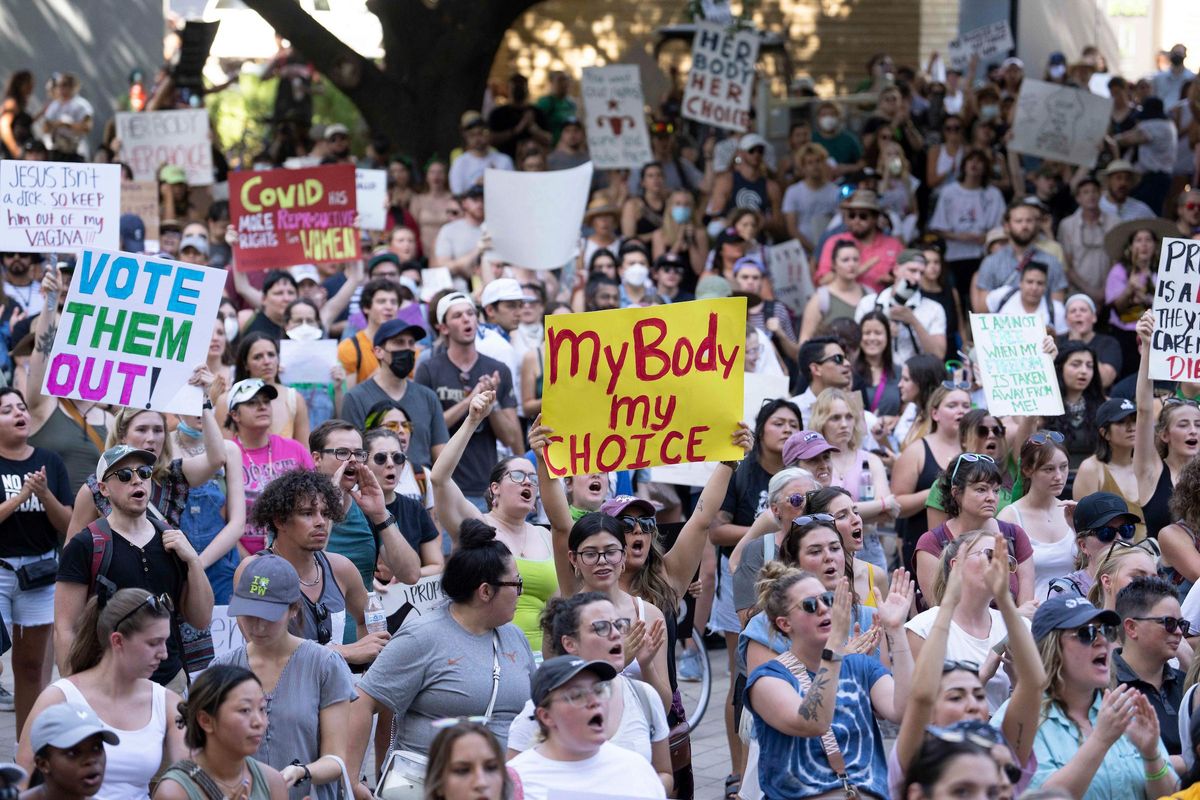 Hours following the U.S. Supreme Court's ruling to overturn Roe v. Wade, the landmark ruling that guaranteed a constitutional right to an abortion, on Friday, about 1,000 people gathered in Republic Square with signs calling for change.
The rally, organized by the group Rise Up 4 Abortion Rights Texas, started at the federal courthouse on Republic Square on Friday at 5 p.m. before the crowd marched to the Texas Capitol. More protests are expected to ensue over the weekend.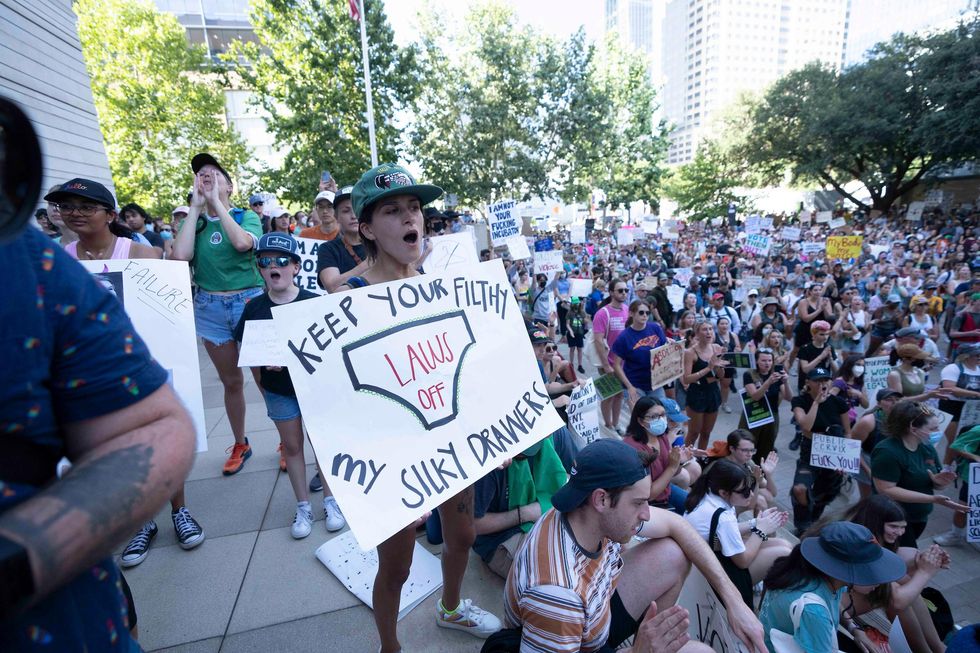 People showed up with all types of signs like Mindy Moffa holding up, "Keep your filthy laws off my silky drawers."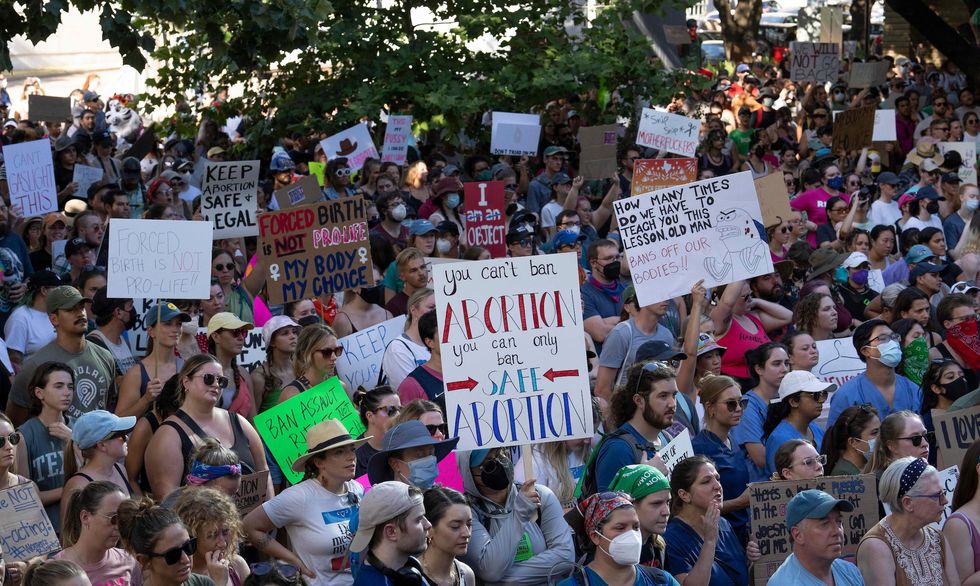 Austin joined cities across the country that saw protests for a women's right to an abortion after the ruling.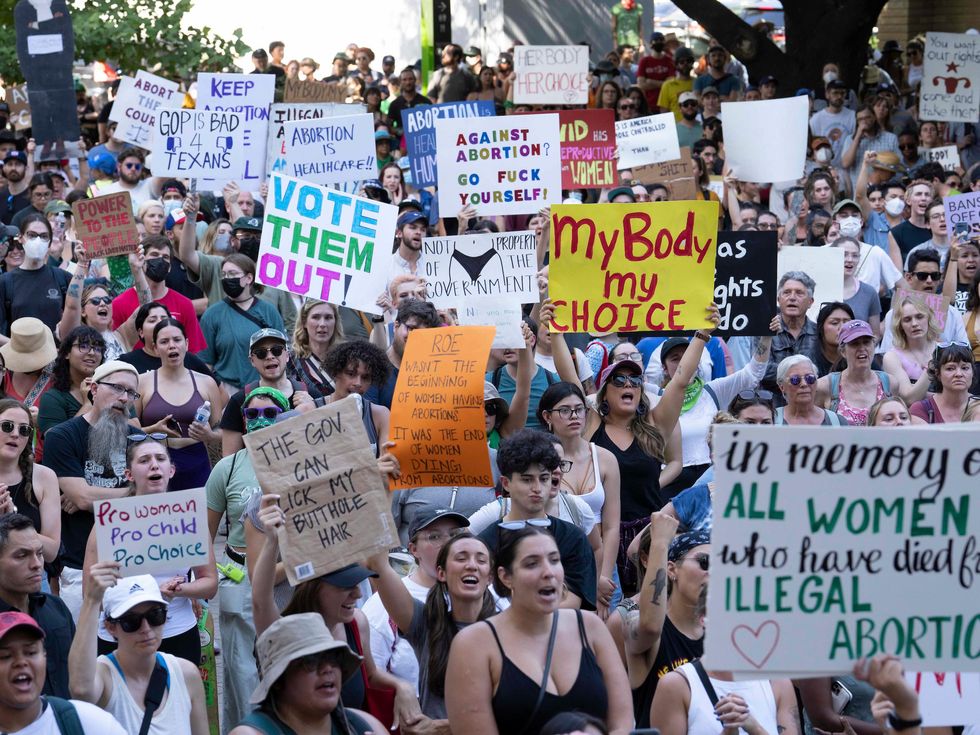 According to a recent UT poll, 78% of Texas voters support abortion access in most cases.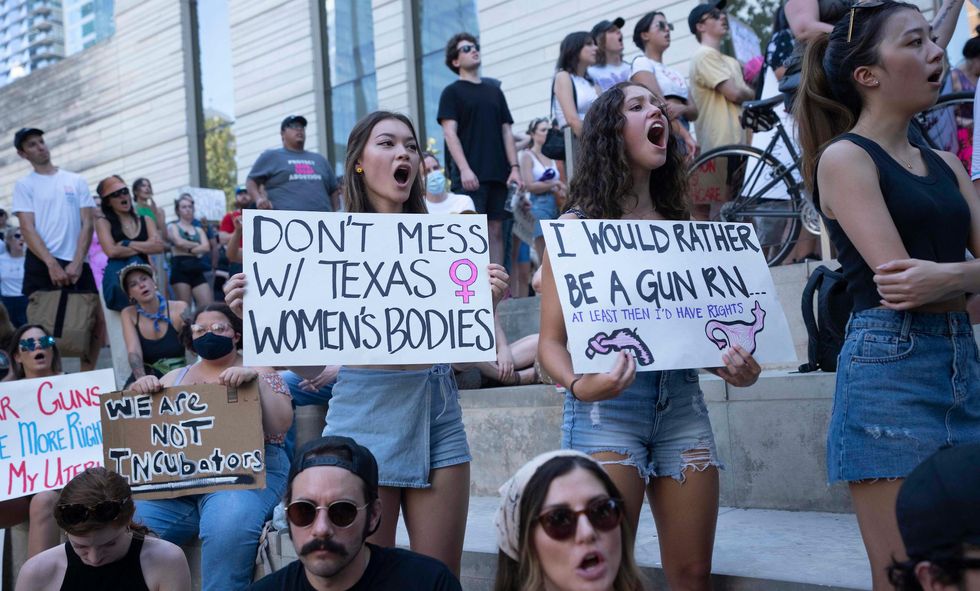 Sabrina Talghade and Sofia Pellegrini held up signs directed at Texas laws. A Texas trigger law will ban all abortions from the moment of fertilization, starting 30 days after the ruling. When state legislators passed the trigger law last summer, it also passed laws for more protection of firearms, including the right to open carry without a permit.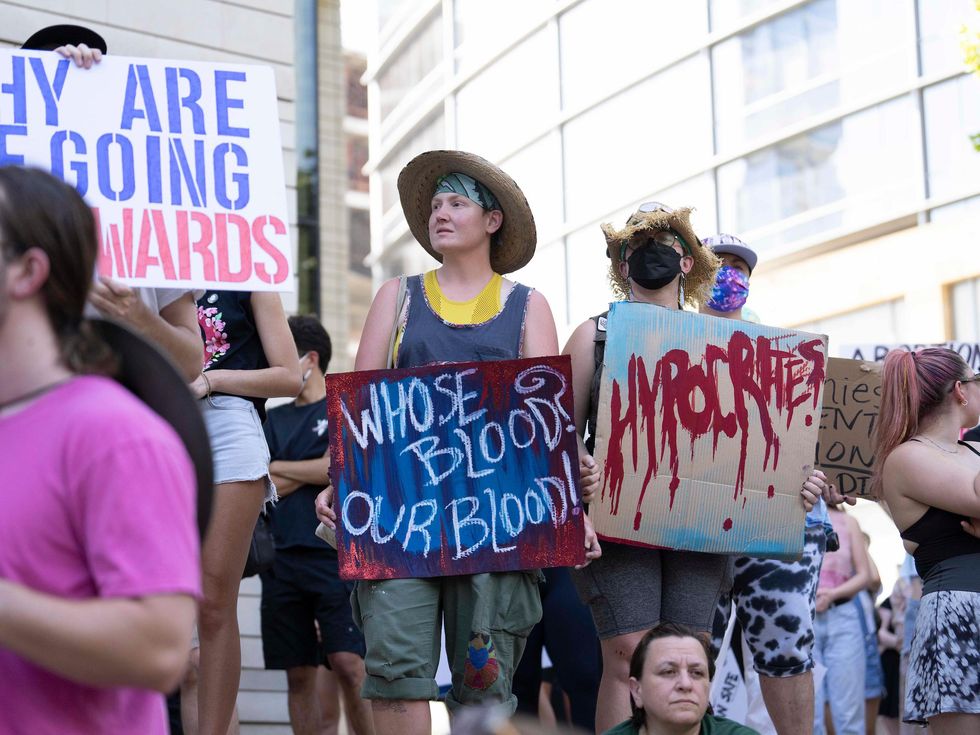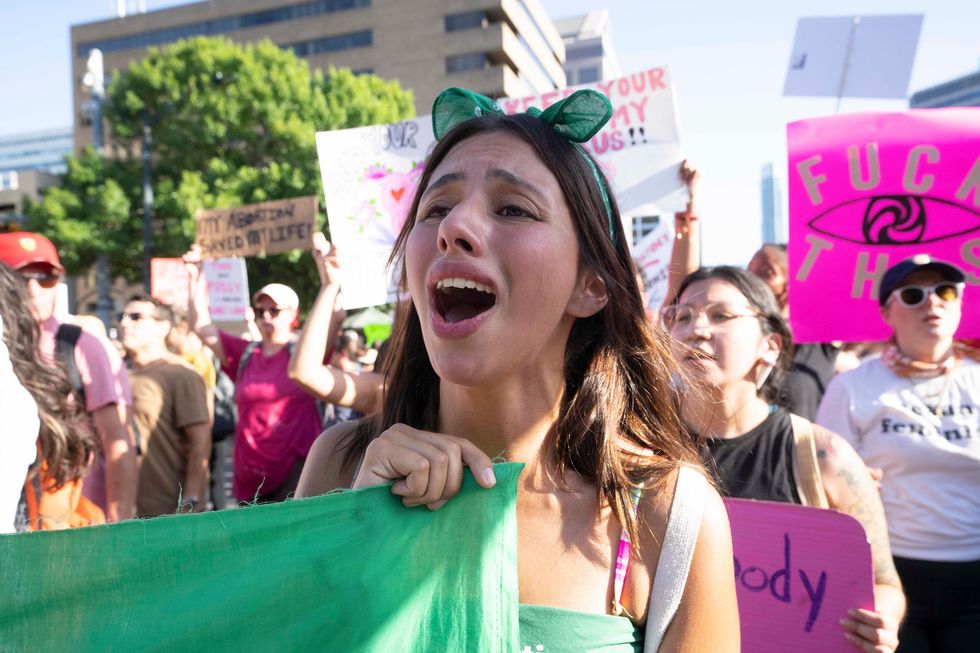 Lili Enthal of Austin yells as around 1,000 Texans marched to the Texas Capitol.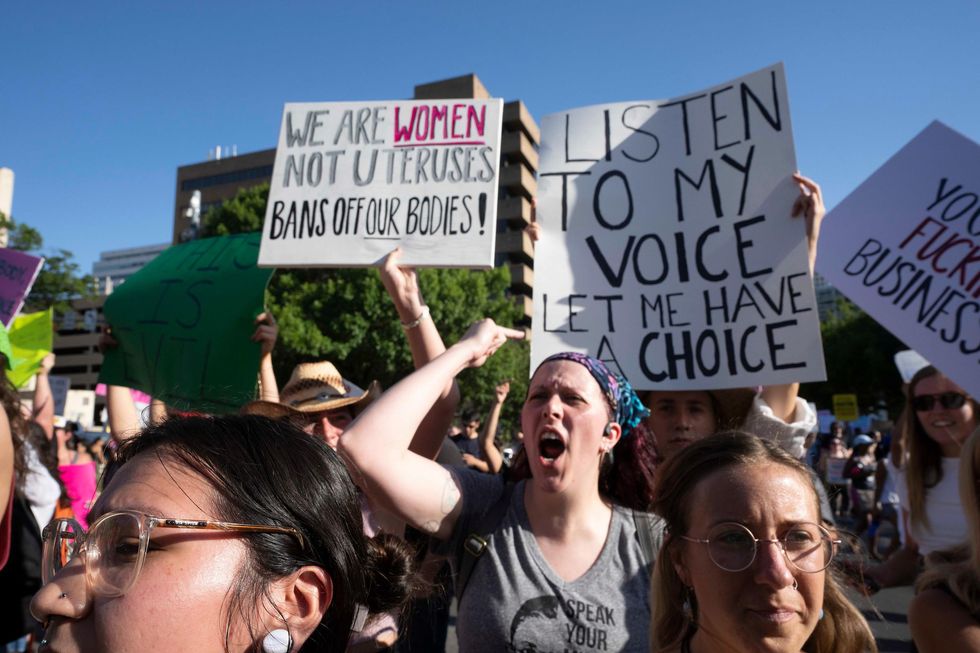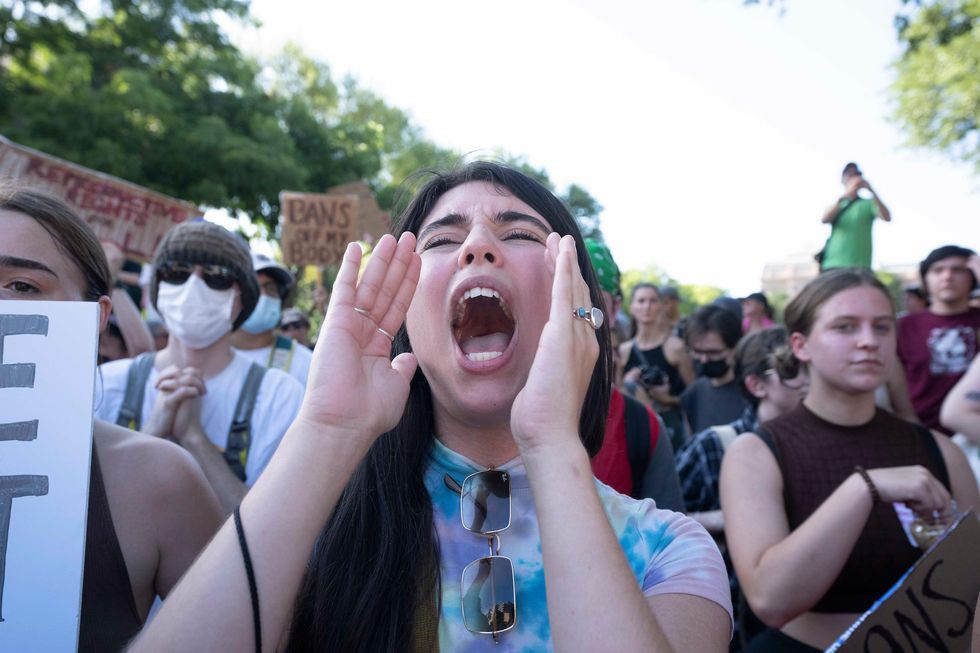 From the Texas Capitol, Zoe Webb lets her voice be heard against the Supreme Court ruling.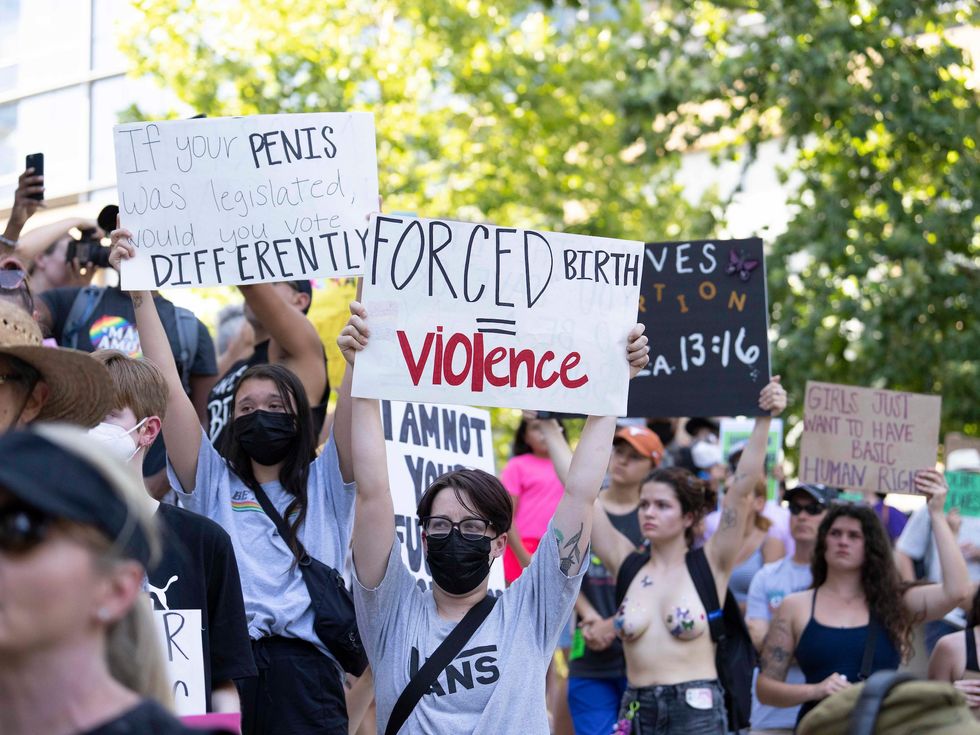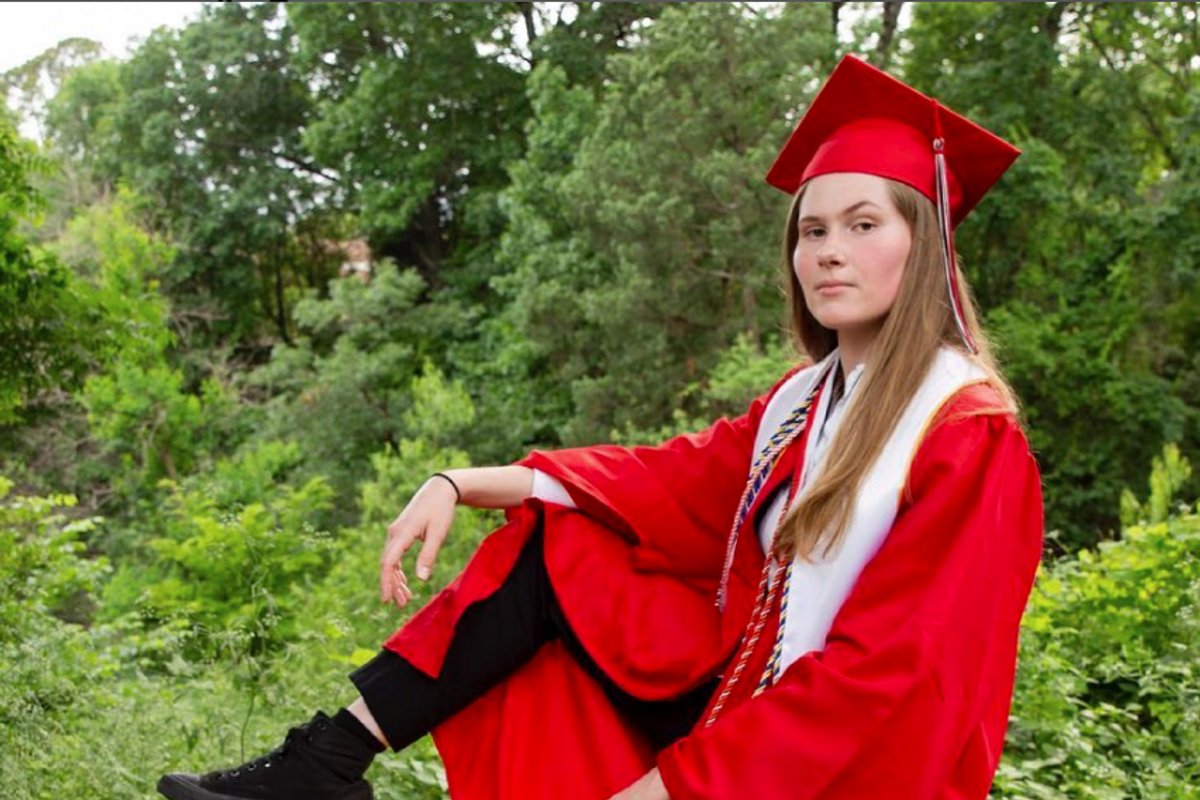 Paxton Smith's 2021 valedictory speech at Lake Highlands High School in Dallas wasn't the same speech she had previously shared with school administrators. She dropped the approved speech and made a case for women's reproductive rights after lawmakers passed the Texas "Heartbeat Bill."
Her advocacy made news on NPR, YouTubeTV and in The Guardian. Just over a year later, the "war on (women's) rights" she forewarned has come to a head as the U.S. Supreme Court voted Friday morning to overturn Roe v. Wade, ending constitutional protection for abortion access.
"It is up to the people to show up and show the courts and the politicians that we won't sit back and let this happen," Smith told Austonia Friday morning. "We will show up, we will fight back. Before, we were scared of them, now they should be scared of us."
Now a University of Texas sophomore and abortion rights activist, 19-year-old Smith said she wanted to give the same speech in the "the most public way possible" to reach "as many people as possible who don't agree that I deserve this right."
However, she says the response was "actually overwhelmingly positive" and supportive of her cause. According to a recent UT poll, 78% of Texas voters support abortion access in most cases.
The speech opened up further opportunities for activism: she advocated for reproductive rights at the International Forum on Human Rights in Geneva, interviewed with Variety magazine and spoke to tens of thousands at Austin's Bans Off Our Bodies protest at the Texas Capitol in May.
Smith also serves on the board of directors for the Women's Reproductive Rights Assistance Project, a national nonprofit organization that helps fund abortions or medication abortion—like Plan C pills—in all 50 states. Most recently, Smith has been attending protests in Washington, D.C. leading up to the ruling.
"This is land of the free. This is where you get to choose how you live your life," Smith said. "Overturning Roe v. Wade violates everything that we have come to believe about what it means to live in this country. I think a lot of people aren't willing to accept that this is a human right that is most likely just going to be gone for over half of the country within the next couple of weeks."
Bracing for the next steps, Smith gave some tips for supporters:
Find a protest to attend.

"I would say invite somebody to go to those protests with you, invite a couple of friends, invite people into the movement," Smith said.

Talk about the issue on social media—use the platform you have.

"Have these kinds of conversations where people can just talk about their fears and then find ways to go and advocate for yourself," Smith said.

Volunteer at a nonprofit near you.
"I feel like a lot of the reason things have gotten as bad as they have within the abortion rights world is that people are not making a scene, not protesting, not putting the effort into ensuring that the government doesn't take away this right," Smith said. "I want to emphasize that if you're not doing anything, don't expect the best scenario, expect the worst because that's the direction that we're going in."