Get connected with our daily update
Former congressman Beto O'Rourke is officially running for Texas governor, becoming the first Democrat challenger to join the 2022 race.
---
His announcement, made Monday morning, took jabs at the GOP-run governor's office, saying "those in positions of public trust have stopped listening to, serving and paying attention to and trusting the people of Texas." He said, "They're focusing on the type of extremist policies around abortion or permitless carry or in our schools, that really only divide us—it's a really small vision for such a big state."
O'Rourke, a former three-term Democratic congressman from El Paso, gained steam as a political figure back in 2018 when he narrowly lost a race for U.S. Senate against Sen. Ted Cruz; he also ran for the 2020 presidential election before pulling out.
All year, many have suspected he would run for governor of Texas. He takes strong opposition to many of Gov. Greg Abbott's stances and policies. In his announcement, O'Rourke mentions focusing on the "things most of us care about," including expanding Medicaid and legalizing marijuana.
In the latest University of Texas and Texas Tribune poll, 37% of respondents said they would vote for O'Rourke and 46% said they would vote for Abbott.
The governor tweeted out a response to the announcement on Monday afternoon with a short video that read "Wrong for America" over President Joe Biden and then "Wrong for Texas" over O'Rourke.
Before facing off with Gov. Greg Abbott or another Republican—former Texas GOP Chairman Allen West and former state Sen. Don Huffines are running in the Republican primary—O'Rourke will need to win the Democratic primary. Texans will vote in the primaries come March 2022.
Enjoying Austonia? Signup for our newsletter to get daily Austin news, straight to your morning inbox!
Austin-Bergstrom International Airport saw 284,198 passengers checked through TSA security over the Thanksgiving holiday, marking the busiest Thanksgiving travel season on record.
The airport saw around 40,000 more passengers than its peak holiday week in 2019 and nearly triple the traffic of 2020 as the airport continues to bounce back much more quickly than was originally projected.
Those numbers weren't quite reflected nationwide—air travel on the Wednesday before Thanksgiving more than doubled when compared to the same 2020, with 2.3 million people passing through TSA checkpoints on that day. That's higher than any other pandemic day but about 88% of the levels from that day in 2019.
But the record numbers, which ABIA public information officer Bryce Dubee said are usually reserved for Formula 1's U.S. Grand Prix and both weekends of ACL fest, indicate that travel in Austin may have done more than just recover from the pandemic.

Dubee said the airport's crew was already gearing up for several 30,000+ passenger days by Friday, Nov. 19. Then the first Sunday of the holiday alone saw 32,175 passengers, the second-busiest day on record after this year's USGP race weekend.
Travel from Friday through Wednesday saw 188,168 passengers during the holiday week, already passing the threshold for the busiest Thanksgiving travel season on record.
Since last Friday, 188,168 passengers have chosen to #FlyAUStin, making this our busiest Thanksgiving travel season on record.

As we pause today to give thanks, we're grateful for all those who fly with us, as well as our incredible staff and partners who make this all possible. pic.twitter.com/kqgtV7Ypp1
— Austin-Bergstrom International Airport (AUS) (@AUStinAirport) November 25, 2021
And as travelers returned home with full bellies and weeklong visits behind them, the airport saw 96,030 passengers from Thanksgiving through Sunday. The final Sunday saw just over 30,000 passengers—which still broke 2019 records and obliterated 2020's numbers—but notably, the Sunday before Thanksgiving was the busiest travel day of the period, something that hasn't been seen in years past.
ABIA recommended that travelers arrive three hours early for their flights and find other ways to make the screening process easier as record numbers piled into the airport. But after a record-breaking F1 weekend and other high-traffic days serving as "stress tests" this October, Dubee said the team was prepared for the unprecedented weekend as travelers went to see their family, some for the first time since an 18-month travel ban was lifted.
And the airport is prepping for even more foot traffic in the future with its 2040 master plan. Even as travel dwindled and fewer passengers than ever crossed through TSA checkpoints in peak pandemic times, the airport saw significant expansion: American Airlines added 10 flights to the airport in March, Southwest Airlines announced in September that it would add nine flights in March 2022, and Allegiant, Delta and Hawaiian all tacked on new flights in 2020-21.
While this Thanksgiving week, which normally just scrapes the top ten busiest travel times of the year, saw an unusual year, Dubee said it's too soon to see whether this represents a long-term trend. And especially as the omicron COVID variant sends the world into a frenzy, the winter holidays may not see the fervor of Thanksgiving travel—the holiday season rarely makes a dent on ABIA's high-traffic fall events.
From Your Site Articles
Related Articles Around the Web
It's official, jack-of-all-trades Matthew McConaughey is staying out of politics and not running for Texas governor.
In a video posted to social media on Sunday, the Academy award-winning actor set the record straight that he would not be running for governor after greatly considering so by listening and learning about Texas and U.S. politics.
"As a simple kid born in Uvalde, Texas, it never occurred to me that I would one day be considered for political leadership. It's an inspiring and humbling path to ponder," McConaughey said. "It is also a path I am choosing not to take at this moment."
Instead, McConaughey says he will continue to invest in entrepreneurs, businesses and foundations he believes are supporting people in different ways.
The announcement puts an end to the months of speculation that he could announce a bid for governor. While he's previously called politics a "bag of rats" and little indicated he was mulling a run as the Dec. 13 deadline to file was approaching, he still fared well among some voters.
The latest poll by the University of Texas and Dallas Morning News showed he would beat Gov. Greg Abbott by eight percentage points in a head-to-head matchup and would fare even better alone against former congressman Beto O'Rourke, with nearly 50% of respondents choosing McConaughey.
The primaries for the election will take place in March before the November 2022 election for governor. So far, O'Rourke is running as a Democrat against Michael Cooper, president of the Beaumont NAACP, and Deirdre Gilbert, an educator from the Houston area. On the other side, Gov. Greg Abbott is up against conservative commentator Chad Prather and former Texas GOP Chairman Allen West.
Released this month, "Being Texan" is the first of several Texas Monthly titles to come in the build-up to the magazine's upcoming 50th anniversary in 2023. It is divided into four sections: Identity & Culture, Town & Country, Arts & Entertainment and Food & Drink.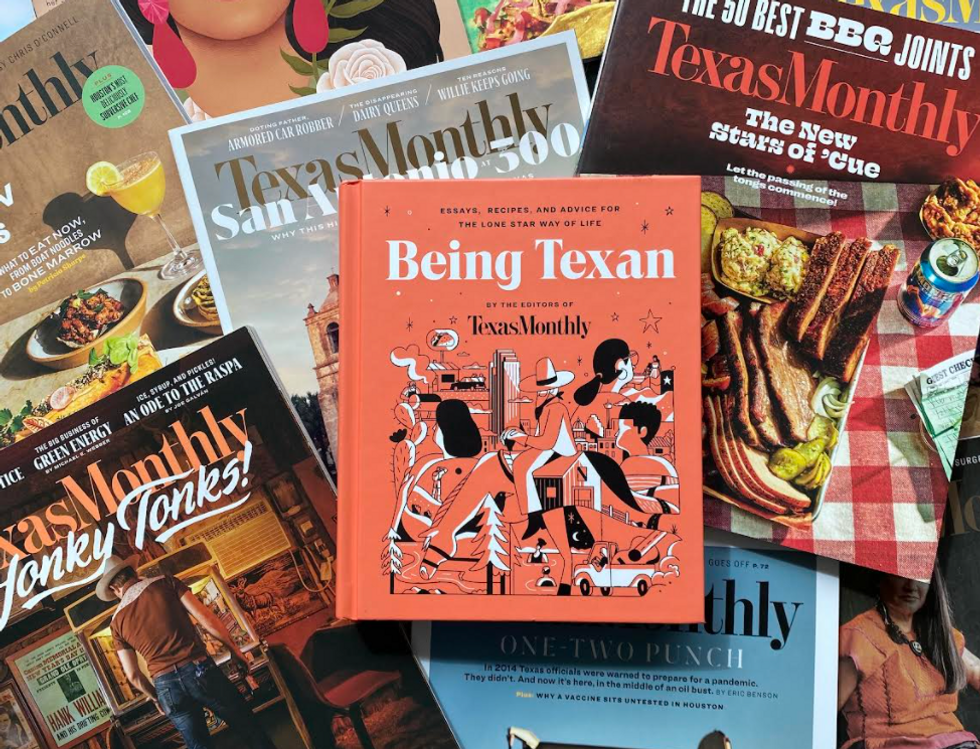 In the introduction, titled "What Does it Mean to Be Texan?," Texas Monthly editor Dan Goodgame addressed the eclectic aspirations of the book, writing: "Our modest goal was to craft a well-informed, thoughtful sampling of the best the state has to offer." To this humble end, forty-two editors were utilized to cover fifty-five topics, which tackle everything from the various dress codes that make up "Texas chic" to Selena's ongoing appeal.
The resulting richness is all over the map, running from Texas Monthly Senior Editor John Nova Lomax's frustration over the frequent mispronunciations of Texas cities ("From Amarila to Wad-a-loop") to Oscar Casares's bittersweet essay on Dia de Los Muertos in the time of COVID ("Souls of the Departed").
The book goes from silly to serious fast, and the pace might unseat some readers who would otherwise just enjoy the ride of pride that comes from being reminded that Texas gave the world Cheetos, Fritos, Doritos, Dr. Pepper, Liquid Paper and the microchip.
So, in a book that switches from the state's early instance on remaining a slave republic to a piece about collecting San Antonio ghost stories, it perhaps goes without saying that the essays on brisket and beer are the easiest to digest.
"Being Texan" does, in truth, contain some delicious and downright literary food writing.
Joe Galvan's "Ode to the Raspa," treats the summertime shaved ice staple as nothing less than a kind of edible ambassador of U.S. cuisine. "They serve as an important and necessary reminder of the fluctuating, imprecise words that American food inhabits," he writes like some semiotics professor, before waxing poetic on how raspas embody childhood innocence as well as "the humidity of a July evening that finds itself at the bottom of a Styrofoam cup."
But readers who are tempted to skim the section on "Strong Texas Women" or "The Evolution of Juneteenth" to get to Paula Forbes' warning not to skip the processed cheese when slow cooking queso, will have missed out on some deep insight into what it means to embrace all the appealing and uneasy aspects of the state.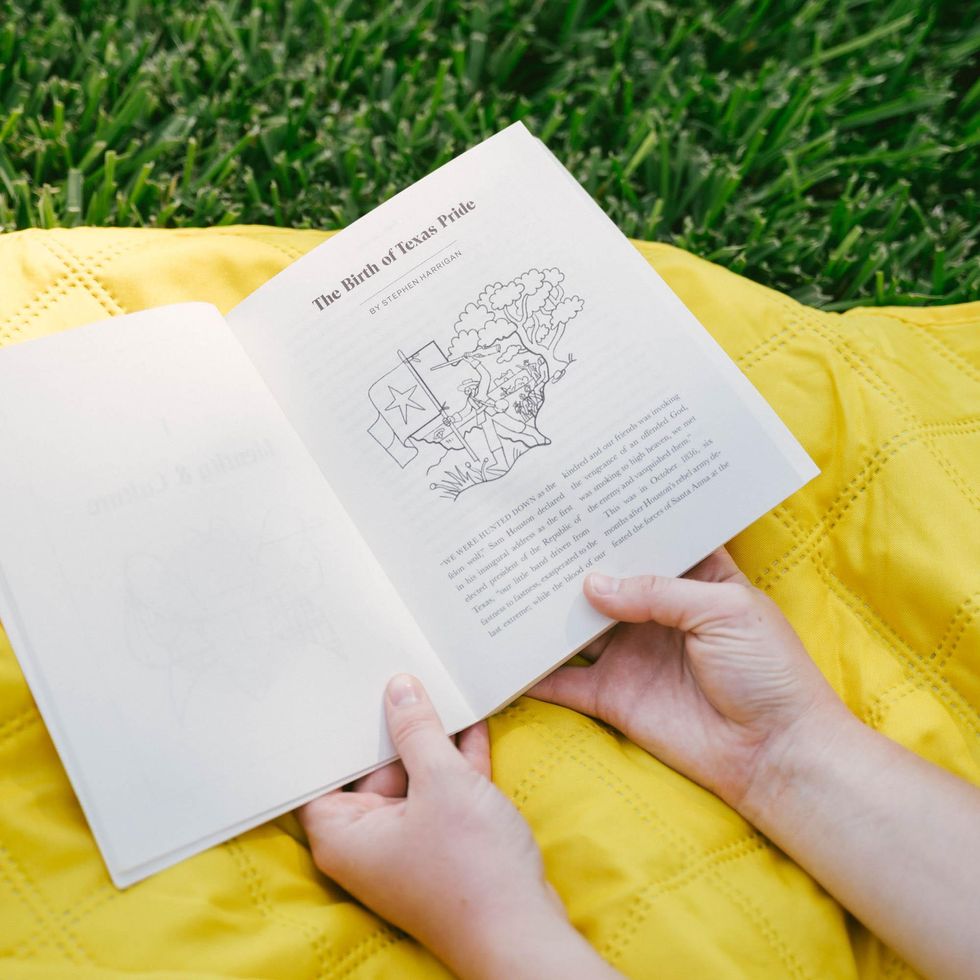 In "A Tale of Two High Schools," Dan Q. Dao, details how, as a Vietnamese kid growing up in Houston, he employed the tropes of Texas culture as a tool of survival. "Perhaps out of a sense of self-preservation, I became enamored with the gilded mythology of Texas, from the folklore of the Alamo to the twang of country music. I wore cowboy boots, showed up for Friday night football games, and rarely missed a rodeo," writes Dao, observing that: "Part of me believed that if I proclaimed my Texanness loudly enough, I would be spared the label of outsider."
The dilemma of the homegrown Texas outsider is artfully explored in Skip Hollandsworth's "Why McMurtry Matter,'' a meditation on the ironic popularity of Larry McMurtry, a writer who wrestled with his relationship to Texas--particularly the Hollywood myths and misconceptions that surrounded the state. Speaking about (to his mind) the perplexing success of "Lonesome Dove," McMurtry said: "All I had wanted to do was write a novel that demythologized the West. Instead, it became the chief source of western mythology. Some things you cannot explain."
There is much about Texas itself that seems hard to explain.
But David Courtney, a senior editor at Texas Monthly, does a good job of speculating on this rare amalgam of conservative pride and fearless experimentation that tends to run through the state, when he writes "Texans believe they possess something deep within themselves that sets them apart, and therefore they kind of do."
Despite the surface-level accessibility of a book that addresses the cultural significance of Neiman Marcus and the extreme brand loyalty to Whataburger, "Being Texan" offers rare input regarding Texas and its citizenry, as well as handy advice for breaking in a pair of cowboy boots.