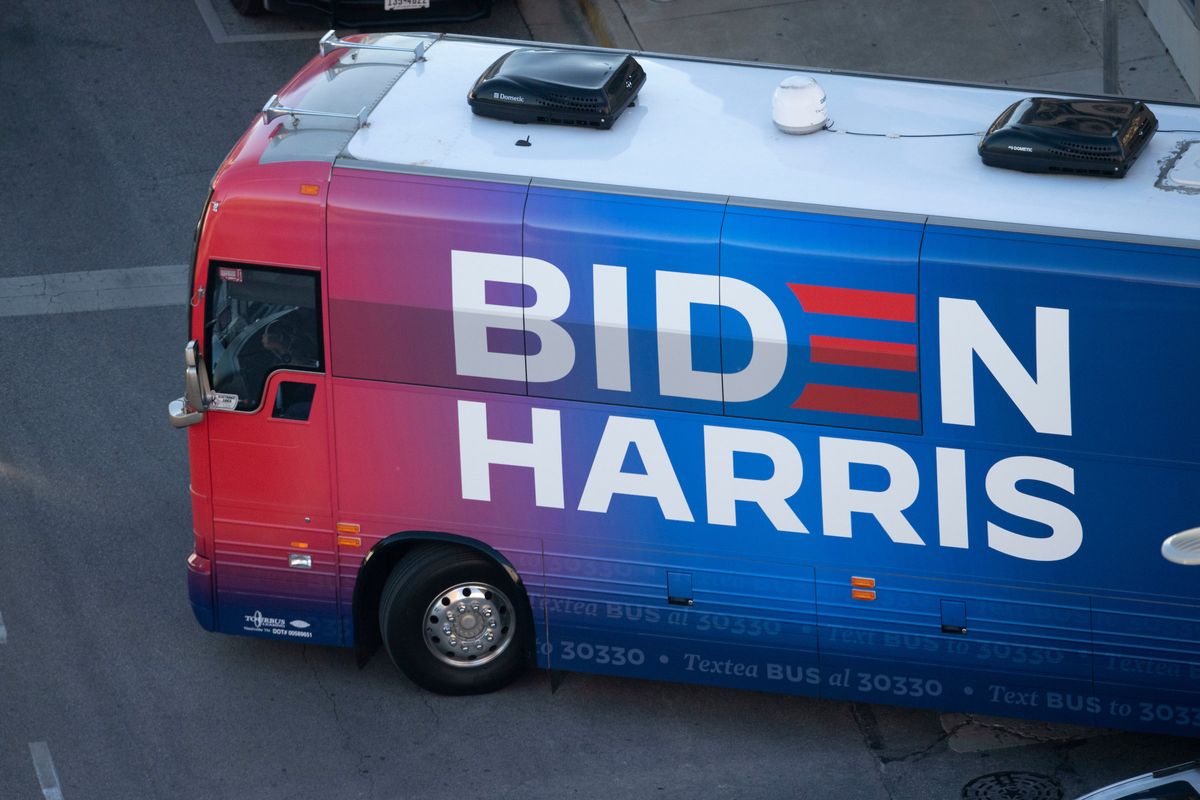 (Bob Daemmrich)
A caravan of President Donald Trump supporters surrounded a Joe Biden campaign bus on I-35 in Hays County to the point that Austin-area political events were canceled Friday due to safety concerns.
---
During the tense road rage exchange, where the "Trump Train" waved Trump and American flags around the Biden bus, a white vehicle driven by a Biden campaign volunteer was hit by one of the pro-Trump supporters.

And now one of those supporters has come forward to claim responsibility for hitting the campaign volunteer's vehicle. Texas man Eliazar Cisneros took credit on Facebook over the weekend, although he offered no evidence to substantiate the claim—except to say his truck was not damaged in the exchange.
The campaign volunteer's vehicle, on the other hand, was severely damaged, based on photos circulating social media:
@ericcervini And here's what happened to that car!! https://t.co/x4l3ssBg7H

— Melissa W. #Vote2020 (@Melissa W. #Vote2020) 1604156857.0
Some conspiracy theorists have already emerged claiming the volunteer's white vehicle actually hit Cisneros' truck, not the other way around, but viral video shows several pro-Trump trucks swarming the Biden bus and the volunteer's white vehicle, which was located behind the bus before being forced from the spot.

Texas House Rep. Sheryl Cole, D-Austin, announced Friday on social media that a Joe Biden-Kamala Harris campaign event in Pflugerville was canceled because the Trump supporters "escalated things well beyond safe limits, and we cannot risk the safety and security of anyone involved."
The incident was concerning enough for the FBI to announce an investigation Saturday, and the Texas Department of Public Safety confirmed its own investigation Sunday.
Despite the investigations, Trump and other prominent Republicans have expressed support for the trucks that swarmed the Biden campaign bus.
In my opinion, these patriots did nothing wrong. Instead, the FBI & Justice should be investigating the terrorists,… https://t.co/FMdJFrGRQO

— Donald J. Trump (@Donald J. Trump) 1604279933.0
The Biden campaign issued its own statement: "...Trump supporters in Texas [Friday] decided to put our staff, surrogates, supporters, and others in harm's way. Our supporters will continue to organize their communities for Joe Biden, Kamala Harris and Democrats up and down the ballot, and to the Texans who disrupted our events today: We'll see you on November 3rd."