Get connected with our daily update
(Emma Freer/Austonia)
In just over two months, President-elect Joe Biden and Vice President-elect Kamala Harris will take office, where they will be tasked with responding to the coronavirus pandemic and the economic crisis it has precipitated.
---
Biden and Harris have made clear that they will take a different approach than President Donald Trump, urging Americans to wear masks and promising to "listen to science" as they form their public health policies.
Once inaugurated on Jan. 20, they will likely oversee the distribution of a COVID vaccine—and attempt to unify a divided country.
A state divided
Don Kettl, a professor of the Lyndon B. Johnson School of Public Affairs at the University of Texas at Austin, said this will be a challenge.
"Texas has seen some of the sharpest tensions in the country between the state and local governments, especially between the state and its largest cities," he wrote in an email to Austonia.
Earlier in the pandemic, officials in Austin and other large Texas cities implored Gov. Greg Abbott to impose a state-wide mask mandate and grant them the authority to limit gatherings. Ultimately, Abbott allowed local jurisdictions to require businesses to mandate masks on their premises.
With COVID cases and hospitalizations increasing in Austin and across Texas, this dynamic is likely to recur.
"The virus, sadly, is flaring up again, and that is likely to bring all those tensions to the surface," Kettl wrote. "This time, getting people to follow tighter restrictions will be even harder."

The moving average number of new COVID cases reported in Travis County each day has been increasing steadily.(Austin Public Health)
Dr. Diana Fite, president of the Texas Medical Association and an ER physician in Houston, said the current surge appears to be larger than the one that occurred over the summer, which she attributed to school reopenings and the recent elections.

But it also appears to be less deadly.
"There's no question that we aren't seeing quite as serious of cases, which is good news," she said.
This is due to many reasons: more cases are occurring among young people, doctors are more familiar with the disease and how to treat it, and high-risk groups are more likely to reduce their risk of exposure—or have already died of COVID.
Although TMA cannot predict how the incoming administration might change the COVID response in Texas, Fite said she hopes its "decisions are driven by data and science."
Austin-Travis County Interim Health Authority Dr. Mark Escott said that Biden and Harris will have the dual challenges of encouraging Americans to mitigate the spread of COVID while also depoliticizing their message.
"There's going to be work to be done to ensure that folks do not feel that this is a political effort," he said last week. "It is science, and we've got to work hard to convince those who have not been convinced so far that the threat is real, that it is a danger to our community and that we will still have hundreds of thousands of people who may lose their lives because of COVID-19."
Beyond COVID
Division will also likely affect other areas of governance—at both the federal and state levels.
Nationally, Trump's refusal to concede the race has prevented Biden's transition team from having access to key members of the current administration—such as Dr. Anthony Fauci, director of the National Institute of Allergy and Infectious Diseases—or to the daily intelligence briefing, Kettl said.
"The first problem can create a lot of speed bumps," he added. "The second can sow the seeds of a genuine foreign policy crisis if the handoff of sensitive issues creates an opportunity for a foreign power."
This tension may also trickle down to the state level.
"After Biden's inauguration, polarization is likely to get even worse," Kettl said, pointing to the upcoming session of the Texas Legislature, where lawmakers will set the state's budget and redraw district boundaries, and the 2022 gubernatorial race.
"The battle lines will be sharp, and the battles will begin almost immediately."
The Texas French Bread Bakery, located on 2900 Rio Grande Street, has been completely destroyed after a fire erupted on Monday night.
The Austin Fire Department responded to the fire just before 11 p.m., where they arrived to see flames coming from the roof of the bakery. Firefighters fought the fire for about an hour before the roof collapsed.
While no one was injured in the fire, firefighters say the historic building was completely totaled.
AFD determined that the fire was accidental and caused by mechanical failure. AFD said the damages amounted to $1.6 million total: $1.1 million in structural damage and $500,000 in damage to the contents of the bakery.

This year, Texas French Bread will celebrate 40 years of business. Before the bakery occupied the building, it was the Rome Inn, a music venue that hosted 1970s artists like Stevie Ray Vaughan.
Austin's first major league team is ready to extend its reach with a new collaborative sports complex The Pitch, an Austin FC destination packed with local food, beverages and Verde fervor is set to open in Northeast Austin in February.
The Pitch, a collaboration between Austin FC and Karlin Real Estate, among other entities, will be located in the 50-acre Parmer Pond District, which already hosts the club's practice facility St. David's Performance Center.
Dubbed a "true destination" for both soccer fans and the community, The Pitch will consist of multilevel shipping containers designed by Mark Odom Studio that will carve out into a 1,200-seat stadium complete with a soccer pitch made of turf, food and beverage options and a five-acre "Parmer Pond" featuring jogging trails.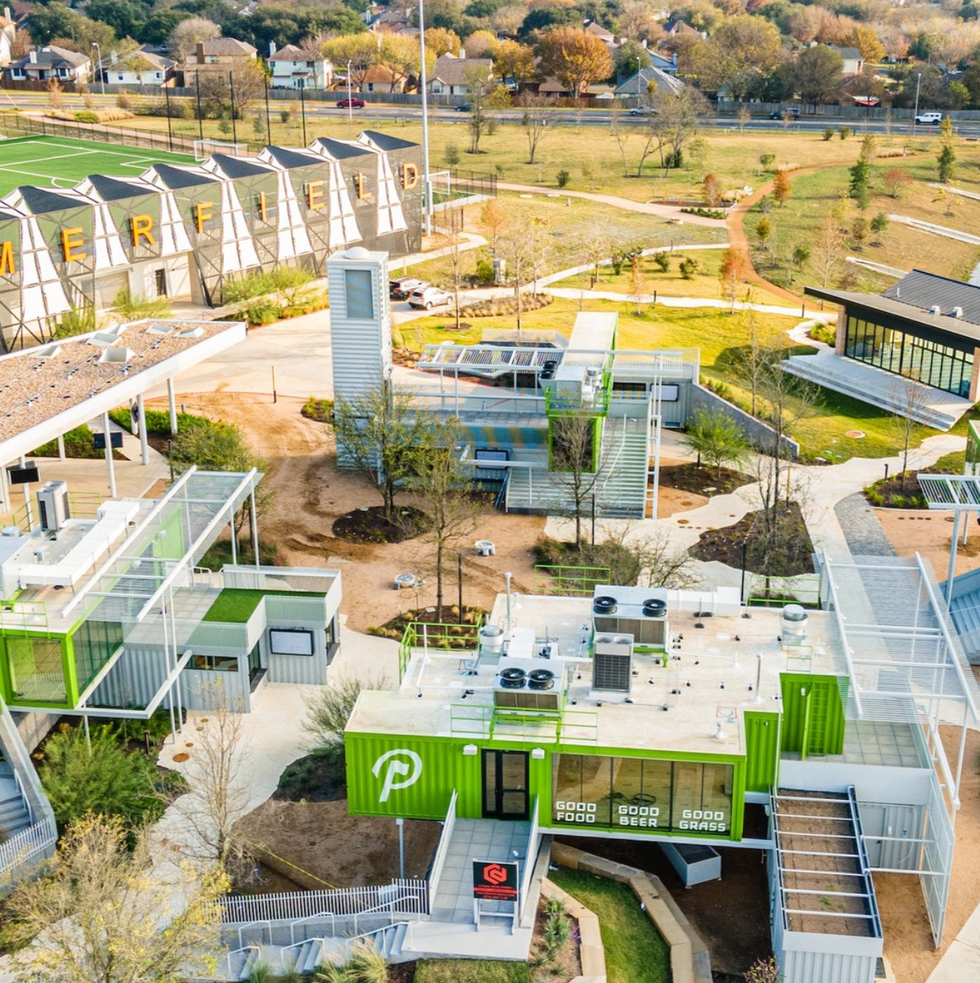 Made from multilevel shipping containers, The Pitch will include food and a 1,200-seat soccer pitch made from artificial turf. (The Pitch)
"The launch of Karlin's new food and entertainment experience will greatly enhance the Parmer development while perfectly complimenting St. David's Performance Center," Austin FC founder Anthony Precourt said. "The Pitch... will offer a strong variety of food options and gathering spaces for guests who will utilize St. David's Performance Center and Parmer Field for a variety of events."
The Pitch project lead Dave Greeley, who helped come up with the concept, is a former president of Austin FC parent company, Two Oak Ventures.
"The vision behind The Pitch at the Parmer Pond District is to be a first-of-its-kind sports, dining and entertainment destination," said Dave Greeley, The Pitch project lead and Team Orbis president. "This will be an unmatched experience for Parmer Austin tenants, Austin FC and club supporters, and the community."
With its proximity to the practice center, the venture hopes to contribute to the growing "soccer city" of Austin during Austin FC matches and youth games with the Austin FC Academy hosted at the St. David's Performance Center.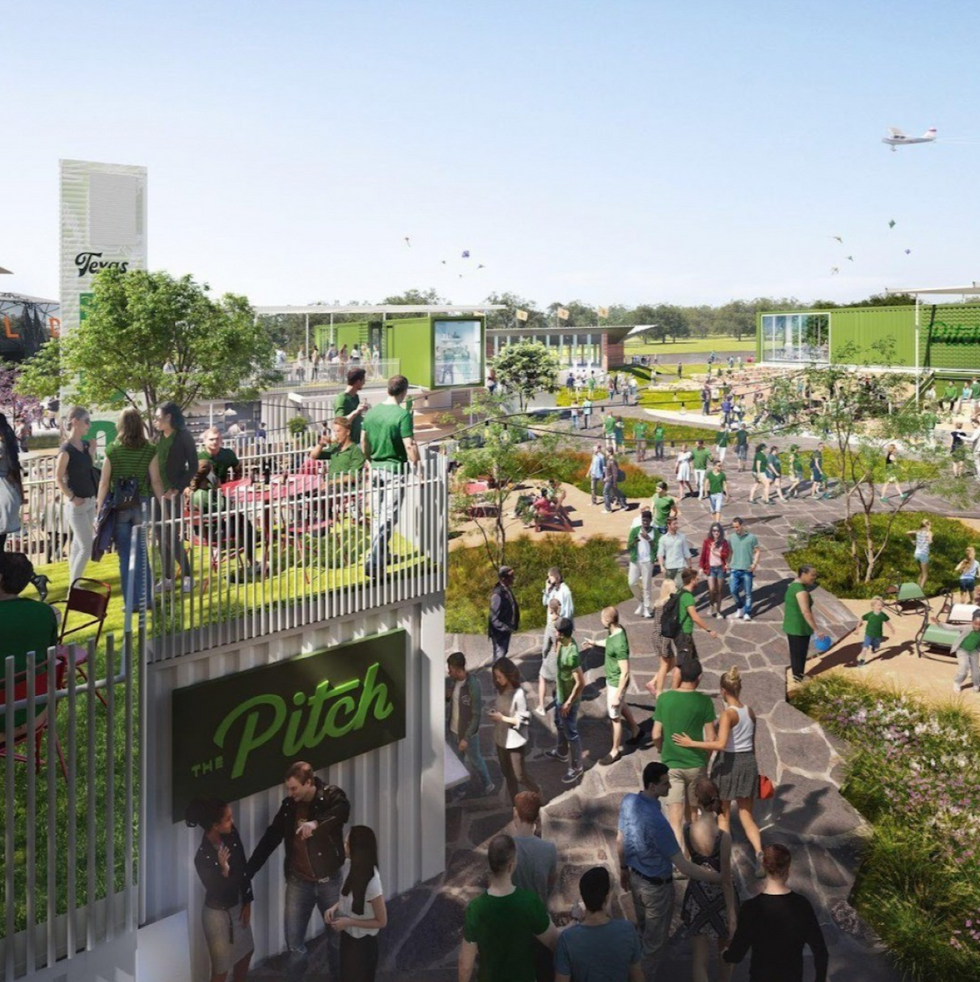 The Pitch hopes to converge both community and club interests with Austin FC. (The Pitch)
In addition to the soccer pitch, stadium and pond, The Pitch will provide a foody experience made by the creative team behind Austin staples like Fareground and Easy Tiger. The complex will offer local bites including:
Ranger Burger, which offers beers and burgers made from highly-coveted Wagyu beef direct from Ranger Cattle in East Austin
Ga Roti, which merges flavors from Northern Vietnam with the culinary techniques of France to create a unique rotisserie chicken joint
Taco Flats, a local taco chain serving Mexico City-style tacos, micheladas and more
Sand Bar, which fulfills its namesake with beauty cocktails, local beers and a sand volleyball court
Coffee Club, a coffee shop and bakery
Corner Kick Bar, the soccer-focused main bar of The Pitch complete with "tunes, TVs and (a) beer garden"
The Pitch will squeeze between St. David's Performance Center and Parmer Pond alongside the southern edge of Parmer Austin, a Karlin Real Estate venture that will eventually include multifamily housing, corporate office space and an aerospace and defense center.