Get connected with our daily update
Austin's big tech offices are starting to open up—to varying degrees.
Over a year of remote work later, some companies found it to be the perfect fit, while others experienced less productive employees. Overheard on Conference Calls, a workplace reviews site, ranked Austin as the third best city for remote work last year based on a variety of factors, including cost of living, average WiFi speed, commute time savings and coffee shops per capita.
---
Nevertheless, most tech companies are adopting a hybrid model, allowing more remote options than they did pre-pandemic but reinstating in-office minimums at the same time. Here's how six Austin offices are handling the transition. (Oracle declined to comment.)
Amazon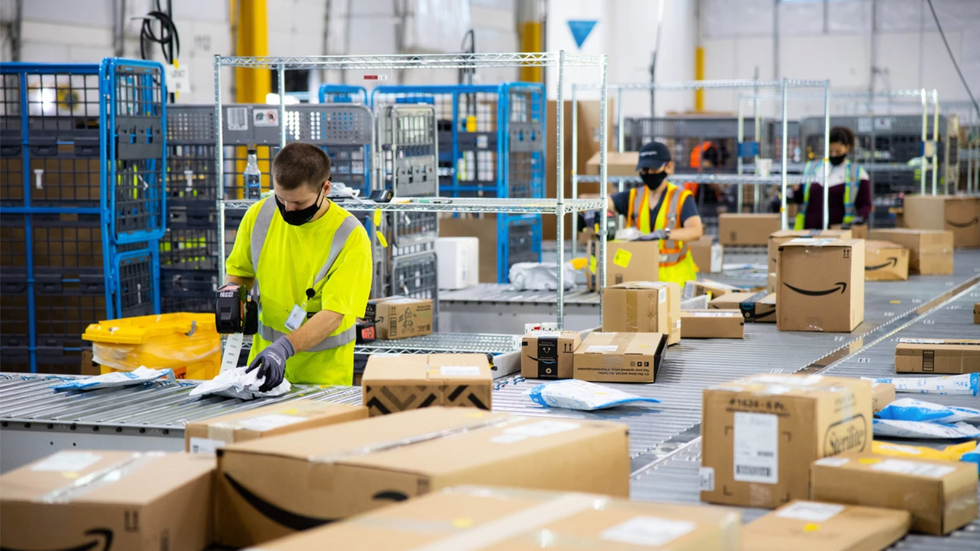 In addition to its corporate office at the Domain, Amazon is also planning to open fulfillment centers in Kyle, San Marcos and Pflugerville. (Amazon)
Office: The Domain
Approximately 1,000 corporate employees
Amazon expects its U.S. office employees will return to the office through the summer, with most back in the office by early fall, according to companywide guidance issued March 30. At that time, about 10% of the company's corporate employees were working from the office full-time.
Apple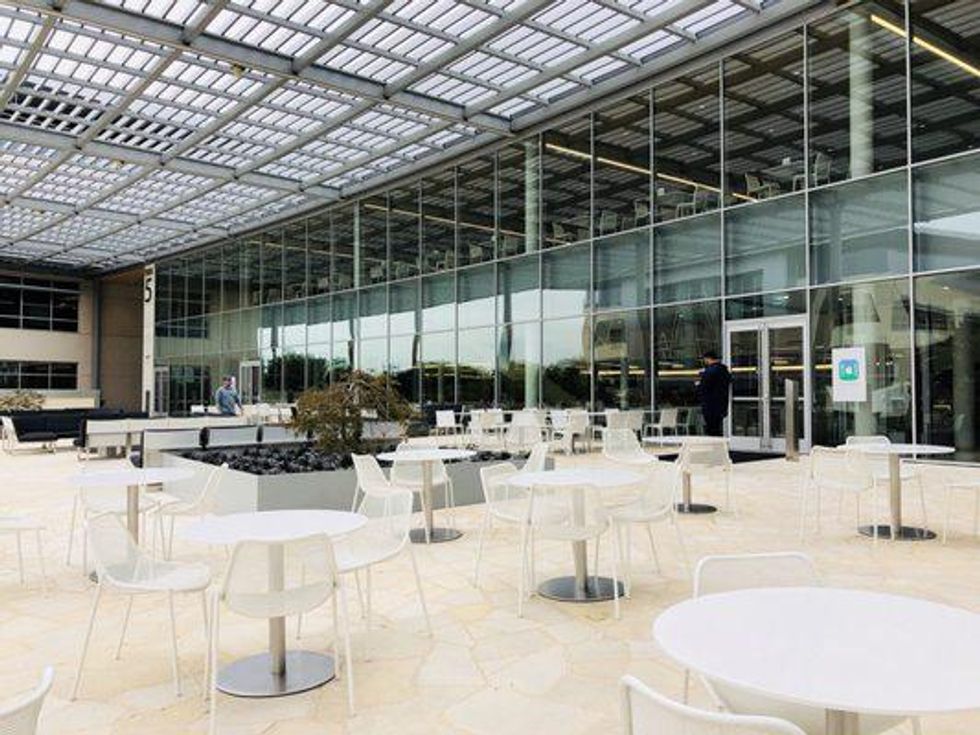 Office: Riata Vista Circle
Approximately 7,000 employees
Apple CEO Tim Cook sent out an email last week informing employees that they will return to the office three days a week starting in early September, according to multiple reports. Employees will be able to work remotely for up to two weeks a year, so long as management approves their requests.
Dell Technologies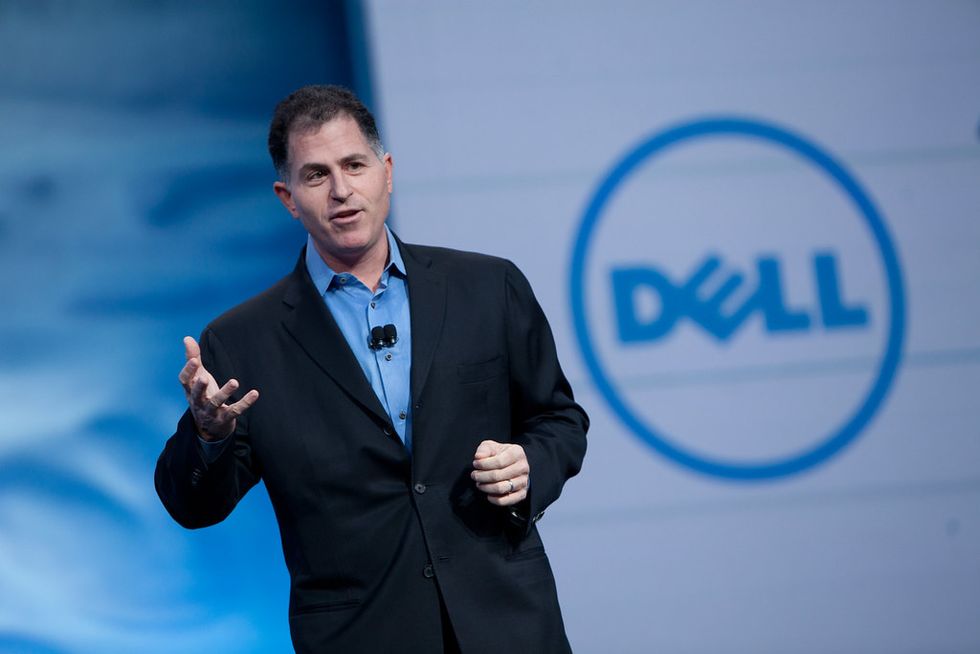 Dell Technologies CEO Michael Dell believes remote working will be the new normal. (Stock photo)
Multiple offices
Approximately 13,000 employees in Central Texas
Most Dell employees continue to work remotely, Senior Vice President Mark Pringe said in a statement to Austonia. Before the pandemic, 65% of the company's employees worked flexibly and 30% worked remotely on any given day. Last March, the company transitioned 90% of its team to remote work, and the majority are still remote today.
Moving forward, the company will continue to encourage flexibility and anticipates a hybrid model will emerge. "If employees can successfully do their job from home, they can work with their manager to make the choice to do so," Pringle said."
CEO and founder Michael Dell told the technology news site CRN in March that "remote working is absolutely here to stay," explaining that a company that offers flexibility will be more attractive to potential hires than one that doesn't.
Facebook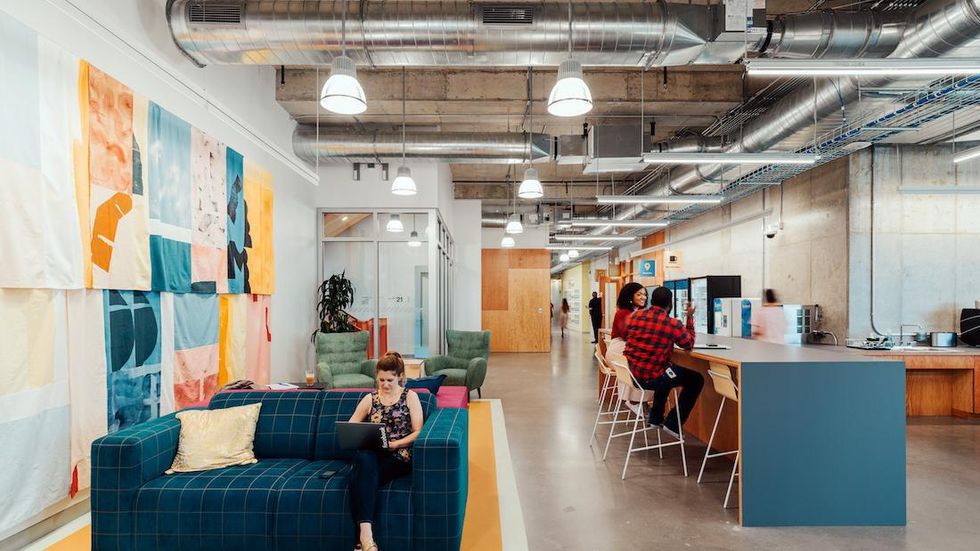 Facebook's downtown office opened at Third + Shoal in September 2019. (Facebook)
Offices: The Domain, Parmer Innovation Center, West Sixth Street
Approximately 1,200 employees
Facebook's Austin employees have not yet returned to local offices, and the company is still developing its return-to-office plan, Head of Local Communications Tracy Clayton wrote in an email to Austonia.
The plan will likely include increased flexibility, with both in-office and remote options. "We believe people and teams will be increasingly distributed in the future, and we're committed to building an experience that helps everyone be successful, no matter where they're working," Clayton said.
Google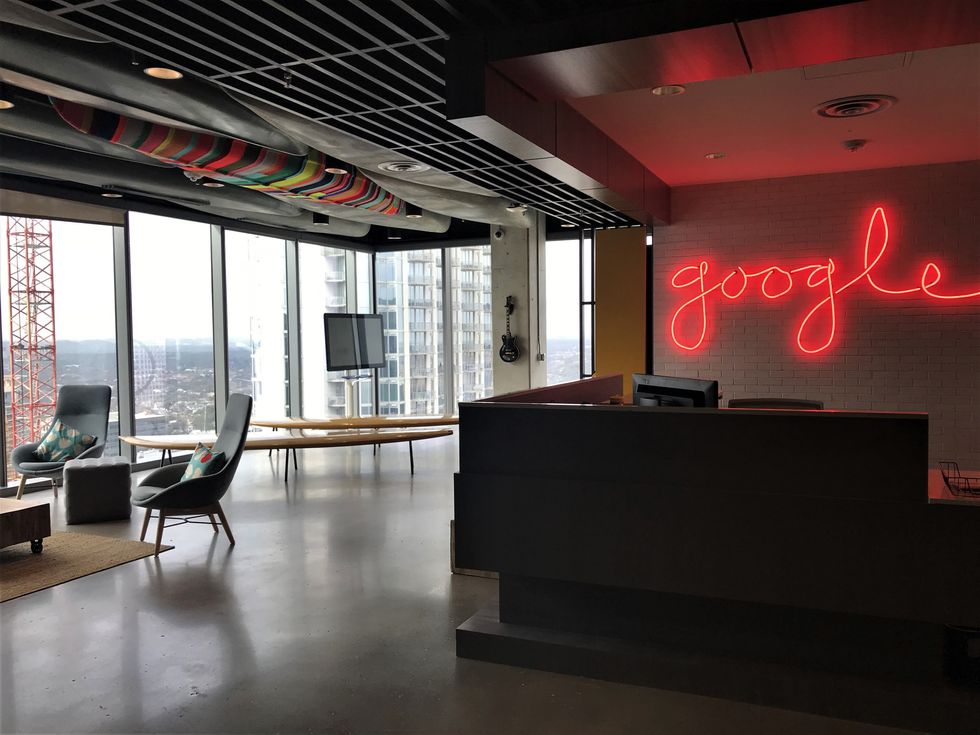 (Shutterstock)
Offices: West Second Street, Saltillo
Approximately 1,100 employees
Google declined to share Austin-specific return-to-office details through a spokesperson but referred to a recent blog post from CEO Sundar Pichai, which lays out a plan for all offices. It includes:

A hybrid work week where most employees spend three days in the office and two where they work best, with in-office time focused on collaboration
Employees will be able to apply to move to another office or to full-time remote work (compensation will reflect the base location)
Pichai "fully expects" the share of employees working remotely to increase in the coming months, according to the post. He estimates 60% will fall into a hybrid schedule, 20% will switch offices and 20% will work remotely.
An internal survey conducted by Google last June found that engineers reported feeling less productive than they did pre-pandemic, according to reports.
IBM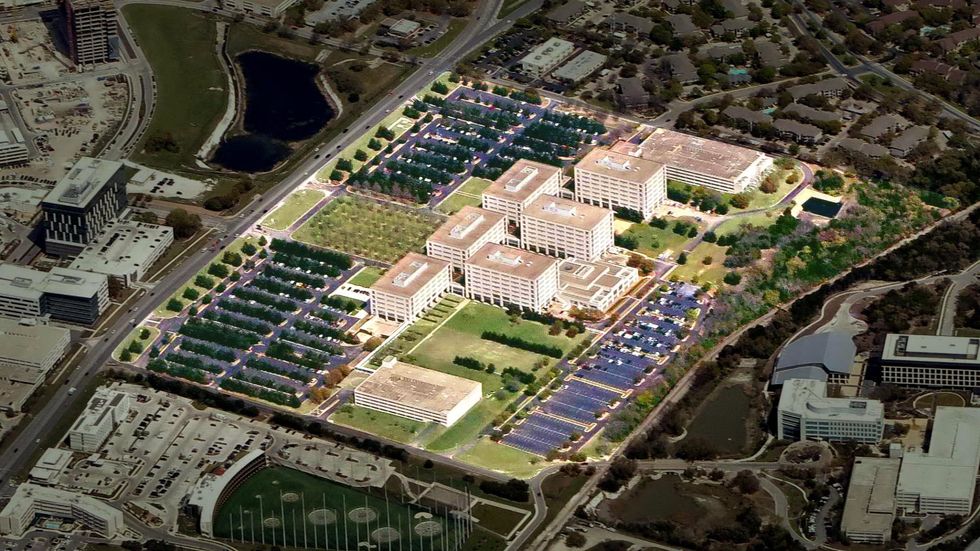 (Brandywine Realty Trust)
Office: Burnet Road
Approximately 6,000 employees
Around 90% of IBM's Austin employees are still working remotely as the company moves toward a hybrid office model similar to its pre-pandemic norm, according to a spokesperson.
CEO Arvind Krishna told Bloomberg in March that he expects 80% of employees to work in a hybrid model post-pandemic, with the remainder staying entirely remote. But he raised concerns about the impact such a split would have on the company's culture. "When people are remote I worry about, 'What's their career trajectory going to be?'" he told the business news site.
East Austin restaurant la Barbecue has been robbed a third time in less than three months, according to a post on the restaurant's Instagram.
In the post, the restaurant included photos of what appeared to be a man exiting a minivan from surveillance footage.
"This guy pulled up in a car full of stuff… he ripped our gate open and stole a couple empty kegs," the post said. "The ring system scared him off so he did not venture back into the area. PLEASE EVERYONE ON THE EAST SIDE BE CAREFUL!!! This guy goes back into his car to grab something before he goes in. I am hoping he won't be back!!"
The robbery comes as many restaurant and food truck owners have been on guard from recent break-ins. East Austin cheesesteak truck R&B's Steak and Fries has also been robbed three times in around three months, according to owner Kris Elliott. Elliot said the truck was last robbed around a month and a half ago.
"When the weather gets cold, it seems like these things start to happen more often," Elliott said. "We're just happy no one got hurt."
Additionally, he said all 5 of the food trucks in their lot have experienced burglaries. The landlord of the space is taking action by investing in alarm and camera systems. "Been very tough dealing with this problem as us small business owners are just trying to survive during the pandemic," Elliott said.
And it's not just in East Austin. North Austin restaurants Eldorado Cafe and Chez Zee Bistro were both broken into and robbed on the weekend of Jan. 8, while over a dozen food truck robberies and break-ins were reported in the latter half of 2021.
Some, like Chez Zee's Deborah Velasco, wonder if the understaffed Austin Police Department's decision to no longer respond to non-emergency calls is part of the problem. Xose Velasco, owner of East Austin's Discada, said owners are keeping their guard up in the wake of the robberies as he was robbed twice within a month of reopening in November 2021.
"We try to keep the lights on," Velasco said. "We're a little bit more careful."
After 12 months, the long-anticipated massive Tesla factory in Southeast Travis County is up and operating and everyone wants a look inside.
Phase 1 of Giga Texas appears to be tied up as production of the Model Y Tesla is underway, the electric car company revealed on Wednesday in its fourth-quarter earnings call. The factory, located on the former Harold Green-turned Tesla Road, sits on more than 2,000 acres of land in southeast Travis County.
Here's a glimpse inside the factory.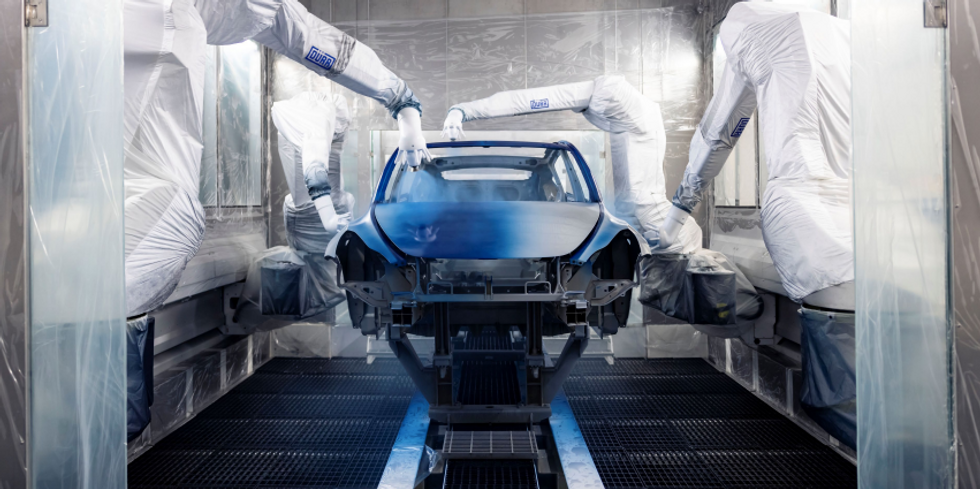 (Tesla)
Model Ys will be the first Teslas to come out of Giga Texas with an estimated delivery of August. The wait estimate comes after Tesla noted supply chain issues have affected their factories, which have been running below capacity for several quarters. A deep blue metallic like this goes for $1,000 more than a white or silver Model Y, totaling $61,990.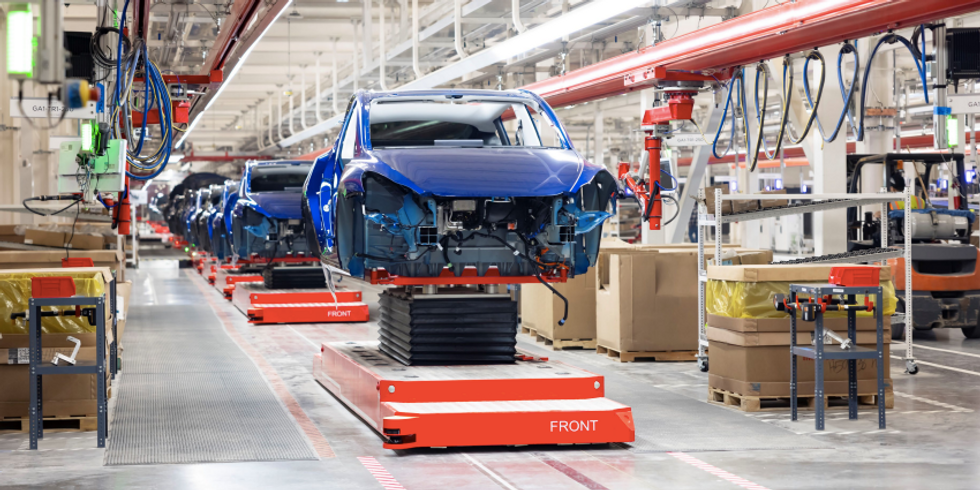 Model Ys began being produced at Giga Texas at the end of 2020. In general assembly at the factory, the Teslas get their major interior components to finish the vehicle.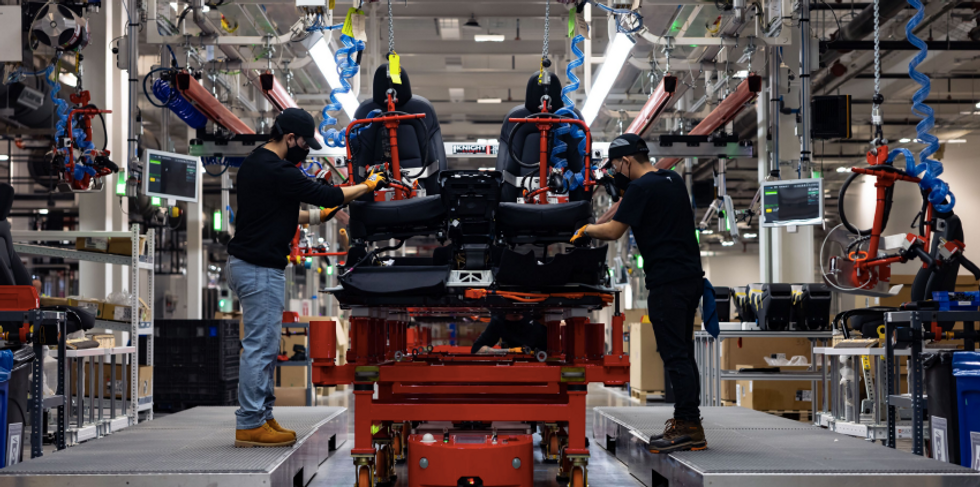 (Tesla)
Workers at Austin's Gigafactory are attaching seats to a structural battery pack. It's been described by some as the biggest difference between Texas-made Model Y's and the current version at the Fremont, California factory. It shouldn't have a major impact on the owner's experience, but Tesla has updated instructions for the jacking procedure, as the lift points are different.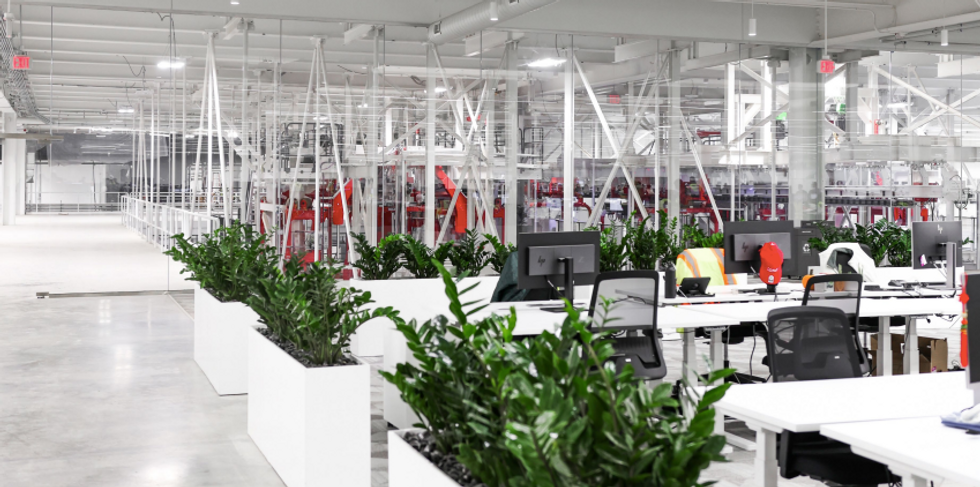 With a sleek, open office setup, workers can take in a view of the factory from their seats. It's a component CEO Elon Musk wanted for what is now the headquarters of Tesla.
On the Austin, Texas public location Snapchat, a photo of inside Giga Texas has appeared. On the left you can see a sneak peek of a Model Y body.pic.twitter.com/N7zliZ5vkL

— Sawyer Merritt (@Sawyer Merritt) 1643081462
With Snapchat's maps, anyone can look at everyday activity happening at the factory. To view these geographically-linked stories, click the bottom left "map" icon and search "Tesla Giga Texas." Once you've found it, you can view the Snapchat story of those in and around the facility. While most stories stay up for only 24 hours, Giga Texas is a designated place on Snapchat, allowing users to view a collection of photos and videos from the inside.
Following Model Ys, Texas-made Teslas will include the Cybertruck, Semi and Model 3. But it might be a while before those other models arrive. EV makers have been hit hard by the chip shortage, and it's thought that changing features are contributing to Cybertruck delays as Tesla works to compete in the electric pickup market.
Joe Rogan paid a visit to buddy Elon Musk this week. The two have been seen around town since both moving to Texas. Naturally, Rogan was impressed with the prototype.
If you're dying to get a closer look at this factory, you just might get to. In December, Musk said the factory would have tours available to the community early this year.