Get connected with our daily update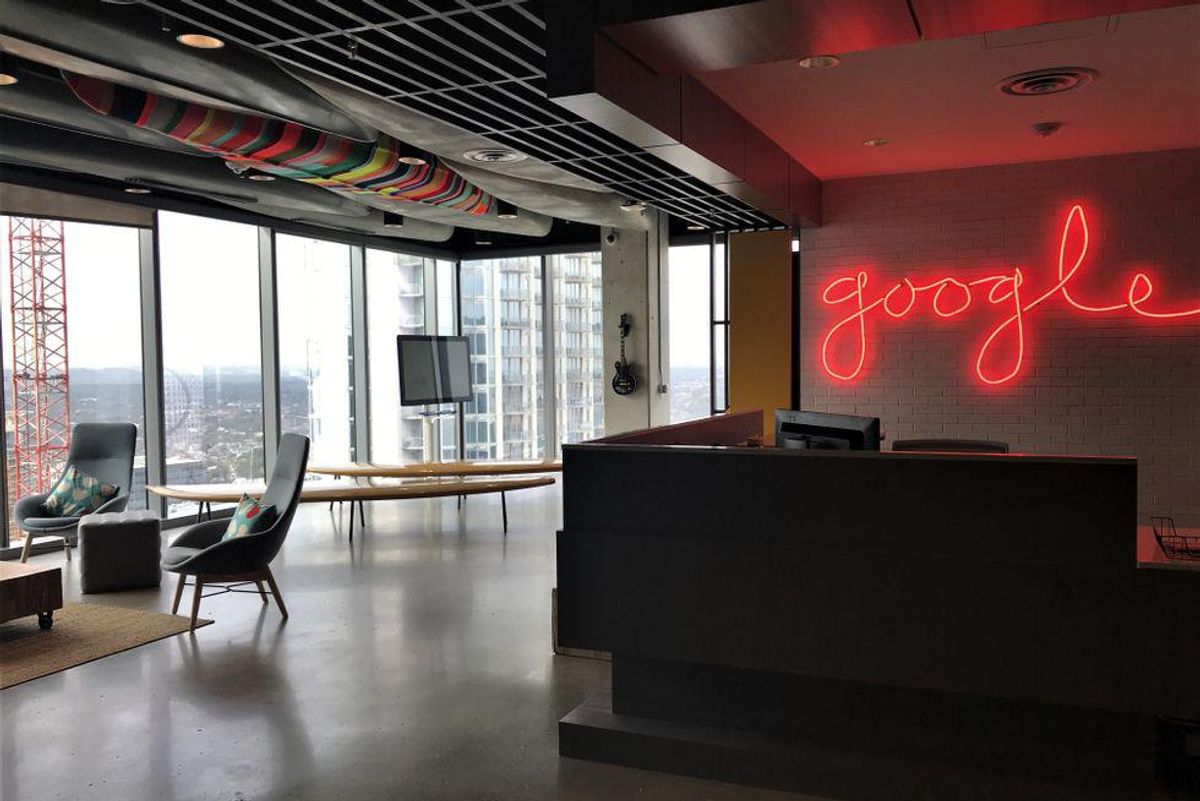 Austin's big tech offices are starting to open up—to varying degrees.
Over a year of remote work later, some companies found it to be the perfect fit, while others experienced less productive employees. Overheard on Conference Calls, a workplace reviews site, ranked Austin as the third best city for remote work last year based on a variety of factors, including cost of living, average WiFi speed, commute time savings and coffee shops per capita.
---
Nevertheless, most tech companies are adopting a hybrid model, allowing more remote options than they did pre-pandemic but reinstating in-office minimums at the same time. Here's how six Austin offices are handling the transition. (Oracle declined to comment.)
Amazon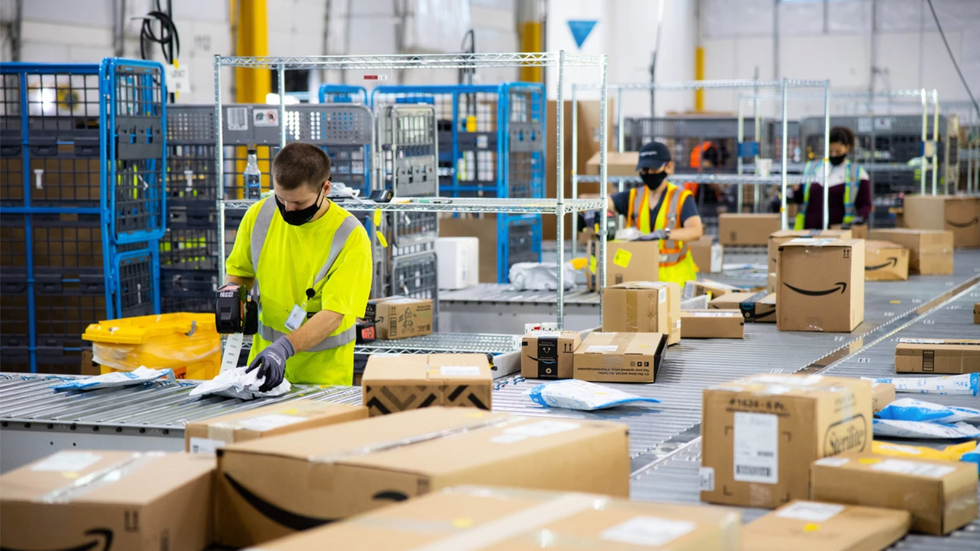 In addition to its corporate office at the Domain, Amazon is also planning to open fulfillment centers in Kyle, San Marcos and Pflugerville. (Amazon)
Office: The Domain
Approximately 1,000 corporate employees
Amazon expects its U.S. office employees will return to the office through the summer, with most back in the office by early fall, according to companywide guidance issued March 30. At that time, about 10% of the company's corporate employees were working from the office full-time.
Apple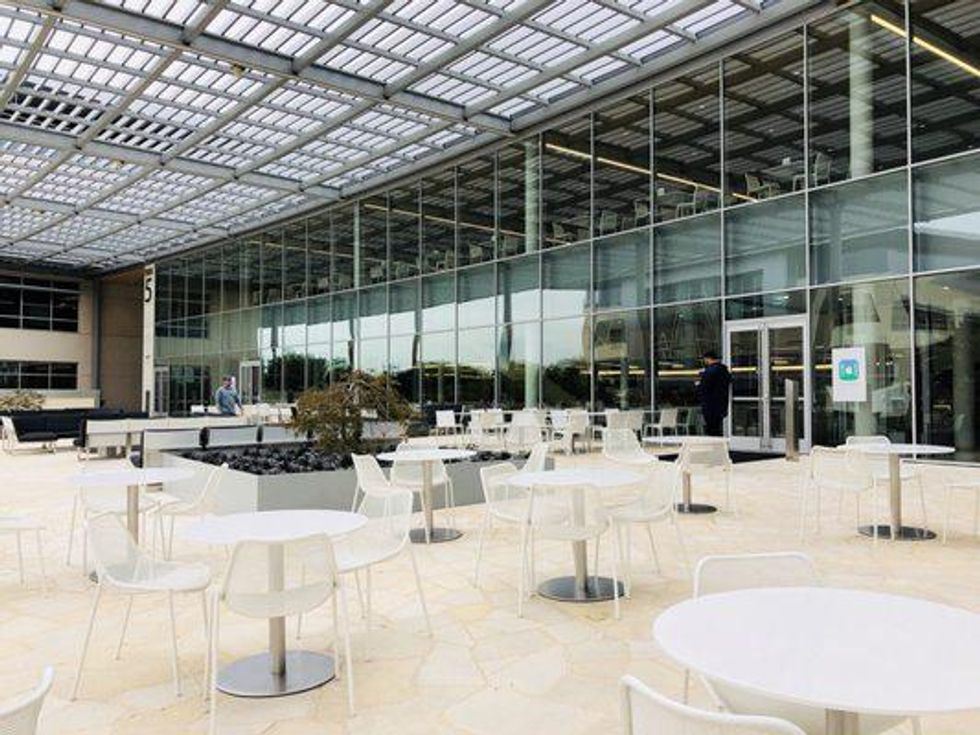 Office: Riata Vista Circle
Approximately 7,000 employees
Apple CEO Tim Cook sent out an email last week informing employees that they will return to the office three days a week starting in early September, according to multiple reports. Employees will be able to work remotely for up to two weeks a year, so long as management approves their requests.
Dell Technologies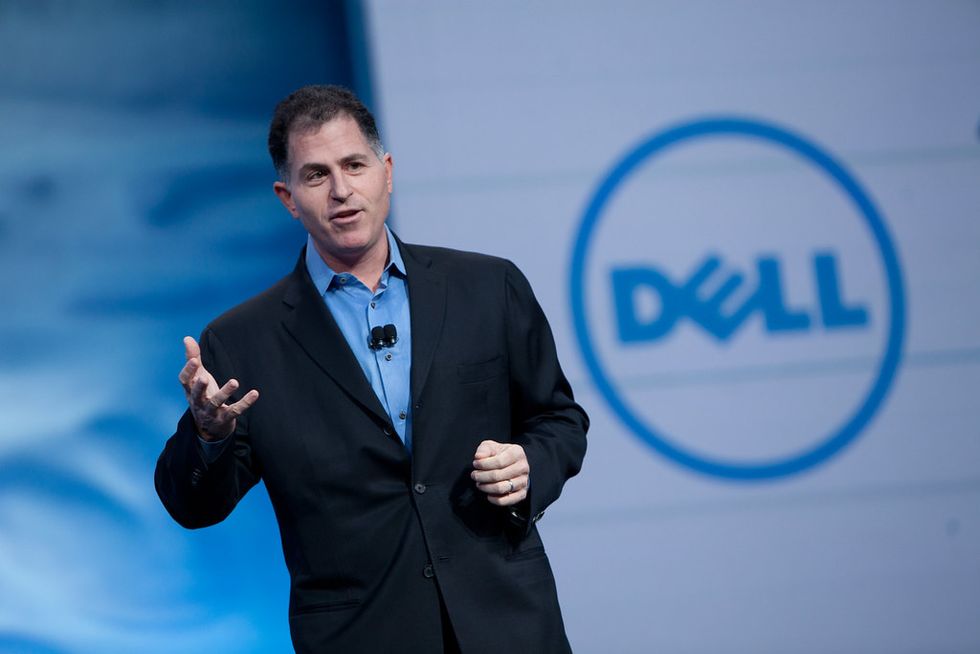 Dell Technologies CEO Michael Dell believes remote working will be the new normal. (Stock photo)
Multiple offices
Approximately 13,000 employees in Central Texas
Most Dell employees continue to work remotely, Senior Vice President Mark Pringe said in a statement to Austonia. Before the pandemic, 65% of the company's employees worked flexibly and 30% worked remotely on any given day. Last March, the company transitioned 90% of its team to remote work, and the majority are still remote today.
Moving forward, the company will continue to encourage flexibility and anticipates a hybrid model will emerge. "If employees can successfully do their job from home, they can work with their manager to make the choice to do so," Pringle said."
CEO and founder Michael Dell told the technology news site CRN in March that "remote working is absolutely here to stay," explaining that a company that offers flexibility will be more attractive to potential hires than one that doesn't.
Facebook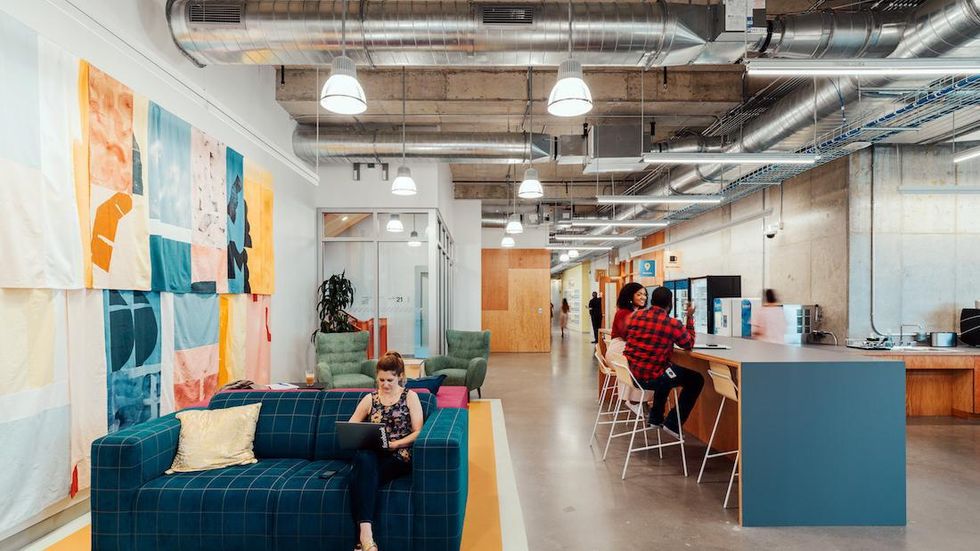 Facebook's downtown office opened at Third + Shoal in September 2019. (Facebook)
Offices: The Domain, Parmer Innovation Center, West Sixth Street
Approximately 1,200 employees
Facebook's Austin employees have not yet returned to local offices, and the company is still developing its return-to-office plan, Head of Local Communications Tracy Clayton wrote in an email to Austonia.
The plan will likely include increased flexibility, with both in-office and remote options. "We believe people and teams will be increasingly distributed in the future, and we're committed to building an experience that helps everyone be successful, no matter where they're working," Clayton said.
Google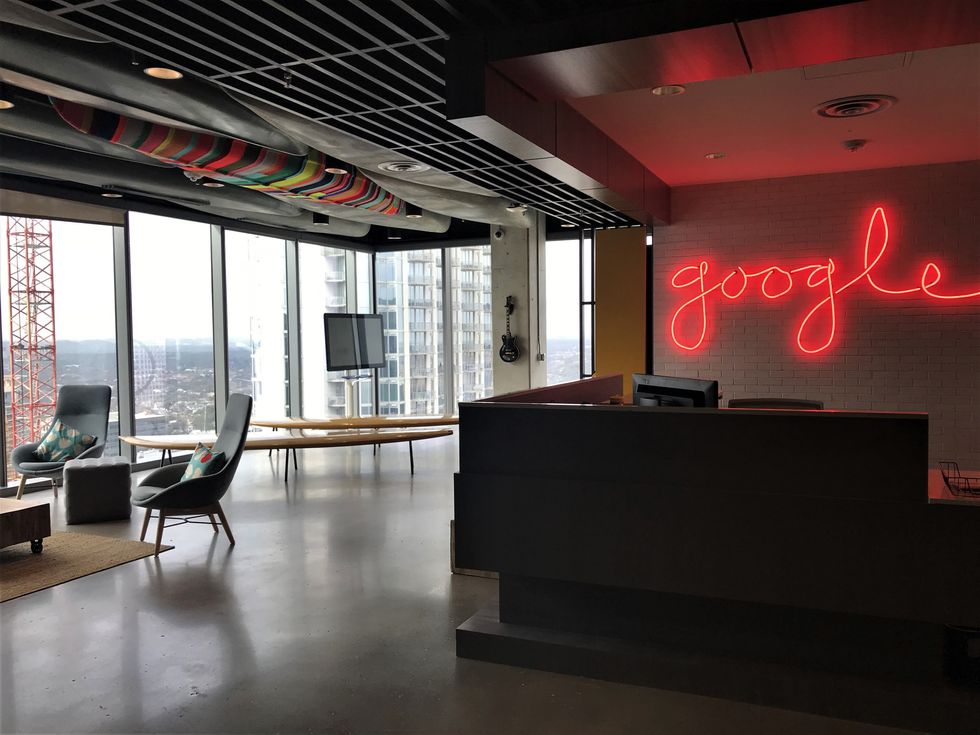 (Shutterstock)
Offices: West Second Street, Saltillo
Approximately 1,100 employees
Google declined to share Austin-specific return-to-office details through a spokesperson but referred to a recent blog post from CEO Sundar Pichai, which lays out a plan for all offices. It includes:

A hybrid work week where most employees spend three days in the office and two where they work best, with in-office time focused on collaboration
Employees will be able to apply to move to another office or to full-time remote work (compensation will reflect the base location)
Pichai "fully expects" the share of employees working remotely to increase in the coming months, according to the post. He estimates 60% will fall into a hybrid schedule, 20% will switch offices and 20% will work remotely.
An internal survey conducted by Google last June found that engineers reported feeling less productive than they did pre-pandemic, according to reports.
IBM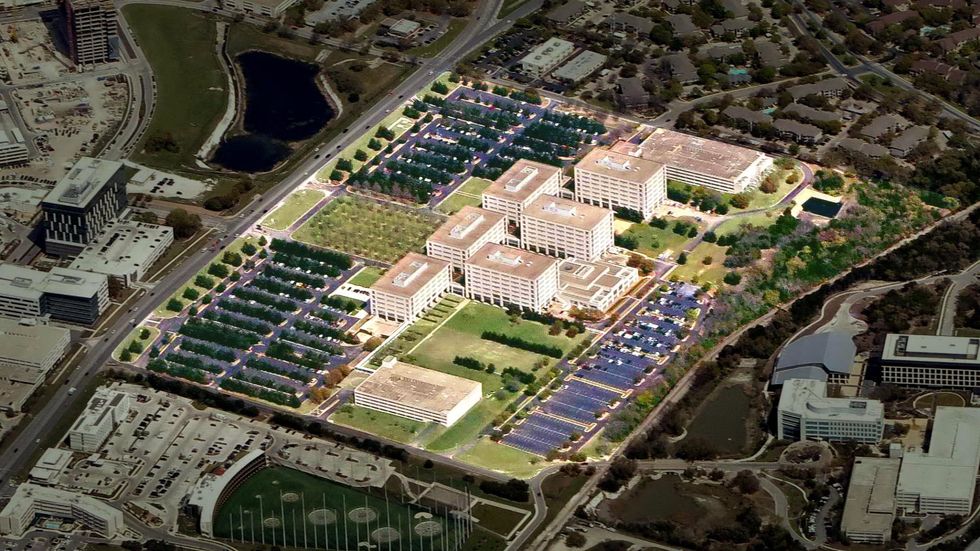 (Brandywine Realty Trust)
Office: Burnet Road
Approximately 6,000 employees
Around 90% of IBM's Austin employees are still working remotely as the company moves toward a hybrid office model similar to its pre-pandemic norm, according to a spokesperson.
CEO Arvind Krishna told Bloomberg in March that he expects 80% of employees to work in a hybrid model post-pandemic, with the remainder staying entirely remote. But he raised concerns about the impact such a split would have on the company's culture. "When people are remote I worry about, 'What's their career trajectory going to be?'" he told the business news site.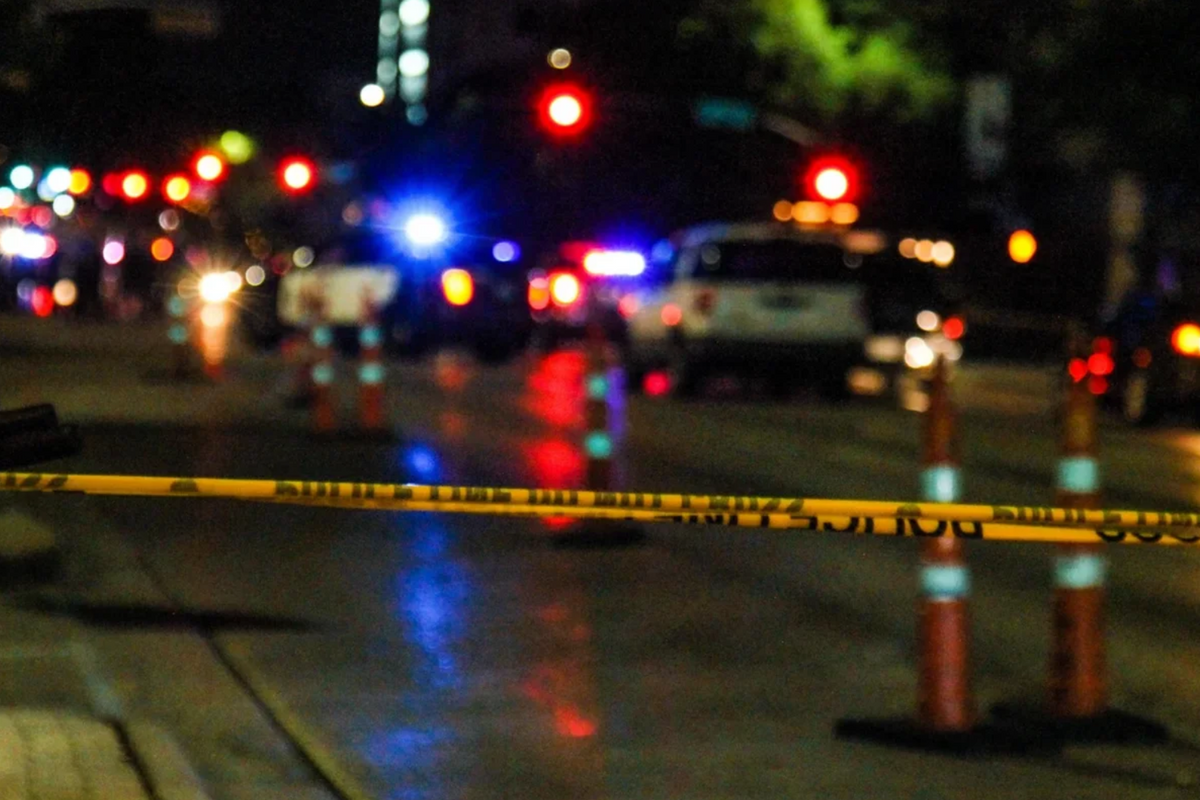 The Austin Police Department is investigating a suspicious death near Waterloo Park on Thursday night.
At the intersection of 12th and Red River streets, police received multiple calls at around 8:40 p.m. about a man covered in blood running in the roadway. Police say the man had potentially been stabbed. Austin-Travis County EMS transported the injured man to a local hospital, where he was pronounced dead.
No suspect is in custody at this time, and police did not reveal any suspect information in a late-night media briefing.
APD is asking anyone with information on this incident to contact Crime Stoppers at 512-472-TIPS or the homicide tip line at 512-477-3588.
Police said this was the second homicide incident they responded to in less than 24 hours.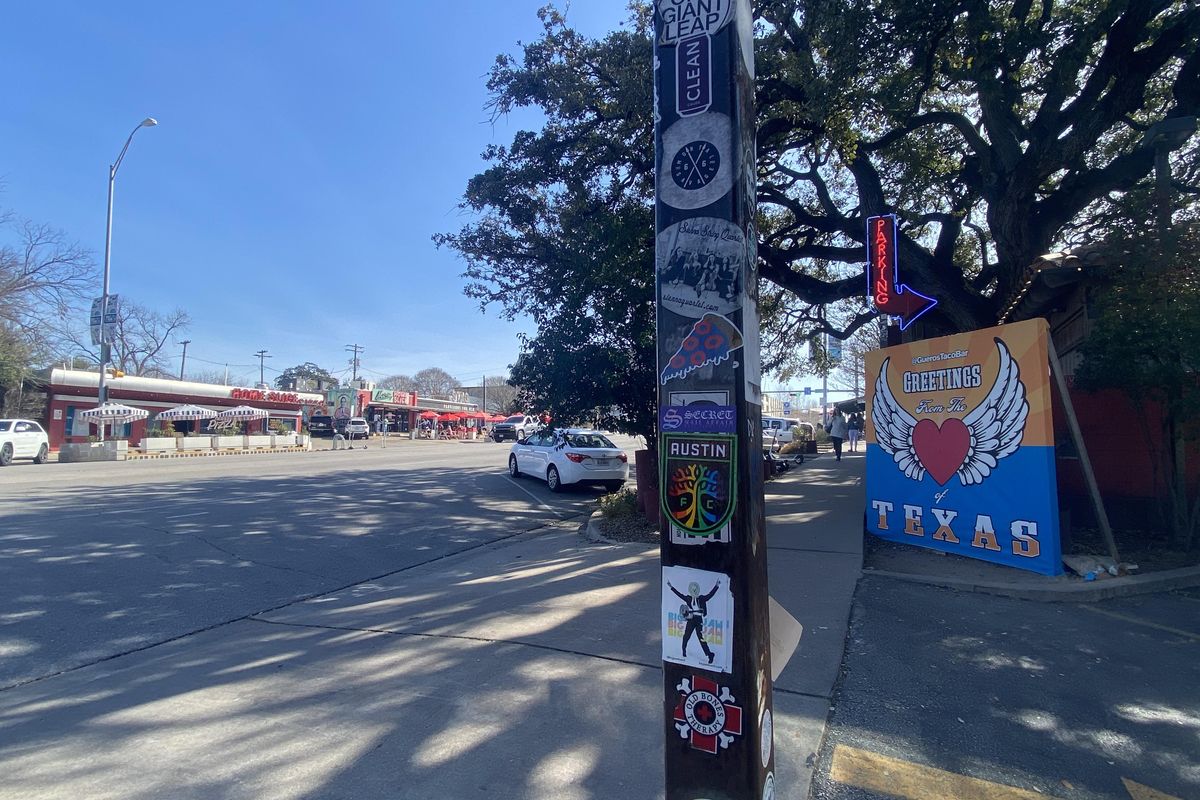 By Samuel Stark
Those of us who have braved the journey to find parking on South Congress Avenue during peak hours know it is not for the faint of heart.
You might be circling, searching for an open spot for what feels like hours. Euphoria fills your spirit when you think you have finally found that perfect spot. But almost as quickly as your optimism ascended, it dissipates as you realize there is an almost inconceivably small car scooched all the way up to the curb. Your journey continues.
The Transportation Department is aware of the parking challenges in the area and is ready to take some steps based on recommendations that came from a study of the parking in the South Congress District, coordinated by the Downtown Austin Alliance.
"(South Congress is) experiencing the issues that happen when you grow businesses within a district: Everybody wants to go there," Jason Redfern, division manager at the Transportation Department, told the Monitor. "And now we have to employ those tools to better manage all the parking and interest within that district," he added.
The South Congress District parking study was split into two phases. Phase one aimed to diagnose the problems through data collection and analysis, and phase two laid out strategies to mitigate them.
The study found that many cars stay parked in the South Congress District, particularly on South Congress Avenue, for extended periods, sometimes beyond eight hours. Further, for the drivers who are violating parking rules, there is limited enforcement due in part to a lack of resources to fund enforcers.
Also, of the 5,400 parking spaces they tallied in the area, nearly 40 percent of the spots available at peak hours go underutilized, while spots on South Congress Avenue stay filled.
One of the study recommendations the Transportation Department is currently going forward with is the establishment of South Congress District as a Parking and Transportation Management District, a defined area that would benefit from the addition of parking meters. If a PTMD is approved in this area, 51 percent of the revenue collected from the parking meters would go to funding transportation-related projects within the district, Redfern said. See the proposed South Congress PTMD boundary here.
These parking districts already exist in the Austin area, including one on the east side.
"We've leveraged dollars (from) the East Austin area (PTMD) to help finish an intersection improvement project where they're going to put in ADA-compliant ramps," Redfern said.
Though eventually the Transportation Department will put meters into the South Congress District if the PTMD is approved, Redfern said they want to ensure other issues, such as simplifying and standardizing residential permit parking, are in place before they add them.
The parking study found that currently in the South Congress District there are 13 different types of residential parking permits, which have varying restrictions. The study authors point out that these different types of permits are "confusing" and suggest that this contributes to the underutilization of available spots, including for employees of South Congress establishments, outside of South Congress Avenue.
Before the PTMD strategy in the South Congress District is adopted, the plans will be presented before the Urban Transportation Commission and the Mobility Committee. The plan will then be presented to City Council, which will vote on it later this year, Redfern said.