Get connected with our daily update
Several new laws from the Texas Legislature's second special session will take effect Thursday, spanning controversial topics like voting rights, critical race theory and continued abortion restriction.
---
Though they take effect today, many of the bills have uncertain futures as they face opposition in the courts. Here are the seven bills to know about.
Voting restrictions: The highly-contested Senate Bill 1 will ban 24-hour voting, drive-thru voting, mail-in ballot ID requirements, protections for poll watchers and limits on polling places for the disabled or non-English speakers. The bill has been hit with six lawsuits—five from more than 20 civil rights organizations and one from the U.S. Department of Justice. Since law will stand trial in July, March 1 primaries will definitely be affected by SB 1.
Social site suits: House Bill 20 would allow social media users and the state attorney general to sue Twitter, Facebook or Youtube if their opinions are blocked or removed. The bill comes after complaints that conservative viewpoints were being censored surfaced around the Jan. 6 U.S. Capitol riot. Though it was set to go into effect today, the bill was blocked by federal Judge Robert Pitman on Wednesday because it "prohibits virtually all content moderation," according to the filing. Companies contesting the bill, NetChoice and the Computer and Communications Industry Association, said they were not surprised about the outcome because the government "can't force a citizen or company to be associated with a viewpoint they disapprove of."
Critical race theory: Controversial SB 3 will bar teaching critical race theory, which teaches how racism shaped America through history, and mandate that racial topics be "free from political bias" in all grades. Though the theory is not part of official public school curricula, proponents argued that teaching the theory would foster a racial divide and alienate white students while opponents argued the law will whitewash history.
Abortion pills pulled: SB 4 limits the availability of abortion pills from under 10 weeks pregnant to seven weeks and prohibits that the medication be sent via mail or delivery. Once the law goes into effect, it will be a state felony for a doctor to prescribe the drug without an in-person exam prior.
Can't do the time? Don't do the crime: SB 6 prohibits judges from allowing violent offenders and felons to have no-cash bail. Certain sections of the bill, including limits on charity organizations that post bail and a newly-created system to report a defendant's criminal history, won't go into effect until January.
Violence safety training in schools: SB 9 requires that schools teach trainings on child abuse, family violence, dating violence and sex trafficking at least once in middle school and once in high school. The law requires that children receive parental permission to attend.
An unnecessary precaution:
SB 13 would have delayed the Texas primaries in the event that more time was needed for redistricting for 2020 census changes. The maps were approved in the third special session, so primaries will remain on March 1.
In the latest delay of Tesla's Cybertruck, new reports indicate it may detract from its plan for a 2022 release.
The electric vehicle is slated for production at the $1.1 billion Austin Gigafactory in southeast Travis County. But as Mashable reported, the order page for the Cybertruck formerly mentioned production would near in 2022. Now, it states "you will be able to complete your configuration as production nears."
First announced in 2019, the Cybertruck had originally been planned for late 2021 production. The latest delays were further backed up by Reuters, which cited an unnamed source familiar with the matter said production is planned for the first quarter of 2023.
Also according to Reuters, delays are driven by changing features on the vehicle as Tesla aims to compete with others in the electric pickup market. In a newly released video of what appears to be the Tesla Cybertruck on the Fremont, California test track, the long-anticipated EV has some new features, including different mirrors, front lights and a long vertical windshield wiper.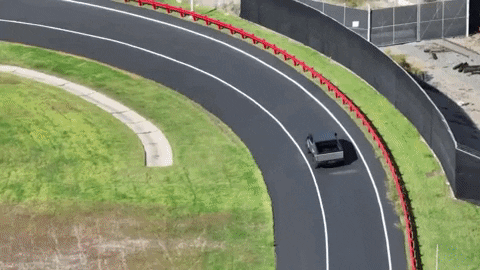 The Cybertruck was spotted at the Fremont test track last month. (ChileAI100/YouTube)
First up for production at Giga Texas is Tesla's Model Y. Latest estimates show that if ordered now, the Model Y wouldn't be delivered until about six months from now, in July.
Industry expert Dan Ives, who recently analyzed Tesla-filed paperwork and predicted that production at the Gigafactory could start very soon, talked about the Cybertruck's role in Austin.
"Cybertruck over the coming years is a major growth lever to the Tesla story and it's going to be the heart and lungs of Austin for the next three to four years," Ives said. "In the medium term, Cybertruck will be front and center in Austin but for right now the priority is getting Model Y cars produced and delivered."
He's also said vehicle delivery could happen in early February with full capacity around the fourth quarter of 2022 or early 2023.
Other vehicles that will come out of the Austin factory include the Model 3 compact sedan and the semi.
A theory that's been swirling around lately is that the web as we know it is on its way out and something called Web3 will take over.
It's hard to know what Web3 is without first understanding the original versions. The first web is the 90s Internet where people had their own random websites that didn't link together, making it decentralized. In Web2, we saw the rise of Google, Facebook and other major players who configured standard ways for people to share and receive information.
Ethereum co-founder Gavin Wood and other blockchain developers say a decentralized version of the Internet, Web3, is on the way. Web3 can be thought of as synonymous with cryptocurrency, meaning it is based on the blockchain. Platforms and apps built on Web3 won't be owned by a central gatekeeper, but rather by users. Those in the Austin crypto community believe to see a growing presence of Web3 in Austin.
Pujaa Rajan, an engineer at financial software company Stripe and adviser for startups, describes herself as a "digital nomad." She has traveled all over from Hawaii to New York and San Francisco, looking for the crypto community in each place.

Having been in Austin for the past month, Rajan organized a Web3 meetup this week at Cosmic Coffee + Beer Garden in South Austin open to folks working in crypto or the crypto-curious. About 30 people showed up. "Compared to a lot of other cities that I went to, it is a lot more open and community-oriented here, which is what Web3 is all about," she said.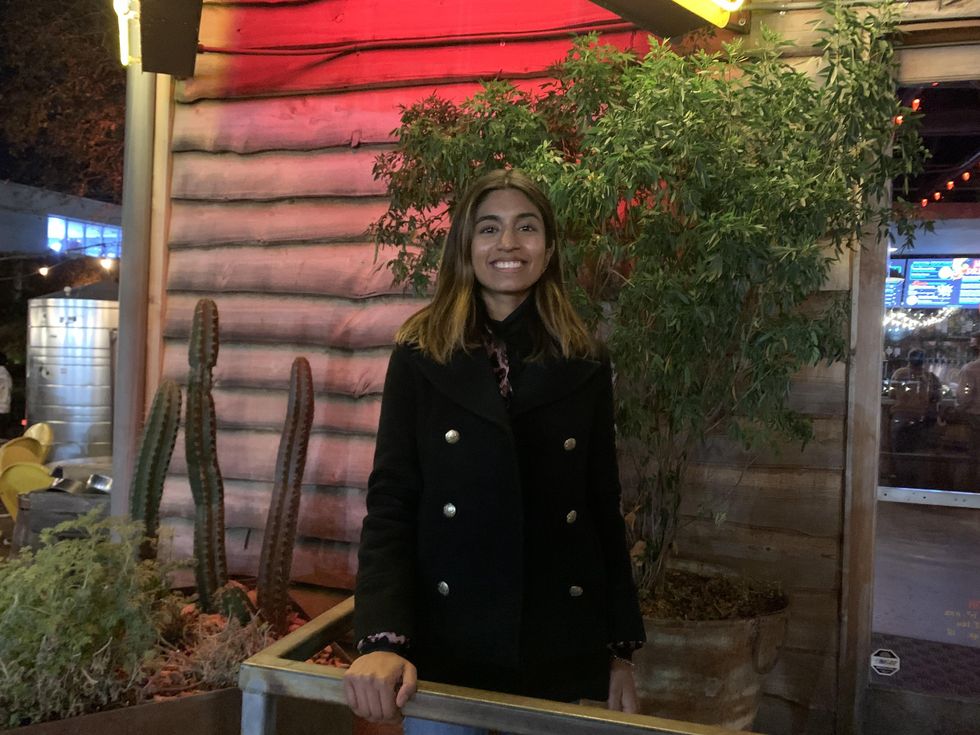 Pujaa Rajan, an engineer at financial software company Stripe, organized a Web3 meetup in Austin during a visit. (Andrea Guzman/Austonia)
ATX DAO member Roberto Talamas, who stopped by the event, talked about the crypto group's expansion. Web3, in Talamas' view, expands on the previous versions which allowed people to read, then read and write. Now, he says, people can read, write and own. To Talamas, blockchain technology has powered that ownership aspect, and it can be utilized through groups like a DAO, a group that pools together capital and goes on to make investments or take on blockchain-based projects.
"The ecosystem of work with (Web3) companies here in Austin is still relatively small," Talamas said. "And that's one of those things that we're trying to deal with at ATX DAO is to do all the advocacy work needed to make Austin the best Web3 city."
Part of that community, however, has gotten a bad rep for being "crypto bros." Rajan acknowledged that Web3 involves both finance and technology, which are fields women have historically been excluded from. But, she says the decentralization aspect creates a clean slate and a new means to form groups. "I feel like we can kind of take back the power or create a world for ourselves," Rajan said.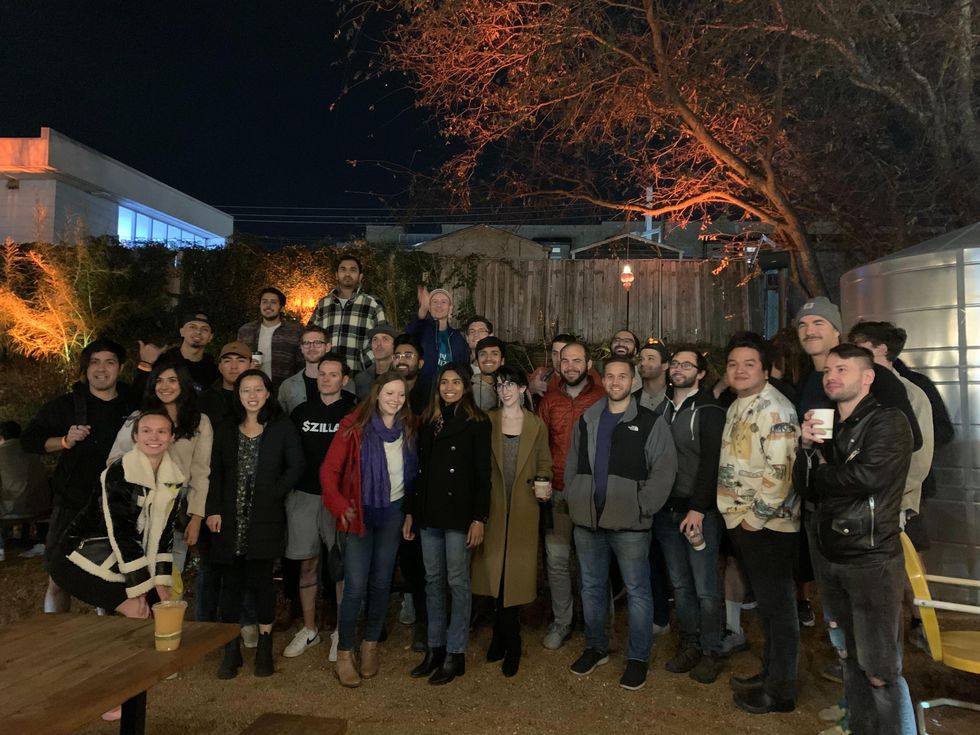 The meetup at Cosmic brought together crypto users to talk about the prospects of Web3. (Andrea Guzmán/Austonia)
Meetup attendee Jonathan Hillis also talked about the idea that Web3 creates an opportunity to start over and how this could be something that grows in Austin. Born and raised in the capital city, Hills has left his Bay Area Web2 Instacart job behind to live in a cabin outside Dripping Springs last year. He and his wife, along with a group of internet friends formed a DAO called Cabin, and he's now writing on the Web3 version of Medium, known as Mirror.
When it comes to the state of Web3, four cities stand out. "The dam broke in Covid," Hillis said. "Everybody no longer had to live in the Bay Area for tech."
San Francisco is still rooted in Web2 traits with Big Tech and software as a service venture. New York is financial technology. Miami is another major player. But with Austin, Hillis sees a lot of potential.
"Austin is great at being a place for independent online creators of many types—musicians, but also artists," Hillis said. "What excites me about Web3 is the opportunities for putting creators at more of the center of the value capture."