Get connected with our daily update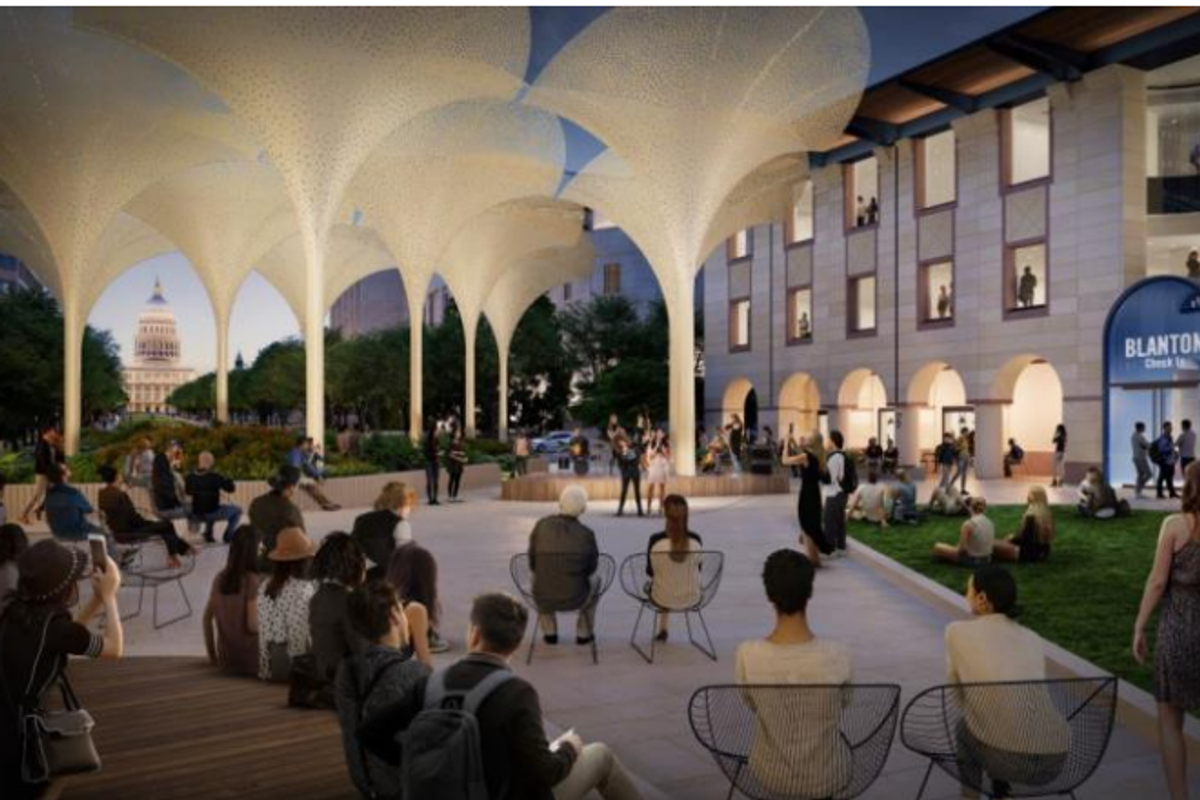 The Blanton Museum of Art and its surrounding buildings on The University of Texas' campus are getting a dramatic $35 million makeover that will completely change the look of the 200,000 square-foot area with improved landscaping and new architecture.
---
The update is scheduled to break ground in February and isn't expected to be complete until late 2022.
The project will be led by award-winning, New York-based international design firm Snøhetta, and will feature 15 gigantic, flower-like structures that create a shady social space, which will be called Moody Patio. Of course, no social structure in Austin is complete without live music, so the area will include two stages and seating.
The flowers were designed to complement Ellsworth Kelly's colorful "Austin" chapel that was erected in 2018. In addition to the towering metal flowers, new landscaping will add more than 25,000 new plants to beautify the area.
The patio will unite and refresh the Blanton's two buildings, which have been criticized by passersby as looking plain. The Moody Foundation donated $17.5 million for the project, emphasizing a connection to nature.
On top of the immense structural changes, The Blanton commissioned an original mural painted by 105-year-old Cuban-American artist Carmen Herrera, completing the southern entrance to the campus. This mural will be the first of many the museum will commission.
Herrera's mural, entitled "Verde que te quiero verde" or "Green how I desire you green," was inspired by Federico García Lorca's poem, "Romance Sonámbulo." The mural depicts 14 green squares coming together with four diagonal white spears to form a smaller green square.
So far, the museum has raised just over $33 million, with a goal of reaching $35 million for the completed project.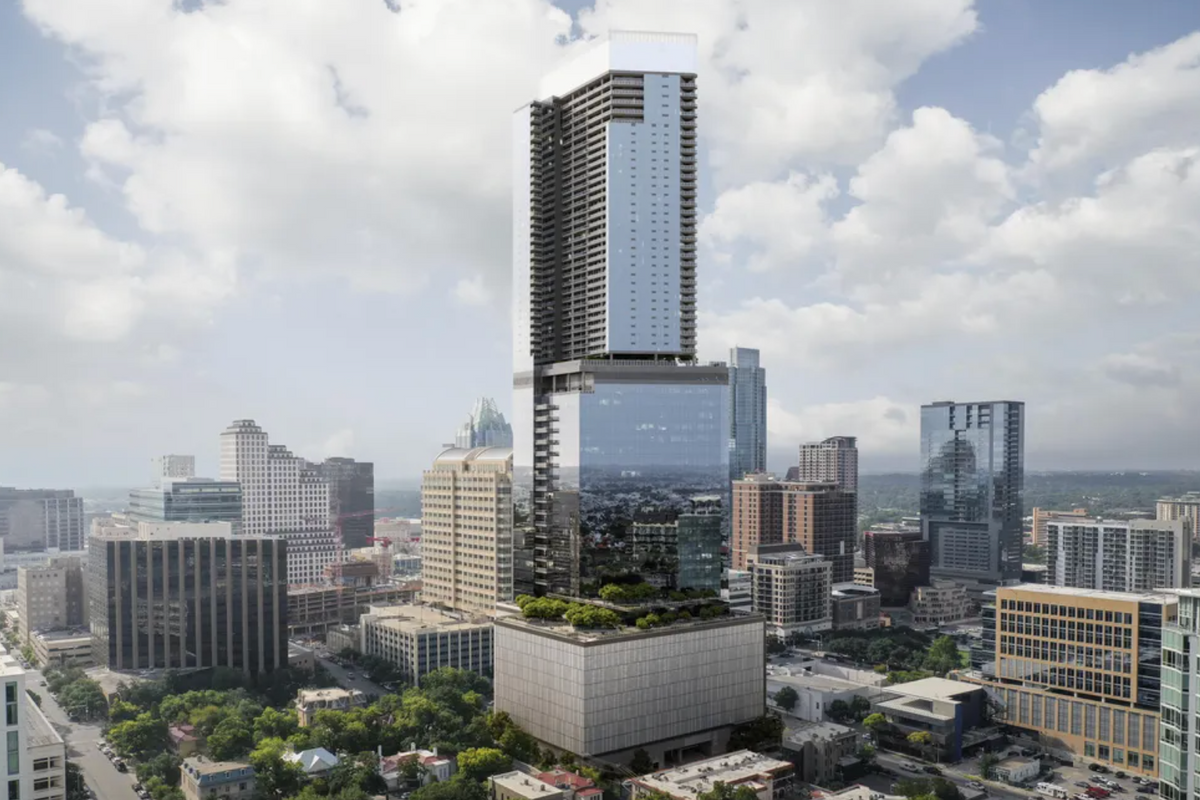 A park in the sky. That's how Ed Muth, Gensler principal-in-charge of the Sixth and Guadalupe project, describes the outdoor deck on level 14 of the building.
It's a gathering space that'll be lushly landscaped and filled with various plant types. It'll also have spaces for sitting and a small amphitheater tech space. It's poised to be an area for Meta employees to spend time and mingle once the tech giant moves in next spring.
As downtown grows with increased residential and office space, the tech industry's influence in the area is clear with Google's sailboat tower plus TikTok signing a lease on Colorado. How will Sixth and Guadalupe shape Austin's skyline?
For starters, it's poised to be the tallest tower in Austin when it is completed in 2023, standing 66 floors high. The deal with Meta, Facebook's parent company, was inked on Dec. 31, 2021 and is downtown Austin's largest lease ever, spanning across 33 floors and 589,000 square feet. It'll cater to some of the 2,000 employees that have been working in Austin. The social media giant has also said it plans on adding 400 more employees.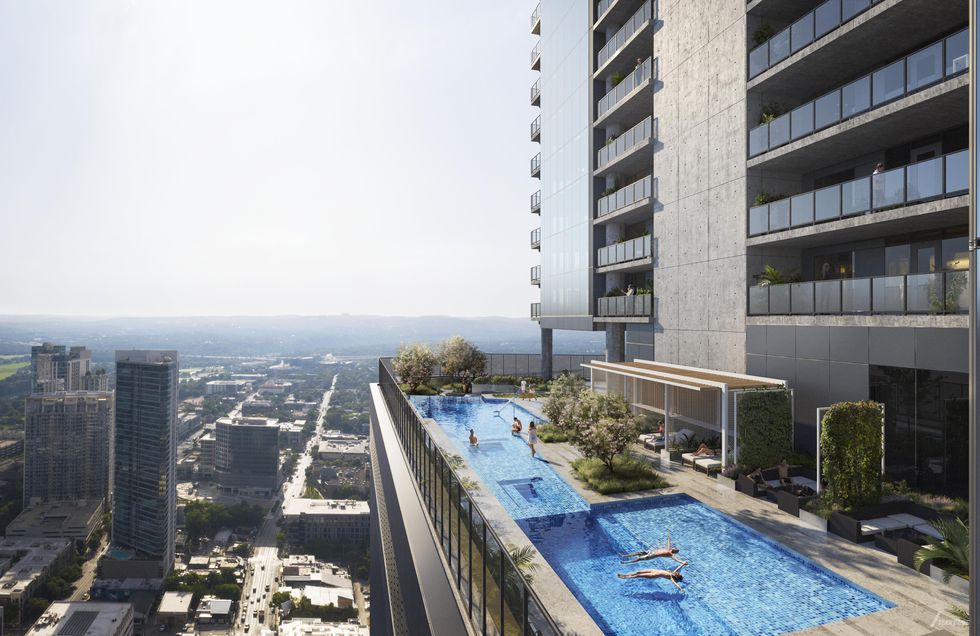 Key to the project, Muth told Austonia, is making sure clients get everything that they expected out of it.

Soon-to-be residents, the first of which are expected to come in the summer of next year, will occupy space from level 34 up and can expect gaming lounges, theater space, a garden on level 53 plus some pools. The one on level 66 will be the highest pool deck in Austin, Muth said.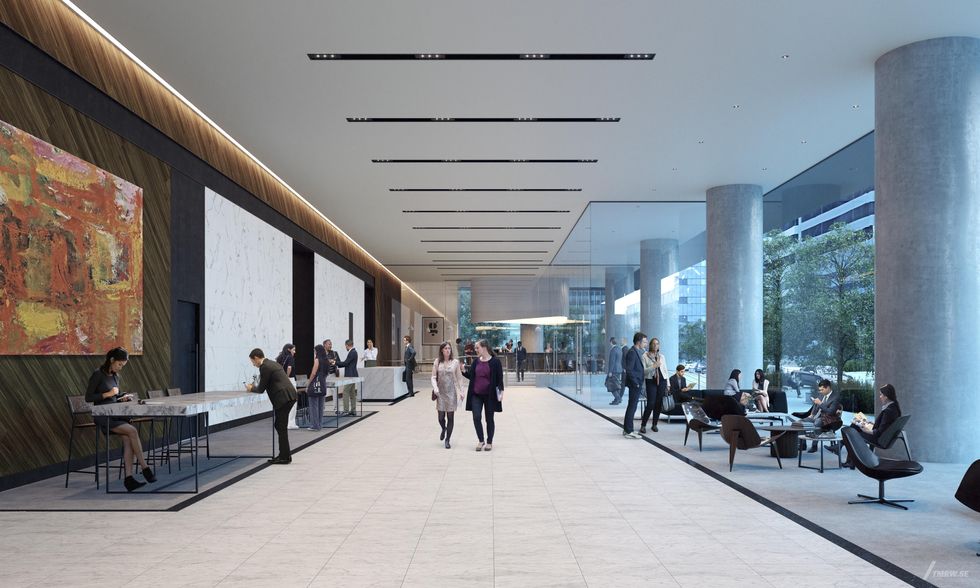 The flashy amenities are sure to catch the attention of people vying to move in, but other major design elements were brought on by the Capitol view corridor.
"It's set out there to make sure that we don't block the views of the Capitol," Muth said. "It kind of set the rules for where we can build, where we could position the building, how we design, the shape of the building, and how we put the square footage together in that building."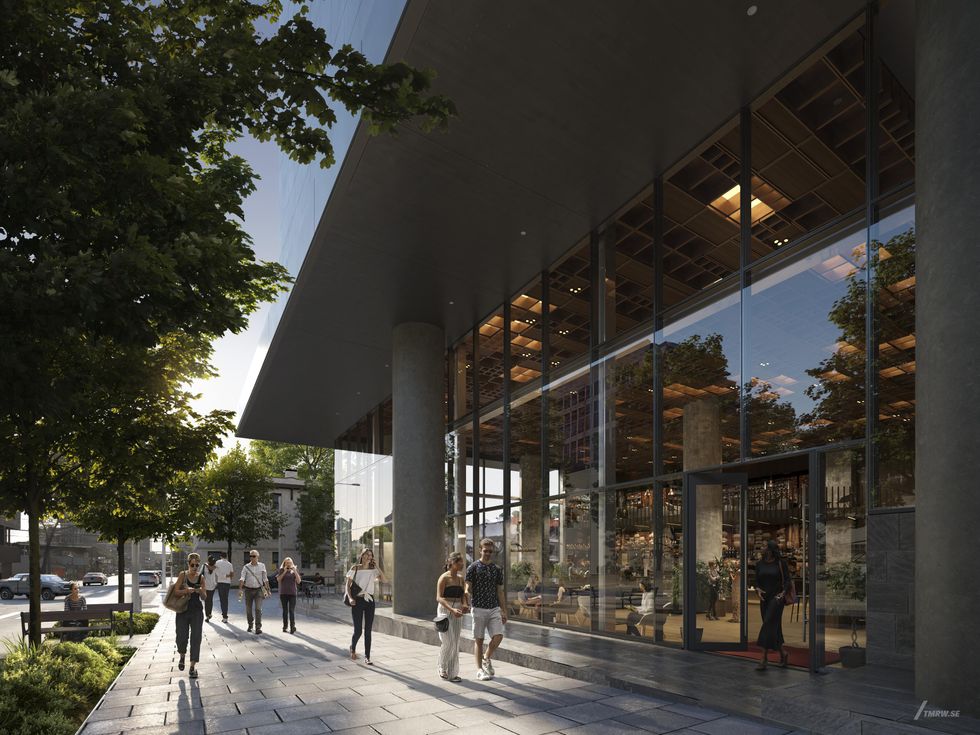 A building of this undertaking involved a team of about 20 people at Gensler, a global architecture firm headquartered in San Francisco. They've been working with commercial developer Lincoln Property Company and residential developer Kairoi plus about a dozen consultants, some of whom were in Austin and others in Dallas.

The downtown tower boom has been in the works for some time. Muth said they've built a lot of trust working with them for the past five years, with some of their work carried out remotely during COVID-19. In the early days of the pandemic, downtown areas across the country—Austin included—saw lowered activity and both residents and workers heading to suburbs and other areas of the city.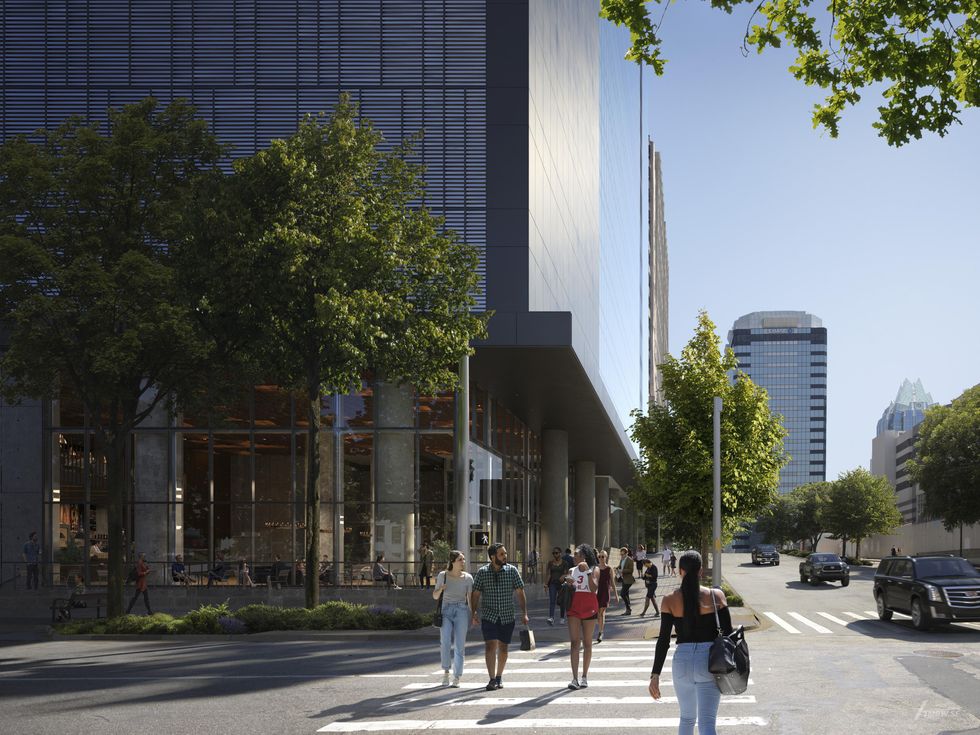 "It really rose to its form, as we see it today, during that time, and a lot of people weren't downtown," Muth said. "So it probably surprised some folks when they came back downtown to say, 'Wow, where'd that come from?'"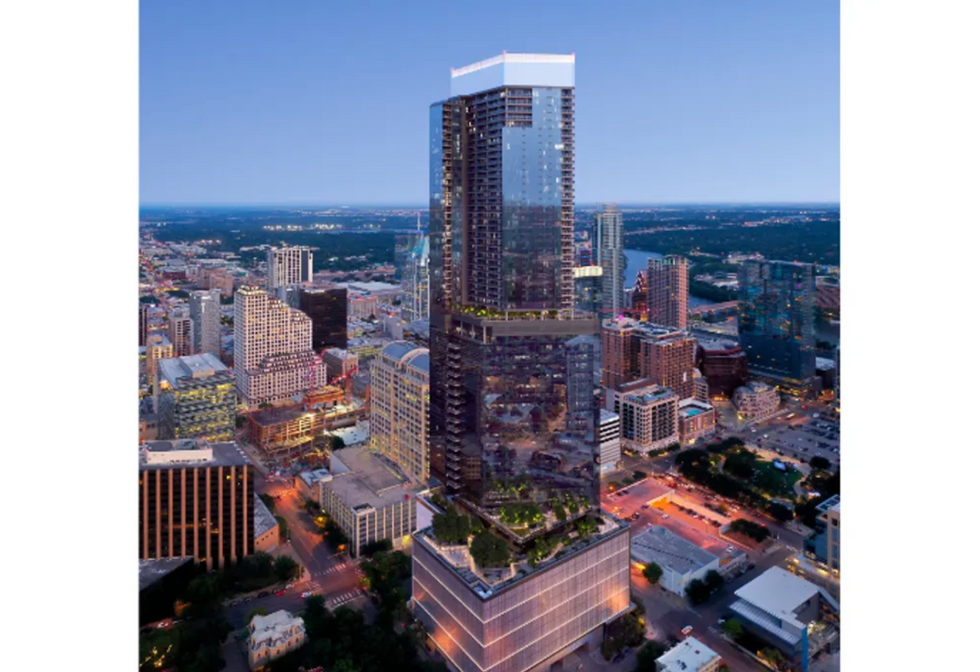 About two weeks ago, Muth made a visit to the site, noticing restaurants and retail that hadn't been there previously. Sixth and Guadalupe itself will include retail on the ground floor, adding to downtown's growth even on the sidewalk level.
"Just looking out from the level 14th floor deck, I think we counted five or six, maybe seven new construction sites that are within blocks of this project. The area's rapidly changing," Muth said.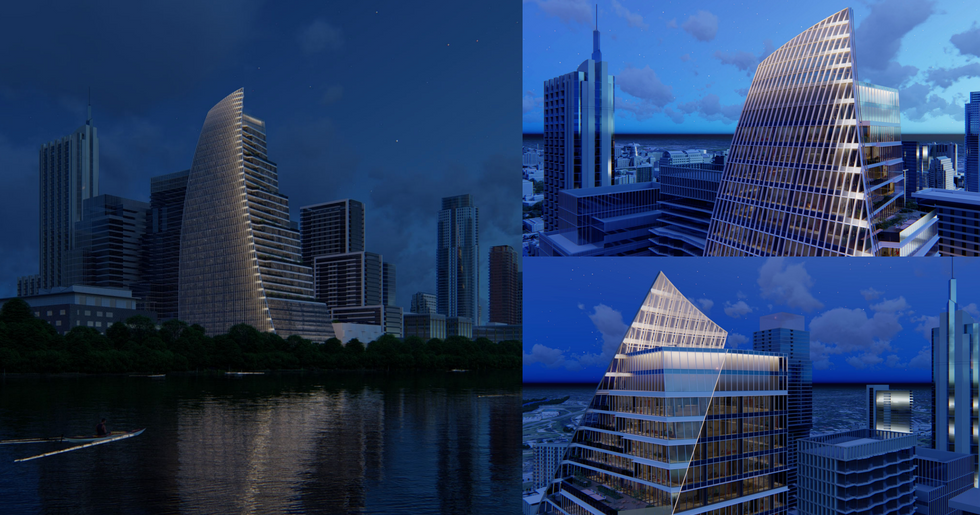 Exclusive: Architect involved in Austin's new Google tower outlines considerations that led to unique design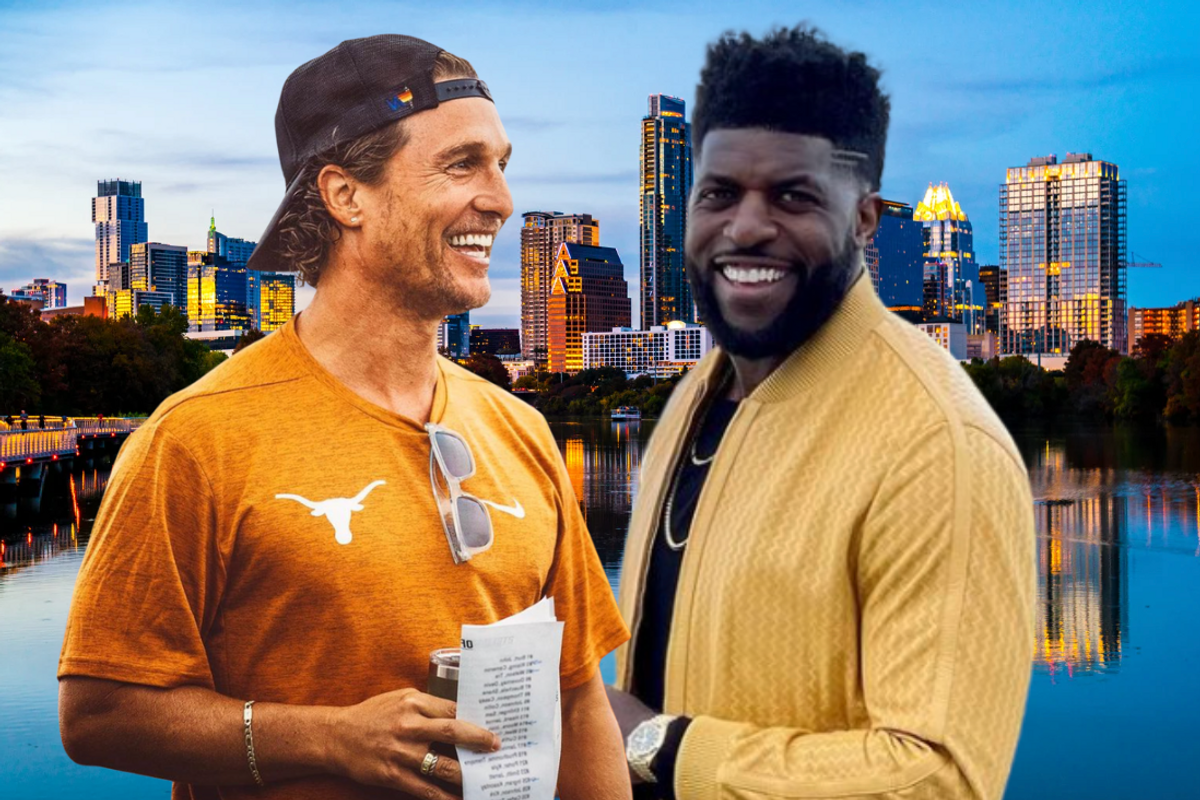 Two of Austin's biggest celebrities are joining forces for a Q&A session open to the public.
Minister of Culture Matthew McConaughey and former Longhorn Emmanuel Acho will meet at LBJ Auditorium, 2313 Red River St., on May 22 at 2 p.m.
The author behind New York Times bestselling book "Uncomfortable Conversations with a Black Man," Acho will be there to celebrate the recent release of his new book, "Illogical: Saying Yes to a Life Without Limits."
Acho had McConaughey on his Youtube series of the same name in June 2020.
"Two of your favorite Texans in person and OPEN TO THE PUBLIC. It doesn't happen often and may not happen again, so bring your questions, bring a friend, and prepare to be inspired and entertained," Acho said on social media.

The event is organized in partnership with BookPeople and the Moody College of Communication. Tickets are available for $45.