Get connected with our daily update
When NFL team Buffalo Bills' owners Terry and Kim Pegula were negotiating with the city of Buffalo to hand over a large chunk of taxpayer money for a new $1.5 billion stadium, they made an unlikely threat—relocating to Austin.
---
With a passionate fanbase, talks of renegotiation and the power of the Dallas Cowboy's Jerry Jones, however, the move is looking more unlikely than ever a month after the rumors first began.
News of the proposal first leaked on August 1 when ESPN's Seth Wickersham reported that the team was eyeing Austin citing the city as one of "other cities elsewhere that desire an NFL franchise and would pay handsomely for it."
An ownership source tells me that Austin is a possible destination—or threat—as one of the "other cities elsewhere that desire an NFL franchise and would pay handsomely for it." https://t.co/zMf1oChO8K
— Seth Wickersham (@SethWickersham) August 1, 2021
Many saw Austin as a pawn for the Pegulas to negotiate a $1.5 billion stadium paid entirely by taxpayers of New York state, but the negotiations still sparked a response from Gov. Greg Abbott and Mayor Steve Adler, who opened up a discussion about possible new names for the team (his Austin Amps idea was particularly unpopular).
The Bills' lease expires in 2023, and their current venue at Highmark Stadium is nearing 50. The Pegulas say they have spent an estimated $146 million on renovations since their purchase in 2014 and much more is needed to completely revamp the stadium.
Instead of staying put or making a costly move to downtown Buffalo, the team released a new stadium proposal on Tuesday for a $1.4 billion stadium on a team-controlled parking lot down the street. The stadium, which shaved its budget down from an original $1.9 billion proposal, will include 60,000 seats and 60 suites and is expected to finish no later than 2027.
But instead of tapping into their fracking-fueled wealth—Forbes has estimated their net worth sits near $6 billion—the Pegulas are looking for a significant chunk of funds from the city.
"The expectation is the state and county will be asked to cover more than 50% of the project, raising concerns about the potential for taxpayer funding," said John Wawrow of the Associated Press.
The idea of "public-private partnership" is controversial at best. By comparison, the New York Giants and Jet's MetLife Stadium was entirely privately funded for a pricey $1.6 billion. Team owners argue that sports teams boost local economies and pay off in the long run—the Bills' economic study estimates that the team generates $361 million each year in the region.
But University of Chicago economist Allen Sanderson told AP that the economic impact is much lower than that.
"The answer is zero: Sports stadiums are no catalysts for economic development," Sanderson said. "They just largely enrich the team and the league and the owner of the franchise."
The pressure's on for New York leadership. In 2019, New York Gov. Andrew Cuomo got significant flack after opting to give $3 billion in cash, subsidies and tax breaks for a corporate campus in Queens in a plan that later fell through.
Still, odds are in Buffalo's favor for keeping the franchise: new Gov. Kathy Hochul is a Bills fan herself and said she was "not feeling threatened" by talks of moving to Austin.
"Let the fans know we're very excited about the upcoming season, and we expect the Bills will be here a very long time," Hochul said.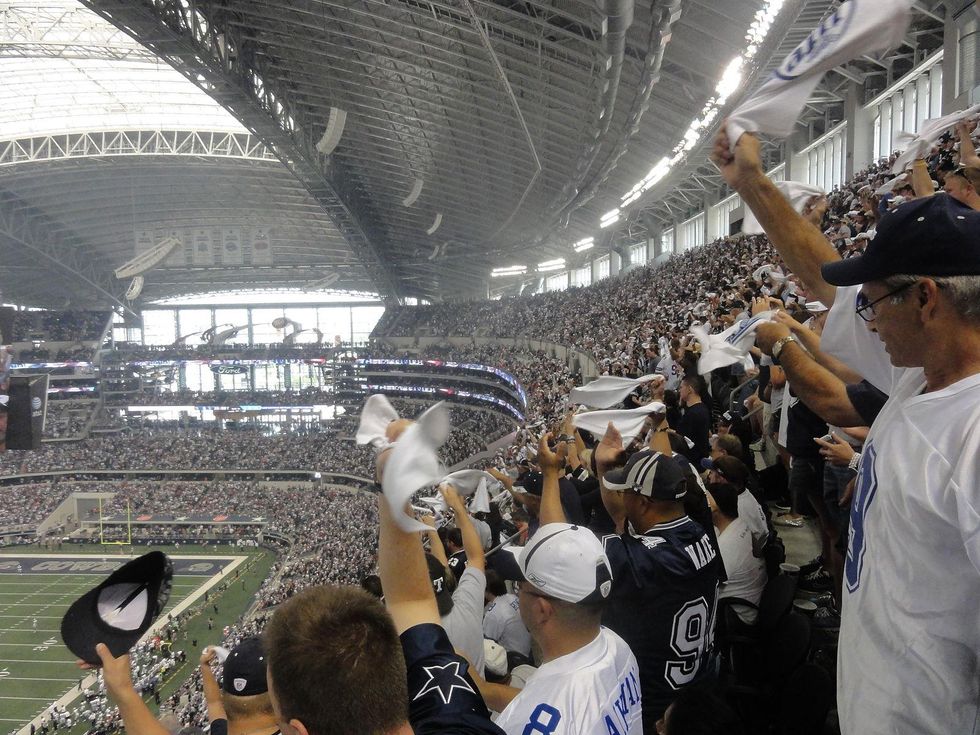 Dallas Cowboys fans are some of the most loyal. (CC)
Another threat to the so-called "Austin Amps" is Jerry Jones and his commitment to keeping much of Texas "Cowboys Country." Two plans to move NFL franchises to San Antonio have fallen through at least partially at the hands of Jones, who has massive influence over the NFL's affairs. And Austin, which has just received its first professional team in Austin FC and may not be ready for another franchise, probably wouldn't be able to compete against one of the most committed fan bases in the NFL.
With Bills officials not even contacting city officials after the announcement, it looks like Austin will have to settle for Austin FC and good-ol' Texas football for the near future.
"It's time to get a stadium done that we think can make sure the Bills are here and successful for many, many decades going forward," NFL commissioner Roger Goodell said to News4Buffalo. "We're focused on keeping the Bills here in a new stadium in a public, private partnership. That's what this is all about and that's where we're focusing."
Akins Early College High School, 10701 S. 1st St., was on lockdown Wednesday morning as district police investigated a report of an "armed subject," Austin ISD Police Chief Ashley Gonzalez tweeted. The district has since deescalated the lockdown to a hold, where students can go to the restroom and be picked up if parents choose to do so.
Students and staff are safe and no shots were fired, according to police. Three students were identified to have caused the lockdown after a witness claimed one of them had a weapon; the three met up in the school restroom. No weapon was found on the three students. However, one of the students had two magazines with ammunition.
The three students were located and will not be returning to school tomorrow. Gonzalez said their punishment with the school or charges have not been identified since the investigation is in the early stages.
Additional officers will be on campus tomorrow. "We take these events seriously and we prepare so that at the end of the day, everyone can go home safe," Gonzalez said.
The Taylor Police Department is investigating an apparent murder-suicide that left four people dead on Tuesday.
Officers responded to a call at around 1 p.m. for a welfare check at 616 Symes St. in Taylor, Texas, where the Taylor Fire Department helped force entry into the home since it was locked, police said. Once inside, officers found four dead bodies. The names of the victims have not been released as police continue to contact relatives, but officers revealed they consisted of a 45-year-old woman, a 20-year-old woman, an 18-year-old man and a 57-year-old man.
Police believe the deaths to be a murder-suicide and are investigating with the help of the Williamson County Sheriff's Office and the Texas Rangers.
Later that day, another murder was reported in Taylor, which police say is unrelated.
Police responded to a shooting at 2100 Whistling Way around 4 p.m. Tuesday. They said a family member found 33-year-old Jonathan Hitch with a gunshot wound to his head. It is being investigated as a suspicious death.
No matter how long you've been in Austin, Samuel Grey Horse has probably been here longer than you and the spirit of his indigenous ancestors walked the land far before anyone living did. Born and raised in the capital city in 1961, the city has grown and changed all around him.
You've probably seen or heard of Grey Horse before—he's been called the "Sixth Street Cowboy" due to his penchant for riding his horses through the city streets, dressing up as Santa Claus during the holidays and making national news back in 2011 when he received a DUI while riding his mule down Sixth Street.
"I remember when I could see the capital from anywhere," Grey Horse told Austonia during a visit to his East Austin ranch. "I never thought or imagined that I would see Austin like this."
Now, living with his three horses, mule and dogs in East Austin on "the road that time forgot," Grey Horse lives the "Native" lifestyle; he cares for his horses, tends to his garden, holds sacred prayer ceremonies, writes music, sings with legendary musicians and occasionally films with Richard Linklater, director of "Dazed and Confused."
Just as Austin changed over the years, so too did Grey Horse. On June 26, 2010, he was in an accident that he credits for changing his life. While riding a racing horse, Grey Horse's saddle came loose and dragged him underneath for 150 yards. By the time they had stopped, Grey Horse had 12 broken ribs, collapsed lungs, a broken neck, broken clavicle, cracked skull, broken wrist and went into a coma.
"I had all the things done to me but that's how the universe teaches you," Grey Horse said. "They said I would never ride a horse again or walk correctly, but no, I don't live in that world, because where I went to with my coma. I was living in another world, in the other world's illusion."
His road to recovery was long, arduous, miraculous and aided by his horses: Big Tex, Big Red and mule Mula, who have all been in his care for well over a decade. Grey Horse said they took care of his "energy" when he needed them most. Despite the pain that ensued from horses, his accident drew the cross-species family together.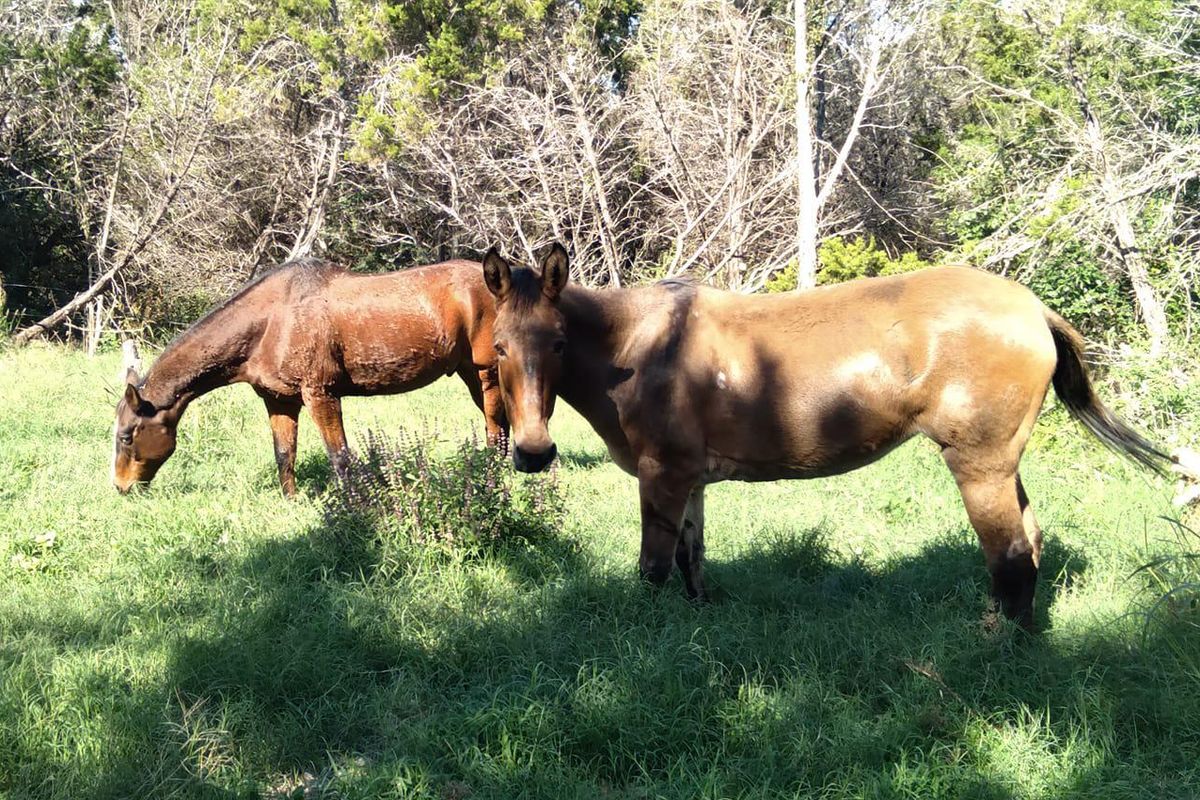 Big Red and Mula have been living with Grey Horse for 16 and 14 years, respectively. (Sam Grey Horse/Instagram)
"I ride them around town and share them with everybody because everything has a purpose," Grey Horse said. "You don't throw something away just because it's a little beat up. I was all beat up."
The winters are still painful for his joints but he powers through so he can bring joy to the people of Downtown Austin in his Santa Claus costume every year.

"I can't hurt because I'm Santa Claus, and I got to be Santa for the kids and everybody. I give them inspiration and energy, I make millions happy downtown," Grey Horse said. "I sing often with a cordless mic, my horses dance and they're happy. If I can make one person happy that makes a difference."
Though it was never his intention, a career in music found Grey Horse and it felt right due to his mother telling him as a child he would be a singer one day. Grey Horse recently returned from his tour with The Greyhounds and Sir Woman across Texas, Arkansas and Oklahoma.
(Laura Figi/Austonia)
His original song, "Crow Dog," is a tribute to his life and the people who have passed along their loving energy in it.

Show biz can't get enough of Grey Horse, who also models for Patagonia and Levi's; he taught Joe Jonas how to ride a horse for a video shoot. He is now working with a British filmmaker on a documentary, and was featured on episode 10 of Linklater's "That Animal Rescue Show."
"I sing with Grammy winners, which is very special to me, and I write songs about my life. Very magical stuff," Grey Horse said. "(The tour) was one of the best runs we've done for now—people are out and want to get out and the energy the guys bring is amazing."

You're certain to see Grey Horse around town if you spend some time near The Continental Club on South Congress or the Texas Capitol into the night. Until then, tok sha.
"There are no words for goodbye in my language, it's 'tok sha,'" Grey Horse said. "It means I'll see you again. I'll see you soon. I'll see you in the next life."