Get connected with our daily update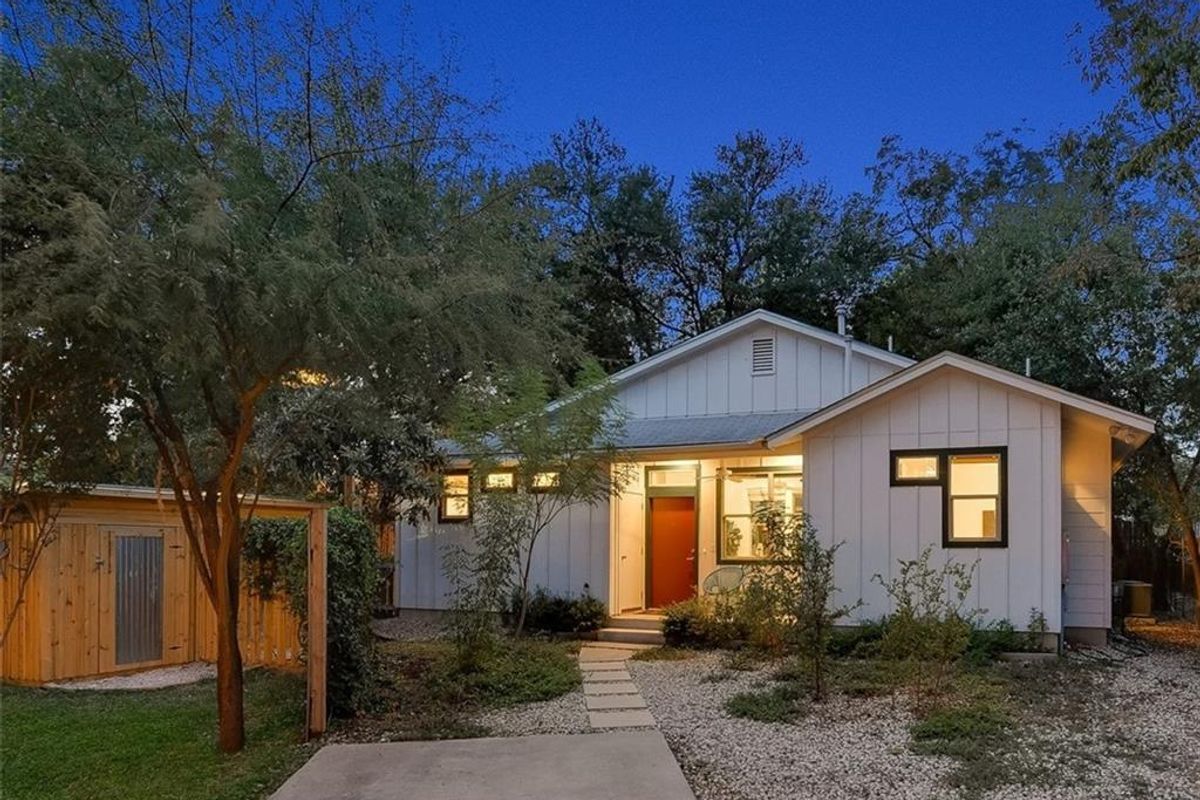 Despite housing costs steadily hiking, it's still possible to find bungalows—from unassuming modest homes to opulent hideaways—around the Texas capital. a low house with no complete upper floor and a broad front porch
---
These bungalows, defined as a low house with no complete upper floor and a broad front porch, may look small, but don't write them off: there are often plenty of secrets hidden inside.
Here are three different bungalows that on the market in Austin:
This centennial treasure is a trip back in time to a younger Austin and has held onto the features that make it unique—wavy glass windows, beadboard ceilings, pinewood flooring and plenty of natural light.
A pleasant butter-yellow exterior sets a sunny tone for the rest of the Hyde Park house, which comes with two bedrooms and one bathroom across an unpretentious 832 square feet. A petite living room gives way into a kitchen that embraces southwestern vibes with saltillo tile floor and natural wooden cabinets. French doors in the kitchen lead to a raised deck in a large backyard, perfect for a springtime garden party.
This house was updated with a new steel pier foundation and stucco skirt in 2015, a new hot water heater and stove in 2020 and will have a new roof by this month.
This listing is held by
Jenny Cureton of Compass.
Though 1170 Angelina Street has been updated since it was built in 1910, the two homes that sit on the lot seamlessly integrate the charming historic features that still remain.
With four bedrooms and three bathrooms across two houses on the property, altogether the homes span 2,104 square feet and boast even more when you count the 9,365-square-foot lot they sit on.
Inside, the East Austin-nestled home's retro wood paneling fits with the green space surrounding the homes and the vintage cabinets are back in style. The beauty in this home is the opportunity it presents to make it all your own—maybe you use the smaller house as a studio, rent it out, add a pool or even open a bed and breakfast.
This listing is held by
Lisa Harrell.
In the heart of quiet, cozy Tarrytown, 2405 Westover Road is a three-bedroom, two-bathroom bungalow that carries over the 1950s charm it was built with.
After you park in the covered carport, stop and admire the resort-style backyard complete with an outdoor kitchen, lounge space, putting green, saltwater pool and hot tub. The interiors of the house are modestly spacious at 2,447 square feet and designed with readers in mind—built-in shelves line a wall in the living room to show off your collection of tomes.
The home has a host of rustic, yet modern finishes: solid wooden doors, refinished hardwood floors, a gas log fireplace, marble bathroom counters and massive walk-in closets for all your dress-up dreams.
This listing is held by Monica Fabbio of Compass.
The house hunt continues!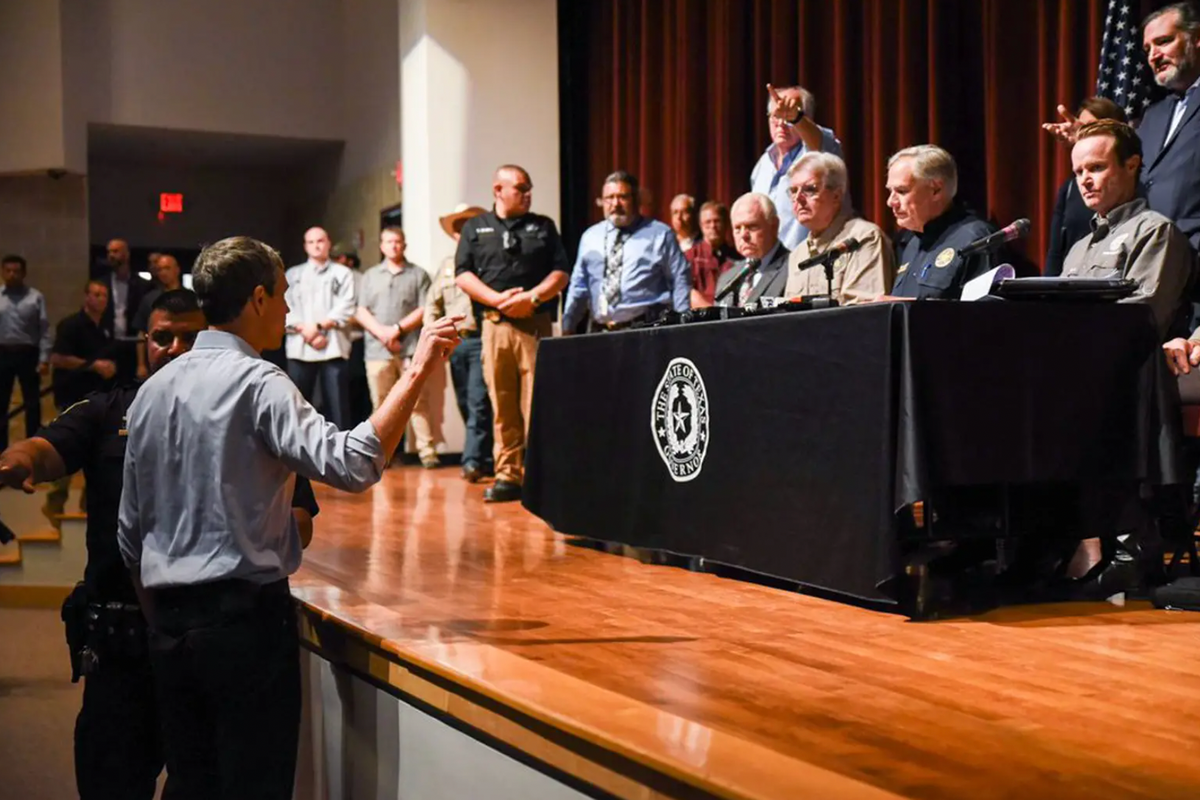 By Patrick Svitek
Beto O'Rourke caused a dramatic scene on Wednesday when he angrily confronted Gov. Greg Abbott at his news conference about the Uvalde school shooting, yelling, "This is on you."
After Abbott was done giving his initial remarks, O'Rourke approached the stage and told Abbott he was "doing nothing" to combat gun violence. He said the Uvalde massacre, in which a gunman killed 19 children and two adults, was "totally predictable."
Some of the Republican officials onstage with Abbott quickly denounced O'Rourke, telling him to go away. Another man onstage used expletives to criticize O'Rourke for interrupting the event. O'Rourke was eventually escorted away amid the unruly scene.
"I can't believe that you're a sick son of a bitch that would come to a deal like this to make a political issue," Uvalde Mayor Don McLaughlin told O'Rourke at one point.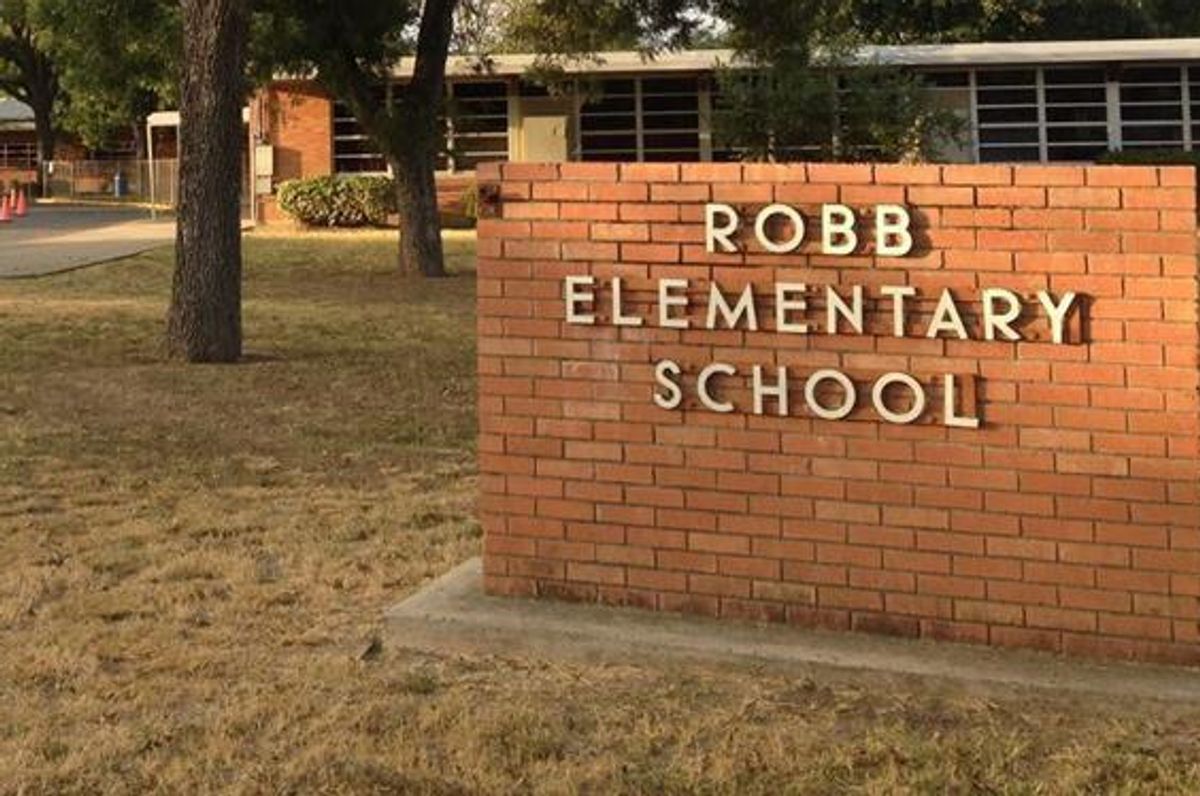 Nineteen kids and two adults are dead after a shooting at Robb Elementary School in Uvalde, Texas—a small town an hour and a half west of San Antonio—on Tuesday afternoon.
Gov. Greg Abbott said the suspect, 18-year-old Salvador Ramos, is believed to have been killed by the police. The Uvalde Police Department said the shooting began at 11:43 a.m. Tuesday.
"What happened in Uvalde is a horrific tragedy that cannot be tolerated in the state of Texas," Abbott said. "He shot and killed—horrifically, incomprehensibly."

Texans are grieving for the victims of this senseless crime & for the community of Uvalde.

Cecilia & I mourn this horrific loss & urge all Texans to come together.

I've instructed @TxDPS & Texas Rangers to work with local law enforcement to fully investigate this crime. pic.twitter.com/Yjwi8tDT1v
— Greg Abbott (@GregAbbott_TX) May 24, 2022
According to University Health Hospital officials, a 66-year-old woman and 10-year-old girl arrived in critical condition. Uvalde Memorial Hospital reportedly received 13 children for treatment and two individuals who were already deceased. At the time, it was believed 14 had died in this shooting.

The shooter prompted a lockdown at the elementary school of just under 550 students, with San Antonio Police sending SWAT, and Eagle chopper and Crime Scene Investigators.
According to White House press secretary Karine Jean-Pierre, President Joe Biden has been briefed on the tragedy and "His prayers are with the families impacted by this awful event, and he will speak this evening when he arrives back at the White House."
At 21 deaths, it is the deadliest school shooting in Texas and one of the deadliest in the U.S. since 26 at Sandy Hook Elementary lost their lives. This is the U.S.'s 213th mass shooting of 2022.