Get connected with our daily update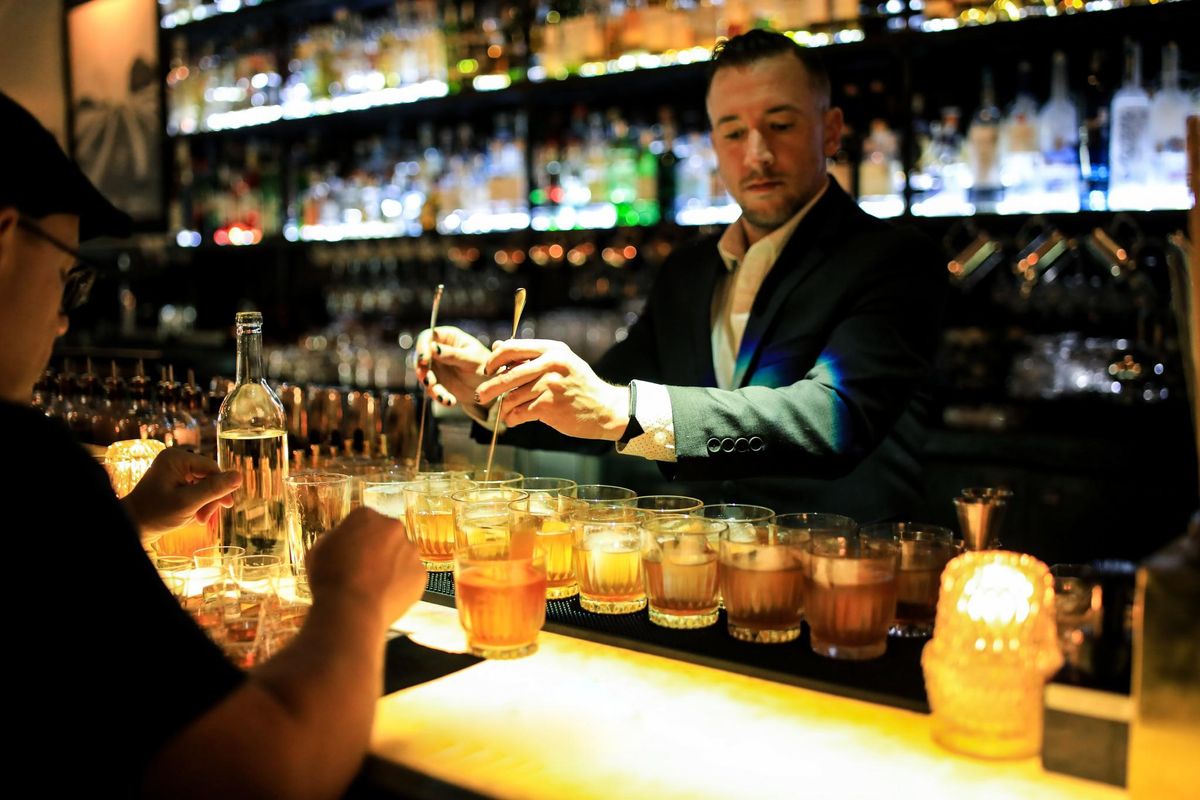 Nightlife is back and better than ever as Austin emerges as an "18-hour city."
Austin's tourist and hospitality sectors have seen a surge in revenue showing a complete picture of pandemic recovery, according to the Downtown Austin Alliance's State of Downtown Report, which was released earlier this month.
For 18 hours straight, Austinites are enjoying what the city has to offer, only dropping off between 3 a.m. and 8 a.m.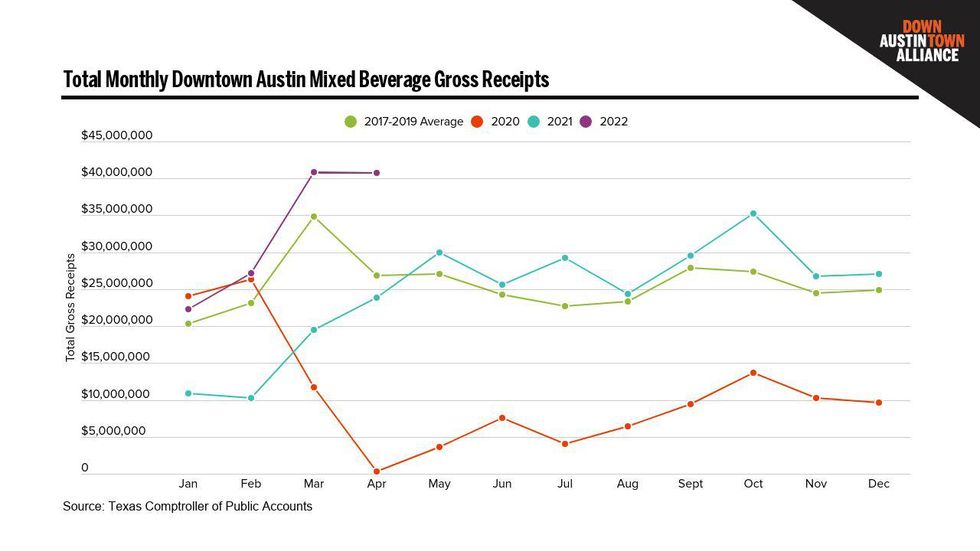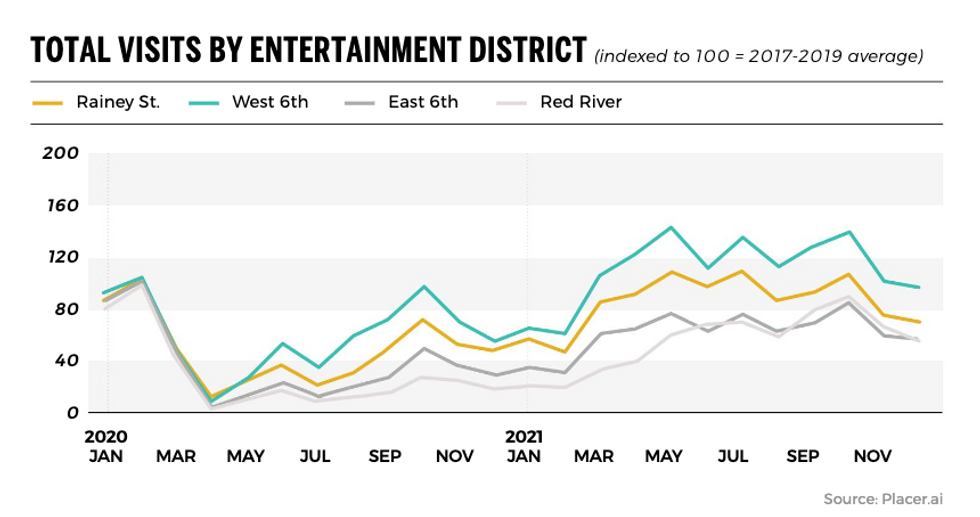 Mixed alcoholic beverage sales downtown reached a record $40.8 million in March this year, nearly matching in April with $40.7 million in sales. Rainey Street and West 6th are neck and neck in terms of sales but the latter wins out in terms of foot traffic; meanwhile, data shows East 6th has become the least popular party district.
The return of nightlife goes hand-in-hand with the recovery of hotel occupancy, which reached 98% of the average traffic from 2017-2019. High hotel prices are also back, reaching $216 of revenue per room in April and $198 in May, surpassing the average from the same time frame.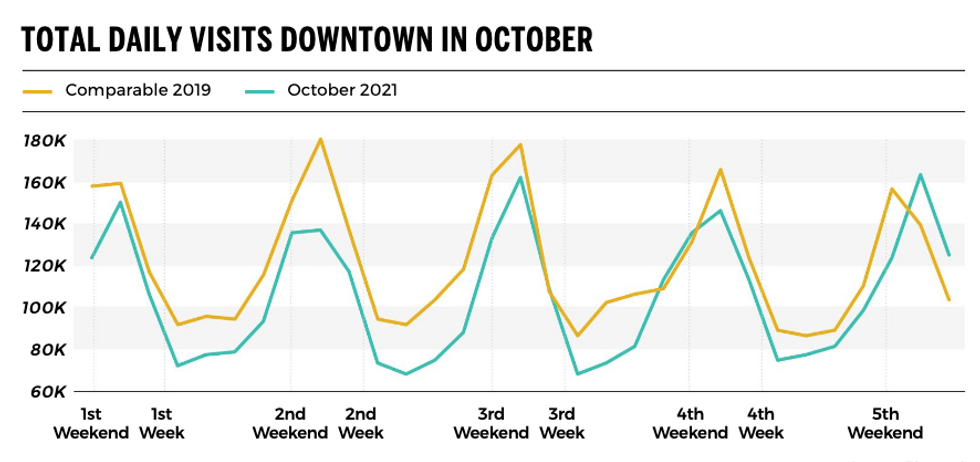 One of Austin's biggest tourism seasons occurs in October, when events like ACL Festival and Formula 1 attract visitors from around the world, a pattern that mirrored previous years in 2021. Tourism tracks through airport traffic as well, which is at an all-time high.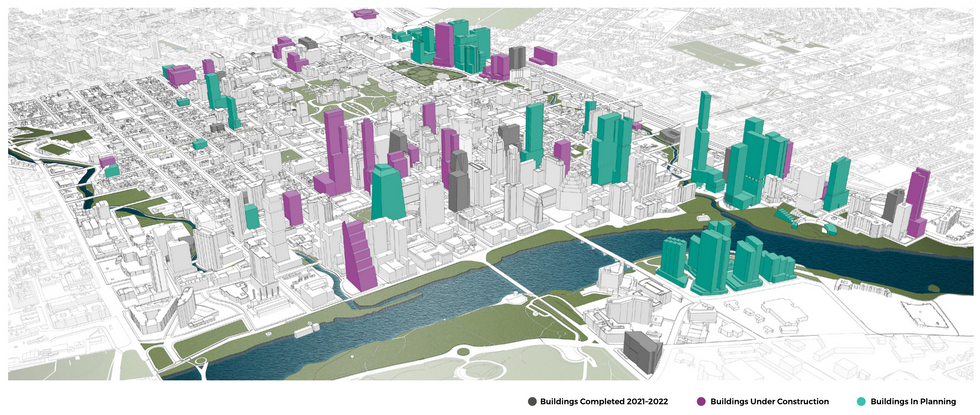 Downtown's COVID-induced need for rentals has also cooled to pre-pandemic levels, with the help of two million square feet of new residential space and another 2,161,727 square feet of office, residential and retail space currently under construction.
However, for-sale housing inventory is still at an all-time low, with fewer than two months of inventory–around 50 listings–in Q4 of 2021.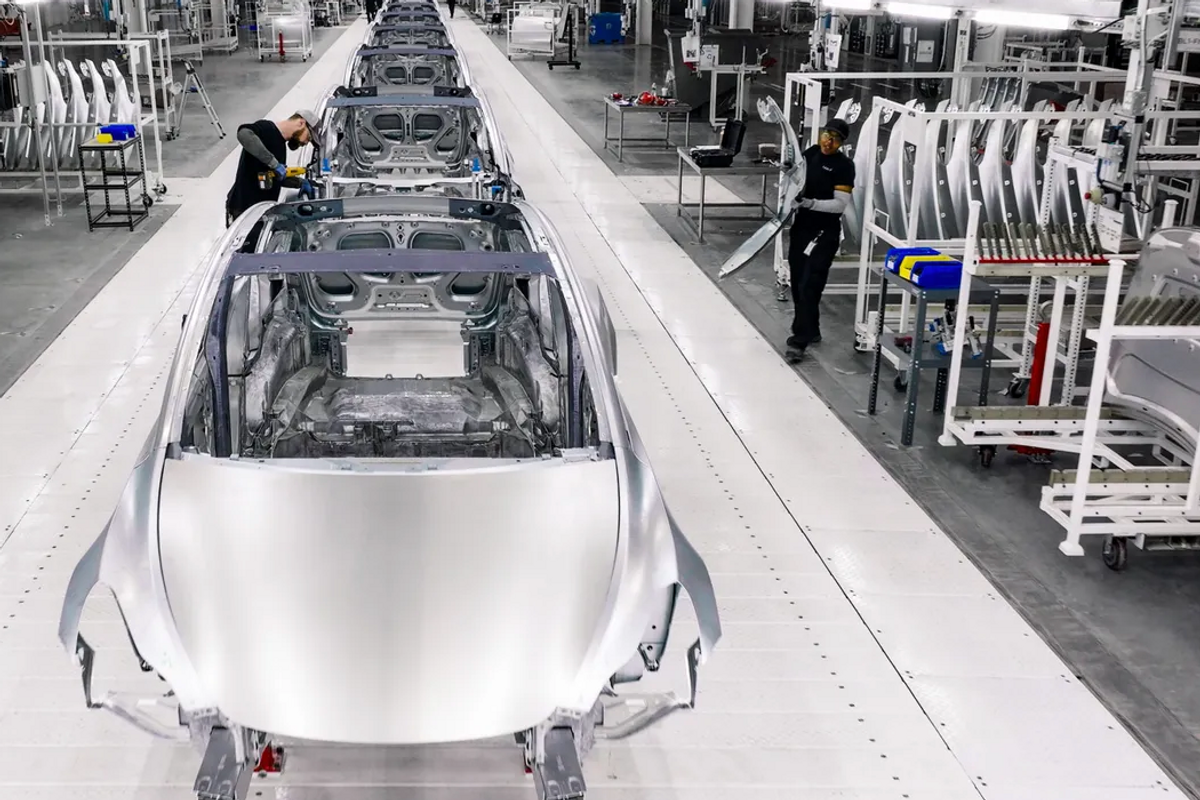 A few weeks after its opening, CEO Elon Musk expressed doubt about whether the Tesla gigafactory in southeast Travis County is lucrative so far.
In an interview with Tesla Owners Silicon Valley, Musk said, "Both Berlin and Austin factories are gigantic money furnaces right now. It's really like a giant roaring sound, which is the sound of money on fire."
The comments come just a few months after the grand opening of Giga Texas in April, where Musk threw a party to celebrate the start of production at the more than $1.1 billion site.
At the time, Musk shared bold goals for increasing scale. But now, he says electric car battery shortages and supply chain issues are costing the automaker billions of dollars.
The interview with the northern California Tesla fans was released as the third installment in a YouTube video series from a late May interview. During the conversation, Musk said Giga Texas had manufactured only a tiny number of cars.
The challenges included the production of the 4680 battery, as well as port delays in China that have affected shipments.
Musk has previously expressed concern over supply chain woes and inflation pressures. During a call about the first quarter of this year, he noted those factors and described a long waitlist extending into next year.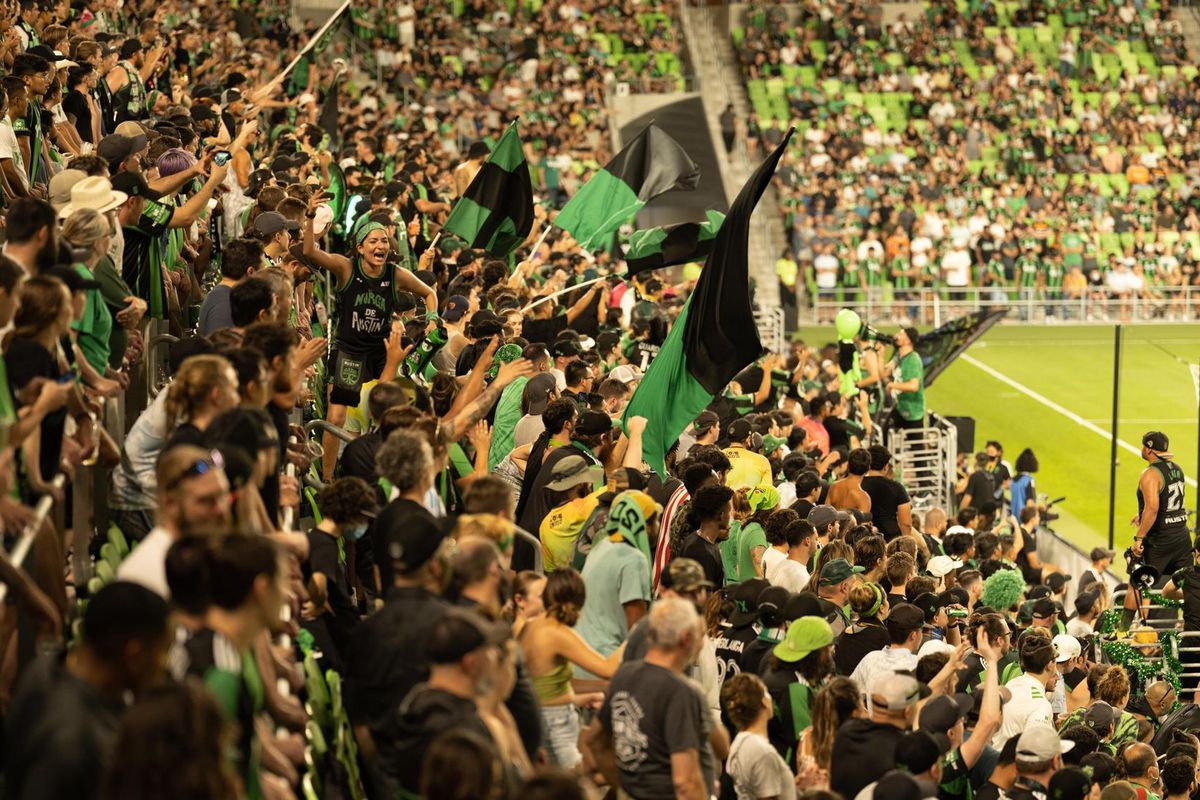 🗓 Friday
Let out your inner fangirl at 5 Seconds of Summer's "Take My Hand" World Tour at the Moody Amphitheater, featuring Pale Waves as the opening act. Resale tickets start at $42.50.
Doors at 6 p.m. Friday | 📍Moody Amphitheater at Waterloo Park,
1401 Trinity St.
Discover journeys through time, space and cosmology with Professor Brian Cox's new show, "Horizons," as he breaks down the origins of life and the universe with his co-host Robin Ince. Tickets start at $54.
Doors at 7 p.m. Friday | 📍The Paramount Theatre,
713 Congress Ave.
🗓 Saturday
Catch this five-piece band play alongside rock duo '68 on their "Farewell" tour, as you rock out in Mohawk's indoor/outdoor venue. Resale tickets start at $35.
7 p.m. Saturday | 📍 Mohawk Austin,
912 Red River St.
Two Texas teams are going head-to-head in the capital city while neck and neck in the standings. Austin FC is currently third in the western conference and FC Dallas ranks fourth, so put on your Verde! Tickets start at $60 each.
8 p.m. Saturday | 📍 Q2 Stadium,
10414 McKalla Pl.
🗓 Sunday
Learn how to make your own specialty cocktails from drinks and spirits from around the world during an afternoon at The Roosevelt Room. Tickets for the Master Class start at $75 per person.
12-2:30 p.m. Sunday | 📍The Roosevelt Room,
307 W 5th St.
The iconic rapper is making a stop in Austin with special guests Reveil, Skiifall and Playthatboizay on his "Melt My Eyez Tour." Tickets start at $32.50.
7 p.m. Sunday | 📍Stubb's Waller Creek Amphitheater, 801 Red River St.