Never miss a story
Sign up for our free daily morning email...
...and afternoon text update
Get connected with our daily update
After two years of no in-person events, Austin festival South by Southwest has agreed to give 50% of ownership to P-MRC, a Los Angeles company that controls publishing operations for Rolling Stone and Billboard.
The media venture was founded in 2020 and is part-owned by Jay Penske, racer Roger Penske's son and head of Penske Racing and Penske Media.
The move comes after the COVID-19 pandemic left the festival with two years worth of hemorrhaging funds. SXSW organizers were left scrambling for solutions in March 2020 when the city of Austin canceled the festival at the onset of the pandemic. One-third of the festival's 175 year-round employees were laid off, and the festival ran a shortened virtual event in 2021.
SXSW CEO and co-founder Roland Swenson said in a statement that the company is grateful to get aid when they need it most and that they are now looking to the future.
"It has been an incredibly tough period for small businesses, SXSW included," Swenson said. "When Jay Penske approached us with an interest in becoming a partner, it was a true lifeline for us. Both of our companies share a passion for producing high-quality content that helps shape modern culture, so this feels like a natural alliance."
Both of Austin's big-name festivals are now in the hands of out-of-town buyers. In 2014, homegrown festival Austin City Limits was bought in part by LiveNation, who took 51% ownership in Austin live promoter C3 Presents.
While SXSW was still online-only this year, it was aided in part by big-name guests such as Matthew McConaughey, Willie Nelson, Chance the Rapper and Bill Hader.
The fest has captured the essence of Austin arts and culture for 34 years, and it doesn't plan on stopping now. With P-MRC by its side, SXSW said it plans on keeping its unique identity but expanding operations as it prepares for an in-person celebration next spring.
"Since 1987, SXSW has been the world's premier festival centered at the convergence of tech, media, film, and music," Penske said. "Today SXSW continues to be one of the most recognized brands for empowering creative talent and bringing together the brightest creators of our time. As part of this significant investment, we plan to build upon SXSW's incredible foundation while extending the platform further digitally and assisting Roland and his incredible team to bring their vision to even greater heights."
With their future restored, SXSW's newest slogan rings truer than ever: "See you next year at SXSW!"
Years before the city of Austin went Verde, thousands of the city's soccer fans formed a supporters' group—MLS in Austin—for a team that didn't even exist yet.
Now, as the team's catchphrase suggests, those same fans are #LISTOS as they prepare to see their team on national television at Austin FC's debut on Saturday.
What to expect
The team will face a significant opponent in LAFC, who is projected at No. 2 in the league's power rankings. Austin FC currently sits at No. 21.

"LAFC has one of the best attacking teams in the league," Head Coach Josh Wolff said. "They will punish you. They've never been shy of putting up goals, and again, I expect them to be one of the best teams in the league this year."
The club has lived up to Wolff's words: in just their second season of existence, LAFC took first in the Western Conference and were Supporters' Shield winners in 2019.
Austin FC will need to hold off LAFC captain Carlos Vela, a versatile winger/attacking midfielder who won the Most Valuable Player title in 2019, as well as high-scoring forward Diego Rossi.
Austin FC starting lineup vs. LAFC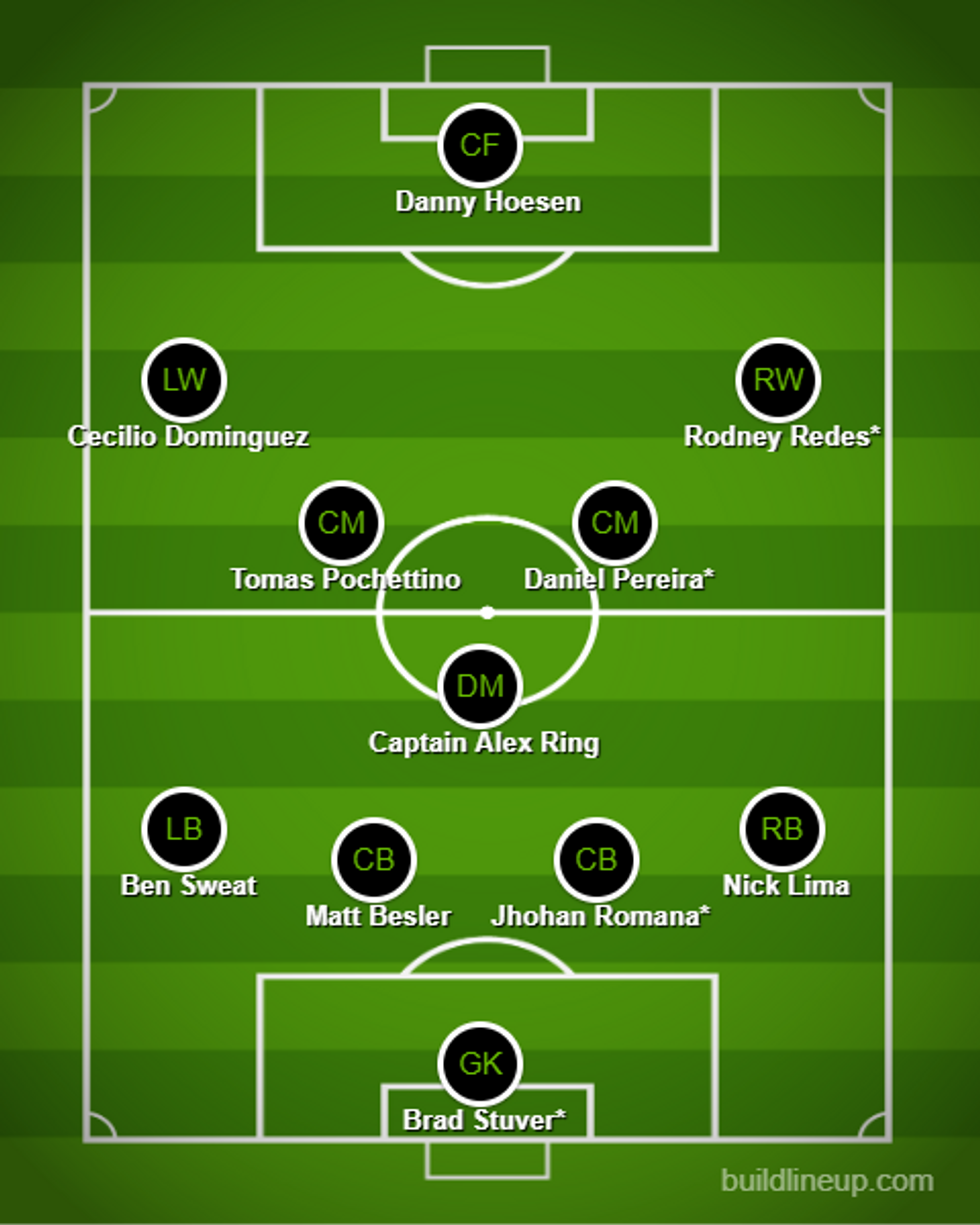 (Claire Partain/Austonia)
Meanwhile, LAFC will face challenges in DP Cecilio Dominguez and midfielder Alex Ring, the former NYCFC "ringleader" who wears the captain's armband for his new team. We still don't have any updates for starting forward Rodney Redes, who may or not be playing Saturday due to a "ding" on his knee.
If Redes is fine, we think he'll stay at forward, where he's been excelling throughout preseason. If not, a more experienced Kekuta Manneh might take to the pitch in his stead. Midfielder Jared Stroud is also in the running after he went in for an injured Redes against San Antonio FC on April 10.
While Captain Alex Ring and DPs Tomas Pochettino and Dominguez are shoe-ins for the starting lineup, some other positions are up in the air.
Twenty-year-old Daniel Pereira, Austin FC's No. 1 SuperDraft pick, has done even better than expected in preliminary scrimmages. He's still young, however, and Austin FC recruited him more for his depth than immediate starting appeal. If Pereira doesn't start, it's likely to be Diego Fagundez who takes the starting spot.
Another young potential starter comes in 22-year-old Jhohan Romana, a sturdy defender who has shown inconsistency in preseason. The backline is a clear weak spot for the team so far, and while Romana shows promise, Wolff may look for experience in Julio Cascante for their first starting lineup.
Finally, goalies Brad Stuver and Andrew Tarbell are neck-and-neck in the race for a starting spot. We put Stuver on here for his preseason performance, but neither would be a surprise as starting goalkeepers.
How we got here
It's hard to put into words how monumental it is for these supporters to see their own team one day away from its historic opening match, but the excitement can be felt across the city.
To put things in perspective, here's a timeline of events that brought us here, from "MLS in Austin" all the way up to Saturday's opener.
Where to watch
While Austin FC's first season will officially be underway, their inaugural match will be nearly 1,500 miles away from their home city.
That's no problem for some fans, including those in Austin FC fan group Los Verdes. A group of dedicated supporters are going to the West Coast to welcome their team into the stadium. While LAFC isn't officially allowing Austin fans in due to COVID protocol, some are still searching for a way to watch their beloved team take the pitch for the first time.
Meanwhile, thousands of dedicated fans are also staying home to support their club. Austin FC's first official watch party is sold out with over 1,000 RSVPs, and Austin Anthem is holding a 1000 plus-person watch party as well. For a full list of Austin FC watch parties and participating pubs, click here.
For those staying home, the match will be broadcast nationally on FOX and FOX Deportes at 5 p.m. on Saturday.
Don't miss out on the game!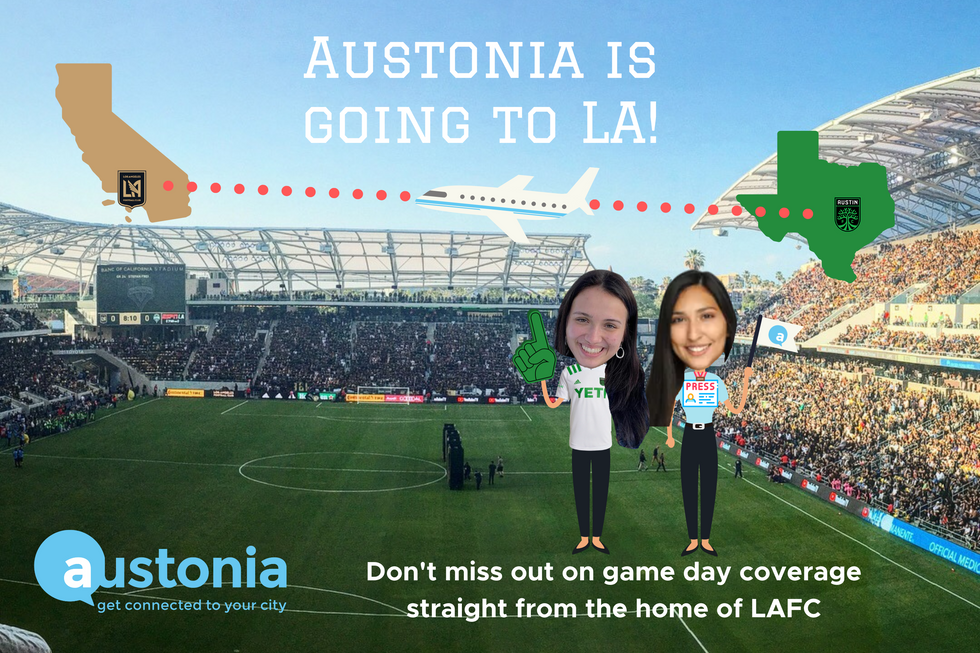 (Laura Figi/Austonia)
Austin is one of those cities filled with fun activities for anyone and everyone—even if you're on a budget. Whether you're looking for some fun drinking or you want to spend a day in nature, Austin has you covered with some bizarre and other tranquil entertainment options for the best day ever.
Here are 9 activities under $10 you should try in Austin.
Austin voters will decide starting Monday whether to change the city of Austin's government from a strong-manager system to a strong-mayor one. The controversial proposal stems from a citizen-led petition organized by the political action committee Austinites for Progressive Reform, whose members argue that a strong-mayor system, sometimes called a mayor-council system, would empower voters, correct the Jim Crow-era origins of the current system and better position the city to address intractable issues such as homelessness.
But a diverse, and unlikely, coalition of opponents has formed to defend the current strong-manager, or council-manager, system. Labor leaders, environmental groups, business interests, criminal justice reform activists and most council members have denounced Proposition F, which they fear will create a power imbalance between the mayor and council and erode the gains of the 10-1 system.
Austonia sought out clear and brief editorials from either side of the debate. Arguing in favor of Prop F is Laura Hernandez Holmes, an APR co-chair and political consultant who previously served as the Texas finance director for Beto O'Rourke's presidential campaign and deputy campaign manager for Mayor Steve Adler in 2014 and 2018. Mason Ayer and Nico Ramsey are arguing against it. Ayer is CEO of Kerbey Lane Cafe and co-chair of Austin for All People, a local organization that formed in opposition to Prop F. Ramsey is the volunteer director of community engagement for A4AP, a corporate social responsibility professional and a civil rights activist.
Editor's note: These submissions are the unedited views of their authors. Claims made have not been fact-checked to give the proponent and opponent a chance to speak their minds freely.
Pro: For accountability in City Hall, vote for Prop F
Prop F is about letting voters, not politicians, choose the person who leads our city government. Austin is one of the few large cities in the country where an unelected city manager runs the city, including drafting the budget, overseeing the police, and managing transportation, planning and other city services. Instead, Prop F would put voters in charge, with a structure that is familiar to all Americans. We would have two co-equal branches: a legislative branch (the council) and an executive (the mayor). The branches would be independent, with checks and balances, so no branch would be superior to the other. The key difference? Both branches would be democratically accountable.
We have big challenges in our city, including an escalating affordability crisis, issues with water quality and faltering crisis responses—from the vaccine rollout to police oversight to homelessness. Many of these issues are the executive's responsibility, but we do not have a say in choosing that person. Each of us has a say in choosing only two of the eleven people who do.
Opponents of Prop F have fixated on one of the checks and balances: the veto. They argue that it would put too much power in the mayor's hands. But the veto can be overridden by a simple two-thirds vote of the council, and the council takes two-thirds votes every week. The council would still have the final say over all legislation and the budget, and we would be gaining accountability over the person who executes those laws and leads the city.
Every other argument against Prop F boils down to: "Austin voters cannot be trusted to choose the right person." We do not agree. Austin voters have the capability—and should have the right—to choose the person who runs our city government.
Con: Why Prop F deserves a failing grade
On May 1, Austin voters will have an important decision to make regarding the future of our city. Proposition F would shift the city from our current council-manager form of government that has helped make Austin a top place in the country to live, to one that would utilize a mayor-council–or strong mayor–form of government.
The current council-manager form of government divests power and provides checks and balances that safeguard all people of Austin. If Prop F is successful, we would witness a consolidation of power unlike anything Austin has seen before into one office. This proposal would take power from both the city manager's office, which would be eliminated, and from the council, and transfer it to one person–the strong mayor. This includes veto power and the ability to dole out political favors to supporters for critical city jobs.
When labor unions and other groups voiced opposition to Prop F, labels like "special interests" were thrown around. Labor unions are not special interest groups, and they are part of a coalition opposed to Prop F including environmentalists and business people–and everyone in between–concerned about the future of our city.
There has also been a charge levied that the current system of government is inherently racist because it came about during the Jim Crow era. Those making these arguments are exhibiting a narrow understanding of racism in America that fails to identify the real challenges and struggles that so many in our society face every day–especially people of color. We cannot be dependent upon the assumptions that come with these proposed changes to our city's charter to create a more just and equitable society. We must come together as a community, city, country and people to achieve true equality.
Austin For All People believes Prop F should be given the failing grade it deserves.