Get connected with our daily update
After 12 months, the long-anticipated massive Tesla factory in Southeast Travis County is up and operating and everyone wants a look inside.
Phase 1 of Giga Texas appears to be tied up as production of the Model Y Tesla is underway, the electric car company revealed on Wednesday in its fourth-quarter earnings call. The factory, located on the former Harold Green-turned Tesla Road, sits on more than 2,000 acres of land in southeast Travis County.
Here's a glimpse inside the factory.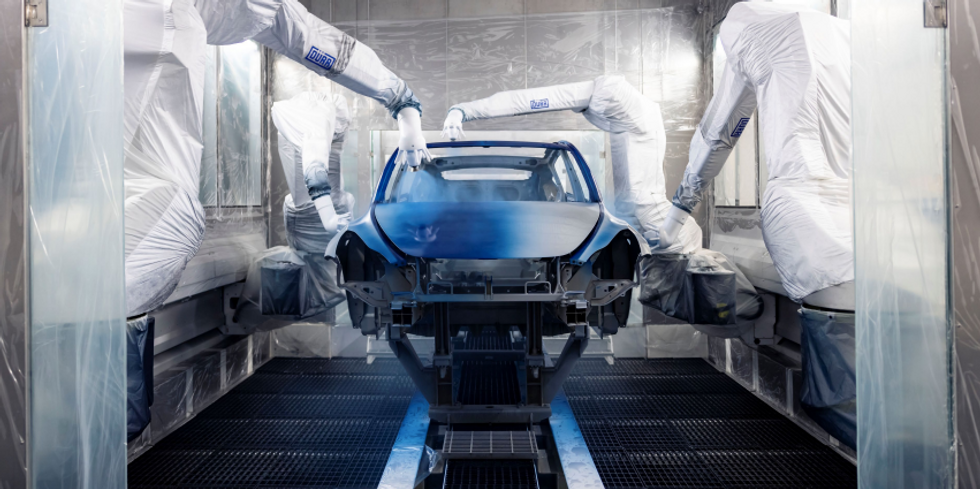 (Tesla)
Model Ys will be the first Teslas to come out of Giga Texas with an estimated delivery of August. The wait estimate comes after Tesla noted supply chain issues have affected their factories, which have been running below capacity for several quarters. A deep blue metallic like this goes for $1,000 more than a white or silver Model Y, totaling $61,990.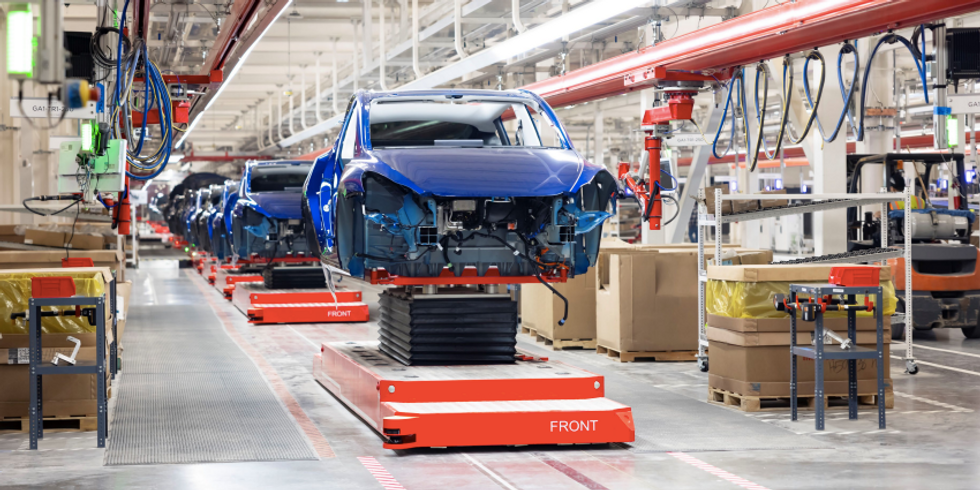 Model Ys began being produced at Giga Texas at the end of 2020. In general assembly at the factory, the Teslas get their major interior components to finish the vehicle.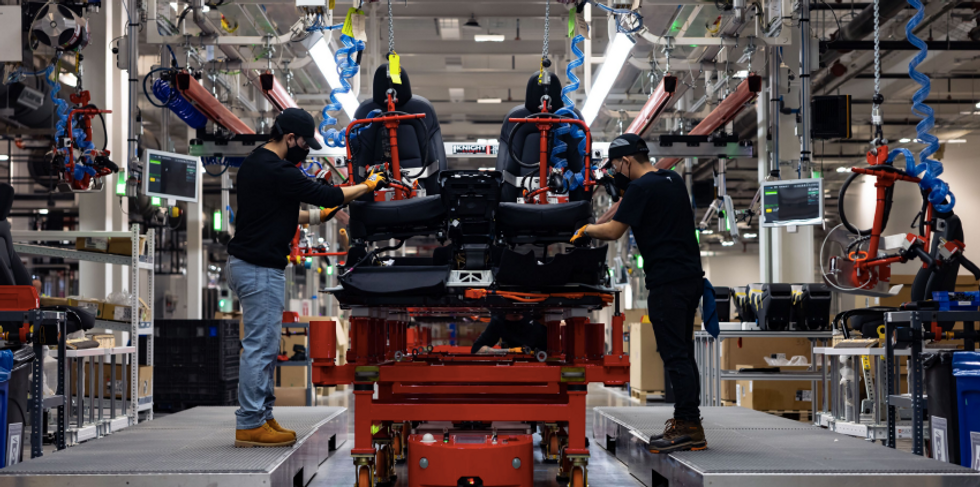 (Tesla)
Workers at Austin's Gigafactory are attaching seats to a structural battery pack. It's been described by some as the biggest difference between Texas-made Model Y's and the current version at the Fremont, California factory. It shouldn't have a major impact on the owner's experience, but Tesla has updated instructions for the jacking procedure, as the lift points are different.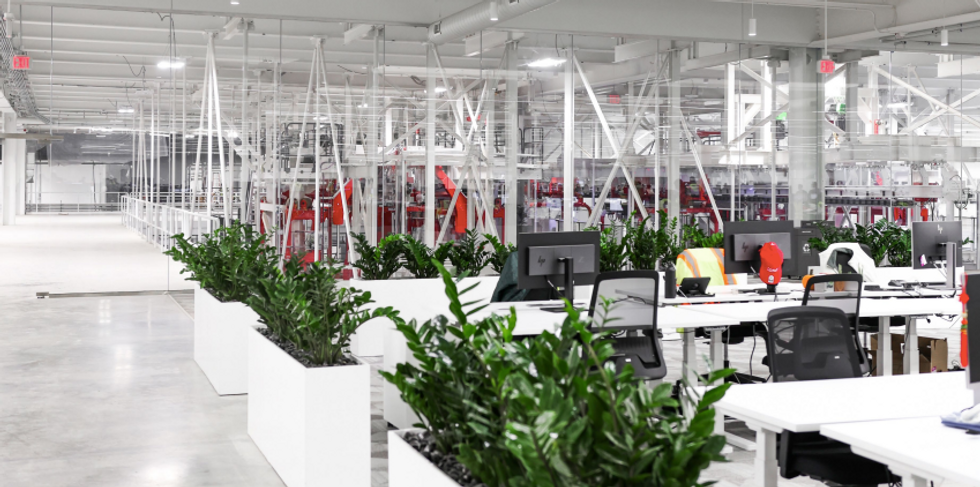 With a sleek, open office setup, workers can take in a view of the factory from their seats. It's a component CEO Elon Musk wanted for what is now the headquarters of Tesla.
On the Austin, Texas public location Snapchat, a photo of inside Giga Texas has appeared. On the left you can see a sneak peek of a Model Y body.pic.twitter.com/N7zliZ5vkL

— Sawyer Merritt (@Sawyer Merritt) 1643081462
With Snapchat's maps, anyone can look at everyday activity happening at the factory. To view these geographically-linked stories, click the bottom left "map" icon and search "Tesla Giga Texas." Once you've found it, you can view the Snapchat story of those in and around the facility. While most stories stay up for only 24 hours, Giga Texas is a designated place on Snapchat, allowing users to view a collection of photos and videos from the inside.
Following Model Ys, Texas-made Teslas will include the Cybertruck, Semi and Model 3. But it might be a while before those other models arrive. EV makers have been hit hard by the chip shortage, and it's thought that changing features are contributing to Cybertruck delays as Tesla works to compete in the electric pickup market.
Joe Rogan paid a visit to buddy Elon Musk this week. The two have been seen around town since both moving to Texas. Naturally, Rogan was impressed with the prototype.
If you're dying to get a closer look at this factory, you just might get to. In December, Musk said the factory would have tours available to the community early this year.
Austin's average rent jumped by 26% from January 2021-to 2022, with the highest increase in the state of Texas, according to a Zumper National Rent report.
The city had the 7th highest jump in rent prices among the 101 U.S. cities studied. With a median price of $1,550 for a 1-bedroom rental, Austin jumped up three spots from a year prior coming in 26th on the list—the highest of all Texas cities studied.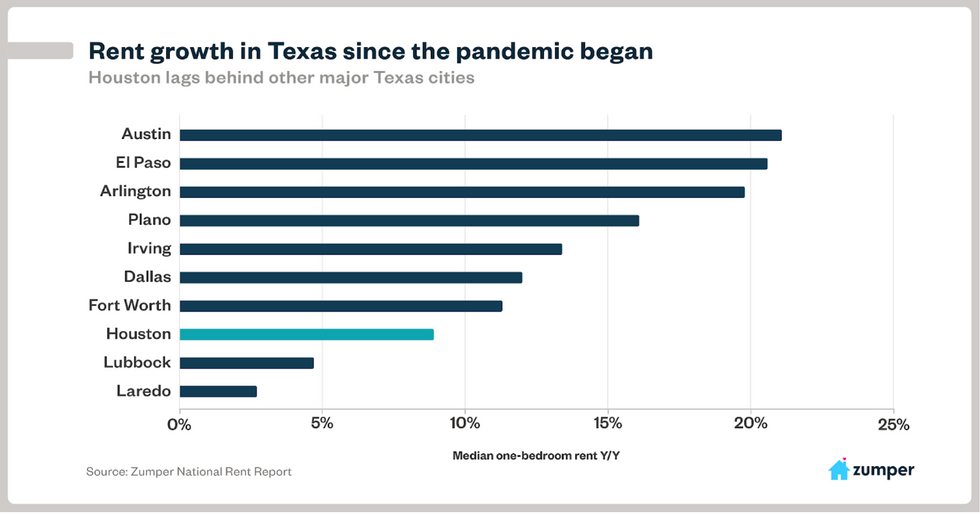 Austin's median one-bedroom rent increased more than any other Texas city from January 2020-21. (Zumper)
Chart-toppers like New York City still have more than double the average Austin rent ($3,260). But for many traditional high-dollar areas, that gap is narrowing: rent in San Francisco, the Silicon Valley giant with the second-highest rental prices on the list, rose by 6.3% year-over-year, while all nine California cities with higher rent that Austin saw a change of 15% or less.
As companies and priced-out migrants reportedly flee to less-expensive markets, new growth hotspots in states like Florida and Arizona skyrocketed, including Miami (25.8%), Orlando (27.6%) Tampa (26.2%), Scottsdale, AZ (27.6%) and Gilbert (20.9%). Cities dubbed as mini Silicon Valleys, including Austin, grew as well: Boston's 1-bedroom rent leaped by 26.5% to third on the list, while Boise, Idaho rose by 24.3% and Las Vegas leaped up nine slots with a 27.5% increase in two-bedroom rent.
No longer a cheap city in the historical cheap state of Texas, Austin rent remains far from New York standards but is still nearly triple cities like Wichita, Kansas, which finished out the list with an average rent of $660. Increases in rent have come hand-in-hand with an influx of newcomers—Austin is one of America's top 20 "boomtowns", according to frequent vistor and billionaire Elon Musk and a December 2021 New York Times report.
And while a pandemic rent surge has been seen nationwide, some have noticed that more traditionally affordable cities like Austin have seen increases much more quickly. University of Texas associate economics professor Peter Bergman found that more than half of low-income Austin residents worry about getting evicted in the next year as rent increases coincide with inflation and income losses for many.
2. While we're incredibly excited about the partnership and we've all pushed incredibly hard to make it happen, what's happening to low-income renters is extremely bleak. First, inflation: in the prior year or so, rental prices have gone up more steeply in more affordable cities. pic.twitter.com/QyZEPotL73
— Peter Bergman (@peterbergman_) December 23, 2021
Fueled by new tech HQs, a nationwide pandemic surge in rent and a booming job market, Austin rent will likely continue to rise, especially as satellite cities like Cedar Park, Kyle and Buda continue to grow alongside the city.
Airbnb has revealed how many gatherings its "Under-25 Anti-Party System" has blocked since its implementation in the summer of 2020.
The system, which prevents guests under the age of 25 from booking entire home listings if they have fewer than three positive reviews, blocked more than 48,000 "potentially disruptive" parties statewide. More than 4,100 potential parties were blocked in Austin in 2021.
The following celebrations saw the most cancellations in Austin:
Fourth of July: More than 1,700
Halloween: More than 1,000
New Year's Eve: More than 1,400
The anti-party system was implemented first in Canada after a house party ended with three people dead. It was then brought to the States a little over six months later. Airbnb said the initiative has resulted in a "meaningful drop" in destructive bookings.
From summer 2020 to summer 2021, the capital city fell relatively low on the list nationwide with 3,800 blocked. Los Angeles topped the list for most parties blocked at 15,000, with Atlanta and Chicago following closely behind at 12,000 and 10,000 blocked bookings, respectively. Blocked bookings in Dallas nearly doubled Austin's at 7,000.
Additionally, Charlotte and Las Vegas beat out Austin with 5,100 and 4,500 blocked bookings.
For those under the age of 25, never fear, you are able to book on Airbnb as long as you have a good Airbnb history or if you're making a single room or long-term rental reservation.