Get connected with our daily update
It may not come as a surprise that dating app use surged during the pandemic when many had to swap the benefits of in-person dating for on-screen connections. Bumble revenue swelled to $337.2 million in 2020 compared to $275.5 million, Hinge revenue tripled in the same period and Tinder users broke two records from January to March of 2021.
What may be more intriguing, however, is that many apps anticipate more growth into 2022. Hinge expects to double its revenue by the end of 2021, while Tinder has announced several new features to meet new demands in time for what some are calling a "third surge" of COVID-19.
Vaccinated Austinites who had been eager for "Shot Girl Summer"—a season of in-person dating, going out and making up for time lost—may have to get back on the apps, at least partially, as cases rise higher than they've been since February and mask recommendations reenter the picture.
Austin-area resident Chloe Mohr, a 22-year-old recent college graduate, had sometimes used Tinder before the pandemic. While the app wasn't a supplemental replacement for deeper connections during stay-at-home orders, it did help her stay in the dating game and continue meeting new people.
"Using dating apps during the pandemic was easy when wanting something casual or entertaining," Mohr, who now works in marketing, said.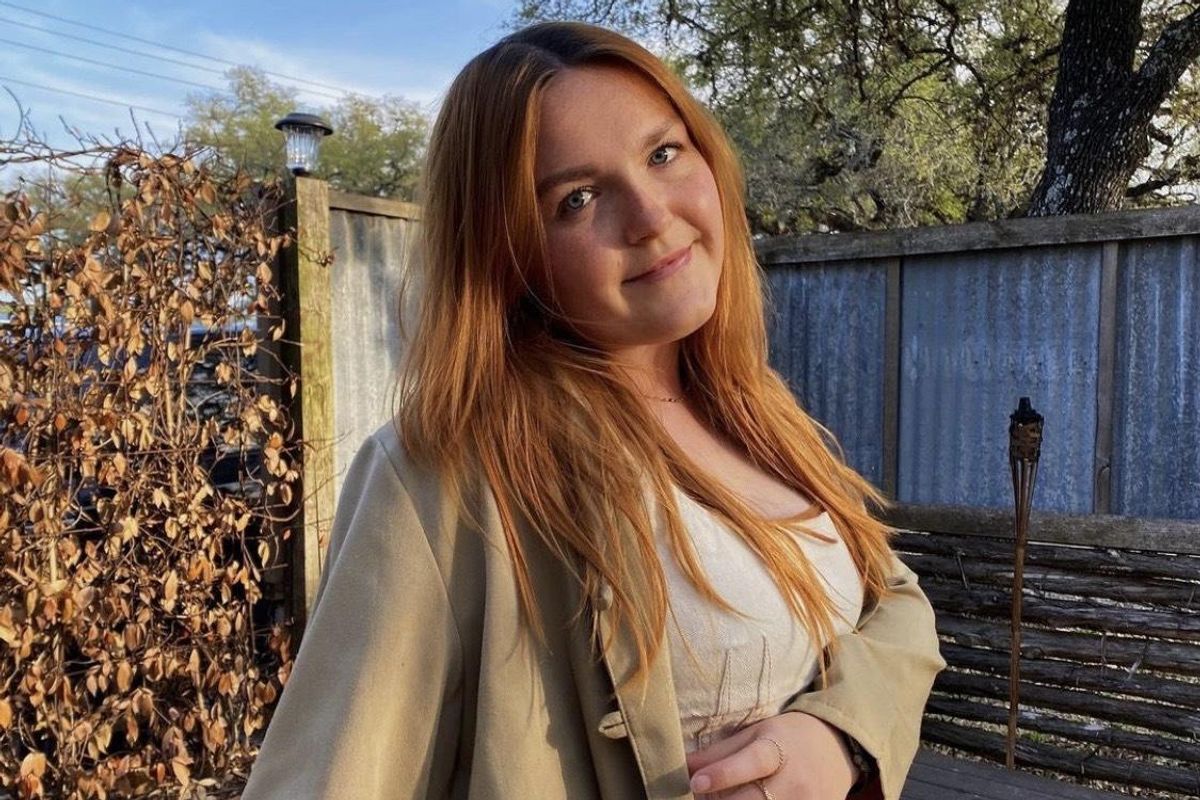 Chloe Mohr turned to Tinder more during the pandemic to stay connected to people. (Chloe Mohr)
Sixty percent of members came to Tinder because they felt lonely and wanted to connect with people, a Tinder study revealed, and chats were 32% longer during the pandemic.

But dating during a pandemic is no walk in the park when there's fear about contracting COVID, Mohr said. She had fears at the beginning
Tinder, Bumble, Hinge and OkCupid have responded to the new dating criteria, adding vaccination badges to profiles in partnership with U.S. and British governments.
In order to meet the demand for a stricter screening process and the superficial nature of swiping, Tinder has also introduced new features that allow users to add videos to their profiles and chat with others before they've even matched.
The new add-ons could be beneficial for the app as interest continues to swell—Google searches for "dating" have hit a five-year high, according to NPR.
But the future of dating could be vastly different—and stay different—even well into the next decade.
According to a Ypulse study, 43% of dating app users said the apps made them feel less lonely in the pandemic. Even post-pandemic, 40% of Tinder users say they plan on video-chatting with their matches before they meet, and being honest, authentic and respecting boundaries have become big talk on the app in the past year.
While it's unclear how the pandemic will shape dating for good, signs show that Austin residents and those nationwide may lean on dating apps once again if social distancing returns to the norm.
The University of Texas System Board of Regents officially accepted the SEC's invitation Friday morning, making the Longhorns officially SEC members effective July 2025.
The team will be making the switch from the Big 12 conference alongside Oklahoma after their media rights expire with the conference in 2025, though both teams are likely to petition to join earlier.
UT President Jay Hartzell said at the Friday meeting that the team looked across the country for a new fit in the ever-changing world of collegiate football.
"Collegiate athletics is changing rapidly whether any of us wants it to or not," Hartzell said. "Issues such as name, image and likeness; declining cable television subscriptions; college football playoff expansion; the transfer portal; and the impact of a global pandemic on sports, just to name a few, have proved that a transformation in collegiate athletics is happening around us... this is the right decision at the right time for the future of our UT athletics programs."
Word first spread that the team would be defecting from the Big 12 on Thursday, July 22, when the Houston Chronicle broke a report that university officials had been speaking with higher-ups in the SEC. In a weeklong flurry of events, Texas chose not to pursue their media rights on Monday, sent an official request on Tuesday and received a formal invitation from the SEC following a unanimous decision on Thursday afternoon.
The 16-team SEC will become the NCAA's first and largest superleague and will host some of the biggest names in collegiate football. Meanwhile, the BIg 12 is likely to drag their feet as they struggle to maintain relevance without the two rivals.
In the meeting, UT Vice President and Director of Athletics Chris Del Conte thanked the Big 12 after over 25 years with the program.

"We shouldn't go forward without appreciating where we've been and where we are," Del Conte said. "We've had so many great experiences and memories and will continue to engage in competition and work with many great colleagues in our league going forward through our contract that runs until 2025. I personally have made many great friendships in the Big 12. I have respect, admiration, and appreciation for them. I look forward to continuing that."
The SEC move will promote old rivalries, including storied nemesis Texas A&M. The Aggies were hesitant at the idea at first but have since warmed to their fellow Texas team. Hartzell said that the move will both boost rivalries and help bring more opportunities to Longhorn athletes.
"The reasons are many: the stability and strength of the league and its leadership, the level of visibility for our student athletes, some of the toughest athletic competition, and exciting stadiums that are similar in capacity and attendance to ours," Hartzell said. "It should also be noted that this move allows us to protect and rekindle some key rivalries, including the chance to regularly compete with the University of Oklahoma, University of Arkansas, and Texas A&M University."
The monumental decision is officially set in stone, but Texas will continue to suit up for more Big 12 action in the fall as the first Longhorn football game is set for Sept. 4.
Representatives of the Southeastern Conference voted unanimously (14-0) to formally invite the University of Texas and the University of Oklahoma to the prestigious football league.
On Tuesday, UT and Oklahoma requested to join in 2025 after deciding not to continue their media rights with current conference Big 12 in that same year. The two teams are likely to try to join before July 1, 2025, when they were officially invited by the SEC.
Expect the SEC to rekindle that bitter Aggie-Longhorn rivalry, embrace higher-stakes games and rake in even higher television ratings and sponsorship deals. With 16 teams, the SEC will become the NCAA's first superconference. Meanwhile, the Big 12 is likely to drag their feet on the deal and could crumble without their two biggest teams.
While the unanimous vote shows otherwise, a blindsided Texas A&M was not initially happy with rival UT coming into their conference. By BLANK, A&M Athletic Director Ross Bjork said the university had changed its mind. "We're ready," Bjork said.
If the two teams accept the invitation, the burnt orange and maroon will meet for a rivalry game for the first time since 2011.
UT and Oklahoma officials will meet Friday morning to presumably accept the invitation.
Facebook is the latest of several employers in Austin to begin requiring vaccinations for their employees.
The company, which announced the controversial shift Tuesday afternoon, joins Ascension Seton, Baylor Scott & White and the Department of Veterans Affairs in requiring that their employees be vaccinated. Other Austin businesses, including Waterloo Records and St. Edward's University, have begun requiring masks once again.
Just before Facebook's announcement, Mayor Steve Adler submitted a request to the city manager, which was later denied due to an executive order from the governor, for city of Austin employees to require proof of vaccination to continue work. He cited the rapid uptick in cases and hospitalizations as the reason for the request in a statement on Wednesday afternoon. Austin was labeled a high-risk area for COVID transmission on Tuesday, according to CDC data.
"With alarming increases in cases, ICU admissions and community positivity rates, we must do more," Adler said. "I urge Austin businesses also to require their employees to become vaccinated. We must all lead by our own example."
President Joe Biden recently said the current administration is considering a vaccine requirement for federal employees as well. "That's under consideration right now," Biden said. "But if you're not vaccinated, you're not nearly as smart as I thought you were."
While government-mandated "vaccine passports" were barred by Texas Gov. Greg Abbott in April, employers can enforce vaccine requirements, with some exceptions.
In June, a federal judge dismissed a lawsuit made by employees at Houston Methodist Hospital after they sued their employer for requiring vaccines. The move may open the floodgates on more mandates, Ryan Rivas, a partner at law firm Hall Booth Smith PC. told the Business Journals. "The Texas decision has been a lightning rod for everybody," Rivas said.
Austin has had less vaccine hesitancy than other Texas metros, with almost 63% of those eligible fully vaccinated. Still, Adler's request may get some pushback from city employees who aren't eager to get their jabs. Austin Police Association President Ken Casaday told KXAN in April that some city police officers were hesitant.
Adler's statement is the latest in his efforts to ramp up COVID-safe protocols, even with pushback from state officials. On the same day that the CDC recommended indoor masking for vaccinated individuals in high-risk areas, including Austin, and masking for schoolchildren in the fall, Abbott doubled down on his commitment to not implement another mask mandate.
The time for government mask mandates is over—now is the time for personal responsibility.

In May, I signed an executive order prohibiting mask mandates by gov't entities.

Every Texan has the right to choose whether they will wear a mask or have their children wear masks.
— Greg Abbott (@GregAbbott_TX) July 27, 2021
This story was updated to include that Adler's request for proof of vaccination for city of Austin employees was denied due to an executive order from the governor.